Daily task management and planning is good.
Rebalancing your calendar to set up the day is also good.
But combining both of these creates an explosion of greatness.
Time management is a great productivity technique that helps you stay focused for long hours without getting distracted.
And there are many time and task management tools that let you do so.
But the problem with many of them is the complexity that freaks out all beginners.
Sunsama is different.
In this review, you will learn exactly why Sunsama can be a part of your daily productive schedule.
And most importantly, how it can help you get through the most difficult hours of the day.
Let's dive in.
In a Hurry? Read Through This Quick TL;DR Summary
Sunsama is a unique and exciting task management and to-do app with various in-built integrations as well as other functionalities.
It is easy to use and saves a lot of time while creating to-dos, scheduling meetings, managing a team, tasks and picking high priority work in the most significant hours of the day.
I have been using it for over 3 weeks now and here are my ratings for Sunsama:
| | |
| --- | --- |
| The Features | 4.5 |
| Ease of Use | 4.9/5 |
| Customer Support | 5/5 |
| Pricing | 4.3/5 |
| General Overview | 4.6/5 |
The ratings and reviews that I have portrayed above are my own. I gave these ratings after using the app and its utilities thoroughly.
To remain unbiased from all sides, I would like to share the Sunsama ratings given by other active users as well:
| | |
| --- | --- |
| Capterra | 4.7/5 |
| G2 | 4.6/5 |
| Product Hunt | 4.6/5 |
This was all about reviews and feelings from various users across the world.
With that said, let's dive deep into our Sunsama review.
Sunsama Overview
Sunsama is not just a simple to-do app. 
It helps you:
Plan your day in advance.
Plan for the week and months ahead.
Acts as a daily journal (smart journal because it asks questions).
Integrates with Google calendar, Gmail, Trello, ClickUp, Slack etc.
And makes your days mesmerizing.
Sunsama is a tool that organizes your to-do's tasks and calendars all in one place and on a single page, neatly. And I love using it.
And despite integrating multiple tools in a single tab, it is one of the most easy-to-use productivity tools with the highly minimalist design.
With Sunsama, you can either open the tasks panel and calendar panel simultaneously, or both at the same time.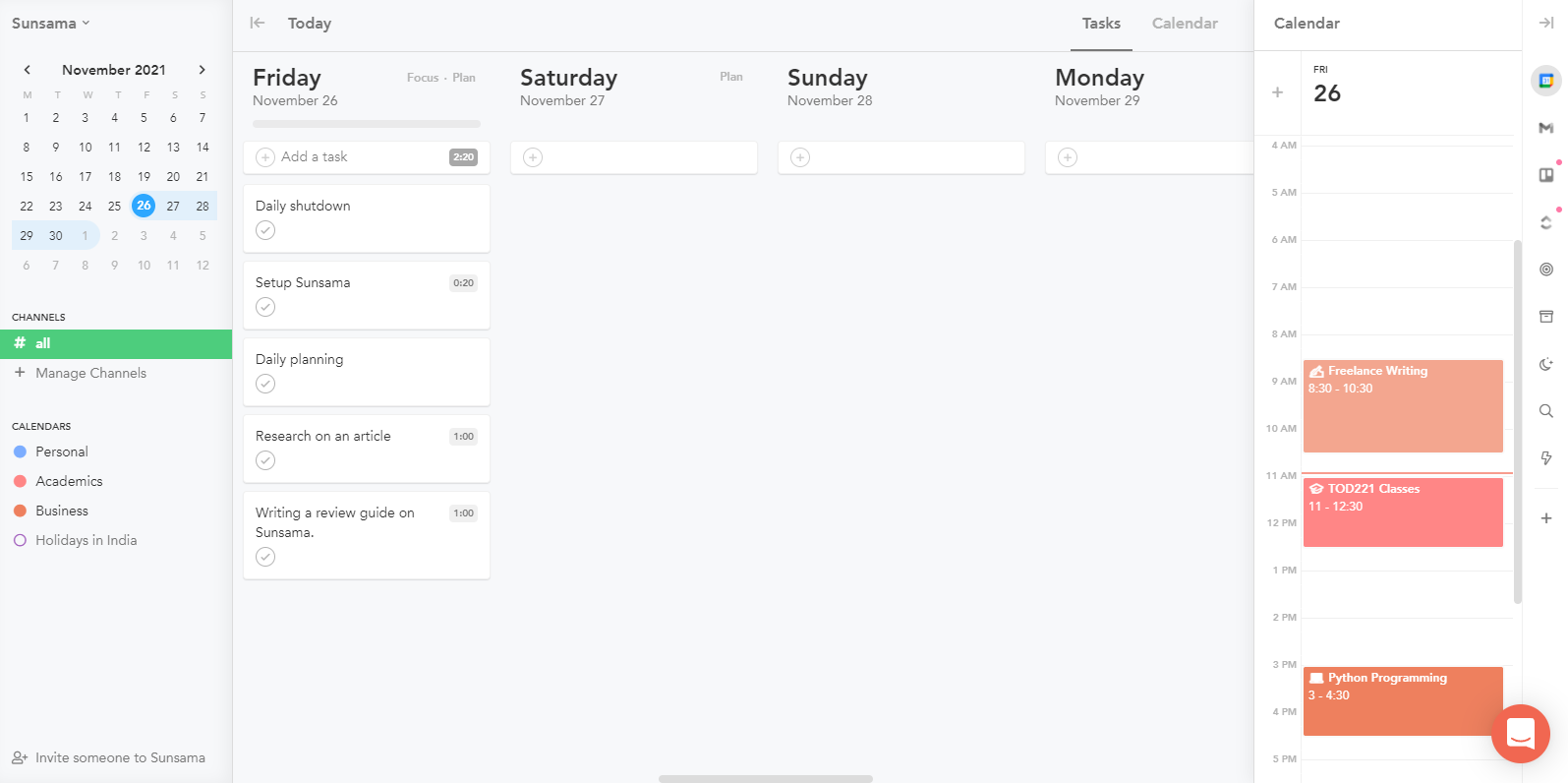 In short, it can be your go-to hub for planning your days, weeks, and months efficiently. It helps you worry less and enjoy more.
Who can benefit from Sunsama?
Sunsama was specifically created keeping in mind non-techies who like to avoid all the technical stuff and get straight to work.
This is the main reason you will notice that every web page created by them is easy to access and soothing to the eyes.
However, if you ask me, here are some of its beneficiaries:
Anyone living an unorganized life.
People seeking highest productivity.
Anyone who wants to manage everything on a single tool.
People looking for the best time-management tool.
Etc.
You can get your hands on Sunsama if you want to tick off your critical to-do tasks without missing even a day.
Sunsama Features 
1. To do list
The to-do list provided by Sunsama is distinct from its purpose.
While other to-do list apps offer a typical to-do interface where you have to type everything manually, Sunsama's to-do list has a few things pre-written.
This makes it easier to avoid the initial inertia that hampers your productivity.
As you keep adding tasks (they call it action items) to complete for the day, Sunsama automatically updates the total hours that you will work on a particular project and overall.
Let's say, for example, I want to write for 1 hour today. In this case, I will create a task about writing and set a timing to 1 hour along with the start date and the due date.
One of the best things about Sunsama's to-do list feature is their daily journal plan.
Everyday, you will be asked to write about the important things that you accomplished during the day and the obstacles that you faced.
This brings clarity and helps prepare you for the next day.
As you keep adding tasks, the number of total working hours will automatically reflect as shown in the screenshot below:
You can also create to-do lists under different channel names (e.g., for personal, academic and professional work).
2. Pomodoro tasks timer
Going more advanced with the to-do list, you don't need to have that physical timer or a digital alarm clock to set your Pomodoro hours.
With Sunsama's smart tasks timer feature, you can start a Pomodoro time for a particular task, take breaks in between, and close that task whenever you want.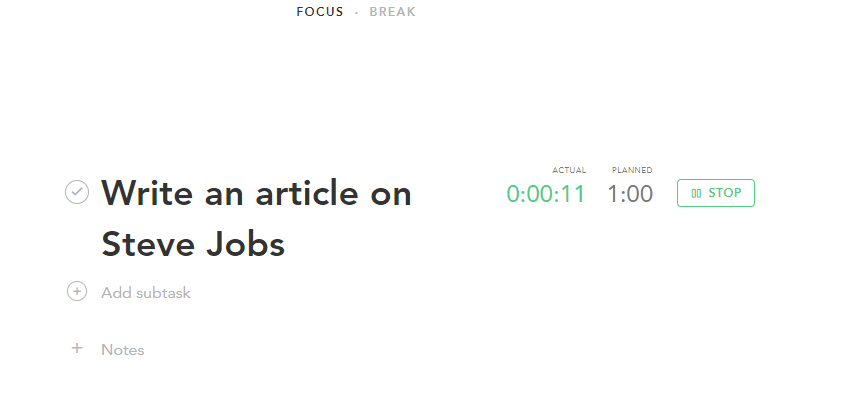 All you need to do is to click on the task that you want to work on and then click on the play button to start the timer.
This is very helpful when the deadline is near and you want to get done with your projects before the last hours.
3. Daily planner
Daily planners are like morning and night journals that hold you accountable for your work and also bring self-awareness and profound decision-making capabilities about the most significant tasks.
In fact, this daily planner by Sunsama is the only journal that does not feel boring to get started.
In the evening, you can write about what you accomplished during the day and what can be improved upon, or anything of that sort.
And then, write down the things that you would want to get done tomorrow.
4. Combination of tasks and calendar
Sunsama is the first and the only productivity app I have seen that combines calendars and tasks on the same page with the phenomenal drag and drop functionality.
This means that you can connect your Google Calendar with Sunsama and then drag and drop tasks to complete on the free slots available on your Calendar.
This saves a lot of time plus starts and winds your day the right way without moving out of the app. You can either access Calendar plus Tasks on the same page, or use them differently, as per your convenience.
To use tasks and calendar independently, click on either tasks or calendar located at top right corner.
5. Collaborative tools
If you want to use Sunsama with third-party apps such as Google Calendar, Trello, Gmail, ClickUp, etc… You can do so within one click with the help of integration facilities.
Let's say, you want to integrate Gmail to check your emails within the Sunsama dashboard.
You can easily do that by clicking on Gmail icon located at the right side and then by connecting your Gmail account by clicking on the 'add Gmail' button.
After adding your Gmail account, you can drag and drop your emails to your tasks, create various automations and much more.
This was just about one integration.
Upon connecting to a suite of all the tools that you need, you can create your complete productivity ecosystem within a single dashboard.
And it won't even look messy.
Not bad.
6. Flexible access
You can not only use Sunsama on the browsers, but also on Andriod, iOS, and Windows.
Unfortunately, Sunsama is currently not available on the Mac.
However, you can use Sunsama on Mac by accessing it through any browser. It works the same on any platform.
One thing that I really like about the app is that everything is very easy to learn. And trust me, I am saying this being a mere non-techie (as of now).
Their mobile app is simply awesome. You get four simple tags at the bottom to hover through tasks, calendars and other settings, and a plus icon to add new tasks.
It also comes with some exclusive advanced settings just for mobile devices.
The simplicity of Sunsama makes it even more amazing to rely on for organizing my day.
7. Progress bar and tracker
A healthy dopamine system helps in achieving your daily targets without burning out.
Here's where the progress bar helps.
Once you start ticking off the tasks, your progress gets reflected through a green progress bar as it moves forward.
This motivates you to work more and finish what's still on the plate for the day.
Simple yet effective.
8. Efficient team workflow
Have a team that needs to be under effective control?
Sunsama has got you all covered. With integrations such as ClickUp and Trello, project management is super easy with Sunsama.
You can manage your team effortlessly with Sunsama. Directly email your team members, assign tasks or schedule meetings within the app itself. 
Without any distractions, you can handle even a team as big as 50 people without much effort from your side, all thanks to Sunsama.
These are some of the Sunsama features that are helping people around the world to be more productive, more creative, and more organized.
Remember that there are many tools on the web that can help you start our day the right way.
But there are very few tools that also help you end the day well. Sunsama is one of those tools.
You will feel some human element attached to the tool.
Pros and Cons 
| | |
| --- | --- |
| Pros | Cons |
| Most simple and easy to use productivity and timeboxing tool. | There is no native app for iOS users. |
| Bundled with a lot of in-built features. | Does not integrate with tools such as Notion (as of now). |
| Does the job of multiple productivity tools and integrates with countless software and apps. | A lot of people find it costlier than when compared to other tools. |
| Combines tasks and calendar into a single unique interface. | Archiving feature does not help a lot. |
| Also acts as a daily journal and a guide. | – |
| Godsend customer support. | – |
Customer Support
Sunsama's customer support is great.
How do I know?
I tried it and here are the shocking results. I used their live chat feature to ask for help regarding the integrations with Notion.
I received a reply from them within 4 minutes, and yes, it was not a robot; an actual human replied.
You can sense the quality of any company's product through its customer support alone.
Besides live chat, Sunsama has a distinct support page (user manual) where you can get answers to any of the questions related to Sunsama.
They also have a discussion panel where users like you and me can solve each other's queries.
In general, Sunsama's support team is always there for you when you are headed towards trouble.
Pricing
Although Sunsama does not have a free version, they do provide a 14-day free trial where you can access all the premium features for free without entering the bank information.
If you are an individual, Sunsama will cost you $20/month when billed monthly.
However, if you choose an annual plan, (pay for a year) then you can save a lot in the long run by paying just $16/month.
Get Started with Sunsama for Free →
If you are a team, the price increases, keeping in mind the number of users.
Let's say you want to buy Sunsama's plan for 2 people. In this case, you will have to pay 20 * 2 = $40 and so on.
One plan gives you access to all features. This includes the following:
You can feel free to cancel your subscription at any point should you have any issues.
The Verdict
Sunsama is an awesome productivity tool with a lot of features that are helpful in making your life easier.
Out of all, the simplicity of using the app despite its countless functionalities is what makes it a gem.
I recommend getting Sunsama today if:
You want control over your time.
You want to practice ruthless prioritization.
Manage your time and tasks the better way.
You want to replace multiple tools with one.
And much more.
You should also read our Motion review, which is a direct competitor and an alternative to Sunsama.