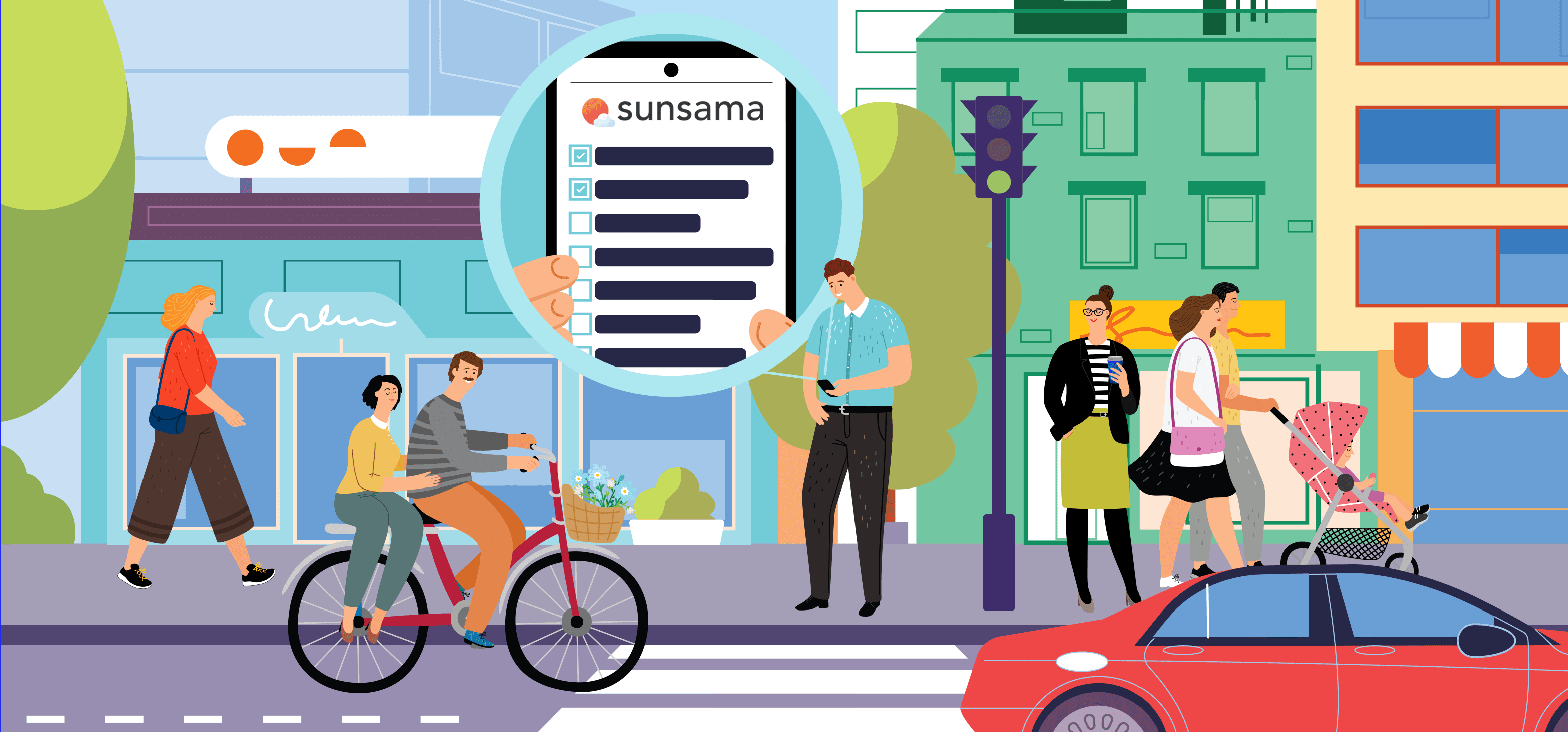 Do you like to plan every minute of your life?
Wait, that's a very vague question to ask.
How about planning one day at a time?
Sounds good!
What if I told you that you could use one right tool to plan your day and complete all your tasks by 4 PM?
As funny and impossible as it may sound, you can manage to do it. In fact, I strongly agree with Scoro when they claim that – "a planned life equals a happy life".
Today, we'll see how to do that and more with Sunsama, an all-in-one daily planner designed to simplify your routine and help you stay on top of your goals.
With Sunsama, you can streamline your tasks, prioritize your schedule, and free up time for the things that matter most to you.
TL;DR Summary
Your fear of missing out on completing the important tasks for tomorrow ends right away.
Sunsama is more than a daily planner app that ensures you focus on the most noteworthy tasks of the day and get them done as quickly as possible.
With built-in features such as a guided daily planner (you can plan ahead as far as you want), a daily reflector, synced calendars, time boxing tools, and more, there is no reason not to try out Sunsama and see what it does for your productivity.
Sunsama Reviews and Ratings
Please note that the following ratings and reviews have been obtained from reputable and frequently updated SaaS listing and review aggregator websites. As a result, they carry significant weight and reflect the experiences of real users.
| | |
| --- | --- |
| Website | Review |
| Capterra | 4.6/5 |
| Product Hunt | 4.2/5 |
| G2 | 4.4/5 |
| Trust Radius | 9.9/10 |
| Get App | 4.6/5 |
What Is Sunsama?
Sunsama is a daily planner app for working professionals and its main unique selling proposition is to guide you every single day as to what you should be done, all in an easy and organized way.
Imagine having a step-by-step guided routine creator that helps you plan your day the day before and also review the progress made during the current day.
Sunsama helps you do just that and plenty more, thanks to its excellent calendar plus task capabilities.
This is all well and good.
What makes Sunsama truly distinct, useful, and powerful is its integrations with apps like Gmail, Slack, Notion, and more. And every app is given its own settings that you can customize, eventually enhancing the use cases.
Overall, Sunsama is truly an app worth adding to your productivity arsenal if you want something that not only helps you manage your tasks effortlessly, but also helps get them done with all the right tools in place.
Pros & Cons Of Sunsama
Pros:
Dragging and dropping tasks exactly where you want in your calendar is time-saving.
Focus mode and time-boxing features (like Pomodoro) help get the task done on/before due time.
Comes with an integration option for a lot of highly used 3rd party tools.
Sunsama is available on all major operating systems.
Cons:
Comes with a bit of a learning curve.
Collaborating with a lot of people on big projects can be havoc.
The price can be relatively higher, especially when compared to some of its competitors.
With all of this out of the way, you may still be wondering – "what makes Sunsama useful for the premium price it charges?"
Let's find out.
1. Task Management
Sunsama excels in task management by offering features such as drag-and-drop task scheduling, recurring tasks, task prioritization, and subtasks.
It allows you to create projects and set due dates for each task, making it easy to track progress and meet deadlines.
Let's see it in action!
As soon as you start your 14-day free trial of Sunsama and login to their dashboard (either on its app or on a web browser), you will see a dashboard like this:
This is your main dashboard, where you will see every task you add and every change you make inside Sunsama's settings.
Divided into three main sections, the Sunsama user dashboard consists of all the general and specific settings on the left, a drag-and-drop equipped task creation and planning panel in the between, and the integrations options and settings on the right.
And if you want to focus exclusively on the middle panel, you can hide both sidebars very easily.
Adding a new task in Sunsama is as easy as clicking a few buttons. Head over to the middle panel and for the day you want to add a task, click on the "add a task" button.
As of now, just write down the name of the task and hit enter.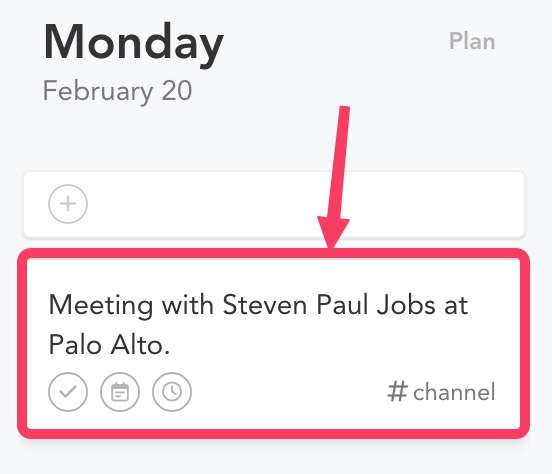 Once the task gets created, click on it again to open a popup window that gives more editing options.
You can now:
Assign a channel name to your task
Take notes on a task
Set the START and DUE date
Add subtasks to your main task
Make a task recurring
Don't get me wrong when I say these are just a few of the things you can do!
Sunsama also allows you to add attachments to your task, set an actual as well as planned time of the task's completion, and even comment on your task.
What's more, press the 'F' key and you will enter Focus Mode.
This is a page for minimalist (especially writers) who likes to work without creating any possibility of getting themselves distracted due to an environment.
It has a built-in timer that can work as a Pomodoro timer for you in accomplishing your tasks by creating a sense of accountability and urgency.
You can start, stop or even pause the timer at any time. If need be, you can even take breaks in between.
All of these tasks can be dragged and dropped easily into the calendar
2. Guided Daily Planner
Sunsama's daily planner not only helps you plan a day ahead of you, but also almost any day(s) that is bound to happen in the future.
What does this mean?
You can choose to plan a whole week, even a month, and crazily enough a year too.
How, exactly?
For the day you want to plan, just hover over it, and you will see a button called 'Plan'.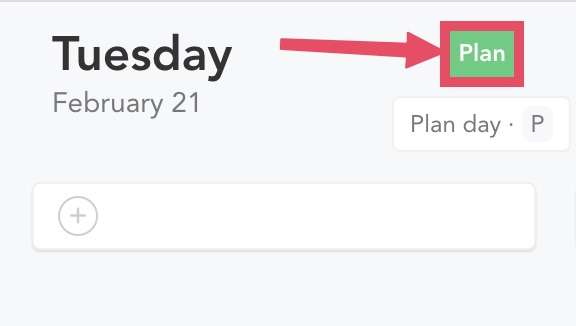 You will then be asked to add all the significant tasks you want to get done on that day. You will also be asked to set some weekly objectives for that specific week. These objectives can be aligned with your goals.
Once you click 'Next', you will be taken to a new page. It's like an Eisenhower Matrix, where they will ask you to keep the important tasks for the day and move the rest to the next day.
And because your connected integrations will also be displayed on that page, it has never been easier to extract tasks from the tools you use.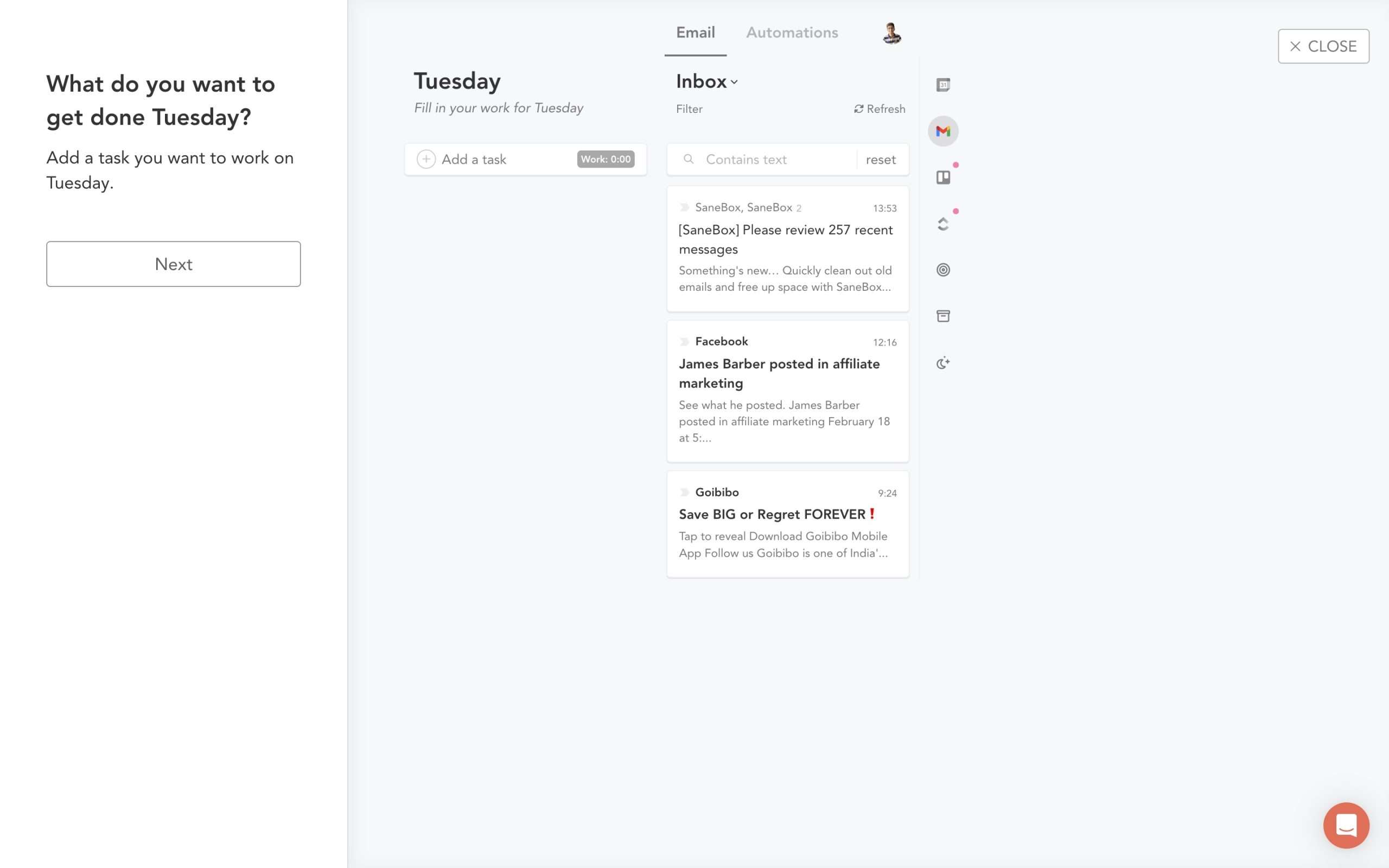 This is really helpful as it defines a clear priority between the tasks that need to be taken down before anything else.
It's that simple to plan all the critical tasks for the day.
Along with Daily Planning, Sunsama offers:
Daily Shutdown: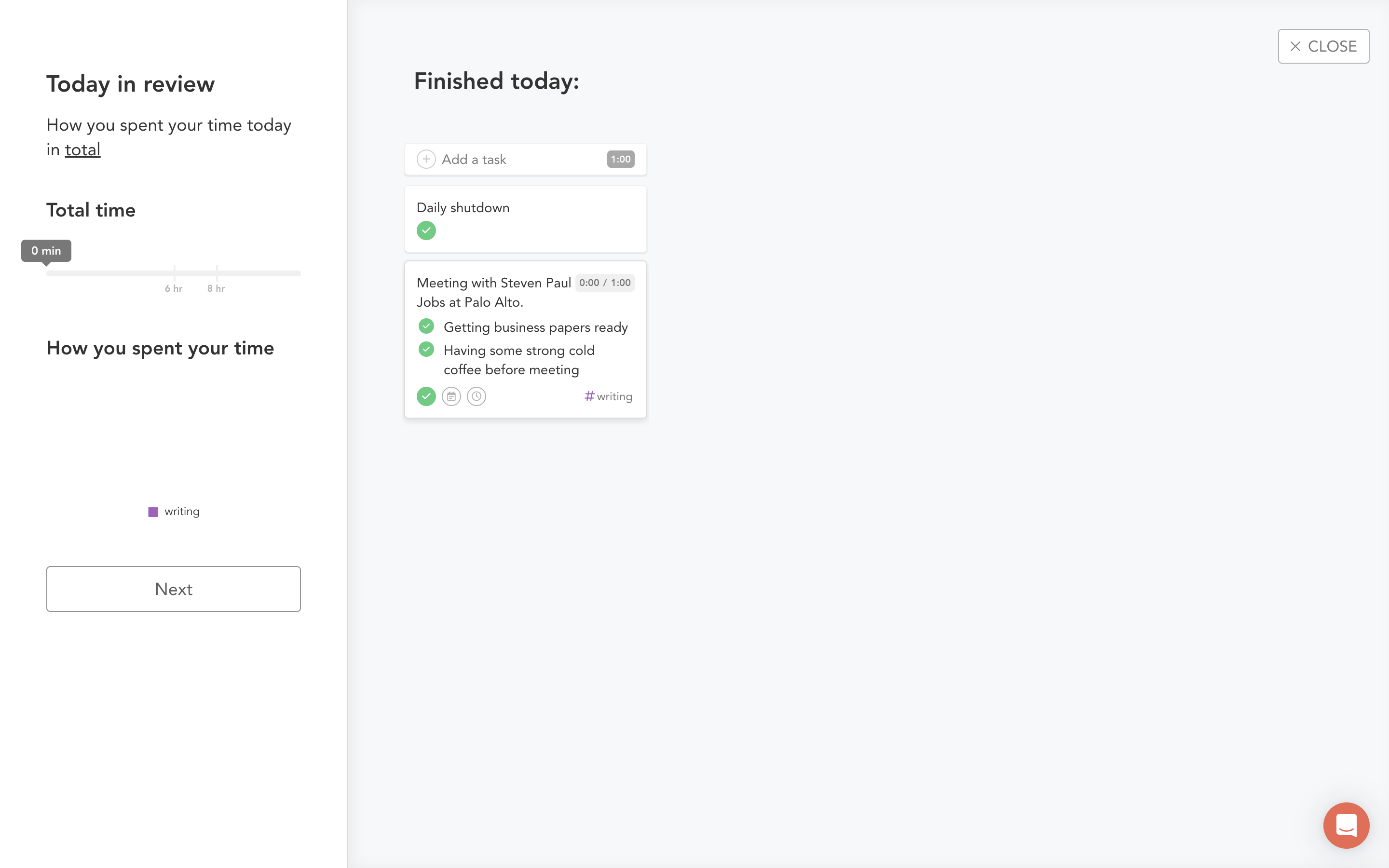 Weekly Planning: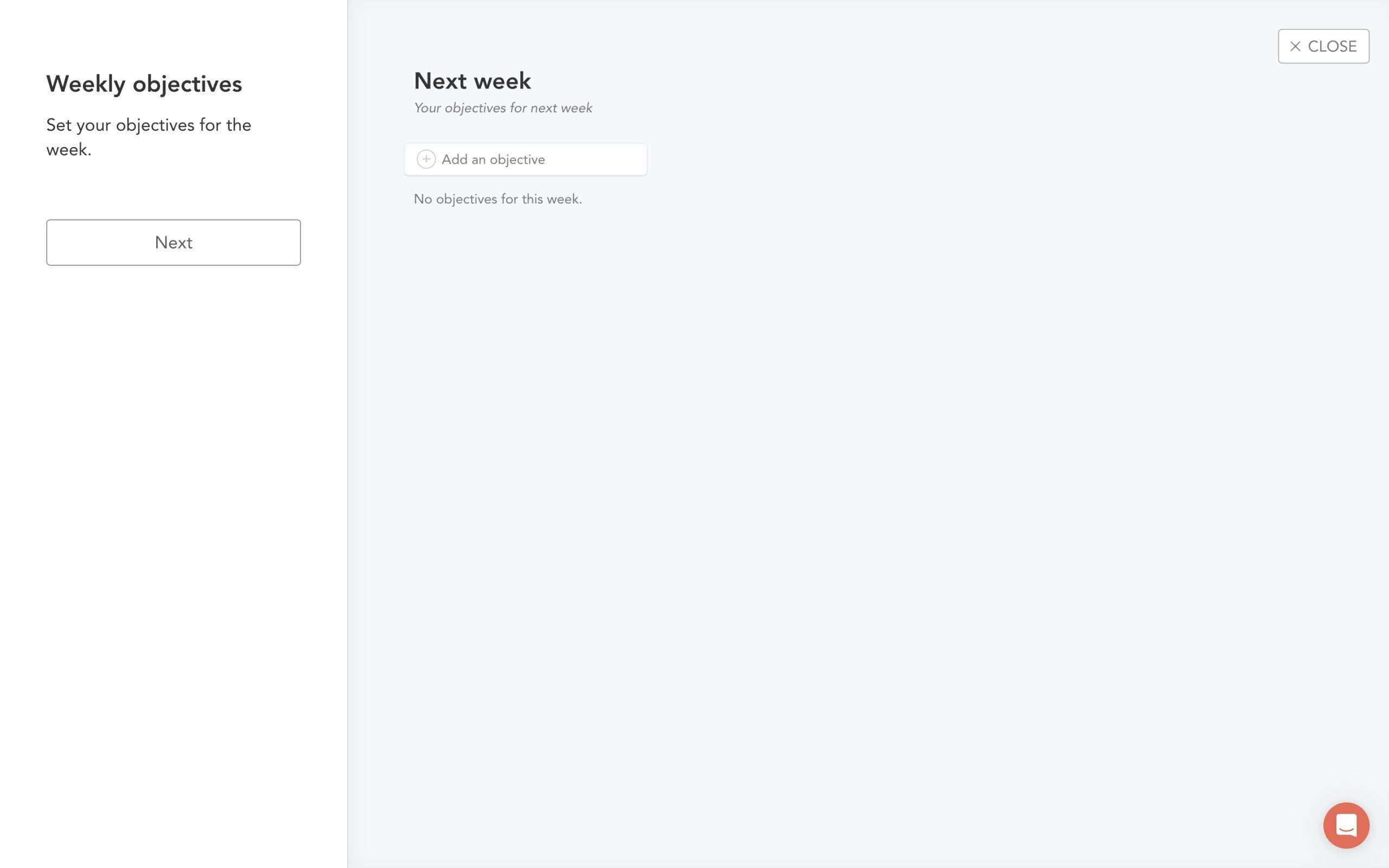 And Weekly Review:
All of this can be found under the 'Rituals' section in the left sidebar.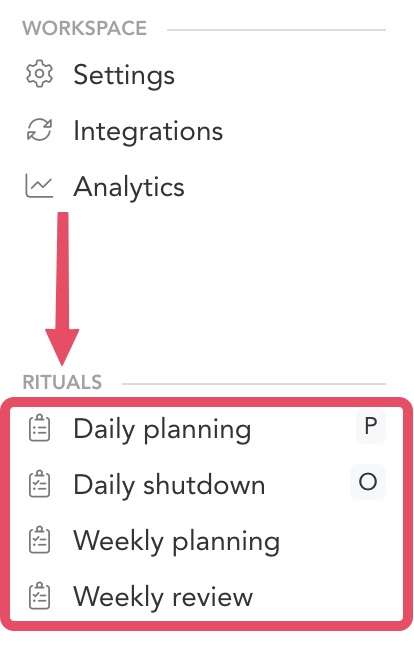 Pro Tip: As you can see, the keyboard shortcut and the Daily planning feature can be accessed by pressing 'P' and Daily shutdown through 'O'.
3. Calendar Management
As mentioned earlier, you can very easily drop tasks into your calendar.
But before you do that, you get the option to connect your:
Google Calendar
And Outlook Calendar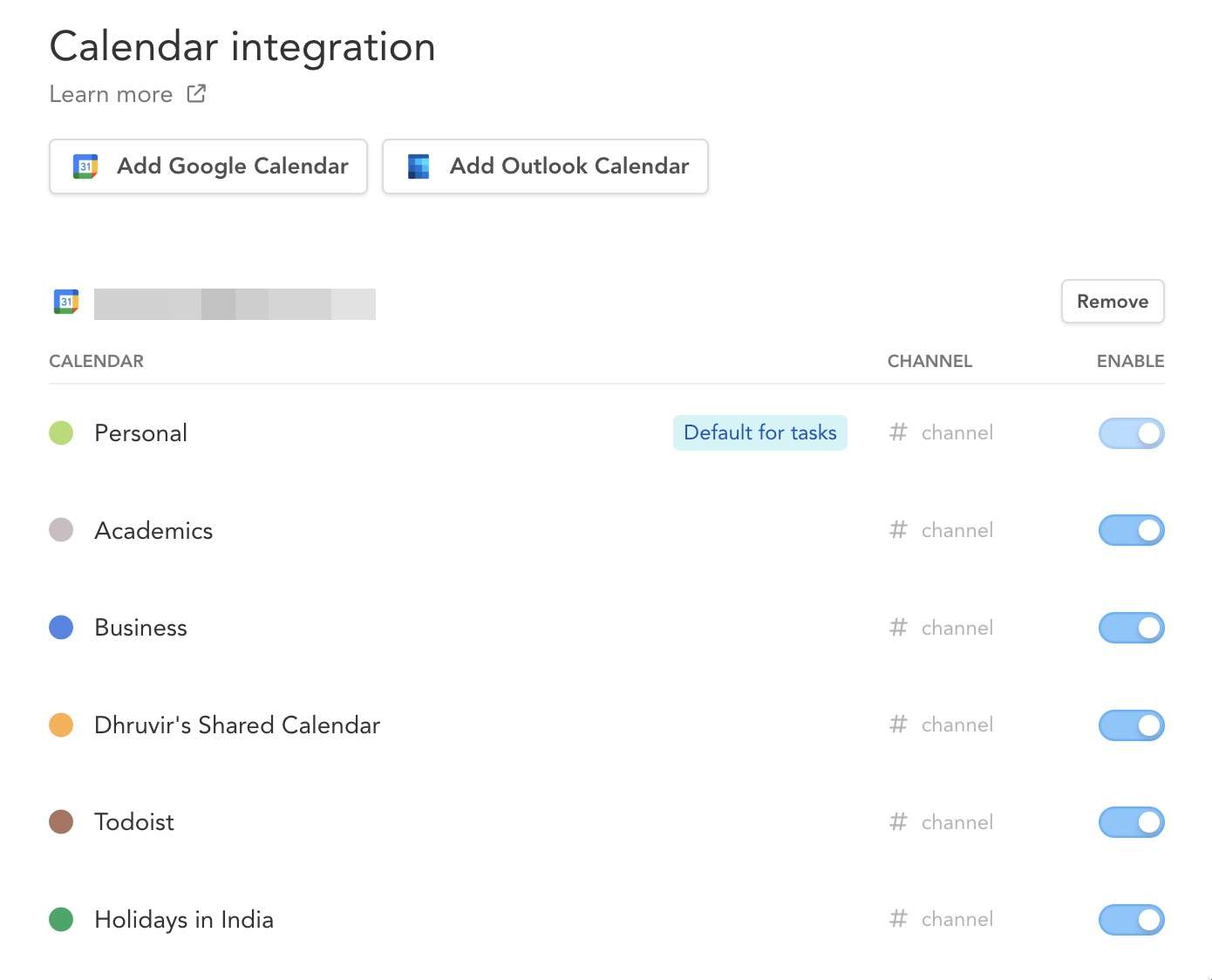 Once you connect a calendar, you will be able to see it on the right sidebar of the main interface.
If you want to see a complete calendar page, just toggle it from here: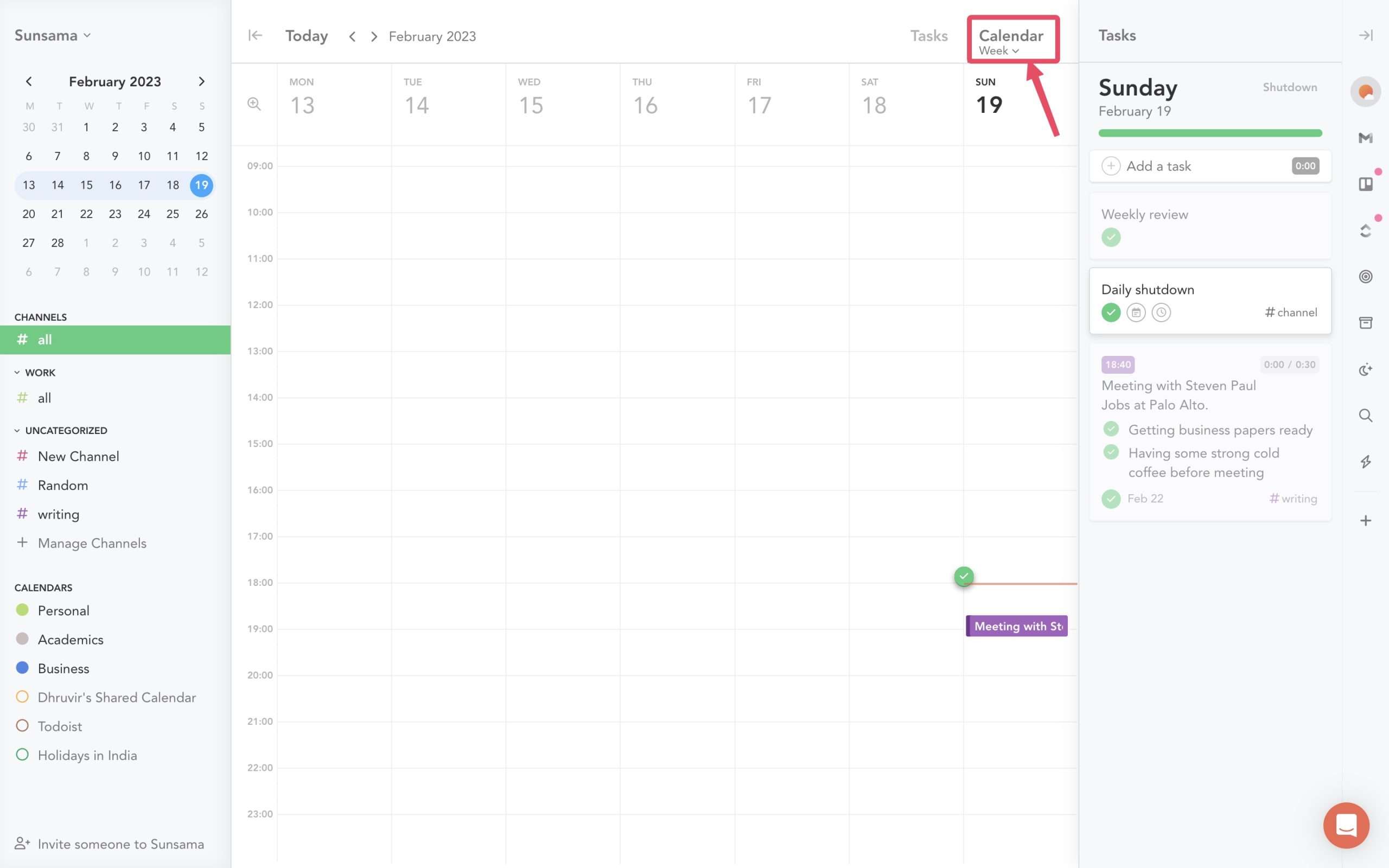 Furthermore, you can head over to the Calendar integration settings and choose to enable/disable specific channels in your calendar.
Additionally, you can also connect Zoom and Google Contacts to host better online events and meetings.
4. Inbox Management & Automation
Sunsama allows you to directly connect your Gmail as well as Outlook account, but unlike other apps, it gives you more.
One of the things is Email forwarding. You can directly add a new task by emailing it to a certain email address that Sunsama provides.
The same can be done for sending tasks to the backlog.
This is just the tip of the iceberg.
Once you connect to Gmail, you will be able to see all your emails in real-time inside Sunsama's integration bar.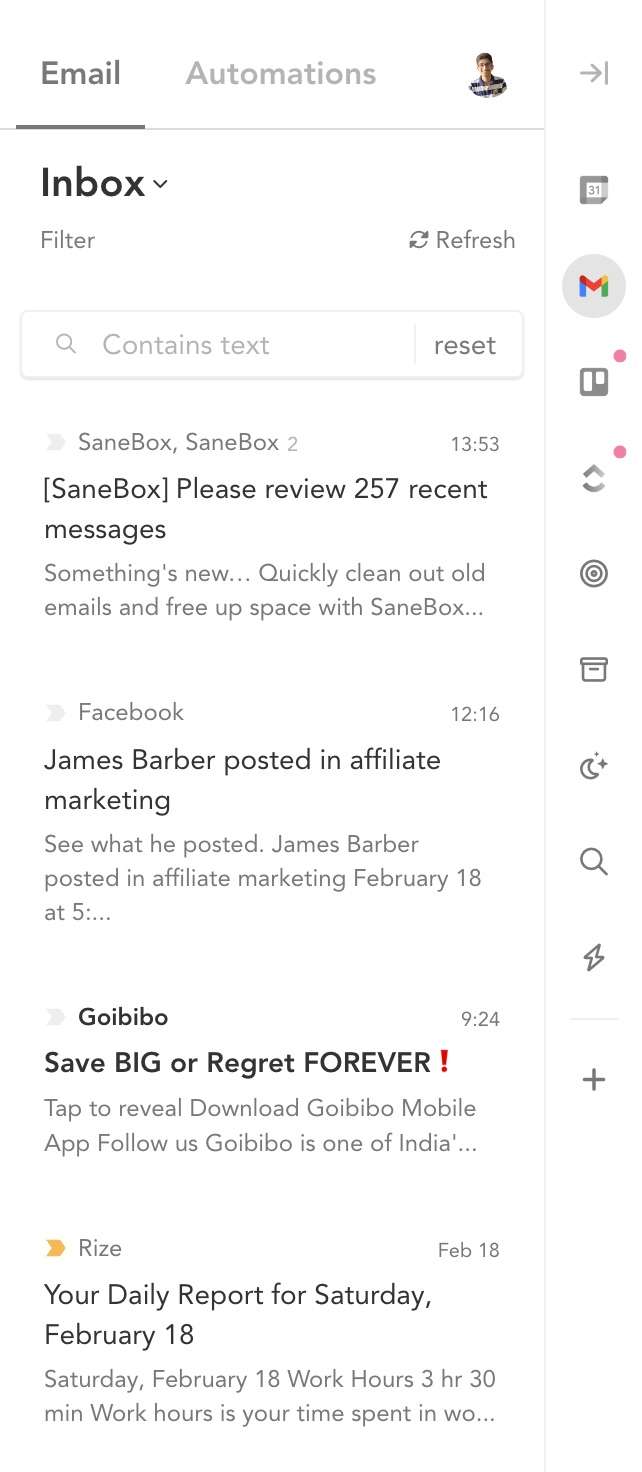 You can:
Read an email
Archive it
Put it in the trash
And even create a task out of it
About automation, Sunsama enables you to create:
Import automation, which makes Sunsama take certain actions every time you import an email: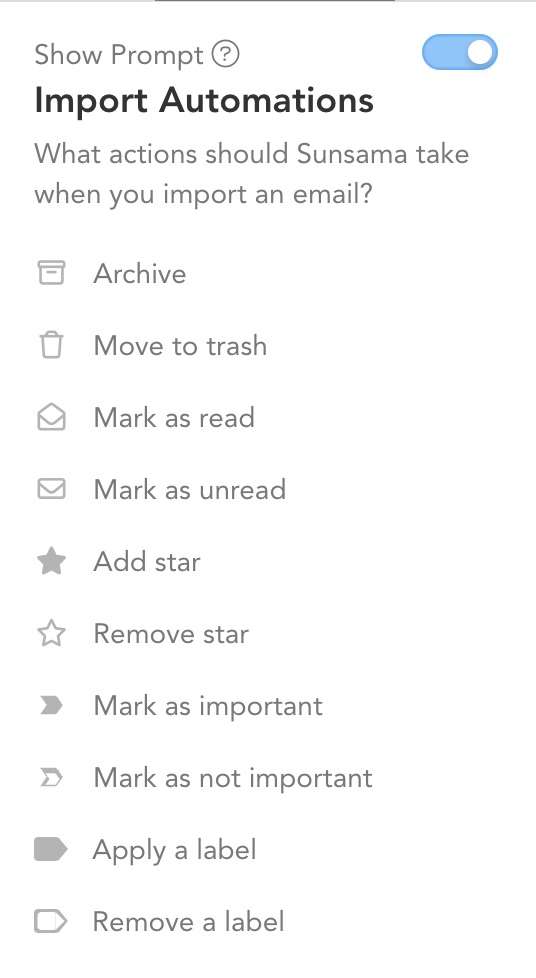 As well as Completion automation which is when you check an email off, what you want Sunsama to do with that email: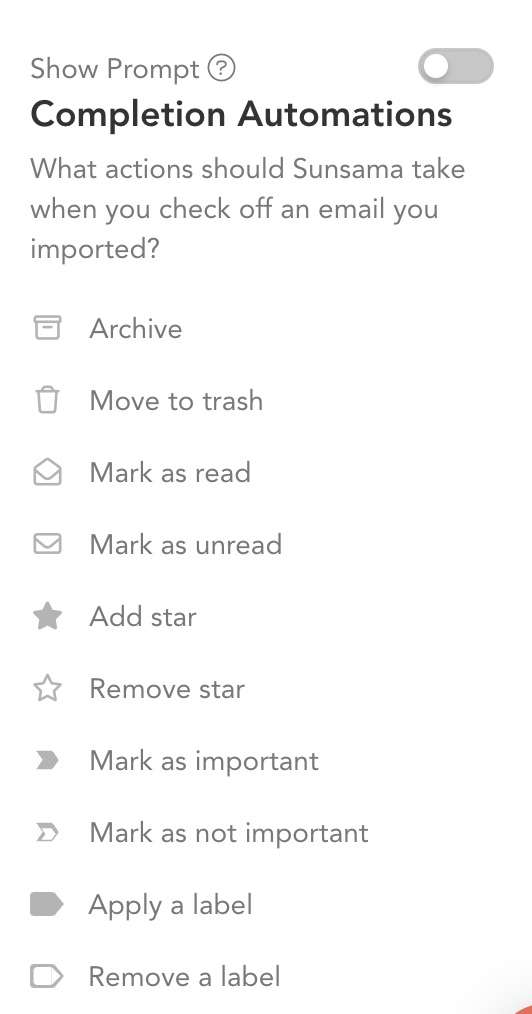 This is simple yet very time-saving.
And trust me, there are some things much better suited to be done by a machine rather than you trying to figure it out all the time.
5. Analytics
Sunsama offers analytics that helps you track your work progress.
As of now, it is not that sophisticated and advanced to be equipped with some advanced analytics and reporting features that can provide you with better insights into your work.
Sunsama breaks down the total work done into daily as well as weekly progress made through a bar chart. You can even export any specific data you want as a CSV file.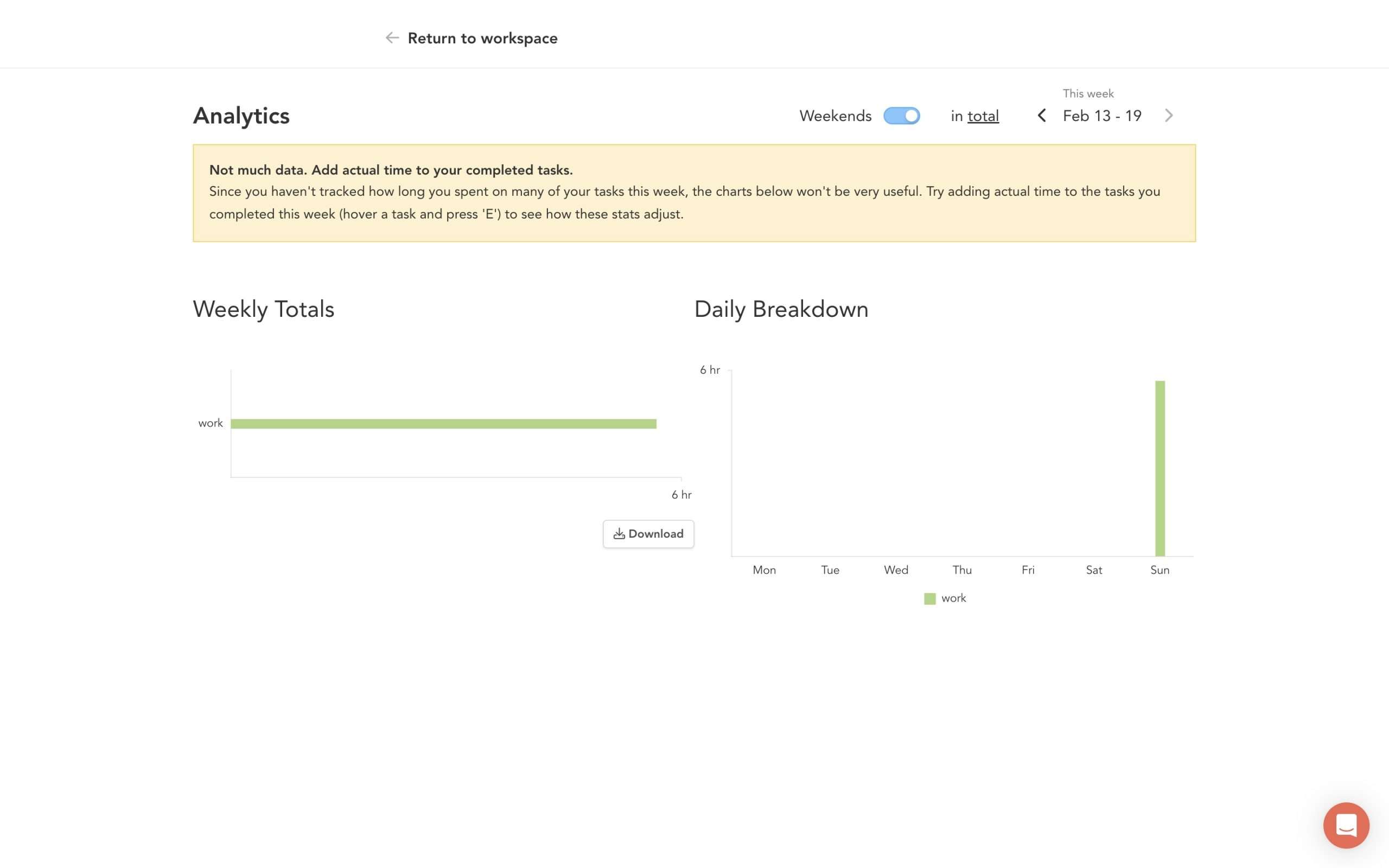 Overall, it would be great if Sunsama can be come up with more metrics to measure the work progress (like what Rize.io does).
6. Integrations
It is impossible to not mention the third-party integrations Sunsama offers.
As you earlier saw how we can work wonders by connecting Gmail, you can do a lot more than by connecting some of your favorite tools like:
Trello
ClickUp
GitHub
Todoist
Notion
Asana
And more!
Not to mention, you can insert tasks or perform specific actions from all of these tools.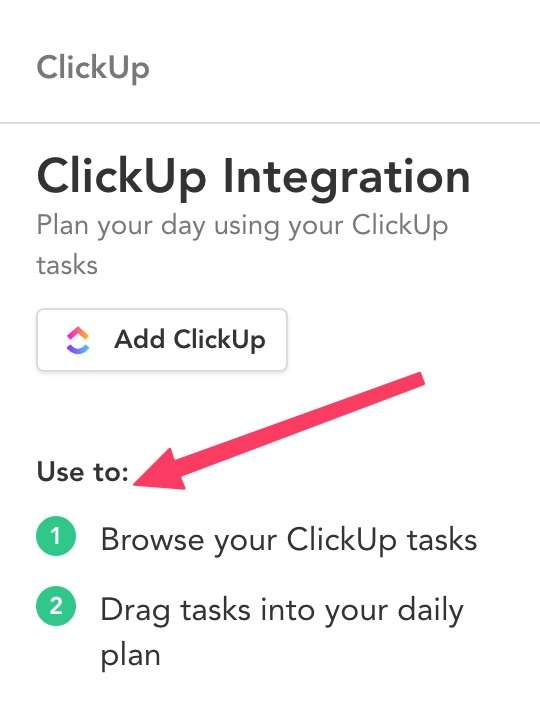 Sunsama's integration capabilities are truly phenomenal, not only because they allow you to bring all your favorite tools to one place, but also because it builds a personal, customized relationship with each tool to reap the best benefits from them.
Sunsama Pricing
Sunsama does not offer a free plan, but it does offer a 14-day free trial so that you can taste all the benefits it provides in making your professional life a breeze.
Sunsama premium plan costs $20/month when billed monthly and $16/month when billed annually.
It can be used on almost all devices including – Android, iOS, Linux, Windows, macOS, and web browsers.
Sunsama Review Wrap Up
This is Sunsama, a daily planner that organizes the most crucial parts of your work life.
No matter what you were using before, I highly suggest you give Sunsama a solid try.
Of course, we endorse it!
Not only because it is a useful app, but because it gives fruitful consistent results.
By managing your tasks from all your productivity apps and making sure you complete them, Sunsama can be your partner in crime.
With that said, I would like to make it easy for you.
Sunsama is for you if:
You want to focus on completing your most important goals.
Track continuous progress and grow quickly.
And be meaningful in whatever you're working on at the moment.