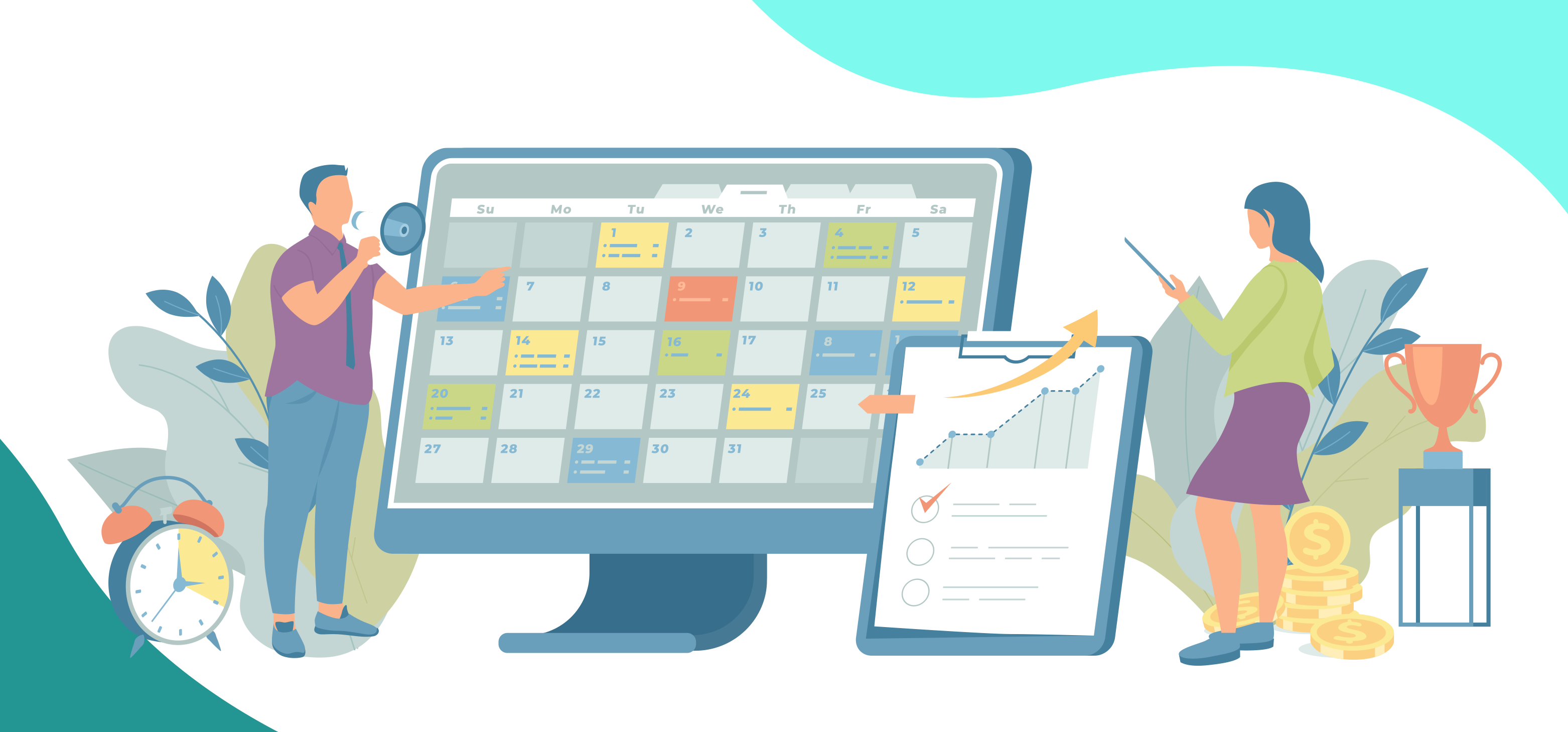 Until recently, I believed that planning my day was a waste of time.
Why would I need to write down what I have to do when I can just remember it, right?
WRONG.
Turns out, planning your day is one of the best things you can do to increase your productivity and achieve your goals.
If you don't believe me, just ask any successful person out there. They will all tell you that planning is essential to their success. Even better, try it out for yourself.
If you're not sure how to get started, don't worry. I've got you covered. In this article, I'll be sharing the 12 best apps for planning that can make your life much easier.
Structured is a daily planner app for iOS, iPad, and macOS that helps you stay on top of your day-to-day tasks.
With its sleek and minimalistic design, it's perfect for those who want a fuss-free way to organize their day.
Here's how it works – At a very basic level, Structured combines your calendars and tasks and converts them into a beautiful timeline.
The theme allows you to change colors, and you can even import your calendars within a few clicks.
And every time you have something coming up, you'll be notified with an aesthetically appealing notification. You can further go one step ahead and customize alerts as per your needs.
You also get over 550 tasks and subtasks templates that you can use for work, school, or home.
The best part – without even signing, you can make sure all your changes are synced across all Apple devices (through iCloud.)
Structured is a free app with monthly in-app purchases of $1.49.
Best Features
Ease of use
Sleek and minimalistic design
550+ icons to personalize tasks
Syncs across all Apple devices
Beneficial to those with ADHD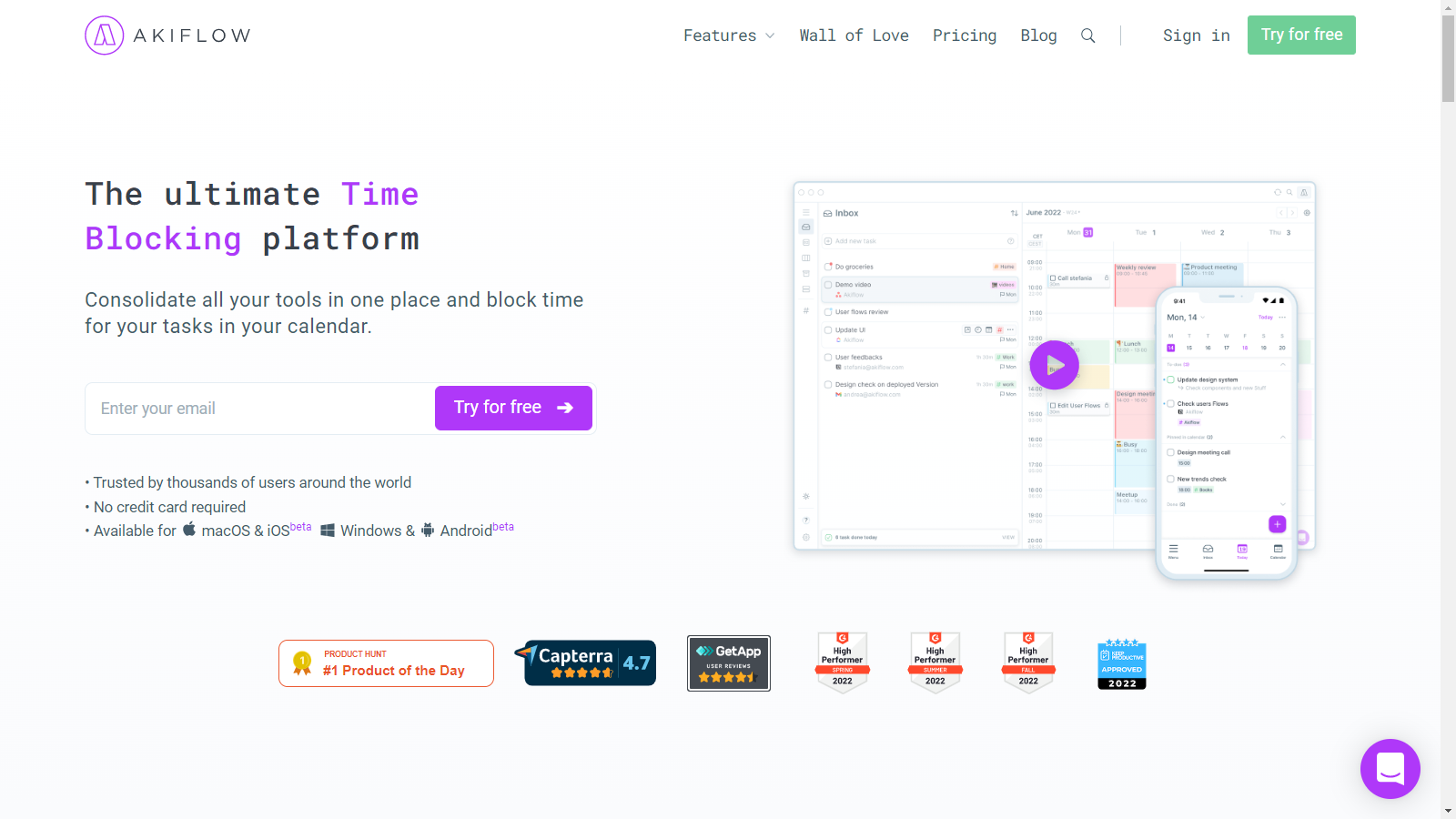 Akiflow is an excellent time-blocking tool to help you manage your time efficiently and plan your day in advance thanks to its intuitive drag-and-drop interface.
You can also use it to track your progress on projects, set reminders, and get notifications when tasks are due.
It has a visual interface that makes it easy to see what tasks need to be done and when. Akiflow also allows you to create and manage multiple projects, so you can easily keep track of your progress.
Currently, Akiflow does not run on web browsers. They have apps for macOS, iOS, Windows, and Android.
With its Focus Mode, you can block out distractions and get things done without multitasking (ctrl/cmd + F to open focus mode for any task).
And besides planning your day, Akiflow also lets you plan your meetings, so you can make the best use of your time. No more meeting delays or rescheduling!
Last and best, you can integrate all of your to-dos from other apps into Akiflow. This way, you can keep track of everything in one place, and get your work done more efficiently (create tasks from Gmail, Slack, and more).
Akiflow has a 7-day free trial. The Premium plan then costs $15/month.
Best Features
Intuitive drag-and-drop interface
Visual interface
Command bar
Focus mode
Meeting planner
Integration with other apps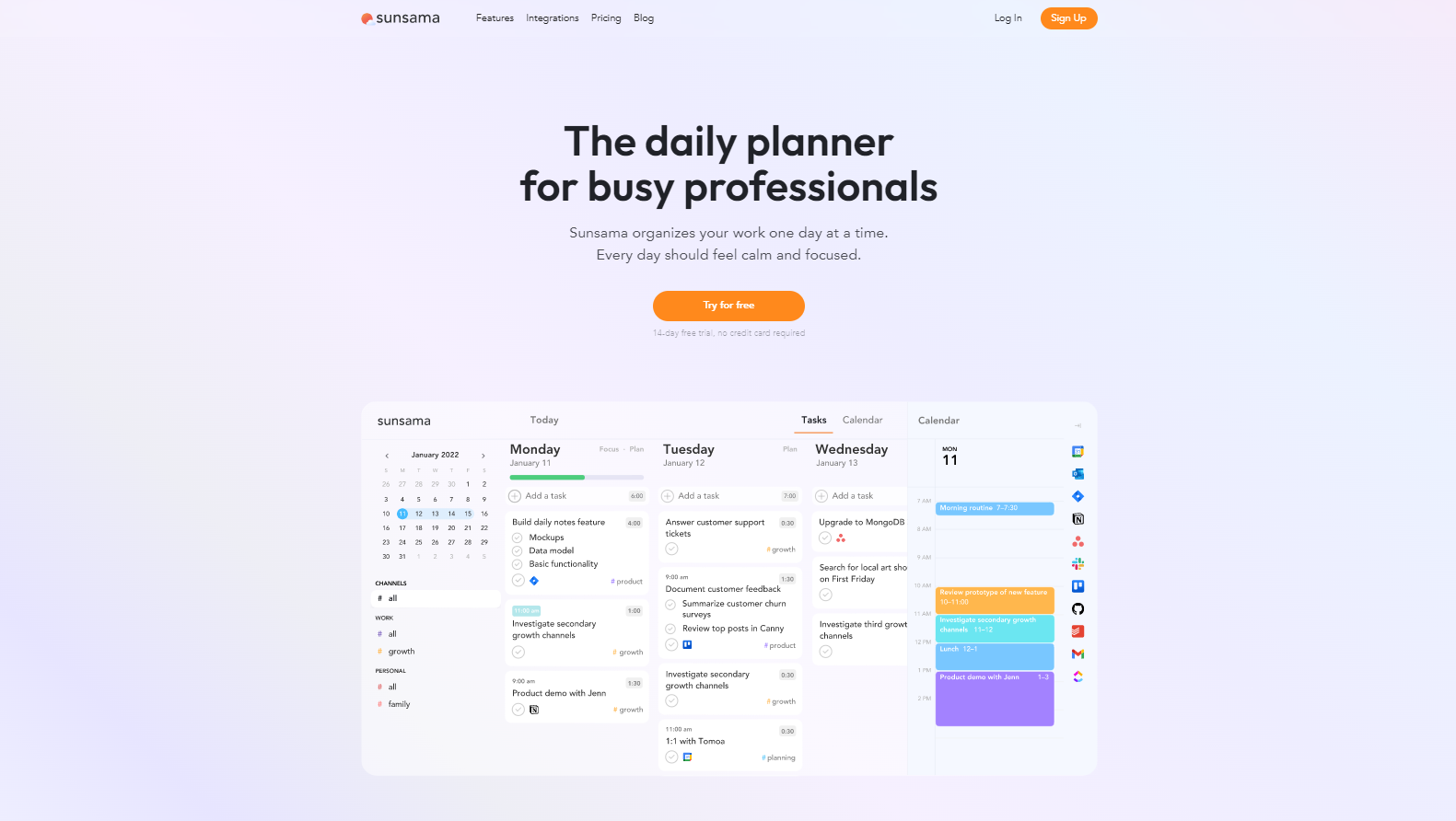 Sunsama is a productivity tool that tracks and manages your tasks and to-dos, and calendar, all in one amazing visual interface.
One of the best features is the way it integrates with your calendar. You can see all your upcoming tasks, events, and deadlines in one place, and drag and drop them to reschedule if needed.
This has been a huge help for me in keeping my projects organized and on track.
Another great feature is the ability to set goals and receive progress updates. This helps me stay focused on what's important, and I really appreciate being able to track my progress over time.
One more unique feature you'll absolutely love about Sunsama is its daily planning and daily shutdown feature.
With daily planning, you can see what's coming up tomorrow and start getting ready for it today. This is great for avoiding surprises and staying on top of your game.
And with the daily shutdown, you can reflect on your day and plan for tomorrow before you even log off for the day (Therapy to a good night's sleep).
Lastly, its focus mode is perfect for when you need to get into the zone and get things done. It blocks out distractions so you can focus on your task at hand and get it done quickly and efficiently (also comes with a built-in minimal Pomodoro timer).
Sunsama offers a 14-day free trial and then a paid subscription of $20/month.
Best Features
Integrates with your calendar and other tools
Daily / weekly planning and shutdown feature
Focus mode
Analytics
Automatic scheduling
Efficient keyboard shortcuts

Notion is a versatile app that can be used for everything from taking notes to managing projects.
However, it shines as a daily planner. With its customizable interface and powerful features, Notion makes it easy to keep track of your schedule and get things done.
Notion also integrates with a variety of other apps, making it a great choice for anyone who likes to have all their tools in one place.
What's better, the free version of Notion is more than enough for most people. Notion has almost as many use cases as you can think of, which is why it's one of the best daily planner apps available.
And some of the premade templates make it super simple to get started with using Notion. The amazing thing is if you come across any free Notion template you like, you can simply duplicate it on your page and start using it for your purposes.
Additionally, its search feature and keyboard shortcuts make it a dream to use for anyone who wants to be productive.
Notion runs on all devices and also integrates with numerous apps, so you can get your work done from anywhere.
Collaborating on tasks and projects is a breeze with Notion, making it ideal for students or professionals who need to work together.
Notion comes with a free plan. Its Personal Pro plan costs $5/month, while the Team plan costs $10/month.
Best Features
Customizable interface
Powerful task management and planning features
Integrates with other apps
Excellent search feature
Keyboard shortcuts
Highly flexible templates
Planndu is a great app for anyone who likes to be organized. It lets you create and manage all sorts of plans, from simple to-do lists to complex multistep projects.
You can share your plans with others, and work together on them in real-time. Plus, the drag-and-drop interface makes it easy to add, remove, or rearrange steps in your plan.
As simple as it is, Planndu lets you add your tasks faster, improve your concentration by blocking time through pomodoro timers, effortlessly collaborate with others on completing the tasks, and even add recurring reminders for the tasks you do every day, week, or month.
The interface of Planndu is extremely simple to use. The flowtime timer is designed in such a way that it not only looks good but also enables you to take timely breaks.
You can also connect your calendar to Planndu, so you can see your plans and tasks in one place. This is great for keeping track of deadlines and ensuring that you don't overbook yourself.
Planndu has a forever-free plan. However, its monthly premium plan costs $5.95/month.
Best Features
Habit tracker templates
Pomodoro timer
Calendar integration
Speech to text
Recurring task creation
Brown noises for focus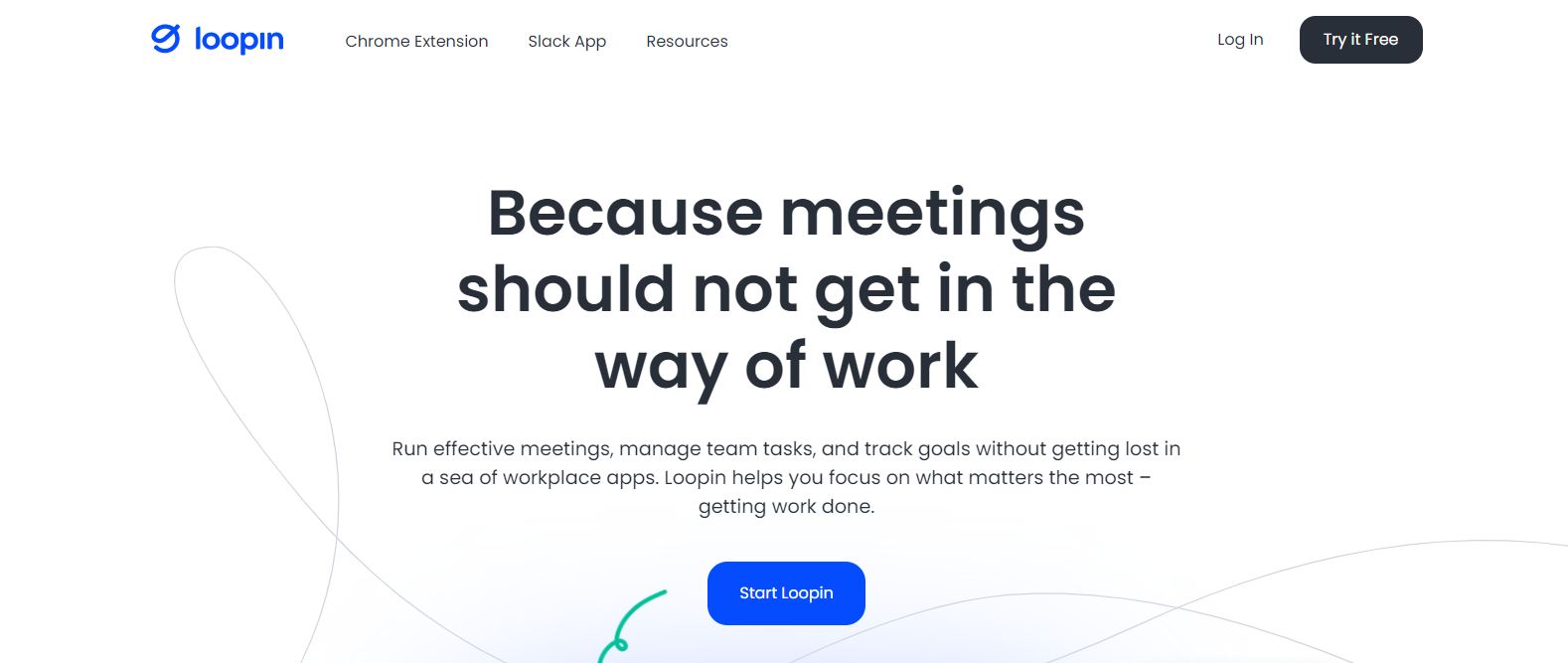 Loopin is a super note, tasks, and meetings app to help you create and complete tasks swiftly, lessen the meeting time, and document the process by taking notes of what's important.
It has got an amazing interface with the ability to access tasks, notes, and calendars from the left panel which is simple and easy to use.
The left interface shows your calendar schedule with all the upcoming tasks, and the interface on the right side of the screen enables you to add text and media-rich notes. You can also create reminders, and to-do lists and schedule tasks from here.
While planning your day, you can also benefit from some of their note templates which are designed for different purposes such as daily journals, travel notes, project notes, meeting notes, and more.
Lastly, adding tasks to the calendar has never been easier. All you need to do is to create and drag them on your calendar interface.
Loopin has a 14-day free trial. You can then choose to upgrade to their paid plan which costs $15/month.
Best Features
Create and manage tasks, notes, and meetings all in one place
Simple and easy-to-use interface
Accessible from anywhere
Variety of note templates
Ability to drag and drop tasks on the calendar
Slack and Chrome extension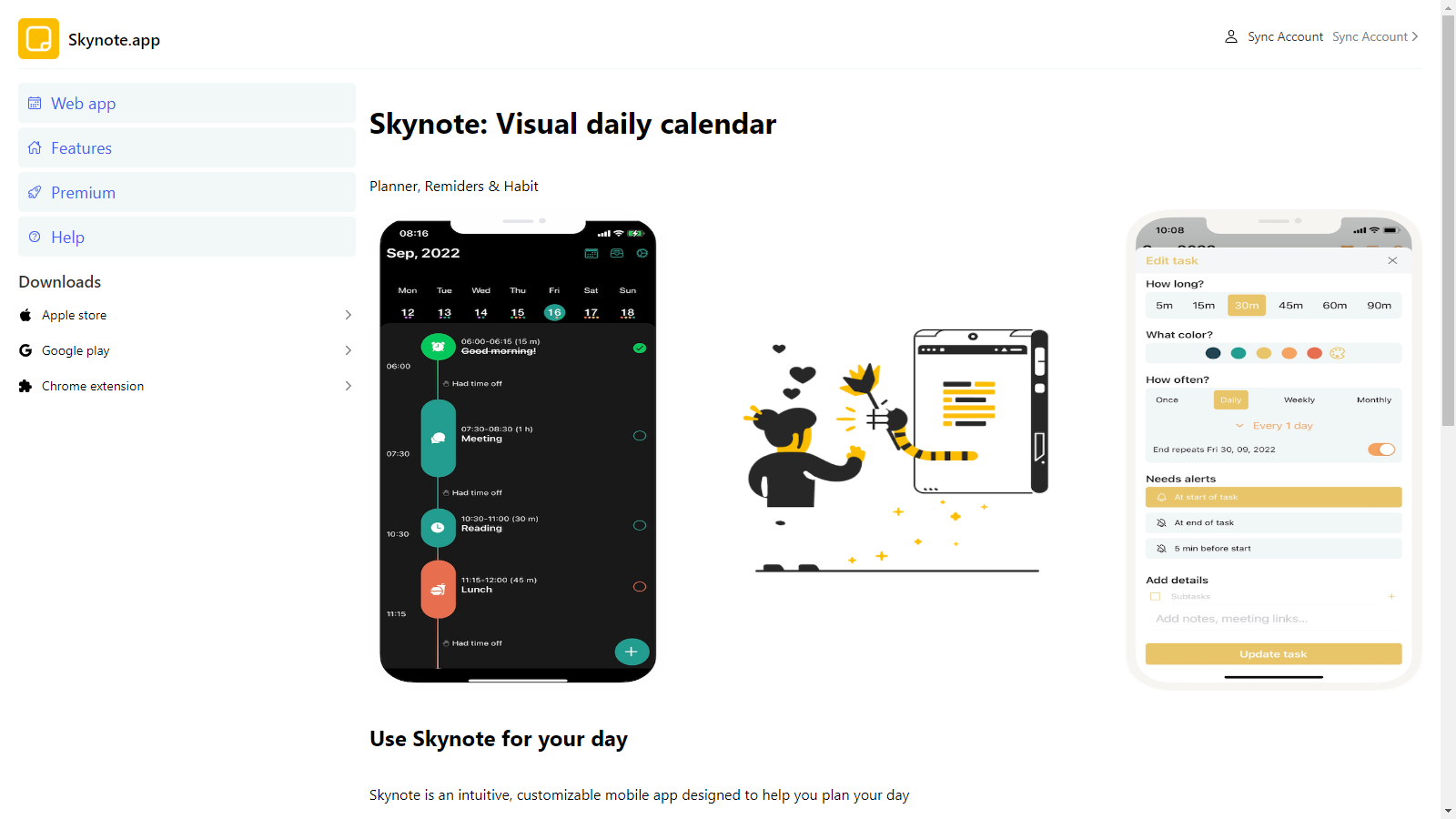 Skynote is a daily visual planner and calendar mobile app to see your tasks, events, and goals in one place.
What sets Skynote apart from other similar tools is its ability to convert your calendar schedules into a visually appealing timeline (even better than Google Calendar's). Yes, you can integrate Skynote with your Google Calendar and iCloud.
With their simple yet timely notifications, you'll never miss an event or task again.
You can also create to-do lists, set reminders, and track your progress all in one place. Additionally, creating recurring tasks is a breeze with Skynote.
And if you upgrade to Skynote premium, you get access to additional useful features like statistics, inbox and checklists, pro icons, and more.
Skynote has a free Chrome extension, an android as well as an iOS app. The paid plan starts at $1.08/month.
Best Features
Create visually appealing calendar timelines
Integrates with Google Calendar and iCloud
Set reminders and recurring tasks
Minimal task management
Simple and easy-to-use interface
Quickly track your progress
Best Features
1-click import
Create customized workflows for efficient task management.
Cross-Platform accessibility
Plan your day with tasks, reminders, and calendar integration
Use ready-to-go templates for various use cases
Taskito is a simple, yet a powerful android app that helps you get your work done. It's easy to use and has features that make it a great choice for busy people.
You can create tasks and subtasks, set deadlines, and priorities, and even add notes.
Taskito also has a handy calendar view, so you can see what's coming up next. And if you need to share your task list with someone, you can do so with ease.
The timeline view is also great for visual people who like to see their tasks laid out in front of them. It includes all your daily tasks, calendar events as well as reminders.
You also get a planning board that lets you create projects and lets you brainstorm, so you can easily get your work done.
Creating recurring reminders for tasks is also possible with Taskito, which is helpful if you have tasks that need to be done regularly.
Lastly, you can benefit from tags and templates that make it easier to organize your tasks and keep track of them.
While the Android Taskito app is free to use, there are a few in-app purchases available for those who want more features. (The web version will be arriving soon).
Best Features
Calendar and timeline view
Project Board
Recurring reminders
Tags and templates
Various theme designs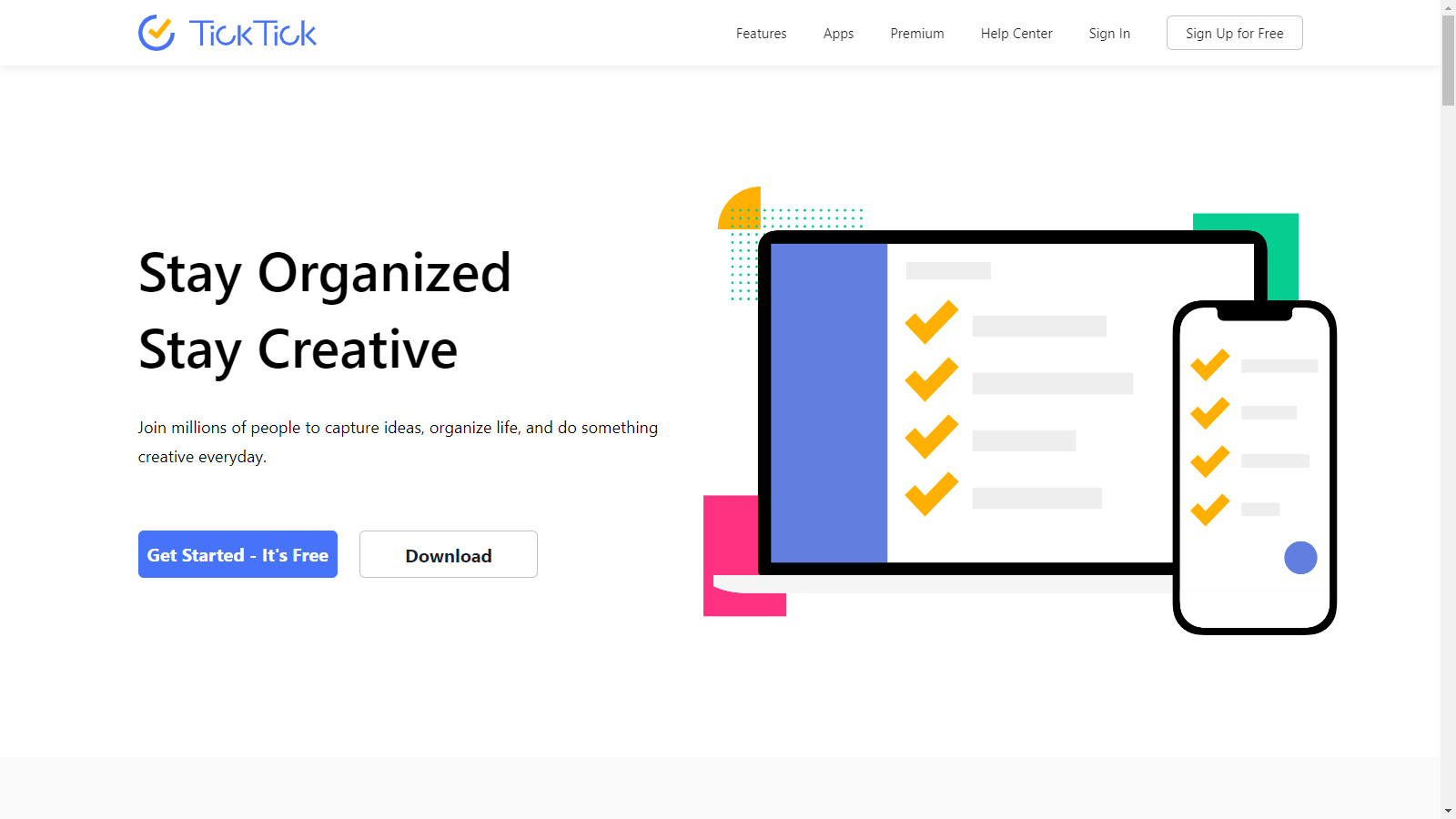 TickTick is an ultimate task management tool that works on Windows, macOS, Android, iOS, and Linux as well as anywhere else you can think of.
It's simple to use and has all the features you need to keep track of your tasks, including the ability to set due dates and reminders.
Plus, you can access your account from any device, which is really handy. TickTick also makes it easy to share tasks with others, which can be helpful if you're working on a project with a team.
Its task features like voice input and the ability to turn emails into tasks make it even more useful. Its smart date parsing feature automatically created reminders for you on your due date and time.
If you do different kinds of things in a day, which I am sure you do, then here's the good news. TickTick enables you to create different folders for each task category and allows you to take it even further through multi-prioritizing, sorting, filtering, and much more.
You can not only add and connect calendars, but also view calendars in different ways (like daily and monthly.)
With the perfect combination of Pomodoro and white noises, you can get into the zone and focus on your task at hand.
TickTick has a free plan with a premium plan starting at less than $2.4/month.
Best Features
Cross-platform support
Pomodoro timer & white noise
Smart date parsing
Smart time tracking (statistics)
Calendar(s) integration and view support
Easy team collaboration on tasks/projects
Evernote is designed to help you keep track of your notes, ideas, and to-do lists in one place. With Evernote, you can easily add new tasks and due dates, set reminders, and even attach files and photos.
Plus, the search function is amazing for quickly finding what you need.
The home dashboard helps you start your day with a quick overview of your upcoming tasks and events.
You can even connect your Google Calendar account to Evernote so you can see your schedule and notes in one place.
And every change you make will be visible everywhere – on all devices – so you can stay organized no matter where you are.
Besides the calendar, Evernote integrates with a lot of other best productivity apps, including Google Drive, Slack, Microsoft Teams, and more!
Lastly, Evernote has a feature called Spaces, which lets you organize your notes into different categories. This is great for work projects, personal to-do lists, or anything else you need to keep track of.
Evernote has a completely free plan with a Personal plan starting at around $3.59/month and the Professional plan costing around $4.58/month.
Best Features
Attach files and photos
Calendar integration
Easily see the planned day on the home dashboard
Search function
Spaces for clear categorization
Google Calendar is one of the most popular daily planning apps, and for good reason. It's easy to use and has a lot of great features.
You can create different calendars for different purposes, such as work, home, and personal, and you can share them with other people.
Google Calendar also integrates with other Google products, such as Gmail and Google Drive. This makes it easy to keep track of all your important events and tasks.
One thing to note is that Google Calendar doesn't have a lot of the bells and whistles that some of the other apps on this list have. But it's still a great option for those who want a simple, effective way to plan their days.
It also allows you to see all your tasks, events, festivals, and meetings on a daily, weekly, and monthly view or as a timeline.
Google Calendar is a free app that works on all devices.
Best Features
Easy to use
Integrates with other Google products
Can create different calendars for different purposes
Set notified reminders for non-repeat and recurring tasks
Conclusion
There you have it!
The 12 best daily planner apps to help you stay on top of your game and achieve your goals.
No matter what your lifestyle is, there's an app on this list that can help you stay organized and productive.
It may be possible to get by without using a daily planner app. But if you're looking to take your productivity to the next level, these apps are honestly worth checking out.
So, what are you waiting for? Start planning!