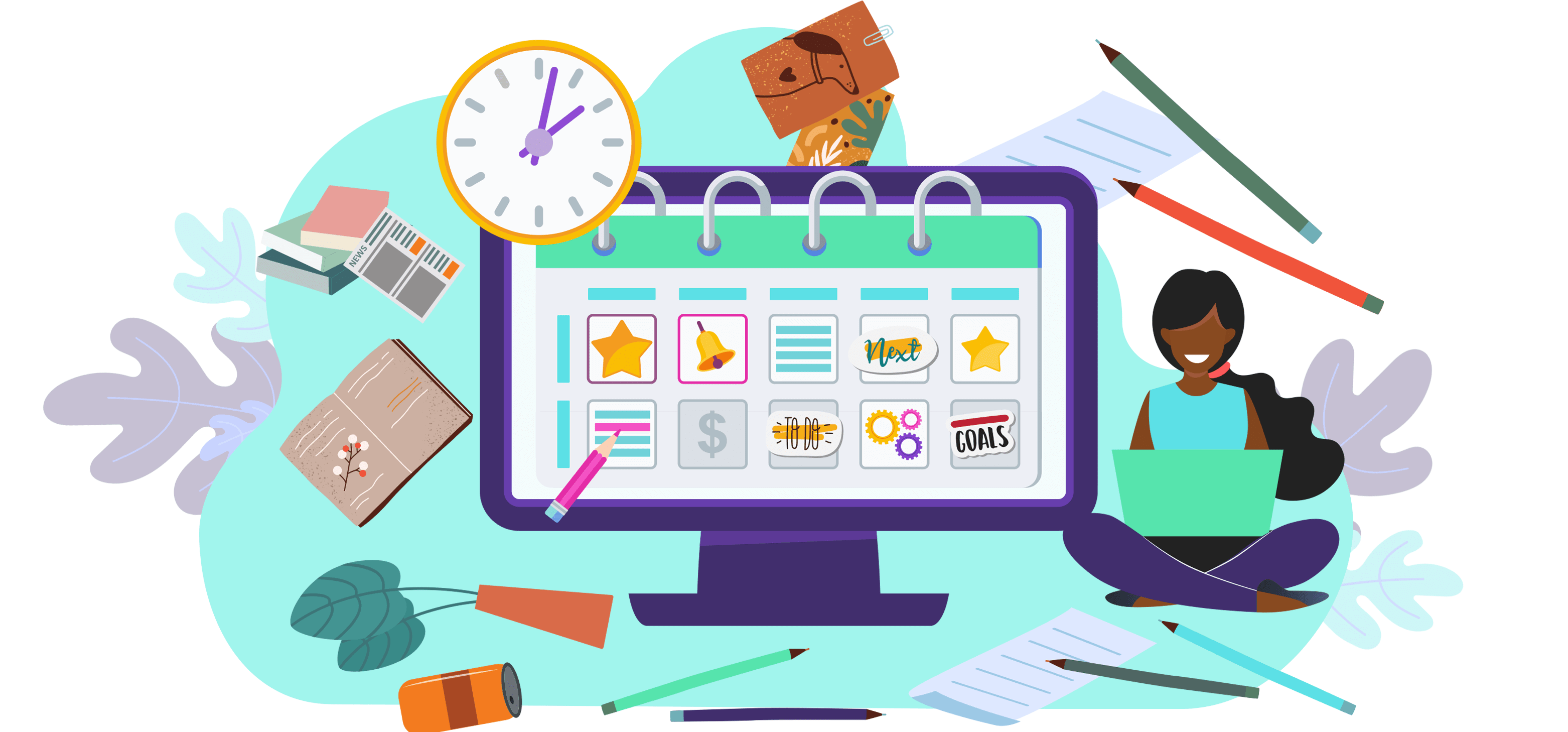 One of the difficult parts of choosing a daily planner is finding one with ADHD-friendly features.
ADHD minds think differently than others. Fancy tools, too many functions, and even the planner itself can sometimes feel overwhelming, making you stressed out organizing the day.
With so many available options, it would take a series of trials and errors just to find the best app for task organization.
To simplify things for you, I have put together a list of applications that are user-friendly and well-suited for people with ADHD.
Let's cover the basics first, and then we'll review the list.
What is a Daily Planner, and What Type is Suitable for ADHD?
A daily planner is an application that typically delivers to-do lists, calendars, time trackers, and reminders. It offers a digital alternative to paper journals to help you efficiently manage your personal and professional work.
To find a suitable software product with ADHD-friendly tools, you should first pinpoint the underlining problem that led you to feel the need for a daily planner.
ADHD is a mental condition that causes inattentiveness and hyperactivity. You struggle to maintain focus to such an extent that you often find it difficult to prioritize tasks or get things done on time.
Daily planners that solve the above challenges are ideal for you.
While most come equipped with organization tools, below are some of the features you should look to shortlist your choices;
Clean interface.
A quick method to note down info.
Subtasks to break tedious jobs.
Color coding or visual calendar for a quick glance.
Reminders and trackers.
Let's check out the list of the 12 best daily planner apps and explore their features and pricing.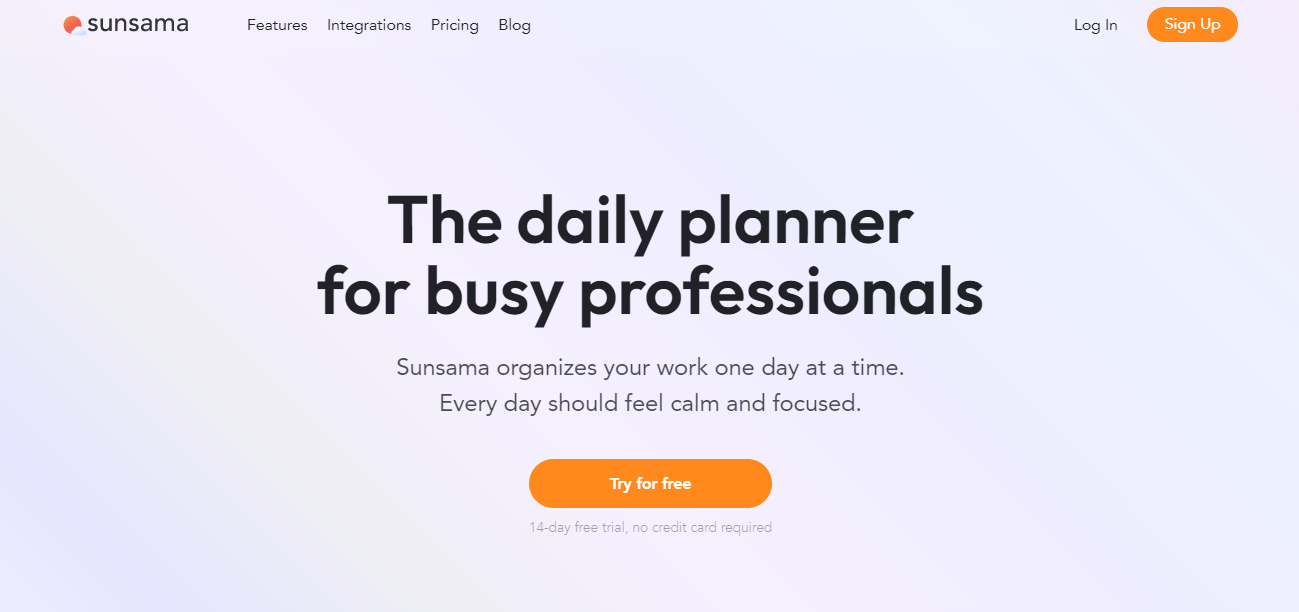 Sunsama gives you a unified planner to organize and track your day.
It has an intuitive interface that makes it easier to import tasks from other apps, break long projects into sub-tasks, and rearrange the order as you see fit.
You can drag the jobs to your calendar to block your time, turn on the timer to track your work, and set your schedule on autopilot.
Another thing. You can convert your emails and Slack messages into tasks and add them to your planner. With a focus mode, you can make sure you don't get distracted by other jobs on your to-do list.
I recommend checking Sunsama's blog for more details. It shares a guideline on how best to use Sunsama for ADHD.
Core Features
Daily planner.
Timeboxing and tracking.
Focus mode.
Weekly progress review.
Calendar syncing.
Integration with third-party productivity platforms.
Compatible with desktop and mobile.
Price
Sunsama charges $20 per month.
You can take a 14-day free trial without providing your credit card details.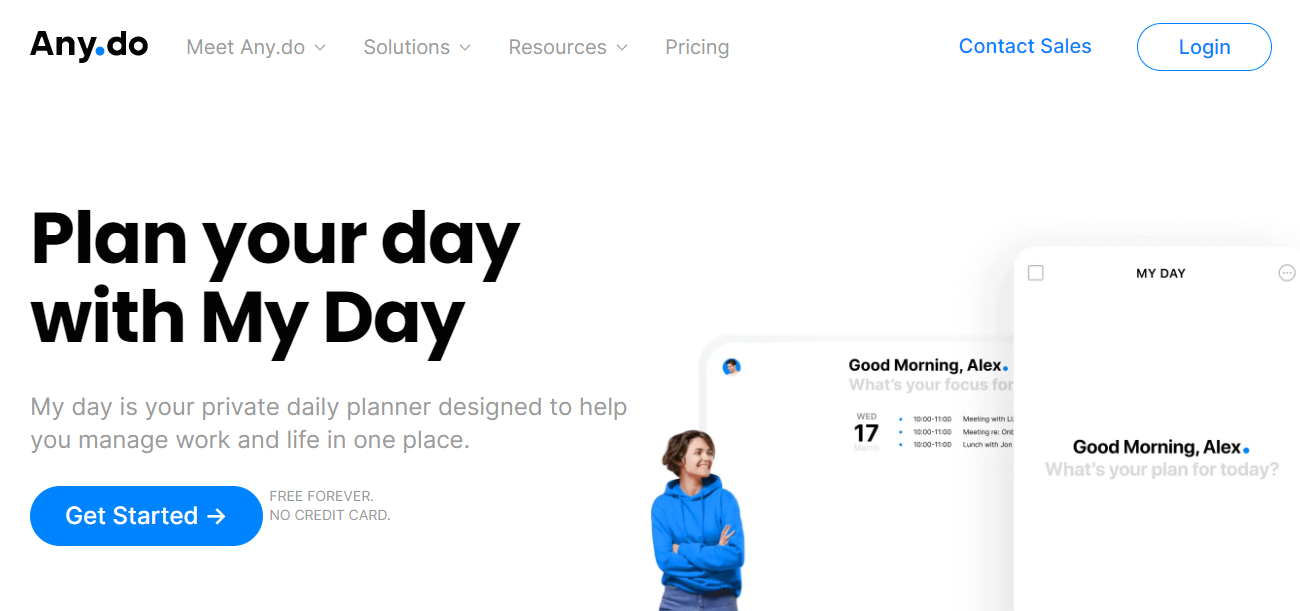 Any.do provides digital planning solutions for both personal and professional tasks.
It's a to-do list application that delivers a collaborative workspace for teams and a free daily planner called "My Day" for private use.
My Day has a simple and clean dashboard that refreshes every day, enabling you to focus on current projects.
The planner comes with a smart suggestion tool that pulls data from your calendar and collaborative workspace and automatically suggests relevant tasks. If any job requires your team's input, you can manually create tasks from your team workboard and switch the status when the job is completed.
You can sync Any.do with multiple devices to access it anywhere.
Core Features
To-do list and tasks.
Daily planner.
Calendar integration.
Reminders.
Multi-device support.
Price
Any.do's basic plan is free, and premium plans cost $3 to $5 per month.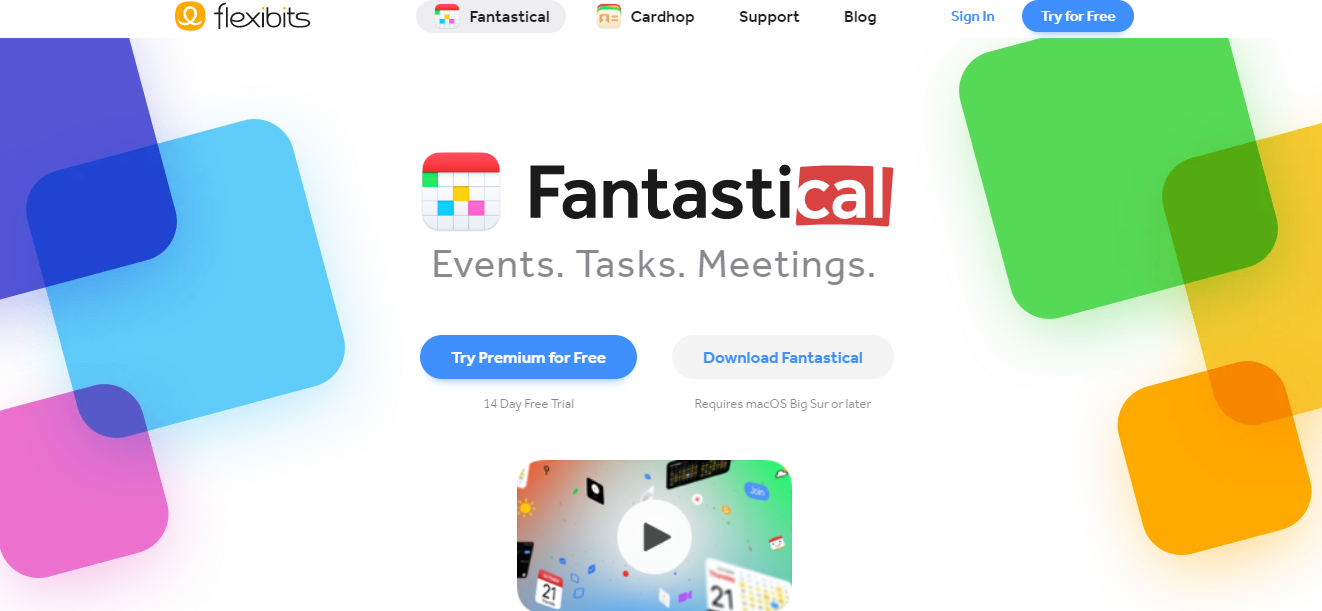 Fantastical comes with some amazing features for daily planning.
It's a smart calendar app for Mac that allows you to create recurring tasks, schedule location-based activities, set reminders, and enable notifications to alert you if you're late for a meeting.
When you're at work, you can enable the focus filter, which will hide personal chores and display only priority tasks.
For team communication, Fantastical has a collaboration option that enables you to share your time availability, add people to your event, and start video conferences. It supports leading calendar services and conference tools to send and receive invites.
Core Features
Visual calendar.
Team invitation.
Tasks, reminders, and events.
Notes and attachments.
Focus mode.
Conference call integration.
Appearance customization.
Home screen widgets.
Support major calendar accounts.
Price
Fantastical charges $7 for an individual account and $11 for multi-users.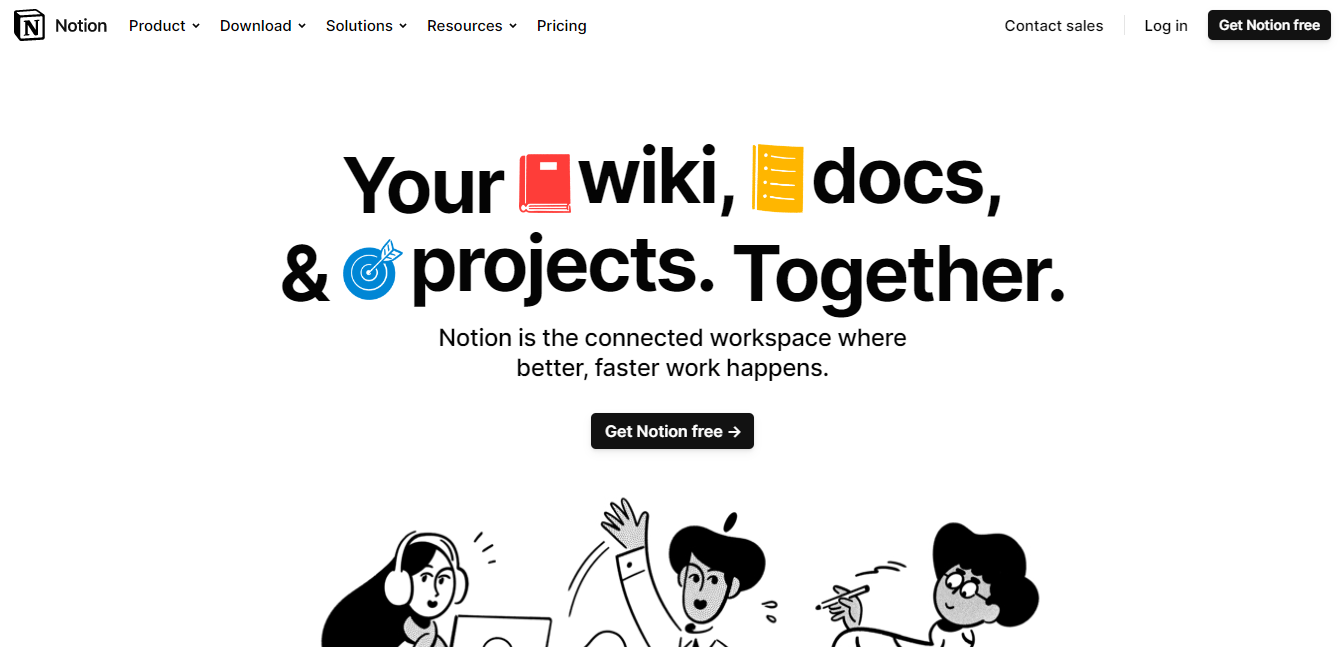 Notion is ideal for those who're looking for flexible options. It's an all-in-one platform that provides you with robust tools and templates to efficiently organize your day.
Here, you can create a centralized workplace to store notes, schedule tasks, and manage your projects. With its Kanban board, you can easily view pending jobs, projects you're currently working on, and tasks you've already finished.
You can invite guests to collaborate, and integrate third-party platforms like Slack for work communication. You can also purchase ADHD templates that are specifically designed for Notion users.
Core Features
Daily planning and project management.
Kanban board.
Media upload.
Team collaboration.
Calendar.
ADHD-friendly templates.
Integration with Slack.
Analytics on team account.
Price
Notion is free for personal use and charges $8 to $15 for teams.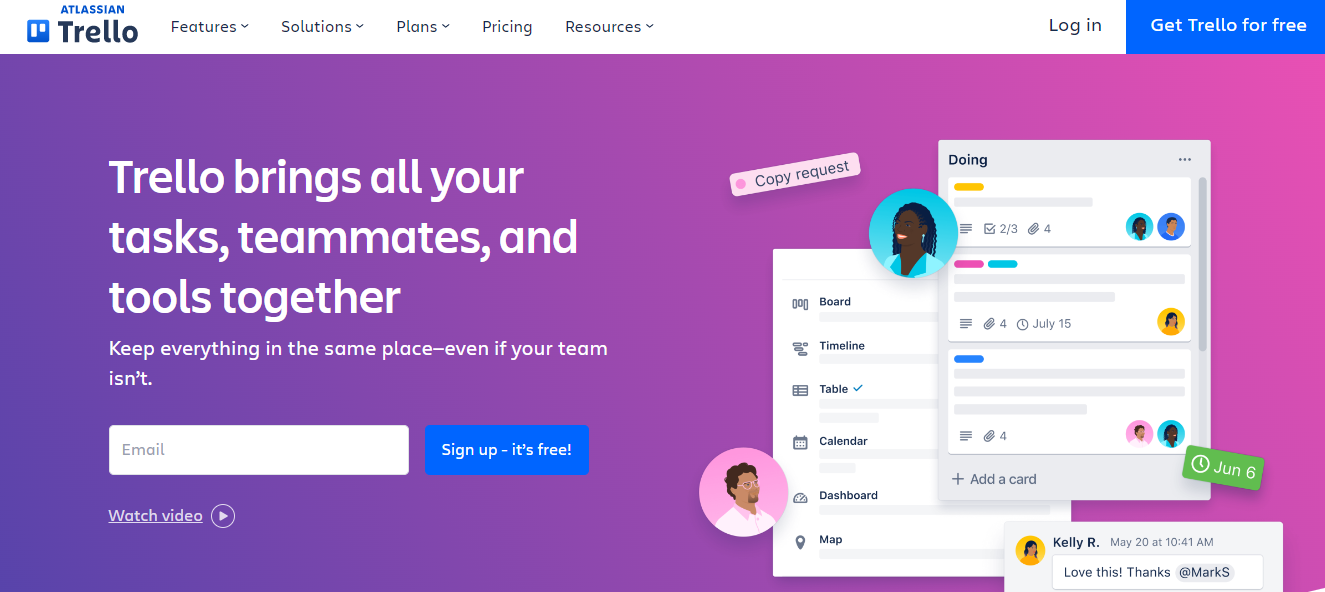 Trello provides a beginner-friendly Kanban board for daily and weekly planning.
The platform is specifically built for managers, allowing them to easily plan their and their team's schedules. You don't need to maintain several workspaces to keep things separate. Within a single space, you can create multiple boards and apply filters to track individual members' cards.
It also has a calendar view to see a visual breakdown of your week.
You can connect Trello with Slack to streamline team communication and automate repetitive tasks that don't require your input—like moving the card to the top when you label it as urgent.
Core Features
Kanban board.
Calendar and timeline view.
Tasks, checklists, and due dates.
Team collaboration.
Workflow automation.
Templates.
Customization.
Desktop and mobile versions.
Integration with over 200 third-party applications.
Price
Trello's basic plan is free, and premium packages range between $5 and $18.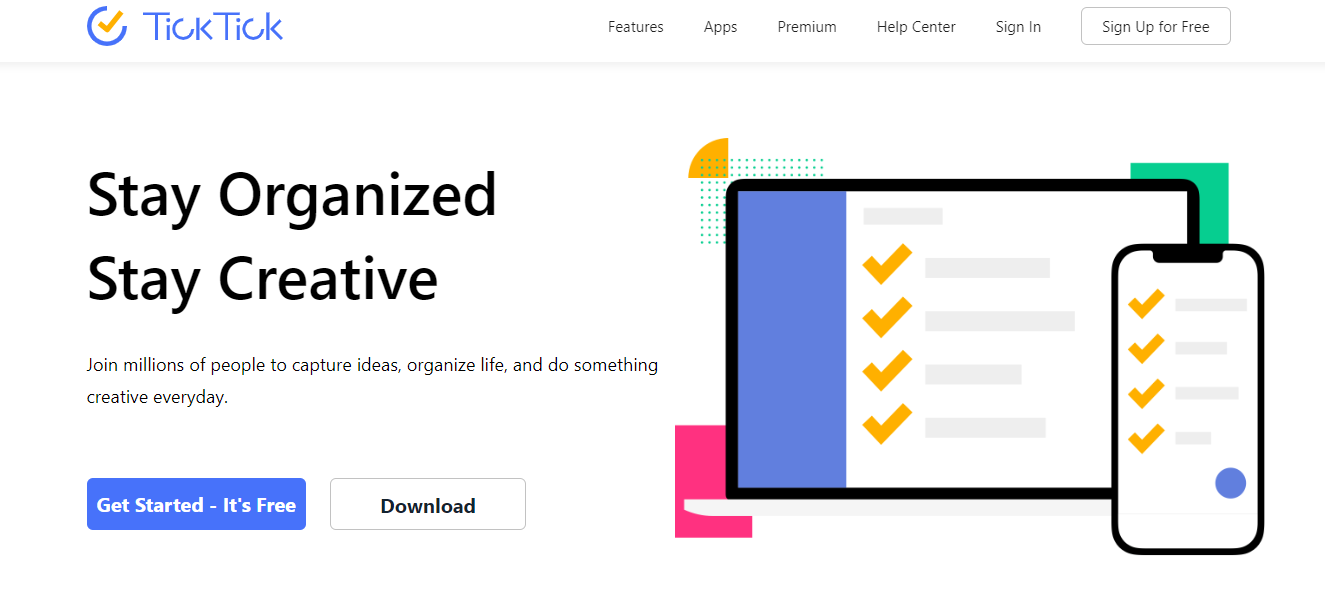 TickTick offers a simple way to record and track daily tasks.
You can build a to-do list, add tags to display priority, set due dates to schedule the tasks, and activate the timer to track your hours.
You can also generate recurring tasks and add a location-based reminder to alert you when you reach a specific destination. To keep things organized and stay focused, you can create separate folders and apply smart filters to the list.
With TickTick's calendar and achievement scoring, you can maintain both short-term and long-term planners and easily measure your work efficiency.
Core Features
To-do list.
Calendar.
Projects and checklists.
Tags to label projects.
Due dates and reminders.
Time blocking and pomodoro timer.
Team collaboration.
Analytics.
Cross-platform app.
Price
TickTick is free to use. For premium features, you might have to upgrade the plan. The subscriptions cost around $3 per month.
Todoist is a good alternative to Tick Tick.
It's incredibly easy to use and works both as a planner and project manager for professionals with ADHD.
It has subtasks, labels, boards, and reminders to help you organize your daily goals just as you prefer, and keep you focused on priority jobs. With its calendar, quick add feature, and multi-device support, you can view your planner from anywhere and create tasks on the spot.
For team projects, you can convert emails into tasks and assign them to the designated member. Under each project, you can share comments, attach voice notes, and upload related documents.
Core Features
Cross-platform app.
Tasks, subtasks, due dates, and reminders.
Convert emails into projects.
File sharing.
Labels and filters.
Calendar.
Templates.
Analytics.
Team collaboration.
Integration with third-party apps.
Price
Todoist charges $4 for individuals and $6 for teams. Its basic account is free.
Structured is built for Apple users. It's a simple daily planner with aesthetically appealing visuals, ADHD-friendly features, and tons of customizations.
You can create daily, weekly, and recurring tasks and import them to the calendar for scheduling. With 550 icons and color customization, you can easily tailor your planner's theme to your satisfaction.
If you have tasks in your to-do list that don't require urgent attention, you can store them in the inbox for later review. This is the best feature for busy professionals who need a notebook on hand all the time to write down ad-hoc tasks. They can sync Structured to their work devices and record tasks directly on the app.
Core Features
Visual planner.
Theme customizations.
Calendar and reminder integration.
Inbox to record to-do list.
Subtasks and notes.
Home screen widget and notifications.
Multi-device support.
Apple app.
Voice support.
Price
Structured is free to use. For premium features, you may have to upgrade your plan. The pro plan costs around $30.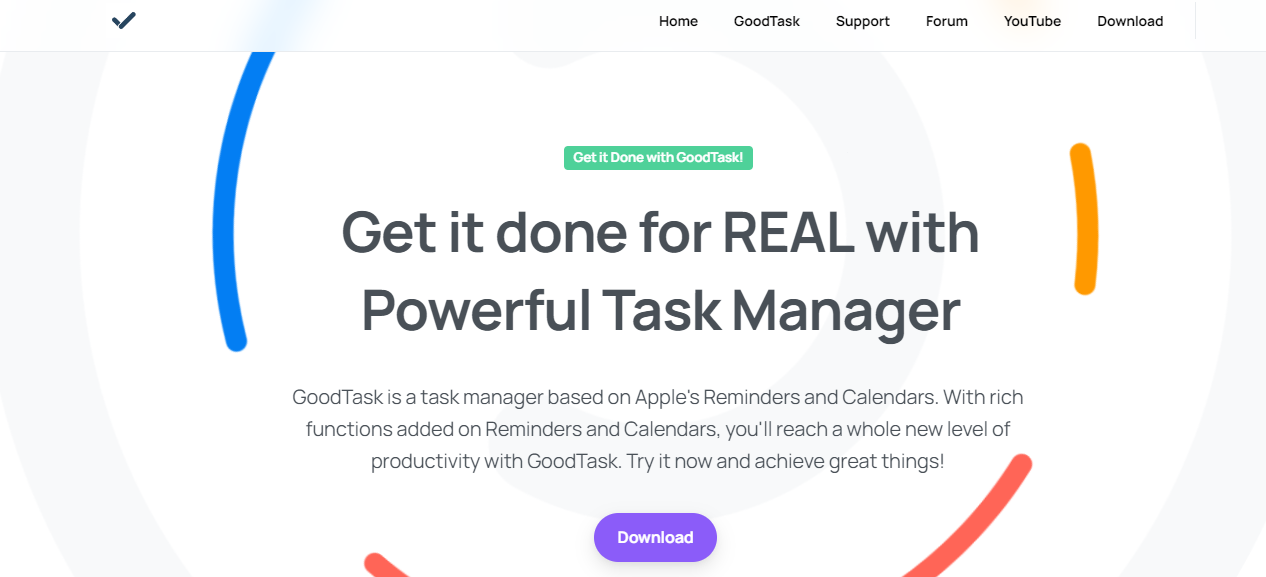 GoodTask delivers a to-do list, task manager, and daily planner in one platform.
It's an Apple app that lets you record your goals, set them in priority order, schedule them on your Calendar, and sync it with iOS reminders.
You can break your projects into sub-tasks and add tags to classify them. You can also set up quick action to swiftly add tasks to your list anytime.
The software offers multi-device support and a home screen widget to access the daily planner from your smartphone and Apple Watch. With customizable themes, you can change the look of the app to make it pleasing to the eye.
Core Features
Daily, weekly, and monthly planner.
Smart list.
Tasks, subtasks, tags, and filters.
Quick action.
Calendar and reminder syncing.
Custom themes.
Multi-device support.
Price
GoodTask charges $40 for MAC. Its mobile app is completely free.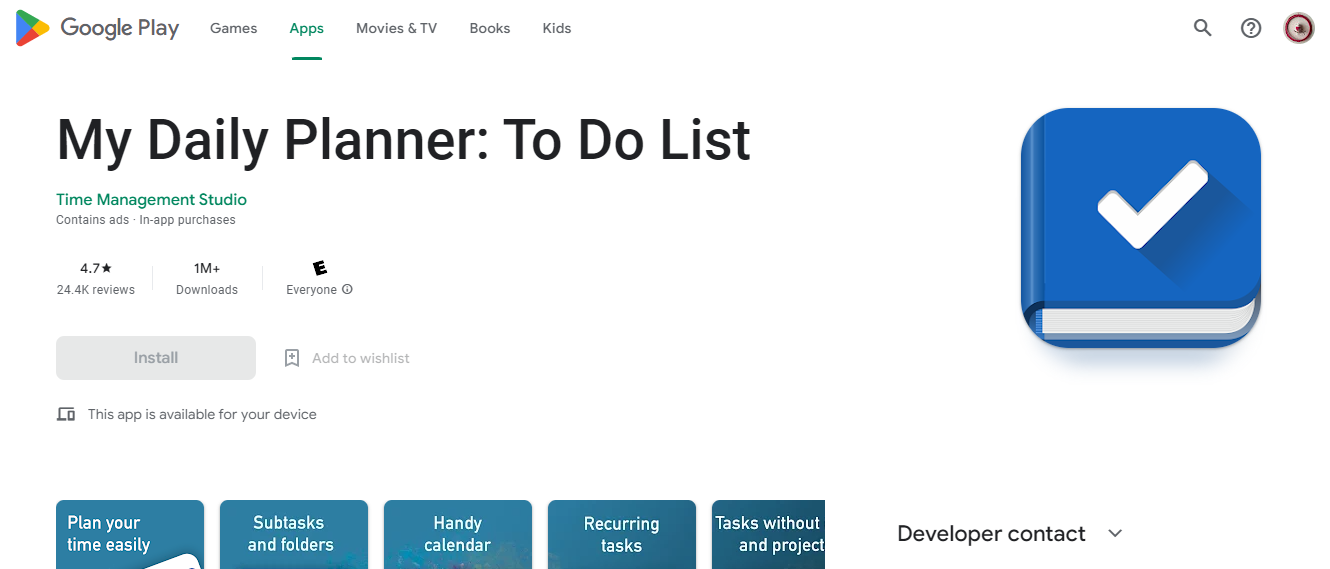 My Daily Planner is a straightforward personal organizer for Android users. It has all the essential tools to plan daily schedules and develop a routine.
You can build to-do lists, add sub-tasks, generate recurring jobs, and create separate folders for undecided projects. To stay on track, you can schedule your projects on the Calendar and set up reminders to be alerted of upcoming events.
The app delivers a color palette to code entries and offers both light and dark themes to change your background appearance.
Core Features
Daily planner.
Calendar.
Color-coded tasks.
Due dates and reminders.
Dark theme.
Voice notes.
Price
MDP is free to use. To lift the limit on task creation, you may have to upgrade your account. It costs $3.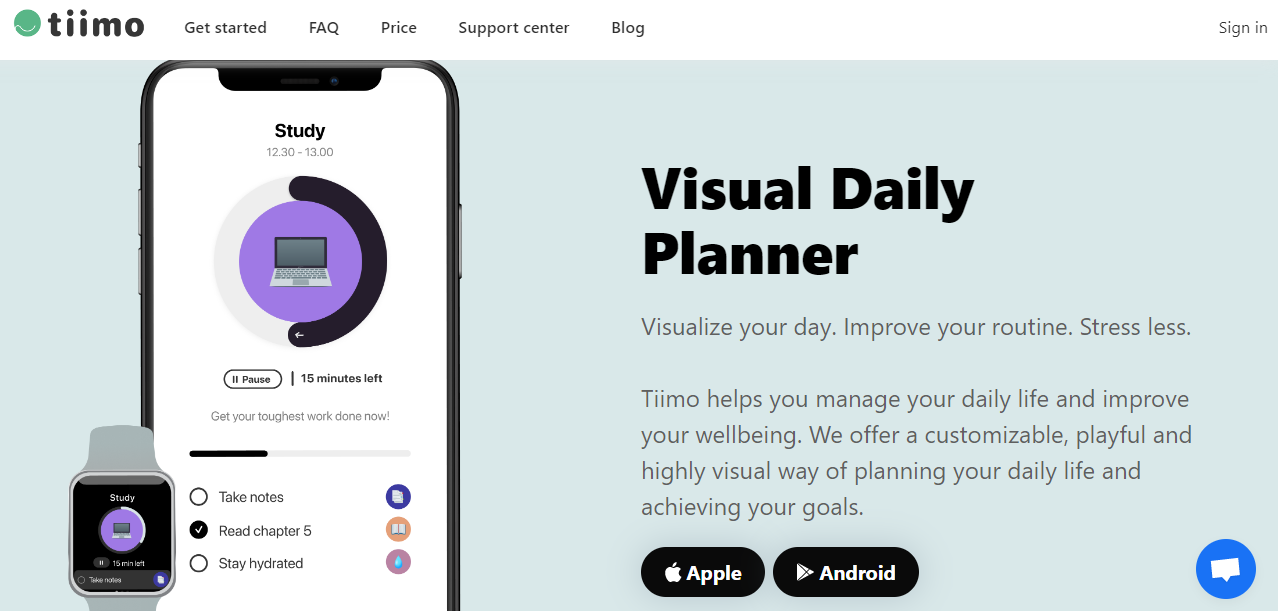 Tiimo is a basic visual planner that provides time tracking and blocking tools for task scheduling.
You can create a checklist of daily goals, color code them for quick identification, and schedule them on the calendar.
Throughout the day, you'll get nudges to start the pending projects and get notified when your job is almost complete. Using its tracker, you can start, pause, and record your time, and sync Tiimo with the Apple Watch for easy monitoring.
Overall, it's designed to help you develop a routine so you don't feel overwhelmed with work.
Core Features
Visual planners.
Custom themes.
Checklist and tasks.
Manual start and pause.
Reminders.
Compatible with Android and Apple.
Price
Tiimo's monthly subscriptions cost $6. To get discounts, go for the annual plan. It costs $35.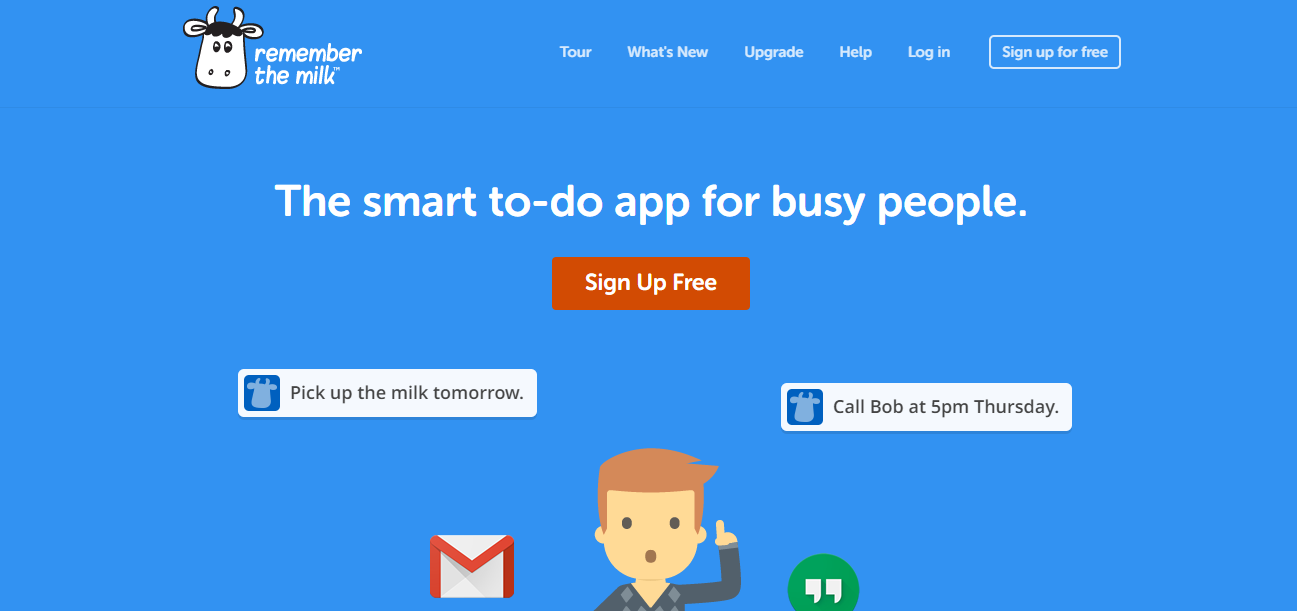 Remember The Milk shares efficient ways to manage daily tasks.
It has a smart add feature that lets you create tasks in one line so you don't have to manually fill up due dates and notes in columns every time you add a new project to the planner.
You can build sub-tasks, add color-coded tags to organize them, share your to-do list with others, and set up individual reminders.
The best thing about RTM is that it's reachable almost anywhere.
You can integrate it into your Gmail or Outlook, connect it with Google Assistant, add it to Twitter, and sync it with multiple devices. Simply put, you can schedule tasks anytime whether you're at home, traveling, or at work.
Core Features
Tasks and subtasks.
Labels and smart list.
Reminders.
Integrations.
Collaboration tools.
File and notes.
Multi-device support.
Custom themes.
Price
You can get started on RTM for free. It charges around $40 per year for its Pro plan.
Conclusion
Daily planners come incredibly handy in keeping things organized.
Having a list of things to accomplish within a certain time frame can definitely help you prioritize tasks and improve your productivity.
Good luck with conquering your ADHD!