Community platforms are powerful marketing tools that help entrepreneurs create a centralized place to connect with their audience.
They give you resources to build exclusive groups where you can invite, engage, and nurture potential and existing buyers to grow your customer base.  
In this article, I've shared the 12 community platforms that are ideal for online business owners like you.
You can use them to develop social forums around your brand, premium membership clubs, B2B communities, and much more.
Let's explore them!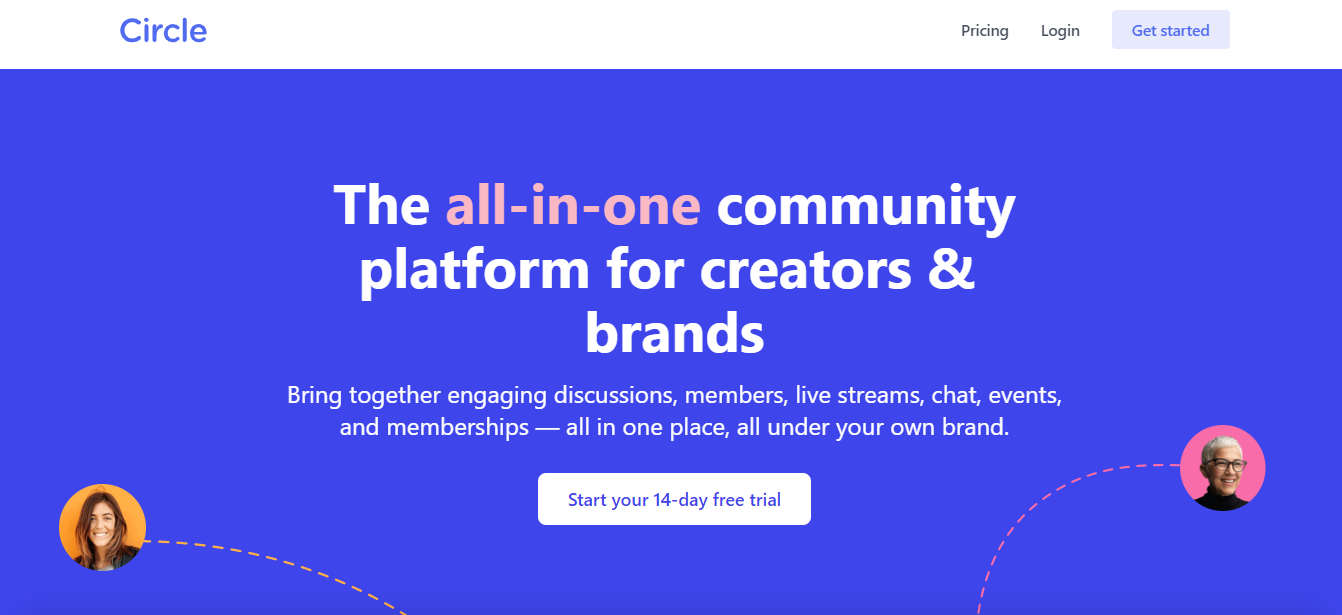 Circle is a robust SaaS platform that lets you design custom community pages and monetize your knowledge through paid memberships.
It allows you to build both public and private groups, host live videos, create multiple payment tiers, and invite team members to manage admin tasks.
You can personalize the community page to add your branding, share versatile content to promote your products subtly, and start conversations to engage your audience.
It also displays a member directory to help users reach out to each other and build relationships.
Another thing you'll love about Circle is its community of creators — You can join other entrepreneurs and find inspiration for your business.
Core Features
Course Builder (Coming Soon)
Public and private platforms.
Livestreaming, group chats, and private messages.
Support multiple media formats.
Member profiles.
Custom branding.
One-time and recurring payments.
Analytics and insights.
Integrations.
Mobile app.
Admin control.
Community support.
Price
Circle's basic monthly plan starts at $39.
Mighty Networks is also an ideal tool for building a community around your product or setting up a paid membership platform.
You can use it to create a visually appealing homepage for your community where you can invite unlimited members and public gated content to nurture your audience.
With its live streaming function, you can start anything from short sessions and product demos to virtual events. It delivers group chat and polling features to help you engage your followers and increase page activity.
One of the Mighty Networks' best features is its dynamic feed. It has a personalization tech that tailors the timeline feeds to match the content with each user's interests.
It also shares a course builder that lets you develop a coaching site and sell video tutorials.
Core Features
Livestream.
Group messaging.
Quizzes and polls.
Personal feed.
Memberships.
Mobile app.
Custom domain.
Events and in-person meetings.
Referral marketing and SEO.
Moderation.
Course builder.
Price
Mighty Network's community plan costs $33 a month.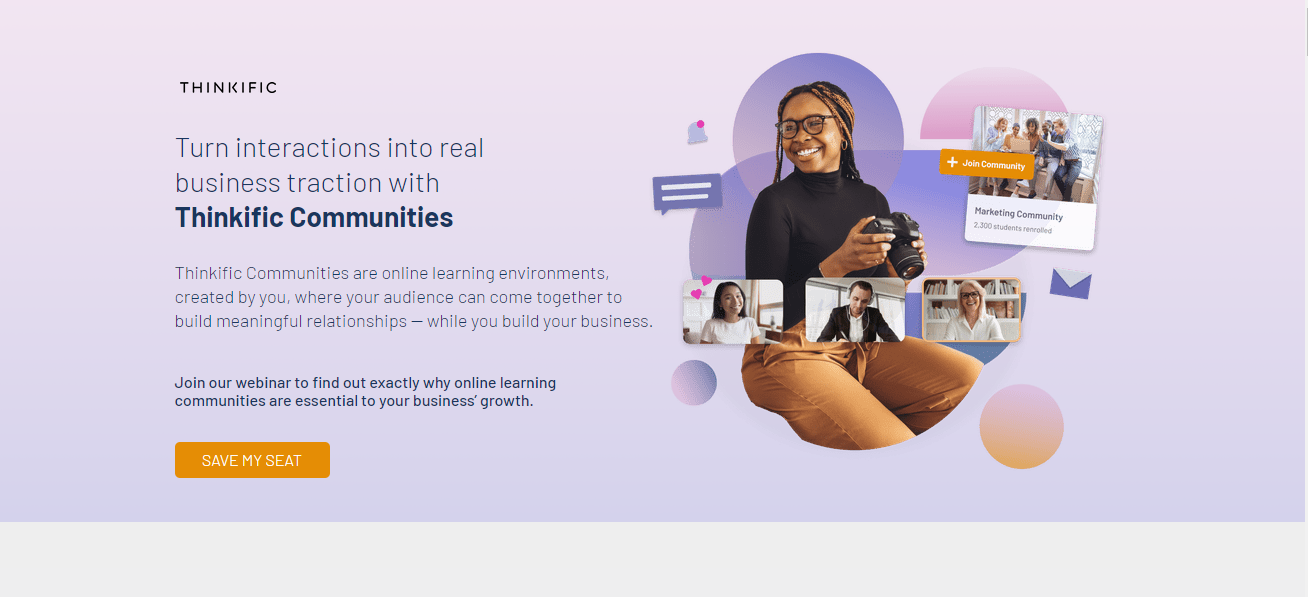 Thinkific—a popular coaching platform—has recently released a new product called "Thinkific Communities" that would allow you to build paid private groups for learners.
You'll get access to all the essential features like discussion threads, one-on-one coaching, and live events to connect with your audience and consistently develop content. In addition, it offers automation, instant notification, and analytics to help you smoothly run your community and monitor your activities.
With this tool, you can develop a centralized platform to gather users in one place and encourage collaborative learning.
One last thing. Thinkific Communities also delivers recurring payment and upselling options to establish a steady revenue system.
Core Features
Paid community landing page.
Discussion threads, comments, and mentions.
Live events.
One-on-one sessions.
User profiles.
Notifications.
Recurring membership system.
Upselling.
Price
Thinkific Communities is still in its early stage, but you can schedule a demo to explore its features.
Podia shares versatile knowledge-based products
Here, you can design online courses, upload digital downloads, create brand communities, and market your products and services.
Its community function is pretty advanced, allowing you to set up free and private groups to convert more leads and generate another source of income. Through this feature, you can also develop invite-only clubs to offer exclusive services and content to paid members.
In addition to the community builder, Podia delivers email and affiliate marketing tools to help you gain more exposure.
Overall, it's ideal for entrepreneurs who are in the service business.
Core Features
Free communities.
Paid private groups.
Membership model.
Website builder.
Webinars.
Online courses and digital products.
Email and affiliate marketing.
Integrations.
Moderation.
Price
You can get started on Podia for free. Its basic plan will give you access to community and webinar features.
To get marketing functions, you'd have to buy premium plans. They begin at $33 per month.
Tribe is best for its clean interface and simple functionalities. Its features are designed with online businesses in mind, making building a custom community for your customers easier.
You can modify the homepage to match it with your brand palate, edit blocks to change the site structure, and connect to third-party apps to add more functionalities. Furthermore, you can set up multiple sub-groups to create tailored content for different target markets.
Other notable features Tribe delivers include; a powerful content editor, separate categories for commercial and informational posts, and custom tags for quick search.
Core Features
Personalized Community.
Custom domain.
Content editor.
Moderation and access control.
Gamification.
Private messaging.
Discovery section.
Social login.
Analytics.
Branding.
Integrations.
Price
Tribe shares four plans starting from $59 a month. You can also view its demo site to explore its functions.
Higher Logic Thrive is an advanced tool that delivers all the essential functions in place, so you don't have to use multiple apps to run a community.
You'll get pre-defined layouts to quickly launch your page and start growing followers. With its centralized platform, you can gather data on your customers and devise personalized strategies to drive more engagement.
It also provides a resource library to store premium content or product discounts that will be accessible to paid-only members. Additionally, you'll receive email campaign templates to automate your engagement and boost your retention rate.
If you're looking for software to build a peer-to-peer support forum, go for Higher Logic Thrive.
Core Features
Online community.
Discussion forums.
Gamification.
Resource library.
Customer database.
Subscriptions.
Email automation.
Analytics.
Integrations.
Price
Higher Logic Thrive shares quotes upon request.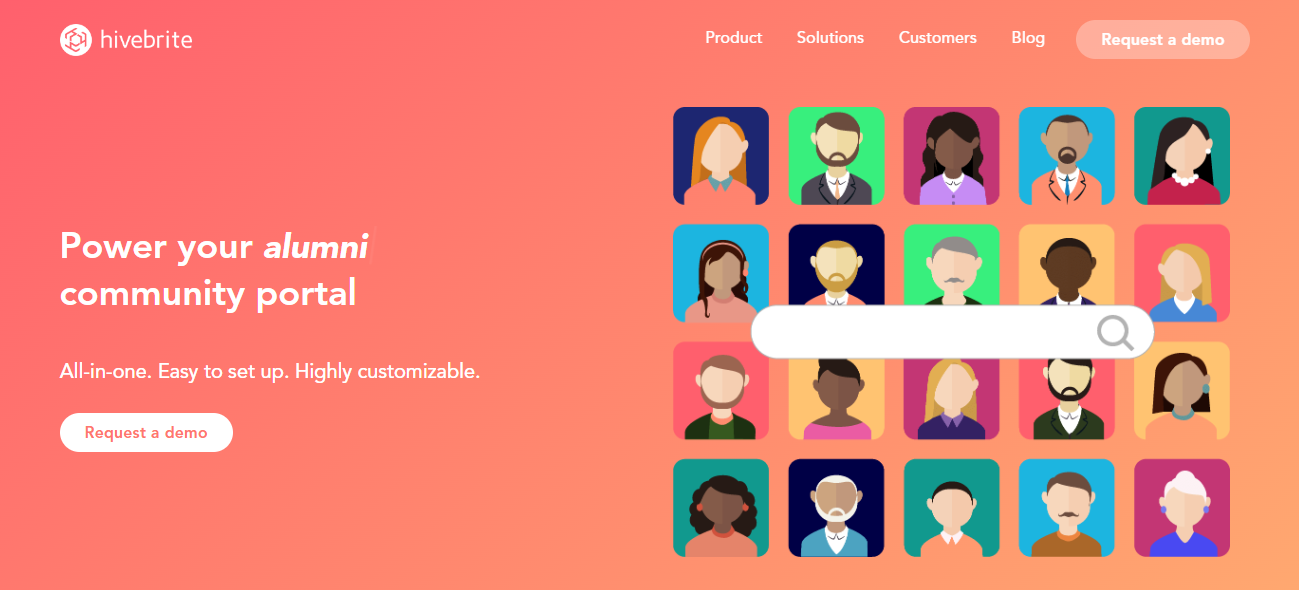 HiveBrite, like Thrive, is also designed to create support groups and nurturing communities. It is a powerful platform that lets you build online forums, develop membership pages, manage your content, and run events.
You'll get a CRM dashboard in the package that'll make it easier to organize customer data and keep track of active members. Its content management feature also gives you complete reign over your content so that you can control access to your resource material.
For events, you can generate tickets directly via HiveBrite and collect fees through its integrated online payment system. To help you connect with your members, it shares multiple communication channels like email, direct messaging, and notifications.
It additionally delivers several engagement tools such as job boards, discussion threads, and check-in posts to encourage participation.
Core Features
Community builder.
Member database.
Content moderation.
Email campaign.
RSS feeds integration.
Engagement tools.
Automation.
Payment integration.
Mobile friendly.
Price
HiveBrite prices aren't listed on the website. Contact sales to get the quotes.
Patreon is a hosting platform for creators, artists, and entrepreneurs who sell their skills in the form of tutorials or digital books. It provides you with a space to grow your community and start generating monthly revenue from your products and services.
You can create a sustainable membership business by offering exclusive access to your private content here. You can design multiple subscription plans to provide flexible payment options to your audience and give discounts to retain existing members.
It integrates smoothly with social apps like Discord, allowing you to drive traffic to your Patreon page and generate more leads.
Core Features
Hosting.
Community page.
Private content.
Live workshops.
Membership-based pricing.
Live chat.
Promotional tools.
Email and direct messaging.
Mobile app.
Creator's community.
Price
Patreon is free to use and only charges 5% to 12% of your income as its monthly commission.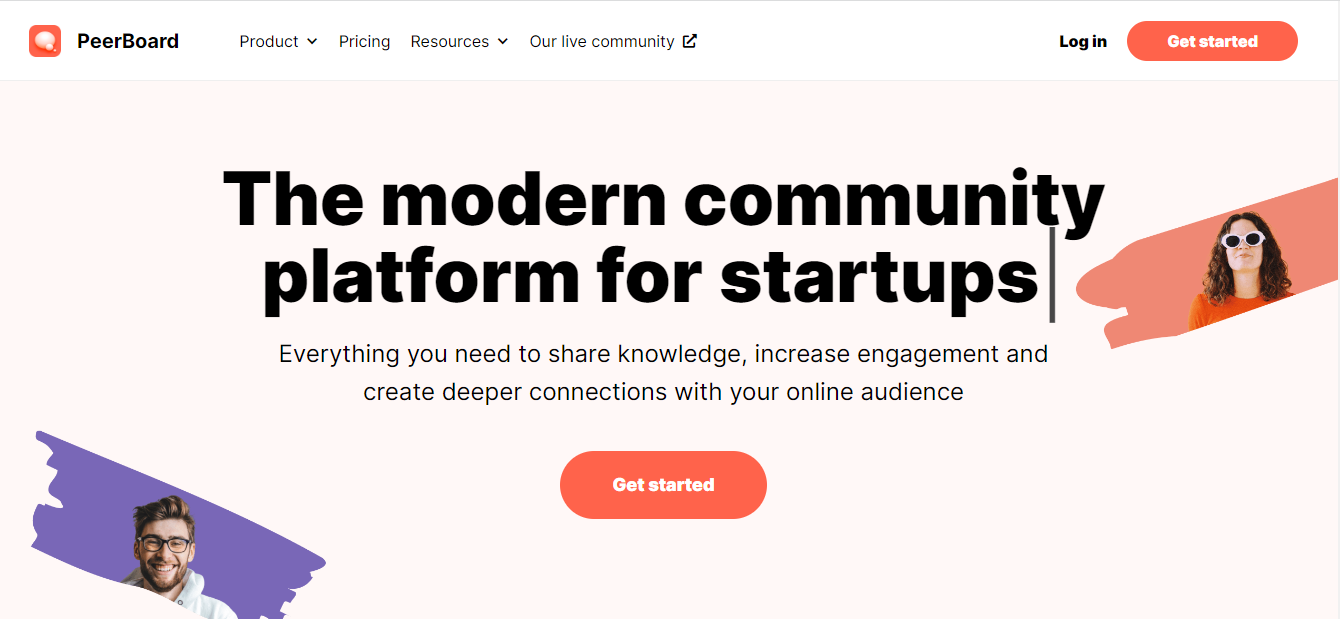 Peer Board offers a community builder for brands, solopreneurs, and content creators.
It provides user-friendly tools to create a digital platform where you can connect with customers, receive feedback, deliver daily news, and generally engage with your audience.
You can also design communities for online courses. It has an in-house team dedicated to offering you the best LMS solutions for your coaching business.
What makes PeerBoard more appealing is its WordPress and Shopify plugins.
You can install PeerBoard on your WordPress site and build an online forum directly on your website.
Core Features
Unlimited posts and members.
Private spaces.
Custom themes and domain.
Content moderation.
Webhooks.
WordPress and Shopify Plugins.
Integrations.
Email.
White labeling.
Mobile app.
LMS community.
Price
PeerBoard's basic plan is free. For more custom features, subscribe to its premium monthly plans. They range between $23 to $239 a month.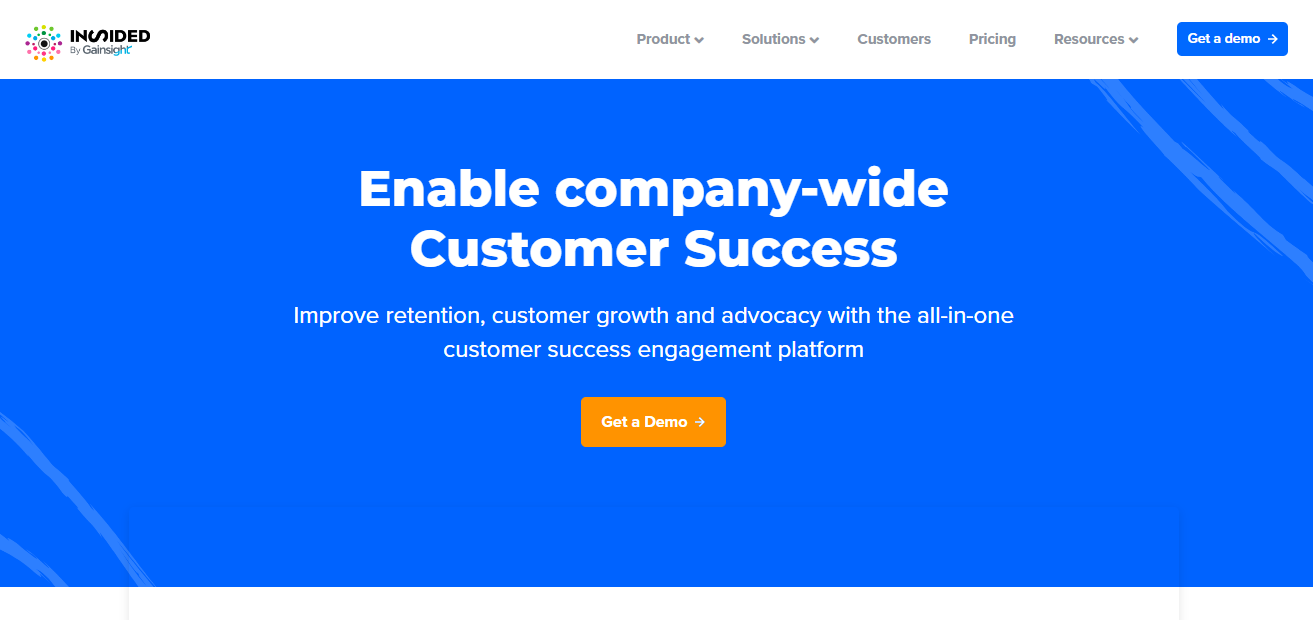 Insided is specifically designed for SaaS brands, offering niche features to help you grow your client network.
You can use it to develop a custom branded community page, a knowledge base for product guides, and a separate page to receive constructive suggestions and ideas from your clients.
With its content editor, you can regularly publish product updates and news releases to keep your customers informed.
You can encourage participation by using several engagement features, such as rewarding badges to active members and letting your clients initiate a discussion thread.
The latter is a valuable feature tool because user-generated content receives better response and engagement.
Insided also delivers an in-app support feature that automatically personalizes content for each member.
Core Features
Drag-and-drop community page builder.
Knowledge base.
Gamification.
Peer to Peer discussion threads.
Events, and
White labeling.
Insights.
In-app support.
Integrations.
Price
Insided's plans are tailored for small to large organizations. Contact sales to get prices.
Orbit is another great option for B2B businesses. You can use this tool to build an in-house community for your employees and a platform to grow your customer network.
It supports several third-party social apps to help you streamline your workflow and track conversations. With its monitoring and audience insights, you can easily identify organizations that might be interested in your services and target influencers to be your brand ambassadors.
It also has a team collaboration function to create joint projects and share relevant data.
You can leverage this feature to design a centralized platform for inter-departmental projects like product development, beta testing, and after-sales customer services.
Overall, it's a decent platform for creating nurturing communities.
Core Feature
Communities.
Unlimited members.
Customer profiles.
Conversation monitoring.
Content management.
Team collaboration.
Work automation.
Audience insights.
Activity report.
Integrations.
Price
Orbit is free for solopreneurs. To get team features, go for its growth plan. It costs $200 per month.
Raklet allows you to build a premium membership app for your loyal customers.
Here, you can create an exclusive club where your customers can join conversations, receive product announcements and participate in events. It delivers newsletter and private messaging features to help you connect with your audience and promote your product and services.
One of the unique features of Raklet is the donation option.
If you frequently sponsor social events to gain more exposure, you can generate tickets and collect payment from your members directly via Raklet.
It's also planning to release an eCommerce function soon that allows you to sell digital products, courses, and tutorials.
Core Features
Membership Public page.
Discussion forum.
Private messaging.
Customization.
Newsletters and push notifications.
Event management.
Directory.
CRM.
Mobile app.
Payment Integrations.
Price
Raklet basic plan is free. But if you want to get all the best features, buy its professional plan. It costs $99 per month.
Final Word
Community platforms offer you the best venue to serve your customers. 
You can increase your product awareness through public and private groups and deliver a personalized experience to your audience.
While you can certainly do all of the above with popular social media platforms, custom brand communities generate 16% more loyal customers than other networks. It makes them a good investment for online business owners.
Request demos to learn more about them. Good luck!