Before the Covid-19 pandemic, we couldn't even imagine concepts like Metaverse and online classes to be true.
Sure, there may still be exceptional cases of this technology existing beforehand in some places.
But still, the majority of the world was truly convinced with how things were conventionally taking place.
I mean, if you think about it – we didn't want a Zoom app until we didn't have any other option but to use it every single day.
Similarly, we got used to attending online virtual events and seminars.
You can now learn from a top-class expert who is located in a completely different part of the world, while you and I are sitting in our respective comfort clothes and learning from them.
Whether you are a business looking to implement virtual event space for your organization or someone who is hunting for a decent tool to host online events that rocks, this article is for you.
What is virtual event software?
Virtual event software is a tool that enables the organization of online events such as webinars, virtual conferences, trade shows, and more.
Put another way, virtual event software fills the void with attending lively events by making them more engaging despite being held online.
It allows attendees to participate in live events from a remote location and provides features such as video conferencing, presentation sharing, interactive sessions, and networking opportunities.
Because it is easy to confuse virtual event software with virtual meeting software, remember that both are different.
We won't get into the reasons right now, but you will, through its features, see why I am telling you this.
In the meantime, if you're interested in knowing what to look for in a virtual event platform, give this article a read.
Livestorm is an all-in-one online meeting tool consisting of products including but not limited to – virtual meetings, webinars, and virtual events.
With its features such as email cadences (the ability to send unlimited flexible follow-ups and reminders) and nearly unimaginable use cases, Livestorm is a boon to the event industry.
Notable Features
Built-in engagement features for attendees

Host over 3000 participants per event

Highly custom registration page(s) branding

Powerful reporting features for greater audience insights

Third-party CRM tools integrations
Summary
Livestorm allows you to run interactive live virtual events and get the most out of your audience's behavior.
With the help of CRM tools integrations like HubSpot and Salesforce and Livestorm's in-built analytics, you can leverage the power of data that you collect with every event to make profitable decisions.
You also get to export all your participants' contacts with a click of a button.
And with advanced features like email cadence, custom fields, and page branding, all with complete ease of use, Livestorm makes your virtual events feel more than just real.
Besides live virtual events, you can use Livestorm to run, live Q&As, company communication meetings, and webinars, to mention a few.
Pricing
You can get started with Livestorm's free plan that allows up to 20 minutes/per session. For more, have a look at the Pro plan starting at $110/month (with monthly billing) and $88/month at a yearly billing.
Crowdcast is a powerful web-based live event hosting tool with an emphasis on a profound user interface.
Unlike the conventional way of conducting webinars and events eating up a lot of time in the registration process itself, Crowdcast differentiates itself by making it as easy as it sounds.
Notable Features
Save time with a universal sharing link

Works on all devices (browser-based)

Multi-stream events to different platforms

Timestamped Q&As and polls

A powerful call to action buttons

Stripe integrations (for paid events and donations)
Summary
Crowdcast is a very simple and easy-to-use software. One of the things that make Crowdcast different from other tools out there is the one-link-for-all approach.
This means with a single intelligent link, an attendee can register for an event, attend an event, watch the replay of that event, and so on.
And because Crowdcast is a browser-based tool, you can open it from any device you prefer.
Moreover, you can fully customize the landing page with your preferred colors, icons, CTA buttons, etc.
Also, you can send an email and push notifications before the event, during, and even after the event closes.
One more cool feature of Crowdcast is the ability to invite up to 4 speakers at a time on the screen.
Pricing
Crowdcast offers a 14-day free trial. Then, you can choose to upgrade to either of their paid plans:
Lite plan ($49/month)
Pro plan ($89/month)
Business plan ($195/month)
vFairs is an all-in-one event creation and management platform that enable you to host lifelike events and thanks to vFairs, besides online events, you can also host hybrid as well as in-person events.
Notable Features
Easy event setup
Offers a feature-rich fully branded mobile event app for hybrid and in-person events.
Options to choose from different virtual venues
Chat, networking, and gamification (for attendee engagement)
Collect payments from Stripe and PayPal
Real-time statistics and audience insights
Search and join for ongoing events within vFairs
Third-party integration options
Summary
To simply put, vFairs has everything you need and some other things you didn't even know you needed.
It allows you to create custom landing pages for your events so that you can capture the highest registration possible.
And if you feel a need to be there, vFairs ensures that you will really be there. They create these amazing 3D virtual venues, booths, and auditoriums to make things more interesting.
Instead of just seeing the blank screen, you will see people (attendees) walking, and so on.
With the help of built-in gamification features like – scavenger hunts, leaderboards, and similar activities, you can keep the participants engaged for a very long time.
Besides that, if you are planning to charge a registration fee, you can integrate PayPal or Stripe without moving out of vFairs.
Lastly, vFairs comes with some powerful analytics features. You can not only see exactly how many people are online, but also deep dive into your audience demographics.
And once the event is over, you get the overall data about the timeline and engagement of your event. You can also export this data as a CSV file.
Price
vFairs hasn't clearly mentioned the pricing structure. However, you can head over to their pricing page and fill out a form for a demo and additional pricing details.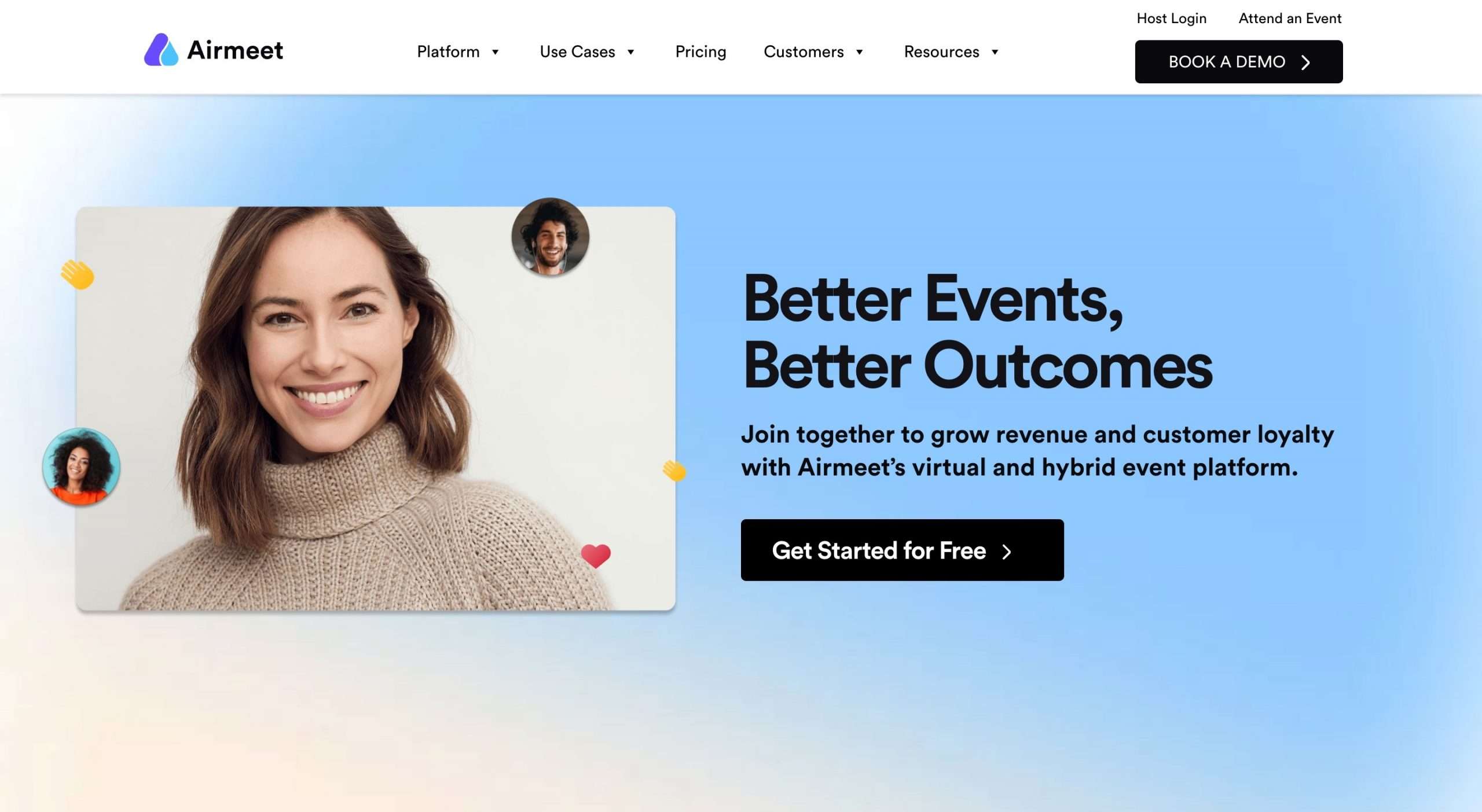 Airmeet is the ultimate virtual and hybrid event platform that is not limited to hosting amazing events. With Airmeet, you can also conduct – webinars, conferences, meetups, hackathons, product launches, expos, workshops, etc.
Notable Features
AirStudio (Branded event experience)
AirControl (Powerful dashboard to control multiple event workflows)
AX360 (Gamification and more to engage and connect attendees)
AirIntel (Performance analytics and insights)
Countless third-party connections
Summary
Airmeet offers a suite of tools that, when used together, give you a breathtaking event experience.
For instance, one of their tools is AirStudio. This feature makes sure that you're not the next John Doe, meaning it will help you create a reception page that is not similar to what's typical out there.
It does that through different customization options in terms of themes and colors.
Next up, the AirControl tool creates a single minimal dashboard for managing all of your events (short online events, large virtual events, and hybrid events).
It also enables you to schedule and stream your event with flexible customization options for event entry to ticketing.
This is also the place from where you will send advance joining emails and notifications.
The AX360 tool is responsible for making your events more exciting and engaging. It creates a lifelike social lounge where all the attendees can choose to converse and connect with each other.
You can also create a winning prize by setting up a game and a leaderboard inside Airmeet itself.
Lastly, they have a tool called AirIntel that gives you detailed insights into your events. You get:
Real-time Event Analytics
Audience engagement report
Booth Engagement Report
Lead Magnet Report
And plenty more!
Price
Airmeet offers a completely free plan with a cap of 50 attendees per event. The Starter plan costs $500/month while the Professional plan costs $1500/month.
Zoom is a versatile and complete package of a virtual event platform.
Although it is famously known for its popularity as an easy-to-use meeting app, Zoom also offers exclusive features to host great virtual and hybrid events. And best of all, it is available on all devices.
Notable Features
Expo floor to hangout virtually
Event networking features
A central hub for all your events
Highlight event sponsors
Video-on-demand library
Customizable event branding
Summary
Be it a single-day event or a multi-day recurring show, Zoom has got you all covered.
One of the cool features is the ability to stream different events in the lobby. This will help participants get a sneak peek of each event and decide which one they might want to join.
Zoom also offers advanced event analytics and different integrations to help understand your audience and drive more revenue.
Another cool thing about Zoom Events is their total attendee capacity. It allows up to 50,000 participants in total for a single event.
Also, its Expo Floor feature is a great opportunity to earn extra for your business. It enables participants and users to interact with sponsors, engage in live conversations with each other, and more.
Even in the case of hybrid events where some attendees are attending online while others are offline, Zoom events bring all of them together to chat and connect in real time.
And because Zoom connects with almost every essential third-party app out there like Google Calendar, its capabilities only keep increasing.
Price
A single license of Zoom Events costs $1490/year.
Hopin is an all-in-one event management platform that helps you create immersive virtual, hybrid, and in-person event experiences for your audience, regardless of where they are located.
Notable Features
Virtual Venue
Studio by StreamYard (Produce professional and reliable streams)
Event Marketing
Virtual and Hybrid events
Internal events
Summary
Hopin is the first all-in-one event platform designed specifically for connecting organizers and attendees.
With Hopin, you can customize your event to fit your needs, whether it's a 50-person recruiting event, a 500-person all-hands meeting, or a 50,000-person annual conference.
The virtual venue in Hopin allows for multiple interactive areas optimized for connecting and engaging, resulting in high show-up rates and happy attendees.
With Hopin, you can also host full-scale virtual events, sell tickets online, and get full analytics of your event data.
Pricing
Hopin offers a free plan with 1 admin seat, unlimited events with up to 100 registrations per event, and up to 2 hours of event length. Advanced plans are available, and you can contact Hopin for more information.
On24 is a virtual event software that helps businesses create webinars, virtual events, and personalized content experiences that drive engagement, generate first-party data, and deliver revenue growth.
Notable Features
Effortless video-centric events with minimal resources
Multisession live-streamed digital events
Pre-built event templates for fast event execution
Provides unified engagement data across every ON24 experience
Execute events at scale with easy-to-use tools
Enhanced audience participation with interactive opportunities
Summary
ON24 is a comprehensive virtual events software that makes it easy for businesses to host engaging, video-centric events from the comfort of their home or professional studio.
With pre-built event templates, you can quickly stream virtual events that will impress your attendees and keep them engaged.
ON24 is optimized for networking and two-way discussions and includes all the features you need for a successful virtual event.
It is adaptable to suit any event type, from roadshows to product launches and supports thousands of attendees at any one time.
ON24 Go Live also includes an Agenda, Speakers' Gallery, Main Stage and Breakout Sessions, exhibit halls, Networking, and Registration to make your virtual event a success.
Pricing
Pricing for ON24 Go Live is not publicly disclosed. You can schedule a consultation with the ON24 team of experts, who will design a solution and pricing plan based on your specific needs.
Wonder is the virtual workspace for remote teams, and it is designed to help teams work side-by-side, connect and collaborate in a virtual environment.
Whether your team is working from home, traveling, or operating in different time zones, Wonder provides a central space for you to come together and get things done faster.
Notable Features
Shared collaboration space
Productivity
Engagement
Easy to use with a beautiful and simple design
All types of interactions
Access with any device
Summary
Wonder helps teams work better together, no matter where you are located. With Wonder, you'll be able to collaborate with your team in real time, using a shared virtual workspace that brings people and projects together.
One of the biggest benefits of Wonder is its focus on productivity. With Wonder, you'll be able to solve issues quickly and share context easily.
The ability to walk over to your teammates and have real-time conversations makes it easier to get things done, and the ability to embed important files into your conversations means you'll never be far from the information you need.
But it's not just about getting things done – Wonder also helps to foster team spirit and create a sense of belonging.
The virtual workspace provides a central space for remote teams to become exactly that – a team.
Wonder is also incredibly easy-to-use, with a beautiful and simple design that puts people first.
With the ability to host broadcasts, sessions, and areas, you'll be able to build an outstanding event experience that will keep your guests engaged and connected.
Pricing
Wonder offers the LITE plan, which is free and offers less than 5 hours of video calls per user per month. You also get a 14-day free trial to use it to the fullest. The PRO plan costs 9 EUR/ seat and offers more than 5 hours of video calls per user per month.
Gatherly is an all-in-one virtual events' platform designed to host engaging online events and replicate the magic of in-person interactions. With Gatherly, you can bring your event to life and connect with your attendees in a new and exciting way.
Notable Features
Interact with attendees in a familiar way using the Gatherly map
Customize the platform to meet your needs with fully customizable venues
Broadcast your event with announcements, panels, and pre-recorded content
Track event data and analytics to see how your event is performing
Easy to use with a drag-and-drop builder
Make the event your own with custom branding options
Summary
Gatherly is the perfect solution for anyone looking to host a virtual event that is both engaging and interactive.
With its unique map-based interface, you can replicate the feeling of walking around and networking with others at an in-person event.
Gatherly's platform is fully customizable, so you can build your dream virtual venue to meet your specific needs.
Whether you are hosting a networking event, social, expo, conference, or something else, Gatherly has you covered.
It provides you with the ability to broadcast your event with announcements, panels, and pre-recorded content or external live streams.
You can also track the performance of your event with data analytics and insights, and make your event truly feel like your own with custom branding options.
With Gatherly's easy-to-use drag-and-drop builder, you can effortlessly build virtual events that are both intuitive and engaging for your attendees.
Pricing
Gatherly offers a free plan as well as two paid plans to choose from: the Starter plan ($500/month) which accommodates up to 250 users per event, and the Pro plan ($1500/month) which accommodates up to 1000 users per event.
Bevy is a community-led virtual event software that enables you to host and manage unlimited event types and powers solid analytics to get more out of your events.
From an easy-to-use no-code event page builder to connecting multiple tools to increase the capabilities, Bevy is a decent option to consider.
Notable Features
Virtual conferences platform with unlimited 720p HD video calls
Unlimited attendees, chat & DMs with moderation, emojis, etc
Multi-day and multi-session agendas
Automated email triggers
Unlimited event types (workshops, webinars, hackathons, and happy hours)
Analytics and insights to track community growth and activity
Summary
With Bevy, you can host large-scale virtual conferences with thousands of attendees and unlimited 720p HD video calls.
It also includes features such as chat & DMs with moderation, emojis, mentions, and break-out rooms, multi-day and multi-session agendas, auto check-ins, white-labeling, and automated email triggers.
And with its world-leading community activation platform, you can enlist and empower your local brand advocates to build their own local communities for your brand.
Whether you want to host a 100,000+ person virtual conference, or tens of thousands of local community events, Bevy allows you to do it all.
In addition to hosting virtual events, Bevy also provides analytics and insights to track your community's growth and activity.
With Bevy's analytics dashboards, you'll get all the data you need to make strategic and tactical decisions.
Pricing
To get started with Bevy, you can try a free demo. Based on your requirements, you'll receive a custom-paid plan that fits your needs.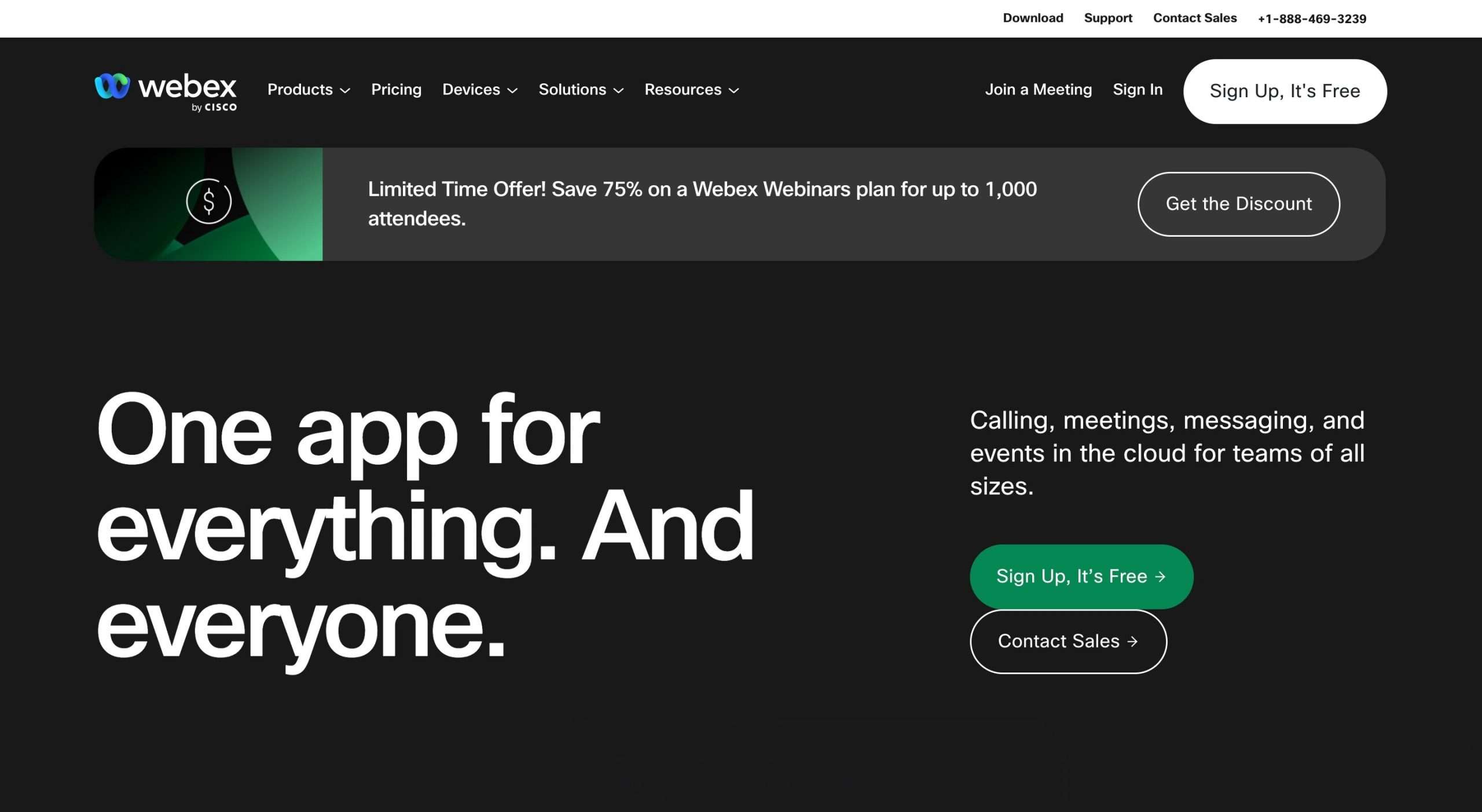 Webex is a cloud-based software that offers calling, meetings, messaging, and events services for teams of all sizes.
With its flexible, inclusive, and secure design, Webex makes it easy for you to communicate and collaborate effectively, no matter where you're working.
Notable Features
Cloud calling made easy
Experience it with immersive share
Collaborate with anyone
Instant audience engagement
Host interactive webinars and events
End-to-end encrypted
Summary
Webex is designed to make your work experience easier, no matter your role, work style, or device.
With cloud calling, you can keep colleagues and customers close and make and receive business calls on any device.
You can also create a more efficient workflow with team messaging and file sharing for both internal and external teams—all in the same space.
Webex also makes it easy to host interactive webinars and events for virtual and in-person audiences, with up to 100,000 attendees.
With Webex's immersive share feature, virtual presentations become as good as in-person meetings when you layer yourself over the content you're sharing.
Additionally, Webex's security features ensure that your information is protected, with zero-trust security and end-to-end encryption.
Pricing
To get the exact pricing and unlimited access to Webex Events, contact their sales team.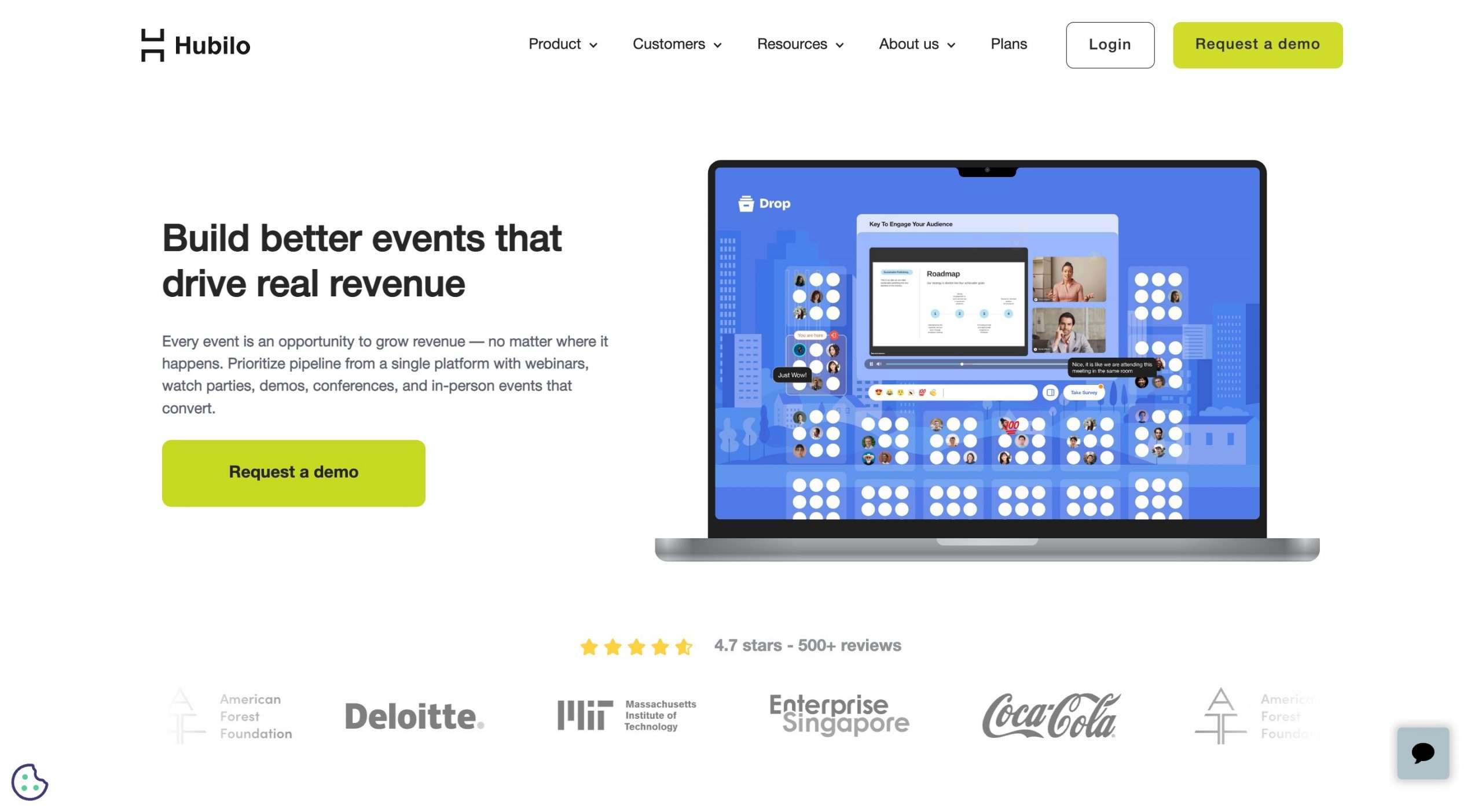 Hubilo is an innovative and feature-rich virtual event software that helps you create better events that drive conversions.
No matter if you are hosting a webinar, virtual event, hybrid event, or in-person event, Hubilo provides a single platform that makes it easy to prioritize pipeline and convert attendees into customers.
Notable Features
Amplified audience engagement
Advanced branding capabilities
Track, measure, and repeat analytics
Attract new sponsors
Powerful platform integrations
Personalized event marketing
Ticketing & Registration
Summary
As an event marketer, you want to create events that engage your audience and drive real revenue. With Hubilo, you can do just that.
From webinars and virtual events to hybrid and in-person events, it provides a single platform to prioritize pipeline and convert attendees into customers.
Hubilo offers amplified audience engagement with interactive watch parties and polls, and advanced branding capabilities with customizable designs, and themes.
Also, you get deep analytics to track key metrics and improve future campaigns.
Hubilo also includes a Broadcasting Studio for amazing streaming experiences and the ability to attract new sponsors with meaningful opportunities for audience-sponsor interaction.
Pricing
Hubilo offers a demo and two pricing plans: Advanced ($650/month) and Pro ($1300/month).
Conclusion
Hosting virtual events has never been easier with all the cool virtual event software available today.
From webinars and virtual conferences to hybrid and in-person events, these software options offer a range of features and solutions to create engaging and revenue-driving events.
Whether you're a seasoned event marketer or just starting out, you can find the perfect tool that fits your needs and budget.
Try out one of these tools today and make your online events a lot better!