Since the beginning of 2020, the world has shifted.
Many companies have moved from a physical office to working at home.
And to combat this, companies need tools and software to make meetings through the internet.
But with so many solutions out there, it's challenging to pick the right one.
So in this list, we'll go over the 12 best video meeting software you can use.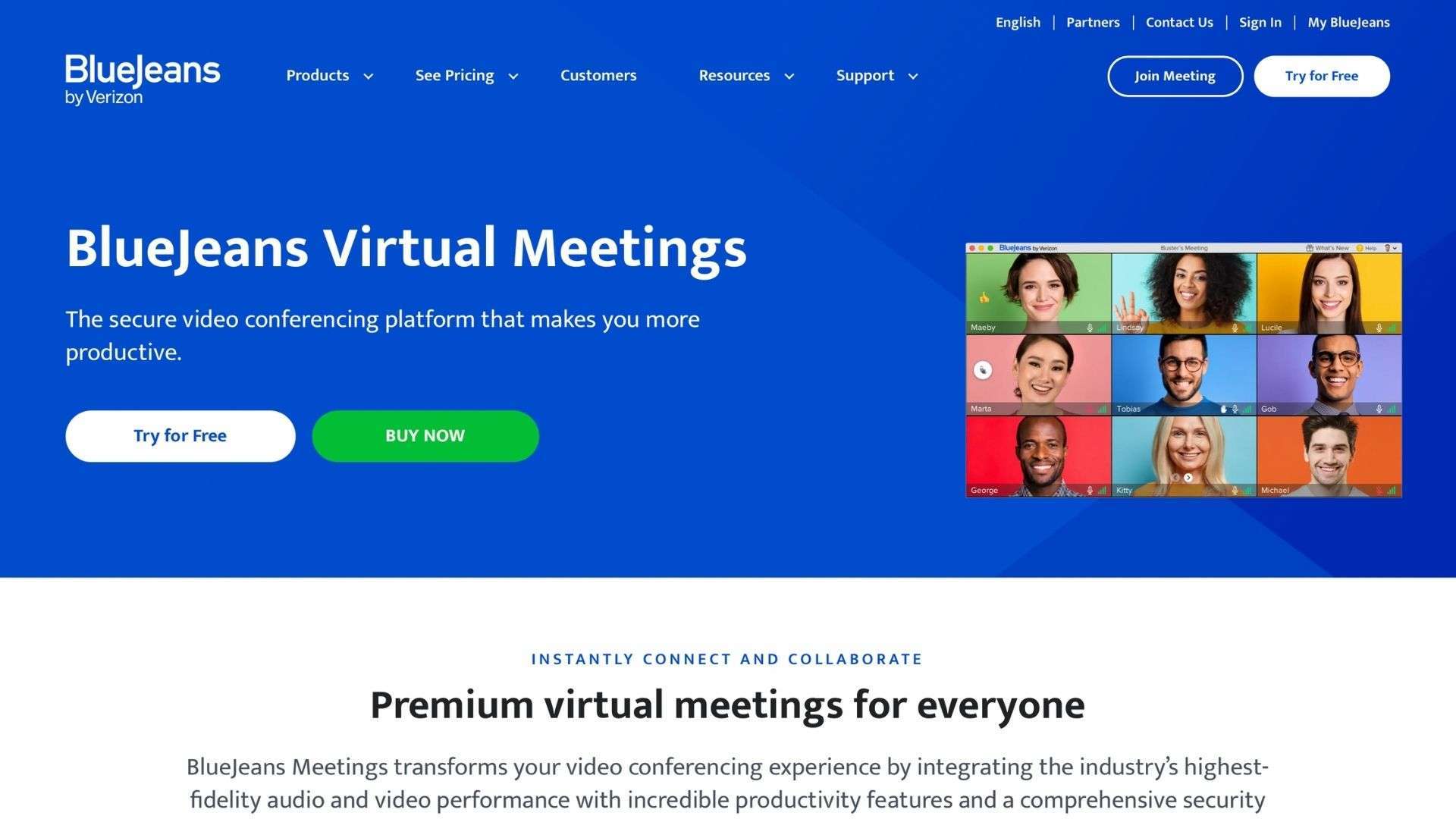 Our pick for the best video meeting software is BlueJeans Meetings.
BlueJeans Meetings looks to give you the best meeting experience possible.
But instead of focusing on video resolution, BlueJeans focuses on audio. It uses Dolby Voice to give every attendee a transparent and distraction-free background to the experience.
And as an added benefit, BlueJeans Meetings can be used on any platform. Whether it's a mobile or a laptop, you'll still have a good experience with it.
Main Features:
Use Dolby Voice for the best audio experience.
Create smart meetings with features like breakout sessions, assigning actions, and much more.
Join from any device, whether it's a computer or a mobile device.
Pros:
Great Audio
Support for all platforms
Cons: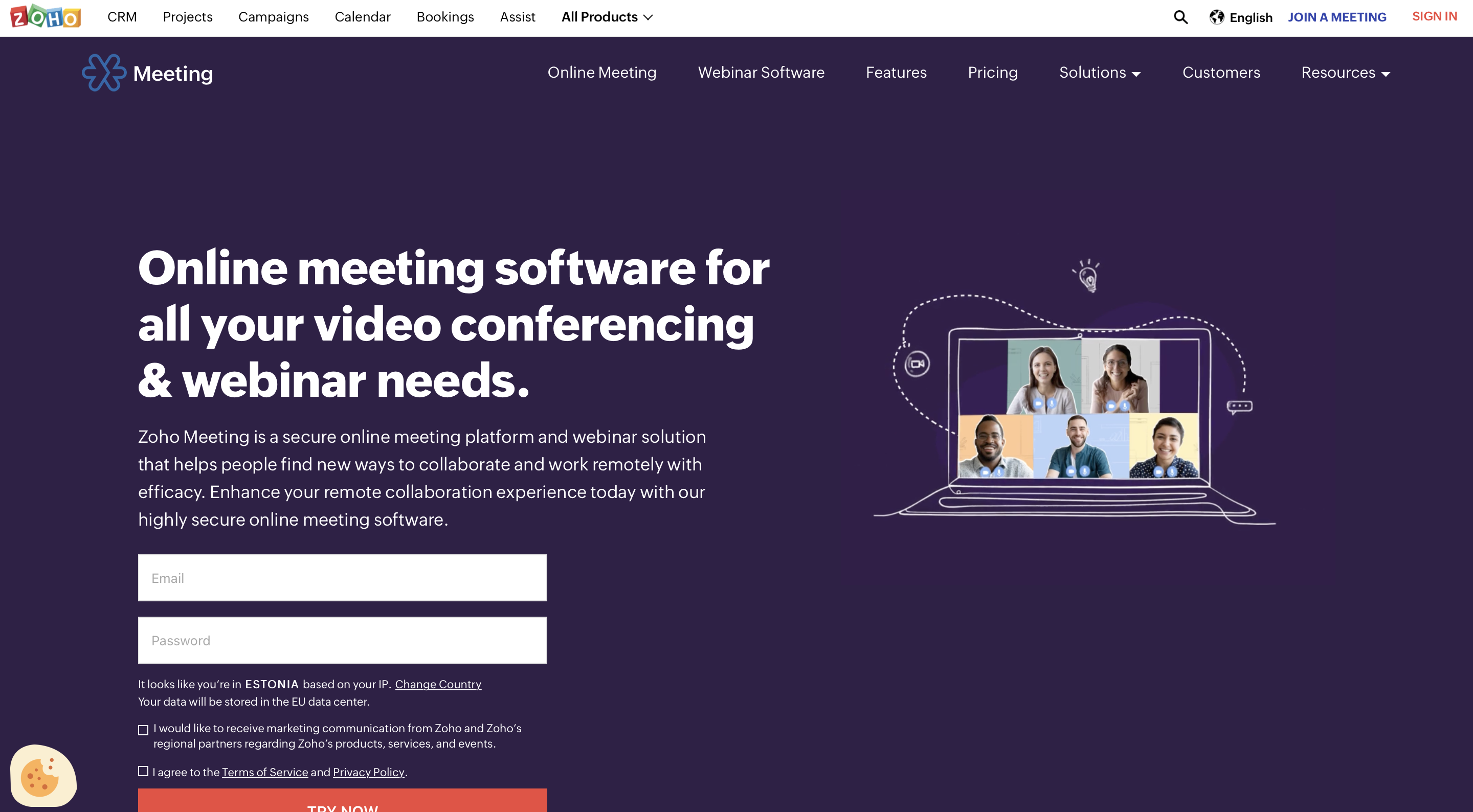 Zoho offers a lot for companies like yours. And one of these features is video meetings. And fortunately, it does that exceptionally well.
One of the most notable features of Zoho Meeting is that you can do both meetings and webinars in one package. That will save you a lot of money in the long term.
But that's not all!
It also comes with an extensive list of integrations. Unlike others, which just integrate with video conference software, this will also incorporate your favorite calendar app or messaging apps.
And to top it all off, they've made it extremely easy to do all of it thanks to their intuitive interface.
Main Features:
Share documents and presentations through the interactive screen sharing feature.
Record your meetings and share them with just a click of a button.
Additionally, to video meetings, you can also broadcast webinars.
Pros:
Meeting + Webinar Solution
Extensive Integrations
Intuitive Interface
Cons:
Video bandwidth needs to work.
While it might not be as prominent as it used to be, GoToMeeting is still a handy video conference tool to have.
That has to do with many reasons. One of the app highlights is that it's extremely easy to use and makes meetings possible everywhere!.
Even if you're not at home when the meeting is scheduled.
One of the best things about GoToMeeting is that attendees won't need to download anything.
All they need is a link to the meeting, and they can join. That makes it highly beneficial for meetings with clients, as they won't have to download a new program just to talk with you.
But what sets this apart is GoToMeeting's security. With GoTo, all of your data is encrypted, and you can verify attendees before they can join, giving you an overall better experience.
Main Features:
Enjoy your meetings with clear audio thanks to the built-in background noise suppression.
Join virtual meetings without downloading anything.
State-of-the-art security encrypts your sessions and protects you against hackers ruining your meetings.
Pros:
Great App
No Download Necessary
Great Security
Cons:
Limited Chat Capabilities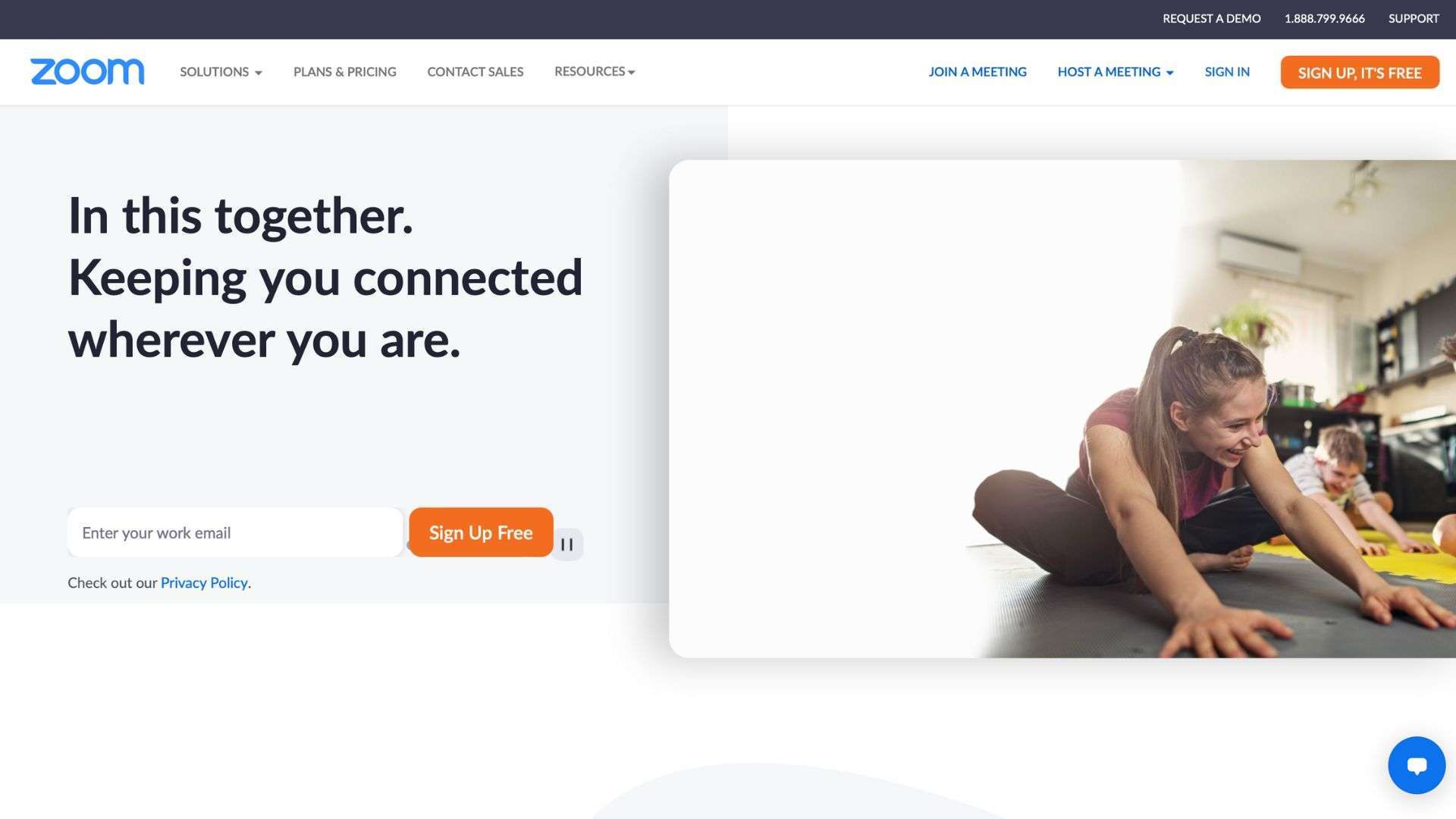 Zoom is one of the most popular video conference software out there. And that's for good reason.
First off, Zoom is extremely easy to use. It has a very intuitive design, and almost anybody can instantly use it.
But that's not all why it's so amazing. What makes this so great is that it supports a large audience. You can make meetings with a thousand participants.
And to top it all off, the pricing is very flexible. That makes it highly scalable. You could start with the free version, and when your business grows, you can get more advanced features.
Main Features:
Create video meetings with up to 1,000 participants.
Join meetings from anywhere with any device.
Automatically schedule meetings for all team members with a calendar app like Google Calendar, iCal,  and Outlook.
Pros:
Intuitive Design
Supports Large Audiences
Scalability
Cons:
Security
Poor Customer Support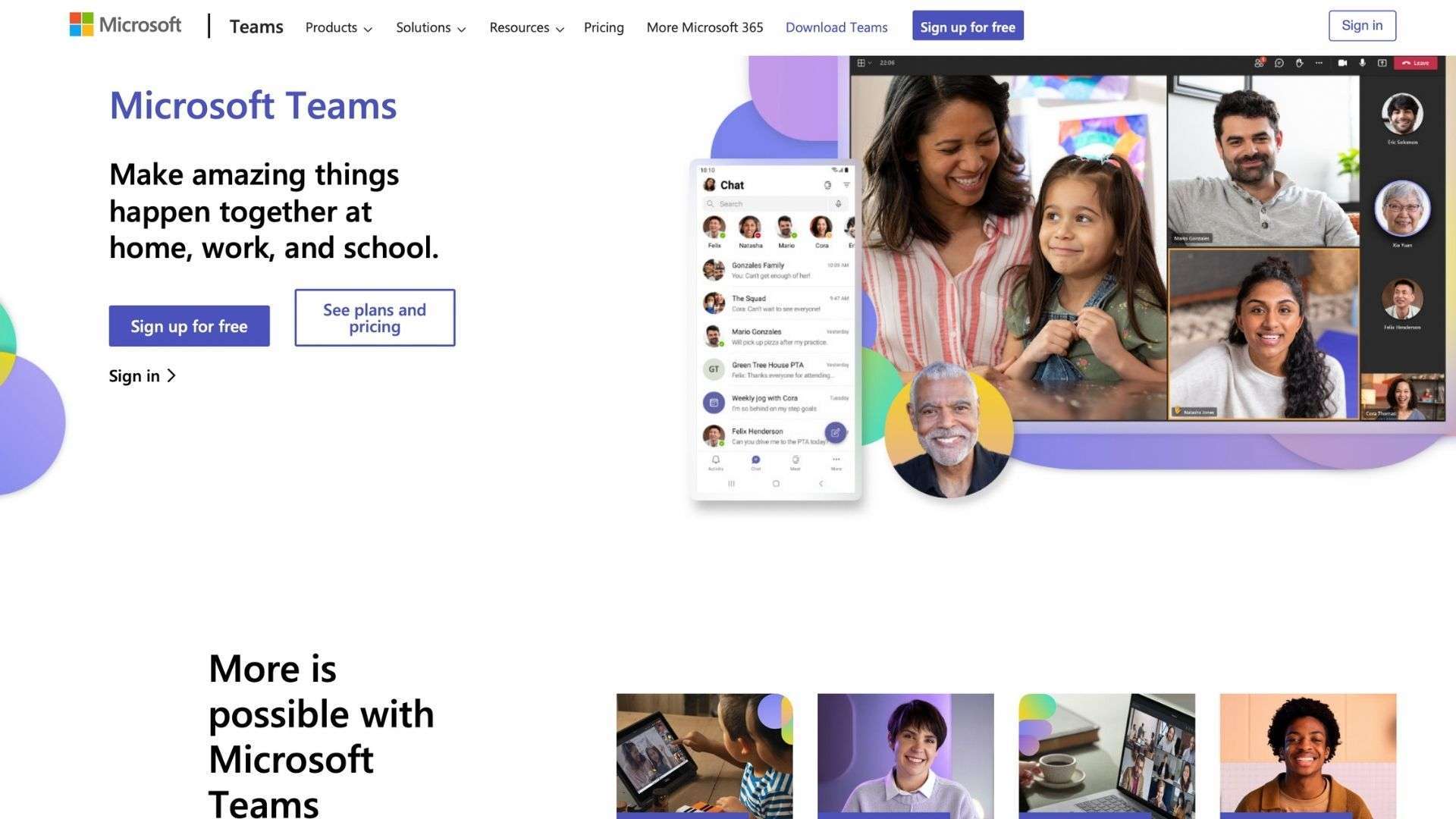 Up next is Microsoft Teams.
It's yet another excellent video conference tool for various reasons.
For starters, we must talk about how this is perfect for those who have Microsoft Office 365.
That's because Teams integrates seamlessly with other Microsoft products, removing any headaches and frustration.
Additionally, there are a lot of great features. These include having custom backgrounds, recording, and even polls.
That all improves the user experience and helps make meetings as efficient as possible.
Main Features:
Integrate with other Microsoft apps for increased productivity.
Share documents and files with your whole group through the team chat.
Choose how you like to communicate: chat, talk through voice, or meet in a video.
Pros
Seamless Integration with other Microsoft products
Great Features
Great Chat Capabilities
Cons
Confusing File Structures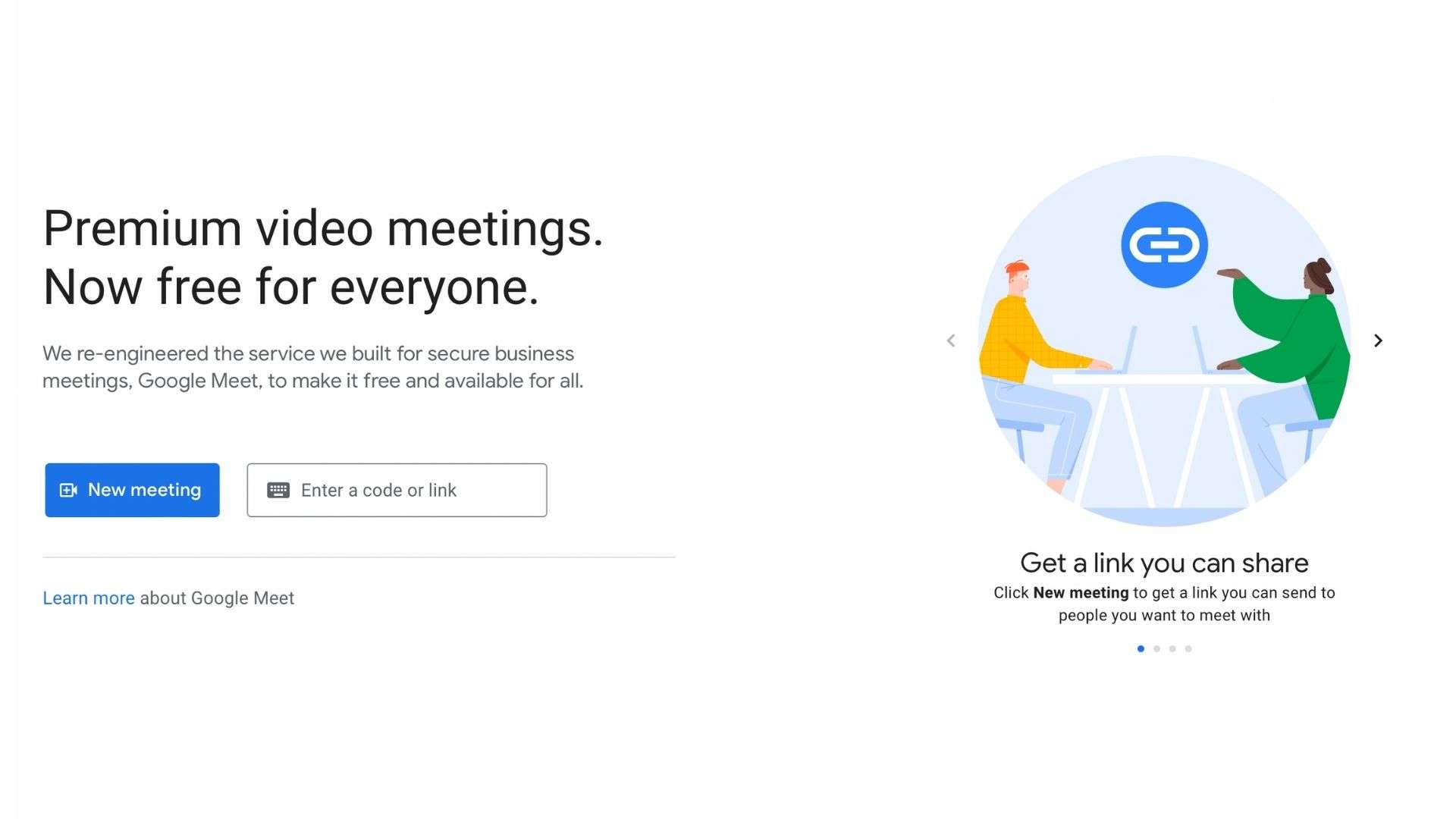 Google Meet is the answer to your video conference problems.
For starters, I want to tell you about the fact that you won't have to download anything!
All you need is a Google account and Internet access, and you can do anything. That includes:
Joining Meetings
Setting up Meetings
And much more.
And with Google Meet, you can also record your meetings. But instead of downloading it to your desktop, you can later easily access it in your Google Drive.
And to top it all off, you get all this for free. There are a few premium features for Google Workspace users, but most of you won't need them.
Main Features:
Create meetings with up to 25 co-hosts.
Use meeting codes to protect yourself from unwanted visitors.
Create polls and Q&As for interactive meetings.
Pros:
Free Version Available
No Download Required
Recordings to Google Drive
Cons:
Lack of Additional Features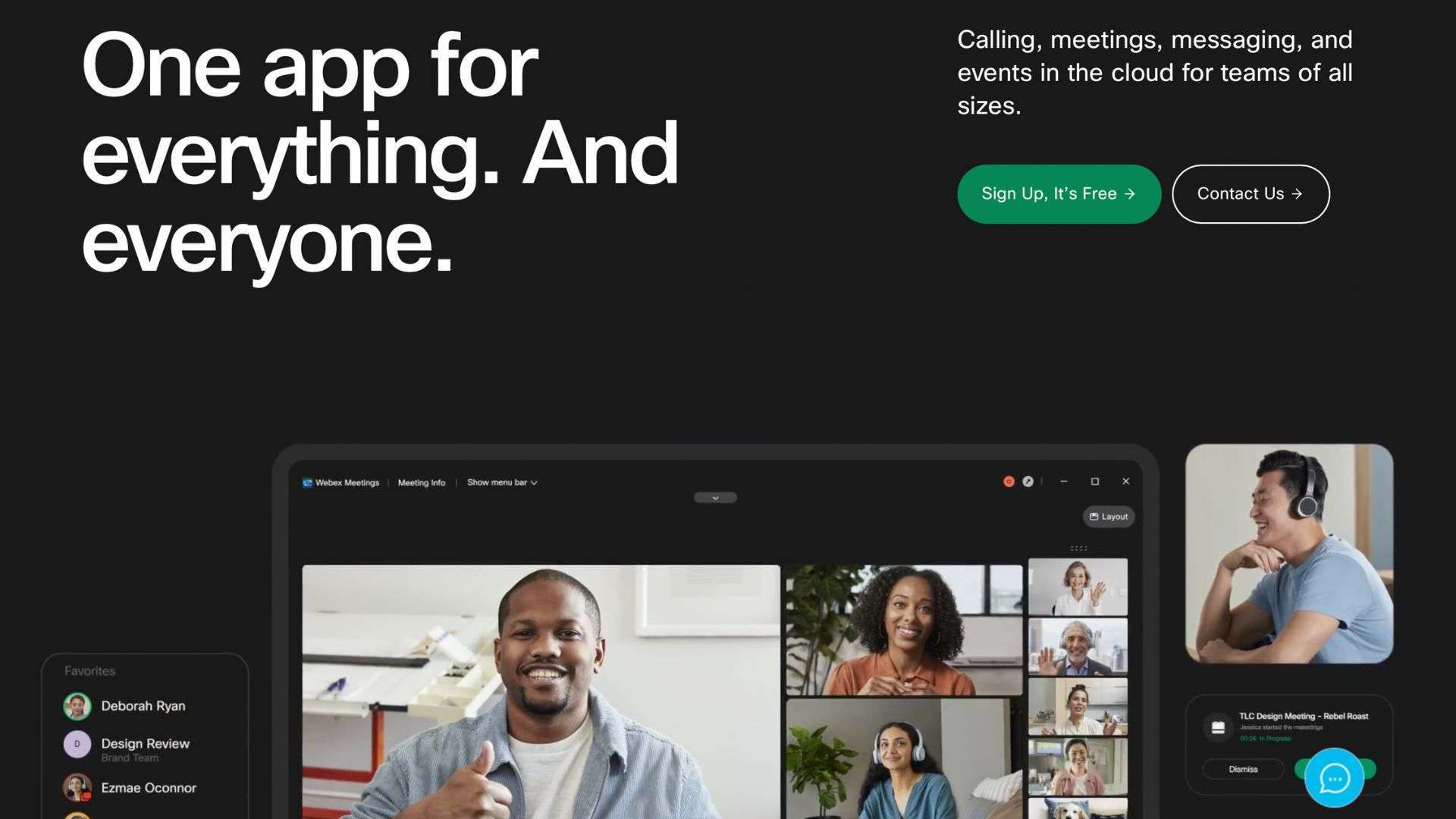 If none of the other ones piqued your interest, then Webex Meetings might be for you.
What makes Webex meetings so great is their security. It encrypts any data you generate, making it more difficult for hackers to access your data.
Additionally, it comes with quite an extensive list of integrations. These include apps like Slack, Microsoft Teams, Salesforce, and so much more!
And to top it all off, just like with some meeting software above, you don't need to download anything.
That makes it highly beneficial as it frees up your space, and your clients and employees won't have to download new software to attend meetings.
Main Features:
Use AI-powered features to get more done with fewer meetings.
Express yourself with gesture recognition by using simple hand gestures.
Join on any device without having to download anything.
Pros:
Good Security
Extensive Integrations available
No Download Required
Cons:
Mobile isn't very user intuitive.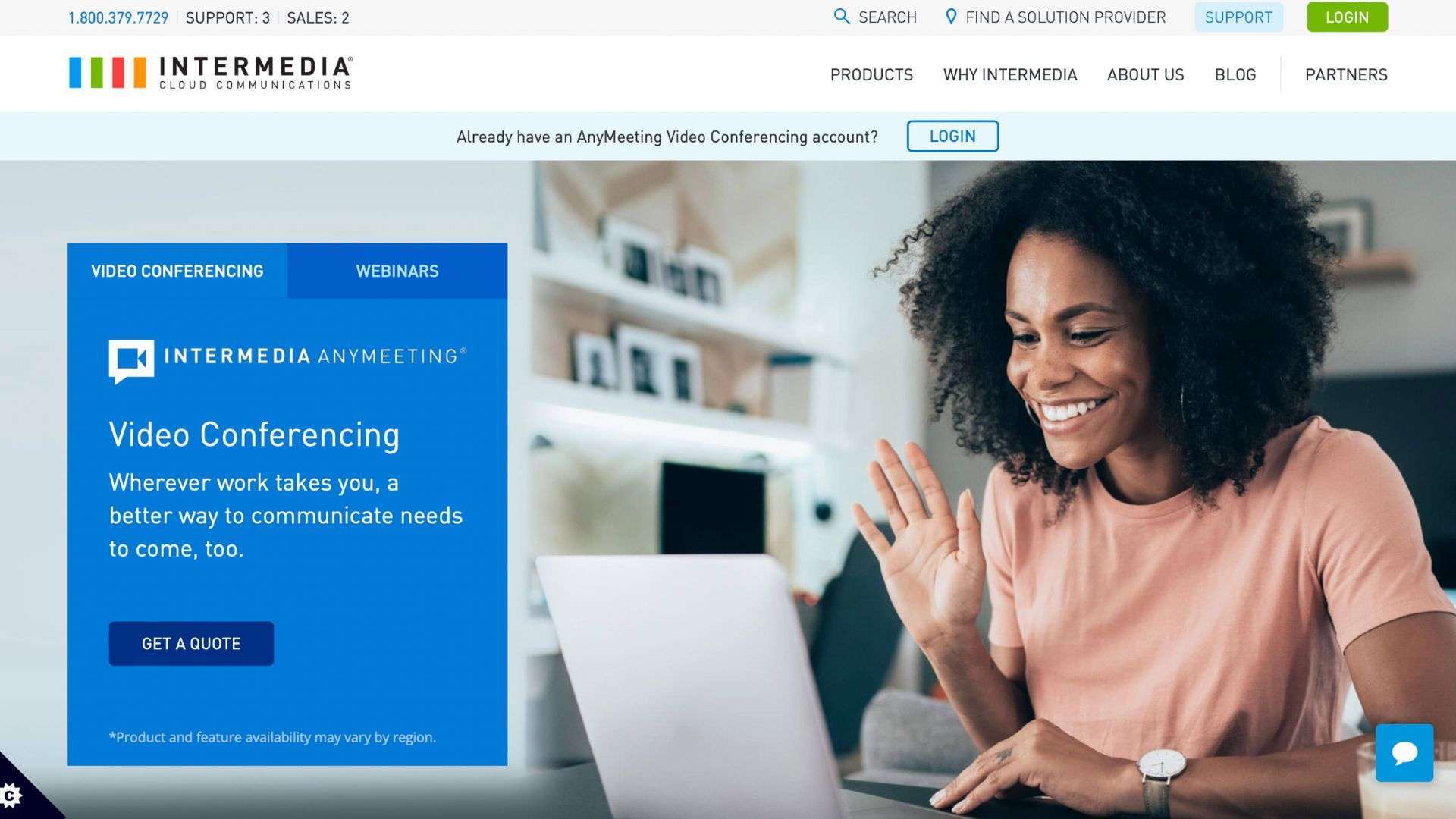 Next up is Intermedia AnyMeeting.
It's yet another impressive software for video meetings for its remarkable features.
One of the key highlights is having custom branding in your meetings.
While meetings with your employees might not have any differences, the ones with clients are another story. That will help build authority and make you look more professional than without it.
But that's not all that's great about it. One of the best things is how many people you can have in just one meeting.
You can have more than two hundred at the same time. That means this software can be used for any business, no matter the size.
And to top it all off, it is also AI-powered. That brings you a lot of benefits.
For example, all your conferences will be automatically transcripted. That means you won't have to worry when you don't take notes on a critical topic.
Main Features:
Add notes through a shared screen during a meeting.
Use custom branding to customize your meetings
Use the AI assistant to make meetings a breeze like auto-transcriptions.
Pros:
Custom Branding
Automatic transcripts
200+ Attendees
Cons:
Webinar features are offered separately.
Continuing down the list is Dialpad.
It's excellent software for your company's meetings and client calls because of the impressive features it offers. One of the most notable ones is its AI assistant.
If you want, it will take notes for you and send follow-ups to all the attendees.
What I love about it so much is the interface.
It's extremely easy to use. If you've ever used apps like Facebook Messenger, then you should feel right at home. And lastly, there's no download necessary to enjoy these features.
Main Features:
Let Dialpad automatically transcribe your calls, giving you more time to focus on the call rather than taking notes.
Create a personalized experience with custom layouts, background images, custom hold music, and meeting room URLs.
Add a meeting countdown timer to increase productivity and finish your meetings quicker.
Pros:
AI Assistant
Easy-to-Use Interface
No Downloads Necessary
Cons:
Paid add-on for video conference for more than 10 participants.
Continuing down the list is StarLeaf.
This program aims to offer you a simple & easy solution to your virtual meetings. And it does that exceptionally well. That's because the interface is straightforward to use.
It should take you only a couple of minutes for you to get used to it.
Additionally, StarLeaf will offer you high-definition screen sharing, making it beneficial for sharing videos and other forms of media.
And if you need to, you can integrate this with other video conference software like Zoom.
Main Features:
Create events with specialist platforms like Quickchannel with streaming features like QnAs, polls, and custom branding.
Seamlessly integrate with other tools like Google Calendar, Microsoft Teams, Slack, and more.
Create HD video meetings with MultiJoin. This way, people can join from Microsoft Teams, Skype, Zoom, etc.
Pros:
Simple & Easy Solution
Integrations with Other Video Conference Software
HD Screen Sharing
Cons:
While Skype might not be as popular as it used to be; it's still something you should consider.
That's primarily because of some new features included with it. I want to talk about how easy it is to use. They made the interface extremely friendly to users.
That means it should take just minutes to get familiar with this software.
But what I want to highlight most is chatbots. With them, you can, for example, stay informed of the news, and much more.
And to top it all off, it has a very generous free version.
Main Features:
Stay up-to-date with the news or create automation with chatbots.
Create HD meetings with just a click of a button.
Understand what your attendees say with auto-translations.
Pros:
Easy-to-use Interface
Chat Bots
Free Version Available
Cons:
SMS is outbound only
Some Connectivity Issues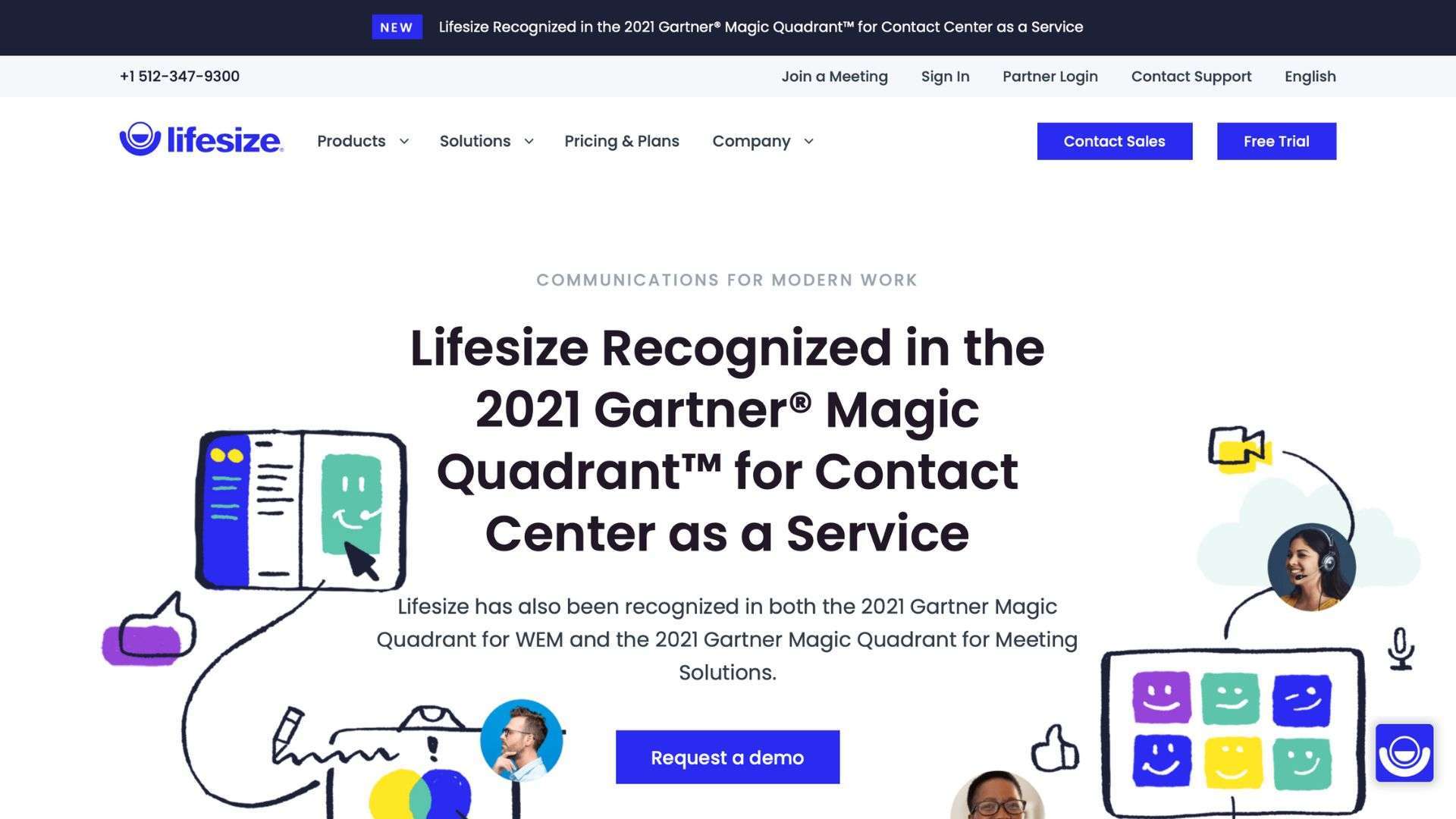 Lifesize is unique for what it offers.
Instead of adding additional features, this will make sure you've got the best quality meetings.
So that means if you have the monitor for it and high enough internet speed, you can create 4K resolution video calls.
Additionally, you won't need to require any software to use it. All you need is a link to the meeting and an account, and you're golden!
That makes it highly beneficial if you've got an appointment with investors or clients, as they won't have to download this software for one-time use.
Main Features:
Create video meetings with the highest video quality.
Connect your meeting room systems with other conferencing services like Google Meet, Zoom, and more.
Seamlessly combine with the Lifesize products.
Pros:
4K Resolution Video Calls
No Download Required
Easy-to-Use Interface
Cons:
Conclusion
And those are the twelve best tools and software for video meetings.
Now all that is left is to pick the best one for your needs and start using it.
Then both you and your team members will have a better and more productive meeting.