Managing time and business are two of the most back-breaking tasks when done individually.
Doing the two together inevitably decreases efficiency in both aspects.
As communication is one of the common grounds where time and business stand the most, managing it cannot be flawless.
From having initial discussions concerning availability to back-and-forth email exchanges regarding rescheduling, as our lives grow busier, meetings do not seem to become any more efficient.
Therefore, appointment scheduling applications are one of the best ways to increase the time you give to your business – without actually giving extra time.
Statistically, as per BookedIn, 46% of clients schedule ‌appointments on their own. All you need to do is let them do just that.
The following are some of the best appointment-scheduling apps for small businesses, which let you and your clients schedule meetings hassle-free.
Ideally suited for small businesses and enterprises in the service sector, SimplyBook.me is an online appointment scheduling application that integrates with your website, GoogleMy Business, and social media sites such as Facebook and Instagram.
As a growing company has no limit considering the number of clients associated with it, this application fits them best as it does not have a limit concerning the number of client details that can be stored in the system.
Some of its most significant features include an API, booth rental management, call reminders, capacity management, contact database, and details concerning customer history.
Additionally, SimplyBook.me enables you to collect payments via the POS feature.
Notable Features
Availability indicator and management
Activities booking and tracking
Calendar management, sync, and reminder system
Pricing
Free plan
Basic plan ($ 8.25)
Standard ($24.9)
Premium ($49.9)
Besides its marketing, sales, and CRM software, HubSpot also offers its meetings tool.
Best for businesses that are operating within the HubSpot ecosystem; the HubSpot Meeting Tool allows you to integrate your availability and meetings through Google Calendar and Microsoft Office 365.
Similar to its competitors, it enables you to share your availability with your clients; capture information by adding form fields to your appointment page, and schedule a meeting using email addresses, websites, and landing pages.
Nonetheless, the HubSpot Meeting Tool has additional capabilities that help it stand taller than its competitors.
Some of these capabilities are as follows: the option to schedule a meeting with one or more members of the team; automatic customer record when a new contact initiates a meeting, and many more.
Notable Features
Confirmation email
Integration with CRM to track meetings
Success rate tracking
Pricing
Free for HubSpot products suite users
Along with a creative name, Appointlet welcomes you to schedule appointments using your website, landing page, or email.
Best suitable for established businesses across a range of industries, Appointlet allows you to manage the availability of your team.
Not only can members be invited to edit their availability slots, but also has an option to manage breaks and last-minute appointments.
You can create a booking page and share it with your clients. Moreover, you can operate Appointlet in multiple languages to ease the flow of communication with cross-country clients.
It also enables you to control whether bookings are to be confirmed manually (by you) or automatically. Appointlet gives you a bird view of all your upcoming meetings and allows you to integrate it with applications such as Zapier, GoToMeeting, and Microsoft Office 365.
Notable Features
Availability indicator and management
Credit card processing
Customizable branding
Room booking
Pricing
Essential plan (Free forever)
Premium ($8)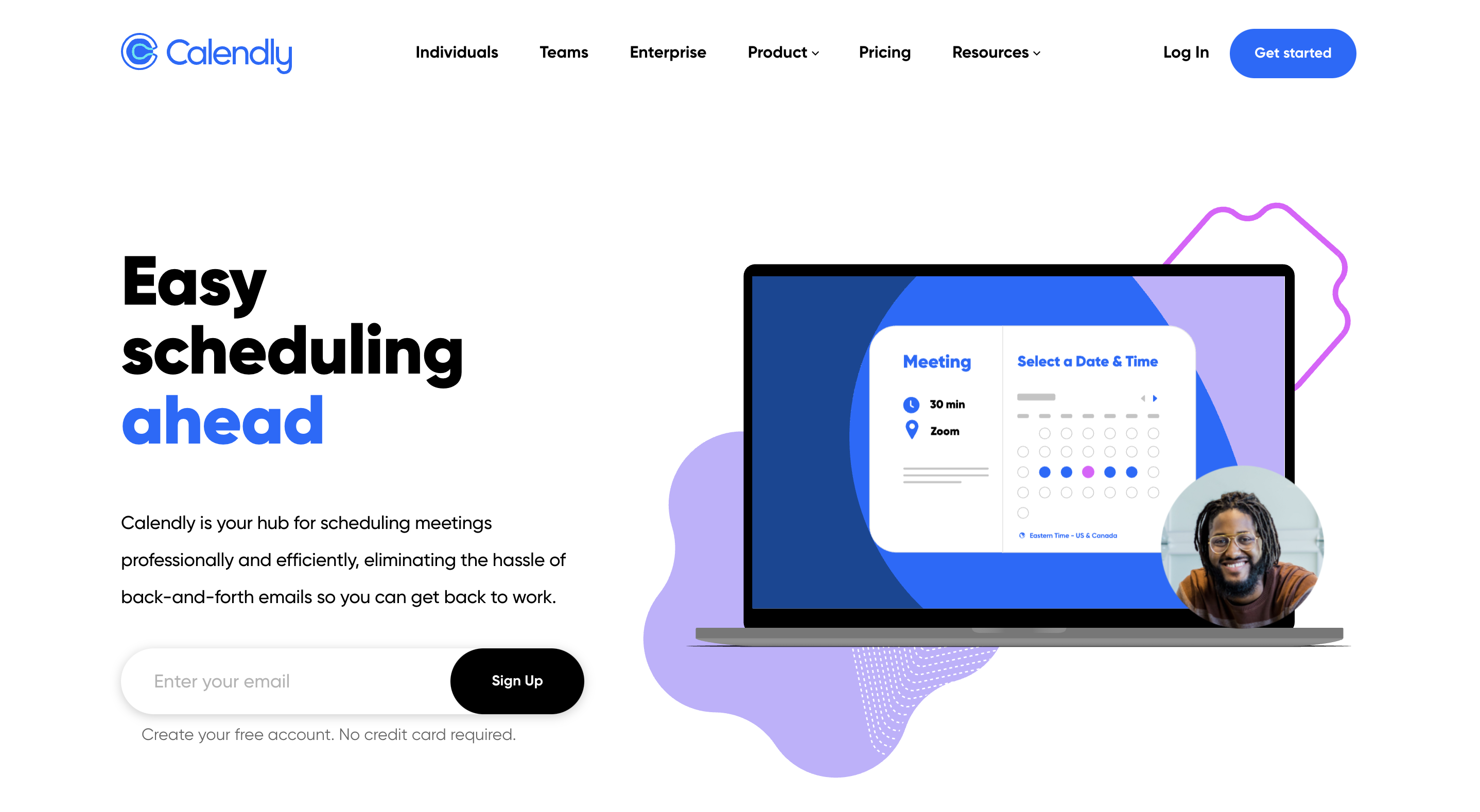 Calendly is one of the best scheduling options for individual professionals, freelancers, and entrepreneurs.
It provides the option to expand its usage to your entire department, regardless of the size of your company.
With its flexible administrative tools and wide range of integration options, Calendly is successfully serving more than 50,000 companies around the world.
Not only does it allow you to simply set your availability status and schedule the meeting, but it also enables you to work your way through different types of invites, meeting formats, and communication with members involved in the meeting.
It automatically sends out confirmation emails which you can customize from your end.
Notable Features
Appointment management and scheduling
Client portal and database management
Customizable branding and templates
Pricing
Basic plan (Free)
Essentials plan ($8)
Professional plan ($12)
Teams plan ($16)
Calendar is one of the most responsive scheduling software that caters to small business owners and employees all at the same time.
Known for its capabilities concerning scheduling external appointments, Calendar is a well-thought scheduling platform with excellent UI design, which makes scheduling, managing events, and tracking online whereabouts easier for modern companies.
With its multiple integration options through Zapier, you can share your availability and receive reminders on your preferred platform. For instance, if you integrate Calendar with Slack through Zapier, you can opt to receive Slack notifications as and when your client schedules a meeting with you.
It allows you to schedule your appointments automatically, without having you get into the grunt work of back-and-forth emails and texts concerning the availability of your clients and team members.
Notable Features
Personalized calendar link
Web embedding with white labeling
Free basic workspace
Pricing
Basic plan (Free)
Standard plan ($6)
Pro plan ($8)
Picktime is a scheduling platform that covers a variety of sectors.
This includes medical, sports, education, entertainment, beauty, wellness, and a few more.
Furthermore, Picktime does not need to be downloaded and installed on the devices you plan to use; it can be accessed via the internet and across all devices: smartphones, tablets, or desktops (as required).
The flexibility and adaptability offered by Picktime add to your convenience while scheduling a meeting. It offers integration with services like Zoom, Google, Microsoft, PayPal, Salesforce, Zoho, and many more.
It comes with capabilities such as calendar management, employee management, team management, invoice generation, take payments, overviews, and reports. For small businesses, having these services onboard helps in the effective and efficient functioning of a business.
Notable Features
Activity dashboard
Team management
Multiple locations
Takes payments
Pricing
Free plan
Starter plan ($ 9.99)
Pro plan ($ 19.99)
Doodle is not one of your run-of-the-mill appointment scheduling applications available in the market. It is one of the underrated gems.
It is a well-established platform with over 3 million unique visitors per month.
Doodle helps you schedule group meetings as per the availability of each member who is required to attend the meeting. You can have a poll to check the availability of the participants.
It is an online service and does not need any download or installation, making it accessible on phone, tablet, and desktop as per the convenience of your team. Also, it allows you to integrate with Google Calendar, Outlook Calendar, Microsoft Team, and Zoom.
This scheduling application has an extensive range of users, which include freelancers, small businesses, mid-size businesses, and large enterprises. If you work under a similar umbrella, you will not regret using Doodle.
Notable Features
Basic calendar integration
Gather groups of 3+ people
Cover all timezones
Pricing
Pro plan ($ 6.95)
Team plan ($ 8.95)
Enterprise plan (as per the needs and requirements of the company)
GenBook is a smart yet simple all-in-one online appointment scheduling service used for activities conducted while you manage your business.
Nonetheless, it is ideally recommended to freelancers and small businesses.
As one of the most efficient appointment scheduling applications, it allows you to create, manage, and track your meetings via desktops, mobiles, and tablets.
It allows integration with social media platforms such as Instagram, Facebook, YouTube, LinkedIn, and TikTok, wherein you can add a 'book' button to your profile that allows your clients to schedule a meeting based on your schedule for the day.
Similarly, you can also add the 'book' button to your website.
It provides you with a customizable booking page, from where your customers can book an appointment. Moreover, GenBook gives you access to its dashboard that presents your appointment history and helps you track various business activities.
Notable Features
An integrated payment processing system
Client Management
Business insights
Mobile App
Pricing
Solo plan ($ 29)
Team plan ($ 59)
Company plan ($ 99)
Appointy is an easy-to-use and powerful scheduling software.
It has a very wide range of users which include freelancers, small businesses, mid-sized businesses, and large enterprises. Over 75,000 businesses around the world are using Appointy.
This platform allows you to leverage integration with social media platforms and Google Calendar.
It allows users to book appointments online. It also features the option of sending automated SMS/Email reminders. You also have access to the feature to accept online payments, create deals, and offer discounts.
To help you with further reference concerning your business insight, it maintains a database of client data: appointment details, purchase history, and contacts, to name a few.
Notable Features
Omnichannel scheduling
Organizational hierarchy management
Database creation and management
Reporting and analytics management
Pricing
Free plan
Growth plan ($ 29.99)
Professional plan ($ 59.99)
Enterprise plan ($ 99.99)
Vagaro is a web-based scheduling platform, designed specifically for salons and fitness centers. Using Vagaro, you can make a profile and connect with customers via Vagaro.com and Vagaro's mobile app.
It is not simply limited to scheduling-centric features, but you also have the option of creating a customized website with your business details.
To help you become more efficient with your business meetings, it provides you accessibility to use the feature of sending notifications, alerts, and reminders to your clients so they do not miss their appointments; this, in turn, enhances their customer experience.
Another way Vagaro helps your small business is by providing them with the option of posting their reviews or feedback, which is crucial to understanding how your business is performing.
Vagaro offers integration with popular services like Microsoft Excel, Outlook, Instagram, Facebook for Business, Google Calendar, and a few more.
However, currently, Vagaro services are available only in the USA, Canada, the United Kingdom, and Australia.
Notable Features
Customer tracking
Pay desk (POS)
Report creation and management
Pricing
1 Bookable employee ($ 25)
2 Bookable employees ($ 35)
3 Bookable employees ($ 45)
4 Bookable employees ($ 55)
5 Bookable employees ($ 65)
6 Bookable employees ($ 75)
7+ Bookable employees ($ 85)
As the name suggests, ScheduleOnce is a platform that brings efficiency to your business. Also, it allows you to connect with your prospects and clients, without you having to remove time slots to schedule a meeting.
ScheduleOnce is a versatile application, but it is most suitable for individuals who are working as freelancers, small businesses, and mid-sized businesses owners.
It enables you to add a scheduling plugin to your webpage which will allow all your clients to book an appointment within a matter of minutes and in a seamless manner.
To make remote working easier for you, ScheduleOnce offers integration with major calendars like Microsoft Calendar and Google Calendar, CRMs and web conferencing platforms like SalesForce and Zoom, and more than 1000 other apps.
Notable Features
Setting meeting scenarios
Setting meeting rules
Team assignments
Branding and customization
Pricing
Starter plan (Free)
Growth plan ($ 12)
Enterprise plan (Custom pricing)
Arrangr is a platform that allows you to schedule in-person and virtual meetings without having to go through the struggle of back and forth communication via calls, emails, or text messages regarding a suitable time and place for the meeting.
The majority of Arrangr users include freelancers and small businesses.
However, its deployment options are limited to cloud, SaaS, and web-based, which makes it a bit inconvenient to get things done via Arrangr in a jiffy.
It has integration with platforms like Zoom, Slack, Zapier, FreeChat, TypeForm, and HubSpot.
Arrangr also syncs with Google Calendar, Microsoft Calendar, and Apple iCal. Also, it allows you to perform group scheduling and do the same in real-time.
Notable Features
Multi-location
Resource scheduling
Automated scheduling
Pricing
Basic plan (Free)
Arrangr Pro plan ($ 3.99)
Arrangr Pro+ plan ($ 6.99)
Square Appointments is a software that has capabilities considering your calendar, customers, payments, and point of sale, which allows you to manage each segment effectively, and of course, your clients can book appointments online.
Similar to its competitors, it has various deployment options that allow you to operate it on phones, tablets, and desktops. It has a wide range of users which include, small businesses, mid-sized businesses, and large enterprises.
As it manages your business on the payment front, you can request clients to prepay while booking, and can also charge for cancellation.
After completion of booking and approval of the appointment, the customer is provided with notification and reminders about the appointment and gives you a bird view of every scheduled meeting.
Notable Features
Customer relationship management for better customer experience
Staff and business activities management
Retail and inventory management
Pricing
Free
Plus plan ($ 29)
Premium plan ($ 69)
Setmore is a highly recommended appointment booking and scheduling platform for newly established businesses, solopreneurs, and individuals working in the non-profit sector.
It is a one-stop business solution that helps you manage your bookings through an easy-to-use and sleek calendar system.
It offers you to list your and your team members' availability online, which in turn, allows your target demographic to book the desired services based on the availability of the same.
Setmore is a great tool that handles most of your paperwork and allows you to focus on your business.
To help with the same, it has features such as customizable branding, event management, and various third-party integrations.
Notable Features
Automated scheduling
Appointment and availability management
Group scheduling
Website and third-party integrations
Pricing
Free
Premium plan ($9) (currently on discount)
Pro plan ($5) (currently on discount)
15. YouCanBook
Best for growing companies that need an appointment scheduling application that is flexible in terms of customization; YouCanBook is one of the easiest scheduling applications available in the market.
From onboarding conference calls to 1-on-1 meetings, YouCanBook does precisely what its name suggests: it allows you to book meetings and work your way across multiple time zones; manage the availability of your entire team; provides its access to your client, and lets you share screens seamlessly.
YouCanBook comes with features such as multiple appointment types, capabilities to add logos and colors to the scheduling page, unlimited fields, and customizable emails that allow you to send a thank-you email after each meeting.
Along with its scheduling capabilities, YouCanBook includes initial confirmations, rescheduling and cancelation notifications, and pooled availability management.
Notable Features
Automated scheduling
Customizable branding and fields
Email management and electronic payments
Event-triggered actions
Pricing
A $10 plan
Wrap Up
Growing ‌small business teams is mostly about networking, learning, client onboarding, and marketing.
All of these activities require you to schedule a meeting which comes with back-and-forth email exchanges, cancellations, and a lot of effort. Certainly, you need an appointment scheduling application that fits your business the best.
The above-mentioned appointment scheduling applications do a lot more than allow your clients to schedule meetings without having confusing discussions concerning your and your team members' availability.
These applications help you keep everyone in the loop, become efficient in your communication, and allow you time and space to focus on important tasks that play a role in the growth of your business.