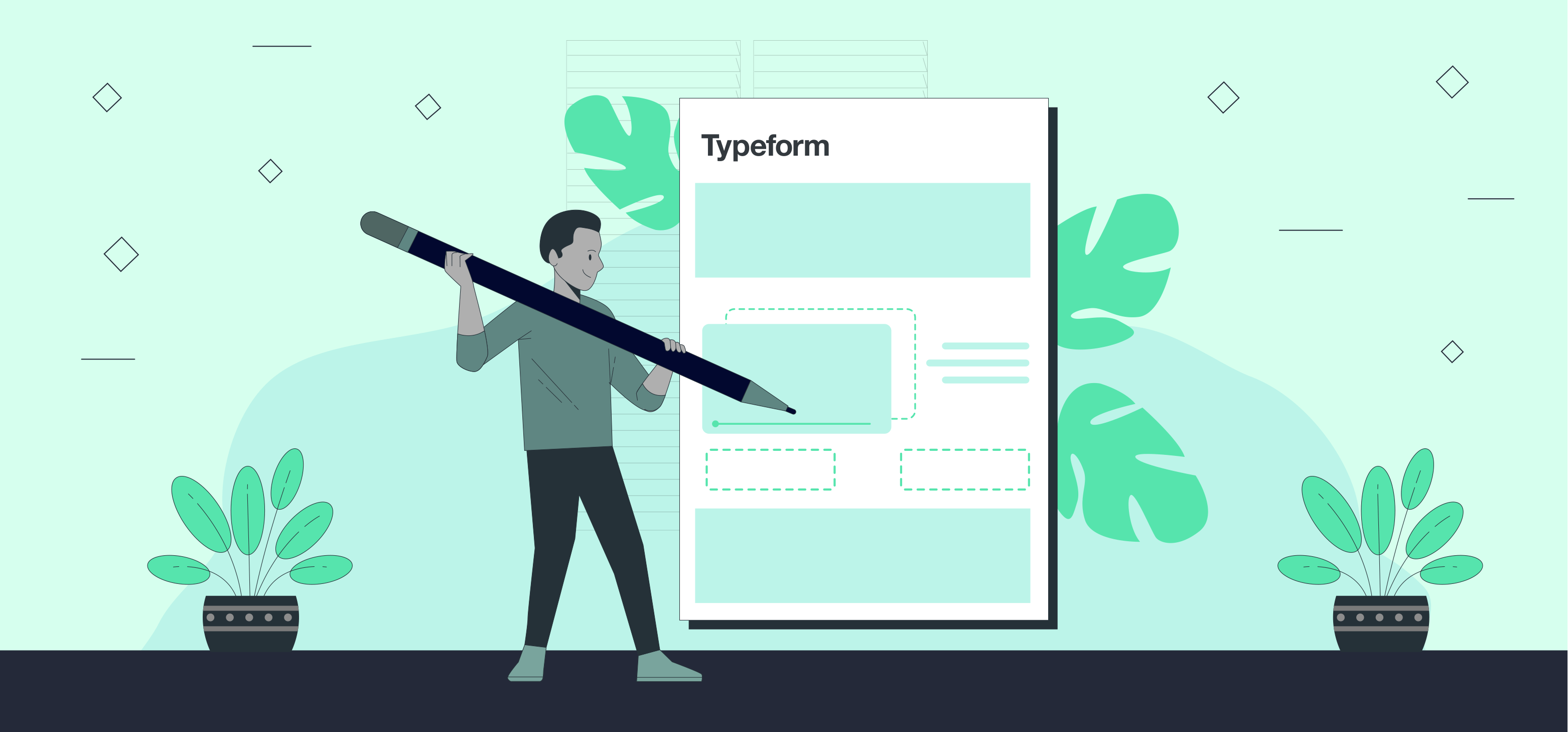 No doubt, Typeform is a great tool for creating engaging and highly customized surveys.
It's one of the most popular tools for creating cloud-hosted forms online at any stage of business. Be it a landing page, or business form, or a quiz.
While Typeform is a good investment for quick and short surveys, it's not the dynamic tool for handling complex forms.
And, let's not forget paid plans, which can be quite expensive for small businesses.
Even though Typeform is being applauded for its outstanding innovation, it has got its fair share of complaints, making room for other online survey tools.
Nothing is perfect in the world, and the same applies to a tool.
They have gotten a lot of criticism based on data extracted from the most popular review sites – G2, Capterra, and TrustPilot.
Below are the most common problems faced by real-time users:
poor customer service
making free and cheaper plans more and more expensive and removing high-end features.
constantly increasing pricing
Unreliable uptime
Huge difference between plan levels
Only one question is displayed to the respondent – a big turn-off for some users.
So, if you, just like these users, have faced problems, then it's time you switch over to some better alternatives.
In this post, we've covered the 9 best alternatives you can start using instead of Typeform.
1. QuestionScout
Need a perfect Typeform alternative? – QuestionScout is the tool for you.
With a price as low as just $1 a month, you can create conversational forms and surveys similar to Typeform. QuestionScout is more of a complete toolkit that allows businesses and individuals to collect all data types easily.
Without even writing a line of code, you can build the most personalized forms, configure the integrations, and much more.
Unlike Typeform, it doesn't limit or remove features from basic plans and is very affordable when you need more users.
Things that make QuestionScout unique are personal surveys with intuitive design, conditional logic, and the varied field types you could ever need.
Apart from its excellent collaboration feature, the tool is advanced and easy to use compared to other online survey tools.
With flexible pricing and having more robust features to explore, QuestionScout is a perfect alternative to Typeform.
Comparing some of Questions scout's main features against Typeform:
Supports both conversational and traditional forms.
Includes conditional logic, page logic, and skip logic to make your forms smarter.
Make your surveys personal instead of one-size-fits-all by referring to previously answered fields.
Design forms all the way to 15+ tailored field types.
Advanced design tools to customize your survey completely.
Flexible pricing with every plan.
Pricing:
It starts at approx $117/mo, including unlimited forms, users, responses, and custom domains.
Whereas, Typeform's premium plan costs you $70/mo but gives you limited responses and other resources.
That's where QuestionScout beats Typeform by a long distance.
Final verdict
With a simple interface design and great back-end management dashboards, QuestionScout is the top alternative on our list.
Apart from that, QuestionScout's pay-as-you-go plan gives you additional flexibility and is the most dynamic type of survey available out there.
Get started with QuestionScout →
2. SurveySparrow
Next on our list is SurveySparrow, which is closest to a Typeform alternative in numerous ways.
The conversational interface keeps your audience engaged and simultaneously boosts your results, ultimately providing a better conversation rate.
Additionally, SurveySparrow allows you to automate sending the surveys, which means you can avoid doing it manually, which you can't in Typeform.
Moreover, you can include the date, time, number of surveys to send, and the scheduling, which creates an excellent experience for any company using it.
Here are some of SurveySparrow's main features against Typeform:
Hundreds of templates available: Employee satisfaction, customer satisfaction, restaurant feedback survey templates, and many more to include.
Include NPS surveys, online & offline surveys, recurring surveys, and white-label surveys.
Engaging surveys that result in 40% more survey completion.
Vibrant dashboard and in-depth access to extracted data.
Mobile-friendly surveys to make them accessible across all devices.
Pricing:
SurveySparrow's starter plan starts at $19/mo and gives you a thousand responses, unlimited questions, design logic, and other integration features.
Whereas the same plan (Essentials) with Typeform can cost you $35/mo.
Final verdict
The options with pricing plans you get in Typeform are limited.
On the other hand, SurveySparrow offers multiple plans, making it suitable for anyone with specific needs or requirements.
With a single click, you can share surveys with your audience. Further, you can integrate them with hundreds of other applications.
Considering everything discussed, SurveySparrow is the next best alternative to Typeform after QuestionScout.
Get started with SurveySparrow →
3. Google Forms
Google Forms is the holy grail of online form builders and surveys.
Those who have been using the free plan of Typeform and are tired of the restrictions, consider Google Forms as your next best alternative.
With unlimited restrictions and simplified structure, Google Forms is a great alternative to Typeform despite it not having the conversational interface and styling.
Making surveys and forms is entirely free and simple with Google Forms. It's hard to resist Google Forms, given that it offers collaboration, survey logic, and data analysis at no cost.
With a decent amount of field types and very basic styling, you're guaranteed to create great surveys at no cost.
Some Google Form's main features against Typeform:
Multiple integrations to connect your forms or surveys with third-party applications
10+ field types to ask all the questions you'll need.
Individual responses and notifications through Google Sheets
Its auto-suggestion feature due to Google's machine learning capabilities is out of the box.
Collaboration and interactive forms with logic and branching
pricing:
All you need is a free Google account to access all the features of Google Forms.
Whereas, forms as a part of Gsuite for businesses, comes at $6 per user per month. However, there is no difference between Google Form's features based on your Gsuite subscription.
Final verdict
Google Forms is free for personal use, which includes basic survey logic with the entire G-suite ecosystem.
However, if you're looking for an alternative with robust collaboration features and need more question types, then Google Forms is not the survey tool you're looking for.
Get started with Google Forms →
4. Formstack
Formstack is one of the most powerful enterprise-ready Typeform alternatives.
It comes with huge data collection tools best suited for big businesses. With a massive library of features just like you're used to seeing in Typeform, Formstack is a better alternative to give a shot.
Thanks to its conditional logic, A/B testing, and other wealth of features that make it possible to build and create advanced forms.
Setting up your form and designing it as you go is straightforward; however, its drag and drop editor can be somewhat clumsy, which might give you frustration or trouble sometimes.
Also, keep in mind the interface is outdated and doesn't look quite as engaging. But, if you can get over that, you'll love Formstack as a Typeform alternative.
Some Formstack's features against Typeform:
Logics to make your form smart and intuitive
15+ field types to ask any questions you want
Advanced design tools for big businesses
Detailed user management features and straightforward sharing
Pricing:
Formstack offers no free plans; however, you get a 14-day free trial if you sign up for paid plans.
Silver – $59/mo
Gold – $99/mo
Platinum – $249/mo
The significant price jumps and getting fewer responses might be a turn-off for small businesses or individuals.
Final verdict
Of course, the price tag is high, but you get tons of features, integrations, and a user-friendly form builder in return.
If you want an alternative with conditional logic, A/B testing, powerful integrations, and other advanced features, Formstack is a good pick.
However, the plans are expensive, and the pricing for add-ons is unclear. Definitely not suited for small businesses or individuals.
5. Jotform
While being powerful, Jotform also keeps everything simple by prioritizing ease of use and other collaboration features. The design process is extremely flexible to help you customize the surveys the way you want.
Not to mention its huge library of templates that includes over 10,000 online form templates, which can be easily edited using its intuitive builder.
What I see is, Jotform isn't particularly cheap; however, looking at other alternatives, it's quite less expensive.
Jotform is an excellent Typeform alternative to consider because:
It has a huge list of form templates, field types, and themes.
Accepting payments is painless.
You can easily share and embed your forms or surveys.
Jotform's styling and design process is much more flexible than the other alternatives mentioned, giving you ultimate freedom.
Pricing:
The best thing I liked about Jotform besides the features is that there are multiple plans suitable for almost anyone trying to invest in a dedicated form builder tool.
The starter plan is free but comes with lots of restrictions. It allows only 5 forms and only 100 monthly submissions. Upgrading the plan is a good choice if you want more freedom and without-restriction workflow.
Bronze plan – $24/mo
Silver plan – $29/mo
Gold plan – $79/mo
Final verdict
Jotform is one of the best alternatives considering its affordable pricing, drag-and-drop form designer, huge templates and libraries, and robust integrations with Paypal and Square.
The only downsides are the confusing support center, plus there is no customization based on responses.
Additionally, the huge list of templates might be overwhelming for beginners trying to find the right template.
If you can get over the downsides, then Jotform is the alternative you're looking for.
6. Cognito Forms
Cognito Forms is a great online form builder with affordable pricing, making it the best alternative if you value the right price/quality balance.
With over 100 awesome templates and great data encryption support, this intuitive builder can cater to all your form-building needs.
If you're not a fancy type, the outdated interface won't trouble you much.
Cognito Forms is simple , but can be used for creating complex forms with advanced features.
It's definitely cheap, but is it any good? – Well, there are some downsides regarding payment options. Also, it isn't as intuitive as other form builders.
Some of Cognito Form's main features to consider as a Typeform alternative:
Excellent support and provides all the essentials to help you get started building forms and surveys
15+ form fields to put any survey out you can think of.
Great data encryption and conditional logic
Great sets of reporting tools and electronic signatures
Secure payments and multi-page forms
Pricing:
When you start with Cognito Forms, you're automatically put on the free plan.
If you want to access more features and tools, there are three paid plans to choose from.
Pro – $15
Team – $39
Enterprise – $95
Final verdict
The surveys look outdated, and it's not intuitive as other form builders on our list. Additionally, the minimal styling options restrict making Cognito Forms as lovely as Typeform.
But, if you don't mind these styling limitations and need something that meets all your demands, then Cognito Forms is a fantastic alternative to Typeform.
Get started with Cognito Forms →
7. Wufoo
Wufoo is commonly used for contact forms, payment forms, and event invitations which have registration forms attached.
Its industry-organized choice of templates can save you a lot of time, and you can create set-up forms with a few clicks.
Additionally, the drag-and-drop builder lets you create forms and surveys quickly.
The payment gateway is a bonus if you run an online store and collect payments through your forms.
The best thing I liked about Wufoo (and you'll too) is dynamic-based logic, making sure that respondents showed questions based on their previous responses.
Even Amazon and Twitter have adopted Wufoo, making it suitable and a dedicated Typeform alternative to consider.
Apart from that, other reasons to choose Wufoo instead of Typeform include:
Drag-and-drop builder to fasten your survey building process
Over 150 templates and themes
Spam prevention and simple form builder
One-click reporting and excellent spam prevention
Pricing:
It doesn't offer a free trial, but starts at a relatively lower price – $15 per month.
Other plans include:
Professional – $29/mo
Advanced – $74/mo
Ultimate – $183/mo
Final verdict
Wufoo is the perfect alternative for anyone and everyone that wants to build amazing online forms quickly.
However, there are some shortcomings which include the outdated interface and less number of submissions Wufoo allows.
Besides that, Wufoo is more than just a survey tool, and anyone can get their hands on it without having technical knowledge.
8. SurveyMonkey
Another good Typeform alternative on our list is SurveyMonkey – a name most of you're familiar with.
The promising advantage with SurveyMonkey is that it has numerous templates and hundreds of built-in questions that make your job easier.
SurveyMonkey is a popular survey tool and is used by people from all types of backgrounds. You can create custom themes, add a logo, experiment with different fonts, and build excellent thank-you pages.
It offers a wide choice of applications, including event registrations, employee engagement, feedback, and market research.
It asks sets of optional questions to help you optimize your designs, providing great customer support.
A few other reasons to consider SurveyMonkey as a Typeform alternative include:
Straightforward design to create survey quickly with little to no help.
Excellent survey monitoring accessible via mobile app.
Huge built-in survey templates.
Advanced survey logic and many integrations to offer.
Pricing:
SurveyMonkey's pricing starts at $31 per month. However, its basic plan is free, and you can create an unlimited number of responses with a limit of 10 questions.
Other plan include:
Standard – $12/mo
Advantage – Approx. $27/mo
Premier – Approx. $70/mo
Final verdict
SurveyMonkey is an extremely capable survey designer with lots of flexibility. Apart from its expensive annual plans, there's a lot more to like about SurveyMonkey.
Its extremely user-friendly interface and built-in templates with advanced survey logic give it a tough fight to be on our list.
Having that said, the lower pricing plans don't offer great value, and template designs can be a little annoying. If that's not on your requirement lists, consider SurveyMonkey as your perfect alternative.
Get started with SurveyMonkey →
9. 123Form Builder
With 123Form builder, you can create outstanding HTML forms, contact forms, registration forms, and many more to send them directly to your customers from your website.
And, like every other alternative on our list, it has a drag-and-drop builder to create forms and collect responses in no time.
What's more, you can track online form performance with in-depth analytics and further publish them anywhere online.
I liked everything except the built-in templates and forms, which might be frustrating to choose from, especially if you're a beginner.
123Form builder features to consider as a Typeform alternative:
Drag-and-drop editor and personalized forms to match your site.
360-degree feedback and survey management
Real-time results to improve your decision making
Collaboration and data analysis tools
Excellent branching and condition logic to build smart forms and surveys
Pricing:
The basic plan is free forever – a smart move played by 123From builder. With the free plan, you can create up to 3 forms and have 20 submissions each month. Basically, it's for individuals to build their first forms.
Other plans include:
Individual – $19.99/mo
Team – $49.99/mo
Enterprise – Quote based
Final verdict
If you need a Typeform alternative with great customer support and numerous built-in templates, then choose 123Form builder right away.
But, the features are nothing really new, and the complex template selection might be a deal-breaker.
Pricing varies across plans and doesn't offer much value. You might want to consider Wufoo before picking up 123From builder.
Get started with 123Form Builder →
There you go – out of all the online form builders I've looked upon and tested, these 9 are the ones that stand very close to being considered as Typeform alternatives.
If the form builder(s) you've got your eye on isn't on our list, why not type it into the comment box, and we'll add it to our review list.
Remember, this is just an overview of the best Typeform alternatives. We've only included information that is valuable and might help you choose one for you.
It's not a bad idea to consider a free trial before making your final choice.
After all, there's no such thing as a perfect form builder – if there was, we might've included it here.
And, let's not forget to subscribe to our newsletters for such valuable and time-saving posts.
Please share it with your friends, colleagues, and others who might need help choosing the best form builder or a Typeform alternative.
Share this article on: