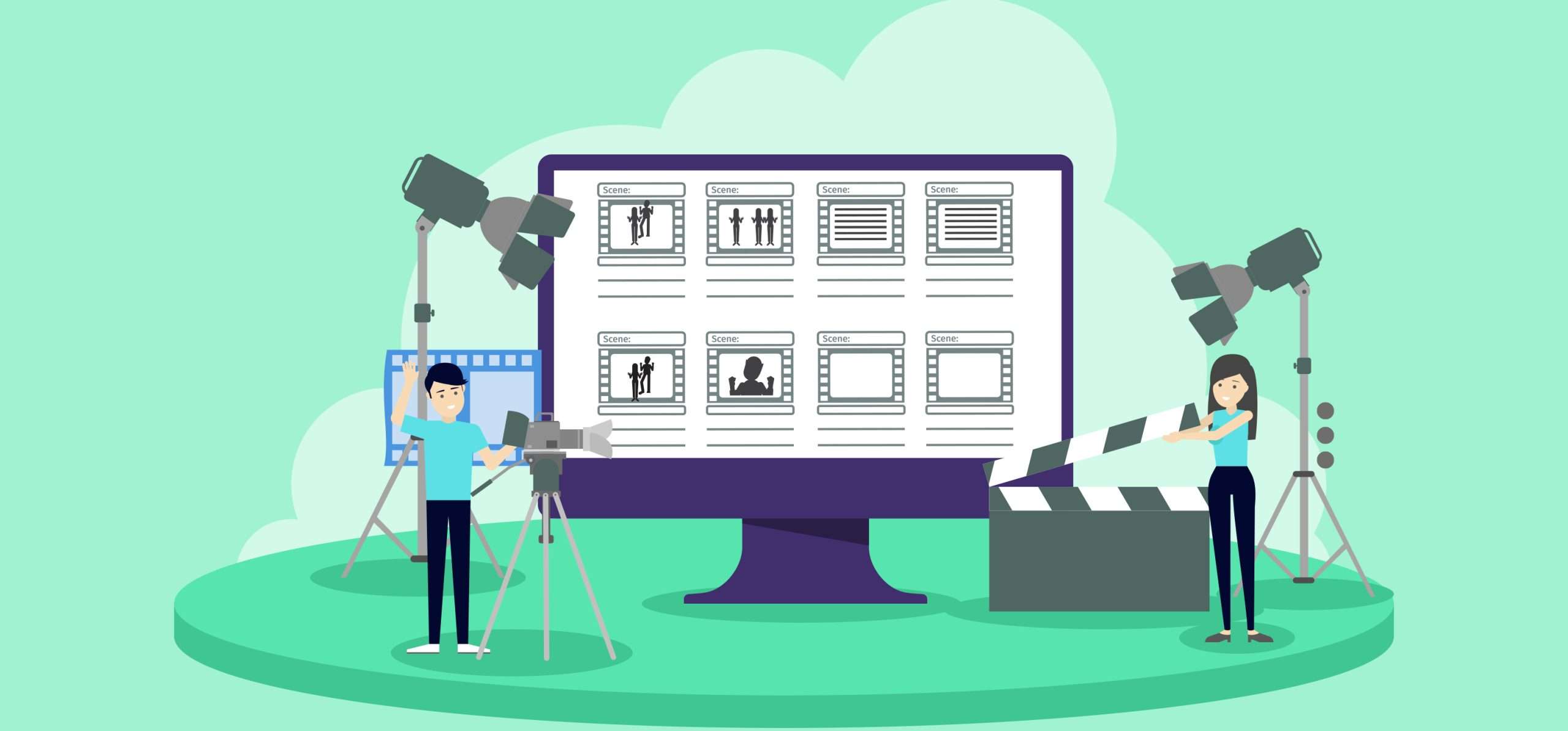 Sometimes pictures tell more than a thousand words. They speak their language. 
You just need a platform where you can use those pictures to see a story unfolding. And that platform is none other than Storyboard. 
We all love watching films and anime. Don't we?
But behind the scenes, the production process is way more complex than we could ever imagine. If not planned properly, the entire pre-production may fail drastically. 
That's why we're here to spread the word about the best storyboard software. So that you can correct the mistakes in the early production stage. And be confident about the scenes you're going to use for the shoots. 
By the way, the storyboard is not a new concept. Back in the 1930s, Walt Disney started this all by laying out a sequence of illustrations and pinning them on a bulletin board.
Remember the classics like Mickey Mouse and 3 little pigs! And later, live-action cinema too started to follow in their footsteps. 

In this listicle, we'll walk you through 12 best storyboard software that does more than just lay out a series of illustrations.
Like camera placements, lighting, dialogues, close-up shots, point-of-view, and many aspects of the screenplay. 
Your cast and crew involved can be sure about what they're supposed to do on the set. Frame by frame.
But who is storyboard software for?
Director
Screenwriter
Business professionals
Marketers 
Advertisers
Educator or teacher
Game creator
Content Creator
And basically, everyone who wants to convey a story. Even for those who want to escape a hostage crisis deceitfully (Argo fan?).

However, that doesn't necessarily mean you have to be an artist.
You'll find many such tools where you can simply drag the premade items to create a scene. Or customize your characters, their poses, and their expressions. Without ever worrying about how terrible you're at drawing. Are you?
1. Plot – Best web-based storyboard software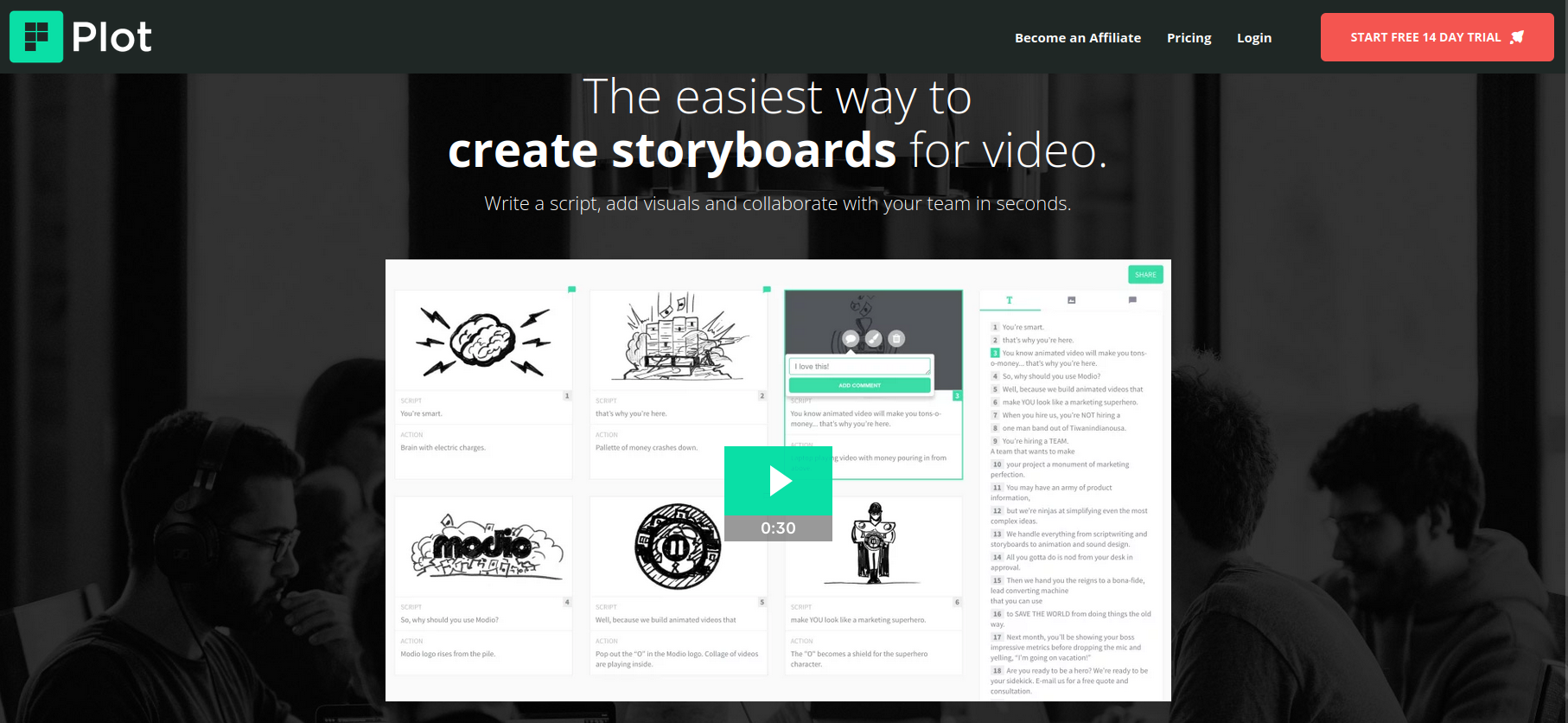 Plot is a browser-based storyboard software. And when I say browser-based, you might think of those clunky web apps with awful lags. 
Heck no!
Plot is surprisingly lightweight. Both on a desktop and on a mobile. 
The drawing pane pretty much resembles a standard paint app. But with a snappier UI and smoother resizing window. 
Plot has just the right number of tools. Take a minute to explore the toolbar. And you'll enjoy the simplicity this software comes with. 
You can go on, picking from over a dozen brushes and color effects. And put yourself in an artist's shoes. 
As you draw one layer at a time, you can add, delete or rearrange the scenes with simple drag-and-drop. And add dialogues on top of that. 
In addition, you can import your illustrations as well. 
And in case you wish to draw on iPad, here's what I think. Apple Pencil works just fine. Can hold up the pressure sensitivity and tilt really well.

Although, desktop artists find comfort in screenless graphic tablets. But when a direct interface sounds fun, why consider anything else?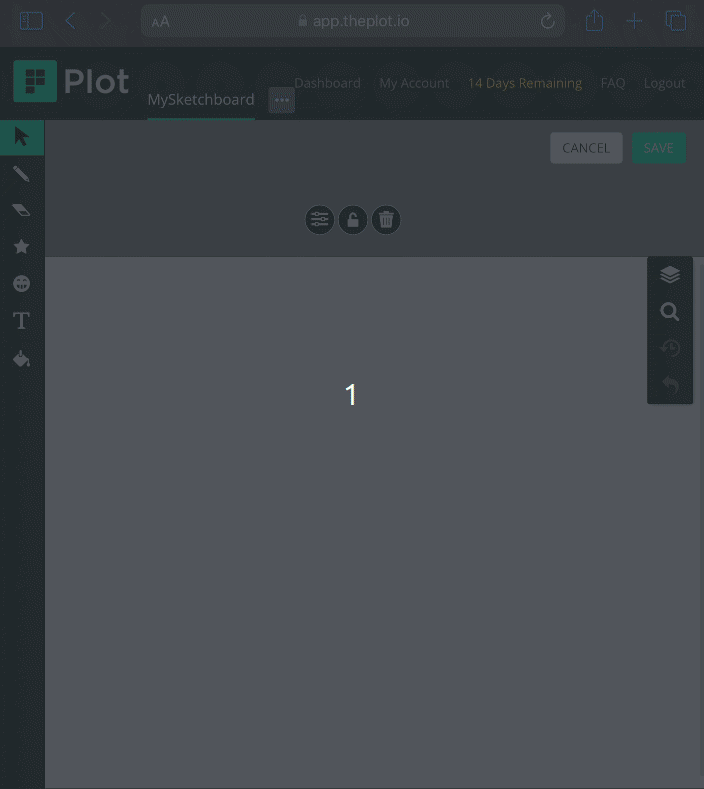 Honestly, you may feel a slight latency on the iPad browser. Just a bit. And please, avoid Safari.

Would have been better if there was a proper app. Won't you agree?
But overall, I think it can get the job done.
What makes Plot special is the collaboration feature. I have a gripe, though. 
All your colleagues need to be on the Pro plan subscription, which is $5 more than the Solo plan. In contrast, I love how Canva's individual plan doesn't restrict you to collaborate with a team. 
I've yet another problem with the pricing. By adding another $5 to your Pro plan, you can access unlimited collaboration. 
So why consider a Pro plan if you could enjoy the freedom of onboarding any number of people on the Business plan?
But unlike Canva, Plot offers you the freedom of scribing on any OS or any device. Without having you subscribe separately to use on other devices. So that you can focus completely on storytelling. 
Ease of use: Simple and distraction-free workspace for a browser-based app.

Platforms supported: Completely browser-based.

Value for money: Affordable, but specifically the Pro plan doesn't seem to be fair.

Recommended for: Education, Freelancers, Remote teams.
Plot Key Features
Fun with drawing tools:
Packs in everything you need for storyboarding: brush types, shapes, line tools, colors, clipart, eraser, and countless font styles to choose from. But the best part, you can customize them all.
Export in PDF format: 
Done with the storyboard? You can then export it in PDF format. But before exporting, you can choose from 6 layouts. And decide how you want your final export copy to look.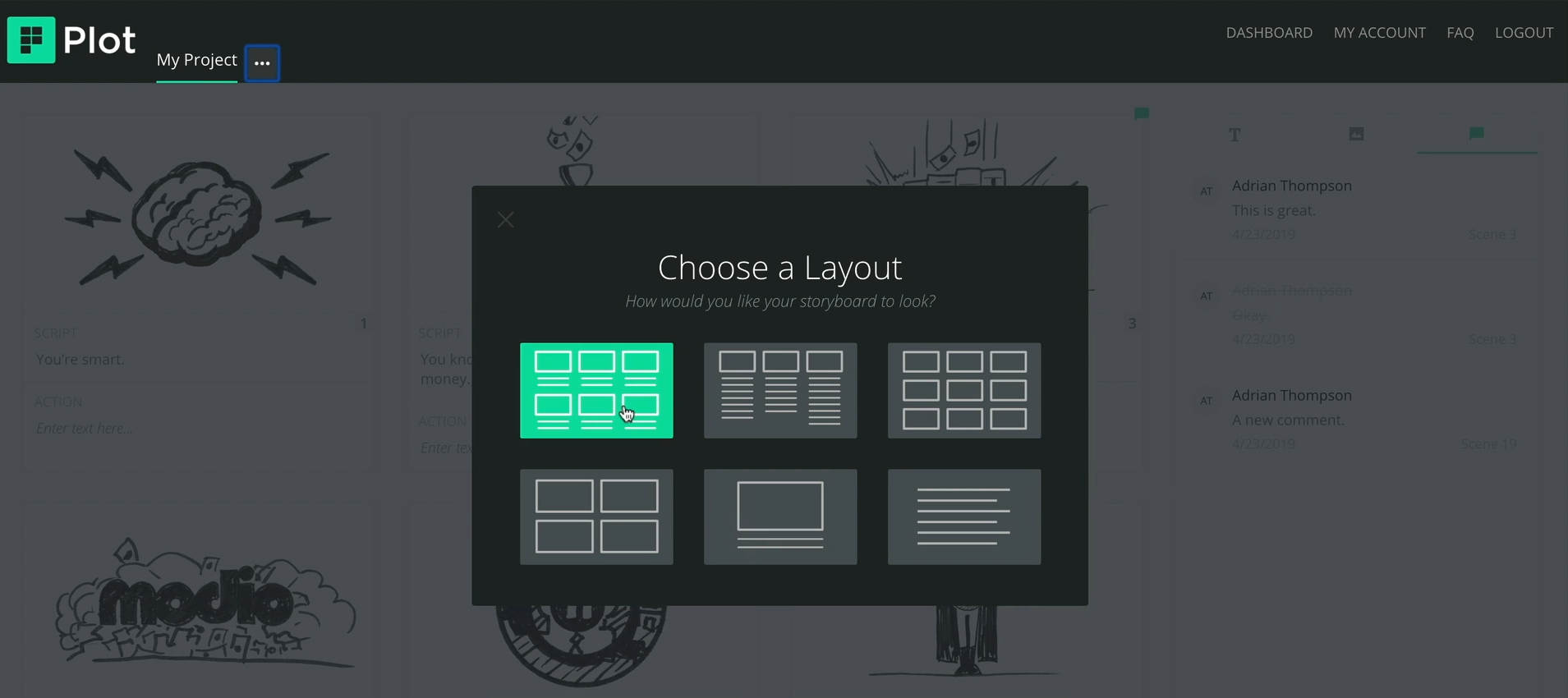 Remote teams would love the Plot:
Storyboarding together with a team of any size is what Plot is about. Everyone can leave comments, make notes, and track changes without interfering with the visuals. 
Flexibility with the drawing:
You can scribe or upload your graphics on any platform. You can also manage the layers – rearrange forwards, backward or add anything in between. Even after they're placed.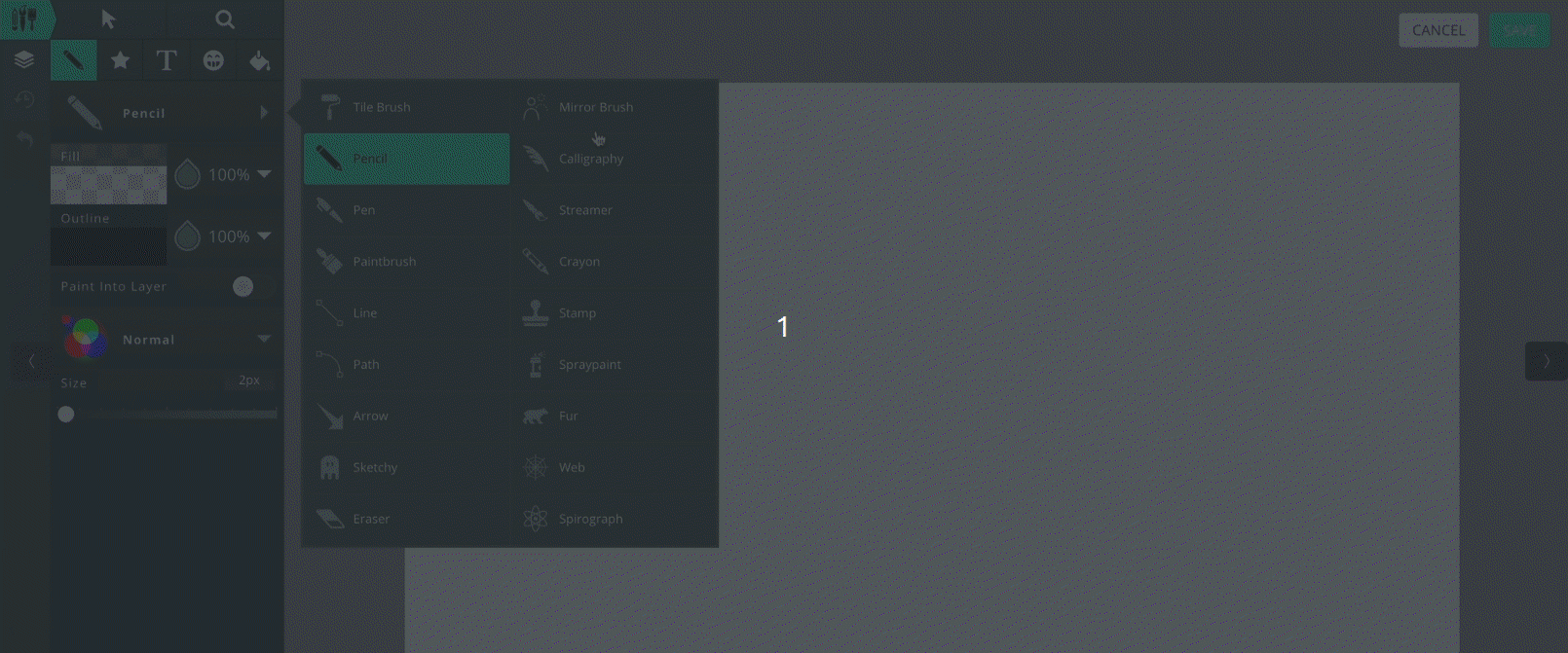 Easily format your storyboard:
Take control of narrating your story. You can create scene breaks. And add new scenes using a shortcut from your script. Feels way smoother than the static storyboard templates. 
Plot Pros and Cons
Pros:
Browser-based platform

Decent performance on mobile/ iPad browser

Affordable pricing plans

Plan for unlimited collaboration

Tons of font styles synced with the Google font library
Cons:
A bit choppy during inconsistent internet

Weird pricing considering collaboration limits
Pricing
Solo plan: $9.99/ month with no collaborators
Pro plan: $14.99/ month with up to 5 collaborators
Business plan: $19.99/ month with unlimited collaborators
You don't necessarily need to jump right into some heavy storyboarding tools for your animation. 
Like Toon Boom's Storyboard Pro 22 which is rather expensive and demands some training. Especially for solo creators who don't want to drag themselves into the tech-savvy part. 
Boords storyboard creator (while aware of the typo) sets a great example of how you can keep up with the simplicity. And focus more on the creative workflow rather than cluttering your mind in learning tons of functionalities. 
It gets right into the action while laying out the storyboard creator for you. 
I like the canvas as it comes with just the right number of drawing tools for storyboarding. You can upload photos and illustrations. 
But if you love digital art, you can simply choose to sketch directly on the canvas. Where you can make use of basic drawing elements like stroke widths, colors, shapes, and border-radius. 
So is it just a static storyboard creator?
Not exactly. Boords packs in animatics as well. 
Yes, you can work on onion-skin mode where you can go on creating frame-by-frame shots. Make notes and define action on each shot. Add script and sound on top of it which is going to help you in animations.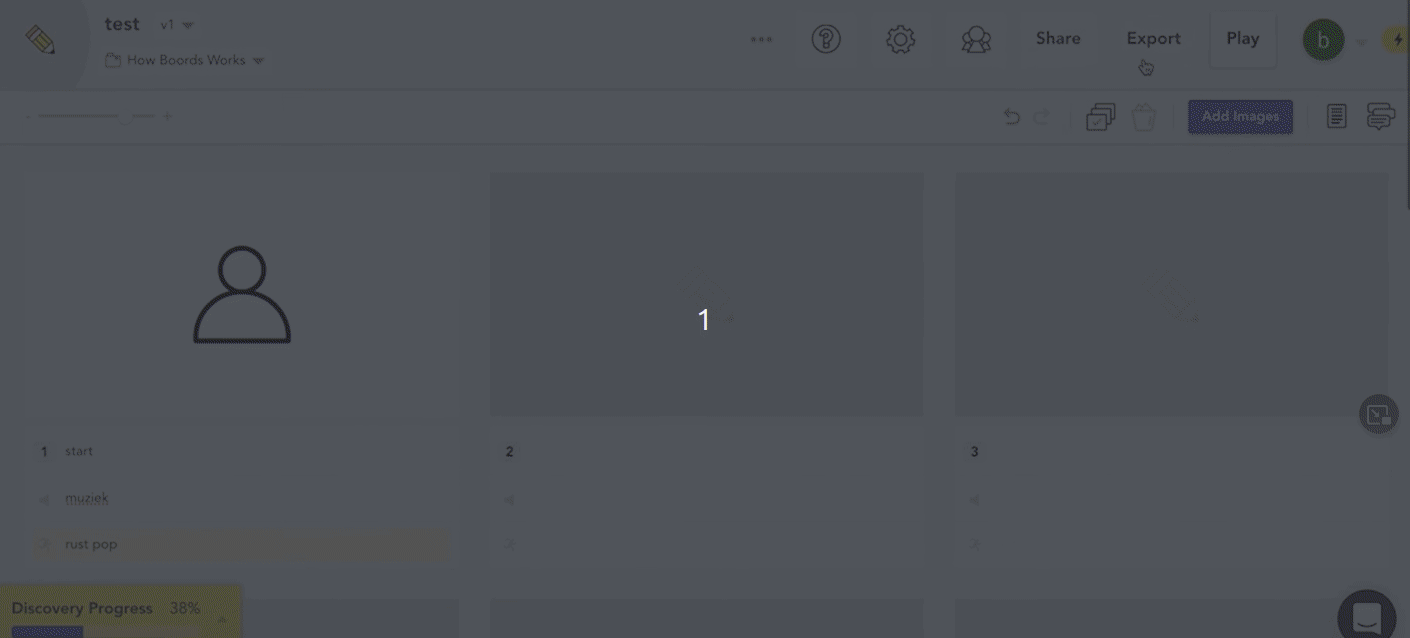 Everything becomes so easy when you're finally able to import into After Effects.  
No downloads, no apps. Everything's web-based here. Which makes it easy for you to collaborate with a team.
Boords sounds so promising. But I wonder why they don't have a social media presence. 
Although it's nice to find a small yet useful community forum. But not quite populated with active discussions.
Regardless of your plan, you'll have the advantage of unlimited storyboards with basically every feature. The only difference in the pricing is the team size.
Ease of use: Flexible user interface and ease of setting storyboard frame sizes. 

Platforms supported: Web-based storyboard software.

Value of money: Studio plan is good for beginners. Better if you're in a group of 3. 

Recommended for: Indie creators, animation artists, or a team of professionals.
Boords storyboard Key Features
Everything storyboard-focussed, nothing extras:
Create unlimited storyboard cards on any plan. Integrates with Unsplash, Iconfinder, and Google Fonts so that you won't need to leave your page for multimedia files. Features a simple yet useful sketchpad to create illustrations on the go. 
Animatics made simple:
Features like onion skin and camera movement indicators can help you direct your shots, and create movements, and transitions. Boords then makes it easy to edit your animatic over the timeline, and add subtitles, and sound effects – all under one roof.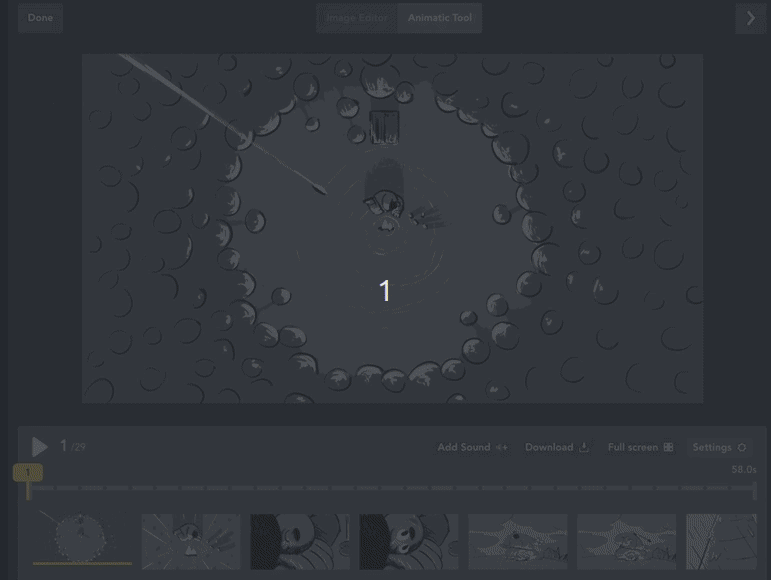 Seamless collaboration online:
Boords is a great option for remote teams of all sizes. Team members can share and comment on specific frames. Work together on the scripts. You can also keep track of the version history of your storyboard project. 
Protects your pre-production data:
Boords takes privacy seriously so that you can focus on your storyboarding without any worries. You can manage invites, and access, and share password-protected links. You can even allow comments from guests.
Boords storyboard Pros and Cons
Pros:
Comes with storyboarding, animatics, and a script editor

Multiple export formats are available

Directly import into After Effects

Secured online sharing and collaboration

Comes with version control
Cons:
Expected a built-in graphics library at this pricing

Not enough popularity and social media presence
Pricing
Boords monthly pricing when billed yearly:
Studio: $29
Company: $49
Company plus: $99
3. Canva – Simple Drag-and-drop storyboarding tool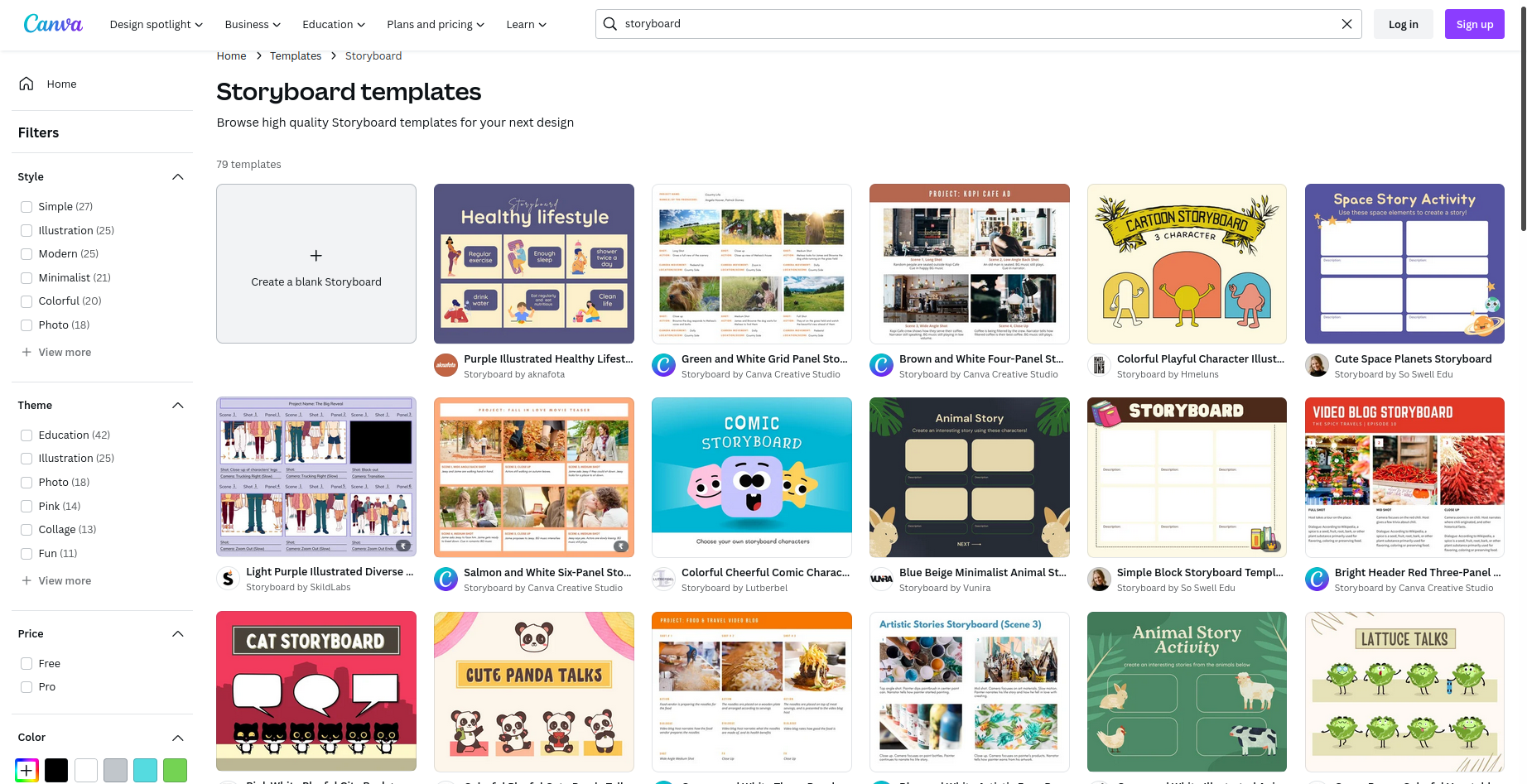 Love storyboarding but find sketching intimidating?
Maybe you're a marketer looking to impress your boss with an appealing presentation. 
Or a creator who wants to achieve creative fulfillment without enduring the efforts of sketching.
Canva starts where your creativity stops. We all know how Canva can help you get things done without ever having to draw from scratch. 
I don't think there is any software that comes with a massive storehouse of premade designs. More than you could ever use in your lifetime.

All you need to do is drag and drop elements. And personalize with your artistic taste.
You can pick from dozens of storyboard templates. And easily customize all the elements like grids, frames, dialogue bubbles, characters, emotions, backgrounds, and the list goes on.
For example, take a look at this comic strip. With a few clicks, you can change the expressions of characters.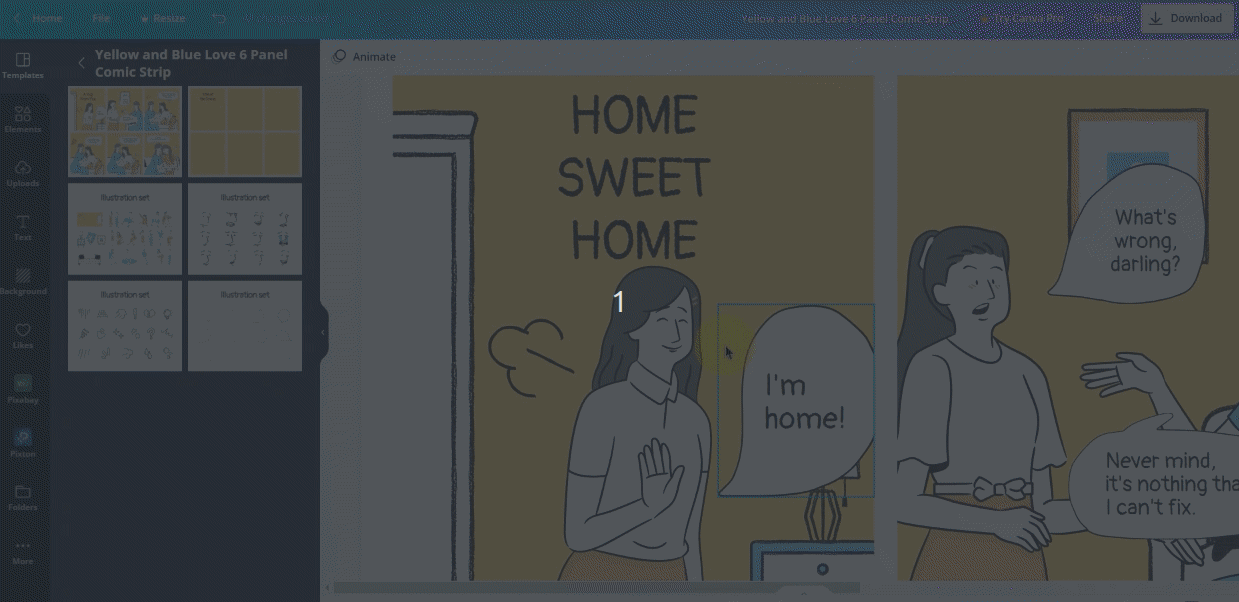 You can even recreate dialogues, colors, and the characters themselves. Or recreate the entire premise of your story using the rich graphics library.  
Now, how can a professional illustrator take advantage of Canva's ecosystem?
No worries! You can easily export vector designs you've created in Adobe Illustrator or any .ai editor. And use the flexibility of Canva to refine your artwork. 
Canva is great for print media as well. You can resize it in any format you like and get it printed. And make some money selling your blockbuster comics.
Amazing, isn't it?
Overall, I just love the sleek interface when running as an app. Canva on browsers, however, may feel a bit choppy on slow internet.  
My only gripe is the lack of scribing.
Ease of use: A no-brainer storyboard software.

Platforms supported: Standard browsers, Android, iOS, and iPadOS.

Value of money: Annual pricing seems in the budget for creators of all levels.

Recommended for: Geared towards marketers or non-designers. But equally valuable for comic artists and pro illustrators.
Canva Key Features
Unlimited resources:
Easy to search through the massive graphics library. Or upload .AI files, SVG files, GIFs, and standard image formats. And even audio files to make your story more engaging.
Amazing customization capability:
Ability to customize all the elements of a template. From characters, emotions, dialogues, and backgrounds to color fills. 
Magic of a single click:
Save your time and effort with a one-click background remover, resizer, and color palette generator.
Creative brainstorming with your team:
Collaborate with up to 50 people, where everyone can leave comments. Also makes it easy to share mockups. And a number of whiteboard templates for a productive discussion.

Connect with like-minded people:
Canva's online community is huge. Helps you learn from others and connect with a diverse range of artists and creators.
Canva Pros and Cons
Pros:
Limitless graphics, videos, audio, and fonts

No need for illustration skills

Multiple language support and translations

Rich integrations to power your branding process

Students can subscribe for free
Cons:
The free version offers ridiculously fewer features

Basic customization and no design option from scratch
Pricing
Monthly subscription: $12.99
Annual subscription: $119.99
Enterprise: $30/ month/ person (when billed annually)
4. Visme – Specifically for business storyboarding
While Visme is not specifically known for storyboarding, it doesn't fail to impress in certain areas. Like visually presenting the agile business analysis. 
Or creating marketing strategies to understand the customer's journey.
One such inspiration comes from Airbnb, where they used a storyboard for a campaign. They captured the emotional moments of the guest's stay. And wove a nice story out of the illustrations. Take a look.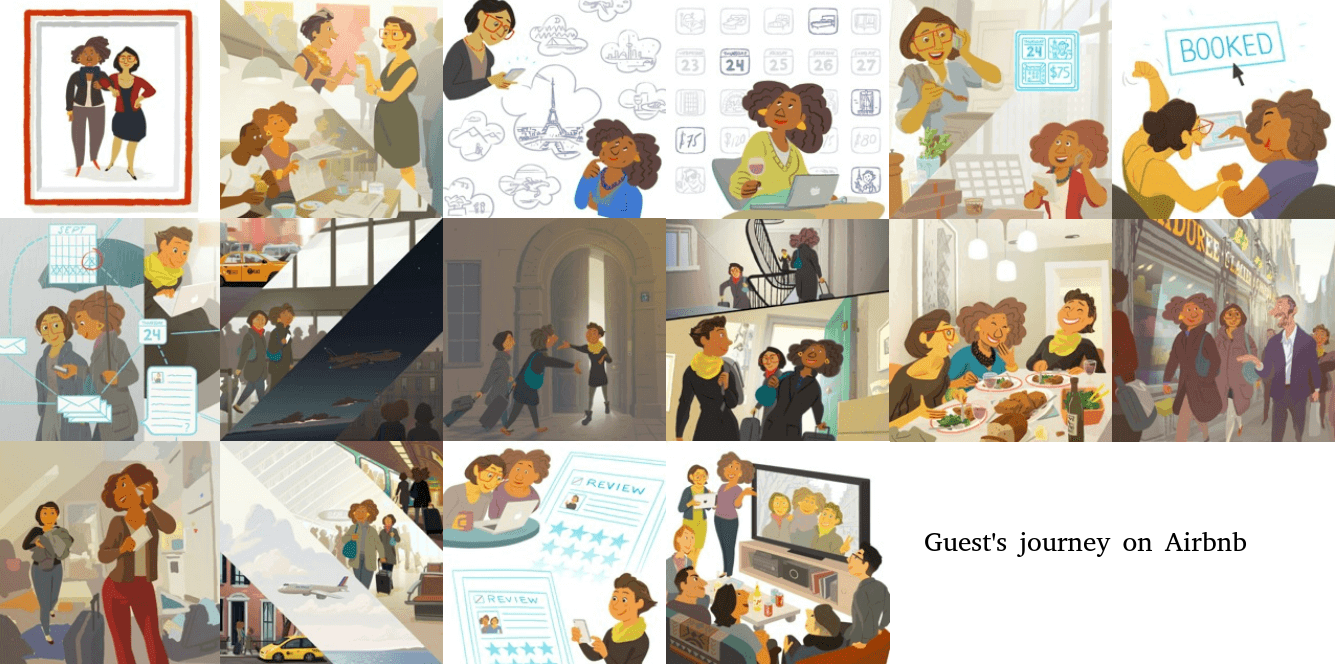 Now, you might have figured out how closely it resembles Canva. 
Same editor, the same drag-and-drop function, and a library of tons of graphical assets. Both of them offers branded kit. And equally good with multiple print formats. 
So why consider Visme for storyboarding over Canva?
One of the features I like is the brand-new animated assets. Canva doesn't have that yet despite having a much larger library. 
You can use animated characters to attract attention to a piece of information. 
Doesn't look cartoonish at all. But at the same time, throws life on the storyboard. You can even customize the gestures on each character. For example, greetings, walking, clapping, and many more.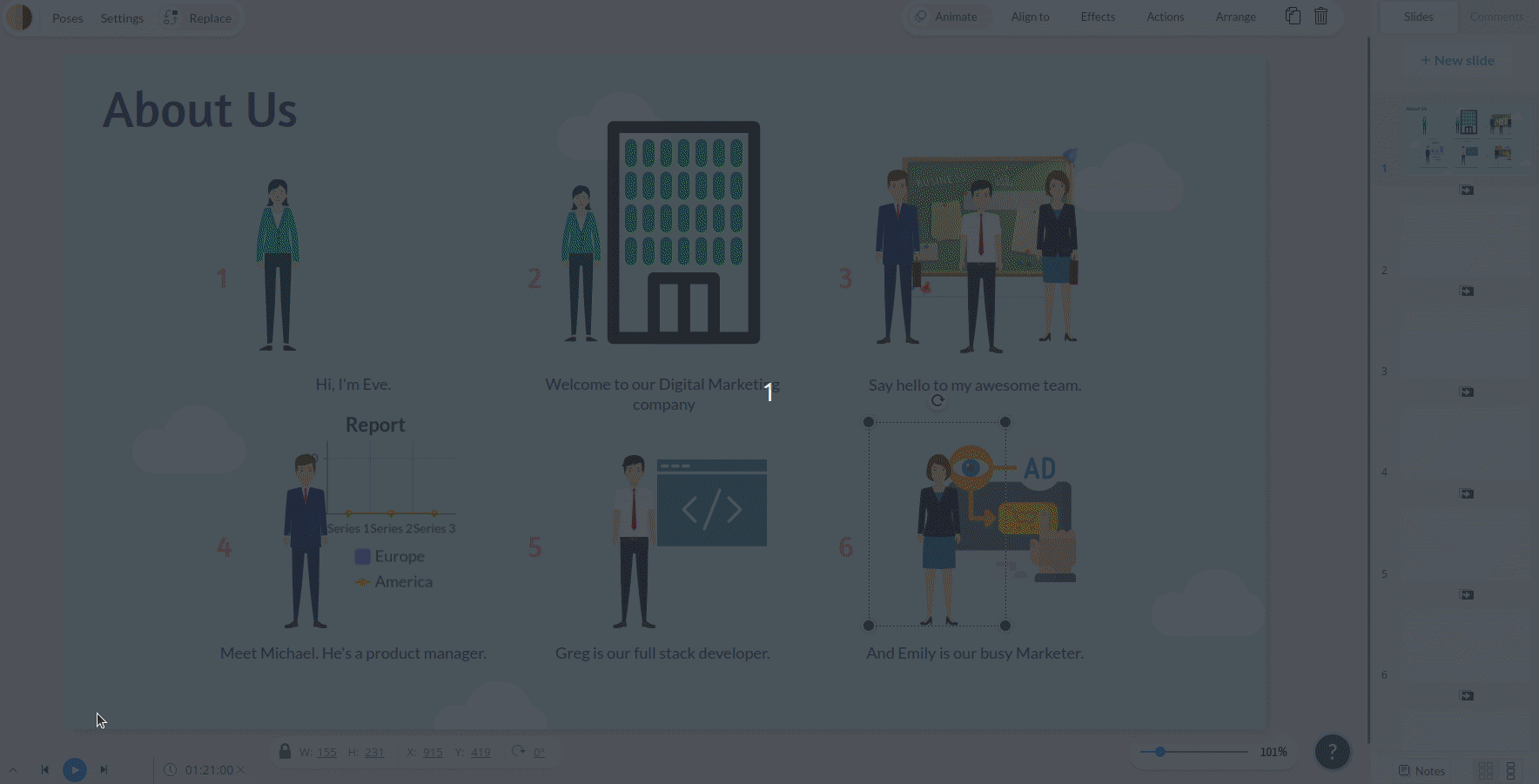 If you're on the Pro plan, you can share this digital storyboard in PPTx, MP4, and GIF formats.
Another area where Visme shines is its interactive graph capabilities.
You can import your business data into graphs. Then arrange them on boards sequentially to get a bigger picture of your business stats. And create a professional presentation for your company and stakeholders. 
It's not that Canva lacks data visualization. But the depth of customization on Visme gives you more flexibility in narrating your business story. 
So when it comes to storyboarding, these were a few distinctive features that give Visme an edge. 
I only wish they had watermarked premium graphics just for testing. Unlike Canva, you can't drag them unless subscribed to any plan.
Speaking of the subscription, the Pro plan is about 3 times pricier than Canva. Sounds like a dealbreaker for many. 
However, considering the niche-specific features, Visme sounds like a real deal for marketing agencies or remote teams. 
Ease of use: Quick search option to pick your assets, easy drag-and-drop, and simple customization options.

Platforms supported: Browser-based, iOS, and iPadOS platforms

Value of money: Overpriced. 

Recommended for: Business use cases like a roadmap, commercial advertisements, marketing campaigns, presenting statistical reports, etc.

Visme Key Features
Tons of resources:
Sleek UI with a library of pre-designed storyboard templates and tons of graphics. You can also choose from the built-in stock library. Or import your media files. Wireframes and Mockups are great features to visualize your product development journey. 
Animated graphics – a cool feature for digital storyboards:
Choose from over 500 animated characters, illustrations, and gestures. It's so easy to customize your graphics. For example, you can select an object, change its color pallets, or create your own. And with characters, you can play around with poses and timing.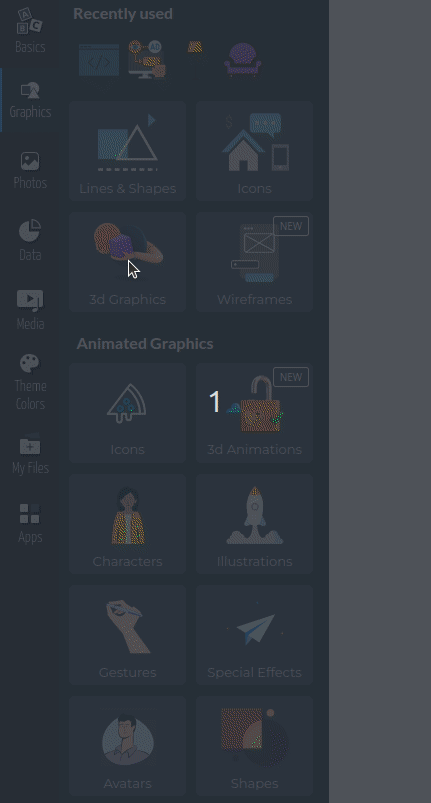 Visme's interactive data visualization is off the charts:
There is so much to do with charts, graphs, and data widgets. You can change colors, values, axis, appearance, and a lot more. You can also import your business data from Google Sheets, Excel, and Google Analytics. And see those boring numbers turn into beautiful visuals.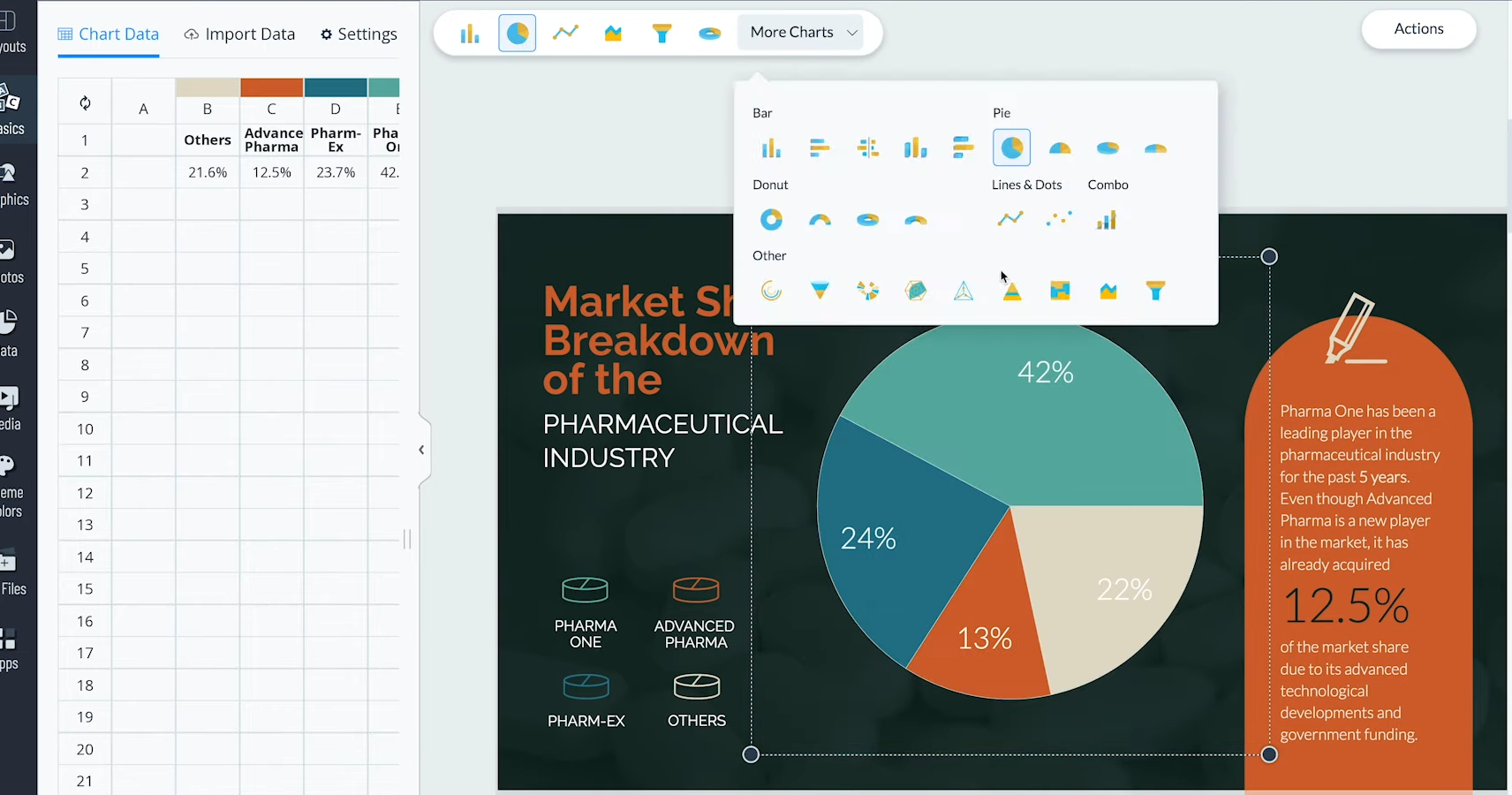 Seamless business collaboration:
No matter whether you're in the office or working with a remote team. You can control view, comment or edit access ensuring your data is secured. With real-time collaboration, members can point and draw on the boards. Overall, adds to productive workflow. 
Visme Pros and Cons
Pros:
Professionally designed templates and assets

Animated graphics with customization option

Best for data visualization storyboarding for businesses

Team collaboration, annotation, and privacy

Can upload your illustrations
Cons:
No one-time annual pay option (Canva has)

Lacks guest collaboration feature

Mobile version only on iOS/ iPadOS



Pricing
Monthly plans when billed annually:
Starter plan: $12.25
Pro plan: $24.75
5. Storyboard pro 22 (Toon Boom) – For professional artists
There is an evergrowing craze for Manga and anime among gen z.
While it's exciting watching back-to-back jutsu sequences. It's rather unimaginable to think of the amount of storyboarding effort behind that action. 
The same is the case with game design. 
Artists can pick just about any software and go on creating their Imaginarium. In case of demanding projects, however, you may end up navigating across different software. Just because you don't find every feature stack in one place.

Wastes your time and affects your creative workflow. 
Until I heard about Storyboard Pro 22. Which is specifically geared toward this genre. 
Storyboard Pro 22 comes with a premium price tag, though. So, it's not for just anyone, unless you're a professional artist. And love anime storytelling.

It's not just a storyboard software. But a Swiss knife for animation or game designers. Saving you both cost and time.
What else do you need other than sketching, scripting, animatics, camera angles, sound controls, and a full-fledged editor? 
Such an overkill!
There are so many layers to the storyboarding process. You may often feel like one of those Adobe editing tools. From color corrections to brush types, they have it all. 
In their new update, they introduced the Reference tab, which is a nice little touch to the editor. Helps you to model your character or save your illustrations for future use. 
Having such a wealth of features, it's no surprise that it can support up to 8k resolution. But what surprised me was that it features both vector and raster drawing tools within the same editor. 
You can select Bitmap brushes. And go on customizing its size, texture, transparency, tilt, and pressure. 
Same thing for the Vector brushes.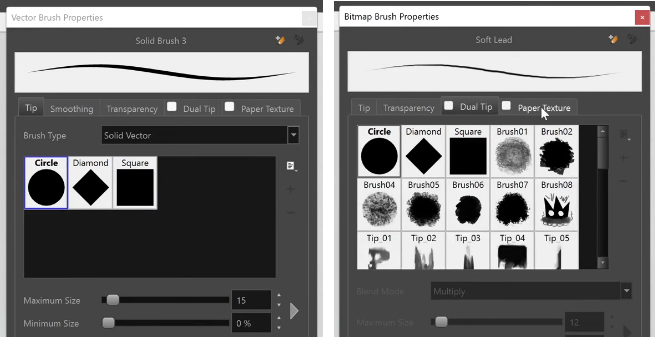 Overall, I can admit that Storyboard Pro 22 can meet the highly demanding animation requirements. 
Although it's expensive, it's surprising to see a nice community forum with active users around Toon Boom's animation products.
You'll come for storyboarding. But may stay as a professional animator.
Ease of use: Steep learning curve. Tricky if you never tried any photo-editing tools. 

Platforms supported: Windows and macOS

Value of money: Too expensive for small-mid scale creators.

Recommended for: Professional anime makers, filmmakers, and game designers.
Storyboard Pro 22 Key Features
Get assured before you draw:
You can select from pencil or brush textures, adjust their properties, and preview strokes in real-time. 
Controlling the timeline was never this easy:
The storyboard panel automatically lays on the timeline in a sequence. You can then customize the length, add effects, transitions, timing, and everything needed for an animatic masterpiece. 
Fill the silence with sound:
The editor is equipped with sound settings like cinematic sound effects, audio mixing, and adjusting audio levels. You can also make sure your audio tracks are in sync with the scenes. 
Integrating 3D space always makes things immersive:
You can import 3D assets and use them on your panels or world-building. Although the software focuses on 2D character designs, 3D integration brings life-like detail for visual storytelling. 
Create storyboards from different angles:
Perspective view lets you create layers to your 2D assets and gives you a multi-plane effect. You'll love to see how background images exist on different levels of the z-axis.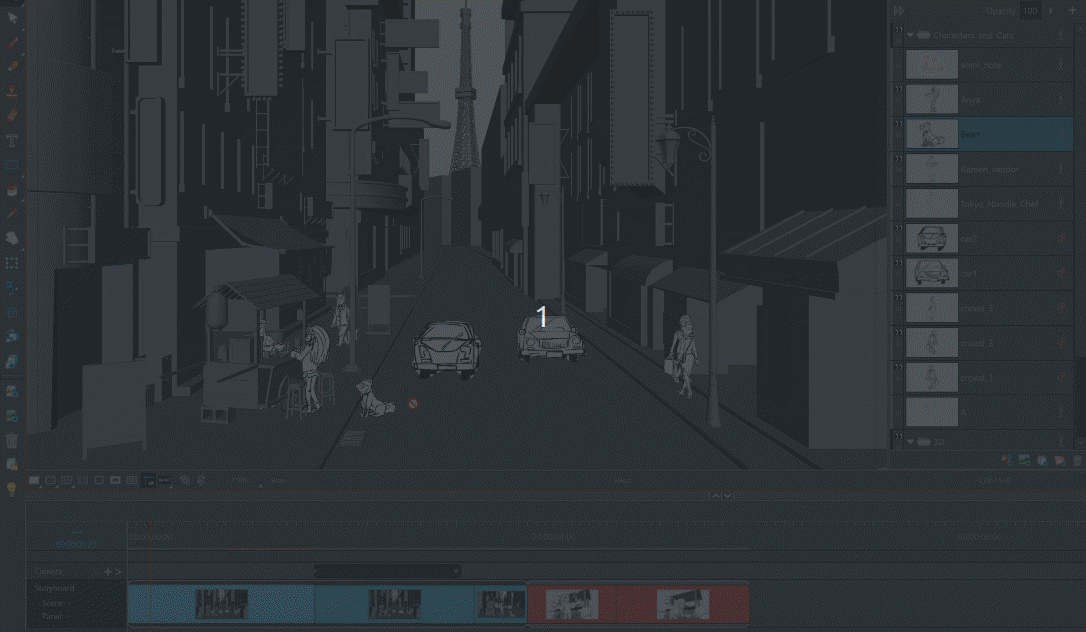 Storyboard Pro 22 Pros and Cons
Pros:
All-in-one solution for animation artists

Dozens of digital brushes

Flexible and customizable tools

Switch between Bitmap and Vector tools on the same panel

Range of formats for importing and exporting

Helpful community and customer support team
Cons:
Too expensive (both subscription and one-time purchase)

Overwhelming features and a lot of learning curve

Not compatible without a good GPU on Windows
Pricing
Monthly subscription: $71
Annual subscription: $557
One-time purchase: $1162.50
Additional charges for technical support
6. Storyboard That – Great for education or story explainers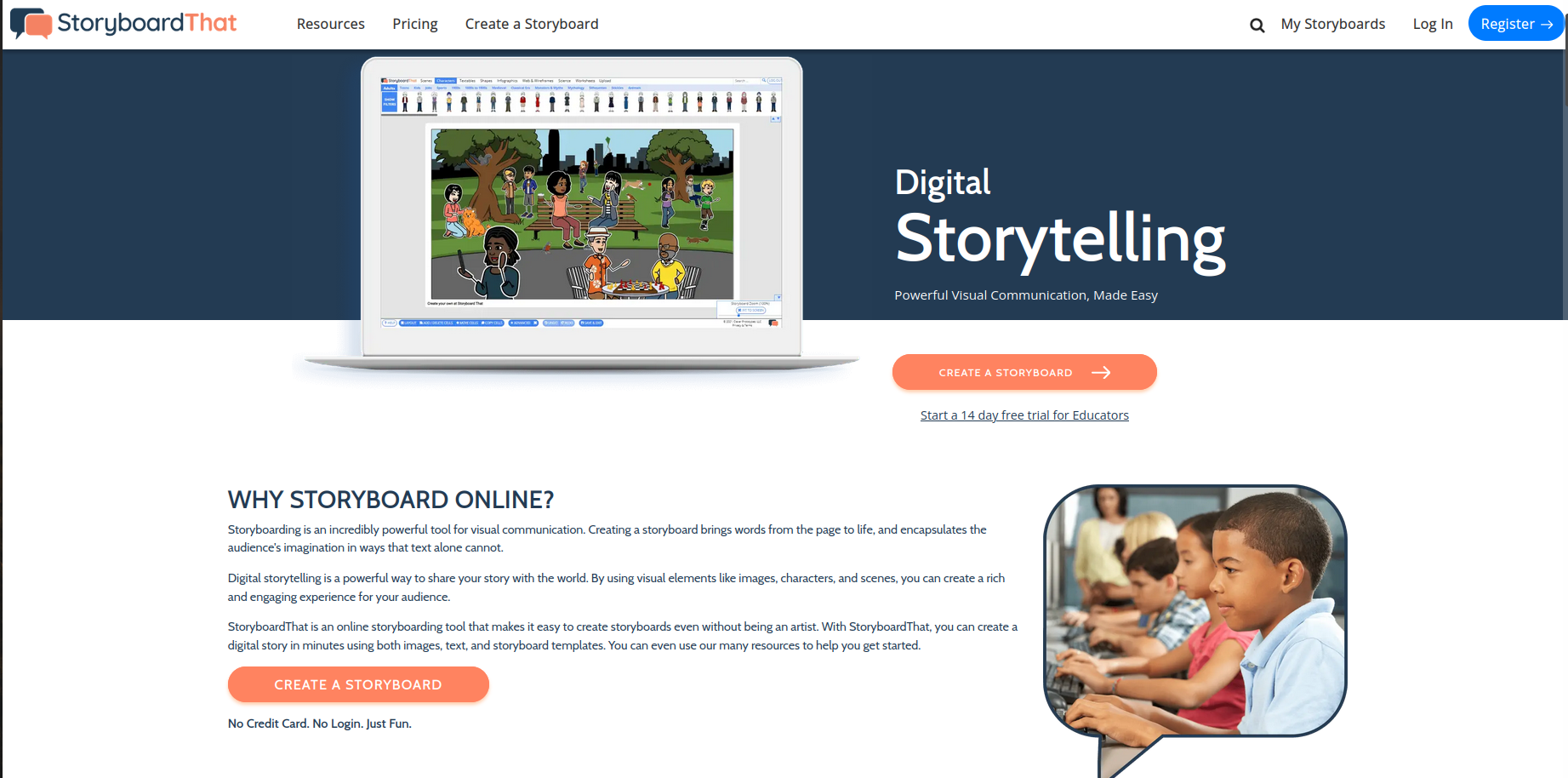 Tired of the same old rote learning?
With Storyboard That, education will never be the same. Imagine a history lesson where teachers ought to explain a series of events in a very textual and boring way. 
It's nothing good when students fail to grab the context even after spending hours. But think about curating such lessons on Storyboard That! 
Like presenting illustrations on the war of independence in a single frame. Meanwhile, keeping it concise with meaningful details, dates, people, and places. 
You'll be surprised to know many cases where visual methods of education changed classroom teaching for good. 
And why just history? 
Storyboard That comes with several activity templates designed for science, math, languages, and many more subjects. 
Take a look at these templates.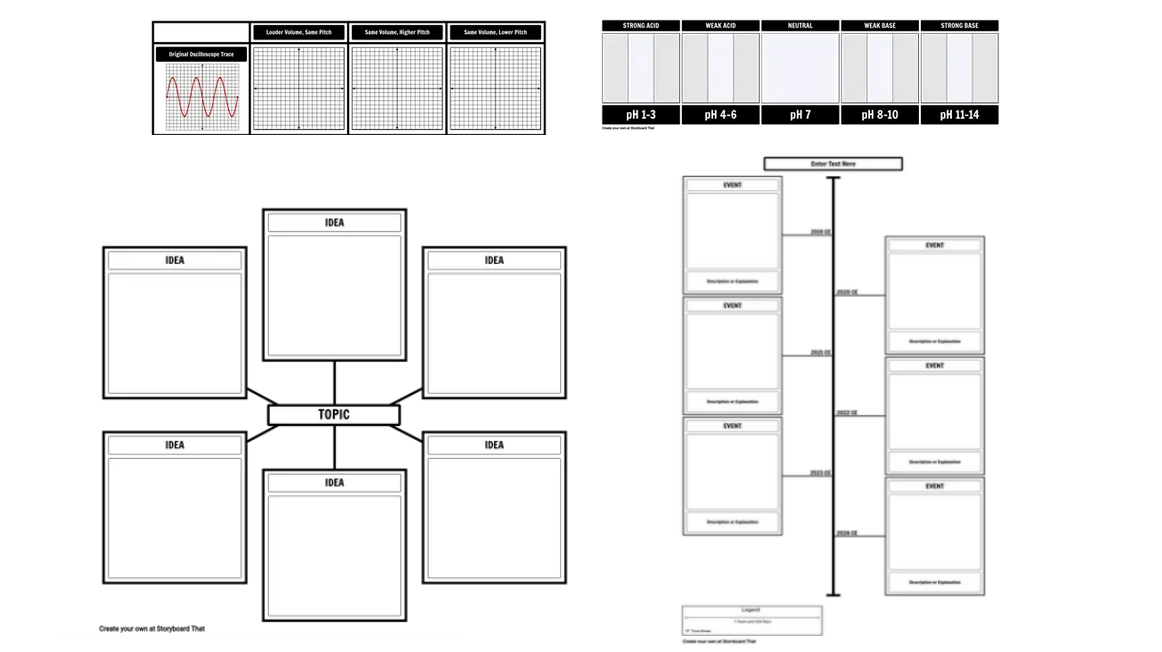 From graphical concepts in math to understanding pH values in science. Storyboard templates won't scare the students anymore.
Using mind maps or spider maps, students can work in groups and brainstorm on the projects. 
You'll also find templates to help you create a roadmap for education, business, or just about anything. 
Storyboards in education can go hand in hand with the standard study curriculum. But can also bring creativity and interest. And eventually, good grades. 
Storyboard That claims it's versatile. However, you'll find that the cliparts give a cartoonish feel. Not aesthetically applicable in business scenarios. 
For filmmakers, it's… just okay. I love how characters have customizable emotions, postures, and even era-themed cliparts. 
However, I wished to see a perspective view of the characters. Just like on Storyboarder (which is free).  
Ease of use: Drag-and-drop functionalities and easy-to-pick-up features.

Platforms supported: Web-based storyboard software.

Value of money: Sounds valuable for education use cases.

Recommended for: Education, filmmaking, content creation.
Storyboard That Key Features
Simplicity and flexibility like none:
Comes with a simple drag-and-drop interface that works smoothly on any browser. Editable templates and characters help teachers to create study materials for any subject. And can be made fit for both digital and print formats. 
Characters are full of life:
Features a versatile range of characters that might feel a bit comic. But you'll love the customization features it offers – changing body postures, expressions, colors, and silhouettes. The use of props and dialogue bubbles further add life to your storyboard.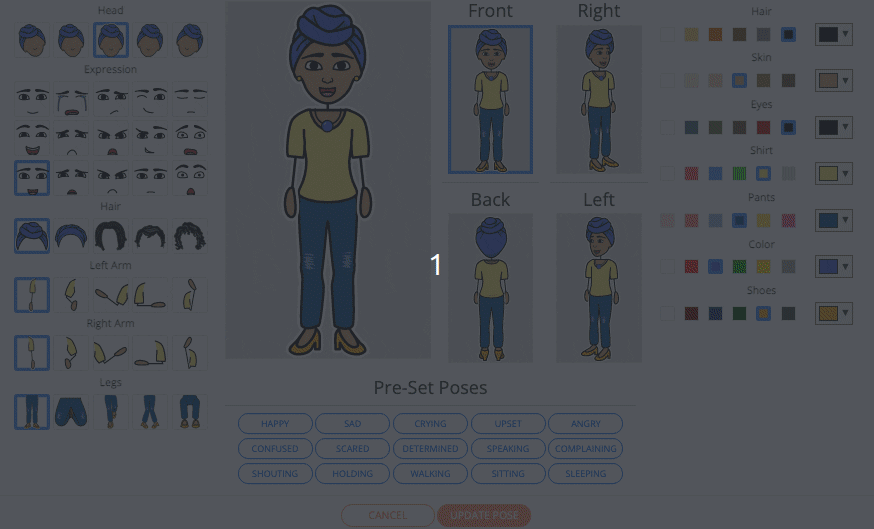 Templates make Storyboard That education friendly:
Different subjects mean different storyboard templates. Not a problem! You can easily choose from the collection of templates for common subject topics. Such as graphical boards for math, timeline templates for historical events, etc. You can create worksheets and go on customize them by adding more cells, font types, colors, etc.  
Collaboration creates a better learning environment:
With real-time collaboration, teachers can work with students. It's unlike traditional, unproductive classroom teaching. Students can work in groups, enjoy brainstorming, and develop creative learning skills. 
Storyboard That Pros and Cons
Pros:
Great education medium for teachers and students

Customizable emotions, and postures helpful for filmmakers

Several characters, emotions, and background cliparts

Ability to customize storyboard elements

Affordable pricing plans
Cons:
The platform isn't updated for long

Not suitable for businesses
Pricing
Monthly plans if billed annually:
For fun (individual plan): $9.99
For teachers (education plan): $9.99
For work: $24.99
Note that, the education plan is geared toward verified teachers. Not for homeschooling or private tutors.
7. Storyboarder (Wonder unit) – Best free storyboard software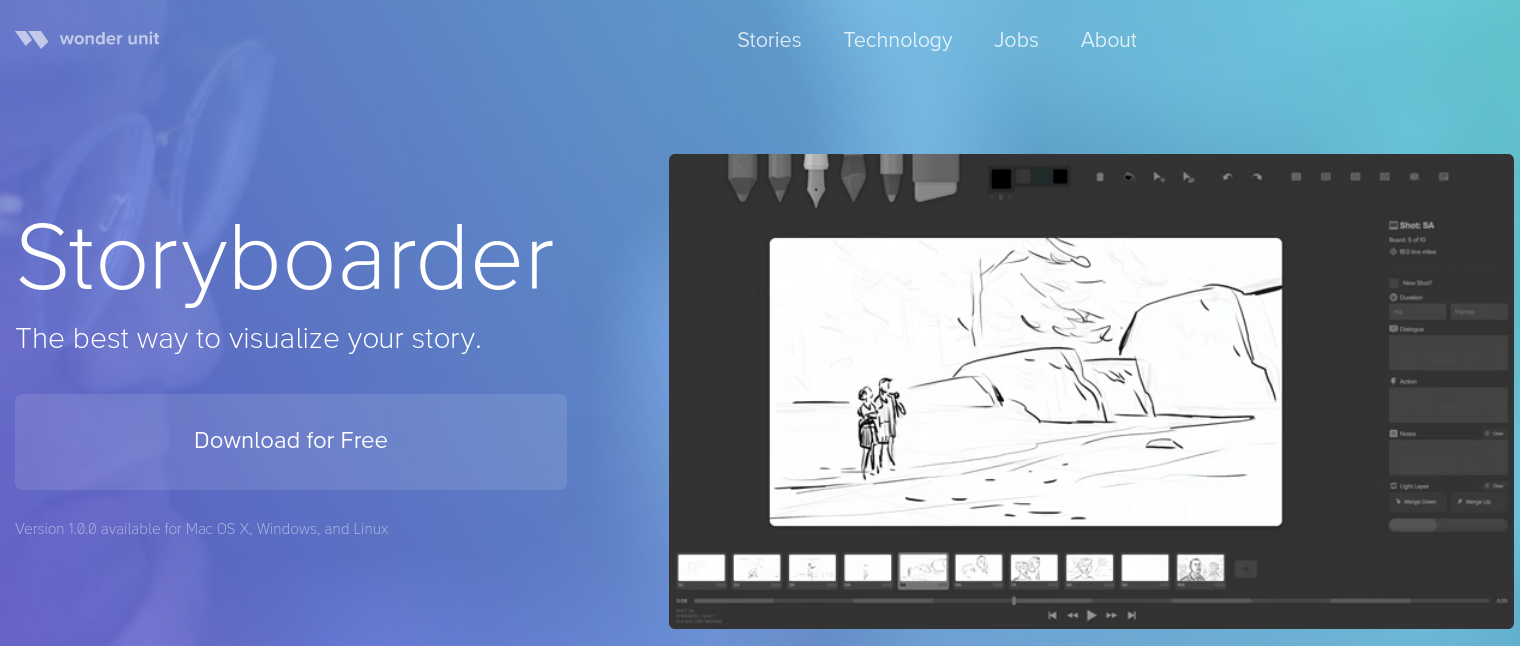 "Why does a storyboard software need to be priced?", asks WonderUnit and takes a dig at all creative tools with a price tag.
It's a studio that believes you don't necessarily have to pay to show your storyboarding talents. So they created Storyboarder – a free and open-source software.  
But what makes WonderUnit wonderful is its cross-platform compatibility. Yes, you can run it on Windows, Mac, and Linux platforms. 
Regardless of the OS, you won't find any problems picking up the nitty-gritty of the software. You can go on adding as many scenes as you like.
Draw your characters. Weave the story with dialogues. Play in a slideshow. And preview how your creation comes to life.
You can even port your drawings into Adobe Photoshop or even Premier. All from a single screen. So that you can add magic to your animation. 
Does that make Storyboarder the best storyboard software?
Well, that's not enough, to be honest.  
Free stuff sounds exciting. However, you either end up with a piece of crap, or a limited feature set. 
Here, you won't complain much about the quality. Rather, you'll wish to have a bit more drawing features. 
WonderUnit leaves you with 6 drawing tools: a pen, light and hard pencils, a brush tool, an eraser, and a note pen. Only six, huh?
And it has been ages since WonderUnit last addressed some exciting features as "coming soon".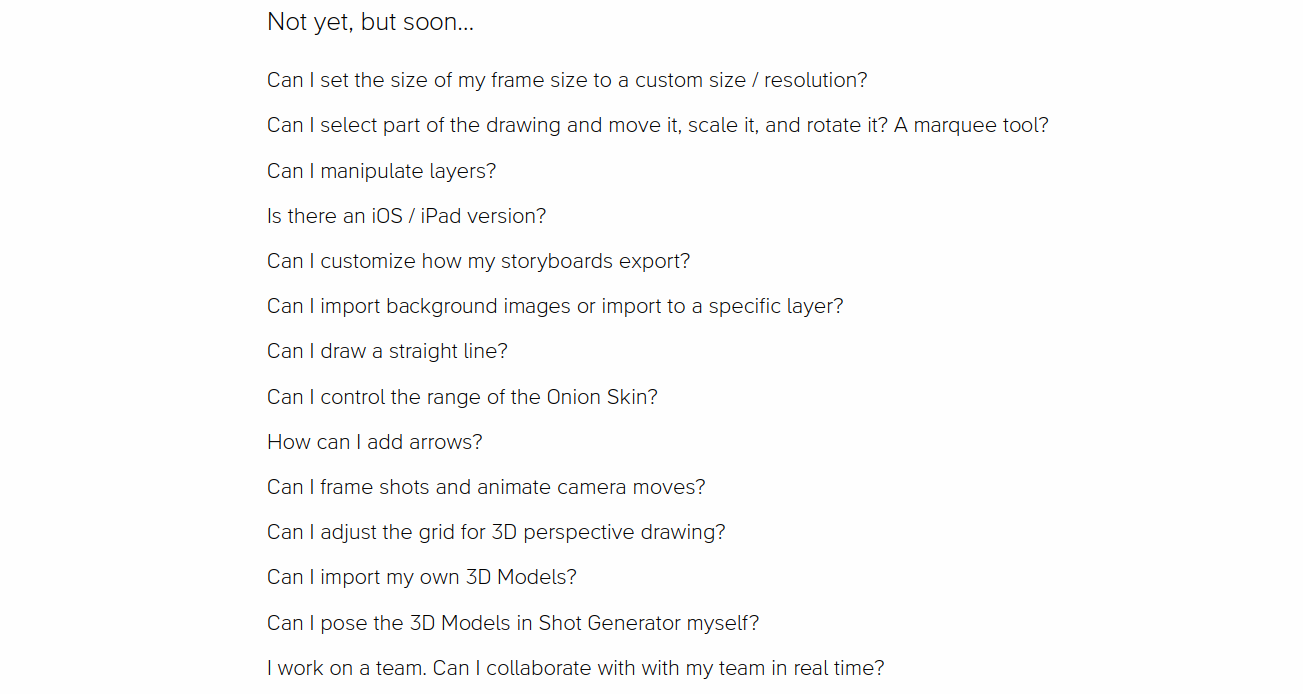 There are also some bells and whistles for its iOS/iPadOS version, which is still in development. 
But until then, if you're on a shoestring budget, Storyboarder seems to be your simple and friendly tool that can get the job done.
Ease of use: With limited functionalities, the interface looks clean and easy to get started.

Platforms supported: Windows, Mac, and Ubuntu.

Value of money usage: Worth trying out for beginners.

Recommended for: Illustrators, animation creators, or anyone getting started.



Storyboarder Key Features
Add life to your story:
Done with sketches? You can quickly add details to the metadata panel like timing, shot type, dialogs, actions, or any notes.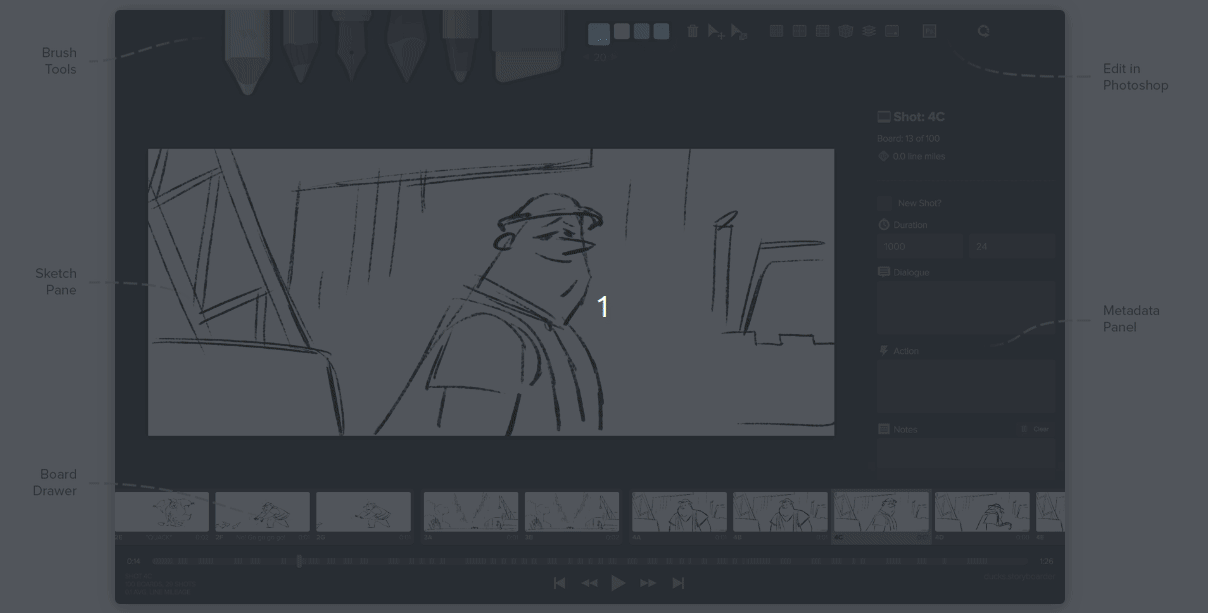 Generate a shot by typing:
Tired of drawing? Let words do the magic. You can type in a description of the shot using human postures and movement types. Storyboarder's animation engine then brings those descriptions to life. You can even modify the shots the way you want.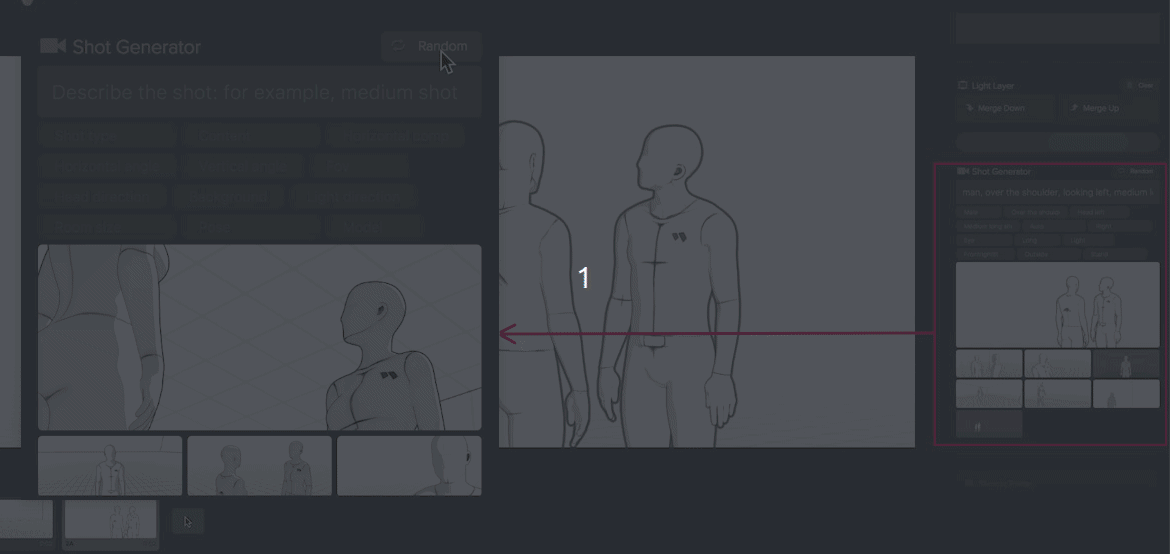 Storyboarder and Photoshop are good friends:
With Photoshop, you can make your Storyboarder-exported sketches more polished and colorful. Great combo for still storyboards. 
More exports, more creativity:
To explore and do more with editing, you can export to Premiere Pro, Avid, Final Cut, PDF, and Animated GIF. 
Bring back paper-pencil magic: 
Great feature if you're a paper artist. Simply take a snap of your sketches and upload them. The software automatically imports and arranges them on boards.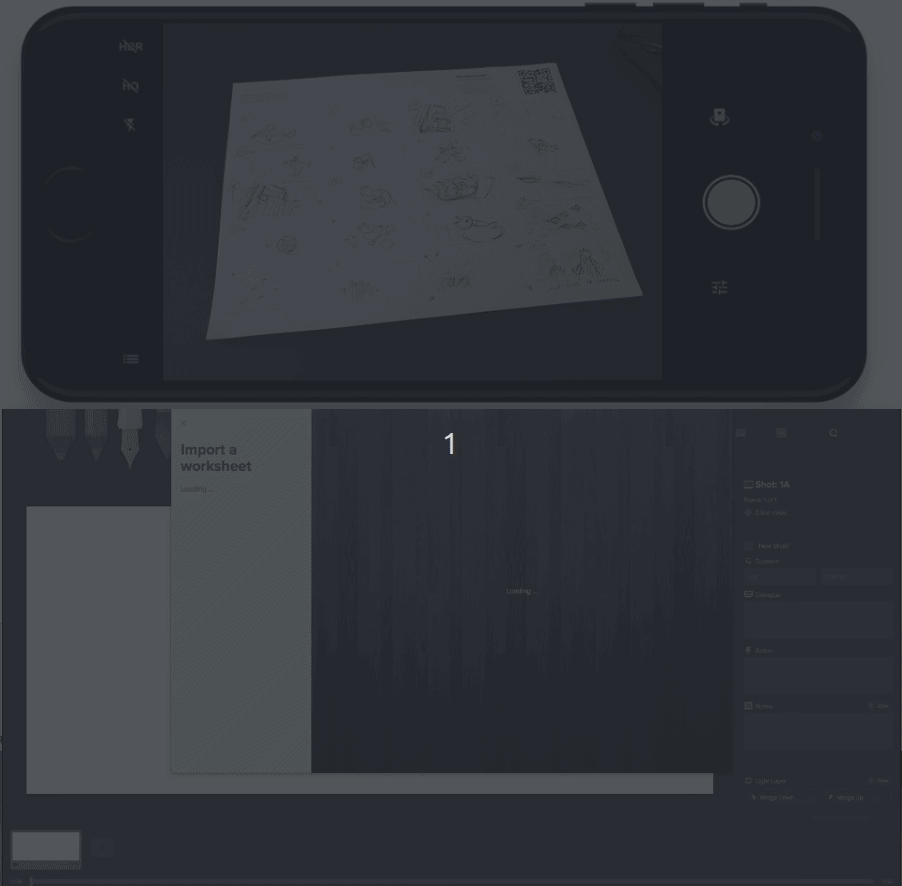 Storyboarder pros and cons
Pros:
Open-source and free software

Clean and user-friendly interface

Multi-platform support

Easy to export as a PSD file 

Create a GIF of your art
Cons:
A limited number of tools

Can't add a background layer
8. Celtx – All-in-one solution for indie artists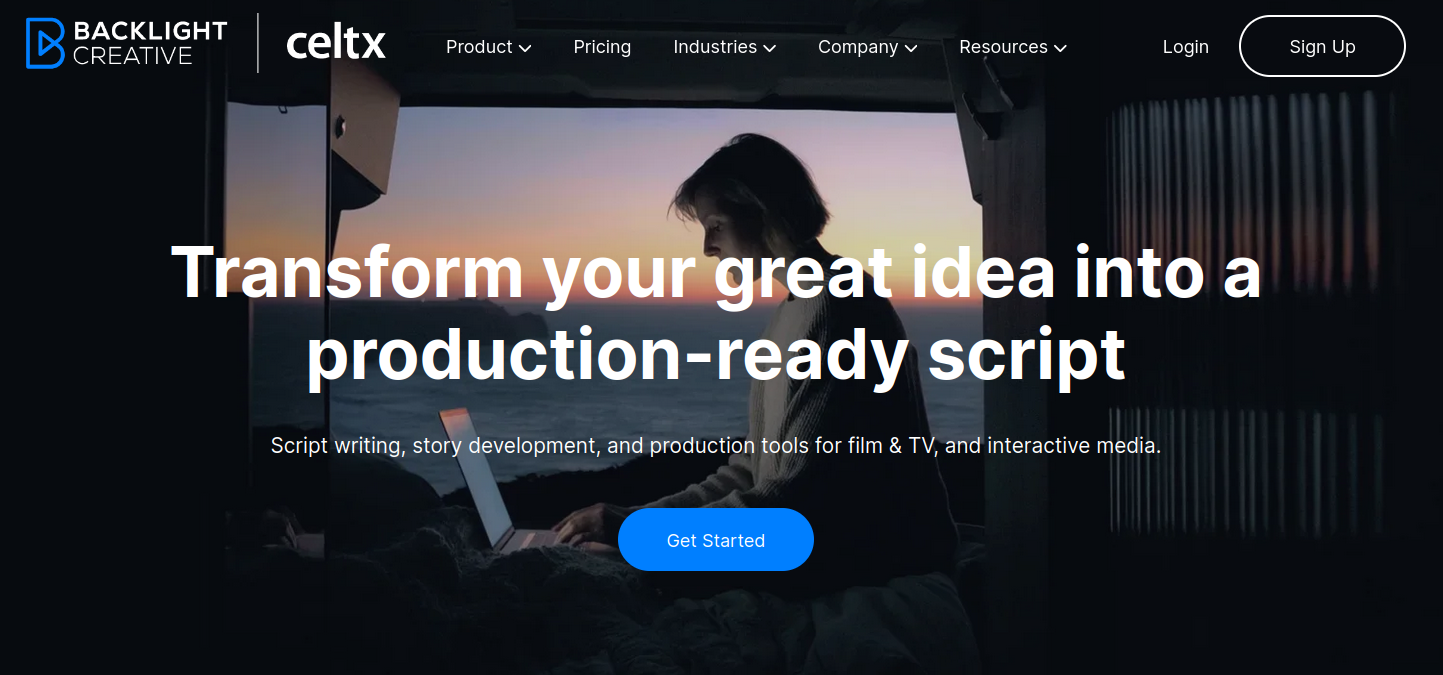 Interested in screenwriting? 
Then you should know how critically important it is to present your project in a standard industry format. Especially if you're pitching or getting a producer interested in considering your idea. 
But to get things right, you need to focus on 5 core aspects of the pre-production stage. 
Crew, Equipment, Location, Talent, and XML. That's what Celtx stands for. 
Started as a script-writing tool, Celtx is now an all-around web app for film studios. They take a unique approach when it comes to storyboarding.
I like the idea of having up to 5 users in the team plan. Probably for each of the core aspects.
Meanwhile, you can have unlimited collaborations and comments. However, my main gripe is that its starter plan doesn't offer a storyboard feature.
But considering the feature set on mid-tier and the team plan, pricing seems convincing to me. 
Talking specifically about the storyboard, Celtx lets you do more than just lay out your sketches in sequence. 
You'll get to use Shot Blocker which is a part of the storyboard. To be precise, it helps you to break down your scenes using graphics like characters, props, cameras, lights, and every important asset you need on the set.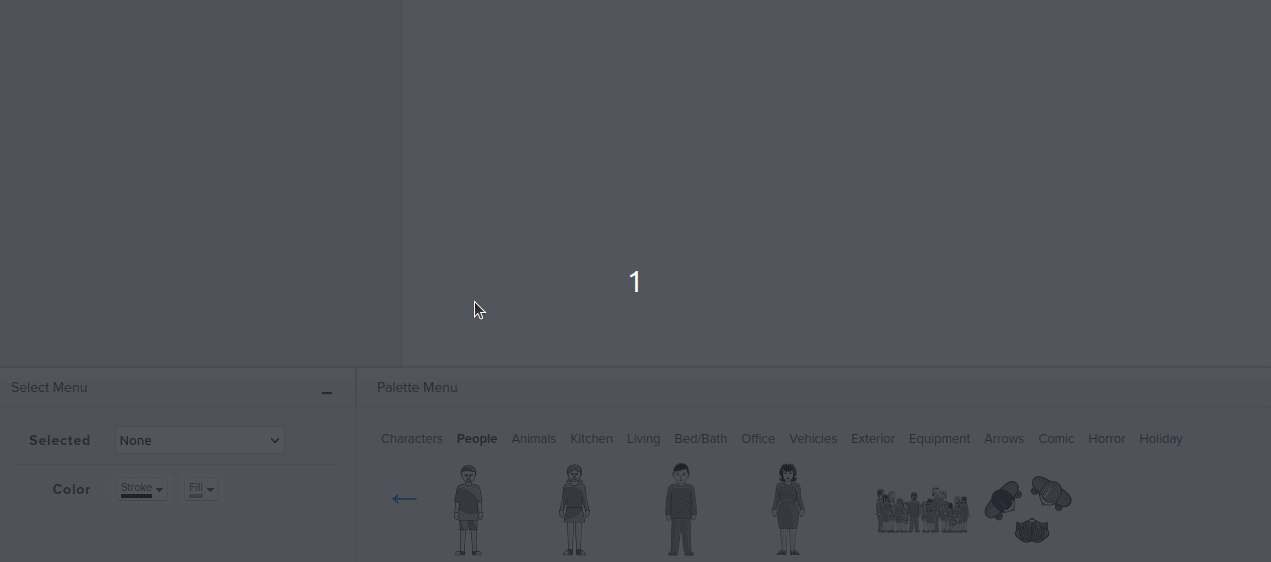 Hand the final copy over to your cast and crew. And they'll know what to do rather than scratching their head. 
Remember Canva's drag-and-drop? It's as easy as that. The main idea is to get a bigger picture of those 5 core aspects.
By now, you might be wondering what XML has to do with storyboard! 
XML format stores information called "metadata". You'll have all the important details in one place – who acts in the scene, their dialogue, where a scene starts, where it ends, timing, transitions, and many more. 
You can even maintain your budget reports and keep track of your expenses as production advances. 
As you keep up with Celtx, you'll find a healthy community of film students and filmmakers around it. Celtx has also been an official partner of film festivals and many such events. 
Ease of use: Celtx comes with several pre-production features that may initially require you to figure out what is where. And how they sync with each other.

Platforms supported: Browser-based platform for PCs only.

Value of money: Good, if you're a full-stack production team.

Recommended for: Indie filmmakers, stageplays, and video game production teams.
Celtx Key Features
Don't miss a beat in storytelling:
Beat Board is a new feature that can help you group your ideas in a color-coded manner. Basically, it's like a brain dump where you can lay out ideas. You can make notes on getting started with storyboarding, alternate possibilities, etc. Customize, share, and collaborate around it.
Storyboard and Shot Blocker go hand in hand:
Shot Blocker and storyboard are documented separately. On the storyboard, you can only upload your illustrations or media. As a visual language of the shots. Whereas, Shot Blocker helps you lay out a step-by-step production process. You just can't swap with each other.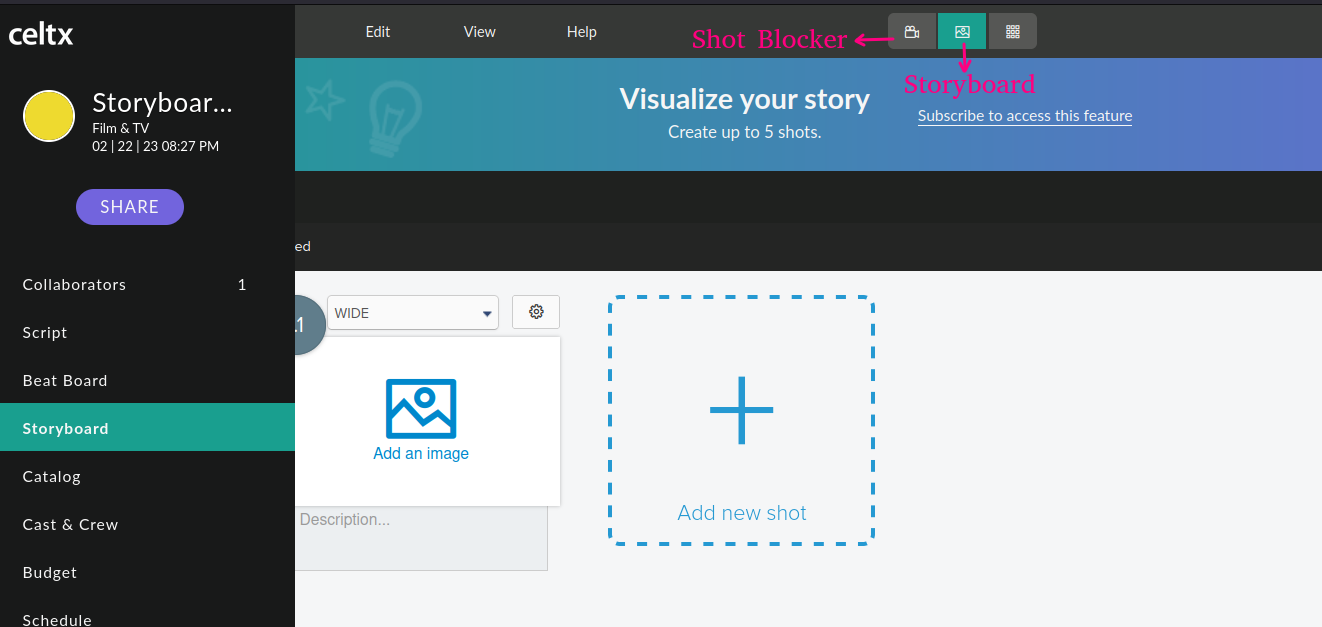 Celtx Gem is a gamechanger:
Helps you design a narrative for your interactive projects. Like video games or visual novels. You can create nodes, color code them, and create branch points to break down your script. You can define video game assets, their behavior, state.
And create JSON metadata format for developers. Quite useful for Role-playing or decision-based games.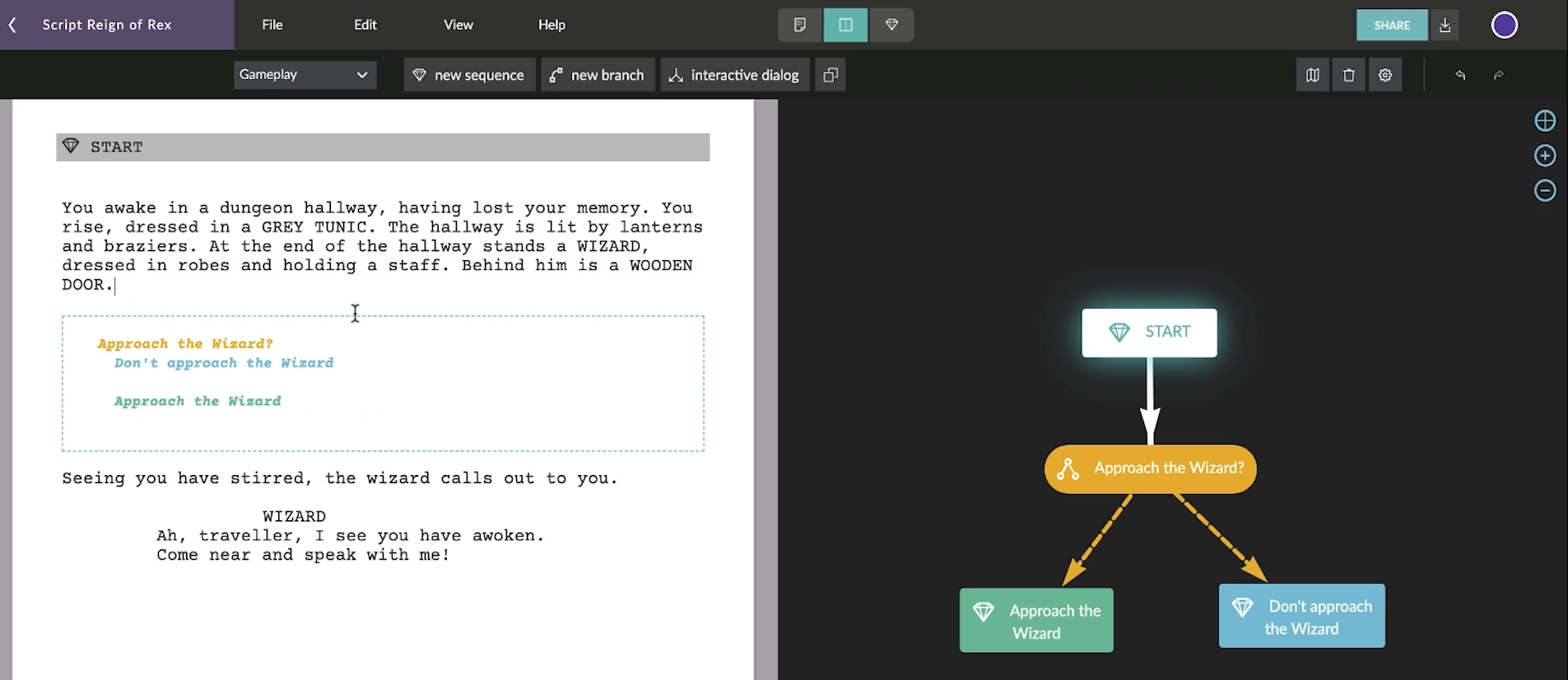 Great for collaborating with large teams:
Easy invitation via email. Gives you complete control over sharing and permissions. You can even schedule collaboration in real time. Overall, feels like a built-in team management tool. 
Celtx Pros and Cons
Pros:
A comprehensive set of storytelling tools for film artists

Smooth performance on any standard browser

Features offline mode also

Collaborative feature for remote teams

Team management feature
Cons:
No storyboarding feature in the starting plan

Shot Blocker features limited graphics and no option to upload
Pricing
Monthly plans when billed annually:
Writer Pro: $22.49
Team: $53.99
9. Milanote – A latest storyboarding tool with Kanban-like features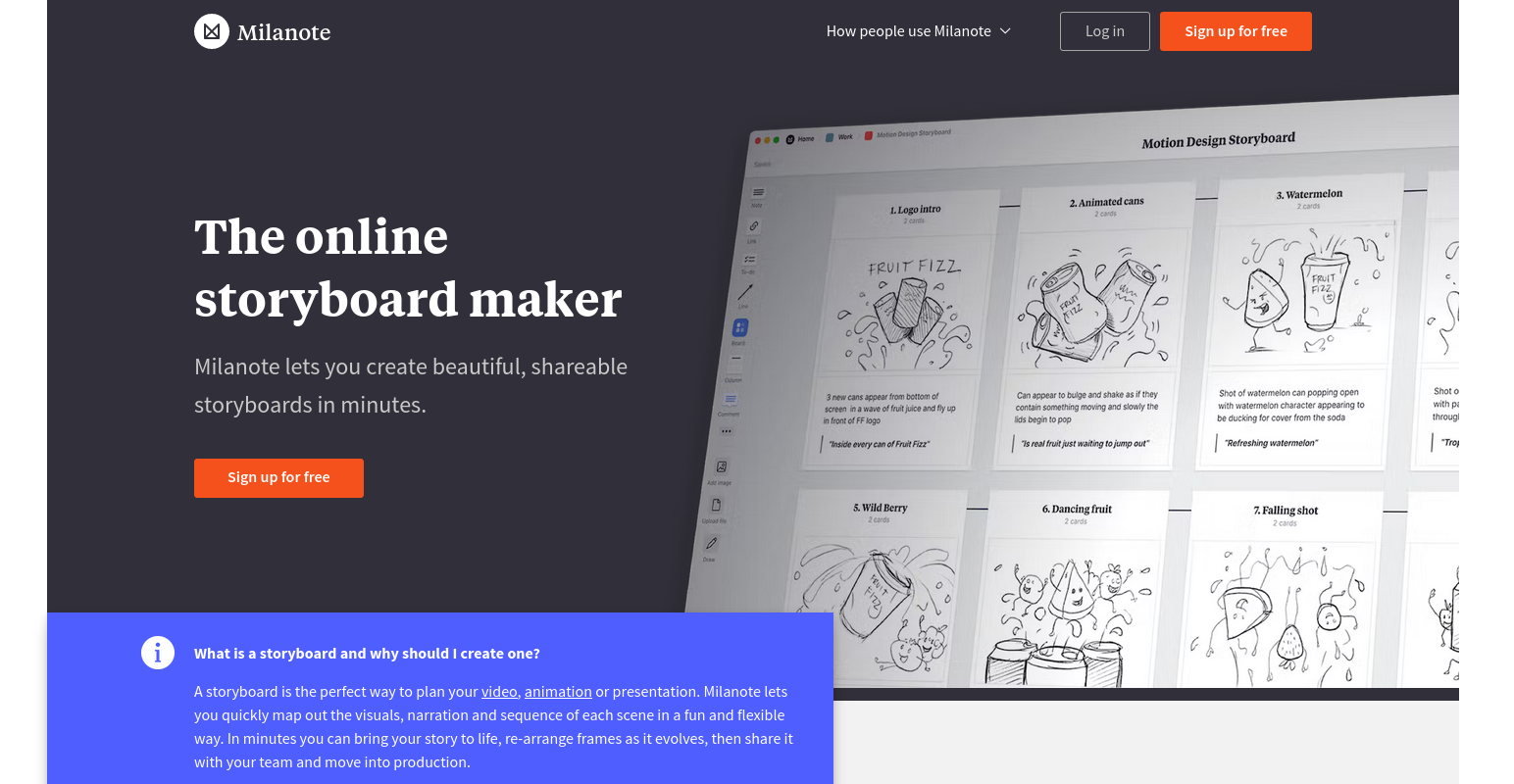 Milanote is new in the storyboard town. And has gained good traction in no time.
But we're yet to decide if Milanote is a storyboard, a personal planner, or a Kanban-like workflow management software.
Talking specifically about storyboarding, Milanote offers a low-key approach to outlining your story.
To help you get started, it comes with over 100 templates. Based on any kind of creative ideas for your video. It could be for social media clips, short films, or YouTube videos.
So if you're a complete beginner or a small creator, its free plan is a good starting point. Though you'll be limited to media file uploads. But on a positive note, you'll have the same stack of features as on the paid plan.
For example, Moodboards. It's kind of a beat board. But more of a visual reference tool for everything you're going to do on a storyboard.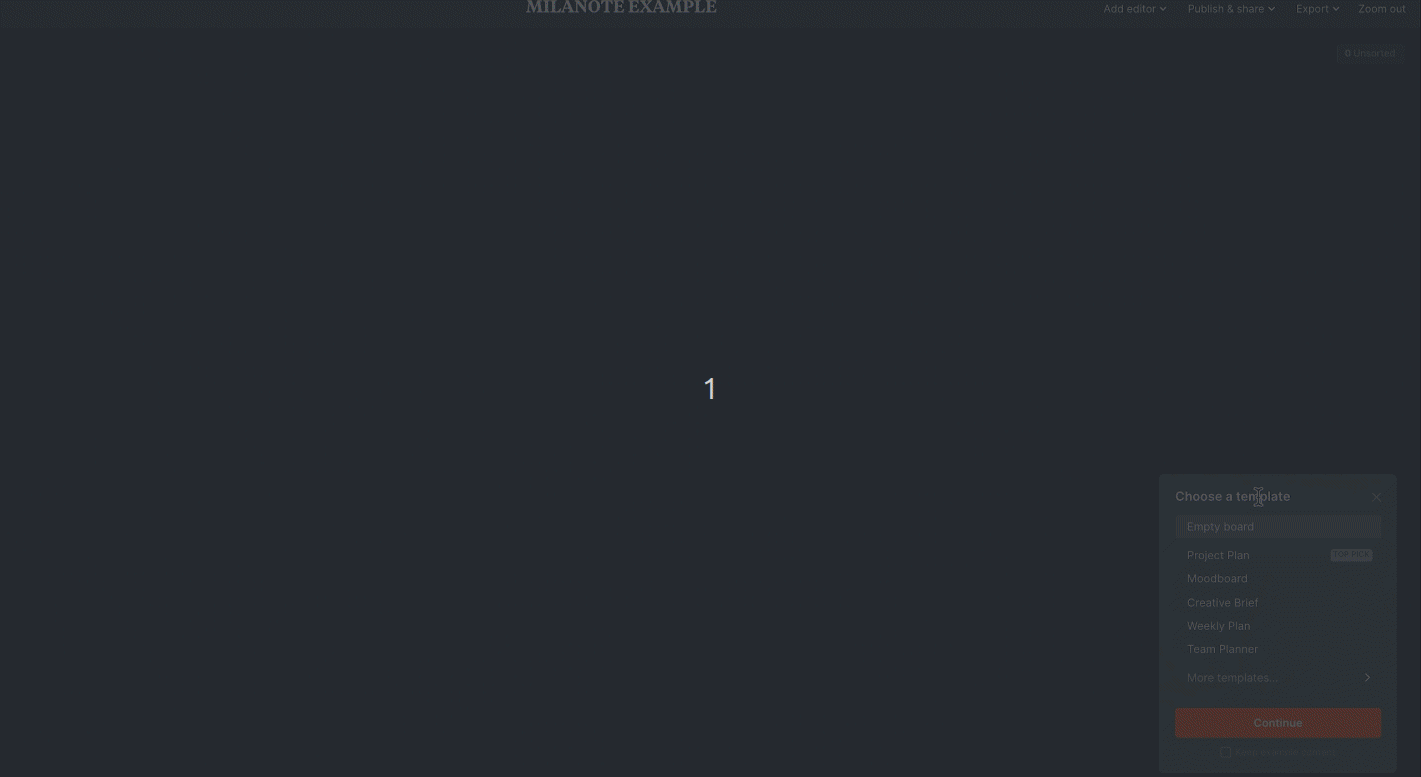 You can add illustrations, videos, GIFs, links, notes, or even audio files. But things get even more interesting on the storyboard. 
Want to keep a checklist of tasks to help you stay on track? It's nice to have a to-do list.

I also like text and color formatting options to make your boards stand out. 
You can drag and place the cards, and use arrow pointers to create branches. A basic sketch tool is yet another useful feature to make some quick illustrations for your storyboard. 
Now when everything's in one place, the Column helps you in grouping them.
It kind of resembles the Kanban board. You can select a card or everything at once. And simply throw them into the Column. 
To be honest, I feel Milanote is not just a storyboard. But a full-fledged task management software. 
And if you're working with a remote team, the multiplatform capability makes collaboration even better. 
Ease of use: Simple drag-and-drop interface, but not so smooth on mobile devices. 

Platforms supported: Windows, macOS, iOS, and Android.

Value of money: Affordable and useful for solo creators.

Recommended for: Video creators, documentaries, productivity workflow in the business.

Milanote Key Features
Miles of space on Milanote:
Features infinite canvas where you can add any media file and create any number of boards on the paid plan. You can even zoom out to see a bird's-eye view of your canvas.
No need to leave the board just for sketches:
Comes with the draw feature. Basic yet useful in making a quick sketch for your storyboard. Great experience with Apple Pencil on iPad app. Currently, this feature isn't available to draw in collaboration.
The Column is like a container:
You can drag and drop any media file here to keep them organized. You can have a to-do list, images, links, or just about anything in a single container. Even a board within a board.
Feels like a team management software:
Get control over who can edit and comment on the boards. Set notifications and alerts. You can share a secret link with particular members. Also supports guest view without having to sign up.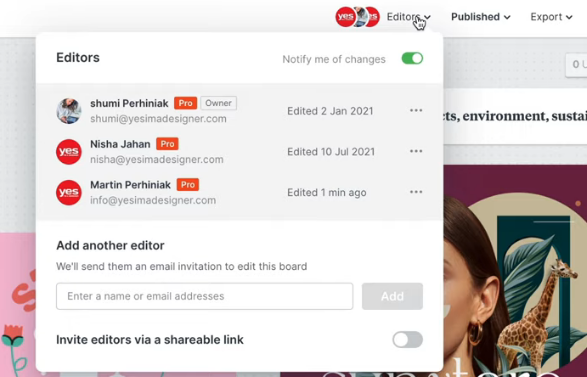 Milanote Pros and Cons
Pros:
Use as a desktop software, web or mobile app

Ability to add multimedia files to the storyboard

Sketch and drawing tools in the latest update

Real-time collaboration and control

Can add up to 50 people on a team plan
Cons:
The mobile app is new and needs UI improvements.

The collaboration feature lacks version history

Lacks a lot of integration features
Pricing
When billed annually:
Individual plan: $9.99/ month
Team plan (up to 10 people): $49 per month
Up to 50 people: $99 per month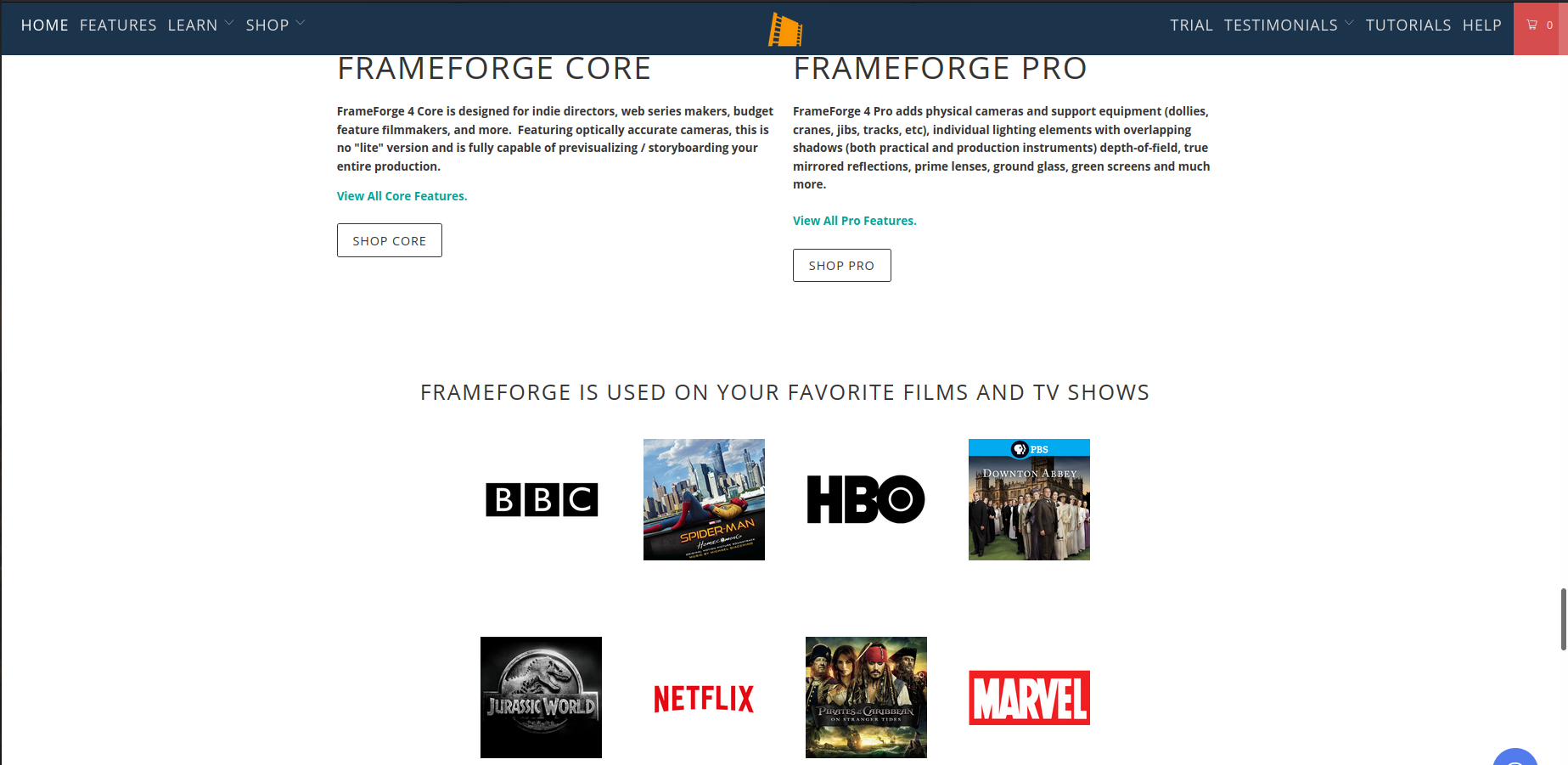 Pre-production of large-scale films is as tricky as walking a tightrope. 
Because of traditional previsualization methods, many studios end up spending way more time and money than planned. 
Doesn't matter how well you try translating your blueprint of shooting a scene.
You'll always meet uncertainties or limitations. While your cast and crew wonder what went wrong. Sometimes impossible. 
This may lead you to scrape the plan. Or think of some replacements when something fails to meet the needs during shoots. Improvising doesn't always work. Overall, a film production workflow suffers. 
Frameforge Storyboard Studio, however, is completely a game-changer. 
This Emmy Statuette winner is said to have saved an unimaginable amount of time and money. Credit goes to its storyboarding capabilities. 
Its optically accurate previsualization technology will change the way you design a storyboard. 
But how?
As they say – optical accuracy. Frameforge comes with a professional drag-and-drop 3D environment. You can place the characters and props, mold them, throw in visual properties, and use the camera to cover each angle in that environment.
That means you'll know exactly where your camera should be placed on the set.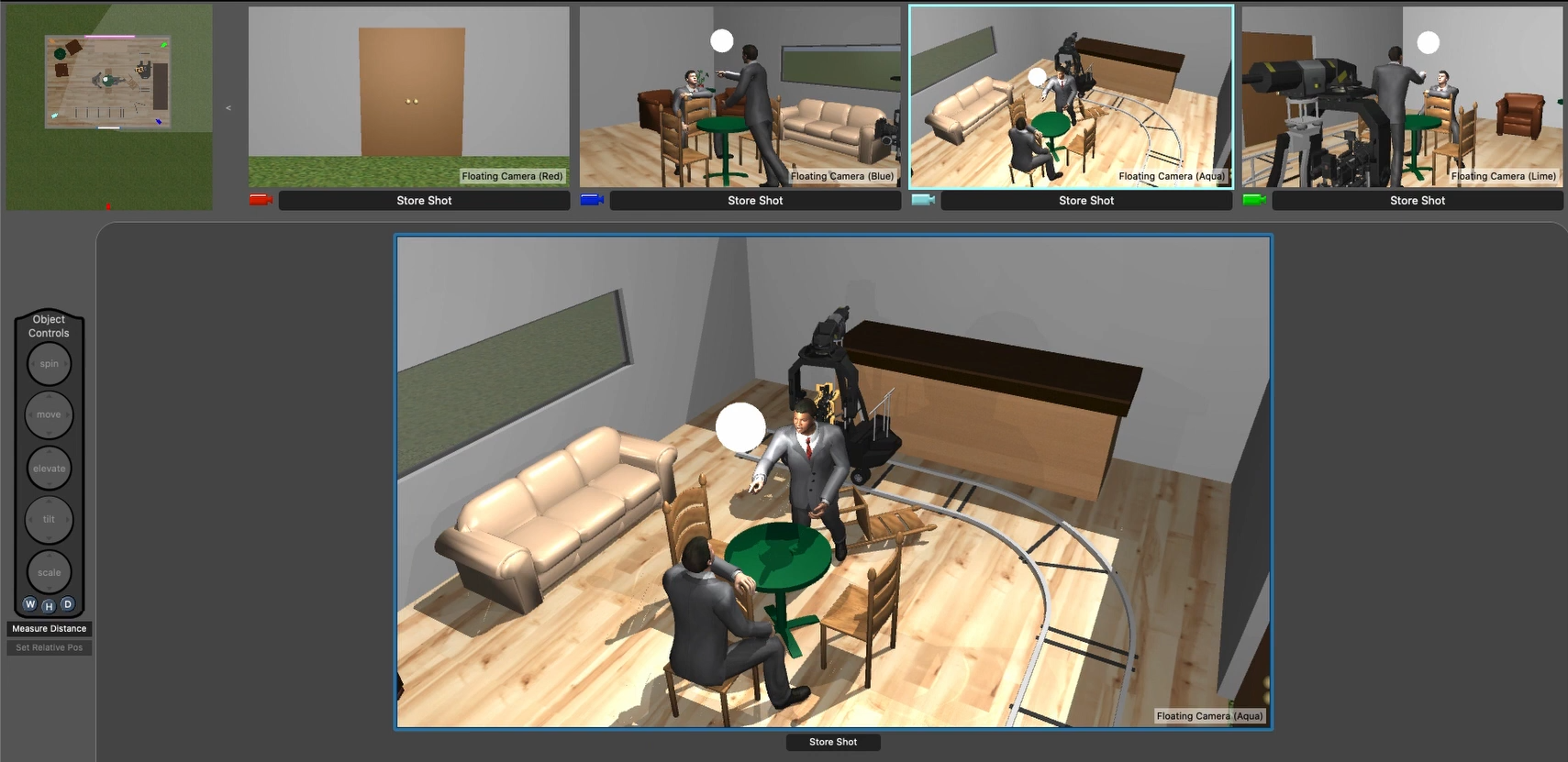 Frameforge is feature-loaded. It may overwhelm you at first.
But take your time to see how easy it becomes to play around with the interface. And experiment with each functionality to create the best shot possible for your storyboard. 
Most importantly, your crew will feel confident. Your cast can figure out their roles, movements, postures, and even emotions. 
No guesswork. No communication gap. No wasting time in consulting between the shots. 
Frameforge Storyboard, therefore, makes sure you mimic your shots accurately. 
Wrap up your pre-production in time. And ultimately, avoid unnecessary overhead expenses. 
Ease of use: a lot of things to get your hands on an intuitive user interface. 

Platforms supported: Mac and Windows with graphics support

Value of money: Professional edition is expensive. But for new to intermediate creators, the Core edition's one-off pricing seems a real deal.

Recommended for: Serious filmmakers, film schools.



Frameforge Storyboard Key Features
Increase productivity with printed storyboards:
You'll just love how detailed printed storyboard formats can be. It includes camera details like movement, height, focal length, lighting, and angle of view. And even depth of field as an option. Reduces confusion and builds confidence when distributed to everyone on the set.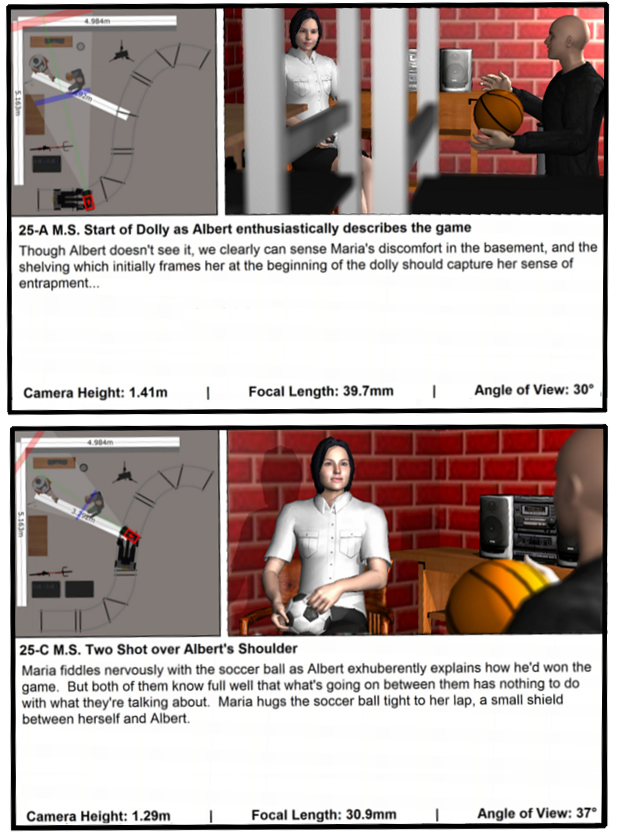 3D character customization:
Lets you pick your character based on gender, age, and color. It features a green room where you can change the entire look of your character – clothing, body type, hairstyle, and expressions. And even age. You can do the same with animals and props.
Or add textures and details to make it look like those GTA Vice City aesthetics.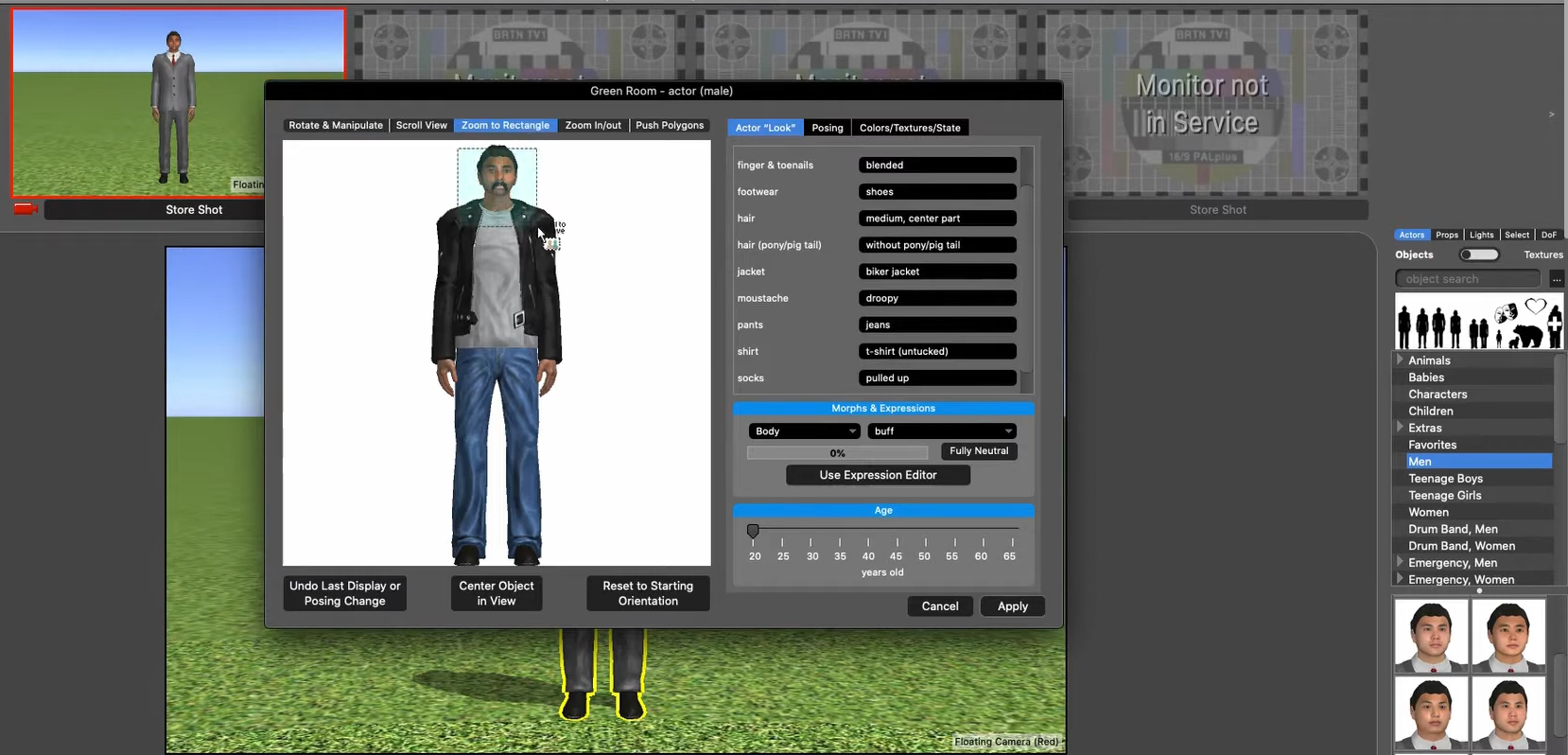 Body language matters a lot:
Have complete control over the character's postures. Make it move, sit, lie down, or anything to convey the action during the shoots. You can also emulate the poses into another character, thus saving some time.
Tweening feature helps to ease character movements:
Manually setting up full-body movements is drudgery. Unlike those animation tools, Frameforge helps you automate the process. Like head movements, running, walking, arm swings, etc. 
The camera has got eyes on you:
Comes with the ability to capture shots from any angle. And toggle between the multiple camera positions. Also features a shot preview area that shows where your next shot will move. 
Frameforge Storyboard pros and cons
Pros:
Camera placements and light effects

Use of 3d characters and props

Rich customization tools

Advanced gestures and movements

Easy to import scripts to the shots
Cons:
The professional edition is expensive

Need PC with graphic card

Requires some learning curve
Pricing
Core Edition:
Monthly pricing: $12.99 when billed yearly
One-time purchase: $498
Professional Edition:
Monthly pricing: $24.99 when billed yearly
One-time purchase: $799
11. 
Previs pro – Best storyboard software on Apple devices

There is no reason not to shoot high-res videos when you've iPhones capable of cinematography. 
But there is also no reason not to storyboard when you've got Previs Pro on it. Using them together, you can create something unique in it.
I'll get to it.
But first, let us talk about Previs Pro. It is that sophisticated-looking storyboard app that is geared towards the Apple ecosystem. 
That means you can have it on your iPhone, iPad, and even Macbook. Sorry, Windows users!
Previs Pro packs in everything to build a set, put your actors in, and then use your camera for shots. 
Everything seems so snappy that you can quickly figure your way out. Like picking up characters, and customizing their body, height, skin, and even poses. 
Interestingly, you can also import characters from 3rd party illustrated in both 2D and 3D. 
Exciting!
The same goes for the props.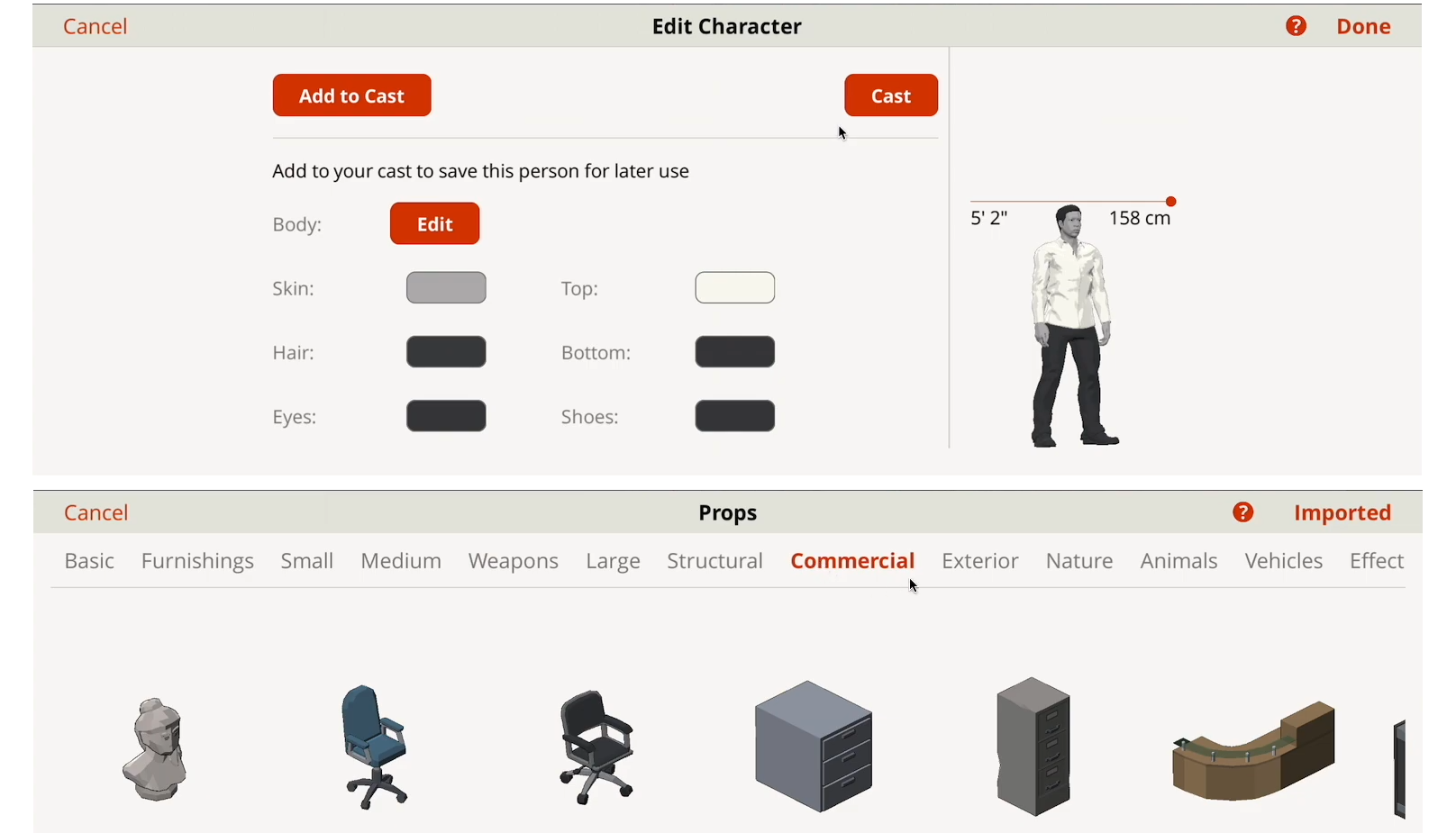 While Previs houses such a versatile set of graphics, it lets you customize each of them. You can even import standard image files. 
To make the most out of the 3D space, you can map how you're going to use lights on the set. And where you're going to place the cameras. 
For example, you can adjust the focus of the light beam and spatial view of the canvas using multiple cameras. 
But here's the interesting part which makes Previs stand out. 
It comes with augmented reality mode. Which means you'll use your camera to place your models in real-time. 
While you have this feature, this helps the production team to scout the area of the shoot. Capture the accurate locations, and use them as storyboard backgrounds. 
Isn't this helpful for your cast and crew? 
Saves a lot of time. 
Now, a lot of you would like to draw a comparison between Previs Pro and Frameforge. Some of you may like Frameforge due to its ability to fully customize 3D models the way you want. However, characters are not fully posable on Previs. 
But if we excuse that, Previs Pro has everything you need on a virtual storyboard. Feels lightweight and smooth to control.
Ease of use: Requires some learning curve. Best when used on the iPad.

Platforms supported: macOS, iOS, and iPadOS.

Value of money usage: Lifetime membership is a bit pricey. But in a long run, better to have it rather than a yearly subscription.

Recommended for: Filmmakers who love Apple systems.
Previs Pro Key Features
Great control over the camera positioning:
Get a view of your 3D space from any perspective. You can reorient your camera, change its focal length, switch between manual and auto-focussing, depth of field, and move closer to the subject or far from it.
You can also adjust the height and take aerial shots. 3.06
Immersive storyboarding with AR:
Helps you overlay your models against the live scene on your camera. Or capture the shooting location as a background layer for your storyboard.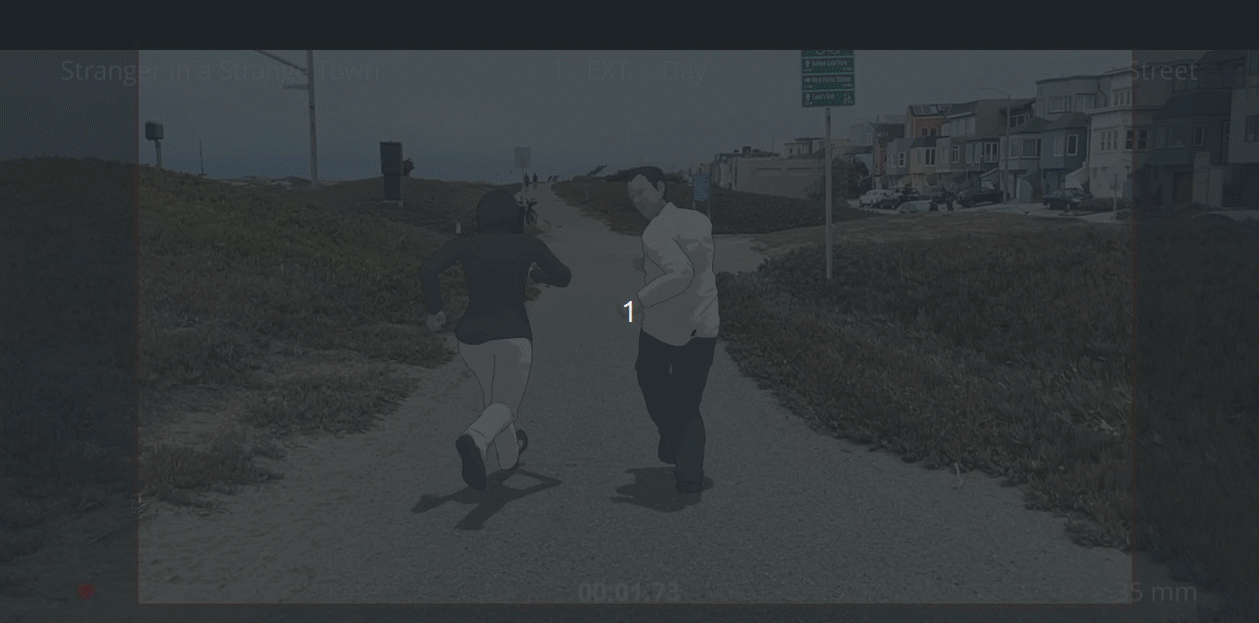 Decorate the virtual space for your screenplay using props:
Features more than 300 props including common indoor and outdoor assets. You can create rooms, walls, and doors. And place everything like animals, vehicles, buildings, and several more. Didn't find the props you wanted?
You can import a diverse range of assets from Sketchfab – both 2D and 3D.
The victory of lights over darkness:
Never seen so many lighting options. From spotlights to lanterns, you can choose based on the luminescence. Outdoors, you can adjust light effects based on sunrise, sunset, or overcast.
Review your storyboard on 2D or 3D mode:
When all is done, you can take a quick tour of your set. Love the way it lets you switch between 2D and 3D modes to see the overall aesthetics of your storyboard. 
Previs Pro pros and cons
Pros:
Multiple options for camera frames and aspect ratio

Customizable characters and props

Augmented reality mode

Ability to import 3rd party characters

Export your storyboards in JPG, PNG, PDF, & MP4 (video) format. 
Cons:
Only iPad OS and iOS 

Requires some learning curve
Pricing
Monthly subscription: $19.99
Yearly subscription: $99.99
Lifetime Membership $249.99
12. 
Mental Canvas – Best storyboard software with infinite 3D canvas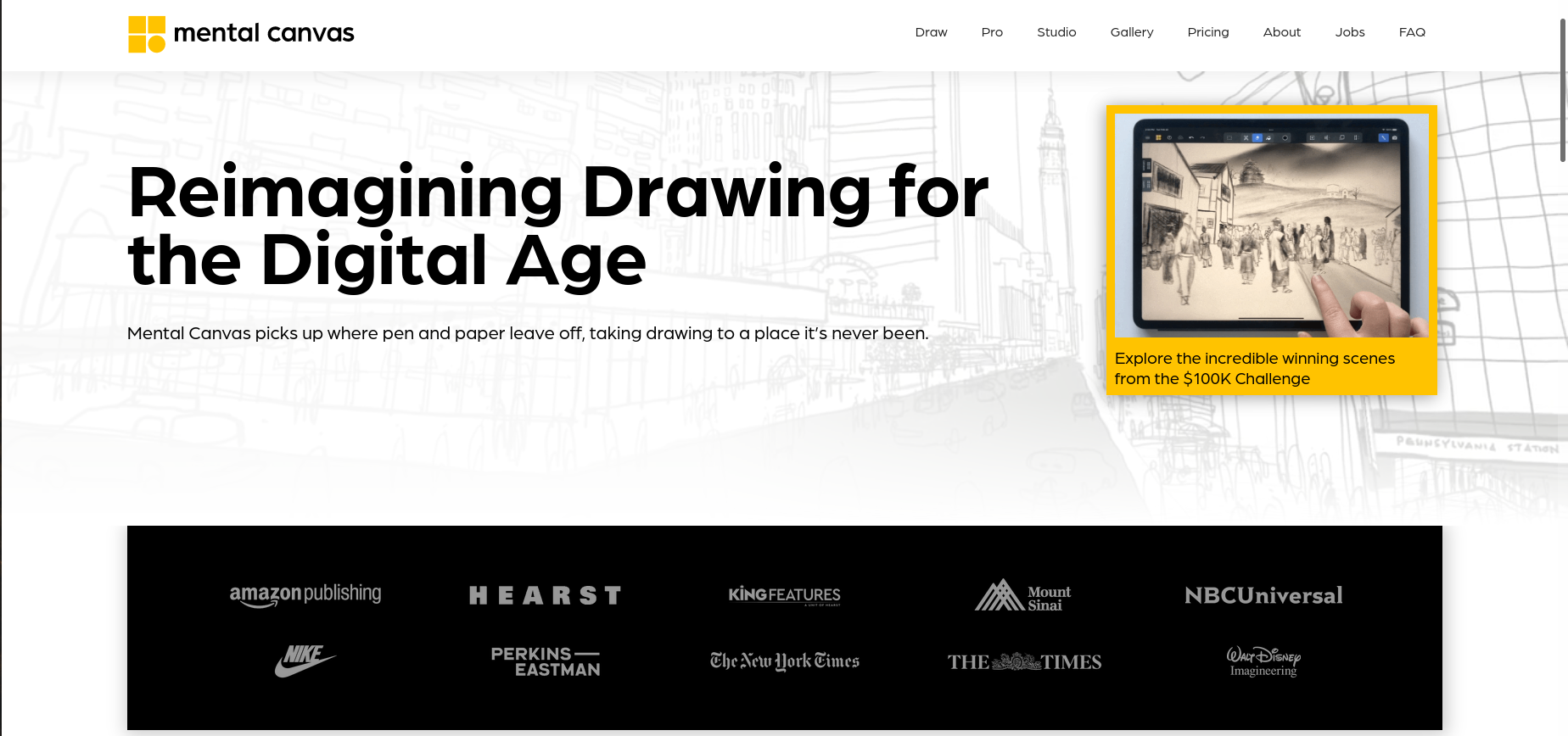 Imagine something that isn't fully flat but not completely 3D either.
Sounds mental? 
You're in the right place then. 
Mental Canvas offers you a unique way to hand draw your storyboards. Not on your usual 2D plane. But on an infinite 3-dimensional canvas.
Gives you the feeling of depth of the virtual space. And makes it more immersive as you zoom in, zoom out, rotate, or view your sketch from multiple angles.
This helps you to map the idea of how you're going to pull off the shoots at your location.
That's the premise of Mental Canvas to give you layered visuals of your screenplay. 
This storyboard software was initially released for iPad only. Now Microsoft Store houses this as well. 
Note that, only a 2-in-1 laptop can give you a legit experience if you choose Windows (well… obviously MacBook isn't there yet). 
On either platform, the digital pencil is going to be your true companion.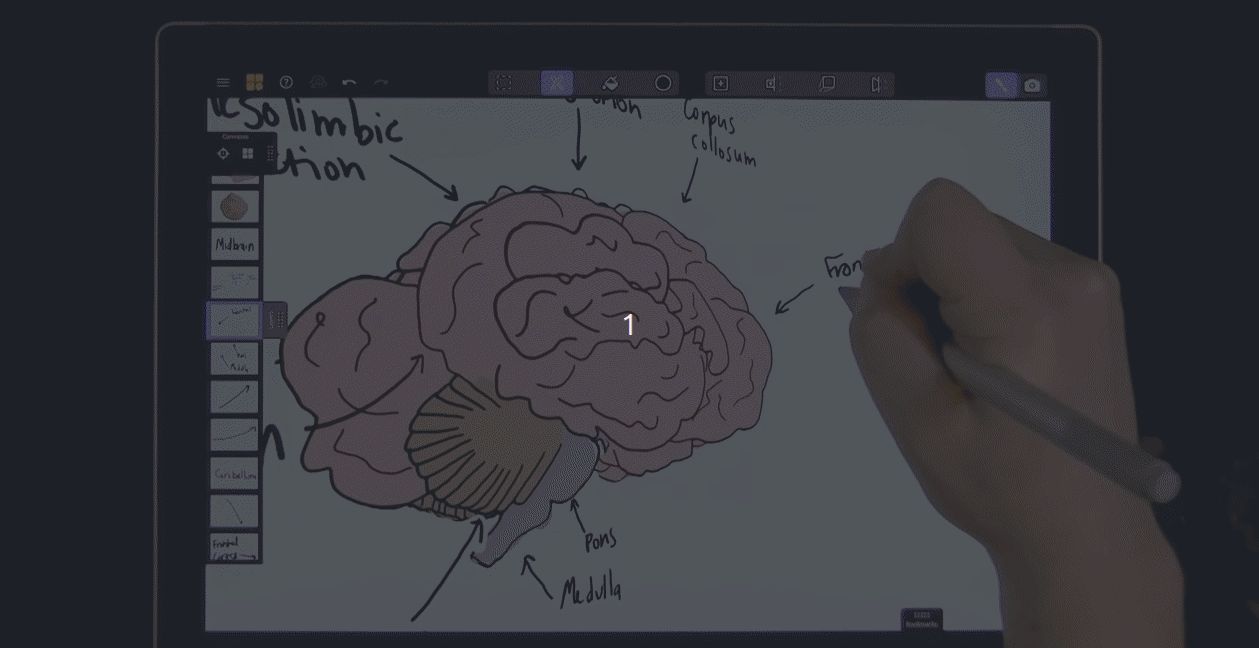 Oh, by the way, if you're into architecture, Mental Canvas could be your nice first step before jumping into heavy CAD modeling tools. For example, creating a quick storyboard for a virtual home tour, especially during meetings. 
Not just for films or architecture, but literally for anything you could imagine. 
Mental Canvas might have limited compatibility. But it's amazing to see how it saves you from enduring the processor-intensive tools and steep learning curve. 
My only disappointment is its pricey monthly subscription for the Pro plan. However, for solo creators, there is a one-off package as well at a decent price. 
Ease of use: Simple sketching interface with a bit of tricky perspective draw. But easy to pick up features. 

Platforms supported: iPad and Windows systems.

Value of money: Easy to use but not easy on your pocket. 

Recommended for: Architects, indie filmmakers, or solo creators. 
Mental Canvas Key Features
Freedom to dive into infinity:
Keep drawing endlessly deep into the 3D space. And view your sketches from all perspectives. Intuitive use of layers to organize your sketch on canvas. Also comes with customizable tools with adjustable sizes, fillers, and opacity levels. You can even bookmark your drawings. 
Don't worry about file compatibility:
Only compatible with iPad and Windows PC. But no issues with file types. Teams with either system can share and edit on any platform. 
Great with imports and exports:
You can import standard image formats like PNG and JPEG. Even import a stack of layers from Photoshop and Procreate. You can then select the aspect ratio and resolution. And finally, export the animated flythrough in MP4 format. 
Collaboration within 3D space feels great:
Pro and Enterprise plans offer great collaboration features. Comes with 5 seats on the Pro and custom seats on the Enterprise plan. Team Members can draw together, annotate, change viewpoints, or even hide details. 
Mental Canvas pros and cons
Pros:
Interactive 2D storyboarding on virtual space

Freedom to sketch on an infinite canvas

Ability to import images or illustrations

Can export animated flythroughs as MP4 videos

Great for collaborating with teams
Cons:
Monthly pricing of the Pro plan is expensive

Only for iPad and 2-in-1 Windows system users

Apple Pencil is a must (Digital pencil comes with most of the Windows touch PC)
Pricing
Education plan: $30/ month and $324/ year
Professional plan: $60/ month and $660/ year
Creator plan (one-off pricing): $49.99
Final words
Hand-drawn storyboard or a pre-visualization storyboard? 
Is it about filmmaking or marketing your product?
Are you a solo creator or a professional production team?
It all boils down to your personal preference.
But not something like you end up getting Frameforge for your business storyboarding. Or Canva for working on animation. 
Make sure your choice of storyboard software connects with the nature of your project. And can help you reach a productive workflow by saving time, money, and effort.