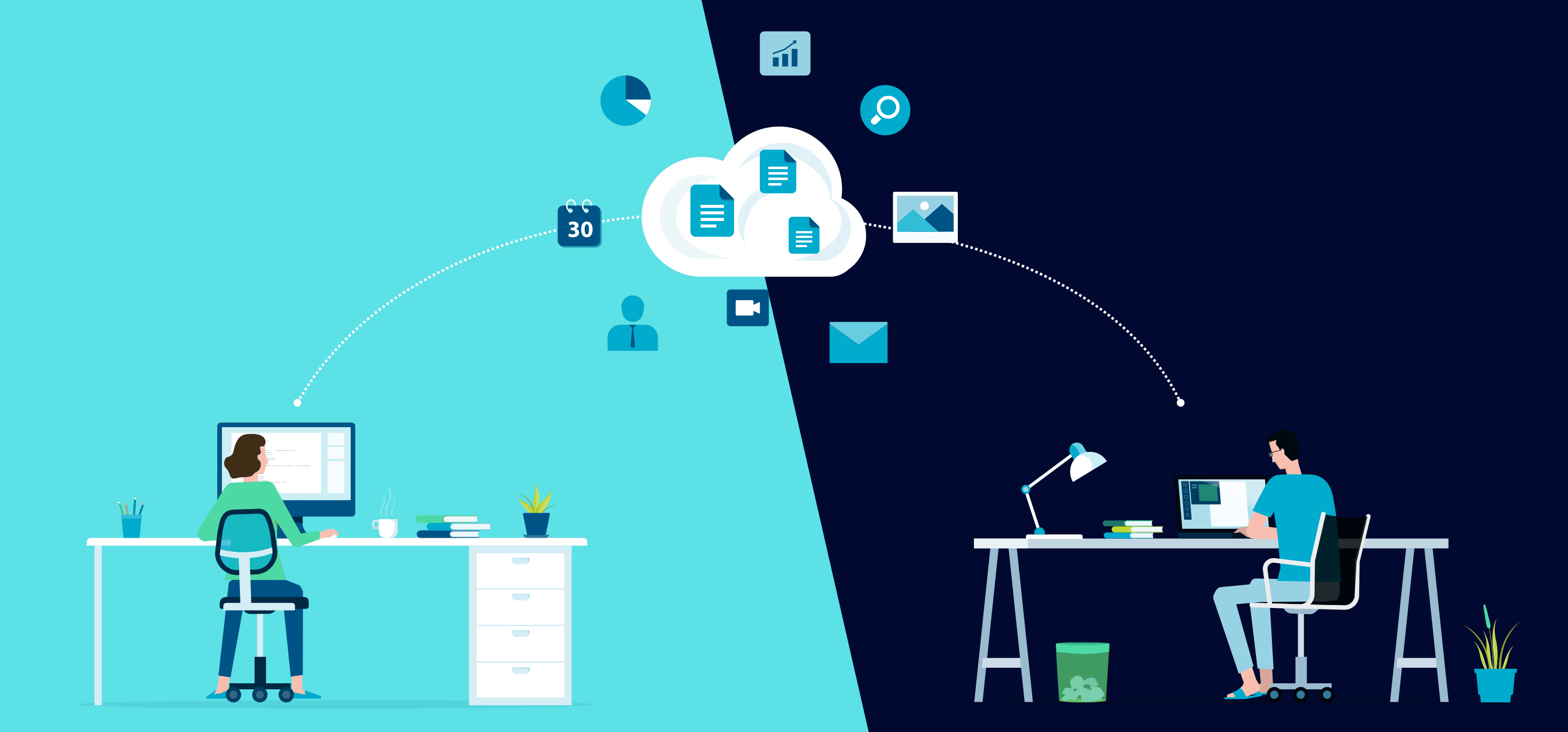 Virtual workspaces take Zoom meetings to the next level, offering you an immersive working experience that's typically lacking in collaboration tools.
They recreate an office environment with digital rooms and interactive elements to make your team feel a part of the company and allow them to easily interact with each other.
Below are the 12 best cloud platforms that deliver virtual workspaces for versatile purposes. Discover their core functions to learn how best they can help you improve your company's culture.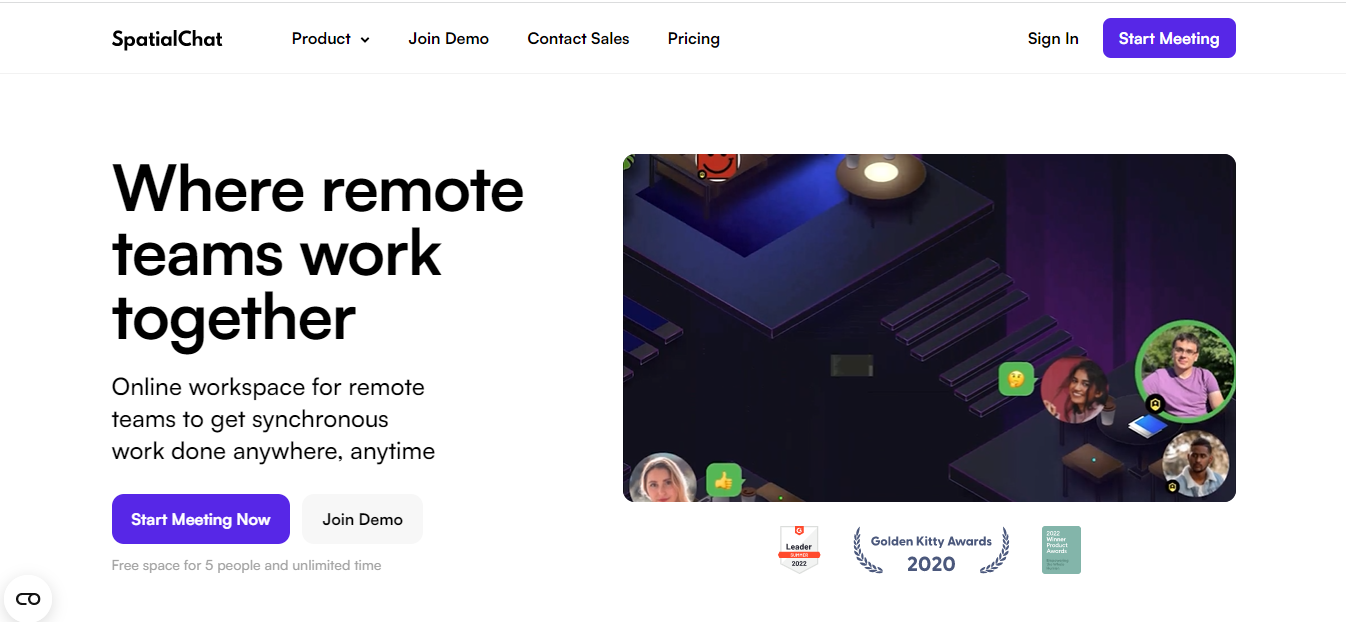 Spatial Chat is a virtual event platform that makes video conferencing and communication a fun experience for remote teams.
You can create multiple spaces, build hundreds of rooms, give an avatar to each team member, and customize the layout to add a personalized touch to your office.
Its live presentation function offers interactive elements like whiteboard, emojis, and animation to engage attendees and encourage them to participate. Attendees can also take breaks and move their avatar around to "meet" with other users.
Succulently put, Spatial Chat delivers everything you need to design a digital workspace for your teams.
Core Features
Workspaces.
Private rooms and break-outs.
Engagement elements.
Screen sharing.
Avatars.
Customization.
Integrations.
Price
Spatial Chat's starter plan is completely free. The basic account allows five team members and one workspace.
You can buy its premium plan to lift the limit. It costs $6 per seat.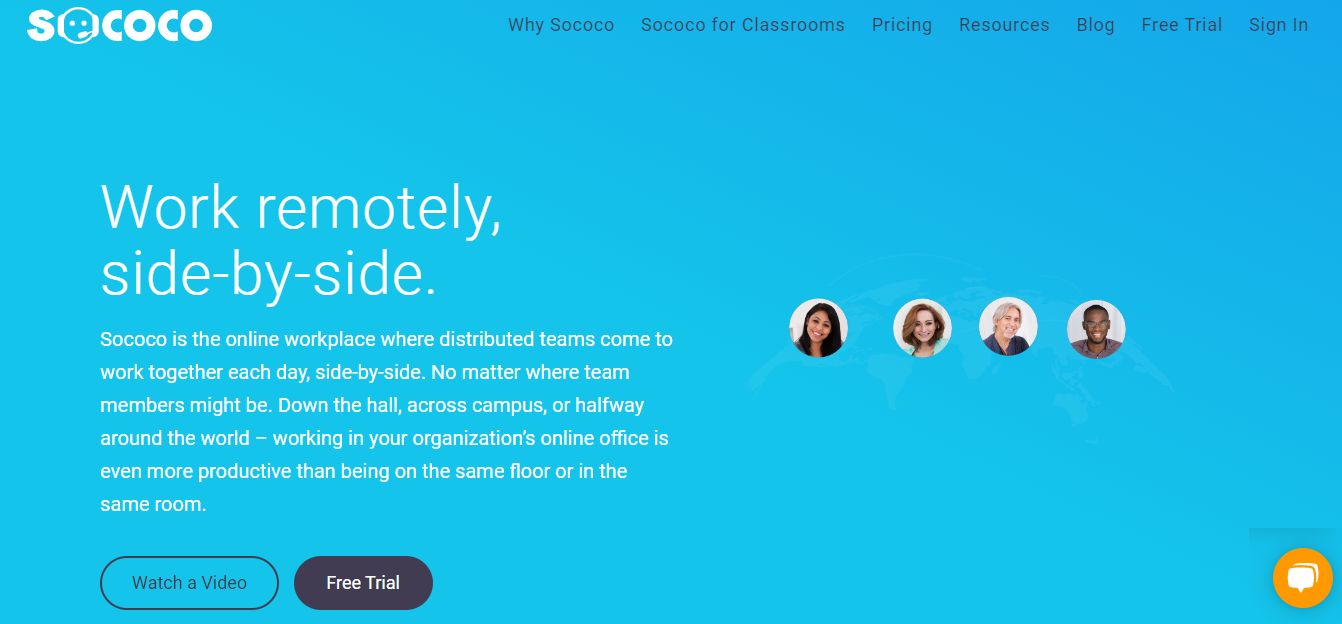 Sococo lets you create a centralized platform to monitor your team activities while offering them a place for networking.
You can choose your layout design, add private rooms and lobby areas to improve user experience, and integrate productivity apps to add more functions.
Your team can access video, audio, and communication tools to conduct meetings, collaborate on projects, and generally connect with each other.
It additionally shares a few engaging features like door knocking to offer a near real-time office experience.
If you're looking for an advanced cloud workspace for a remote office, try Sococo.
Core Features
Custom workspaces.
User avatars.
In-app chat.
Live video and audio.
Screen sharing.
Door knocking effect.
Supports iOS and Android.
Integrations with productivity tools.
Price
Sococo charges $15 per month for the basic package and $25 for its scalable features.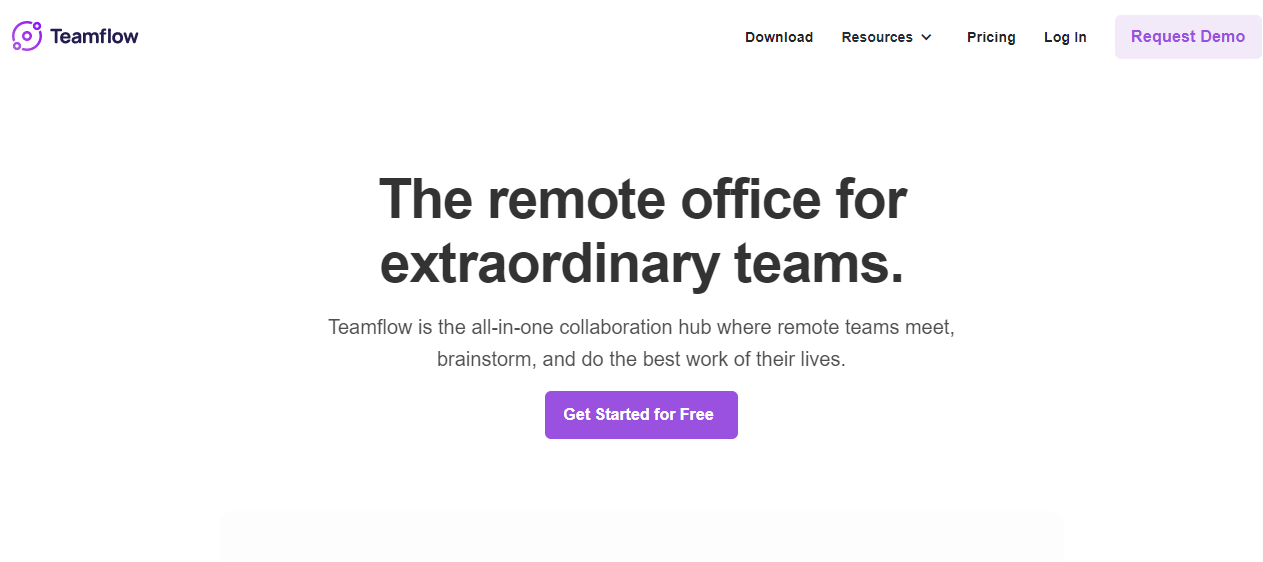 TeamFlow's interface is similar to Spatial Chat and Sococo.
You can use it to design your own virtual space to invite, brainstorm, and work together with your teams.
With its engagement tools, you can conduct live meetings effectively and complete your projects faster.
It also delivers advanced collaboration features that let you share multiple screens and operate whiteboards and documents simultaneously.
Another useful function of TeamFlow is the audio restrictions. You can only hear other members when your avatar is nearby. It cuts down the noise level, giving you the privacy to perform your job comfortably.
Core Features
Virtual rooms.
Avatar.
Whiteboard and screen sharing.
Video and audio support.
Private rooms.
Direct messages.
Customization.
Scheduling.
Integrations.
Price
TeamFlow basic account is free. It charges $15 to $25 per employee for its Seed and Business plan.
VO is another good option for a cloud workspace.
It's user-friendly, offers visually appealing office designs, and supports multiple devices for easy access.
You can schedule virtual meetings, set timers to encourage punctuality, and enable private mode for one-on-one conversations. In addition, you can invite multiple guests to your meetings through web links for easy access. While its guest option is not a unique element, it is comparatively more flexible.
Its engagement tools are also versatile, allowing you to work together on a shared screen, introduce sketching boards for brainstorming, and add sticky notes to record important points.
Core Features
Custom designs.
Avatars.
Unlimited guest invitations.
Video and audio option.
Private rooms.
Access control.
Screen sharing.
Engagement elements.
Integrations.
Price
VO's starter plan is free. It gives you the option to add six users and invite up to two guests. For startups and small businesses, buy its premium plan at $8 per employee.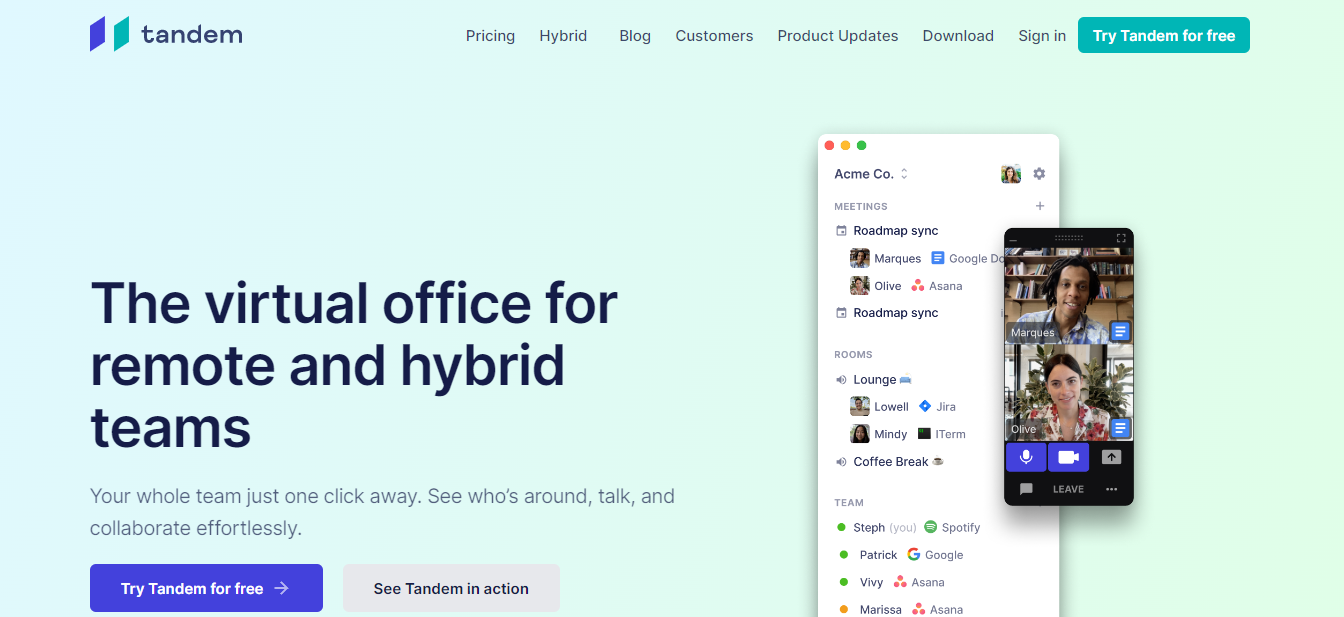 Tandem is a collaboration tool that delivers you a hassle-free way to connect with your team and work on joint projects.
You can build a workspace for the remote and on-premises teams, and add eight different widgets to extend the functionality of your virtual office. Additionally, you can invite unlimited users and create separate departments to segment your employees.
Your team will have the authority to join meetings, send messages, share screens, and socialize in their free time. It also has a dial-in option to conduct private meetings and live video conferences.
I do want to point out that its interface is comparatively simple. If you want a basic workspace but advanced functionalities, go for Tandem.
Core Features
Unlimited members.
Private rooms.
Audio and video calls.
Screen sharing.
Wave element.
Schedule, agenda, polls, and music widget.
Option to listen in on meetings.
Third-party app integrations.
Price
Tandem shares separate plans for different organization sizes. If you currently run a small business, you can try it for free and later upgrade the account for $50 a month.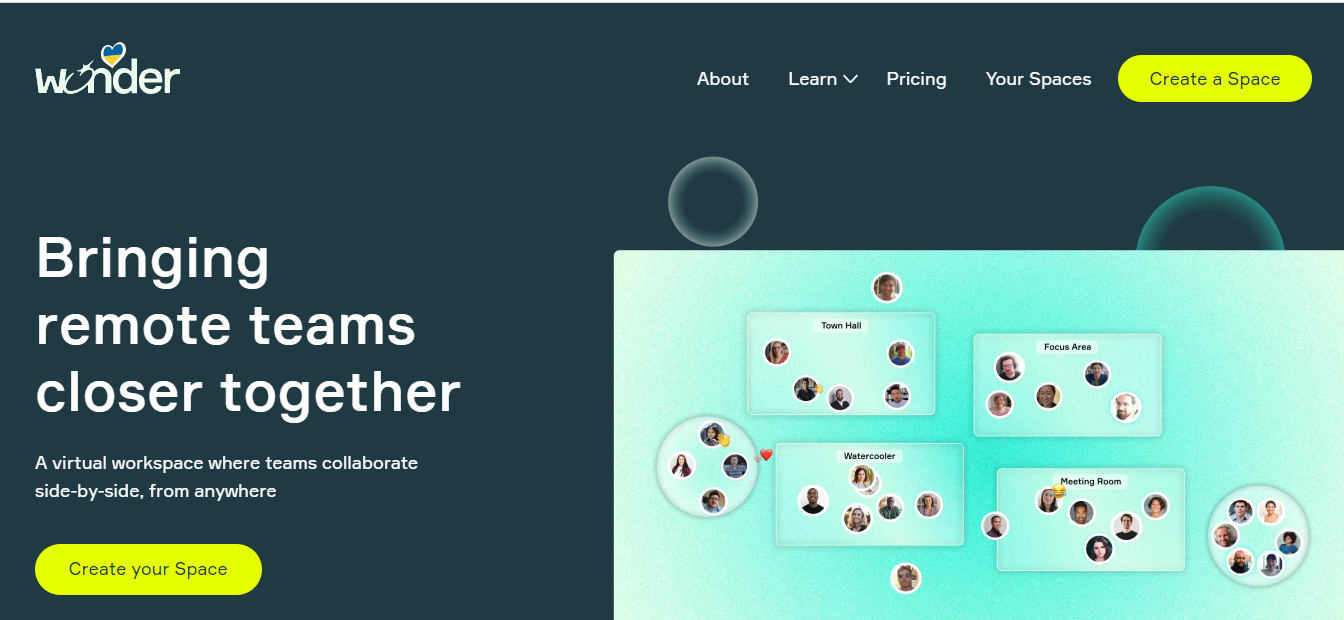 Wonder allows you to build a casual workspace setup for distributed teams.
Its background space is minimalistic and clean, making it easier to track members and focus on video and audio feeds.
Creating rooms and joining conversations on Wonder is also incredibly simple. You can build multiple circles within minutes, drag your avatar to rooms you want to enter, and maximize screens for better visuals.
You'll additionally find a diverse range of interactive tools such as emojis, ice-breaking questions, and co-hosting to encourage socializing.
One other interesting function of Wonder is the member locator. It helps you immediately find the respected party from the crowd.
Core Features
User-friendly platform.
Background templates.
Chat rooms.
Excellent video and audio quality.
Avatar.
Engaging elements.
Productivity tools.
Guest invitation.
Team locator.
Price
Wonder's monthly subscriptions cost $2 to $9. You can also request a custom plan for a large-scale setup.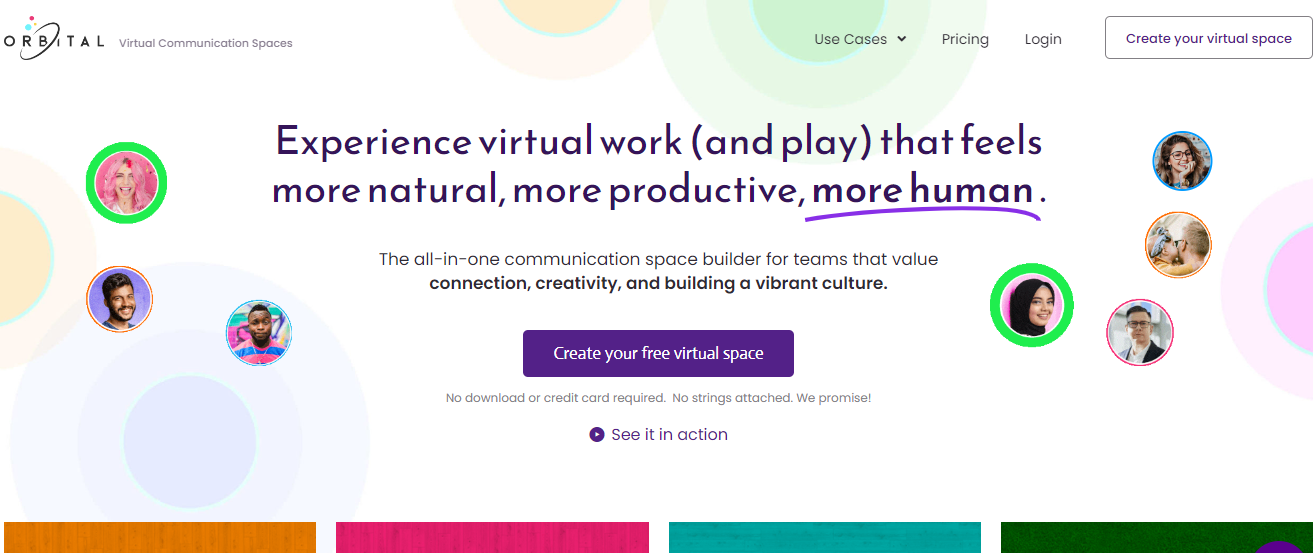 Orbital Chat delivers versatile customization and interactive elements.
You can develop visually appealing workspaces, broadcast your screen to run conferences, attach files for teams, and add sticky notes to record key points.
You can also access several conversation channels to create a smooth communication network. For instance, you can enable live captioning for non-natives members, allow emojis to show participation, and hand over the stage to another for presentations.
Other notable functions include a shout-out to announce events to the entire users, audio locks to restrict access, and mass member deletion.
I recommend exploring its public roadmap to learn more about its versatile functionalities.
Core Features
Custom spaces.
Audio zones.
Engaging graphics.
Team locator.
Interactive elements.
Guest invitation.
Third-party integrations.
Price
Orbital Chat shares both fixed and flexible payment options. Its standard monthly charges are $8 per employee. You can also explore the features for free.
Wurkr is designed to make team collaboration efficient and engaging.
It's a user-friendly platform that allows you to conduct video conferences from anywhere, easily invite clients to your meetings, and enable privacy to protect your data.
You can create several rooms, integrate Slack for direct messaging, share multiple screens, and activate speech bubbles for better visibility.
Your team can also "see" everyone and spontaneously join conversations.
Wurkr helps you create a simple yet engaging virtual workspace to streamline your projects and improve team communication.
Core Features
Custom workspaces.
Private and break rooms.
Excellent audio and video support.
Multiple screen sharing.
Direct messaging.
Guest invitation.
Third-party integrations.
Conversation bubble.
Web and Mobile app.
Price
Wurkr provides tailored plans for small, medium, and large organizations. Contact sales to get the quotes.
Gather Town is best for its visual elements.
It has an incredibly intuitive mapmaker that lets you design almost any type of virtual space for your remote teams.
You can build private desks for each member, create separate spaces for events, develop roads leading to your office and essentially construct an entire building. Your users will also have the option to customize their rooms as they see fit.
It's designed to simulate real-time business locations to provide an immersive working experience to your team.
Coming to its productivity tools, you can enable both video and audio, share your desktop screens, use whiteboards for brainstorming, and send documents.
In addition, you can host conferences and broadcast your message to multiple users at once.
Core Features
Mapmaker for a virtual office.
Up to 500 users per space.
Unlimited video and audio minutes.
Instant chat.
Custom workspaces.
Moderation.
Chrome extension.
Price
Gather Town is free to use. To add more members, buy its premium plan for $3 to $7 per user.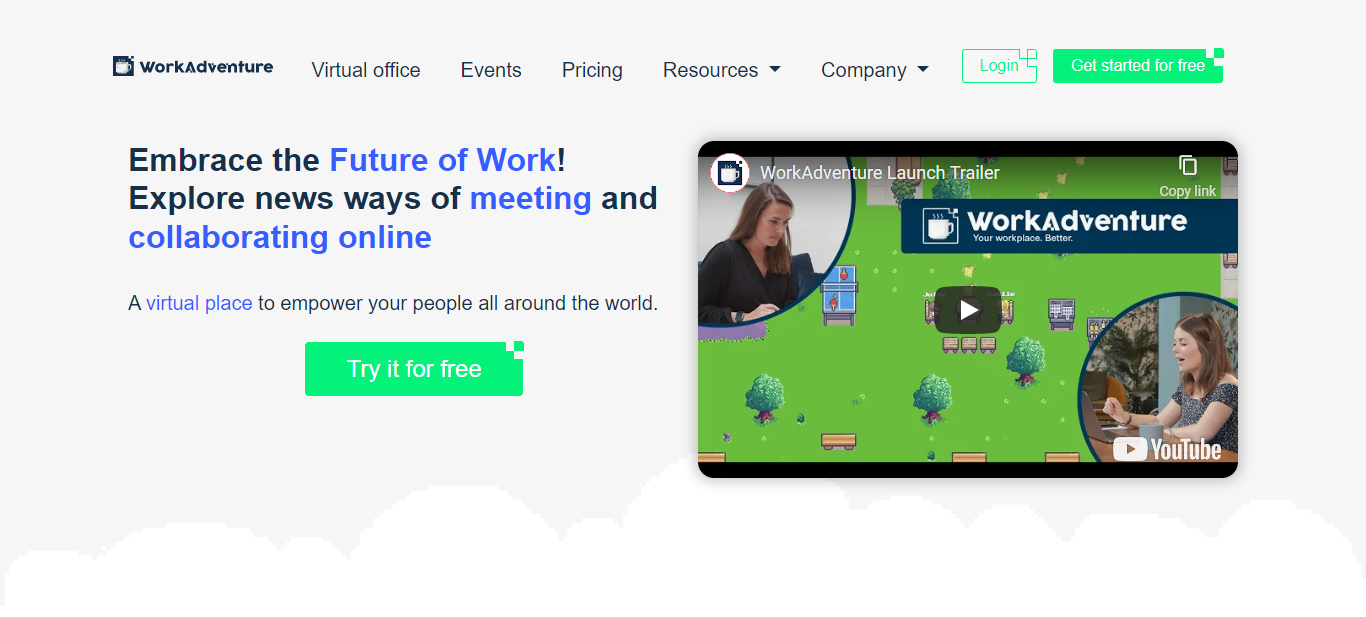 WorkAdventure is a good alternative to Gather town.
It has a similar interface, custom virtual spaces, several collaboration tools, and audio zones for private conversations.
You can contact your team member by just walking up to their desk. You can also invite others into the conversation with privacy bubbles. It provides an option to mute video for audio-only meetings as well.
Apart from that, you can broadcast announcements, use Google calendar to schedule events, and record meetings for later review.
Overall, it's an ideal software for a hybrid work model. You can get started right away with its pre-defined templates or employ the in-house team for tailored designs.
Core Features
Personalized workspace.
Audio zones.
Video recording.
Engagement tools.
Google calendar.
Integrations.
Moderation and permissions.
Custom domain.
Price
Workadventure's monthly subscription costs 15 EUR per user. You can explore the workspace for free.
Spot is relatively a new software product, but it offers some promising features. It has a user-friendly drag-and-drop interface and decent background templates to easily re-create an office environment for your remote team.
Here, you can produce a 3D view of your office, instantly teleport your avatar to your desired destinations, start video and audio conversations, and share multiple screens.
Its office view is advanced and its communication tools are also comparatively versatile. For instance, you get in-built chat rooms and channels to generate discussion threads, share images, drop comments and connect with each other.
The platform is mobile-friendly and offers tons of customizations to improve user experience.
Core Features
Personalized workspaces.
Advanced visuals.
Audio and video conference.
Screen and document sharing.
Chat rooms and discussion threads.
Web invitation links.
Message search bar.
Data security.
Mobile friendly.
Price
You can get started on Spot for free. It would give you access to its basic features and six-member space. Its premium plan costs $17 per user.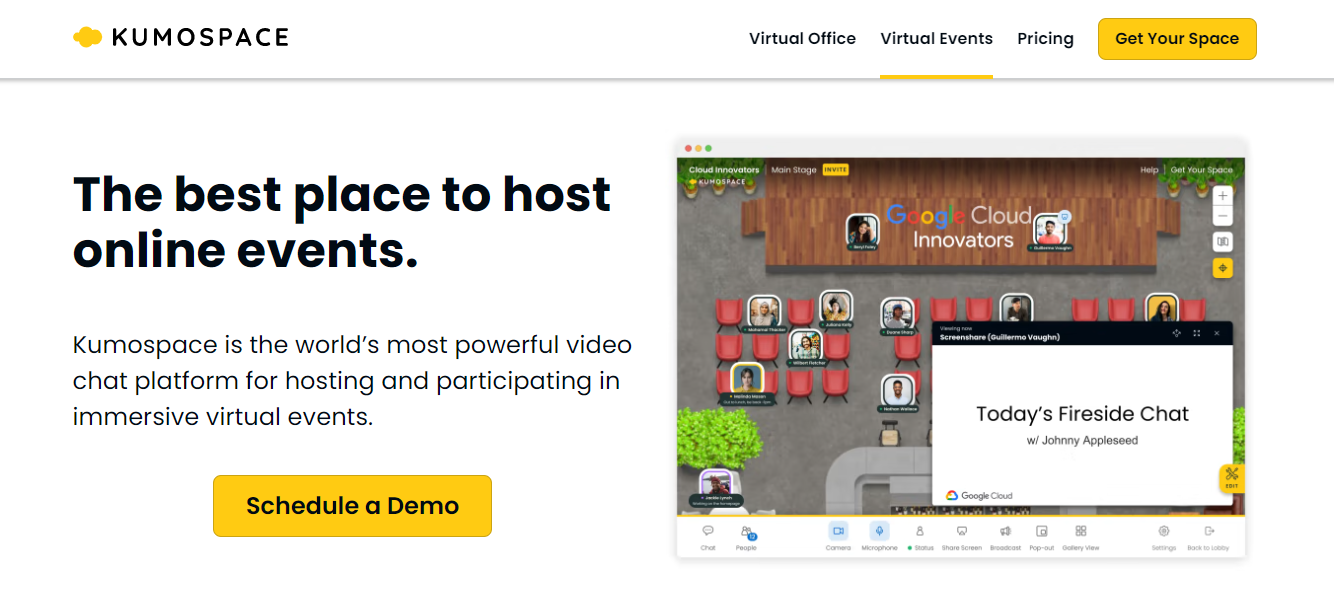 KumoSpace is ideal for virtual meetings and events.
Here, you can spontaneously include people in conversations, broadcast your chat to the group, and share your screen at large. It delivers powerful event hosting tools to run smooth video and audio conferences.
Another feature that sets KumoSpace apart is its entertainment element. Your team member can play video games with others during their free time. It's a useful function that encourages team networking and allows you to build a welcoming company culture.
Besides productivity and engagement tools, KumuSpace also offers a vast number of customizations. You'll find tons of flexible options to create a personalized office.
Core Features
Cloud workspace.
Custom audio zones.
Broadcast chat.
Multi-screen sharing.
Event hosting.
Games.
Personalization.
Data security.
Integrations.
Price
It's free to use and only charges for extra space and advanced function. The upgrade charges start at $150 per month.
Final Word
Virtual workspaces help you construct a digital office for your team where they would have the autonomy and flexibility to work with each other. 
Through these platforms, you can encourage social interaction and offer them the best alternative to a physical office.
Try out the free plans to find more about the above-listed cloud workspaces. Good luck!