Marketing! What is it? An overly used term?
A specific business function? A complex science?
Well, to be candid, marketing has outgrown its own definition over the previous decade.
You might have heard various definitions of marketing. Some of them are accurate, others not so much.
Marketing has at times been confused with advertising. This is a grievous misunderstanding that has buried several small and large-sized businesses under the ground.
In the modern digital era, marketing is every action a business takes to not just sell its product but its vision and philosophy to the customer. You can call it branding, or PR management. All these activities come under the wider heading of marketing.
The digital avenue has grown to extents that were previously undreamed of. While this has opened us to a world of opportunities, it has raised management concerns for businesses.
How do we manage our presence on these widely competitive platforms?
Well, it's certainly not something you can achieve with a one-time gimmick. It is, in fact, an ever-lasting process of management, growth, and development.
However, you don't necessarily have to do this on your own. Do you know there are infinite tools that you can install to manage your business's digital brand? More so, a lot of them are free of any charge!
Here's a list of 20 such diverse tools, which in their individual capacities, help enhance your business's reach across different digital platforms. Let's quickly review them and gear you up to create a business for the future.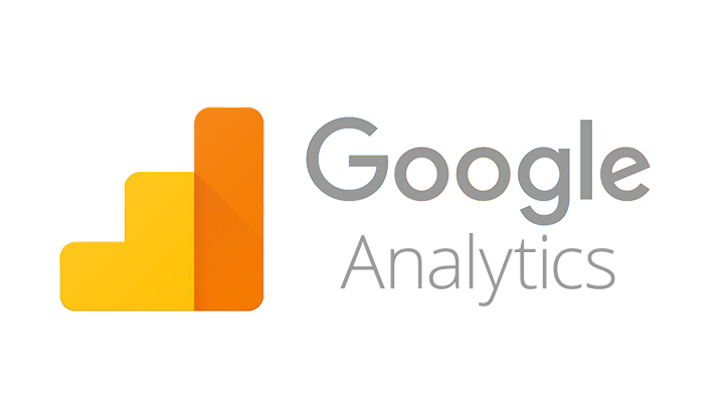 Google Analytics is our number one choice for a free marketing tool. It is a web analytic tool that helps businesses track their online traffic and give extensive insights into their web and app performances. It is especially useful if you are marketing your business on other google run services.
With Google Analytics you can find out things about your websites you once only imagined.
It gives you comprehensive data on consumer behavior, which content of your website is ranking among audiences and which isn't, what people like about your websites and apps, from where and what is generating the traffic, conversion rate, etc.
Such in-depth reports on consumer data are crucial for any business to grow. Using this data to strategically plan and evaluate your marketing strategy is key to expanding your business online.
Google Analytics comes in both paid and free versions. On a small-scale business, the free version is more than enough to get your marketing game on.
Key Features
It generates comprehensive reports that include consumer behavior, advertising, real-time, conversion, and audience characteristics reports.
With the visualization feature, you can compare and contrast different data reports in form of charts in one dashboard for effective and quick analysis.
With funnel analysis like multi-channel funnels and shopping and checkout funnels, you can track the whole consumer journey and strategically plan your investment for more conversions.
Google Tag Manager saves time by automatically adding the tracking code to your application or website.
'Smart goals' feature allows you to set a goal and effectively measure its progress over time.
You can manage various marketing analytics, ROI, ROAS, etc. in Google Analytics along with other Google services.
Pros
Enhances website traffic and optimization
Improves user engagement
Produces precise info reports that can be shared through the organization with a click
Effective marketing due to statistics and machine learning
You can target the right audience to increase the conversion rate
Cons
Learning the intricate details can be effort talking and time-consuming without background knowledge
The free version is not suitable if the website traffic is high
Data is only available in summarized form
The free version only tracks data up to 10 million hits
Small business owners know how vital it is to track their competitors while ensuring their digital PR is always kept under check. Viral reviews, news covers, and negative articles can play a major role in burying your business underground.
Well, Google Alerts has made it ever so easy to keep track of all this without having to pay a single dime.
You can visit their homepage and search for anything you need alerts for! This could be a keyword, a trend, your brand's reputation, or even a competitor's campaign.
Once you start uncovering the topic through various angles, it would develop a more profound understanding of the topic hence allowing you to build your updated strategy accordingly.
Key Features
You can use Google alerts to track various influencers covering topics relating to your business. You can easily reach out to them and help manage the business' digital PR.
Alerts could also be set for reviews on the product/service range your business is dealing in. This could prompt you to visit these review sites and partner with them or answer a customer's query, generating new business and greater backlinks.
Several marketers use Google alerts to track their brand name variations and major keywords. This uncovers the reach of their content and the various ways in which the keywords could be used to enhance customer engagement
It also acts as a social listening medium. You can link alerts to certain hashtags or pages over social media to enhance your knowledge of the latest trends and use them to the business' advantage.
Pros
Google alerts are very simple to set up.
The results are straightforward and convenient to interpret
You can customize the alerts to include modifications of certain keywords and topics to gather a range of information
Cons
Google's Alerts do not come with analytical dashboards to give more context to the information. This makes it a very basic tool.
Since alerts are linked to your Gmail account, you could miss out on a lot due to your inbox filling up
Well as we mentioned before, marketing has grown to be so much more than just advertising your product. Thus, deciding the overall theme and color range for your online posts is also part of a marketer's job description.
Here's where Pikwizard comes to your rescue. Design websites and free stock stores have grown immensely over the past few years. Pikwizard stands out amongst the long list as it makes it very easy to find your desired stock image or video from its large collection!
All content is free on Pikwizard's website. It's easy to find a lot of these images, but the quality of videos the platform provides is unmatched.
Key Features
Pikwizard's collection comprises over 1 million images making it one of the largest free service platforms
You can access several HD backgrounds and crucial video clips through their website
Pikwizard is also linked with DesignWizard making it easier for bloggers to edit their downloads stock images
You can search for desired content via the sample layout; just browse through the relevant categories or hashtags and find just the perfect image or video clip for your business
Pros
Pikwizard's collection covers a wide range of backgrounds and themes on a single platform
The link to DesignWizard's platform adds extra options for marketers to access
The collection is safe to download without getting into the hassle of attribution
Cons
Some images are applied to licensing, making it vital to credit the original artist
Canva has certainly become the most accessible and widely-used design tool for beginners and some professionals.
You can simply register at Canva using your google or social media account. Canva stands out amongst other tools due to the range of functions it can be used for.
Be it a complex presentation for a pitch meeting, or a simple Instagram post to appeal to the masses, the wide range of templates and themes available on this platform will never let a marketer down.
You don't need any complex know-how like for using Photoshop. A beginner managing a home-owned business could just log in and start designing their new post using easily accessible templates, colors, fonts, icons, and image enhancers. It is an all-in-one solution for your everyday design problems.
Key Features
Canva provides different backgrounds to work on. You can use a wide range of colors for everyday posts, graphs, and event presentations
The photo enhancer helps you edit various aspects of your images and give the brand's content a more professional feel
The search bar makes it extremely easy for beginners to access the platform's help in looking for the design they have in mind.
 You can maintain a content planner on your Canva account. This allows Canva to automatically post through your business account at a specified date and time
Marketers can maintain their brand kits to reference the already used themes and thus maintain a consistent feel for their brands
Pros
A lot of Canva's features are available in their free plan. As a small business owner, you'd feel this version suffices your needs
The processes are extremely simple. Other tools such as Photoshop require higher knowledge levels to operate
Canva has grown to be more than designing software, it's your brand's content manager; an extremely rare service to be accessed for free
Cons
Canva's photo-editing feature is not as upgraded as of other professional forums
The templates can begin to appear somewhat generic after a while
Unlike Illustrator, you cannot create personalized icons on Canva
Talking about business presentations and pitches, how can we miss Visme. Best known for its wide range of templates and icons, the platform consists of several infographics that can spice up your presentations. Business pitches are very vital for new marketers.
It's the defining point that establishes new patterns and routes for their setups. Well, you can stop spending several hours designing the templates from scratch. With Visme's key branding features, you can design a template that screams your brand's theme across all channels.
Key Features
Visme provides two types of pre-designed templates; the first category is for the background whereas the second one is for the infographics to be included in the pitch
It includes paragraph settings like text animations and pop-ups for you to design and present the written content in the way you want
Four kinds of icons are available for designers to include in their work themes. The icons can be combined to visualize the most creative add-ons to the templates
Visme allows you to include over 30 kinds of statistical graphs and flowcharts. These graphics can be edited to match your overall theme
A brand kit can be used to ideally place your logo and edit the background colors to arrive at a brand-centric display
Pros
Visme consists of a media manager to save and organize all files relating to a single project
It can generate shareable links with one click and analyze the data of the users viewing the project
All the basic features are easy to access, accounting for a smooth workflow process
Cons
The interface isn't appealing
Visme's storage capacity is lesser compared to other tools on the market
Professional designers are limited by the lack of support provided for customized canvases
Marketing gimmicks need teamwork and collaboration. There's not a single project that you'd be working on all alone. It is vital to get the team's input and make edits to the task accordingly.
This has become very simple with the introduction of Trello. You can simply share the project on this dashboard and invite the team to weigh in their feedback and make any edits if necessary.
It translates the task into more of a productive discussion-based forum. The project's tasks can be easily tracked in individual workspaces and boards that are very easy to create.
Key Features
Trello is a simple tool that accommodates various workspaces and project boards to share ideas and review them as a team
Trello's automation bot is called Butler. It helps you throughout the configuration process and makes the workflow setup very simple
You can enhance the capacity of your boards by integrating power-ups that allow for linking common tools such as Slack and Google with your account
Trello is an ideal tool to draw cards and assign each employee the tasks accordingly. You can mention them, push notifications, and ensure that each task is run efficiently to contribute to the entire project
Pros
The interface is very simple making it easy for new business owners to set up their workspaces
Trello has an amazing mobile application making it easy to access
It gives a new flair to every project by helping manage the available resources in the best way possible
Cons
The project views become very limited for larger projects that need greater iteration
No insights are provided on how well the assigned tasks were performed
Social media is certainly the new hub of marketing. While content and web marketing have had their fair share of growth, the last few years have been dominated by Facebook and Instagram.
All businesses irrespective of their nature and size have a social media presence which is vital in shaping their digital communications with their existing and potential customers. Planning the tone of this communication across channels while managing when and what to post can be a time-consuming task.
Thus, Hootsuite comes to your rescue and helps display all your accounts on a single dashboard.
You can reply to all the mentions across channels from a single dashboard. Moreover, the key insights help you decide what and when to post through each platform to get the maximum engagement. Hootsuite is certainly a tool that is helping new businesses win over social media!
Key Features
Hootsuite's key feature remains to be content management across social media platforms. You can use all the real-time insights to schedule several posts across the channels
The "streams" feature allows you to view a specific trend/hashtag across various social media platforms. You can use this to view concerns/queries regarding your product or get an overview of recent trends in the market
The analysis dashboard shows key KPIs like post engagement, mentions, and sentiment analysis
You can easily assign tasks to team members and create a collaborative space to manage the business's social media presence effectively
Pros
You can save time and effort by managing multiple accounts from one platform
The insights are gathered in real-time and help plan effective campaigns across the channels
Hoot-suite provides pre-written responses to different situations
Cons
The content library is only available for paid users
Hootsuite has been reported to be lesser effective with regards to Facebook reach and conversions
While one part of social media marketing is scheduling your content, the other aspect deals with planning. Every business has a distinct set of goals.
Some crave higher engagement, while others seek maximum conversions. Well, you can stop basing these decisions on gut feel now and maximize the use of analytical insights through Followerownk.
Designed specifically to analyze a business's presence on Twitter, Followerwonk categorizes your followers by various metrics. These insights are then used to suggest which content approach would help gain maximum engagement and growth in followers.
Key Features
Followerwonk links to your Twitter account and shows the location of all your followers
It shows the trends in your followers' tweets and helps plan your content accordingly
You can also search through Twitter bios and come across the most influential accounts regarding your relevant business field
Different handles can be compared to see how competitors position their voices and thus making it possible for the new business to set its tone and voice
Business' can also sort their followers by authority scores and thus connect with those having a higher score
Pros
Followerwonk is one of the simplest analytical tools for beginners
You can see what kind of followers you're gaining/losing every day and thus plan your content accordingly
Followerwonk allows you to search for certain keywords in bios and thus target the relevant handles
Cons
The free plan analyzes 5000 followers at most
It cannot analyze followers on other social media platforms
Running successful marketing campaigns on different social media channels is a task that involves constantly improving your customer relationship and keeping your audience engaged.
It can be achieved by interacting with your customers and providing a seamless user experience on your website.
A CRM tool can help you with that, and what's better than HubSpot?
HubSpot is a lead player when it comes to CRM software. It provides an all-in-one solution for your customer management and marketing needs.
It helps you create the best possible user experience and that, in return, boosts the customer satisfaction rate. All in all, it is a great tool for new or small scaled businesses who are looking to increase their brand awareness and retention rate.
Key features
HubSpot's automated CRM database keeps your customers' profiles up to date
List segmentation feature congregates customers based on their shared interests in target-specific marketing
Creates SEO-optimized landing pages to enhance engagement and conversion rate
HubSpot e-mail analytics produces heatmaps to show customer engagement on e-mails
With A/B testing, you can test and try different marketing strategies simultaneously
Pros
One place for all sales, marketing, and customers management data
Provides integration ecosystem for a whole lot of other tools
A multitude of courses with certifications are available on HubSpot Academy
Cons
Editing e-mail templates without the knowledge of CSS can be hard
A/B testing is only available in a paid version
It does not provide navigation data of the mobile users
WordPress is one of the most common free tools used to design and develop a new website. However, designing a website is not the challenging part.
Attracting relevant traffic is what puts the final nail in the coffin. To do this, you need a website jeweled with optimized content. It will not only help make your domain more reliable, but also allow browsers like Google to rank your website. All businesses should ideally target landing on Google's first page.
This would attract greater traffic and in turn lead to better conversions. The Yoast SEO plug-in helps your business through this optimization process.
Key Features
Yoast recommends the optimal length and structure of each paragraph. It ensures the content is easy to read and visually appealing for the visitors
It also recommends how many times a specific keyword is to be used, this helps avoid stuffing which can negatively impact your website's ranking
Yoast focuses on all external links added to the content, whether they're enough in quantity and appropriate quality-wise
The plug-in allows you to directly share visual and written content across your social media platforms
Pros
Effectively optimizes your website or app for search engines
It also proofreads the content and highlights the errors
It keeps your content secured from content scrappers
Cons
It advertises quite a few ads on the WordPress back end which can be irritating
It sometimes faces difficulty at comprehending the content intent
It does not take LSI keywords into consideration when optimizing for a certain keyword
Some features of the tool require tech learning before you can use them
Social media has empowered consumers like never before. A small grammatical mistake could lead to a wide array of negative comments and trolls undermining the entire piece of content that you planned and executed at the back of several working hours.
Well, why not just avoid the hassle by installing Grammarly. The tool runs a check throughout your post/article and highlights it for all grammatical errors while making it as concise and engaging as possible.
Key Features
Grammarly can be installed and added as a plug-in to your regular browser. You can run it through all types of content pieces including social media posts, blogs, and even emails.
It gives suggestions for each error, helping pace up the process
The tone detector adjusts the piece in a way that is most suited to its purpose
The conciseness feature ensures no content piece is unendingly long and monotonous
Pros
Grammarly is very simple to use; all you have to do is add it as a plug-in to your browser
The explanations are simple and provided on the spot to save both time and effort
Unlike other tools, Grammarly's corrections are mostly accurate and conversion-centric
Cons
A lot of features that help tone up your content are not included in the free version
We've talked about content headlines and polish. But what about the main piece itself?
Doesn't the actual content you're delivering matter? How to figure out the topic that would bring about the highest engagement and conversions for your business?
Well, Answer the Public is your solution.
This keyword tool allows a business owner to visualize a range of topics that are trending and occasionally searched. You just need to put in the major topic you're dealing in, for example, headphone jacks.
The cloud tool will now show different variations of this keyword with the most commonly used prepositions. Scroll through the results and select the best-suited option to optimize the traffic on your webpage/social media handle.
Key Features
Answer the public displays multiple modifications of a single keyword in both visual and data tabs
It opens the doors for multiple businesses with a wide array of options
The ideal streams can be shortlisted and then made the basis for a post or blog content to maximize engagement
Tools like Semrush and Ubersuggest could be used to select the ideal pick amongst the available options
Pros
You can enhance your landing page conversions by using optimal keywords
Answer the public helps you see your target keyword from a wide range of angles, leading to better and more diverse blog ideas
By answering the right queries regarding your main keyword, your backlinks website could be featured as a Google snippet
Cons
The cloud does not weight/rank different keywords based on their usage and difficulty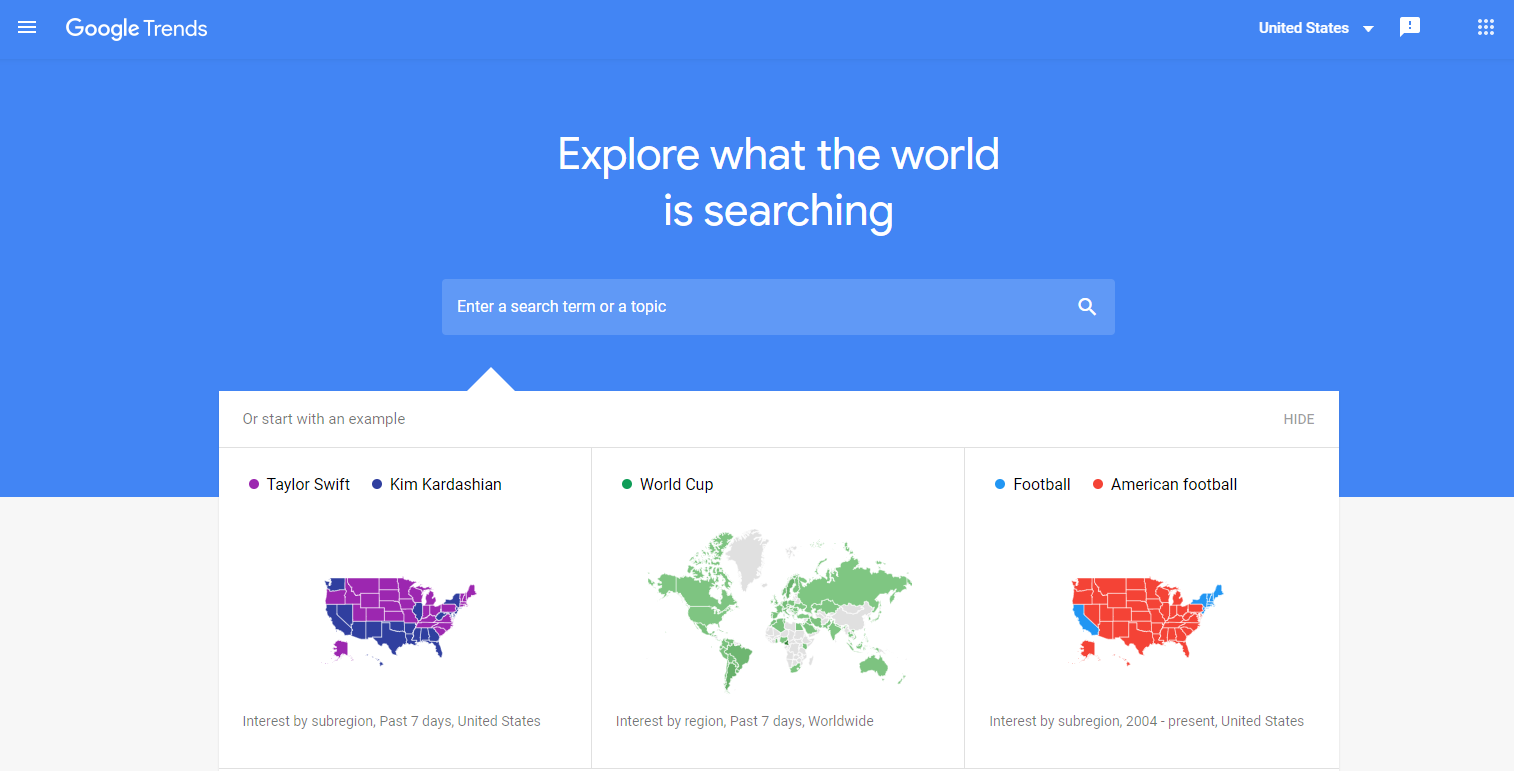 Brands have their own voices. In this ever-connected world, consumers have certain expectations from brands. They do not want to limit their interactions to the nature of the product or service they're purchasing.
They want the brands they chose to play an active role in the society they function in. This makes it very important for businesses to have a handy understanding of what people are talking about before developing their stance on it.
What better platform to come across these trends than one designed by the world's most used browser?
Key Features
You can use Google Trends to see the dips and hikes in certain niches in a given period
Related queries can be searched to come up with the best keywords for your product range
You can set a particular time frame and thus discover the seasonal trends to capitalize on
The searches aren't only limited to products, you can search for content headlines and check when the searches hike for your given topic
Pros
Google trends are very easily accessible; the interface is very user-friendly and everybody who uses the browser is aware of the main settings
The data is accurate and collected from probably the largest accessible population browsing online
It could be used for various purposes like deciding on a new product launch or initiating a branded campaign
Cons
Google Trends provides bland numbers; the context of search, which is very important for certain businesses, is not provided
Only items with a certain search quota can be displayed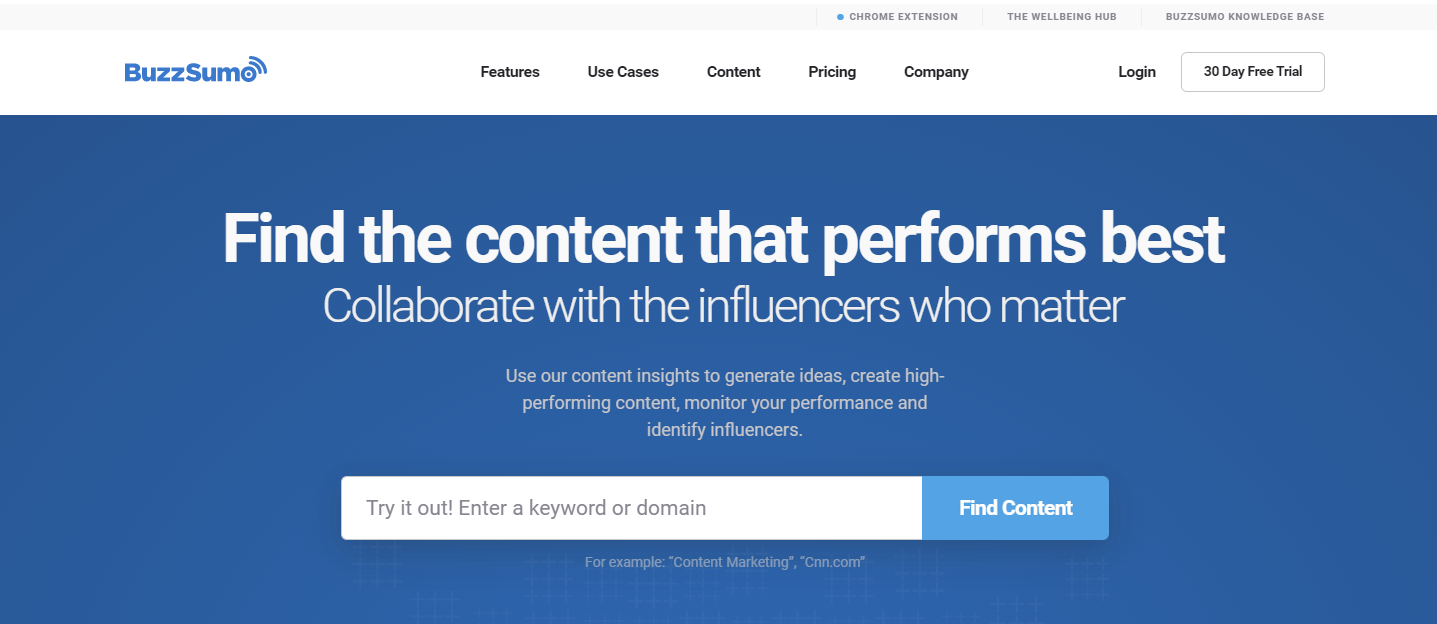 Entering a new market is always challenging. You're not the best aware of the landscape, and neither do you have access to as much information and expertise as your competitors.
Well instead of making educated guesses, why not back your approach with verified data? BuzzSumo is a marketing tool specifically designed to empower new business owners.
All you have to do is search your particular niche. You'd not just be able to view the content that is working best in the particular niche but also access the latest trends and the competitors' approaches.
Key Features
BuzzSumo's most exciting feature is its shared content analysis. You can search a topic and come across various articles/posts published on it. These pieces are ranked according to the number of shares received on various social media platforms.
You can also analyze what type of content works best for your niche. BuzzSumo provides a graphical analysis comparing the reach and engagement of various types such as infographics, videos, and text.
You can also view the latest trends and hashtags while gaining access to the most reliable and relevant influencers on Twitter
Pros
BuzzSumo is an all-in-one solution tool helping marketers analyze the type, nature, and scale of content that works
You can monitor certain trends, keywords, brand mentions, and backlinks using your BuzzSumo account
You can filter the results based on location or domain
Cons
Most analytical features are limited in the free version
Content optimization has become a very common notion in recent times. But did you know your entire website needs to be optimized to provide the best user experience?
Well, it's true, from the basic interface to the menu page, your website needs to suit the user preferences of your regular visitors?
But how would you know what works for your website? Well, Hotjar takes care of this notion by tracking the heatmaps and clicks on each landing page. The dashboard provides a detailed report on what aspects of your website are generating clicks and which ones lead to exits.
This gives you a better idea of what to maintain and what to change.
Key Features
Hotjar's main selling feature is its unique network of heatmaps. The figures show the active aspects of your website. These are the pages the customers are visiting or the buttons they're clicking. It sums up which part of your website is generating the traffic
You can also access the scroll maps to see how far down the visitors scroll down before dropping off your website
The recording session feature allows you to conduct a virtual mystery shopping drive. You can see how the visitor scrolled through the page, which elements did they stop to focus upon, which ones they ignored, and where exactly did they drop off
You can also include polls on your webpage to get feedback on what elements work for the visitors and which aspects need to be changed
Pros
The dashboard presents a wide array of analytics for you to work upon
The advent of real-time data leads to proper optimization of each web-page
Hotjar's results allow you to pinpoint the problems within your website and thus save time and money
Cons
The free plan only allows collecting data from 2000 page views daily
Marketing is incomplete without social media marketing. Nowadays, people spend more time on social media than they do on any other entertainment sources.
A good Marketer knows that effective marketing involves maintaining your social media accounts by keeping up with the latest trends to generate catchy content and posting it consistently. Now, this may be a hectic and time-consuming task when you are operating through different social media apps and lack manual labor.
So, how do you keep your audience engaged on your social media accounts without tediously posting on every application?
It is simple. All you need is Buffer in your life. Buffer saves your time and effort by letting you schedule your weekly posts on three different social media apps. You can line up 10 posts every week using buffer free plan.
Key Features
Buffer lets you optimize your content for each social media channel separately
With Buffer mobile app you can schedule, plan, and customize your content on the go
Calender-view feature gives you a bird's-eye view of all your lined-up posts for the whole week or month
You can put the most used hashtags together in one group and with a simple click, you can deploy all these hashtags in any post
Buffer Analysis breakdowns the different key performance metrics like engagement rate, followers growth, impressions, etc. for easy evaluation.
Pros
You can easily edit the scheduled posts inside Buffer
It's simple and easy to use
The authority scores act as a North Star helping you highlight appropriate factors that increase this score
Cons
Buffer analytics does not let you see incoming mentions or respond to comments on a post
Pinterest and Instagram features are very plain
Customer relationship management (CRM) is a major part of a marketer's job description. You can't run a successful business without developing effective long-term relationships with your existing and potential customers.
However, managing each customer requires knowing their preferences and interests beforehand. Thus, detective.io acts as an address book that accesses information regarding new potential clients.
This information helps devise appropriate responses and messages for the client without painstaking hours of long research!
Key Features
Detective.io can act as a lead builder. You can search for various businesses and clients in their database and target the ones that suit your business preferences the best
It automates the CRM process for small and mid-sized businesses
It can be linked to your Google calendar, thus providing a rundown of what needs to be prepared for each meeting
Pros
You can automate your prospecting process with the help of a "detective's sales force"
The interface is user-friendly and very simple to operate
It saves small businesses a lot of time and money
Cons
The implementation process is still manual and takes some time to communicate to the sales team on hand
If you'd ask any successful entrepreneur about what was the one thing that made their business great, they would certainly hint toward understanding and reacting to customer feedback.
Marketing is the language a business uses to communicate with its customers across all channels. This communication can only be effective if it's two-way!
While other tools focus on deciding your tone, theme, and effectiveness while talking to your customers, SurveyMonkey creates an appropriate channel for you to hear them out.
Key Features
You are to choose their questionnaire design from a given number of templates
These templates consist of various questions on a topic that you're looking to research on
You can include both open-end and close-ended questions. Close-ended questions could be in the form of MCQs and rating scales
The survey can be directly shared via a web link, email, or through various social media platforms
The dashboard's back-end works on analyzing the responses received in this regard
Pros
Small businesses get a platform to hear their customers out and thus enact a strategy accordingly
You can research a wide array of topics
The analysis is performed automatically and you can access several reports to visualize the data
Cons
The survey cannot include more than 10 questions
You cannot download or keep a copy of the designed survey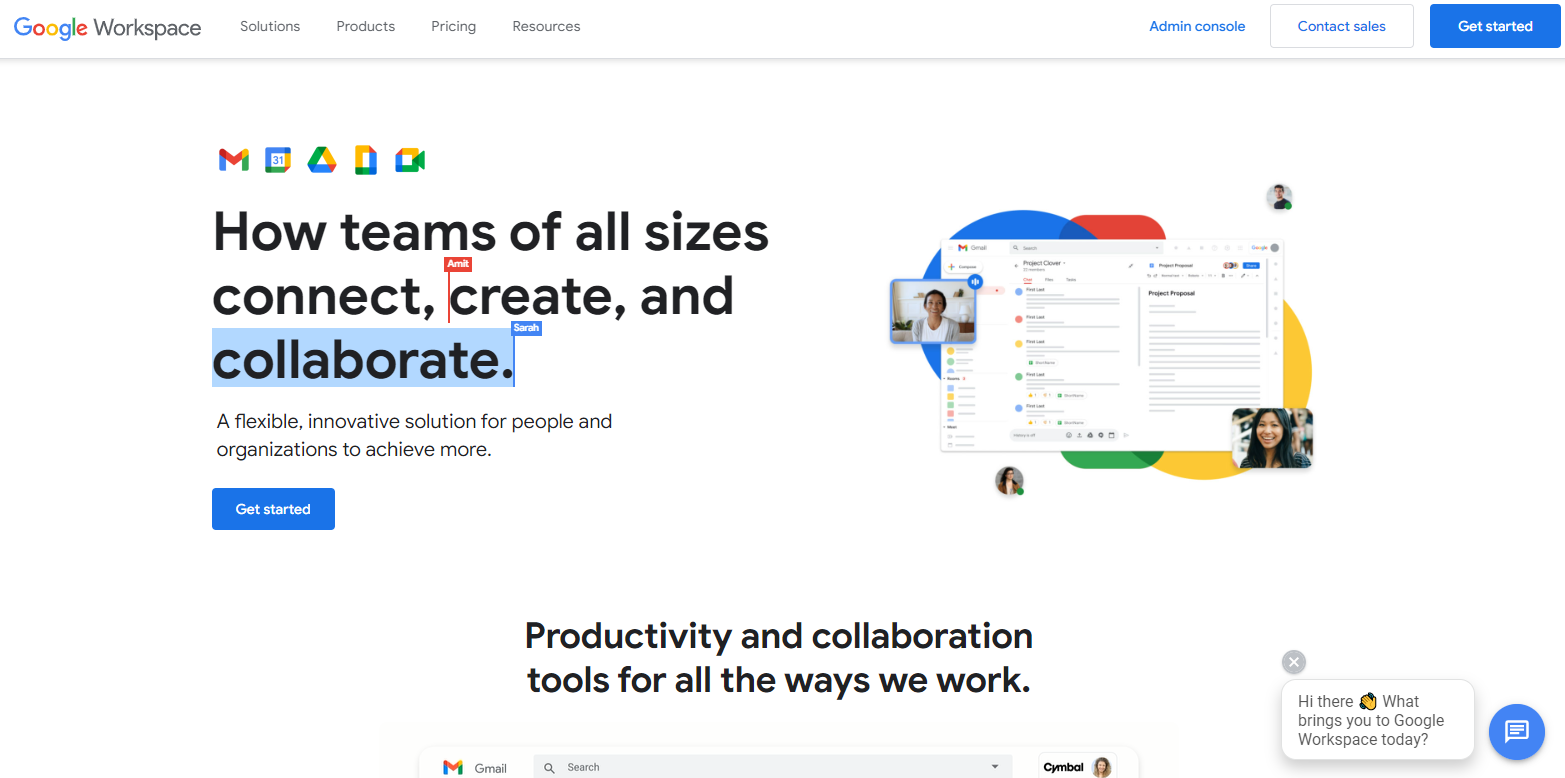 Well, this is a no-brainer, but the list is incomplete without the listing. Google Workspace applications are part of Google's most successful projects across various platforms.
All you need is a functional Gmail account. This can be your personal email address, or for more professional purposes, it could be registered using a company domain. The G-suite platform allows you to share an infinite number of docs, sheets, slides, and calendar invites across different users.
It becomes even more convenient when sharing these resources across users registered with the same domain name.
Key Features
Instead of emailing an Office doc and editing it offline, you can upload it to Google Docs and work with different users at the same time
Business sheets can be shared with relevant users and edits and improvements can be made in real-time
Multiple users can work on a presentation pitch at once
All data is stored on a cloud-based drive and is also accessible offline
You can add your work commitments to the Calendar using Google Assistant
Pros
Available access for multiple users helps save a lot of time
You do not have to use the system hardware's storage space
All employees can register using the business domain, giving relevant files and communications a more professional and branded touch
Cons
There are limits to the file sizes you can upload on Google Drive
Sheets are not as user-friendly as MS Excel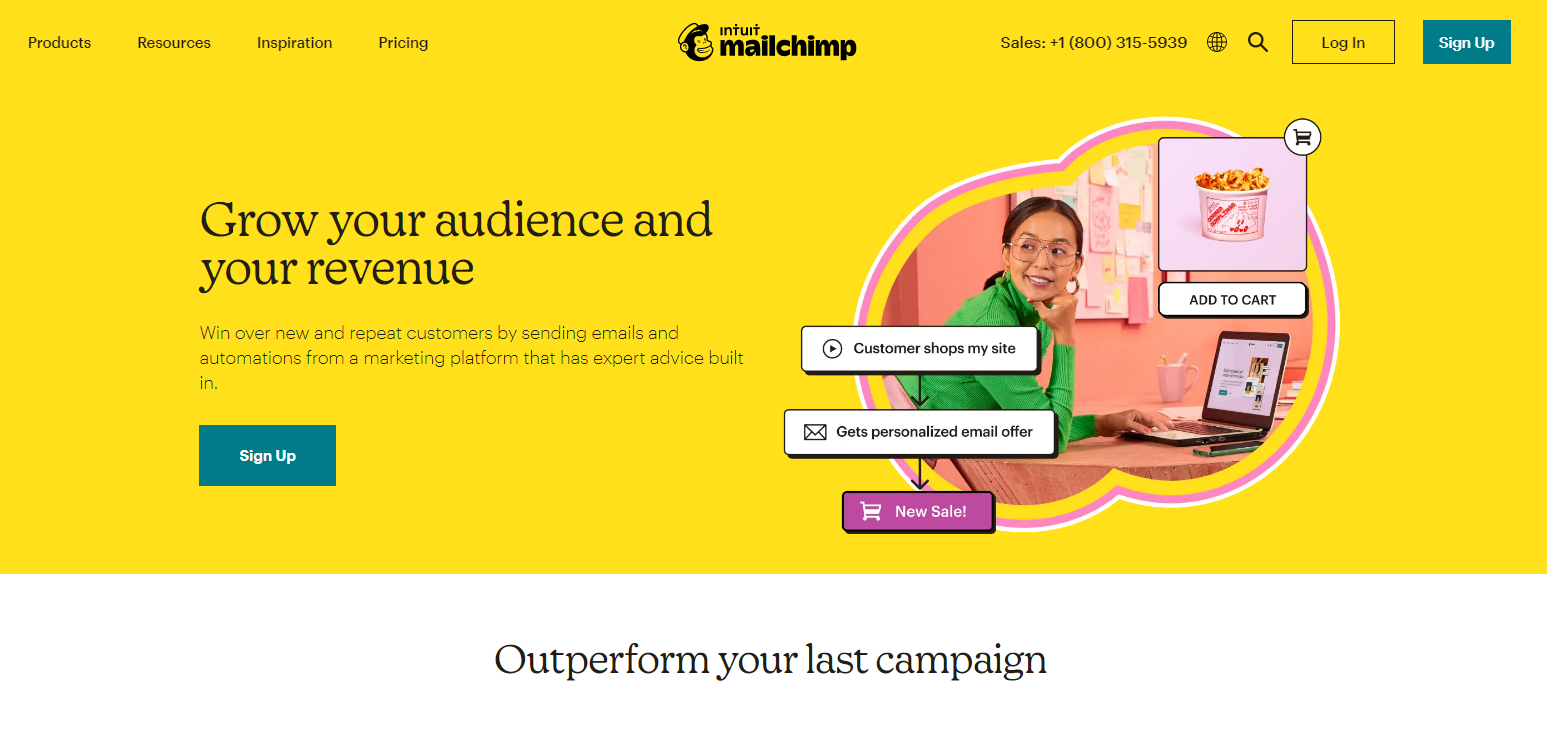 I cannot end this list without covering a tool for email marketing, can I? Even in the rampant age of social media and informal communications, Email marketing has successfully maintained its unique space and effectiveness in the digital avenue.
The major reason behind this is the personal interaction that a business can have with its customers over this platform. While digital ads have great conversion rates, Email marketing gives the business great control over how to move the consumer across the decision funnel.
Mailchimp acts as the ideal assistant while planning, executing, and monitoring such campaigns.
Key Features
The dashboard allows you to design your email template and add your brand colors accordingly
You can add various headings and sub-headings while using different fonts for these layers of texts
Different visuals and CTAs can be added to the email body
Mailchimp allows you to perform an A/B test before executing the final campaign
The conversion metrics such as open rate and click-through rate are monitored and reported by the platform
Pros
Mailchimp allows small businesses to run targeted campaigns, hence yielding better results
It automates an otherwise tedious process
The A/B testing feature allows comparison of different models before executing the final winner campaign
The metrics reported are easy to interpret
Cons
Mailchimp's interface can appear to be somewhat clustered
The readily-available templates are too plain and simple
Conclusion
That was some list, wasn't it?
There's no need to be overwhelmed by it, though.
It's just important to know which tools are vital for your business operations at hand. Identify your pain points and access one of these free tools to take care of the problem for you.
The best thing is, they're here to stay for free!
So while you're busy scaling other operations for your start-up, these tools would ensure your digital consumers are increasingly satisfied at all times.