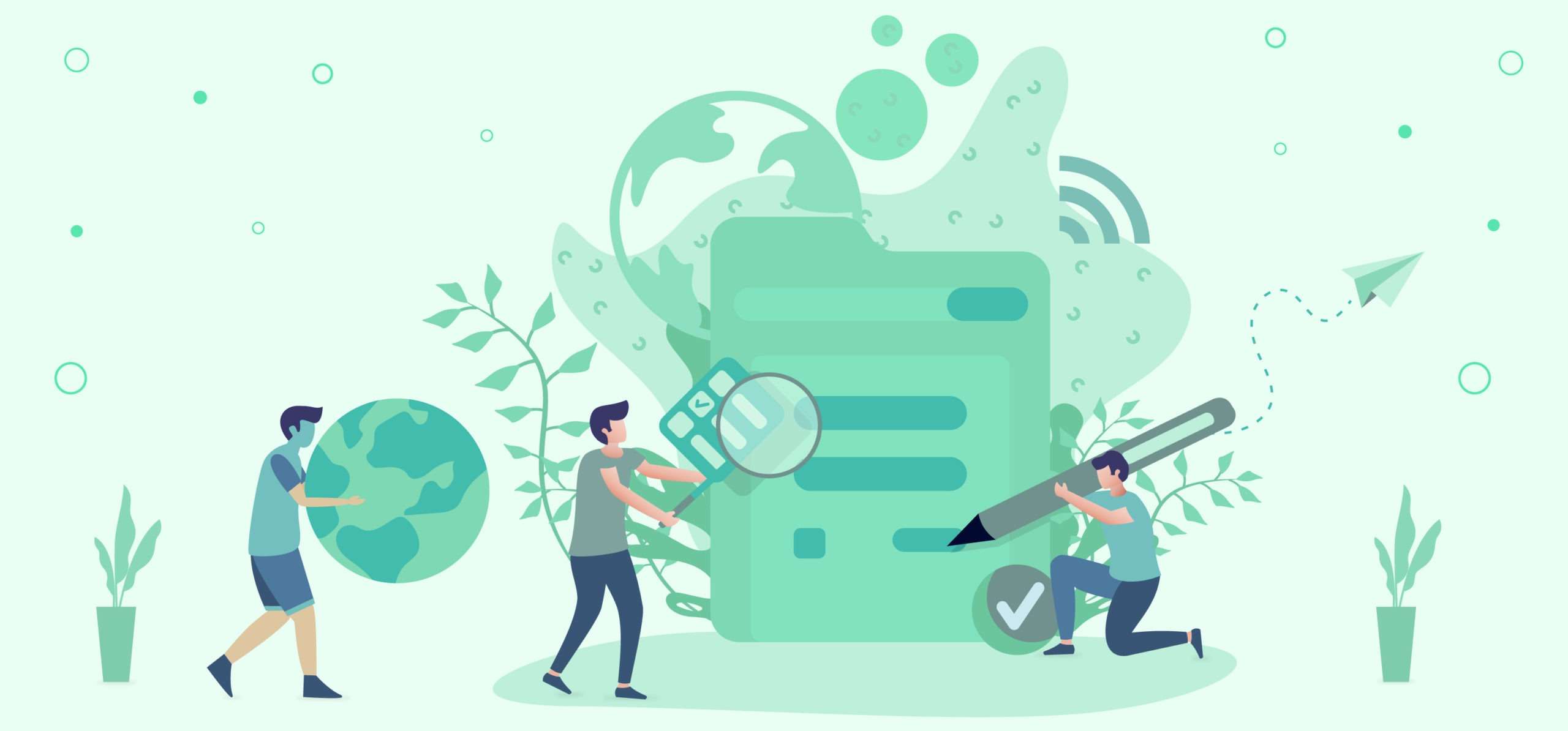 "When people use your brand name as a verb, that is remarkable." – Meg Whitman.
This line reminds us that a brand name carries as much value as we give it, and that it's much more than mere words.
We're all battling it out to make a name for ourselves. And, it's no exception that creating a perfect brand name can play a powerful multi-dimensional role for your business.
A name is often your first impression and likely the first thing anyone will come in contact with. So, it must be unique, remarkable, and easy to pronounce. Just like saying "Google" is a lot easier than "Global Organization of Oriented Group Language of Earth." You get the idea!
The best companies don't just churn out regular names and try to be exceptional. Instead, they put their brains to work and invest time in coming up with a name that's interesting and helps them tell the story.
There are different types of brand names. Creative, Evocative, Lexical, Historical, and the list goes on. So, the question is, how do you find an effective brand name and at the same time don't get bogged down in details?
The good news is that there are more than enough resources to help you out. So much so that we've curated a list that includes 17 of the best business name generators applicable to all types of businesses.
And, just in case you're on the go and want a quick overview, we've laid out the list below and the links so that you can jump between different sections and find relevant information quickly.
Here are our top picks:
1. Zyro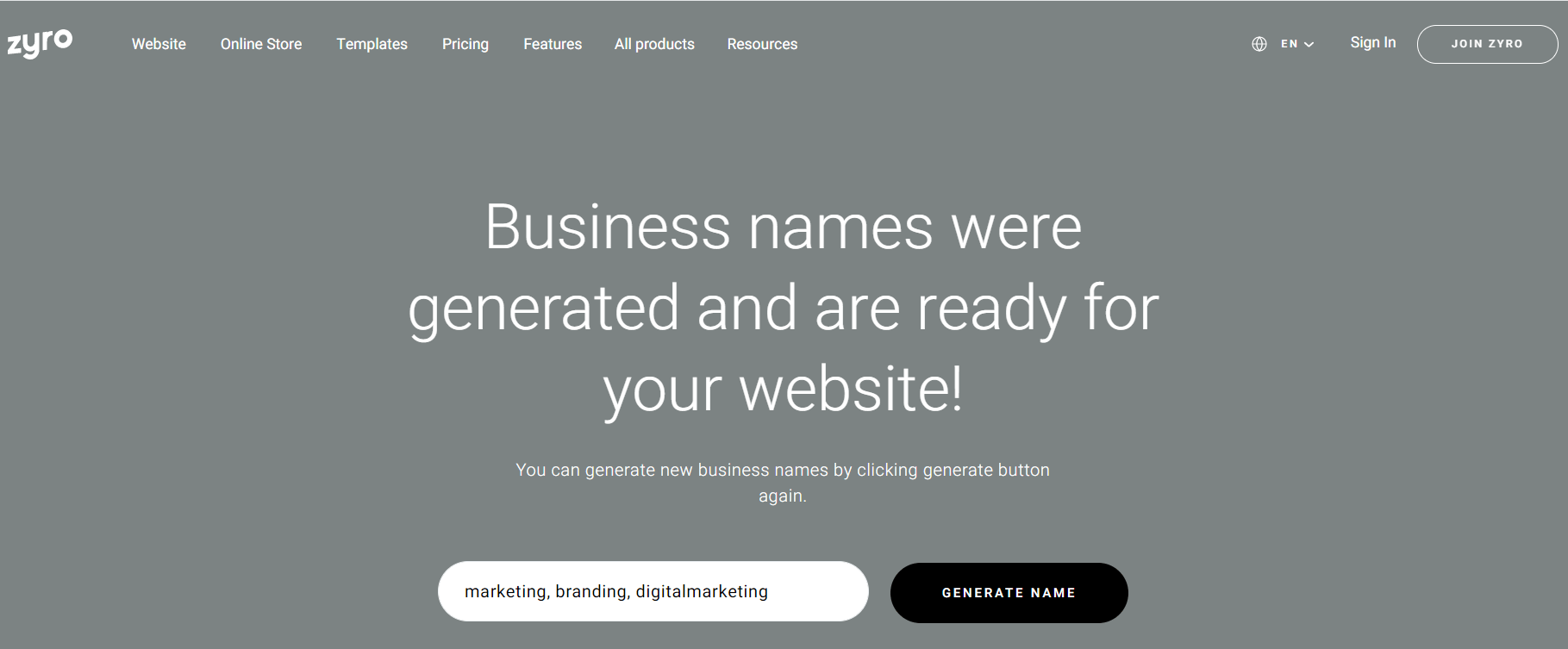 Zyro is a free AI-powered business name generator. It gives you dozens of professional business name ideas based on the inserted keywords.
You can put multiple keywords separated by commas to get a list of more targeted name ideas. And, if you're stuck at any point, you can refer to the bottom section of Zyro, which will guide you on how to pick the perfect name for your business.
There is no category to choose from, which means it's suitable for almost every niche. Interestingly, the name generator is not the priority of Zyro since it's a complete website builder.
However, if you need everything to look professional like a name, logo, and site,, Zyro is truly worth checking out.
Try Zyro business name generator.
2. BusinessNameGenerator
BNG – short for BusinessNameGenerator is more than just a name generator. Not only does it generate the best business names, but it also gives you enough filters and options to help you narrow down the naming process.
With its industry filter, you can check multiple niches to find more relevant names. The "result filters" are also a good feature that allows you to choose character count, number of words in the name, and other keyword functionality to pick a specific name.
Also, it has a domain check availability option that can instantly help you find names available to register. Unlike Shopify and Oberlo, BNG puts relevant industry filters automatically and outputs more than a thousand possible name ideas to choose from.
The variety in resulted names is pretty huge, and you can witness all types of names – creative, historical, modern, cool, and so on, to serve your business needs.
BNG is fast, smart, and free to use, and it's not limited to only business names. It can generate names for more than ten categories – Blog name, Startup name, Catchy name – to name a few.
With its advanced features and numerous options, it surely gives a tough fight to Oberlo and Shopify.
3. Shopify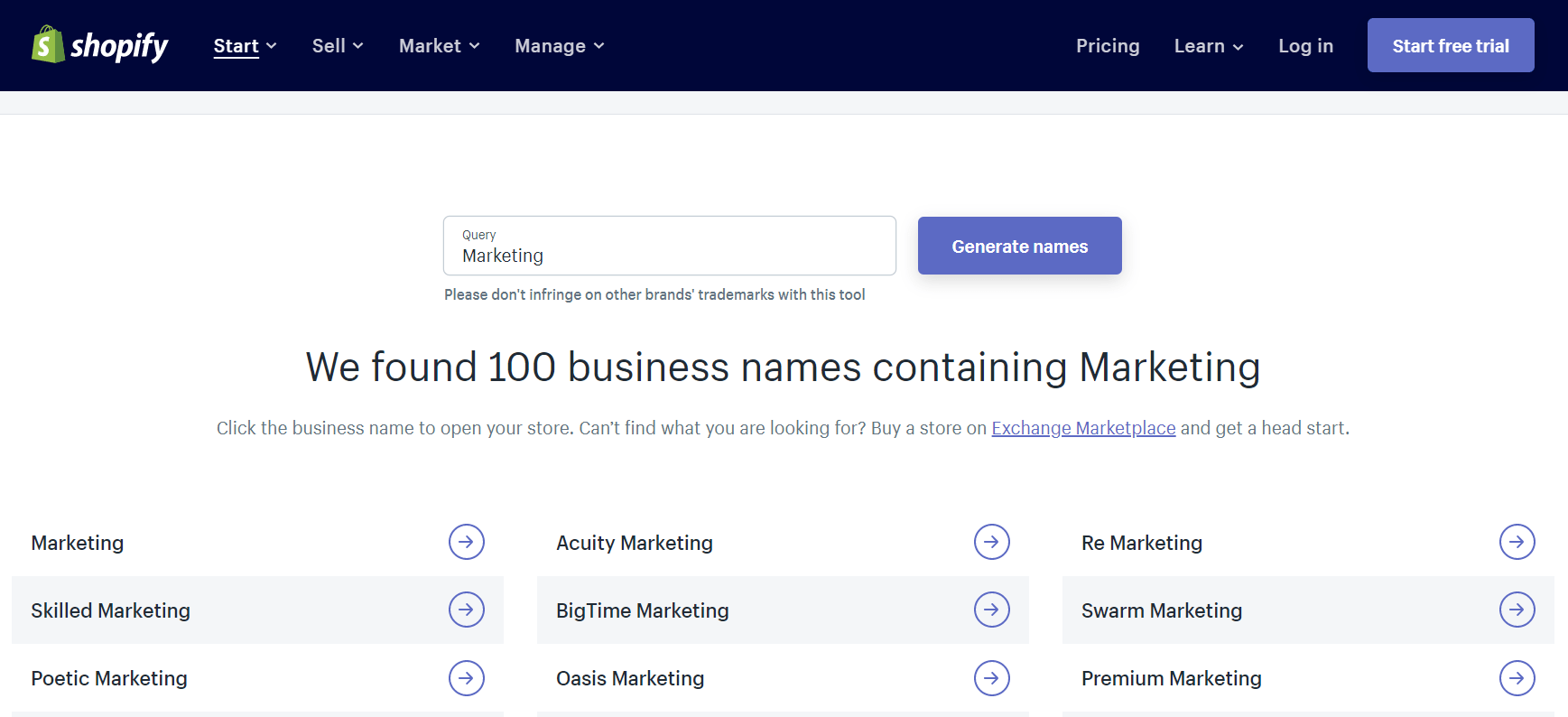 It's unlikely that you haven't heard of Shopify. It's a trusted and most popular eCommerce platform. The Shopify business name generator isn't much different from Oberlo. Both platforms look similar since Oberlo is a subset of Shopify.
However, the Shopify name generator is more preferred for small businesses, brands, and startups.
The Shopify business name generator is simple, fast, and completely free to use. Think of a word that best describes your brand, and then enter it into the name generator field.
Hit the generate button, and you'll get hundreds of possible catchy and memorable names, to help you break through the mental block. All the names generated can be used further for securing a domain name.
Also, the tool generates names for over 250+ specialties – which means whatever industry you're in, you can still have it for your business.
Try Shopify business name generator.
4. WebHostingGeeks
This tool is out of the box as it contains many great features. It allows you to define the type of domain (.com, .net, .org, .us, .au) you're looking for and the place (beginning, end, middle) where you want to insert the keyword.
Getting various name options isn't good enough if you can't check its availability for other social media channels. Save the side hustle because WebHostingGeeks helps you instantly check domain and Twitter account availability with a single click.
Its features such as various domain availability, placing keywords, and domain length setter can help you obtain an accurate targeted list of business name ideas for you to use.
WebHostingGeeks is innovative, feature-rich, and completely free to use. Just put the main keyword into the box, choose your options, and within a few seconds, it will give you a list of more than a thousand generated names for your business.
If you're seeking a tool that checks brand name and social media availability, this might be the best bet for you.
Try WebHostingGeeks
5. NameStation
As the name indicates, it's a complete one-stop platform for finding all types of business name ideas.
NameStation offers over 20+ types of keyword domains and multiple filters to create a targeted list of name ideas.
It generates thousands of relevant names and simultaneously allows you to check domain availability. When you enter the main idea, it automatically generates relevant keywords, thereby removing guess-work.
It's unlike that you won't find your business name in generated name ideas.
Still, if that happens, you can switch to a "domain name contest" where you can get help from the community to acquire the best business name.
NameStation is completely free, feature-rich, and a great business name generator. If you're not satisfied with previous results and want to dig a little deeper into the creativity pool, then Namestation is the perfect tool for you.
Try NameStation
6. Name Mesh
Its interface might look a bit clunky and filled with too much, but the features are truly worth trying it out.
Whether you want a common domain name or a new, fun, or mix – Name Mesh has got you covered. It also divides names into different categories.
With thousands of unique names in each category, such as SEO names, Short names, Extra names, this tool packs all the features you might need in an ideal business name generator.
Additionally, it has got a character length feature to set your word size and a domain availability checker (COM, IO, CO, NET) to make sure your favorite name isn't taken already.
Name Mesh is a unique, intelligent, and AI-driven business name generator. And, if you've got specific requirements for keywords, then Name Mesh is the best tool for you.
Try Name Mesh
7. Naming.net
What's great about Naming.net is that you can apply many filters and choose various options before getting the end-results.
Naming.net has more than six types of naming styles you can experiment with. It even allows you to choose the number of syllables and how many names to get appearing per page.
Additionally, it has got a domain name feature that lets you add all types of domain extensions and instantly check their availability.
In short, Naming.net is a quick and reliable name generator for your business name ideas.
Try Naming.net
8. Anadea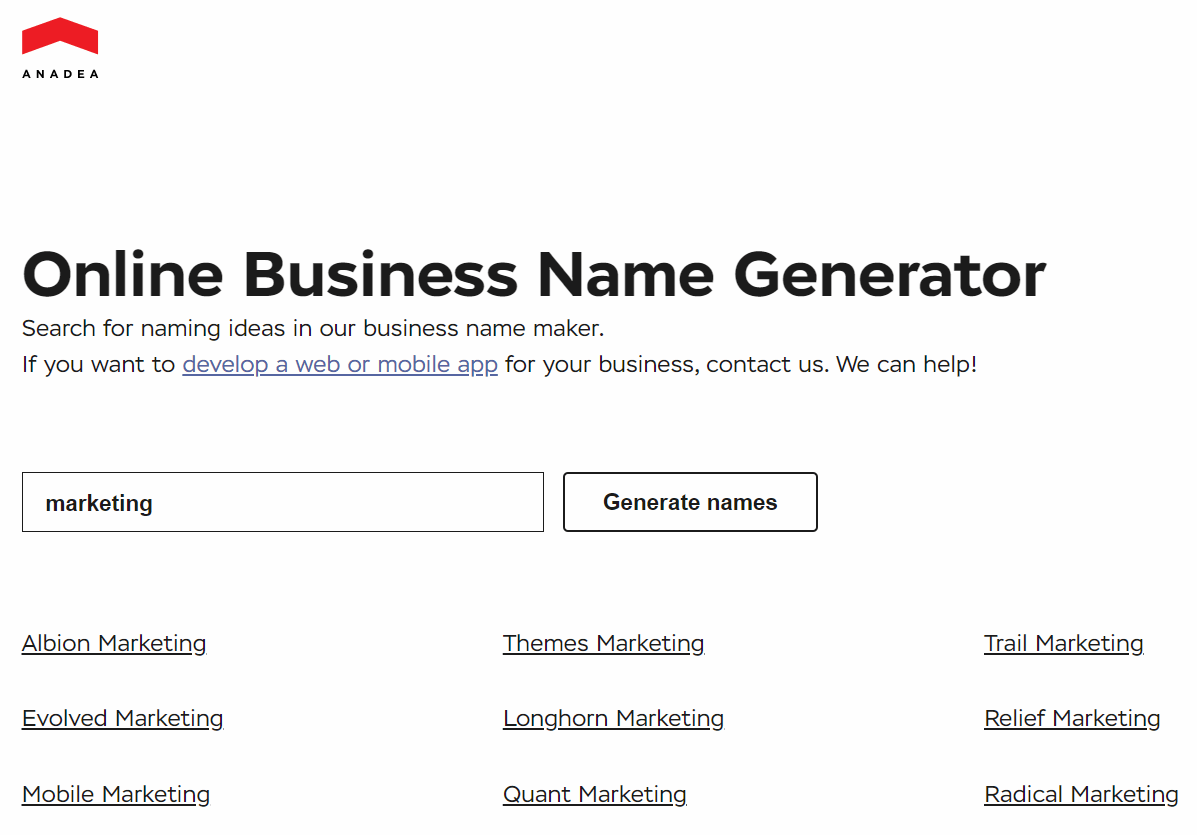 Anadea is a free business name generator that lets you find relevant and catchy name ideas for your business.
Enter a specific keyword you want in your business name and hit the Generate Names button. And, it will list out hundreds of possible exciting and cool names for your business to choose from.
The best part is, it will redirect you to a new page where you can get the quote for a domain and website building service.
The unique thing about Anadea is that it also generates website and mobile app names apart from brand or business names. Anadea is extendable and can generate names for various industries such as tech, travel, software, healthcare, and many more.
It doesn't give you a lot of options, but if you want a few selected names with their domain pricing, then Anadea is a good choice for you.
Try Anadea
9. Namesmith
As the name suggests, Namesmith offers different great features and suggestions to play with words creatively.
Just like Namemesh, Namesmith filters out generated names into different categories. The popular one includes "blend," which creates a brand new word by mixing two different words. Other categories include exact keywords, rhymes, pre-suffixes, and modifications.
Additionally, you can choose the wording styles – Modern, Greek, Japanese, and Aztech to suit your business requirements. Its domain checker will check availability for 10+ domains and gives you instant results.
It's fast, simple, and free to use. And, if you're on the lookout for catchy, cool, and out-of-the-box name ideas, then Namesmith might be the best bet for you.
Try Namesmith.io
10. Namelix
Another great one on the list is Namelix. It's a free business name generator with a modern touch suitable for all types of businesses.
Namelix comes with three great features to help you generate a more specific targeted list.
The first is brand keywords, where you can describe your idea or put the main keywords. Then comes the "preferred name length" that will allow you to choose between short, medium, and long names.
Lastly, a "brand name style" consists of various naming options such as Misspellings, Rhyming words, Real names, Popular names, and many more.
What's great, Namelix will show you both names and logos so you can instantly register a domain. Some of them are premium, while others are free to register.
Namelix is one of the best modern and cool business name generators. If you want a short and remarkable name for your business,, Namelix will likely get in touch with you.
Try Namelix
11. BrandRoot
Brandroot is an intuitive name generator to find the perfect name for your business or startup.
It's very much similar to Namelix regarding style, interface, and name ideas. Though it doesn't offer many features, the generated names are creative and catchy to be used for modern branding.
You can also check the domain availability and its pricing by just clicking on the names along with the names. Every name will have a custom-made logo with it, which makes it the complete package for your business.
The only downside is domain pricing. If spending on names isn't your top priority, then this tool might be expensive for you. Otherwise, it's a great free modern business name generator.
Try Brandroot
12. Company Name Generator
Out of all the tools, Company Name Generator has got the simplest interface and doesn't offer features.
However, the generated list of names is quite great, and all the name ideas look catchy and professional.
Surprisingly, the tool even generates random names even if you don't enter a keyword.
The tool is free from any interruptions. There are no tips or tricks, no filters, and no ads,, making it suitable for someone who loves a clutter-free tool.
In any case, if you're seeking more advanced features, this won't be a decent pick.
13. Oberlo
The less-obvious thing is to choose a perfect brand name, but most of the time, your favorite names are already taken, and you run out of options. But not with Oberlo. It gives you hundreds of name options with a single click. And, the best part is that Oberlo generates only those names for which domain registration is available. The one less thing to worry about!
All you need to do is put in a phrase or a keyword relevant to your business, hit the Generate Names button, and let Oberlo do all the work. Within a second, it will generate a list of all possible names that aren't extraneous but relevant, creative, and suitable for your business.
Oberlo is simple and free to use. You can put in the keywords an unlimited number of times and still have a bunch of creative names to pick from.
Out of all business name generators, Oberlo is the one that's suitable for almost any business. And, if the results don't match your search query, you can still try out different variations until you're satisfied.
Try Oberlo
14. NameSnack
NameSnack is a free and popular tool among the best business name generators. It's loaded with AI-driven technology and helps you find unique name ideas for your business.
First, enter one or two keywords that best represent your business and choose the category.
After that, hit the generate button, and you'll be able to get various brandable name ideas. Though the tool doesn't offer many filters, you'll still get some good names and noteworthy options to choose from.
Try NameSnack
15. SquadHelp
SquadHelp is an AI-powered name generator that offers a wide variety of features and name ideas to help you find a more specific name for your business.
The best thing about SquadHelp is, there are many filters to choose from, such as domain extension, syllable, word length, emotions, industry category, and style.
All name ideas come with a pre-designed logo that can go as high as $4,000. Hopefully, you can sort them in the price range and choose to pay one-time or in installments.
It's a great tool, given that it has a lot of filters and options to narrow down your naming approach. However, if you need some basic name ideas,, this tool might not fit into your pocket.
Try SquadHelp
16. Names4Brands
Names4brands comes with great features and filters to choose from. You can choose your preferred language from a set of 17 different languages.
Names4Brands offers additional features such as setting character count and choosing first and last word types from the drop-down menu.
Moreover, you can instantly check the trademark and domain availability for different names with a single click.
It's not a great tool, but a popular one due to its various filters and options.
You can't hope for professional name ideas, but if you only need a trigger to get started, then Names4Brands is a decent pick.
Try Names4Brands
17. Dot-o-mator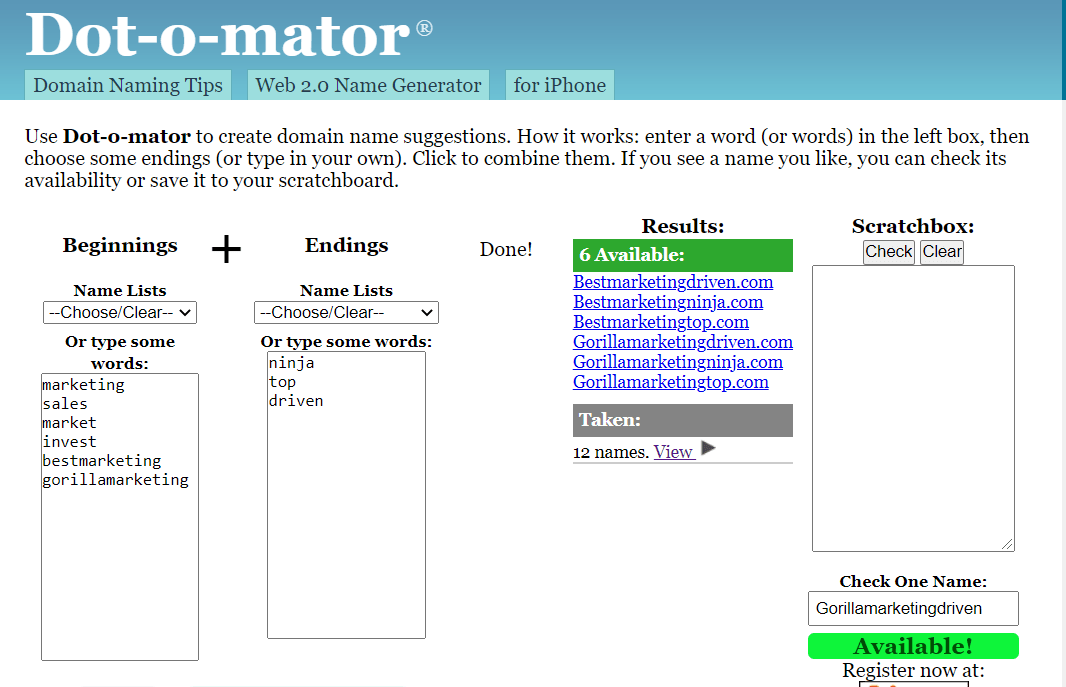 The last tool on our list is – Dot-o-mator. It's a free business name generator and has a different approach to finding the best name ideas.
Getting the list isn't a one-click process with Dot-o-mator. You'll have to enter a few beginning words in the left box and some ending words in the right box. Dot-o-mator will then combine both the lists to deliver a lot of name suggestions.
Additionally, you can check domain availability for different names one at a time. You can further choose to register a domain from its provided registrar.
Dot-o-mator is not perfect given that its UI is outdated and only works for mobile iOS devices. However, it's a good tool if you want to brush up on your name ideas.
Try Dot-o-mator
Pick Your Business Name – Summary
Picking the perfect name for your business is seldom arbitrary. It carries your brand personality that conveys its position, true values, and tone.
A good name can help you tie emotional strings with consumers and connect deeper with them.
But, in this era of limitless choices, one can find it hard to come up with a great name.
And, that's why we've covered the seventeen best business name generators for you to choose from.
Not all tools apply to your business. The best way is to try out a few of them and compare the results to make the best choice.
Still, having a hard time deciding?
Reach out to us. We'll help you create a unique and remarkable business name that benefits you in the long run.