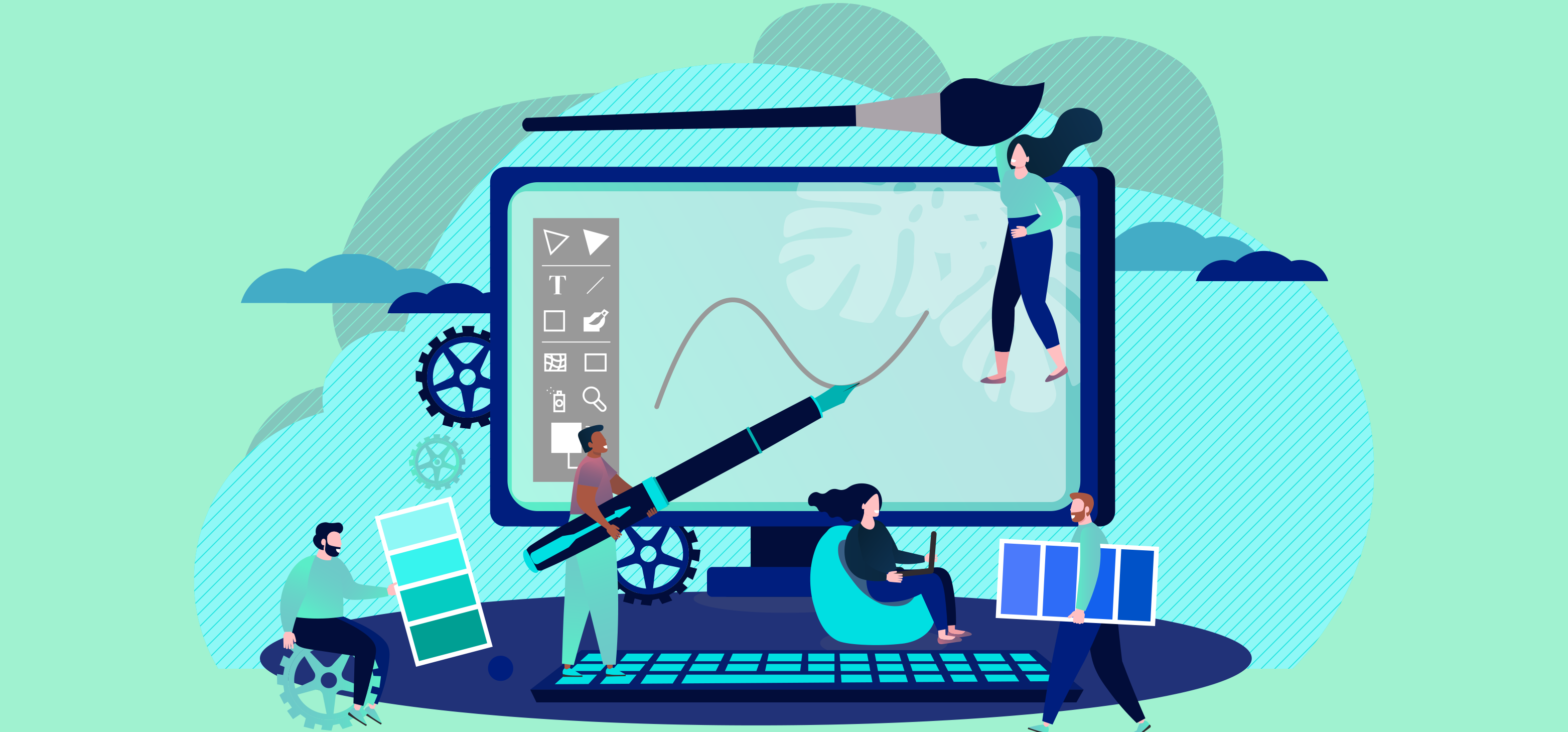 The blend of typography, motion graphics, illustration, and photography is graphic design.
Graphic design combines these elements to create appealing images that grab attention, sell products, and convey your brand message to your audience.
However, graphic design is much more than just appearances.
It is as much an art as a science. When used effectively, graphic design can boost marketing as well as messaging through attractive visual cues.
Whether you run a business and you need graphic design for your branding, advertising, or website marketing campaigns, or you are a graphic artist who is a beginner or working from home.
Having the right tools is of paramount significance when you are practicing art as complex as graphic design.
In graphic artistry, up-to-date software is everything to keep up with the changing trends in the industry.
If you are confused about finding the best graphic design tools, here is a compilation of the top 20 graphic design software for you. Dive in!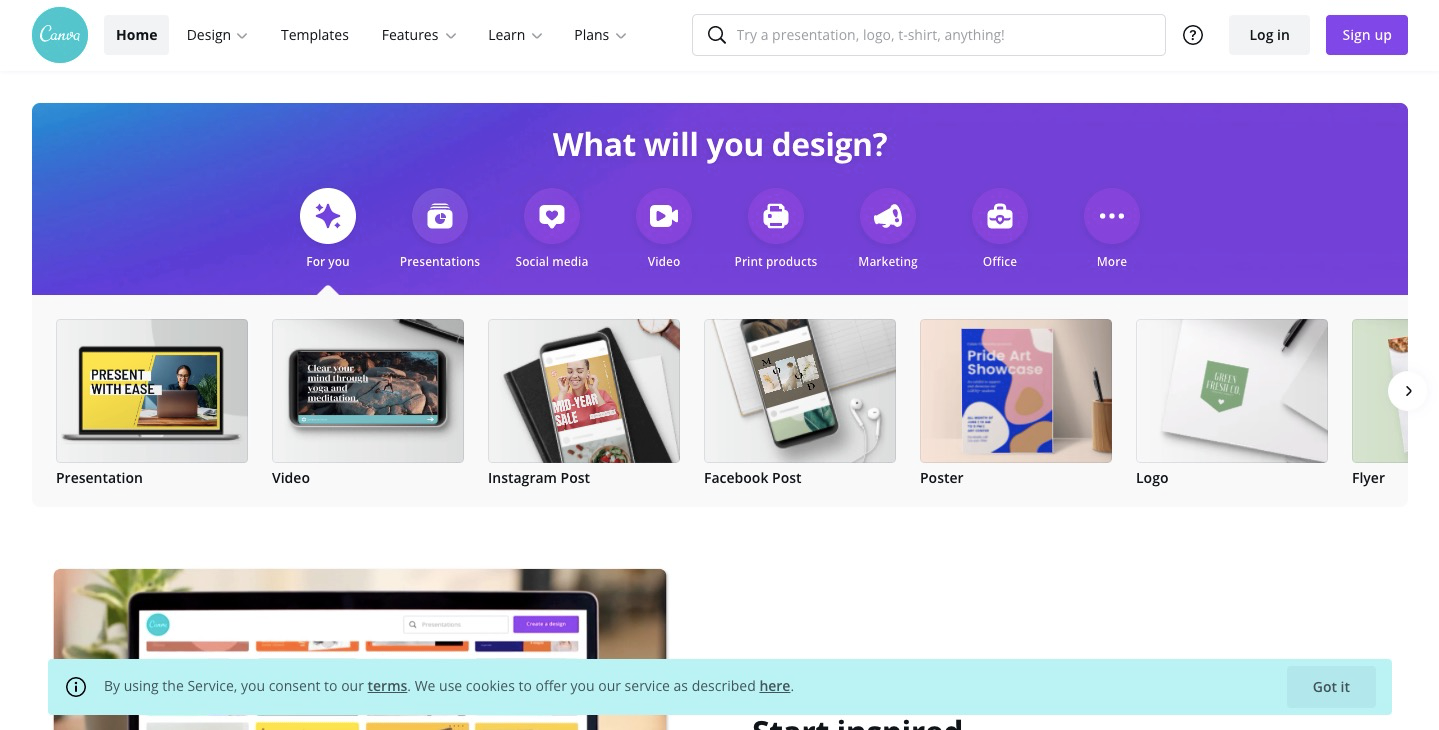 Canva is our #1 recommendation for designing graphics online for anyone.
Whether you're a professional or beginner, you're going to find Canva helpful in every use case.
This is a cloud-based platform that enables users to create stunning and professional-quality graphic designs. The drag-and-drop editor is absolutely effortless to use, and the program can be used by beginners, professionals, or teams to create share projects.
You have access to over a million images, graphics, and fonts to create designs quickly.
There is a vast library of templates that allow you to configure and create designs easily, and you can publish your designs on the platform or download and print designs.
Canva is free for teams that have up to 10 members, and the free version comes with access to over 8,000 templates and 1GB of storage.
If this doesn't serve your purpose, then there is also an inexpensive plan that unlocks more features, advanced tools, and unlimited storage.
Canva Pro gives you access to thousands of custom icons, premium stock photos, brand kits, templates, collaborative tools and great support. And it is very affordable.
Key features:
Stellar photo effects
Teams feature
Icons and frames
Design cropper
Photo grids
Pricing: The free plan from Canva offers plenty of tools and elements to design outstanding graphics. If you want to avail of the Pro features, the subscription starts at just $12.99/month for up to 5 team members.
Adobe Illustrator is a vector graphic solution that is highly suitable for professional artists and graphic designers.
It hosts a wide array of tools that can aid in the creation of website designs, logos, prints, and posters.
Mostly, Adobe Illustrator works well with vector graphics, allowing the artist to come up with beautifully created topography, designs, illustrations, and sketches.
It is industry-standard vector graphics software that can scale artworks to any size while keeping the quality intact.
There are built-in presets and templates in Adobe Illustrator that make design creation faster, and the integration with the Adobe Creative Cloud makes it easy for users to share their projects without any hassle.
Key features:
Interactive UI
Wide range of features
Built-in design presets and templates
Snap to pixel capability
Pixel perfect designs
Pricing: The subscription for Adobe Illustrator is available in a variety of pricing plans that start at $29.99/ month.
The professional typesetting and layout tools combined with the premiere page layout and design solution make Adobe InDesign the best option for creating and publishing documents for print as well as digital media.
Desktop publishing software can be used to design brochures, posters, flyers, magazine covers, reports, landing pages, and many other projects.
Users can create interactive eBooks, PDFs, and whatnot; they can collaborate with different writers and editors for inspiration and configure their program with Creative Cloud libraries for better access.
Key features:
Alternate layouts
Content Conveyor
Text frame fitting feature
Liquid content
Digital publishing
Pricing: The pricing for the Adobe In-Design CC starts at $29.99/ month.
This feature-enriched Infographic maker comes with a massive library of templates and themes with which you can customize your projects very easily.
Piktochart is a cloud-hosted graphic design software that has a simple drag-and-drop editor that can be used to tell visual stories with reports, infographics, slide presentations, or posters.
All you need to do is select a design or layout from the 600 pre-built templates, and you can add multimedia, tweak fonts, edit images, and whatnot.
Key features:
Animation
Data transformation
Content management
Media library
Reporting and analytics
Offline editing
Pricing: It comes with a free forever plan for starters. If you want to work at scale, it offers a Pro plan at $14/per member/month. If you have even bigger requirements, you can ask them for a customized plan.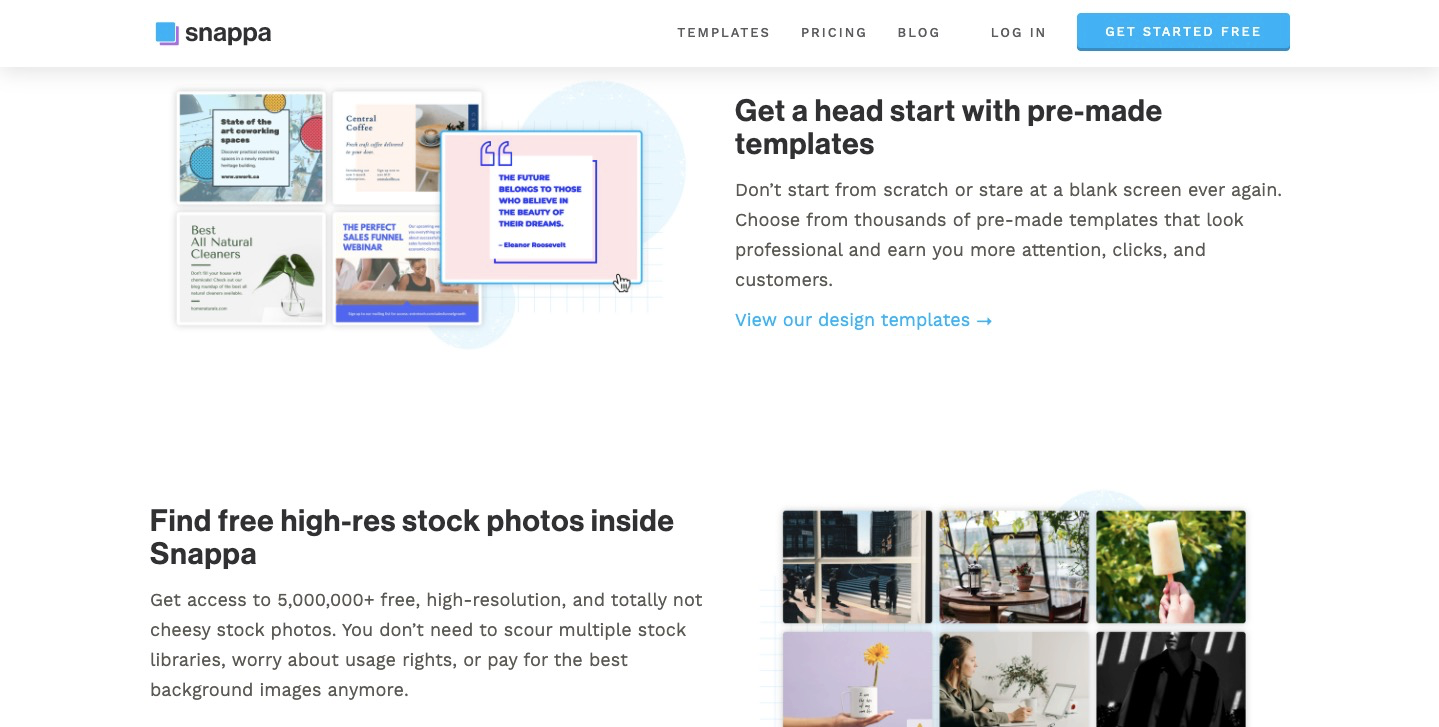 Snappa allows users to create visual content without having to deal with the intricacies as in other image editing platforms.
It has an extensive range of free-to-use graphics that allow users to create designs without spending a penny on images.
On the platform, you can collaborate with your team members to work seamlessly with your group. You can share your visual content easily and use the visual assets library for inspiration, in case you are facing a creative block.
Snappa also has the feature of graphic resizing editing along with social media connection, and a diversified range of templates, so that editing and creating graphics can be a piece of cake.
Key features:
Visual assets library
Graphic resize
Graphic editor
Templates
Custom fonts
Price: There is a free trial and the starter pack is free, but if you want to unlock the premium version then the subscription starts from $10/month to $20/ month with the annual billion option.
Millions of graphic artists use Adobe Photoshop around the world to create naturalistic artwork and composition.
Whether it is about the banners, posters, websites, or logos and brochures, Adobe Photoshop is the most efficient software to work with everything, starting from small edits to sophisticated designs.
Especially if you are looking forward to image manipulation, Adobe Photoshop is your one-stop solution.
Artists can use the software to isolate elements from their image background, define the size of their canvas, create custom brushes, harness the power of 3D, and do much more.
Photoshop practically has a limitless skill ceiling, which makes it one of the best graphic design software for beginners as well as pros.
There are plenty of design tools for image editing, and the integrated stock library is an inspiration for all artists.
Key features:
Selection tools
Vector mask
Retouching tools
Smart objects
Photoshop 3D
Pricing: Photoshop provides a 30-day trial and the plans start from $9.99/month to $52.99/month.
Stencil, a cloud-hosted graphic creation app, offers a swift way of crafting and sharing visual content.
There are background photos, icons, and graphics, Chrome extensions as well as support for Google web fonts. You can customize the graphics easily and upload fonts.
Stencil also has a huge selection of handpicked, quotes and stunning templates that you can use.
There are over 650+ amazing templates and you get to create unlimited images/month. As the tool was created with simplicity and ease of use in mind, it is suitable for beginners as well as tech-savvy users.
Key features:
Fonts upload
100 Instagram SMS/month
Over 1.3 million photos
Instant resizing
Integration with Buffer
Pricing: There is a free trial period, and then the plants start from $9-$12/ month.
This open-source editing software is free with a ton of features, including image manipulation. GIMP can be used by designers to fine-tune images and create stunning artwork from mundane photos.
GIMP offers wide extensibility and customization through configuration with different program languages. It provides features such as image enhancement, noise reduction, adjustment tools as well as customizable brushes.
There is a handful of downloadable and pre-installed plugins on the platform to enhance the productivity of users.
There is also the feature of supporting third-party plugins and uses can benefit from advanced tools like layer masks, filters, Bezier curves, and animation packages.
Key features:
Advanced Manipulation
File handling
Animation
Extensibility
Tile-based memory management
Pricing: Free
Incredibly smooth for speed and precision, Sketchbook offers an extensive array of creative sketching tools that can simulate the feel of conventional drawing tools.
Using Sketchbook you can fill the transparent background of the line images with ink and color. T he on-premise sketching app is great for creating beautiful illustrations, visual designs, and artworks on desktops and tablets.
Sketchbook accommodates a rich toolset with a flawless interface where the toolset includes gradient fills, custom brushes, blending modes, color library, advanced layers, stroke stabilizers, perspective guides, etc.
The software supports different image formats such as BMP, JPG, PNG, PSD, and BMP, and you can use it on desktop, mobile, or tablet.
Key features:
Highly customizable tools
Hundreds of brushes
Dynamic symmetry
Natural pen interaction
Smooth lines
Purpose-built for sketching
Pricing: Free to use with in-app purchases for interactive elements.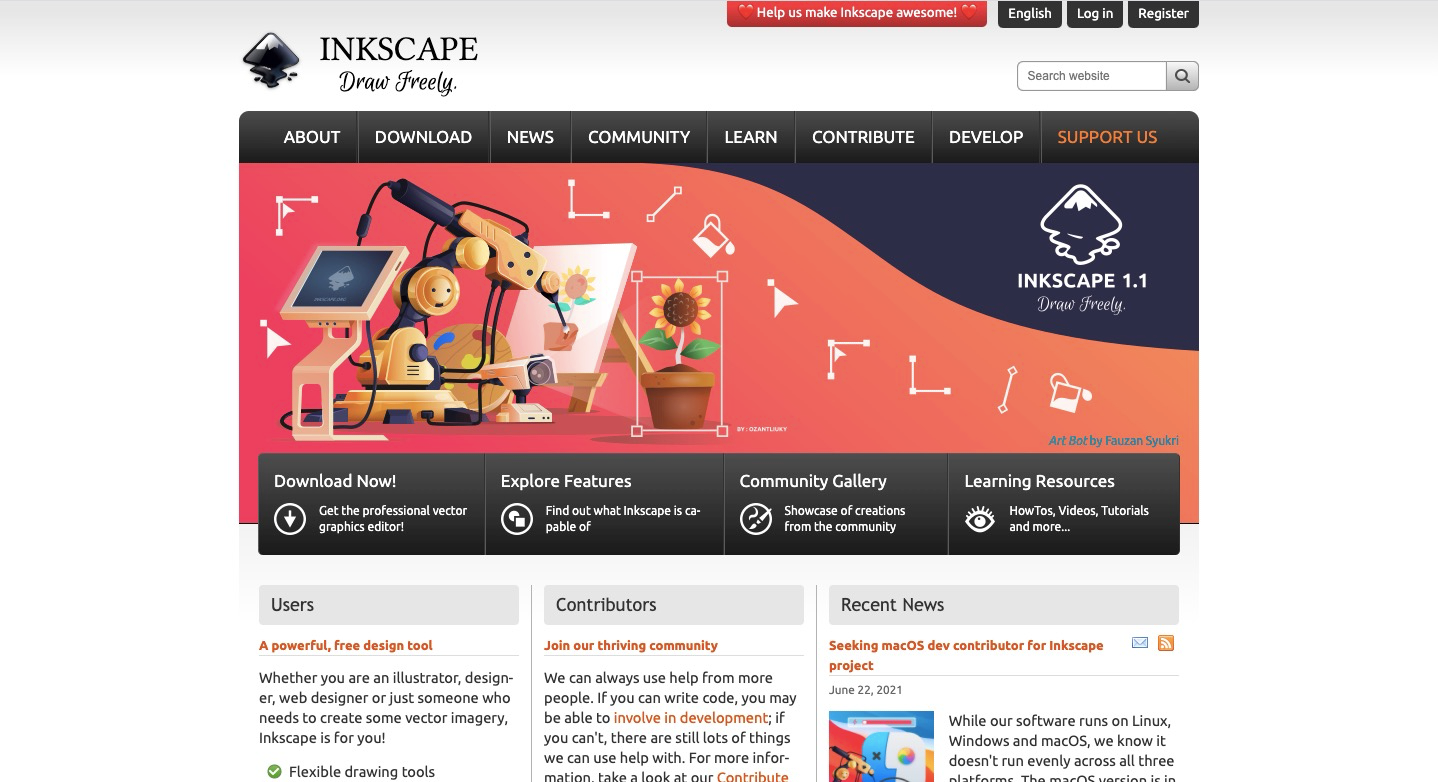 This feature-rich, open-source, robust design software works on any device and on any OS.
Inkscape hosts a wide range of compatible file formats and an extensive range of tools and capabilities that are needed for vector imagery.
The tools accommodated in Inkscape can be used to manipulate diverse graphic aspects, including paths, shapes, clones, text, transparency effects as well as gradients.
Key features:
File formats
Grouping objects
Fully anti-aliased display
Path simplification
Boolean operations
Pricing: Free
Pixlr is a free online image editor that provides users access to a comprehensive set of editing tools from anywhere and anytime.
It offers a full-fledged suite of web-based image editing applications that can function on any OS or browser.
Pixlr provides tools for quick tweaks and image files without compromising on quality.
There are different features starting from basic and professional-level enhancements, over two million filters, templates in the multiple-image formats as well as effects which makes the software a handy tool for editing on the go.
There are more than 500 million total users on the platform, and Pixlr is a combination of four apps, named as- Pixlr Editor, Pixlr X, Pixlr Express, and Pixlr Pro.
Key features:
Color replace
Adjustments
Layers
Effects and filters
Brushes
Image retouching
Pricing: Pixlr is a combination of four apps, named as- Pixlr Editor, Pixlr X, Pixlr Express, and Pixlr Pro. The last one comes with a reasonable subscription fee of $4.99/month for Premium features and $29.99/month for unlimited access, whereas, the first three are free.
Professionals and beginners use Venngage software to create stunning infographics within a snap.
It can aid you in swiftly relaying your stories and presenting your data with templates, visuals, and charts.
All you need to do is to use the drag-and-drop interface, and you can personalize your design easily by adding a wide variety of multimedia design elements.
Key features:
Unlimited support
Add multiple pages
Privacy controls
100 image uploads
Pricing: For students, the plan is free, whereas, for individuals and businesses, the plan starts at just $19/ month.
Corel PaintShop Pro is an easy-to-use image editing software that comes with an extensive toolset for sketching, drawing, image editing, etc.
It is accompanied by five creative core applications, and there are pictures to painting presets that use AI to morph simple images into artworks.
The platform is highly customizable, and so you can come up with your own editing environment, and the high-grade tools enable you to create graphics, edit images and improve photos without burning a hole in your pocket.
Key features:
Red-eye correction
Interactive UI
Output formats
Layers
Bitmap to vector conversion
Adjusting image colors
Pricing: Corel PaintShop Pro is available in two enterprise pricing plans that start from $63.99.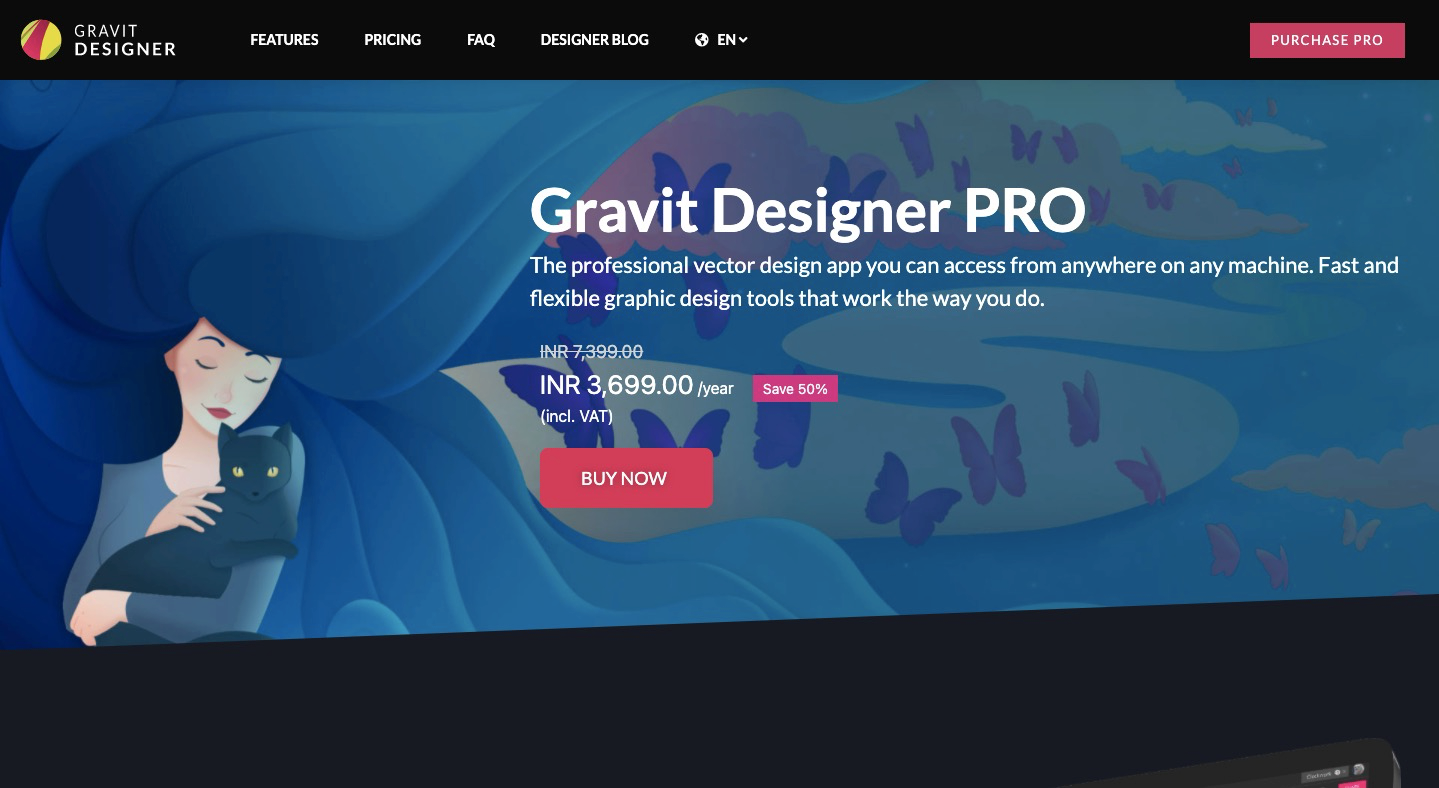 This feature-rich vector graphic design software has an intuitive and clean UI that runs on any OS, browser, or device. You can use the software to make presentations, screen designs, illustrations, high-quality icons, prints as well as app designs.
There are grids and auto-layouts with multiple effects, styles, and a robust text engine.
On Gravit Designer, you can get dozens of predefined dimensions and presets to customize and curate stunning graphics without any setbacks.
Key features:
Powerful grids
Text and vector integration
Multiple styles
Powerful pages
Export facility
Pricing: The prices start at $49.99-$99.99/ year.
DesignBold is a robust, user-friendly online design platform that can help anyone to create eye-catching, professional-looking visual content for digital or print media in a matter of minutes.
Anyone without prior design software experience and expertise can use DesignBold to create stunning documents, graphics, images, and more.
There are hundreds of editable design templates on DesignBold.
So, whether you are working on Instagram posts, Infographic, or party invitations, the graphic design platform will always have a pre-built template for you that you can easily customize with the drag-and-drop interface. The software also gives you the option to create your own template from scratch, if you prefer that.
Key features:
Millions of images
High-resolution download
Thousands of font types
Save directly to Dropbox
Drag-and-drop designer
Pricing: There is a free trial of the software post which you can buy the $19/ month Pro plan or the $49/month Team plan.
This free, open-source drawing editor can enable users to recreate vector drawings practically and store the SVG files and editing preferences locally in your system.
The software can run as an add-on for your browser, and its fast, JavaScript-powered SVG drawing editor, along with the cross-platform compatibility, is a delight to work with.
Key features:
Freehand drawing
Polylines
Concert shapes to path
Align, zoom, layers
Wireframe mode
Pricing: Free
Autodesk 3ds Max offers top-of-the-line 3D modeling, rendering, and animation tools, and so the platform lets you create immersive game worlds, environments as well as characters that look completely real.
The modern UI and customizable workspaces are bliss, and the platform is interoperable with third-party animation as well as rendering engines like Unreal and Unity.
Key features:
3ds max fluids
Rendering in A360
Max creation graph controllers
MAX to LMV
Particle flow effects
Live Link with the brand new Stingray game engine
Pricing: The price schemes for AutoDesk 3Ds Max start from $185/month.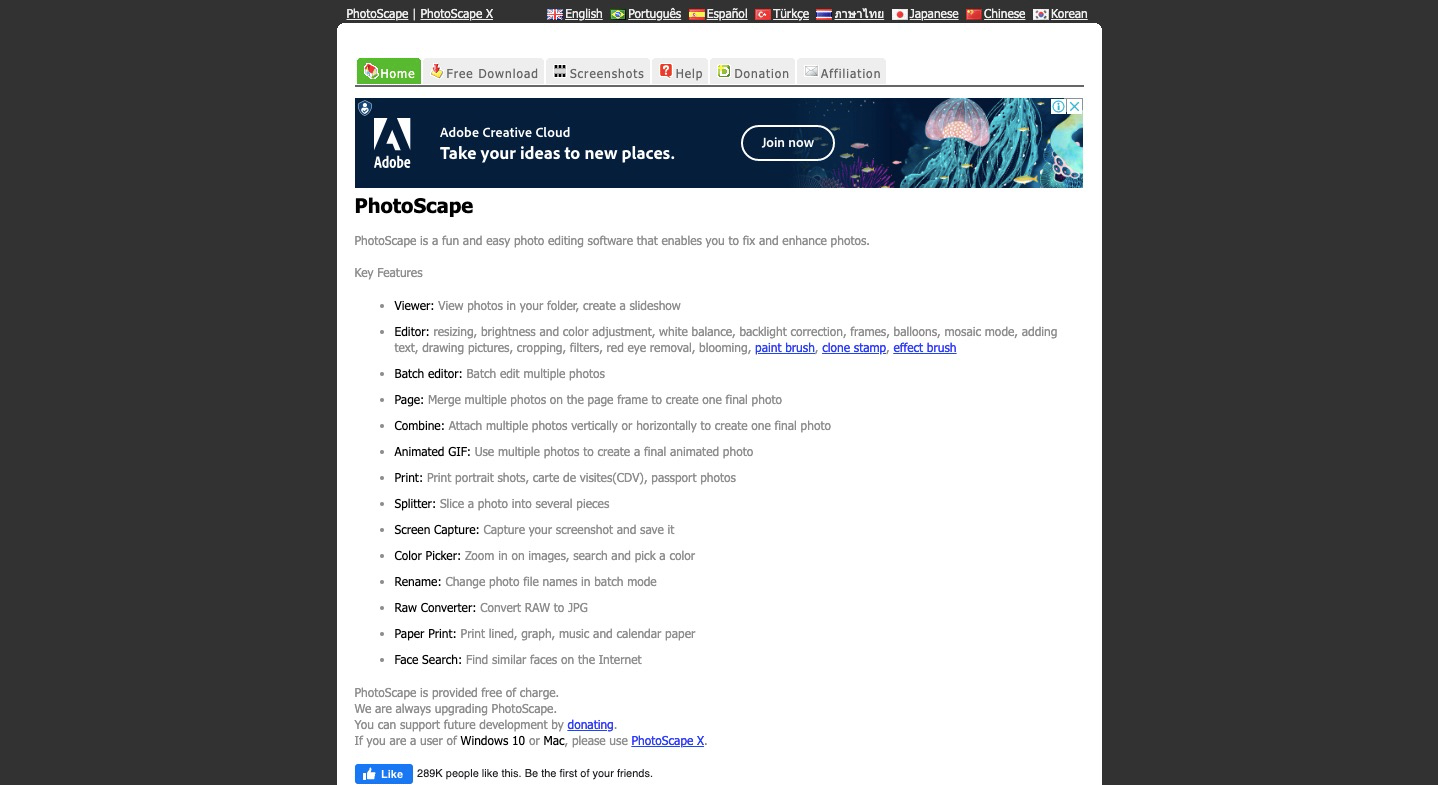 PhotoScape is free, fun, and easy-to-use software with integrated graphic design and editing solutions.
The program is available in more than 30 languages, and there are dozens of features in the on-premise package.
The software includes a photo viewer, image editor, animated GIF maker, page merger, and more.
It has drawing, text, and design tools like paintbrush, filters, effects brushes as well as a clone stamp, and you can make adjustments in color, resolution, size, gamma, brightness, backlight, and more. The software is cross-platform compatible and is absolutely free for Windows 10.
Key features:
Page creator
Photo editor
Photo splitter
Animated GIF
RAW to JPG converter
Face search
Pricing: Free
If you are searching for flexible and fast graphic design software, then this is your way to go solution.
The Xara Designer Pro is a high-performance vector rendering engine with an integrated program for page layout, image editing, web design, illustration, etc.
Key features:
Consistent interface'
Unlimited undo/redo
Direct automation tools
Solid object editing
Page layout
Enhanced zoom
Price: The price of the Enterprise license for Zara Designer Pro starts at $299.
Easelly truly lives up to its name because of its easy-to-use features.
You can create stunning infographics with the help of templates and tools available on the platform, and you can collaborate with users from across the globe to create more complex designs and to confirm your professional as well as aesthetic standards.
The best part is this software, along with the templates, is available for free, so you don't have to spend any sort of money on the software.
Key features:
Text menu
Objects
Infographic creation
Design templates and images
Grid view
Background customization
Image file formats
Dynamic charts
Price: Free
Conclusion 
Graphic design is all about creating stunning visuals with technology.
Whether, you are looking forward to designing simple advertisements, or you are into elaborate website designs and social media brochures, an avant-garde graphic designing software can always come in handy.
A brilliant designer can do wonders with designs, but the flexibility of a good graphic design program and intuitive controls can make all the difference. So, select the best graphic design tool based on your design preferences and budget, and create bewitching designs.