Information graphics have become a standard for workplaces, classrooms, and online communication since the COVID 19 pandemic. And let's be honest no one has either time or energy to go through tons of data. What people rather want and enjoy is visual representations of the data.
You can easily engage people and capture their attention through infographics. Such Information visuals combine data visualizations, imagery such as bar graphs and pie charts, and minimal text to convey a topic in a rather clear and appealing manner.
A successful infographic is more than just an engaging and exciting visual. It must aid in understanding and remembering the infographic's content. The purpose of infographics is to build awareness of a company's brand and to engage customers about topics relevant to the company.
The use of infographics not only enhances learning retention in businesses it also effectively communicates your point to your audience. But there are thousands of tools available in the market and choosing the best can be troublesome.
Use our list of 12 best infographics tools and software to pick the right one for you.
Another popular tool that is specifically designed for non-design professionals is Visme.
Visme skyrockets your creativity with its wide range of templates, predesigned content blocks, fonts stock photos, vector icons, and a lot more. Its user-friendly interface lets you create presentations, graphs, reports, data visualizations, videos, etc. in no time.
The Visme library contains over 150 fonts, 1.5 million stock photos, 50 graphs, data widgets, charts, and maps. You can access Visme templates from any device and turn boring data into engaging and visually pleasing infographics in both online and offline modes.
Furthermore, you can collaborate with a team or work individually. You can also organize your work in specific folders and give access to any specific folder to anyone you want.
Make use of Visme automation features to display or publish your work. You can easily automate the analytics and online presentations by scheduling the time for publishing. Moreover, you can track your published content and measure its effectiveness too.
Key Features
Millions of customizable visuals assets are available through the drag-and-drop editor
Easy import from Google charts or Excel
With the brand kit feature, you can save your brand elements for future use
Hundreds of content blocks are available in the content block library
You can easily adjust the size of infographics using vertical adjusters
With Visme's advanced collaboration features, you can create and design with your team
Pricing Plan
You can get started with Visme free version, which gives you access to numerous features. The Personal plan starts at $29/mo and includes 250MB of storage and full access to templates and assets along with other features.
The business plan costs $59/mo and includes more advanced features like the brand kit, analytics, integrations, etc. along with 3 GB of storage. If you need more storage you can get a customized plan by contacting the Visme team.
Canva is the most popular and user-friendly infographic tool. Depending on your specific design needs, Canva offers a wide range of templates. You can purchase or replace the elements in some templates with your own.
Most templates come with free icons and pictures for creating beautiful projects and presentations. You can use Canva in classroom presentations as well, students can learn the basics of digital design using Canva as a powerful design tool in education.
Through its easy-to-use interface, anyone can edit photos, create layouts, and more. Canva is well suited for creating guidance, posters, and more for use both in the classroom and outside.
Key Features
A web browser or an iOS or Android app can be used to create an account, and everything works both ways.
You can edit images and create projects with Canva's drag-and-drop interface.
You can create the most intensive image-based projects on any device individually or as a group.
Canva library hosts more than 250,000 templates, thousands of photos, videos, and graphics
Canva automatically saves your work so you can start right from where you left
Graph templates provide an engaging way of displaying data that specifically involves numbers
Pricing Plan
Canva offers its free plan with hundreds of templates and designs with 5 GB of storage.
Canva Pro costs $6.49/mo with tons of features including access to premium stock photos, designs, templates, videos, and more.
Making infographics can be especially daunting for beginners, which is where a software such as Edraw Info comes into play. It is designed to be as easy as possible, with the process broken down only into 5 steps.
A visually striking infographic will then be generated within minutes.
These steps are broken down into the following:
Select a template
Use Library Symbols
Add Text
Customize Details
Export and Share
Edraw incorporates a lot of templates and symbols. A one time purchase is required, after which you own it forever. In addition, it always works fast in spite of the speed of your internet connection.
Key Features
A variety of templates
Impressive infographic software.
A variety of clip arts
Ability to save in different formats.
Pricing Plan
EdrawMax is a lifetime plan. It utilizes one account for multiple devices and has unlimited lifetime access. This is currently for $198 and consists of more than 280 diagram types, a lot of templates and symbols, the import and export of Visio files and the ability to share your designs anywhere and everywhere.
The Efficiency Capture Bundle consists of Edraw Max, EdrawMind and EdrawProj. The lifetime plan is currently for $245. This supports all kinds of operating systems such as Mac, Linux, Android and iOS, provides unlimited access to all kinds of templates, has 20 GB clouds storage and a lifetime of free upgrades and quality support.
Edraw Mind has innumerable structures, themes and stylish cliparts. It has a presentation and brainstorming and outline mode. There are advanced import and export options and group and real time collaboration.
Other softwares include EdrawProj ($245), EdrawInfo ($149), OrgCharting 100 ($145) and Edraw Office Component ($1995).
The makers of Adobe Express acknowledge that everyone today is a content creator. This software allows anyone to make content that stands out and expresses their ideas well.
It includes elements such as overlays, backgrounds, graphics and effects through specific and accurate browsing techniques. You can easily navigate through what you have created, make original GIFs or convert files into different formats. They can also be reused and shared with other Adobe Express creators. Also, there are more than 20,000 high quality Adobe fonts available.
Key Features
Unique and beautiful content templates as well as Adobe Stock photos
Sharing of content
Good fonts that are easy on the eyes.
Quick actions
Images that pop
Simple designs. Icons, shapes, overlays and frames can be utilized to enhance your creativity
Shareable templates and libraries
Adobe Express Membership
Pricing Plan
The free plan has a number of core features. These include a number of design assets, fonts and templates, basic editing and photo effects, and 2 GB of storage.
The premium plan is for $9.99/month. It has all premium templates and design assets, and over 20,000 licensed Adobe fonts. Conversion and export to other formats is also permitted, and about 100 GB of storage is available.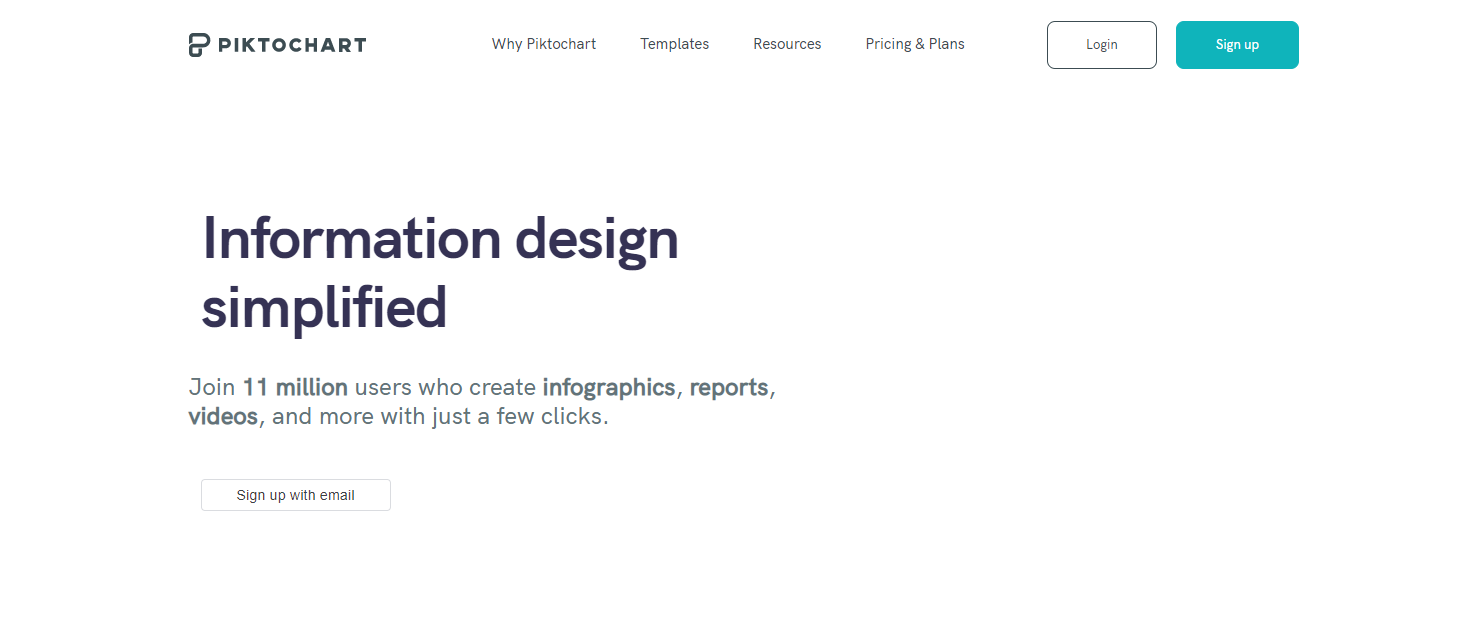 Piktochart is a visual and video maker used by 11 million users the world over. You can create infographics, slides, posters and images. Graphics and information are made more accessible by its use. It is used both by working professionals in the office and classrooms. It quickly transforms information into appealing and engaging content.
Unlike Photoshop and Illustrator that require a lot of time to learn, you can use Piktochart to make professional looking designs in less than an hour. The drag and drop editor assists in making brochures and presentations in a short span of time. No training or graphic design experience is needed.
You no longer need to overhaul your entire workflow. Downloading options in PNG, PDF and PPT are available with which you can also showcase your content offline.
Key Features
Simplicity
Integration into current workflow
Turn complex data into a clear, catchy visual
Editing videos like a text document
Creation of high-quality infographics
Making insightful reports
Make persuasive presentations
Make eye-catching posters
Create engaging videos
Pricing Plan
The free plan is for beginners who want to improve their visual communication. It has limited features such as Piktochart Video and Piktochart Visual. This is offered across three categories – individual & business, education and non-profit.
For individuals and businesses, the pro package is $14 per member per month. The enterprise package is for 25+ members and its price is customized.
For education, the pro package is for $39.99 per member per year, and the enterprise package has a custom price to it.
For non-profits, the pro package is for $60 per member per year. The enterprise package is yet again custom priced.
Easil is a drag and drop graphic design tool that allows an entire team to develop visual content in the way that professionals do. You can make custom graphics either for social media or for print.
The various tools available include those for social media, posters and menus. Your brand's elements can also be streamlined by combining and storing them into a Brand Kit so that you are always aligned with your brand. Typography and text styling has never been easier.
Sharing with teams and subteams is allowed. There are designated folders for design tagging and a Brand Kit for each team. Easil is therefore a digital asset management solution that allows your brand features and elements to be accessed by people at different levels of the organization.
Key Features
Availability of professionally designed pictures and video templates
Drop shadow, glow or curved effects for text
Text masks, using a text mask tool to create effects
Creative, animated GIFs made in unique ways
Resize templates instantly
A great range of free fonts
Magical colour palette generator
Magically remove photo backgrounds
Pricing Plan
The Basic includes 30 days free plus trial and has all you need to get started.
The Plus is for $7.50 per user/month and has tools for both individuals and teams.
The Edge is for $59 per user/ month and has unlimited premium template collections as well as Easil's Edge Design Guarantee.
The Enterprise is a customized package that has a dedicated account manager and head office controls in a brand-centric environment.
Venngage allows you to develop professional infographics in just a few steps. You can browse through popular infographic templates and begin by using a professional canvas. Boring documents, data and elaborate communications plans can be transformed into visually appealing infographics with professional business-level templates.
In order to catch the attention of your audience, maintain it and help you retain it, you can use a variety of templates that are created every week by professional graphic designers. Whatever design skills you have don't matter – you can incorporate them and customize these professional templates.
In order to make infographics, you have to follow three simple steps:
Choose from 7500 professional templates.
Use a simple and powerful editor to utilize your creativity.
Download and share your designs.
Key Features
Simple but strong designs
User-friendly editor and templates
Diverse icons and stock free photos
Instant branding and collaboration
Export to PDF, PNG or Powerpoint
24/5 Priority Support
Smart Diagram Features
Pricing Plan
The free plan has only 5 designs and 6 image uploads. The premium plan is for $16 /month and has unlimited designs. The most popular one is the business plan for $39/month and can handle a team of 1-10 members. The enterprise plan is for $499/month and can handle 10 users at a time.
Biteable is a software that aims to produce impactful, action-driven videos that tie in well with your brand. It picks items from your brand and applies them instantly to videos.
This is a video maker for your entire organization. Also, it has hundreds of templates that can be customized with a single click.
Biteable is cloud-based. It helps businesses by creating videos using not only customized templates but also a built-in animation library, stock footage, etc. Notably, white labeling capabilities enable organizations to personalize the videos being produced.
Key Features
Sharing of complete videos on different platforms such as YouTube, Twitter and Facebook
Availability of royalty-free music from a vast and high-quality collection
Innumerable animated, live action, or photo scenes in different styles and templates
Creating and editing videos with simple drag-and-drop actions
Pricing Plan
The pro pricing plan is $49/month and billed yearly. It offers a variety of features such as a royalty-free music library, video analytics and unlimited cloud storage.
The team's pricing plan is for $249/month and billed yearly. It further provides access to 5 team members and a number of premium features.
Befunky is a one-stop solution to your creative needs. It helps you to draw compelling graphics, edit photos and develop photo collages.
Using the software's Photo Editor, you can alter your images with picture perfect accuracy. Other unique effects include Cartoonizer, Digital Art and Enhance DLX. Multiple pictures can be cropped, edited and resized in one go.
Befunky is powered by artificial intelligence and can identify picture backgrounds and remove them with one click. You can further create both solid and transparent background for products, portraits and pictures. You can also use Touch Up tools to make perfect portraits and selfies.
Key Features
Crop and resize photos.
Turn photos to art.
Batch edit photos.
Background Remover.
Retouch portraits.
One-click Collage Maker.
Customizable design templates.
Over a million free stock images.
Graphic designer.
Pricing Plan
The free version contains limited smart editing tools, and just a few frames, layers and collages.
Befunky Plus has two billing options – one is $4.99 billed annually and $9.99 billed monthly. This includes the whole suite of products such as beautifying portraits, turning photos into art, creating collages, and creating design projects.
Snappa is quick and easy design graphic software. It is fast, easy to use, and has an array of features included.
It is designed for speed so that you spend minimal time making graphics and devote your time and energy to growing your business, staying active on social media and creating content. There is no learning curve – you do not need to go through videos or tutorials on how to go about it.
All images in Snappa are royalty free and licensed for commercial use, with no extra fee.
You can make graphics for social media, blogs and ads even if you are not a professional graphic designer.
Key Features
Create online graphics in a snap
Start with the perfect image dimensions
Get a head start with premade templates
Find free high-res stock photos
Add text, graphics, and effects in seconds
Remove image backgrounds with just one click
Resize your best graphics in a flash
Schedule and share your graphics instantly
Pricing Plan
The free starter package is for one user and has a limited number of templates and images.
The pro package is $10/month and billed yearly. This further includes unlimited downloads per month and buffer/social media integrations.
The team package is for $20/month and billed yearly. It has all the features of the pro package and allows up to 5 users.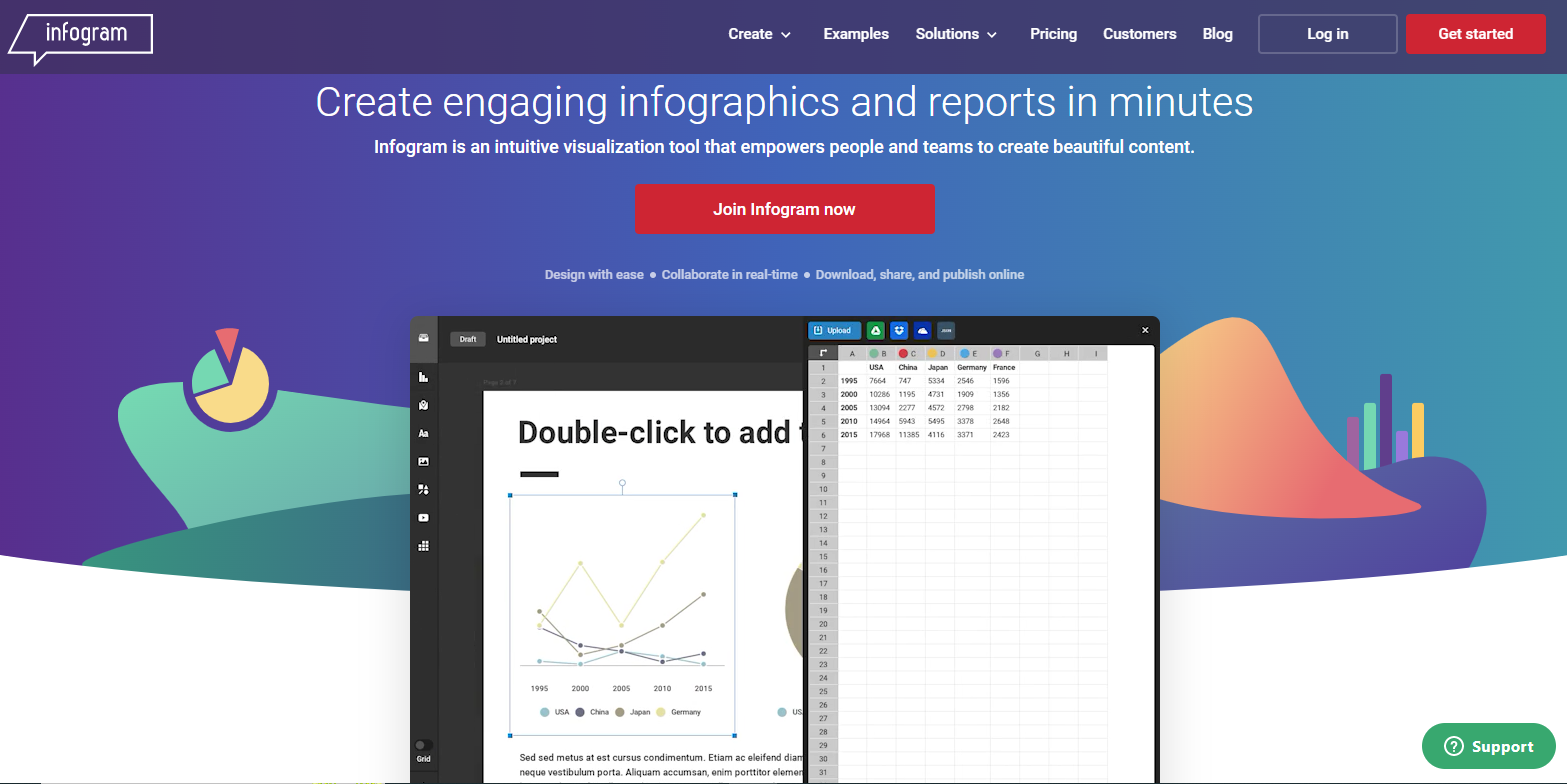 Infogram can be used to create infographics, reports and maps. It is an intuitive visualization tool that allows people and teams to generate meaningful and visually appealing content. With Infogram, you can design easily, collaborate in real-time, and download, share and publish online.
The ready-to-use templates look polished and professional, drive interest, and engage audiences. You can stay on brand with your own company fonts, colours and logos. Everyone who is part of the team can create branded visuals in minutes.
You can use Infogram to visualize data in real time. Also, you can create, edit and publish projects from your team library..
Key Features
A collection of designer templates
Custom templates
Amazing animations
Endless possibilities for collaboration
Version history
Measuring metrics that matter
Interactivity
Customized tracking links
Publish content online
Optimized for mobile
Pricing Plan
The basic plan is free. It is the starter to designing beautiful data visualizations with Infogram.
The pro plan is for $19/month and billed yearly. It allows the downloading, private sharing, and accessing of premium templates and images.
The business plan is for $67/month and is billed yearly. In addition to the pro plan, you can upload your brand kit, utilize a larger library and create unlimited pages per project.
The team plan is for $149/month and is billed yearly. You get everything included in the business plan, plus real-time collaboration and engagement analytics.
The enterprise plan is custom-priced. It contains all the suites of services such as branded profiles, subdomain, priority support and training for your team.
Genially is a platform for interactive animated content. Visual content is key. It promised to capture the attention of your audiences. There is enhanced participation as the interactivity makes you discover and explore information on your own. You can also create memorable content that makes a lasting impact and is not easily forgotten.
You can do away with boring, static images. There is no need to code, and you can insert text, audios and videos into information. You can also benefit from others' creativity by exploring what other people in the Genially community have developed and reuse the ones you want to.
Data or processes can be made memorable and easy to understand. These can further be animated and also made interactive.
Activities make a bigger impact if they are conducted in the form of a game. Genially can make games from as simple as quizzes to as complex as escape rooms. In turn, these games create fun and generate attention. All kinds of pre-designed templates are available that can be edited to your liking and added to the content.
Key Features
Interactive images
Interactive infographics
Gamification
Presentations
Interactive training materials.
Interactive digital guides.
Video presentations.
Pricing Plan
Under the education umbrella, you have the free plan. This has unlimited creations and views, and some free templates and resources. The student plan includes some premium features and is for $1.25/month billed annually.
The edu pro plan consists of features that teach and motivate, and is for $4.99/month billed annually.
The master plan has all the premium benefits and is for USD 20.82/month billed annually.