Photoshop is undoubtedly the best and most preferred editing software for professional photography and graphic designing.
It has been in the creative industry for two decades, during which it had built an entire ecosystem to provide everything in-house to its customers.
But in the last few years, tons of other feature-rich editing tools have emerged, delivering similar functions and comparatively simple interfaces. They deliver both basic and advanced solutions, making them an excellent choice for small businesses and solopreneurs.
If you're looking for such apps, I have put together a list of the 12 best Photoshop alternatives that cover both free and paid platforms.
Luminar Neo is Skylum's latest photo editing app that offers a combination of AI-powered features and traditional creative tools.
Here you can retouch skin and liquify face shapes, create a bokeh effect, automatically select and extract subjects, and fine-tune colors. It shares overlays and presets to build professional collages and design complex composite images.
One of Luminar Neo's features that you'll absolutely love is the Relight AI.
With this function, you map out the depth of your photo and manually control the exposure of front, middle, and background areas. It also automatically creates multiple masks, allowing you to easily edit separate parts of the images.
In addition to photo refining, you can additionally apply realistic and cinematic special effects like fog, sunlight, and artificial grains.
Core Features
Powerful editor.
Skin retouching and sculpting.
Image manipulation.
Bokeh.
Automatic object selection and masking.
Advanced color grading.
Overlays and special effects.
LUT presets.
Integrates with other creative apps.
In-house marketplace.
Price
Luminar Neo offers a lifetime license for $79 to $94. If you buy its bundle pack, you'll get LUT presets and sky templates. You can also use it as a plugin for your current editing software.
Pixelmator Pro is an exclusive MAC software, offering pro image editing and illustration features.
It shares a layer-based model, advanced color grading options, versatile vector elements, and a diverse range of brushes.
You can use it to remove haze, retouch portraits, construct composites, and blend multiple shapes.
You can also produce high-resolution vector images and create 2D Pixel art that's currently trending in the market.
It's extremely flexible and supports multiple file types and export options. Furthermore, it allows you to switch the primary RJB color model to CYMK for printing as well.
Core Features
Photo retouching and color correction.
Illustration, digital painting, and image composition.
Up-to-date Layer panel.
Raw editing.
Over 200 vector elements.
100+ brushes.
Pixel tool.
Smart shapes and guides.
Compatible with Mac and supports graphic tablets.
Price
You can get Pixelmator Pro for $20.
Affinity, like Adobe, provides a suite of apps designed for professional artists, editors, and publishers. One of its products is a raster graphics editing software called Affinity Photo that offers similar features to Photoshop.
Here you can perform over a dozen functionalities, including color grading, image manipulation, digital painting, and 3D object import.
It has a powerful editing tool that lets you retouch portraits, use multiple layers for in-depth modification, apply non-destructive masks and add retractable paths.
You'll also find all the essential brushes, fonts, and overlays in the app for creative photo editing.
Core Features
Raw editing and color correction.
Layers, masks, and overlays.
Development tools and brushes.
Live preview.
Image manipulation and merging.
Panorama and 360° photo editing.
Digital painting.
Supports PSD file
Compatible with Windows, MAC, and iPad.
Price
Affinity Photo charges approx $50 for desktops and $20 for iPad.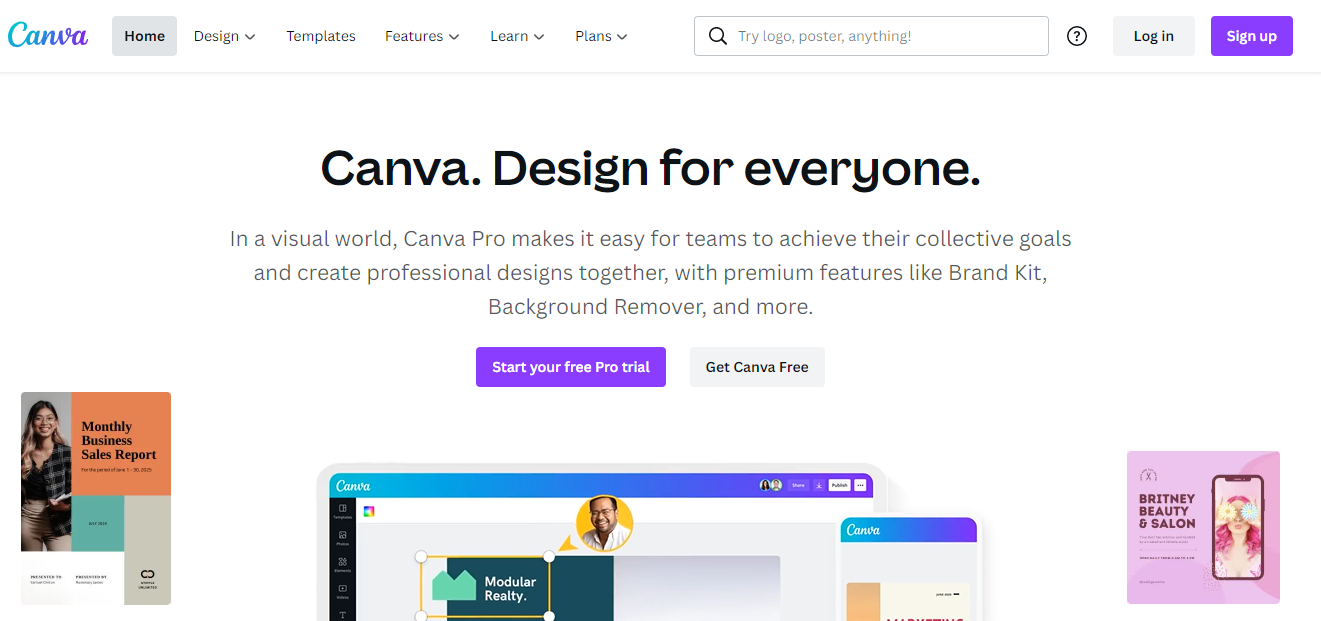 Canva is built for convenience.
It's designed for entrepreneurs and professionals who lack the essential background and need a user-friendly Photoshop alternative to produce commercial visual content.
You get access to a vast library of pre-defined templates, and graphic elements to create professional media images without modifying them from scratch.
With its photo editing and adjustment tools, you can easily correct colors, switch backgrounds, add fun filters and paste trendy texts. It supports multiple file formats and sharing options, allowing you to download images in both JPEG and PNG.
It's an ideal app for social media stories, morals, and creative images.
Core Features
Drag-and-drop builder.
Photo editing.
Template library.
Image merge and montage.
Filters and animation.
Background extract.
Typography.
Vector elements.
Gridlines.
Audio option.
Support JPEG, PNG, PDF, and GIF.
Price
Canva is free to use. You may have to pay for premium templates and advanced functions. Check out its site for more details.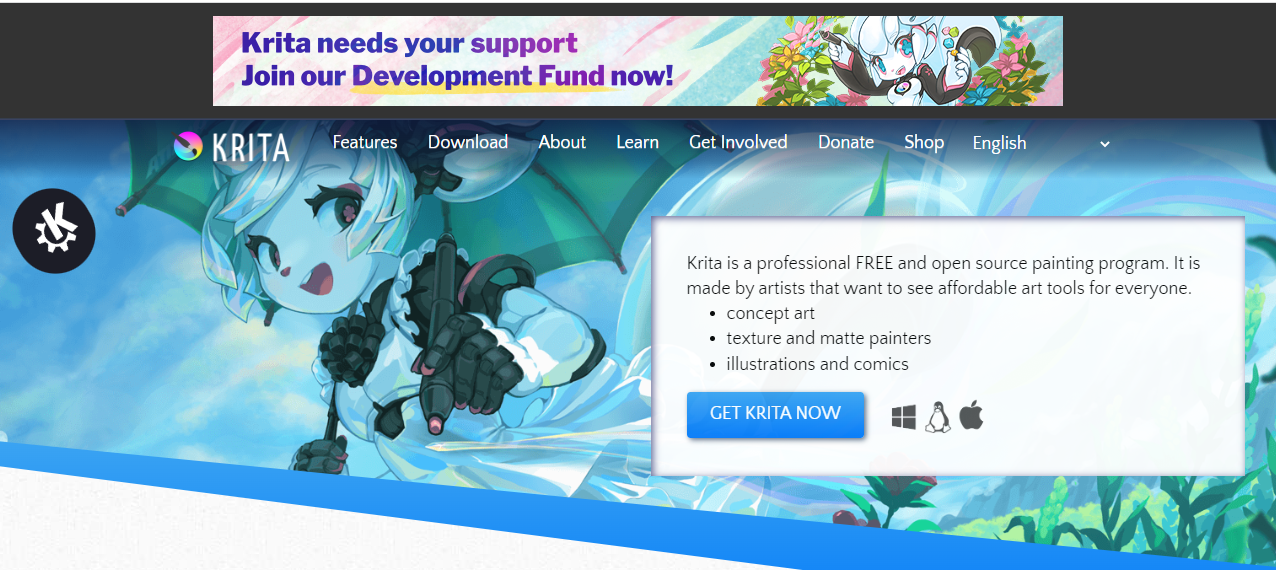 Krita is another great open-source software that's incredibly user-friendly and offers a versatile collection of brushes and editing tools.
You can create multiple layers, apply masks and filters, transform your image into patterns, and build vector shapes.
Some of its unique features include a painting assistant that helps you with the perspective, a brush engine that designs custom textures, and a stabilizer that produces smooth lines.
It delivers over 100 brushes to create different effects and animation docker to bring your image to life.
If you want an alternate app for digital drawing and photo editing, Krita is ideal for you.
Core Features
Custom dashboard.
A diverse range of brushes, drawing, and selection tools.
Layers, masks, blending.
Animation, filters, and pattern maker.
Painting assistant and HDR editor.
Stabilizer.
Color corrector.
Expandable canvas.
Supports custom plugins and several files.
Price
Krita is completely free. You'll find tutorials and a gallery of images on its official website to get you started.
Photopea is a web-based editor that offers almost all the functionalities of Photoshop.
You can use it to adjust exposure, liquify face shapes, manipulate photos, and produce vector files. Its essential brushes and selection tools allow you to perform a number of powerful functions, such as changing background, cutting part of images, blending layers, and transforming canvas size.
It supports both raster and vector files and accepts integration with third-party plugins, letting you expand the functions to suit your purpose.
It also has a familiar interface that makes it easier to navigate the dashboard and customize your workspace.
Core Features
Online platform.
Color grading, manipulation, liquifying, 3D image editing.
Drawing, selection, and pen tools.
Rulers, gridlines, and guides.
Auto-align and auto-blend.
Crop, transform, and expand the image.
Import over half a dozen types of files.
Supports plugins and multiple systems.
Price
Photopea offers a free Chrome extension for quick access.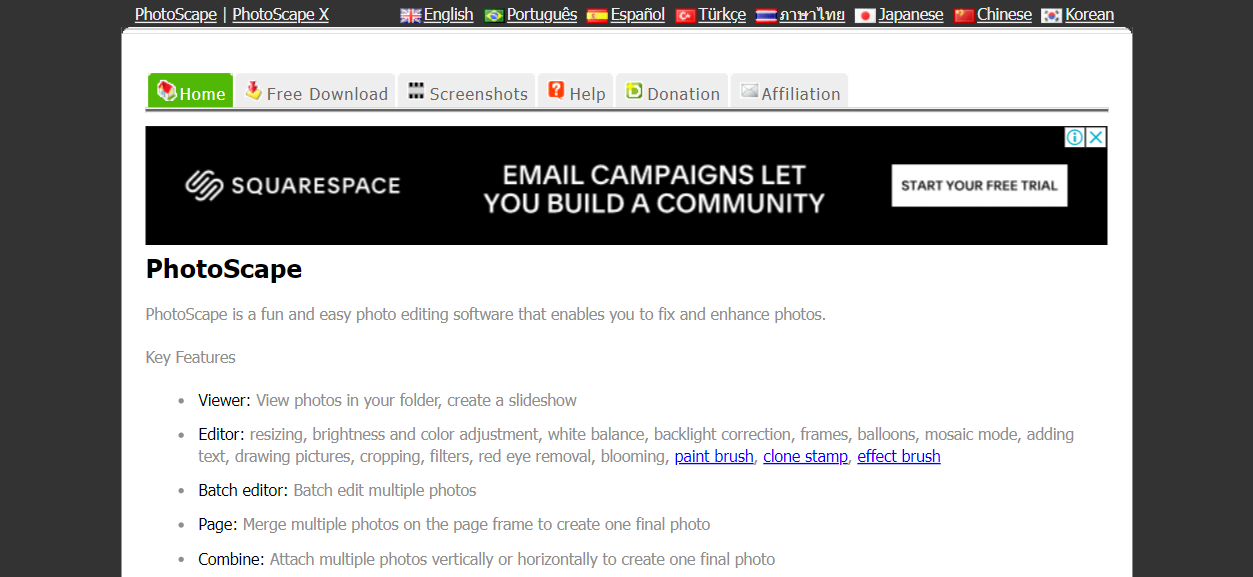 Photoscape is a simple editing software that provides retouching, color grading, and image composition functions.
You can build stunning morals, turn multiple files into animated GIFs, apply filters to pop up your photo, and add mosaic for special effects.
It allows RAW file import, which makes it easier to edit, resize, and convert your file into JPEG.
Some of its functions that are similar to Photoshop include clone stamp, drawing tool, overlays, and image merging.
It also delivers other useful features like batch editing and in-build printing that can help you save tons of your time.
Photoscape is best for professional color-correcting, quick image refining, and collage making.
Core Features
Retouching, and resizing.
Color picker and corrector.
Collage creator.
Filter and overlays.
Paintbrush.
Supports RAW format.
Animation GIF.
Batch processing.
Printer.
Screen capture and face finder.
Compatible with Windows and Mac.
Price
Photoscape is a free app. You can download it via its official site.
PaintShop Pro delivers professional editing functions and AI-powered adjustment tools.
Here, you can do portrait retouching, remove background, add bokeh effect, and correct color and exposure.
With its smart editing feature, you can improve the quality of your image and seamlessly embed graphics and filters without making them look awkward or out of place.
PaintShop also provides Photoshop's classic content awareness and cloning functions that take samples from a part of your image and applies them to the desired place. Since it has a layer-based editing structure, it makes your work non-destructive, allowing you to apply changes without losing the original data.
Core Features
Skin re-touching.
Image manipulation.
Graphic designing.
Pattern maker.
Background extract.
Content awareness.
Bokeh effect.
Comic filter.
Support RAW and 360° photos.
Batch processing.
Compatible with Windows.
Price
PaintShop Pro costs $100. It also shares a bundle pack for around $200 that includes both a photo and video editor.
If you're interested to explore it, the company is currently offering discounts on some of its products.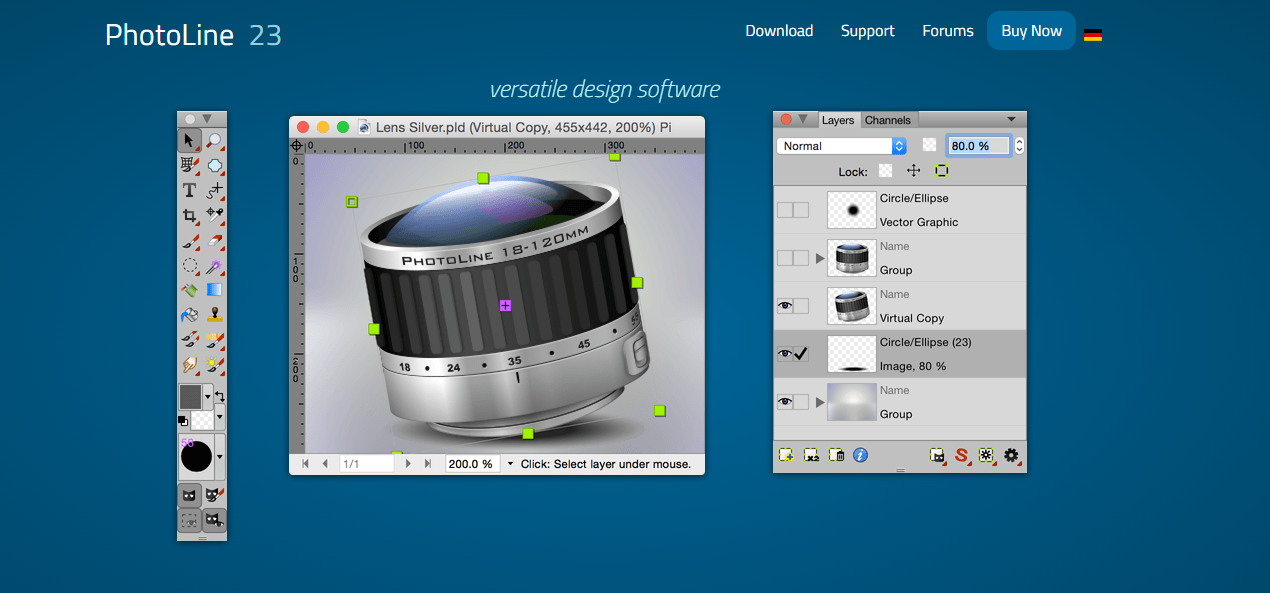 Photo Line is a lighter version of Photoshop and allows you to edit any kind of raster and vector image.
It has a similar interface, giving you easy access to panels, drawing tools, color patches, and channels.
With its non-destructive layers and RAW image support, you can make as many alternations as you want and easily revert to the original.
Its versatile adjustment options, smart filters, and blending functions give you the flexibility and control to modify minute details to manipulate entire images.
It also supports RGB and CMYK, which makes it an excellent option for both web and print media projects.
Core Features
Raster and vector editing.
Color corrector.
Advanced selection tools and brushes.
Non-destructive work.
Image manipulation.
Dehaze and hue effect.
Typography.
Support RGB, CMYK, and LAB.
Smooth Integrations with plugins and pressure-sensitive tables.
RAW image import.
Price
Photo Line charges 59 EURO for both Windows and MAC. You can also try its free version for 30 days to explore its features.
If you're looking for an app to create social media images, brand content, and web media material, PicMonkey is ideal for you.
It's online software that lets you professionally edit photos and design commercial illustrations.
With its color grading option, you can fine-tune the image hues as well as isolate certain colors to produce a stunning effect. Its adjustment tools come with pre-defined sizes that allow you to resize the file to quickly generate tailored copies for multiple platforms.
You can also remove background and airbrush portraits to make your images pop out and appear more refined.
Along with photo editing, PicMonkey additionally provides a brand kit to apply your logo and color scheme across all your content to create a consistent theme.
Core Features
Photo editing.
Color grading.
Graphic designing.
Smart resizing.
Background removing.
Filters.
Brand kit.
Social media templates.
Mobile app.
Price
PicMonkey basic plan starts from $72. You can take a free trial to learn more about it.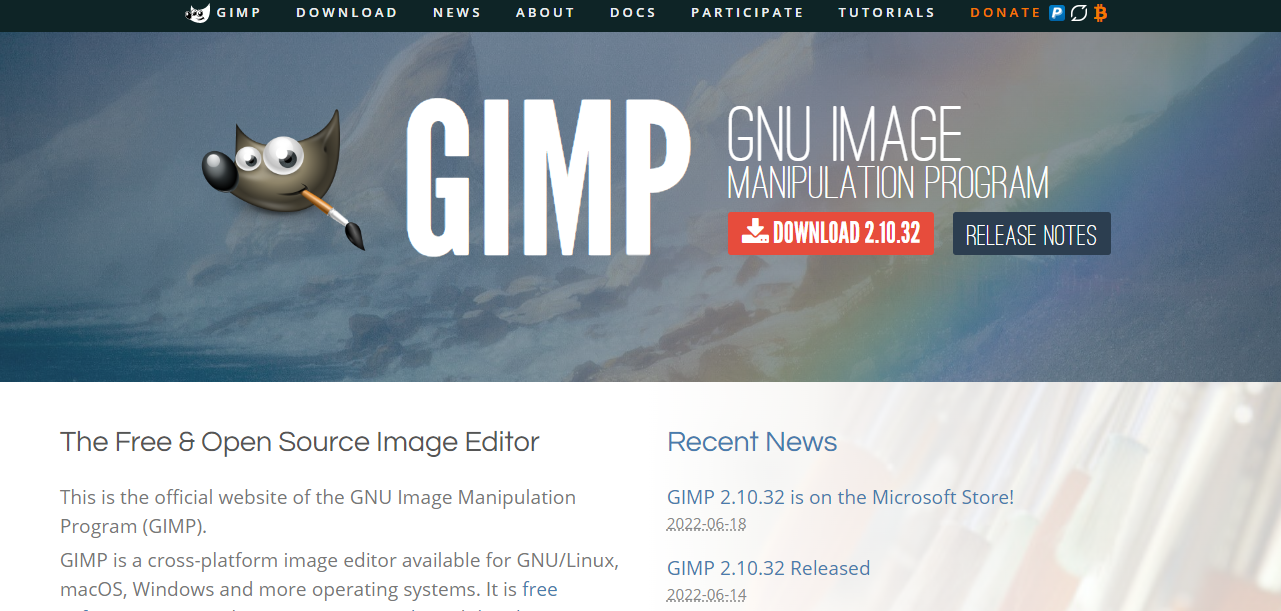 Gimp is one of the most popular open-source image manipulation software that's widely used as a Photoshop alternative.
You can use it for any type of photo editing, from simple color correcting to complex image manipulation. It has a scalable system that lets you create your custom brushes as well as incorporate plugins, like content awareness, to expand its functionalities.
It also has advanced adjustment tools that include both background removal and vector pen, allowing you to produce digital paints, logos, cards, and other graphics products.
It does have a learning curve, though. If you're new to photo editing, you might find the interface slightly confusing.
Core Features
Photo manipulation.
Retouching, color-enhancing, blending.
Layers, masks, and overlays.
Supports both raster and vector files.
Background removal.
Graphic design tools.
Paining brushes.
Batch processing.
Integrates with plugins.
Compatible with multiple systems.
Price
Gimp is free to use. You can download it from the official website.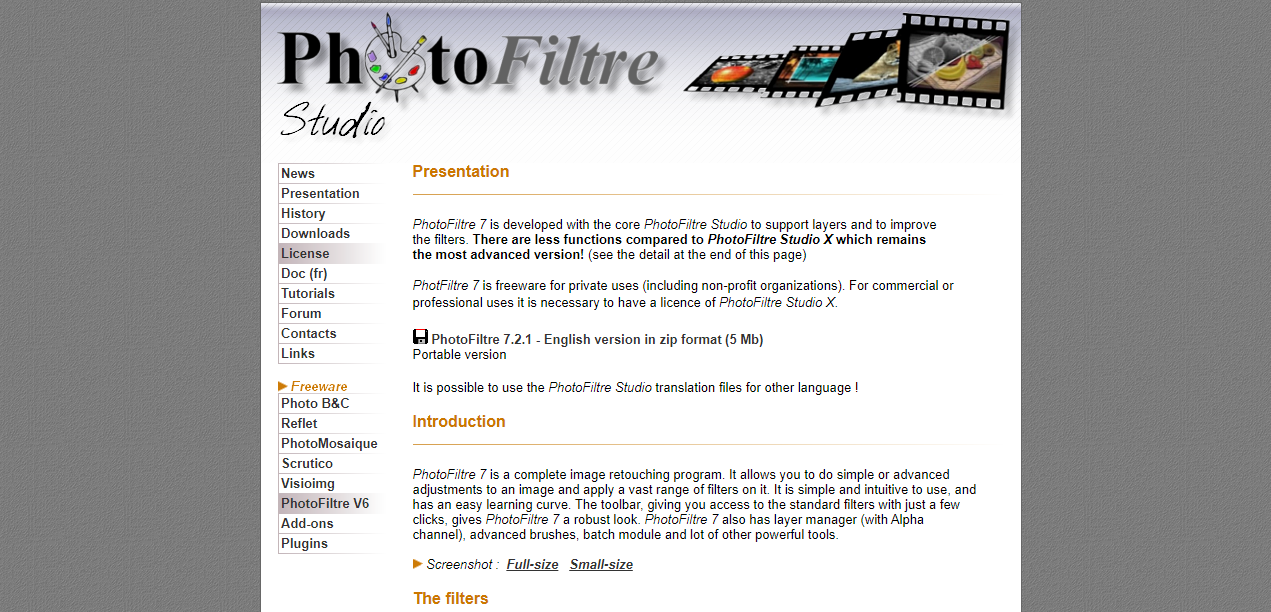 Photfiltre is one of the oldest editing apps that's still used widely used for photo retouching and basic image modification. It has, over the years, released several versions, each introducing the latest features and more tools.
Here, I am sharing reviews of its 7th version, which is free software that offers some of Photoshop's features, including color grading, exposure adjustment, and background removal.
It has a layer model and artistic masking presets that allow you to cut, crop, and merge photos into versatile shapes and sizes.
With its robust filters and drawing tools, you can also add style to your photos and produce professionally edited images.
Most of its features may appear fun for personal projects, but you can use them to create eye-popping commercial content like brochures, calendars, and social media images.
Core Features
Editing and color correction.
Background eraser.
Font styles.
Drawing and selection options.
Filters.
Layers and Masks.
Shape merging.
Price
Photofiltre 7 is free to download. If you prefer advanced functionalities such as RAW editing and vectorial paths, you may have to buy the license for 29 EURO.
Conclusion
Photoshop has dominated the market for such a long time, it has practically become an "industry standard" for photo editing and graphic designing today.
But while none has beaten it to the top yet, tons of tools have come close to it.
Now, you can get the same results and similar features from tons of editing apps, the above-listed 12 being a few among them.
I recommend exploring them to find out which best serves your purpose. Good luck!