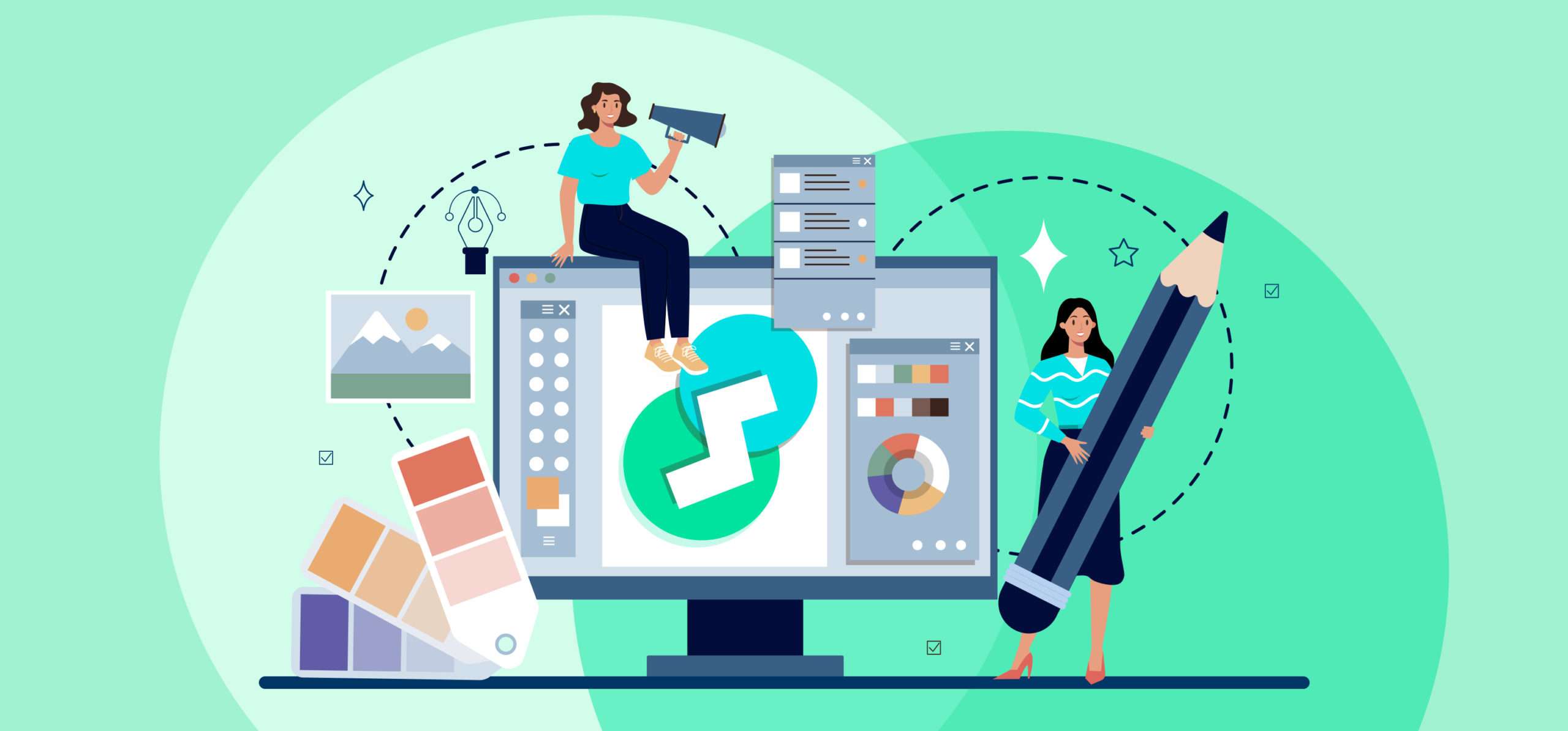 Your logo is one of the first things people notice about your brand. Therefore, a logo is an essential part of your brand communication and overall marketing strategy.
Having an attractive logo is important but what is even more important is having a logo that is in line with your brand's identity. As much as you put time and effort into choosing a brand name, your time and energy should go into choosing a logo for your brand.
Creating an eye-catching logo can be challenging if you are not sure what you want to achieve with it in the long term for your brand. Logo designing should never be rushed, and emphasis should be placed on creating a design that goes well with the target audience and types of services/products offered by a brand. Such an approach will help you incorporate a unique personality into your design and make the logo stand out.
Read on to know how to make a logo that will help you make a place in your audience's mind.
1. Define Your Brand Identity
Before deciding on a logo, start with defining your brand identity and its vibe. Your brand logo should be in accordance with your brand identity and language. Having a logo that says something completely different than the brand language will have the audience guessing what exactly you are trying to say.
Come up with a brand identity, note it down, and start designing your logo along those lines. If you are getting it done from a designer, make sure you have communicated what you want and how you want it.
Every brand is different and unique, and one of the best ways to have a unique logo is to stick to your brand. Take ideas from your brand itself. Incorporate it into your logo design, and it would automatically be different and unique from the rest of the brand logos.
2. Research Before Jumping on to Design
Before you start designing your brand logo, make sure to do a little research. This research is not just to find inspirations but to figure out what to avoid when designing a logo.
When researching, make sure to look at what your competitors are doing. If you are a new brand to the market and don't think you have competition yet, look for similar brands like yours and see how they are going about their logo design.
The research will show you what works and what does not. That way, you can use the things that have worked for other brands and avoid those that did not do so well. You are learning from the mistakes of other similar brands instead of making those mistakes yourself.
3. Take Inspiration but Be Original
When designing a logo, you can easily do some research on the internet and see thousands of brands and their logos, but you should only use those brand logos to take inspiration, not to copy.
To maintain the uniqueness of your logo, make sure that your logo design is original. You can view thousands of logos on websites such as Pinterest. But copying them to come up with your logo will do you no good. Because then your logo would be a copy like so many other brands that do not put in the time and effort to make an original logo.
You can use Pinterest to take as much inspiration as you want, but make sure you come up with an original logo and according to your brand once you are done with research. Second-hand and copied logos do not have the same impact as they have already lost their uniqueness and originality.
4. Keep It Simple
Overcomplicating a logo design unnecessarily to make it more unique might lose its purpose and confuse audiences. To-the-point and straightforward logos that communicate the brand language effectively are the best and most memorable because they are a brand's visual identity, and identity should be as straightforward and easy to understand as possible.
Some of the most popular brand logos are just names, alphabets, or very simple design elements such as McDonald's, Coca-Cola, Apple, Tesla, etc. Using too much imagery in your logo design will lose its meaning, and it will just be a complicated image instead of a visual message from the brand.
Try to keep your logo well-thought-out but simple. Putting in effort and time does not necessarily mean putting in many design elements and coming up with a complex picture. When making a logo, follow the "the simpler, the better" rule. The logos of different Google apps – Chrome, Gmail, Drive, Docs, Forms, and so on – is an excellent example.
5. Take Help of Logo Maker Apps
When designing a logo, using pre-made logos sounds like an easy way out. Using logo makers that provide you with templates looks like the best thing to do because then you don't have to worry about making a logo from scratch.
But, with easy designs comes monotony. Uniqueness comes from innovation, and that is what you should do too when making a logo for your brand. You should try to come up with new, creative, and innovative ideas that can communicate your brand language effectively and creatively.
There is nothing wrong with using a logo maker app to help you with different design elements, designs, and styles. But you should start your logo from scratch and complete it using those design tools instead of just picking an already made logo and making some changes to match your brand.
Using a logo template that so many brands have already used will not give you a unique design; it would be a logo like many others in the market. When making a logo, you have to go for originality, uniqueness, and innovation to come up with a design that will stand out amongst the rest of the brands in the market.
Using a logo maker like Tailor Brands might save you some time, but you will lose on originality if you pick a design template and start designing your logo on it.
6. Experiment with Typeface
Your logo font and design are significant for the brand. Make sure your logo typeface is aligned with your brand. For example, if you have a clothing brand, but your typeface is that of a cooking brand, your audiences will feel disconnected.
The typeface you choose has a significant impact on how your target audience understands the scope of your services, so it has to be well-thought-out and in line with the best industry standards.
Don't shy away from experimenting with the typography. You can try using different font styles, sizes, and designs and then see which one looks best according to your brand.
The typography of the logo should match your brand language. If your brand language is fun and quirky, it should reflect in your logo design as well. If your brand is classy and minimalistic, you should have a logo that speaks classy and has a minimalistic design. Choosing your brand logo according to your brand language is vital, and you can do that by using the right kind of typography.
7. Pick An Appealing Color Combination
The color combination of your logo is just as important as the typography. For example, if you are going with a classy design in your logo but the colors you are using are bright and vibrant, your brand message would be lost in the disconnect between the colors and the fonts. You need to have colors and typography that are aligned with each other and with the brand as well.
Using light colors and pastel tones for a kids' brand might seem like a misfit because kids' brands are expected to be vibrant and full of energy. In that case, you should use colors that appear bright and energetic.
You can see how Slack colors express its personality as an exciting, vibrant, and sincere workspace.
The colors of the logo should match the brand, but they should also look good together. Using bright colors just because that is the idea behind your brand is not enough; you should use bright colors that complement each other and do not seem too contrasting.
To come up with the right colors for your logo, you would have to do some research and some experimenting. Only then can you decide what looks good and in line with your brand and what looks like a misfit.
Here's a Pro Tip – Using Canva, an online graphic design tool you can create multiple brand kits, test hundreds of color combinations, icons and save your designs for future use. It's the best tool to test your ideas and create a logo even if you're a complete beginner.
For seasoned logo designers, Affinity Designer is worth checking out.
Does it beat Adobe? Maybe not. But Affinity has tools to help you create a logo much faster than Abode for sure.
8. Get Help of A Professional
Once you have decided what you want as your logo, it can be tempting to install a logo maker app and start designing the logo yourself. But that might not be a good idea unless you are a designer yourself.
Your logo is the first interaction between your brand and the audience. Make sure it is clear, easy to understand, and attractive. That is why it is advisable to get your logo made by a professional who knows what he is doing and is good.
You might want to save money by not getting it made by a professional, but that way, you might risk compromising your logo design and your brand quality. Because a nicely made logo shows that the brand invested some time and effort in designing the logo, it helps attract customers more easily.
We recommend using services like Penji to get your logo designed by professionals without paying thousands of dollars.
9. Be Consistent with Your Logo
Once you are done with your logo design and introduced it to the market, you need to be consistent with it for the rest of your brand life. You can slightly change your logo if you want, but it should come across as an improvement and not a total revamp.
People develop their associations with your brand logo and your logo becomes your business's identity with the passage of time. If you completely change the brand logo, you might lose that association, that connection with the audience.
Even if you want to improve your brand logo and change it a little, make sure you keep the key elements intact in the new logo. Google apps' logos are again worth mentioning here. See how the new logos (in the second row) have been improvised keeping the basic elements the same as before.
Before you have decided on a logo design, it's a good idea to do thorough research and be sure that this logo is exactly what you want because you might not get much margin to change it later on.
10. Know What Not to Do
When designing a brand logo, there are some things that you should avoid, like copying logo designs of other similar brands, going too overboard with designing and not paying much attention to the brand message, and using a brand logo that is a misfit with your brand image and language.
Along with researching for what to do, also do a little research for what not to do. Learn from what other brands have done. Learn from what worked from them. But make sure to use some of your knowledge as well. Just because something did not work for a similar brand does not mean it will not work for you as well.
Know your brand first and then smartly and actively decide what will work and what will not work for it. Blindly trusting the experiences of other brands will not be a smart move. However, learning from others and making decisions with a stronger commitment can help achieve the desired quality standards.
Conclusion
Your logo is crucial for branding as it can have a lasting impression on your audience and shape the future of your brand. From defining your brand to choosing the right color and fonts – little considerations can bring about an eye-catching logo and help you build a better connection with your audience.
Taking professional help can make things easier.
However, you can also try hands-on logo-making or graphic designing tools if you're tight on budget. Ultimately, the key is to be creative but not to rush.