Are you tired of feeling like you're constantly juggling your schedule and appointments? 
Vimcal might have been your go-to calendar app, but sometimes it just doesn't cut it. 
Maybe you're tired of paying for premium features that you don't really need, or maybe VimCal is missing that one key feature that you can't live without.
Wear a smile, as there are plenty of other calendar apps out there that can help you keep your life organized and on track.
We've scoured the internet to bring you the 12 best VimCal alternatives that offer everything from intuitive interfaces to advanced scheduling features. 
Say goodbye to the calendar chaos, and hello to organization and peace of mind.
Fantastical is a popular calendar app that is available on all Apple devices, including the Apple Watch. 
It comes with a clean and intuitive interface, making it easy to view and manage your schedule. 
One of the standout features of Fantastical is its natural language input, which allows you to create new events and appointments simply by typing them out in plain English. 
For example, you can type "Meet with John at the coffee shop at 3 pm on Friday" and Fantastical will automatically create an event with all the details filled in.
Fantastical also offers advanced scheduling features such as the ability to invite others to events, set reminders, and add attachments. 
It also integrates with a variety of other apps and services, such as Google Calendar, Apple's Reminders app, and Evernote.
Fantastical offers a 14-day free trial. You can then decide to upgrade to their paid plans, which start at $4.99/month.
Key Features of Fantastical
Natural language input
Advanced meeting scheduling
Integrations
Cross-platform availability
Customization options
Time zone support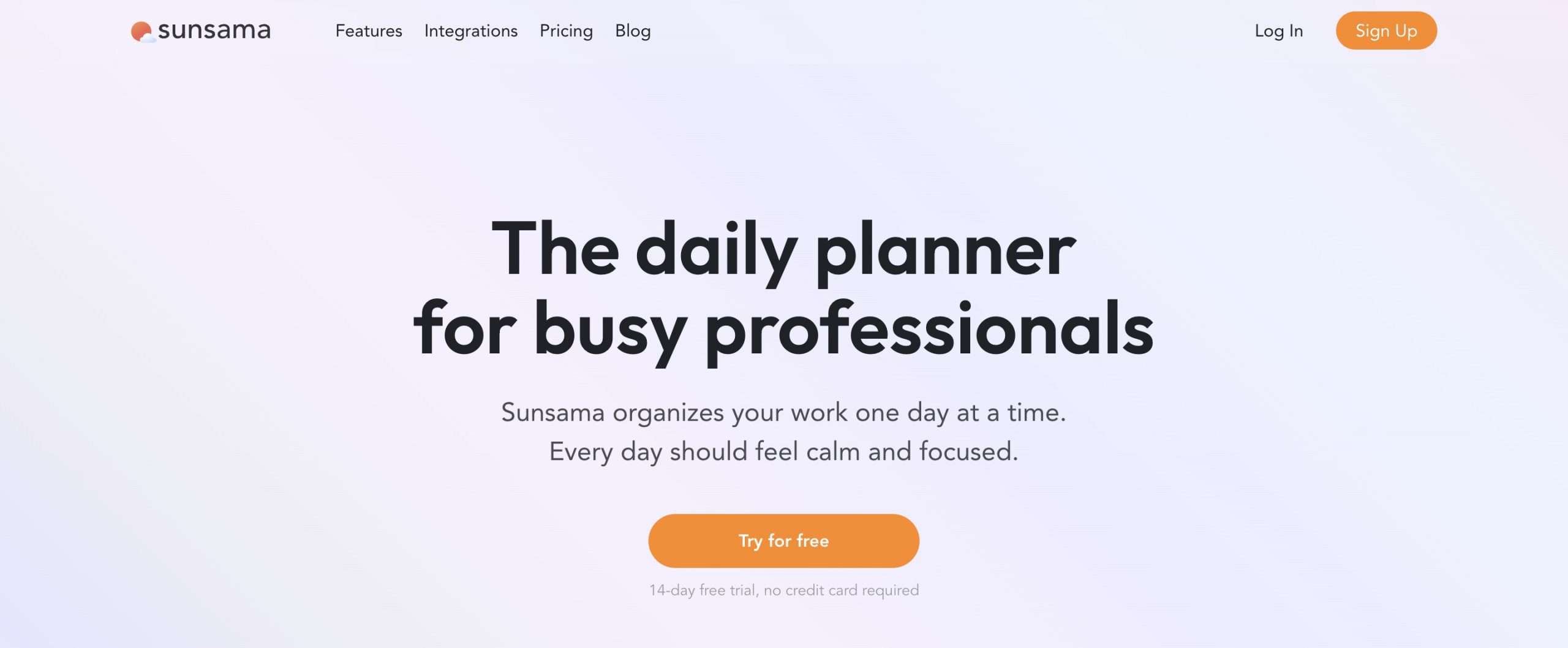 Sunsama is the ultimate productivity tool that helps you stay organized and get more done with less stress.
Sunsama's guided daily planning feature sets you up for success by providing step-by-step instructions for planning your day. This feature also helps to ensure that you don't forget any important tasks. 
With the unified daily view, you can pull in tasks from various tools, such as Trello, Asana, Gmail, Outlook, and more.
Sunsama's timeboxing feature helps you to stay on track by scheduling tasks to your calendar. This ensures that you are focused on completing tasks efficiently and effectively.
The dark mode and focus mode features to ensure that you can work comfortably no matter the time of day. Sunsama also includes an auto-scheduling feature, which helps you automate the process of scheduling tasks to your calendar.
For a more holistic view of your productivity, Sunsama includes a weekly review and planning feature. This feature helps you to stay on top of your goals and track your progress over time. 
Additionally, Sunsama includes keyboard shortcuts to make navigating the app faster and easier, as well as an analytics feature that helps you understand how you are spending your time at work. 
Try Sunsama free for 14 days, and then upgrade to their paid plan for just $20/month to unlock additional features and benefits.
Key Features of Sunsama
Guided daily planning 
Timeboxing 
Drag and drop tasks to the calendar 
Focus mode with Pomodoro timer
Powerful task automation through integrations
Analytics
Marvin is a customizable task manager and a daily planner that helps you beat procrastination and stay on top of your to-do list. 
With Marvin, you can organize tasks into nested categories and projects, create daily and weekly plans, sync to a calendar, and track progress with recurring tasks and goals. 
It also includes highly essential features like a built-in timer and Pomodoro counter, habit and time tracker, super focus mode, long-term planning, and a lot more.
Marvin is designed to help you stay organized and be more productive by breaking down tasks into manageable chunks and creating a detailed plan of action. 
Its powerful features can help you prioritize tasks, focus on what needs to be done and track your progress. 
It also helps you set goals, stay motivated and make sure your daily tasks are completed on time. With Marvin, you can create a customized daily plan that works for you and take control of your day.
The most awesome part? Marvin allows you to customize some features to tailor it exactly how you want. 
Before committing to their paid plan, you can use Amazing Marvin for free for 30 days. Its monthly subscription costs $12/month. They also offer a lifetime plan that cost $300 as a one-time billing.
Key Features of Amazing Marvin
Long-term planning
Built-in timer and Pomodoro counter
Habit and time tracker
Super focus mode
Gamification
Email-to-tasks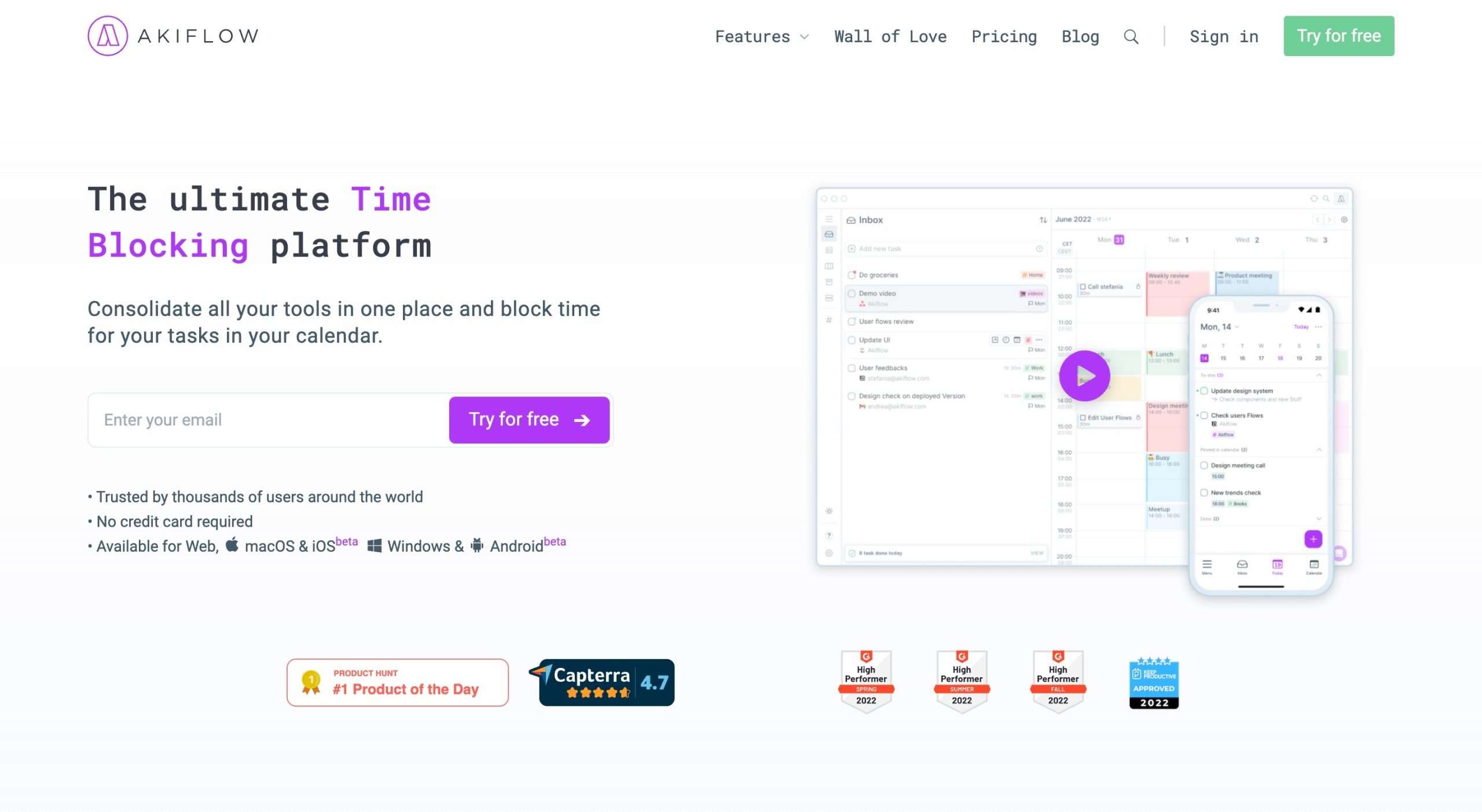 Akiflow is a time-blocking platform that centralizes all your tasks and tools in one place. Akiflow allows you to plan and organize your tasks and calendar events with ease. 
You can connect all your favorite tools, drag and drop tasks into your calendar to create the perfect schedule, and stay productive throughout the day with powerful analytics and notifications.
With the Akiflow Command Bar, you can capture tasks from any device quickly and easily. The Tray Menu & Notifications allows you to quickly view what tasks are coming up next. 
You can share your availability in seconds with the Share Availability feature and quickly search for events, tasks, people, and email addresses with the Search feature. 
With its multiple time zones support, you can view the time zone in any city alongside your local time.
Akiflow offers a 7-day free trial and then costs $15/month.
Key Features of Akiflow
Command Bar
Tray Menu & Notifications
Share Availability 
Multiple Time Zones 
Recurrent Tasks
Morgen is a unified calendar, scheduler, and task manager that helps you stay organized and productive. 
It consolidates your calendars, productivity apps, and schedulers so that you can manage all your time in one place. With Morgen, you no longer have to flip between calendars, apps, and browser tabs to stay on top of your schedule.
It's Unified Calendar feature helps you manage all your calendars in one place. You can join meetings with a single click and choose which calendars to view. 
It also supports time zones, so you can easily manage time differences between locations. Plus, you can navigate quickly with keyboard shortcuts.
Morgen's Scheduling Links feature makes it easy to control your schedule. You can check your availability in real time, create a personalized booking page for clients, and reschedule meetings with ease.
Morgen's Task Manager feature allows you to manage tasks in your calendar. You can schedule tasks in your calendar, sort them by importance and urgency, and keep track of your progress.
It has a Basic plan that is completely free to use. Its Personal plan costs $6/month, while its Pro plan costs $14/month. You get a 14-day free trial on the paid plans.
Key Features of Morgen.so
Unified Calendar
Scheduling meeting links
Personalized booking page
Task Manager
Built-in timezone differentiation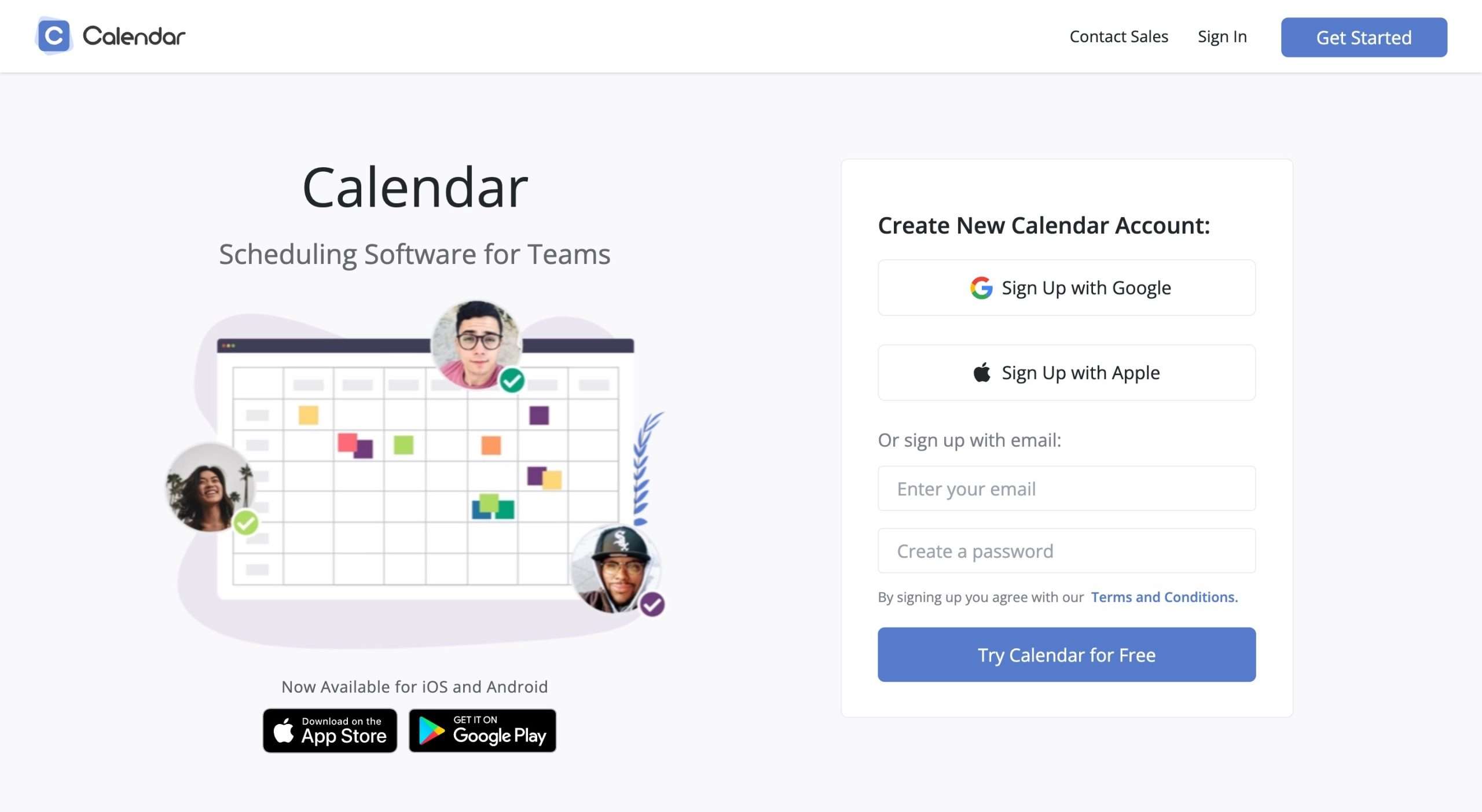 Calendar is a fantastic online tool designed to make scheduling appointments and managing your time a breeze.
Calendar makes scheduling and managing appointments a piece of cake. You can create personalized time slots and event templates to fit your schedule perfectly.
The best part is that you have full control over which time slots are visible, so you can manage your availability effortlessly. Simply share your personalized calendar links with others, and they can easily schedule meetings based on your online availability.
Calendar also provides a unified online calendar, which means you can merge your personal and work calendars into one convenient place.
It automatically synchronizes team schedules and prevents double-booking, guaranteeing that no important sales leads slip through the cracks or appointments clash.
If you're someone who loves data and analytics, Calendar has got you covered with its Calendar Analytics feature. This powerful tool enables you to analyze your calendar usage and gain valuable insights.
Key Features of Calendar
Personalized time slots and event templates

Comprehensive overview of commitments, deadlines, and events

Prevents double-booking and appointment clashes

Calendar Analytics for data analysis and insights

Seamless integration with popular calendar tools
Cron is a calendar and scheduling tool that is designed primarily for teams and it is available on macOS, iOS, and Windows.
One of the key features of Cron is its quick search action bar that allows you to quickly do many things among creating new tasks and changing themes.
Cron also offers a range of integration options, including integration with popular productivity apps such as Trello, Asana, and Slack.
Sharing your availability has never been easier. With Cron, you can easily create events and invite users to them, as well as share your availability for meetings with other users.
Cron also allows for collaboration between team members, with options to assign tasks and track progress. It also offers reminders, notifications, and other productivity tools.
Lastly, its drag-and-drop functionality makes it even easier to move tasks to any desired date and time.
Due to its early access, Cron is free to use (as of now).
Key Features of Cron
Time zone conversions
Drag and drop tasks
Collaboration features
Meeting scheduling
Powerful action search bar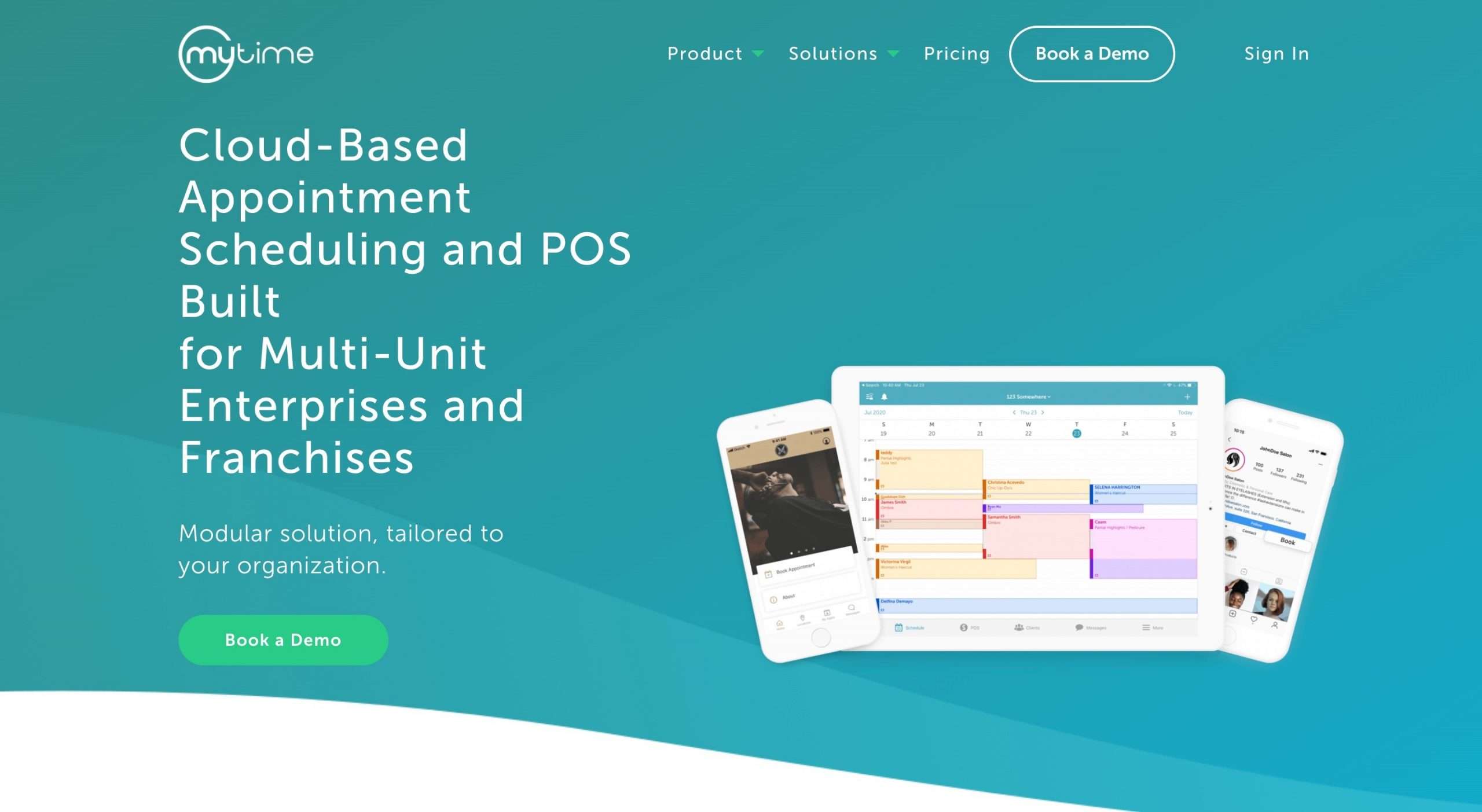 MyTime is a cloud-based appointment scheduling and point of sale (POS) solution designed for multi-unit enterprises and franchises. 
It provides businesses with the tools they need to manage their operations and grow their customer base.
With MyTime, businesses can easily schedule appointments, manage staff, and maximize their point-of-sale capabilities. 
Using the intuitive search and social booking feature, businesses can quickly fill available slots and find the best times for their customers.
MyTime also offers growth marketing tools such as 2-way messaging, reputation management, listing management, and client management. These tools allow businesses to engage with their customers and build relationships. 
Additionally, businesses can access detailed analytics, giving them insight into their performance, customer preferences, and more.
If you're interested in trying MyTime, you can book a demo and see if it's the right fit for your business. MyTime offers three paid plan options: Basic ($169/month), Growth ($249/month), and Premium ($299/month).
Key Features of MyTime
Easy and quick appointment scheduling
Maximize your point of sale capabilities
Quickly find the best times for your customers
Gain insight into your performance, customer preferences, and more
Easily manage staff and track their performance
Reputation Management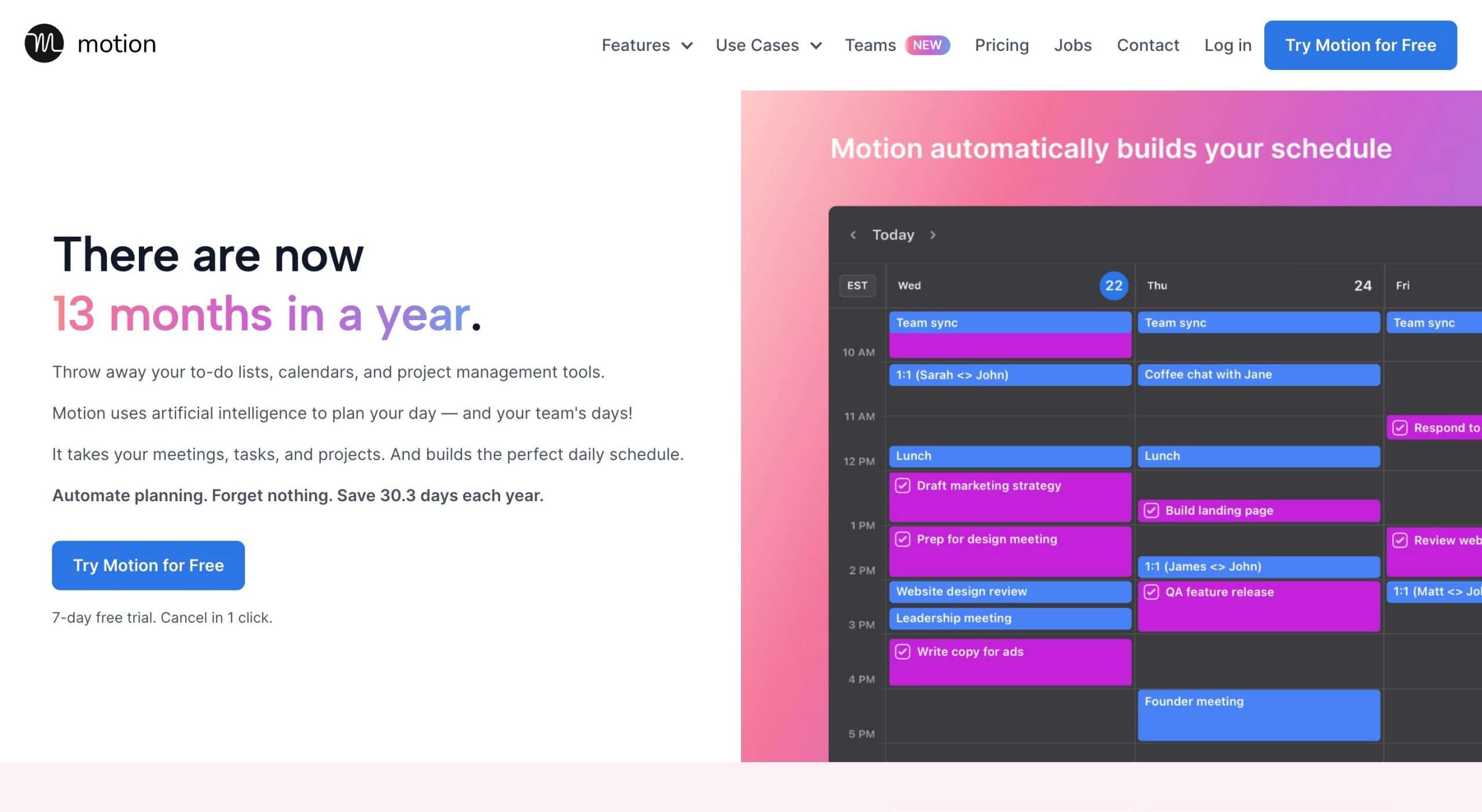 Sunsama is a powerful task and project management tool that helps teams stay organized and productive. It is designed to help you stay on top of tasks and projects, track progress, and collaborate more efficiently.
Sunsama offers a unique combination of features that make it an ideal solution for both individuals and teams. 
For individual users, Sunsama provides a single-pane (separate) view of tasks and projects that makes it easy to organize and prioritize tasks and projects. 
For teams, Sunsama's project boards offer an easy way to assign and track tasks, as well as provide an easy way to collaborate.
Sunsama helps users easily organize and prioritize tasks, track progress, and collaborate effectively with team members.
Additionally, the time tracking feature helps users stay on top of their tasks and projects, and the notifications feature ensures that users are reminded when tasks and projects are due. 
Finally, the integration with popular tools makes it easy to sync tasks and projects with other calendars and applications.
Motion offers a 7-day free trial. Its monthly Individual plan costs $34/month and the Team plan costs $20/month/per member.
Key Features of Sunsama
Task Manager
Calendar
Time Tracking
Notifications
Integrations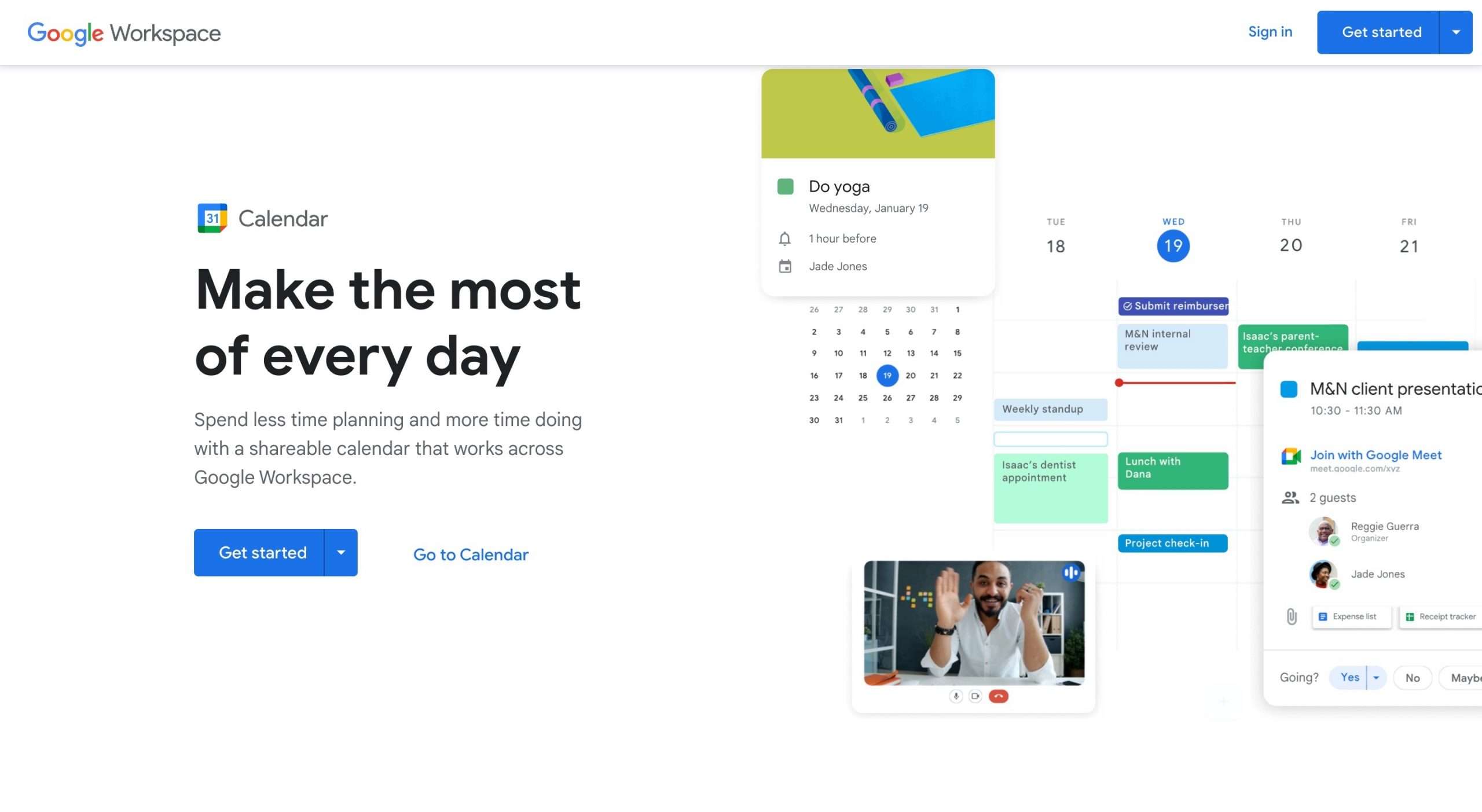 Google Calendar is an online calendar application that allows users to easily create, store, and share calendar events. It provides users with the ability to quickly and easily create and manage their calendar events, as well as share them with others.
Google Calendar allows users to create events, set reminders, and receive notifications. It can also be shared with others, allowing multiple people to view and manage the same calendar.
Google Calendar also provides a variety of features that make it easier to manage and organize events. For example, users can add labels to events, create recurring events, and set reminders to ensure that they don't forget an important event. 
You also get the ability to share events with other people, allowing them to view and join the event if invited.
Google Calendar is free to use.
Key Features of Google Calendar
Create, manage and share events
Recurring tasks and events
Reminders
Mobile app
Manage multiple calendars
Amie is an intelligent productivity app that helps users organize their lives. 
It seamlessly integrates with Google Calendar to offer users a variety of features, such as color coding, scheduling, and tracking. 
With Amie, you can quickly see if someone is available, track what they listened to and when, and send guests scheduling links you love.
Additionally, Amie provides several advanced features, such as timezone support, birthday reminders, and the ability to share specific time slots with others. 
Amie also offers a range of team-oriented features. Team members' details can be easily accessed from the sidebar, and you can easily duplicate and join calls via shortcuts. 
Currently, Amie supports Google calendar accounts on macOS, Windows, and iPhone, with Outlook accounts and Android support planned for the future.
Amie's Personal plan is completely free to use. The Professional plan costs $10/month/per member. 
Key Features of Amie.so
Use your calendar as a to-do list
Color code your calendar to organize
Instantly know if someone is available
Track what you listened to on audio streaming platforms (like Spotify)
Send scheduling links guests love
Timezone support
Calendly is a popular calendar scheduling tool that allows you to easily schedule and manage appointments and meetings. 
It has a very minimal interface, making it easy for you to see your availability and schedule appointments with others.
One of the key features of Calendly is its ability to create customizable scheduling links that you can share with others. 
These links allow others to see your availability and schedule appointments with you directly from your calendar. 
Furthermore, it is customizable to the extent that you can control everything from the meeting timing to the specified time zone.
Calendly also offers a range of integration options, including integration with Google Calendar, Outlook, and Salesforce.
In addition to its scheduling features, Calendly also offers an ability to link the location of your meeting (Like Zoom Meet, Google Meet, in-person meeting, etc.) to make it effortless for the other person to join the meeting.
Calendly comes with a free plan with all the basic scheduling features you need. The paid plan (they call it Essentials) starts at $10/month/member. The Professional plan costs $15/month and the Teams plan costs $20/month.
Key Features of Calendly
Customizable scheduling links
Integrations with various productivity tools
Automatic email notifications
Time zone specification
Team scheduling
Analytics and insights
Conclusion
So there you have it – Our handpicked list of the best Vimcal alternatives. 
There are plenty of calendar apps out there that can help you stay organized and on track.
The 12 apps listed in this article offer a range of features, from natural language input to team collaboration to analytics. Each one has its own unique set of features, so you can find the one that best fits your needs. 
No matter which one you choose, we believe you'll be able to manage your schedule and appointments with ease.