For most professionals, having a calendar is an absolute must.
We schedule our days, find meetings with clients, etc. And to make scheduling as easy as possible, we need the right tool for the job.
So in this blog post, you'll learn the 12 best calendar apps.
There's a large variety available, so you should find an app that works for you.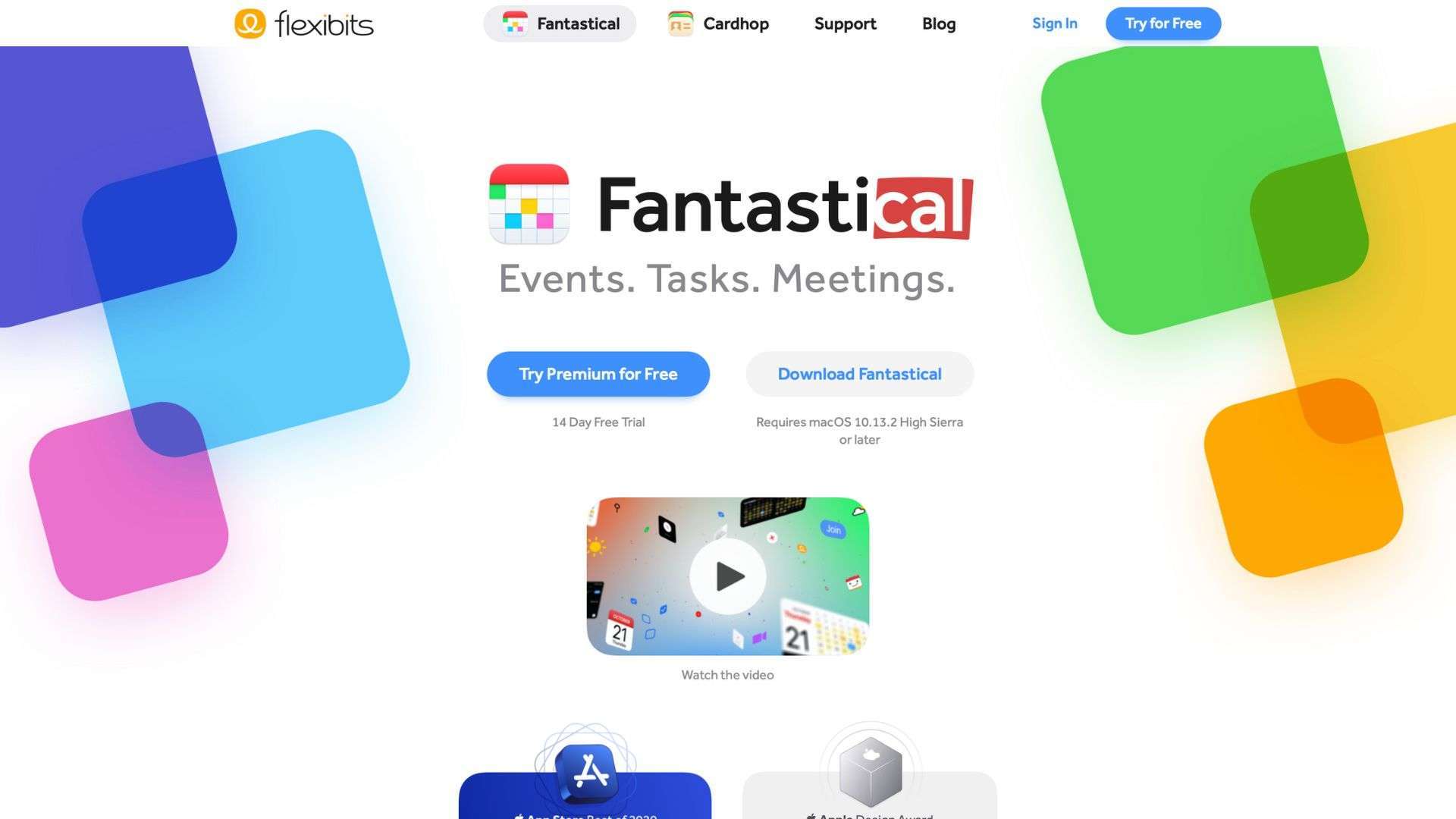 Continuing down the list is a calendar app for those who want more functionality from the Apple calendar.
And that app is "Fantastical," and in all honesty, this calendar app is just fantastic!
Why?
Well, let's start by talking about the interface. It's effortless to use and intuitive. That's because it's incredibly similar to how Google Calendar works.
However, Fantastical takes it to the next level.
That's because of the fantastic features it has. One of my favorites is conference call creation. You can quickly create conference calls with your favorite conference app.
These include zoom, skype, and others.
And if you want to join, you'll just have to click once!
But that's not where the feature list ends. There are tons of more features available.
For example, you can join multiple exciting calendars. You could get notifications when your favorite TV shows are released in those calendars and more.
Additionally, you can view the weather right in the app.
Note: This app is only available for Apple users.
Main Features:
Use Fantastical in any Apple device including Mac, iPad, iPhone, and even Apple Watch.
Organize meetings easily by only offering times when you're available.
Quickly add and join conference calls through events.
Pros:
Conference Call Creation
Interesting Additional Features
Clean Interface
Cons:
Only available for Apple Users
Most Features Are On Paid Plan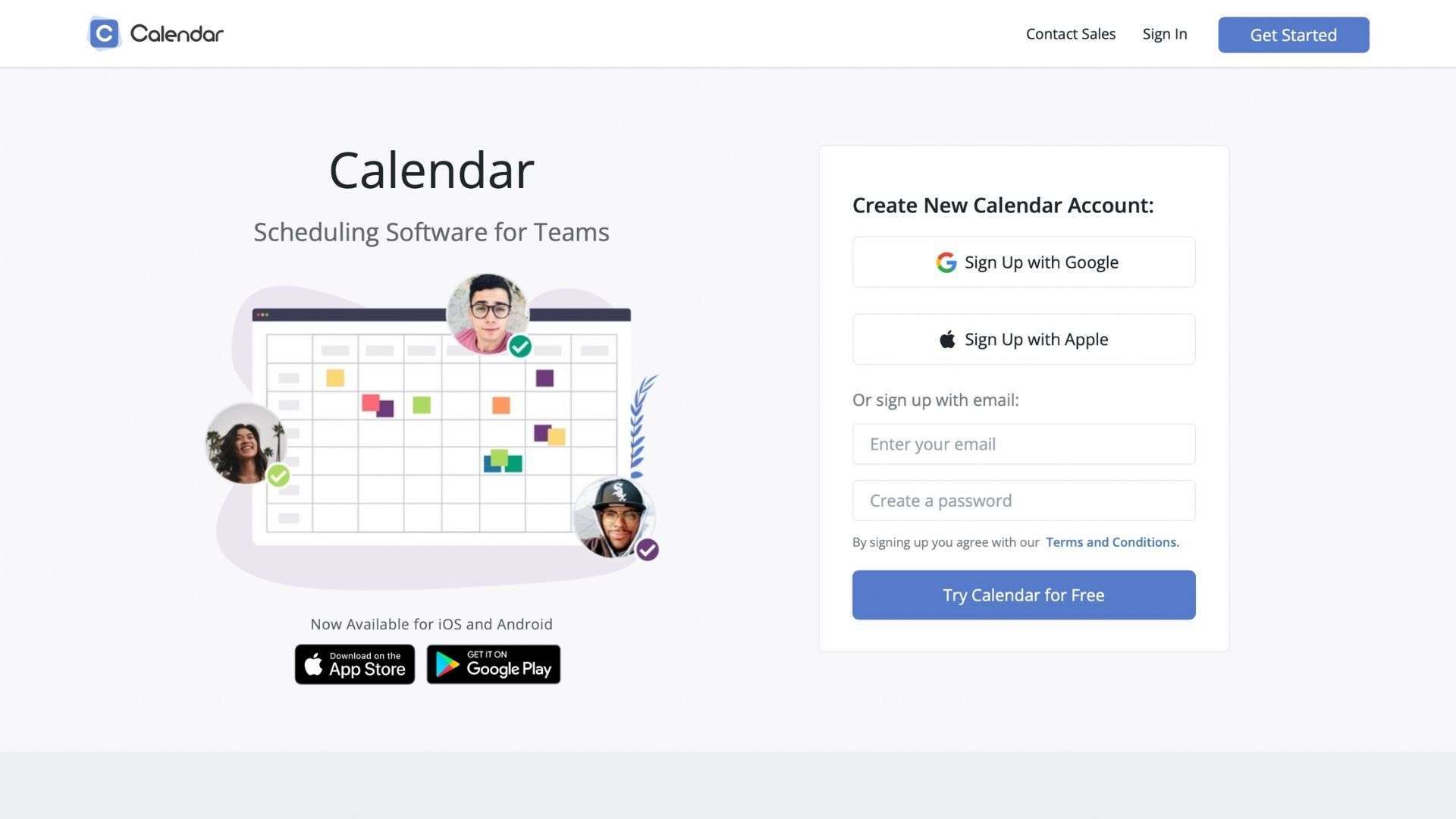 Starting off our list is a calendar app simply named "Calendar"! But it does its purpose well.
For starters, the calendar has an extremely easy-to-use interface. With it, it's effortless to start scheduling events right from the beginning. But it doesn't end there.
What makes Calendar unique is its various valuable features.
For example, when you're scheduling and sharing it with others, you'll know if the schedule works for attendees.
Other than that, this app also has artificial intelligence. With it, t the calendar app will teach you to make using their app simpler as time goes by.
And to top it all off, you've also got an analytics tab. You can analyze your past performance and see where you could improve upon it.
Main Features:
Create time slots for your online meetings and customized events.
Schedule your meetings through Calendar's scheduling app, taking away all the back and forth emails.
Use Calendar Analytics to analyze your and your team's progress, and make changes for better productivity.
Pros:
Clean Interface
Various Useful Features
Analytics
Cons:
Some Integration Problems
Morgen is a simple and hassle-free task management, calendar and meeting scheduling desktop app for Windows and Mac.
With their robust integration features, you can connect Morgen with your favorite tools like Evernote, Google Drive, Dropbox, and more. Morgen also makes it easy to connect your personal calendar, to-do list, and email so you can get a complete overview of your day.
What we like:
Morgen is simple and easy to use with a clean interface.
The app integrates well with other productivity tools.
Morgen makes it easy to see an overview of your day.
And much more!
With the help of their multi-timezones support, Morgen is perfect for busy people who need to manage their time efficiently.
And you can also easily add tasks to your calendar by dragging and dropping them, which is Morgen's unique feature
Morgen.so has both a free and paid version, with the Personal plan being $6/month and the Pro plan being $14/month. Both options come with a 14-day free trial.
Main Features:
To-do list
Calendar(s) integration
Meeting scheduler
Multi-timezones support
Pros:
Morgen is an excellent tool if you manage your time with a to-do list, calendar, and meeting scheduler.
Morgen's drag-and-drop task feature on the calendar is Morgen's unique feature that I really like.
Cons:
Morgen doesn't have a web app as of now, so if you're looking for Morgen to be your one-stop shop for productivity, you'll be out of luck. Morgen is only available as a desktop app.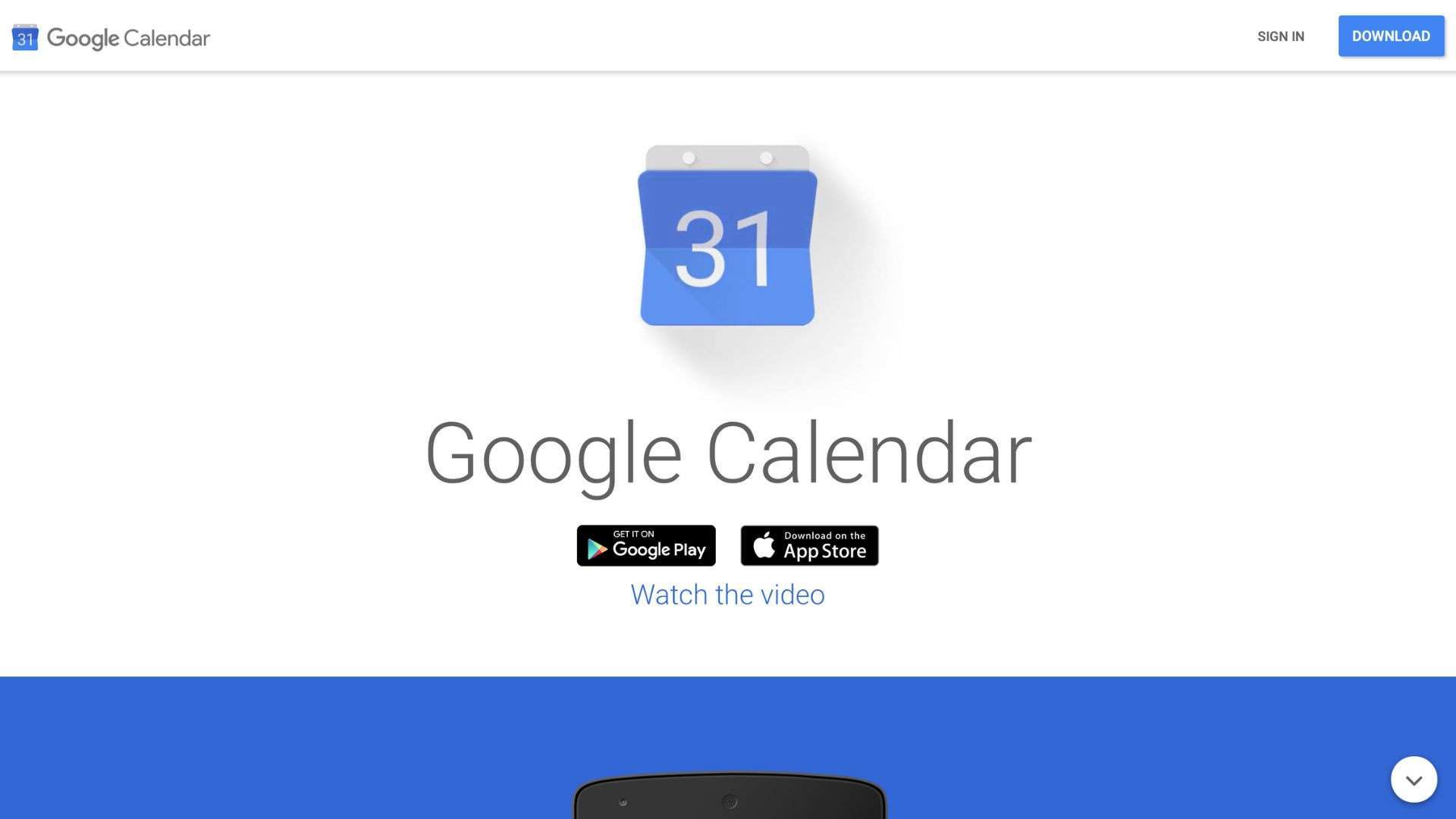 Continuing down the list is Google Calendar. It's an excellent calendar app for various reasons!
First, let's talk about how easy it is to use. That's primarily because of the clean interface.
And within seconds, you should be familiar with what Google Calendar has to offer. So creating new events becomes a breeze.
Additionally, to that, Google Calendar has made it effortless to share your calendars with others.
That's because all you need to do is share a link or email them.
You can even give each other permission. For example, some can only view the calendar, while others can add/edit.
Main Features:
Schedule View lets you see your schedule at a glance
Quickly turn your Gmail emails into events.
Sync across all your devices.
Pros:
Easy-to-Use Interface
Easy Sharing
Multiple Calendars
Cons:
Any.do is a great software for people and teams who want to be more productive. It combines task management and calendars.
Any.do offers a robust task management platform that's easy to navigate and incredibly efficient. You can use different types of reminders to make sure you don't forget anything.
Any.do Workspace is a great tool for teams that want to work well together. It helps create a strong work environment. Manage projects, assign tasks, and facilitate real-time communication—all within a single platform.
It's easy to onboard your team. Its chat and collaboration features keep everyone connected.
The interface helps you by getting rid of extra stuff, so your tasks, calendar events, and projects are easier to manage.
Any.do stands out because it easily works with Zoom, Slack, Gmail, and WhatsApp. Besides, Any.do has partnered with Zapier to offer over 5,000 integrations.
This makes it easy to incorporate Any.do into your current workflow, regardless of the tools you use.
Main Features:
Unified task management and calendar
Recurring and location-based reminders
Seamless collaboration tools
Intuitive and clean interface
Native integrations with popular apps
Accessible across devices
Pros:
Streamlines tasks, events, and projects
Powerful task management functionality
Enables efficient team collaboration
Beautiful and easy-to-use design
Cons:
Free version lacks some key features
Collaboration requires premium (paid) Workspace upgrade
Calendly is for those who aren't looking for a daily planner. Instead, Calendly offers its users a way to make appointments easier.
That's because of the "modern scheduling" they offer. With it, you can send a link to your attendee.
With it, they can pick the best time that suits them and the duration.
That saves both you and your attendee a lot of time as you won't have to go back and forth, so you can find a time that suits both of you.
Calendly is also great because of the integrations it offers, For example, you could integrate this with your favorite calendar app, so you'll always know when your calls happen.
And lastly, Calendly is a cross-platform software. That means you could use it on both desktop and mobile.
Main Features:
Create a custom schedule for taking calls.
Meet in the location you want, no matter if it's on a coffee shop or a Zoom call.
Create a workflow to make scheduling easier.
Pros:
Modern Scheduling
Integrations with Other apps.
Cross-platform
Cons:
Mobile App Needs Some Work
Continuing down the list is Apple Calendar. As the name suggests, this calendar app is only available for Apple products. (Check out our list of the best Mac Calendar Apps).
But that doesn't make it a bad app.
One of the best pros of this calendar is that it's a standard app for all Apple devices.
That means the app comes as a standard, so no download is necessary. And it's 100% free, so you won't have to pay for full access.
Additionally, to that, it seamlessly syncs with other Apple products.
So, when you create an event on your MacBook, it automatically appears in your iPhone calendar app.
And to top it all off. It has a clean design. That makes it effortless to use, so you should understand how to use it in just a few minutes.
If you're looking for a Calendly alternative, you've found one!
SavvyCal sets out to make it even easier to schedule your appointments by making the attendee side as easy as possible.
For example, instead of the attendee going back and forth with their calendar and your link, SavvyCal shows their calendar right in the app.
Additionally, SavvyCal gives you a wide range of customizability options.
For example, your attendees can pick out the time duration that works for them the best.
And additionally, to that, you can also show when are your preferred times for appointments instead of your entire schedule.
But one of my favorite features of SavvyCal is that you can set how frequently you can get calls.
That will ensure you don't overwhelm yourself with the number of calls and other work you need to do.
However, there's one thing you should know about SavvyCal. And that is that SavvyCal doesn't sync automatically with the contacts on your phone.
That means you'll have to enter their first time manually.
Main Features:
SavvyCal interface lets see your invitee's calendar and your schedule on one page!
Ability to delegate account access to your assistant so they can manage it for you.
Create team scheduling with a click of a button.
Pros:
Ease of Use for Attendees
Customizability
Limit Scheduling Frequency
Cons:
No Automatic Sync with Contacts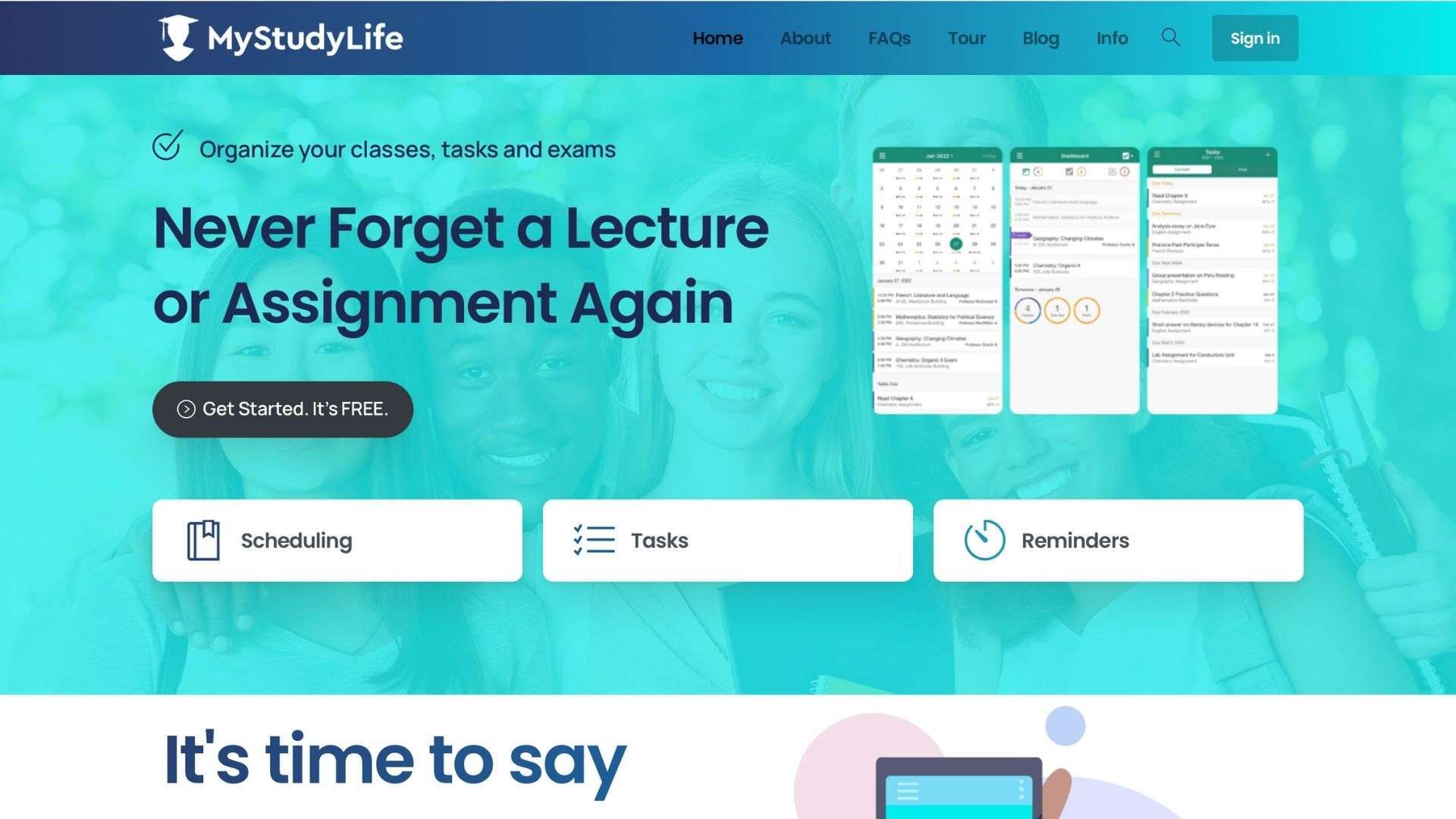 My Study Life is a free calendar app made with students in mind.
With this, you can schedule everything. That includes all your university lectures.
But also, you can add your homework as tasks to this app, making it extremely useful for students.
But it doesn't end there. Additionally, to being able to schedule, you can set up notifications for any upcoming classes.
That way, you won't forget any upcoming classes or homework. And to top it all off, the app is exceptionally well-designed!
The simple interface makes it effortless to add any new lectures, change the order.
And fortunately, there isn't anything really to fault. The only thing I'd wish this app had was some widgets. That would have made using this app even better.
But if you're looking to increase your focus and plan your days with a breeze, then My Study Life is beneficial for any college student.
Main Features:
Scheduling allows you to schedule your lectures, no matter if it's a rotating timetable or a traditional weekly schedule.
Tasks lets you keep on track of all your homework – no matter how big or small.
Reminders send you notifications of upcoming exams, classes, and assignments, so you won't forget them.
Pros:
Schedule Everything
Easy-to-Use Interface
Reminders for Upcoming Classes
Cons:
Timepage is yet another excellent calendar app.
What makes this extremely useful is the unique feature it offers. For example, unlike other calendar apps showing you a month's worth of events, Timepage extends it by two weeks.
Now you can see up to 6 weeks of events on your app.
But what I love more is the unique integrations Timepage has.
For example, you could integrate this app with Uber, so it will automatically call for a cab, so you won't be late to any appointments.
It also offers split-screen modes to iPads, making it superb for productivity. For example, you could chat with your potential client while scheduling an appointment with them.
Main Features:
Timepage Widgets let you quickly check your schedule or do an action. This includes a countdown timer, adding a new event, etc.
Smart Alerts let you combat notification abuse. It will block any useless notifications on your terms.
Timepage heatmap shows you how frequently you have the same events in a month.
Pros:
View Up To 6 Weeks
Unique Integrations
Split-screen mode
Cons:
Not available for Android
No free version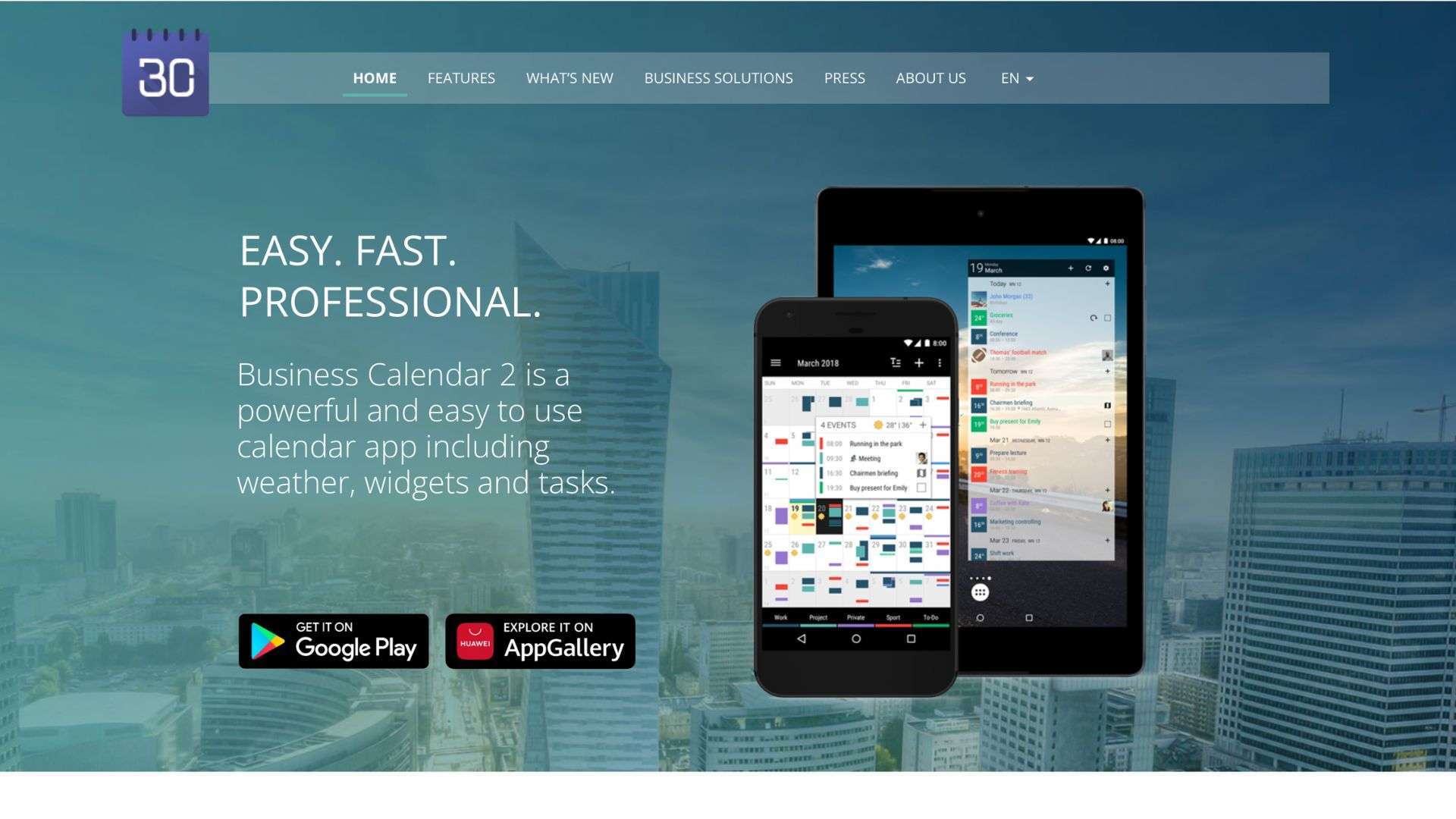 Continuing down the list is Business Calendar 2. That is yet another impressive calendar app made for business people in mind.
For starters, this calendar app comes with multiple views. You could look at your events at a glance with the 1-day, 7-day, and month view.
But it also comes with the Agenda view. With it, you can see the most important events and tasks in a list view.
But that's not where it ends. It also comes with many features.
For example, you can also create tasks, set reminders for events with your music, and even look at the daily weather forecast.
And to top it all off, you can make the calendar look precisely like you want. You can switch off some unwanted features, change themes, and more.
That makes it a potent tool to have in your arsenal.
This is an android-only app, which means if you've got an iPhone, you're out of luck. Additionally, the free version can be pretty annoying!
That is because the free version has ads in it.
And lastly, the interface isn't exactly the easiest to use. Since it has so many features, first-time users need some time before they can start using it to its fullest.
But besides those flaws, Business Calendar 2 is still a powerful calendar to have in your arsenal.
Main Features:
With Agenda View, you can see at a glance the most important things of your day.
Answer to meeting invitations directly in the app.
Customize your calendar to the colors you like.
Pros:
Multiple Views
Highly Customizable
Feature Rich Calendar
Cons:
Ads in the Free version
No iOS version
Complex Interface
Outlook Calendar is Microsoft's answer to a calendar app.
And what a great job they did!
One of the best features about it is that they made sharing & connectivity effortless to use.
You can quickly share your calendars with others, and when creating events, you can easily see if there are any conflicts with the time.
Additionally, to that, Outlook Calendar also seamlessly integrates with other Microsoft products
For example, you can add your tasks on your Microsoft To-Do list to your calendar.
And to top it all off, Outlook Calendar is 100% free. All you need to do is create an Outlook account, and you can access it.
With this account, you can also access other Microsoft products like Word or PowerPoint, but with some limitations.
Main Features:
Have your emails and calendar in one place.
Use the calendar on any device, including your phone!
Make scheduling easier by sending your availability through email.
Pros:
100% Free for Outlook Accounts.
Integration with Other Microsoft Products
Sharing & Connectivity
Cons:
Conclusion
And those were the twelve best calendar apps available.
If you're a student, business, or need a calendar for personal use, I've made sure you'll find an app made for you from this list.
So now all that is left is to pick the best calendar for your needs.
Enjoy the benefits of a more focused day.