Are you unsure about which one to choose between Morgen and Sunsama?
These two comprehensive productivity apps offer much more than just a task manager.
However, they differ in more ways than you might expect.
In this article, we will provide a detailed comparison of their useful features to help you make an informed decision.
Keep reading to learn more.
TL;DR
Morgen and Sunsama are productivity tools that help you stay organized and manage your tasks, but they have some key differences.
Morgen has a clean and minimalist interface that focuses on simplicity. As a result, it offers fewer features (such as automation capabilities) compared to Sunsama.
Sunsama, on the other hand, is more robust and aims to integrate all aspects of your work life into one platform. It not only helps you manage tasks but also syncs with your calendar, meetings, email, and other tools you regularly use (such as Slack).
Choose Morgen if you prefer simplicity and primarily focus on task management.
If you, however, want a powerful all-in-one solution that seamlessly integrates with your existing tools, offering powerful email automation and more, Sunsama is the way to go.
Morgen Vs Sunsama: Ratings
SIDENOTE: The following reviews are sourced from review aggregator sites, where genuine individuals share their feedback on the product. It is assumed that these individuals have used the product. Therefore, the average rating derived from these reviews is reliable and deserving of trust.
| | | |
| --- | --- | --- |
| Review Aggregator | Morgen | Sunsama |
| Product Hunt | 4.9/5 | 4.4/5 |
| Trustpilot | 4.7/5 | — |
| G2 | — | 4.5/5 |
| Capterra | — | 4.6/5 |
With that out of the way, let's start.
Morgen Overview
Morgen is a simple time management app that helps you consolidate all your calendars in one place, schedule with ease, and implement time blocking for important tasks.
With its drag-and-drop functionality, you can easily add tasks to your calendar at your preferred time.
Do you have a meeting in 10 minutes? Morgen not only sends you reminders but also displays a convenient button-like pop-up that allows you to join the meeting with just a click (if it's an online meeting, of course).
Morgen offers advanced scheduling features, which we will discuss in detail later in this article, that enable you to schedule your meetings like a pro.
Thanks to the real-time availability check, the other party will know exactly when you are available.
Furthermore, with your customized booking page, you can effortlessly inform the other person about your available dates and allow them to easily book a meeting.
In the event of a meeting cancellation, rescheduling has never been easier, thanks to the shared invitee link.
Although Morgen lacks automation, analytics, and integration add-ons, it is still a solid choice due to its powerful task management features with time blocking, meeting scheduling capabilities, and a user-friendly calendar that doesn't disappoint.
Things I Like About Morgen
Super easy to integrate all of my calendars & productivity apps
Easily plan meetings across different time zones
Personal scheduling page for meetings
Neat and user-friendly UI
Things That Can Be Improved About Morgen
Increase the visibility of the task management capabilities
Expand integrations with additional productivity tools
Enhance collaboration features for team coordination
Provide more advanced analytics or reporting capabilities
Incorporate AI or smart features for predictive scheduling
Sunsama Overview
Sunsama is the ultimate digital daily planner that helps you stay focused and organized, all in one place.
Sunsama brings together tasks from all your different sources and displays them in one unified daily view.
Not only that, Sunsama allows you to timebox your tasks and schedule them directly into your calendar. You can even drag and drop tasks from your project and task management tools. It's incredibly convenient and saves you a lot of time.
With Sunsama, you can take advantage of its awesome guided daily planning feature. It walks you through a step-by-step routine, ensuring that you don't miss anything important.
Oh, and did I mention that you can set aside dedicated time for emails and catching up on Slack messages?
Sunsama also integrates smoothly with Google and Outlook calendars, so all your events and appointments are perfectly synced.
And if you want your availability to be accurately reflected in your calendar, you'll be pleased to know that Sunsama's auto-scheduling function takes care of that and more.
Lastly, Sunsama also offers analytics and progress-tracking features to help you stay on top of your productivity.
Things I Like About Sunsama
Helps prioritize and manage tasks effectively, saving users from forgetting important tasks.
Provides a great daily workflow that helps plan and organize tasks for the day, week, and month.
Integrates seamlessly with Google Calendar, allowing users to manage their day without stress.
Offers a clean and simple design that is easy to use.
Allows integration with other apps like Trello and Slack, making it convenient to manage tasks in one place.
Things That Can Be Improved About Sunsama
Better email integration that detects follow-ups and tasks to prevent disruptions from the inbox.
Improvements in real-time collaborative environments to ensure smooth and reliable team collaboration.
Enhanced project planning capabilities for managing larger-scale tasks and projects (like ClickUp).
Additional reporting features beyond the daily summary to provide more insights and analysis.
Morgen Vs Sunsama: Features Comparison
| | | |
| --- | --- | --- |
| Features | Morgen | Sunsama |
| Ease of use | Yes | Yes |
| Calendar management | Yes (more features) | Yes |
| Meeting management (scheduling features) | Yes | No |
| Task management | Yes | Yes |
| Integrations | Yes | Yes (more features) |
| Analytics and progress tracking | Yes | Yes (better) |
| Free trial | Yes (14-day free trial) | Yes (14-day free trial) |
| Free plan | Yes | No |
| Price | $6/month | $20/month |
Comparing Calendar Features: Who Offers the Best Functionality?
Effective calendar management is a must-have for any productivity tool. Here's an overview of all the calendar-related features Morgen and Sunsama have to offer:
Morgen
Morgen's calendar page looks like this: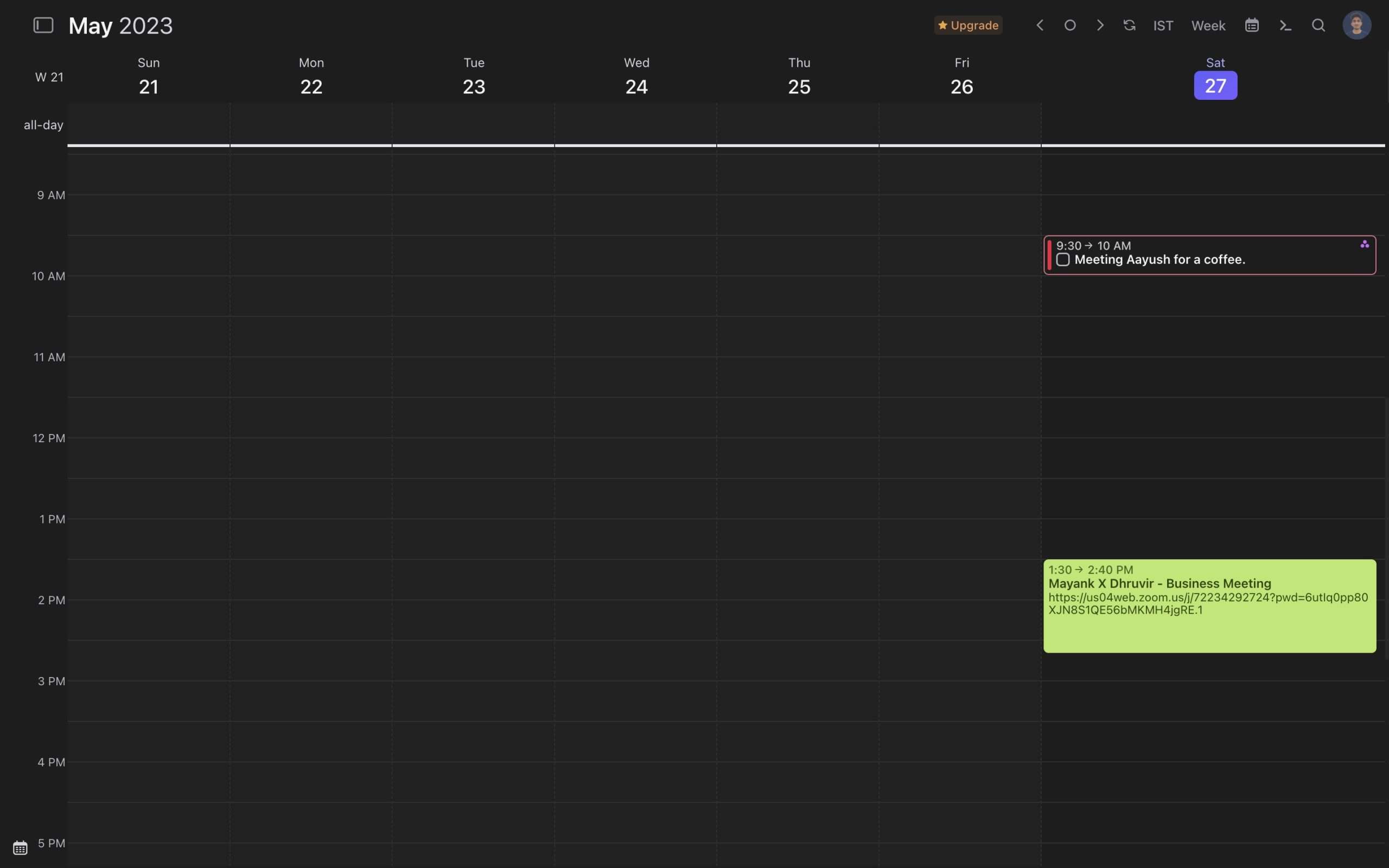 Morgen enables you to manage all your calendars in one place. It not only connects but also syncs (in real-time) with:
Google Calendar
Outlook
Exchange
Apple Calendar
And more!
Additionally, if you have added a meeting task in your calendar, you can right-click on that task to join the meeting directly without having to find the meeting link elsewhere and waste your time, thanks to integrations with Zoom, Google Meet, and plenty more.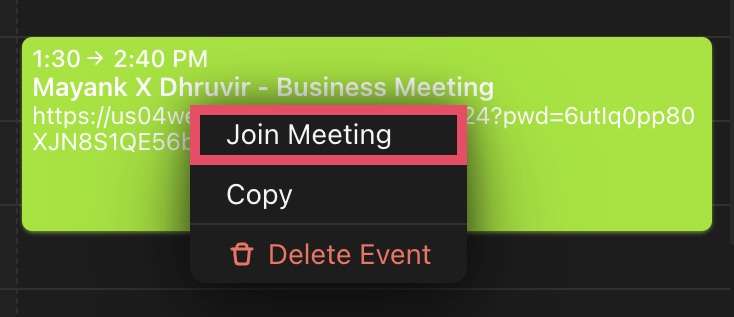 Morgen will smartly and automatically create a beautiful popup button to join the meeting.

Once you connect your preferred third-party calendar app of choice (e.g., Google Calendar) from the Accounts tab:

You can then head over to the top right corner of the dashboard, where you'll see the calendar icon:
It allows you to manage all your calendars with ease. From here, you can choose to view/hide certain calendars from the app and more.
On the left side, next to the calendar icon, you will also see a feature to add and manage time zones.
Once you are done adding a different timezone, you can view and compare it with your country's timezone by hovering over the timeline located on the left side of the page.
Lastly, with its super quick search feature, you can search and find any specific (past or future) tasks you are looking for directly from your calendar.

Sunsama
Sunsama's calendar features are simple and straightforward. Unlike Morgen, which has a calendar dashboard with only a left sidebar for task management, Sunsama offers three different layout options:
Left Sidebar: This option includes a small interactive calendar for managing calendars and accessing settings.
Middle Pane: The central hub where you can manage tasks or view the calendar (you can switch between the two from the top right corner).
Right Sidebar: This area provides integration and automation functionalities.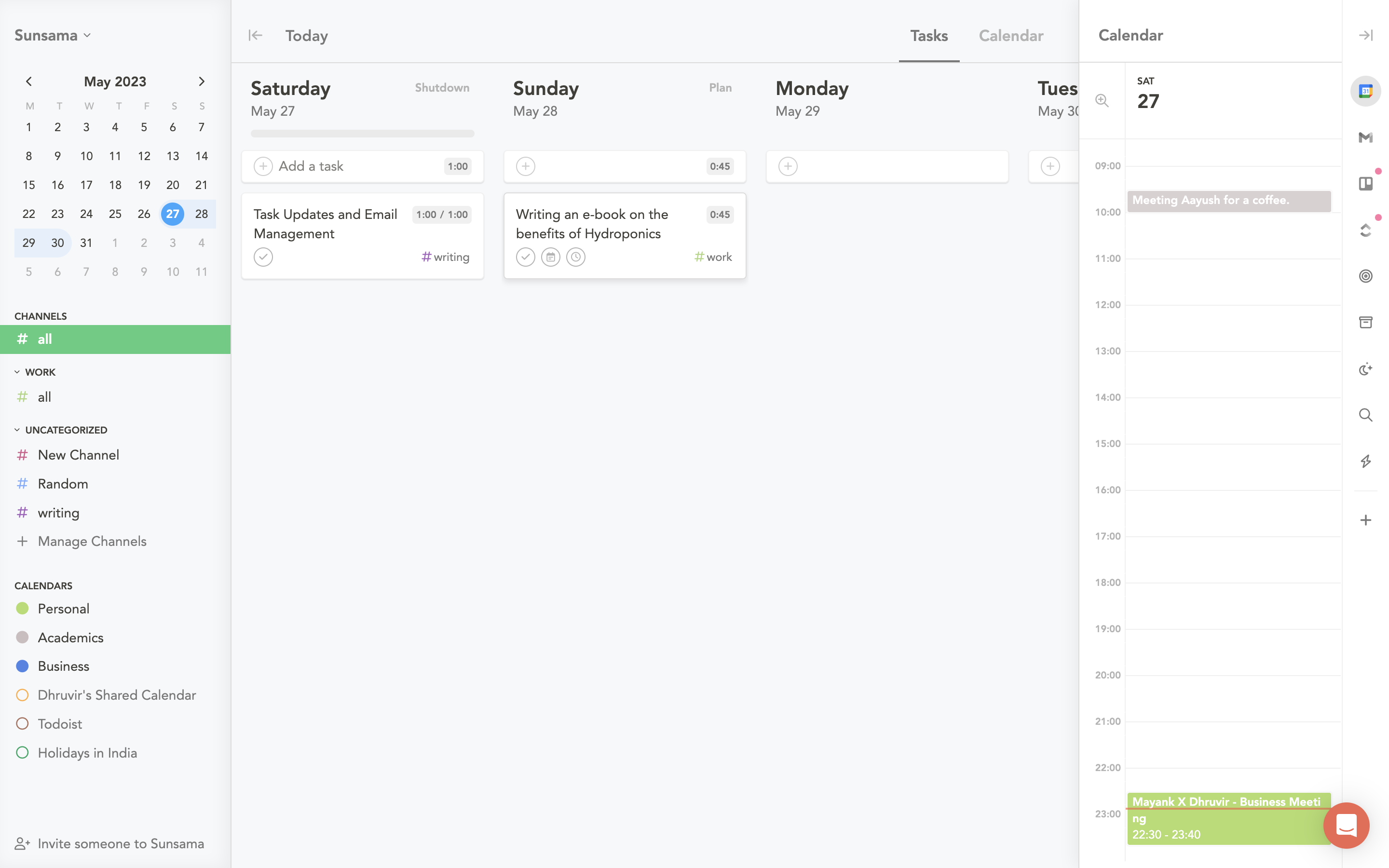 As we discussed earlier, you can easily switch from the tasks pane to the calendar view by clicking here:


Sunsama allows you to view the calendar based on different time periods:
As you can see, it's incredibly user-friendly.
Optimizing Meeting Time: Which Tool Excels in Scheduling Availability?
If you're like me, you probably don't particularly enjoy meetings, especially when they're repeated regularly without yielding any fruitful results. That's where the heaven-sent scheduling features of Morgen and Sunsama come into play.
Let's start with Morgen
Thanks to its scheduling links and customizable booking page, you can create and select your availabilities based on your top priorities. Morgen checks all your connected calendars, saving you time by helping you decide the best time(s) in a day to schedule a meeting.
To create a scheduling link in Morgen, simply go to the left sidebar and switch to 'Scheduling' from 'Tasks'.

Next, click on the 'Creating Scheduling Link' button. You'll be presented with two options:
Recurrent Morgen Link: This option allows your chosen availability to repeat weekly, creating different scheduling links for different purposes.
One-time Morgen Link: This is the simplified version. Select a few timeslots from the calendar and let the invitee choose the best one for them.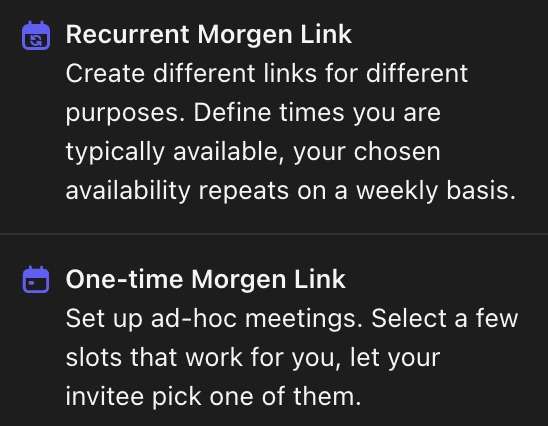 After selecting one of the scheduling options, start dragging and dropping the available timeslots. As soon as you do that, Morgen will automatically add those timings to the shareable link.

On the left side, you'll find all the scheduling options. Fill in all the necessary details, such as:
Meeting title
Location
Notes (if any)
Meeting link
Attendee's details
And more.
Once you've filled in all the details, scroll down, and you'll find your meeting link. Save and copy the link to share it directly with the invitee.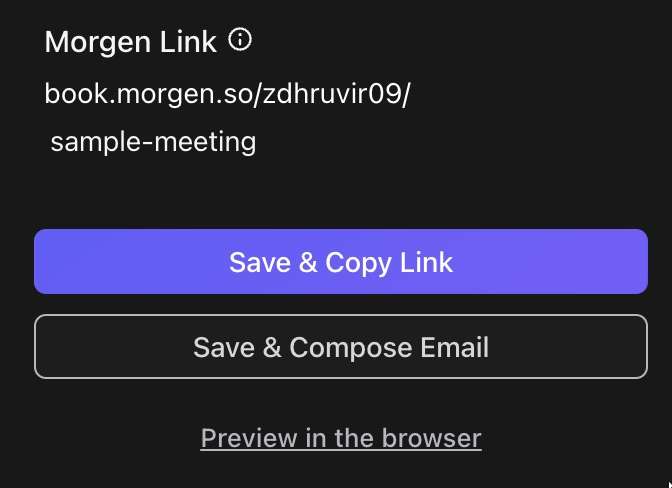 That's it!
To customize your booking page, head back to your Scheduling tab, and you'll see your personal booking page. Click on the three dots, then select 'Customize booking page.'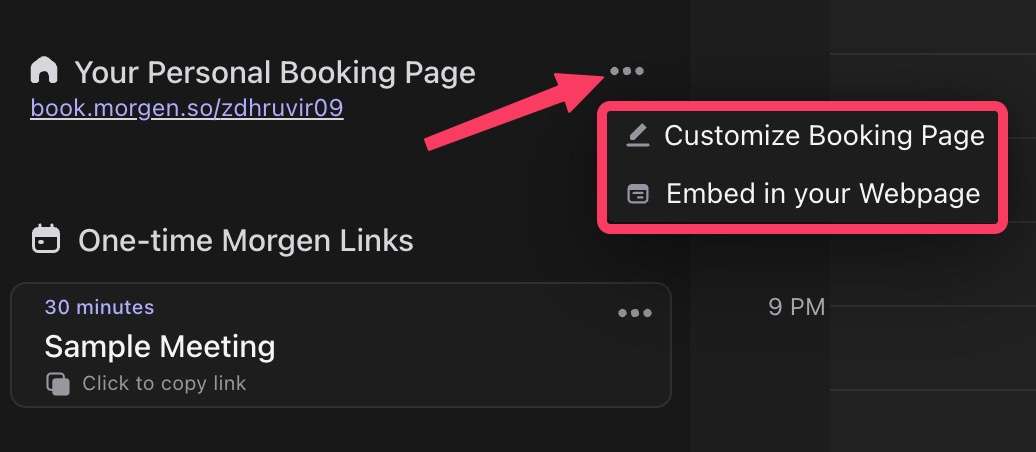 Now you can modify everything, from your booking page link to your company's logo.

You can even copy and paste the link into your web browser to preview it.

I really appreciate how easy it is to manage my availability and save time on meetings with Morgen's auto-scheduling and rescheduling features.
As of now, Sunsama does not offer meeting management and availability scheduling functionalities. If this feature is of high priority to you, I suggest considering Morgen instead. You can also take a look at our Akiflow review for alternative options.
Finding an Effective Task Manager: Which One Stands Out?
If you look at it from the surface, task management is not all that different among almost the majority of productivity apps that offer this feature.
You create a new task, add some details and hit enter to create it. That's usually the overall process of task creation.
The difference, however, lies in the intricacies of those task management tools. Some might have different additional features inside a task manager.
Let's uncover and see how Morgen and Sunsama compare when it comes to task management.
Morgen:
Morgen allows you to not only create tasks but also schedule them at your desired time, in your desired calendar.
With Morgen, you can connect your favorite to-do apps, like Todoist, and effortlessly track, prioritize, schedule, and complete your tasks without breaking a sweat.
Now, let's talk about managing your task lists.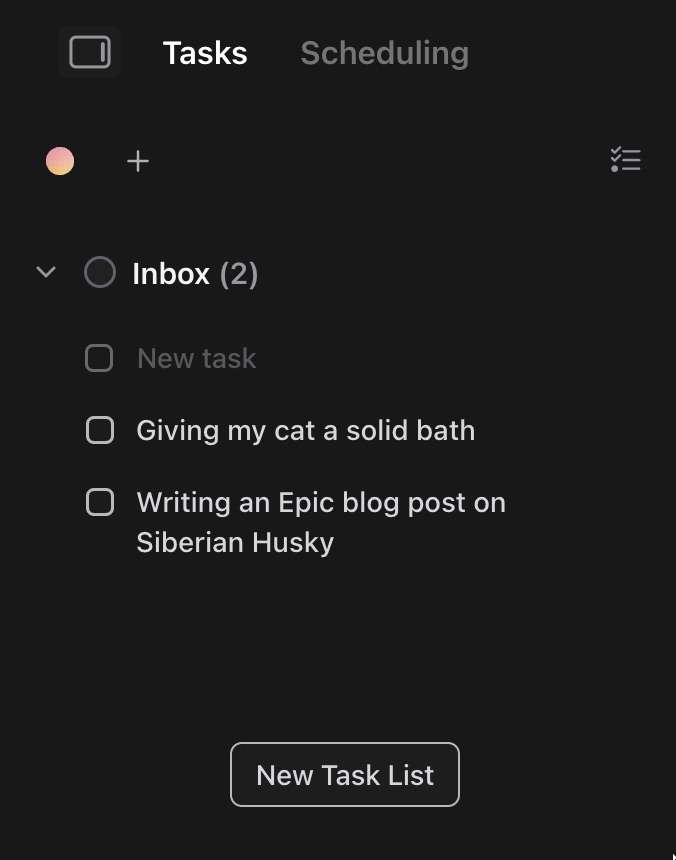 Morgen lets you create multiple task lists, which is super handy for keeping different projects and priorities organized.
And here's a little extra bonus: you can color-code your task lists to quickly identify tasks in your calendar.

You can easily sort your tasks by importance and urgency, making sure you always stay on top of the most crucial things to do.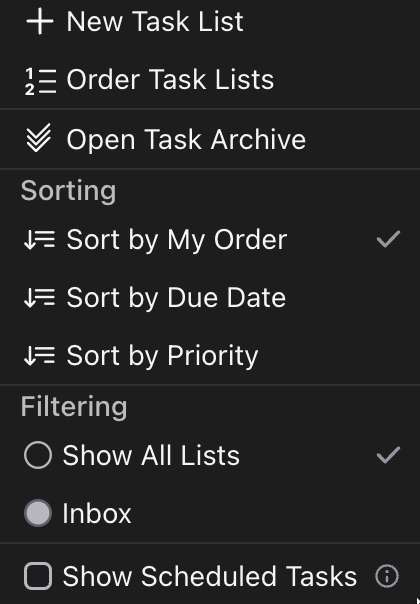 Additionally, you can set recurring tasks, so those tasks will automatically pop up in your calendar at the frequency you set.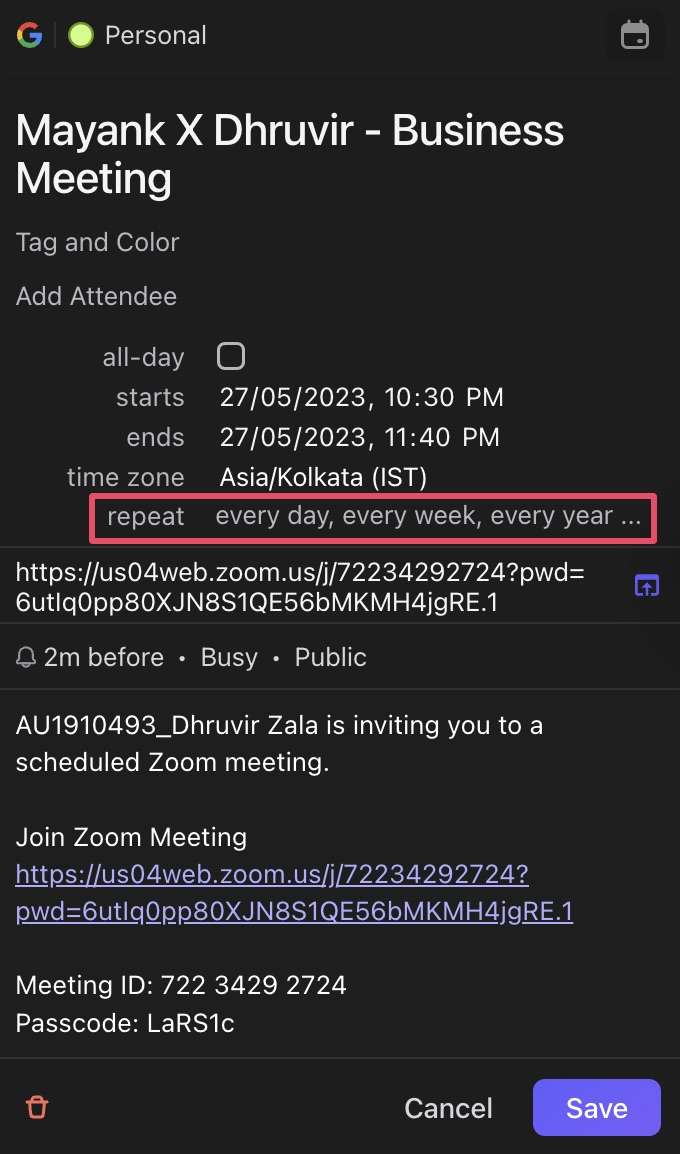 And sometimes, you might want to keep your schedule open for meetings or collaborations. You can mark a task as "free" if you don't want it to block time that could be used for other bookings.
Sunsama:
Just like Morgen, Sunsama also allows you to import and sync tasks from other tools in real-time.
But unlike Morgen, creating tasks in Sunsama differs quite a lot. For starters, under any day, you can quickly give a task description and hit enter.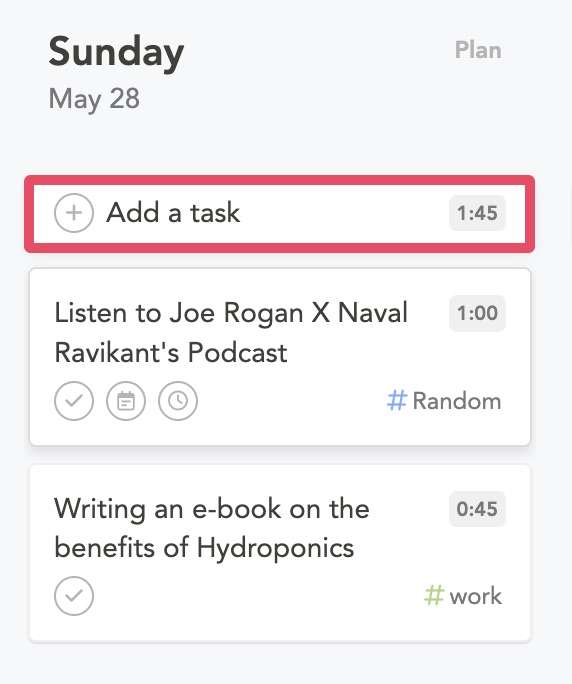 Then, click on that task and open a task popup where you will be able to add:
Subtasks
Comments and attachments
Additional notes
Time to complete a task
Task channel
Due date
Etc.
If you click on the play button, Sunsama will open the focus mode and the task timer will start. It means it's time to work on that specific task without distractions.

Hover on the top and you'll see three options:
Focus (Keep working)
Break (Take a short break)
And close the task
If you click on the three dots, you will see more options like repeat, duplicate tasks, copy link to the task, and so on!

One unique thing about Sunsama is that it also allows you to plan your day and set weekly objectives well in advance.
Just hover over to any day and you'll see a 'Plan' button. Or simply hit 'P' on your keyboard.

It will open up this new window where you can plan that certain day and set weekly objectives for that week.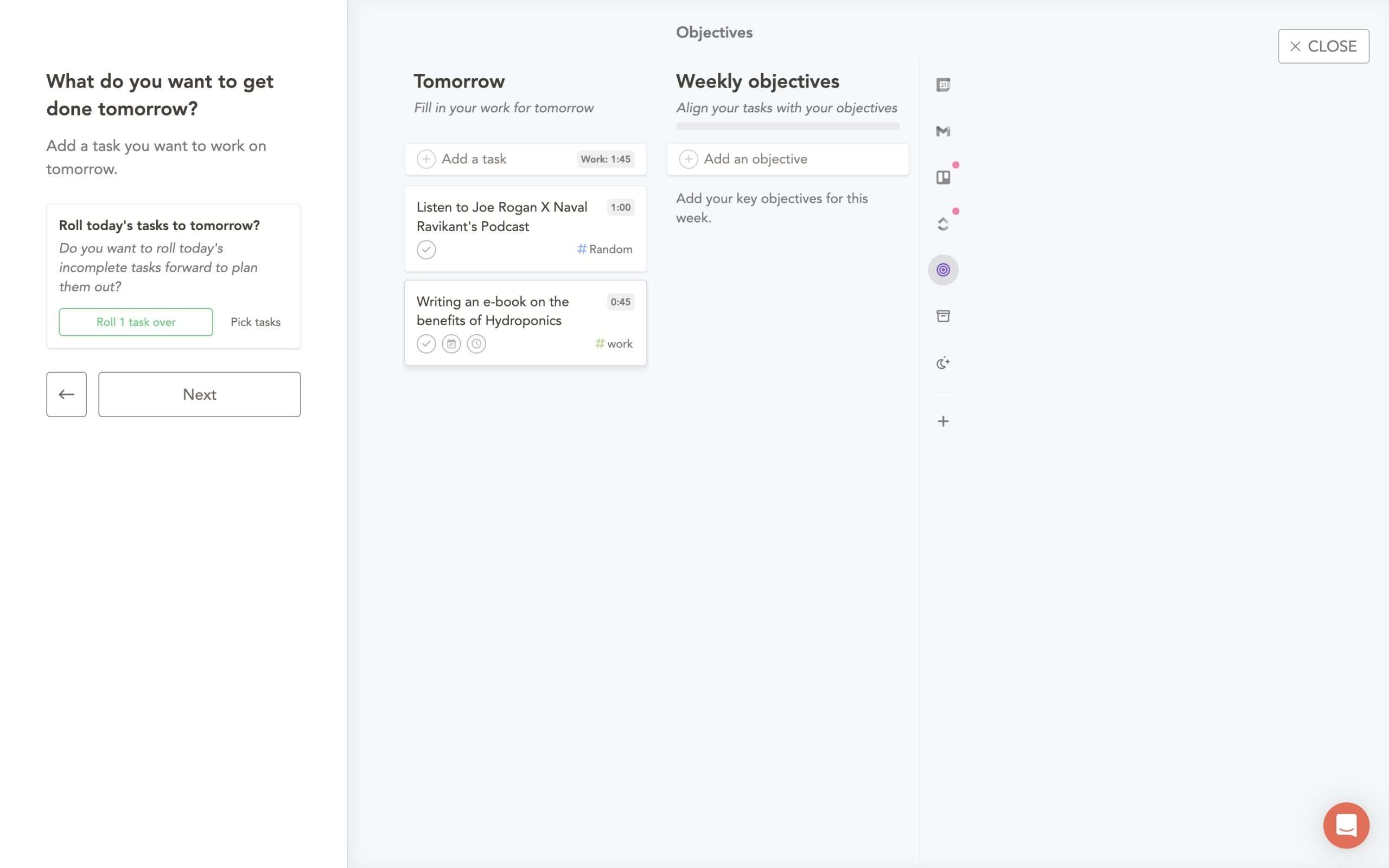 Similarly, it also has a daily shutdown and weekly review features for quality reflection on what you did, what you didn't, and what could have been done better.
What about Analytics and Progress Tracking?
As of now, Morgen does not offer any analytics and/or progress-tracking features. I believe progress tracking is one of the, if not the topmost priority, every productivity has.
Sunsama, on the other hand, provides an Analytics feature that allows you to track your daily progress in terms of hours worked and weekly progress.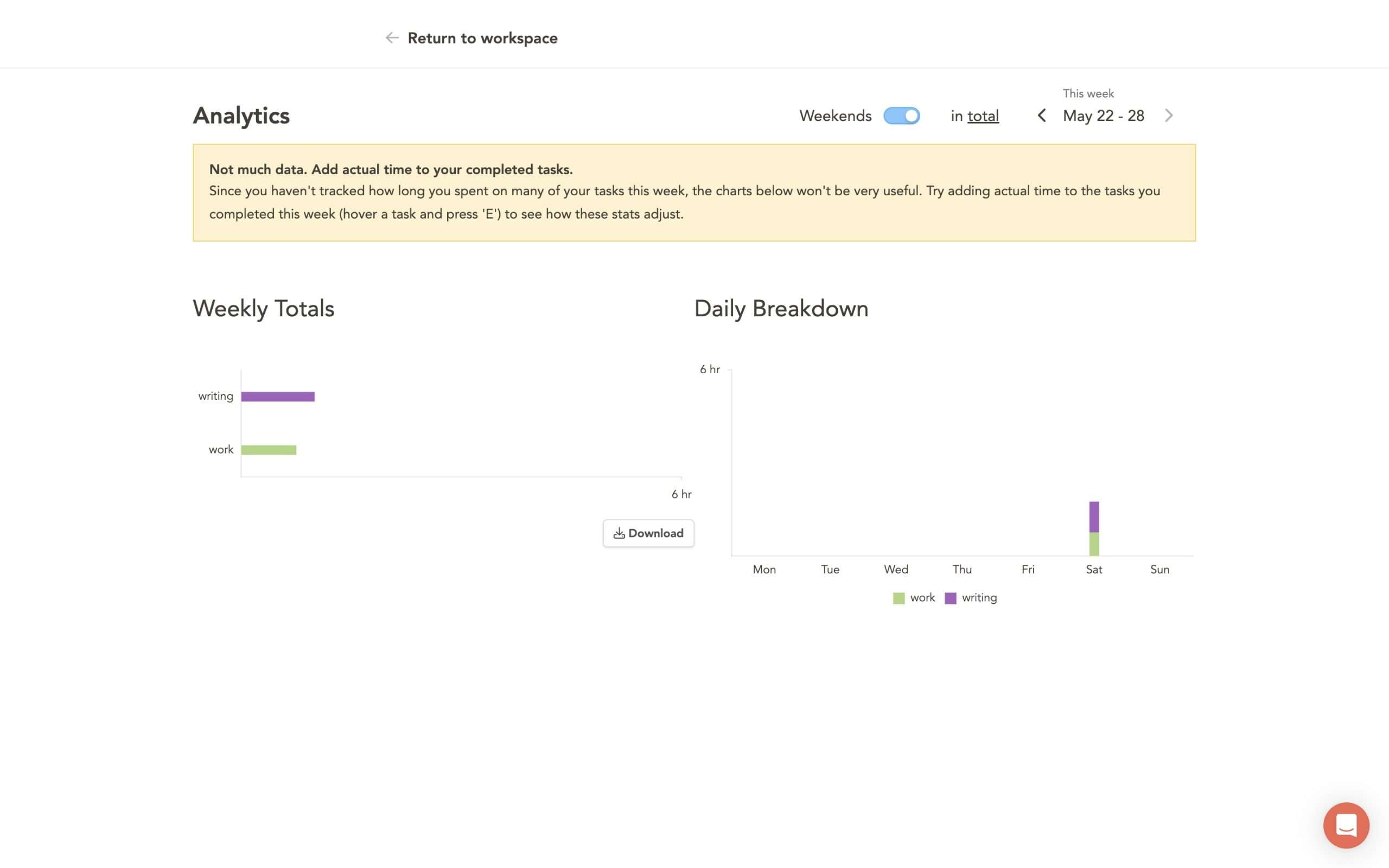 You can also download your weekly progress data as a CSV file.
Tool Integration Capabilities
When it comes to integrating with third-party tools, Morgen offers the ability to connect with a handful of options:
Web conferencing tools like Zoom, Google Meet, and more.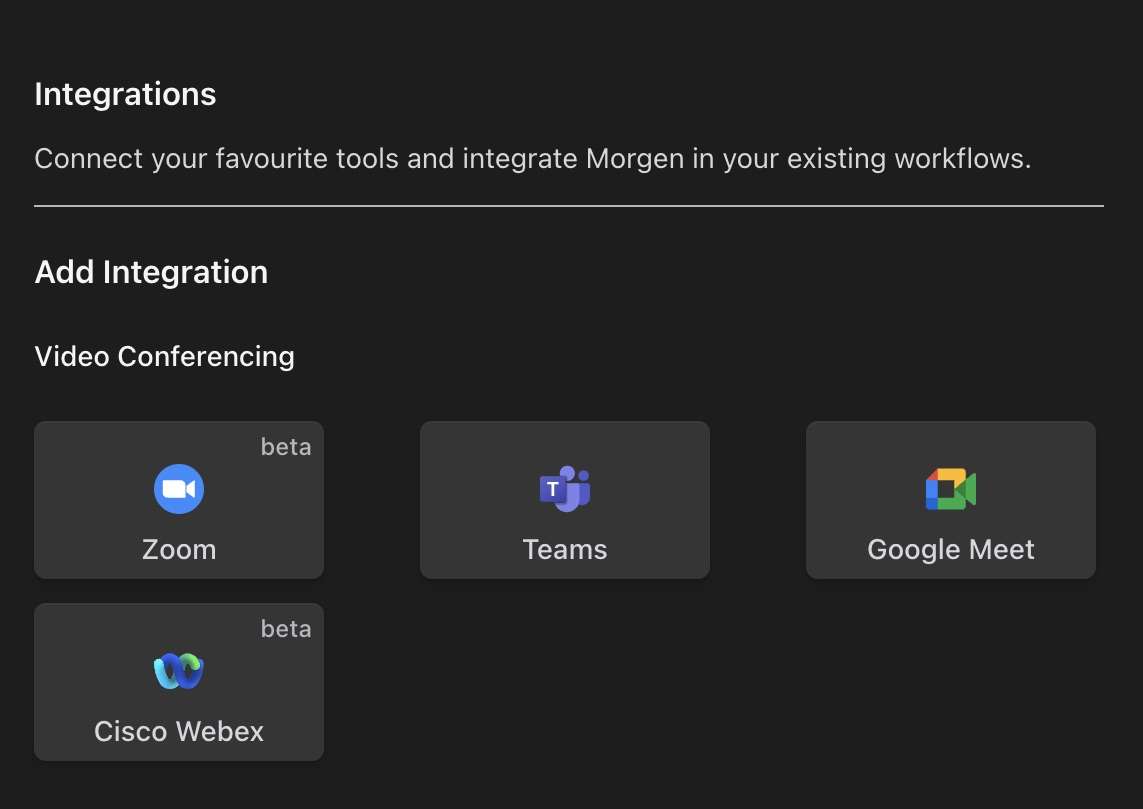 Task management apps such as Todoist, Google Tasks, Microsoft To Do, and others.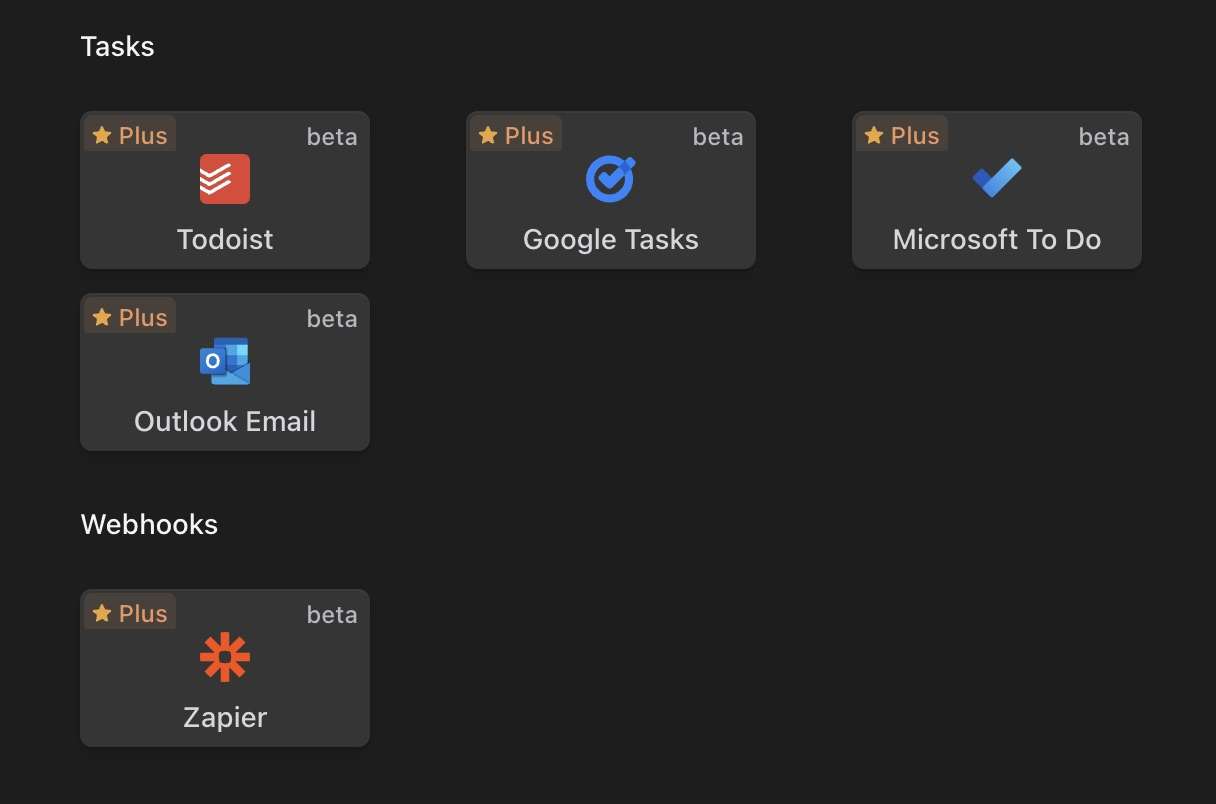 On the other hand, Sunsama provides not only more integration capabilities but also allows you to automate tasks to achieve specific objectives.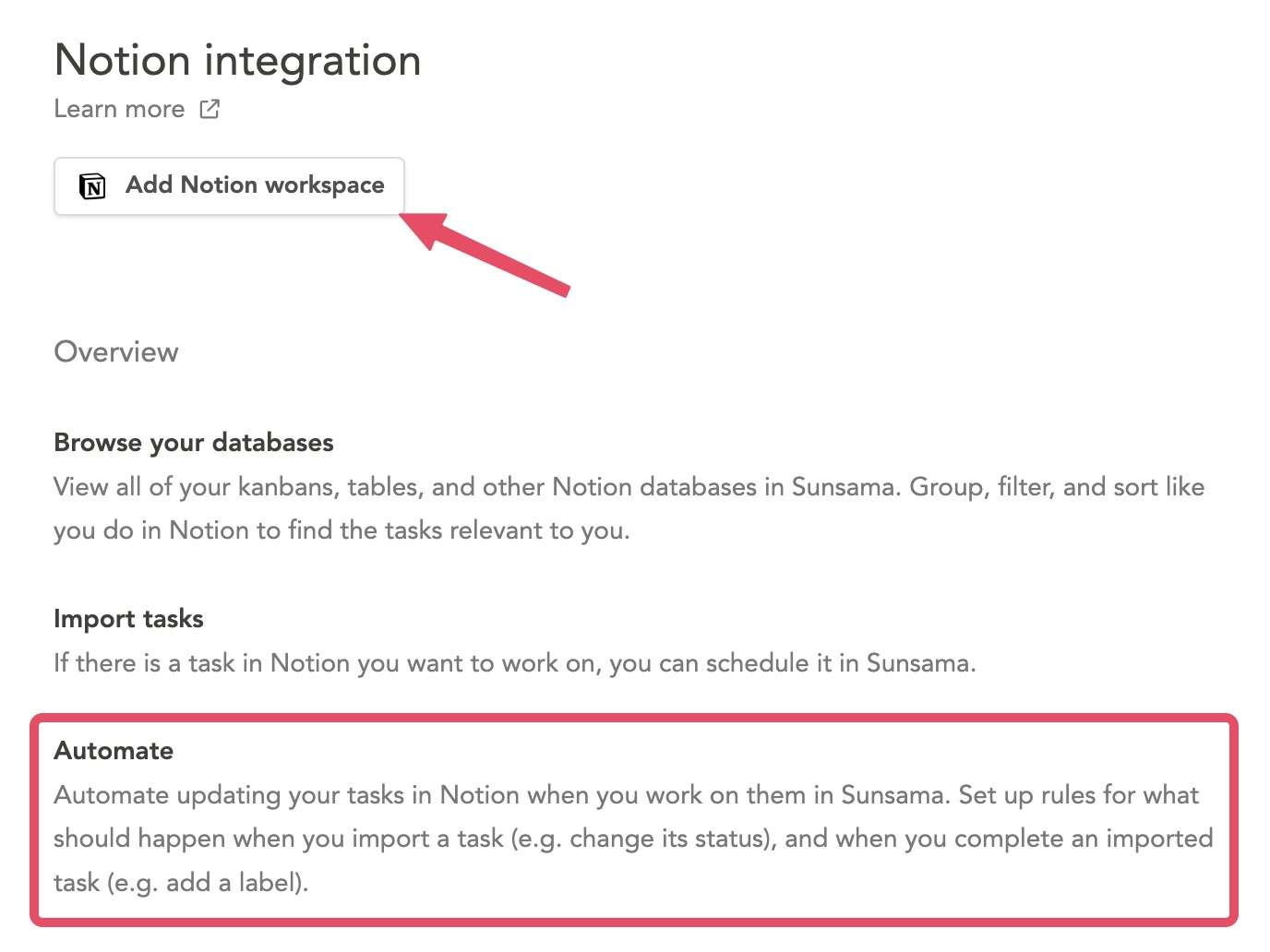 For example, if you connect Notion with Sunsama, you can set up automation. When you import a task into Sunsama and start working on it (making changes), those changes will also be reflected in Notion.
Additionally, you can create numerous conditional rules.

Similarly, for different integrated tools, Sunsama offers the potential for useful and exciting automation.

Pricing
Morgen offers a completely free plan, with an option to connect one Calendar account, a basic web conference integration facility, etc. If you want more, check out either the Plus plan which costs $6/month, or the Pro plan which costs $14/month when billed monthly.
Both the paid plan options offer a 14-day free trial.

Sunsama does not offer a free plan but a 14-day free trial and a paid subscription of $20/month ($16/month on a yearly billing).

Conclusion
So, after comparing Morgen and Sunsama, it's clear that both productivity tools have their strengths and weaknesses.
Morgen is a great choice if you prefer a clean interface and want to streamline your task management process.
On the other hand, Sunsama takes productivity to the next level by offering a comprehensive all-in-one solution.
Sunsama's guided daily planning feature and timeboxing functionality make it easier to prioritize and manage tasks effectively.
If you value simplicity and task management, Morgen is a great choice. But if you're looking for a powerful all-in-one solution with advanced integrations and automation, Sunsama is the way to go.
Try out the free trials of both tools and see which one resonates with you the most.