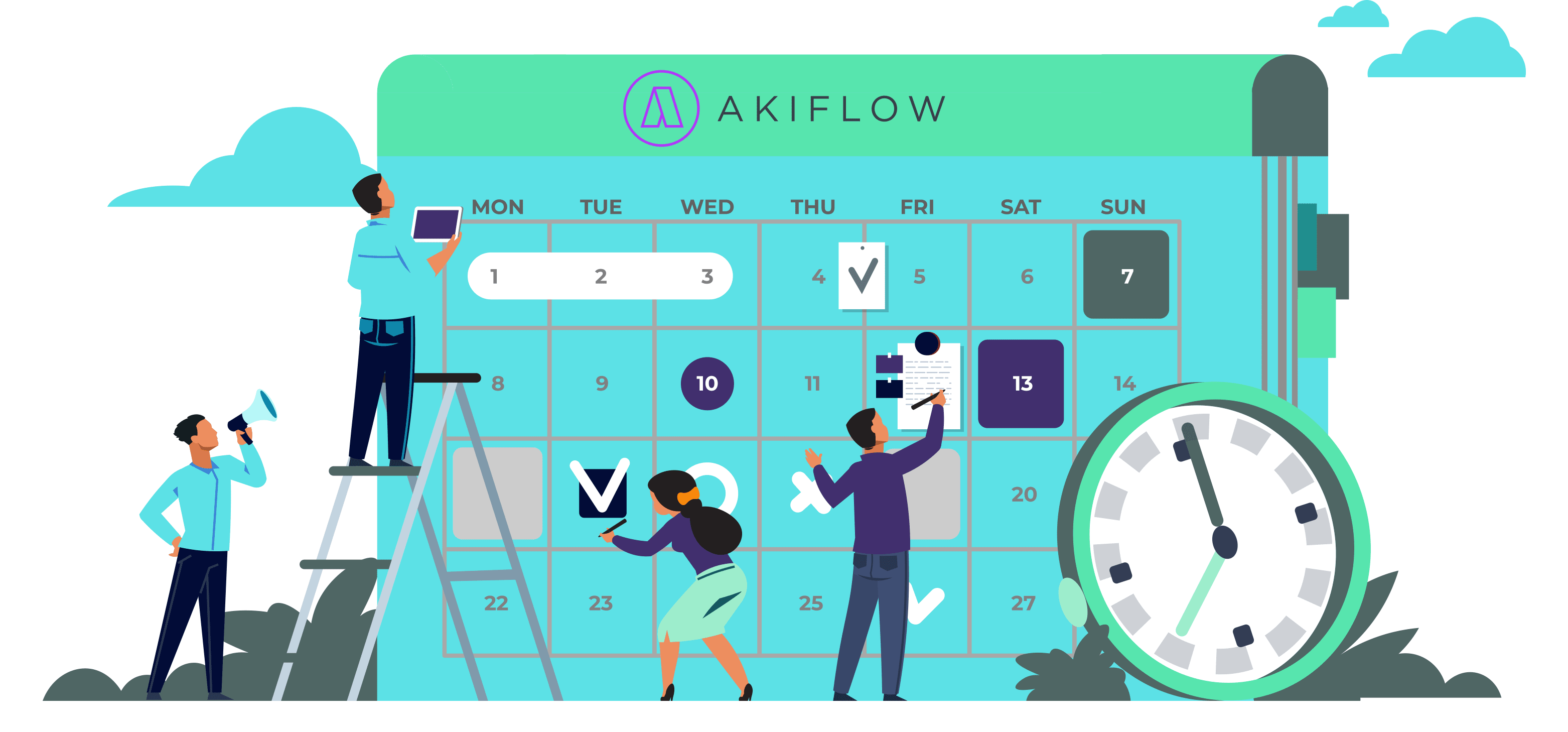 Have you ever wished there was software that could manage and automate your tasks, calendar, and meetings altogether and very quickly?
Akiflow might be the answer to your prayers.
Akiflow is a smart productivity tool that helps you optimize your time by taking care of all the tedious and time-consuming tasks related to scheduling.
And with its phenomenal automation capabilities, Akiflow can help you speed up your workflows and get things done in a fraction of the time!
In this Akiflow review, I will take an in-depth look at this software and see if it is the right fit for you.
TL;DR
Akiflow is a mixture of a task manager and a calendar with countless integration capabilities to help you optimize your time by taking care of all the tedious and time-consuming tasks related to scheduling. You can't go wrong with Akiflow if you are looking for an assistant to help you capture and create tasks from all around the web, reduce the meeting time, and more!
What is Akiflow?
Akiflow is an ultimate time-blocking platform that helps you manage, automate and streamline tasks, calendars, and meetings.
Akiflow lets you automate tasks with one simple click of a button, giving you more time to focus on what's important – growing your business.
Whether you're surfing the web, reading emails, or working on a project Akiflow allows you to easily allow you to create tasks, set deadlines, and track progress, from almost anywhere.
It is designed to save time, increase efficiency, and make it easier to manage complex tasks. Akiflow allows you to set up multiple calendars with different time zones, customize task completion rules, and allow for task automation.
Akiflow also integrates with several third-party applications such as ClickUp, Trello, Notion, IFTTT, Slack, and more.
And to increase the speed of enhancing the workflow, even more, Akiflow comes with a dedicated command bar to help you quickly create tasks and move from one part of Akiflow to another.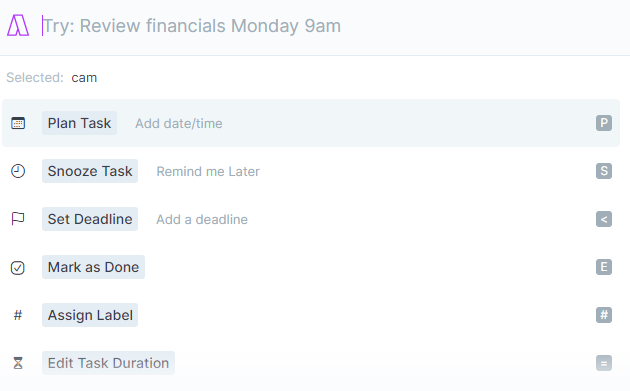 If you want to schedule a meeting quickly Akiflow can help you with that too. Akiflow allows you to quickly share the calendar, customize it according to your meetings, add participants, and even integrate it with your preferred video conference software.
After using the app for a while now, Akiflow has become one of my favorite tools for managing complex tasks and organizing my calendar more efficiently.
I only have one complaint – Akiflow does not have a web app yet, but the Akiflow team is working hard to make it available soon.
Getting Started With Akiflow
Getting started with Akiflow is easy. All you have to do is sign up for Akiflow, install the app, and start using it. Akiflow also has several tutorials on their website to help you get used to using it quickly.
The Akiflow application is available for both Mac and PC users with android and iOS apps as well. Hopefully, they will also come up with a web version soon.
As soon as you visit their website and sign up, you will be redirected to this page where you will be asked to download the software. In my case, because I am using Windows, I'll download the Windows version of Akiflow and carry forward with it.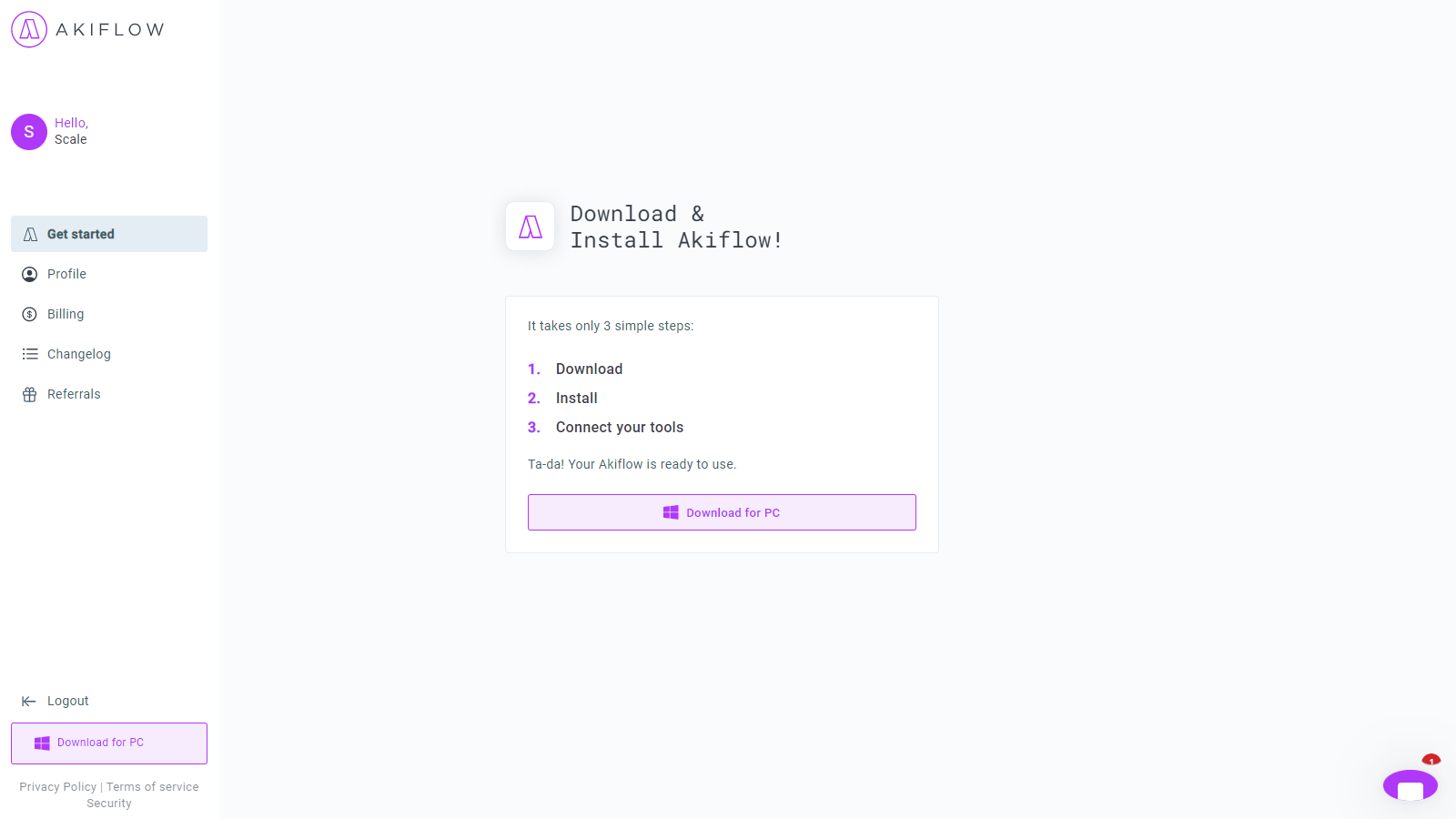 As soon as you download and open Akiflow, you'll be taken to this page that explains the basics of how Akiflow works with a screenshot of the dashboard:
Then, you'll be asked to connect your Google calendar to Akiflow so that Akiflow can sync with your existing calendar.
Once you're done setting up, Akiflow will automatically sync with your calendar and any tasks you create in Akiflow will be reflected on the calendar as well.
You will at last be asked to set up the command bar option before they take you to the main interface.
What Features Does Akiflow Offer?
1. User Interface
Akiflow offers an intuitive user interface that makes managing and creating tasks for multiple users easy.
This is the main reason you'll see a clean user interface with Akiflow and won't feel lost while navigating around it.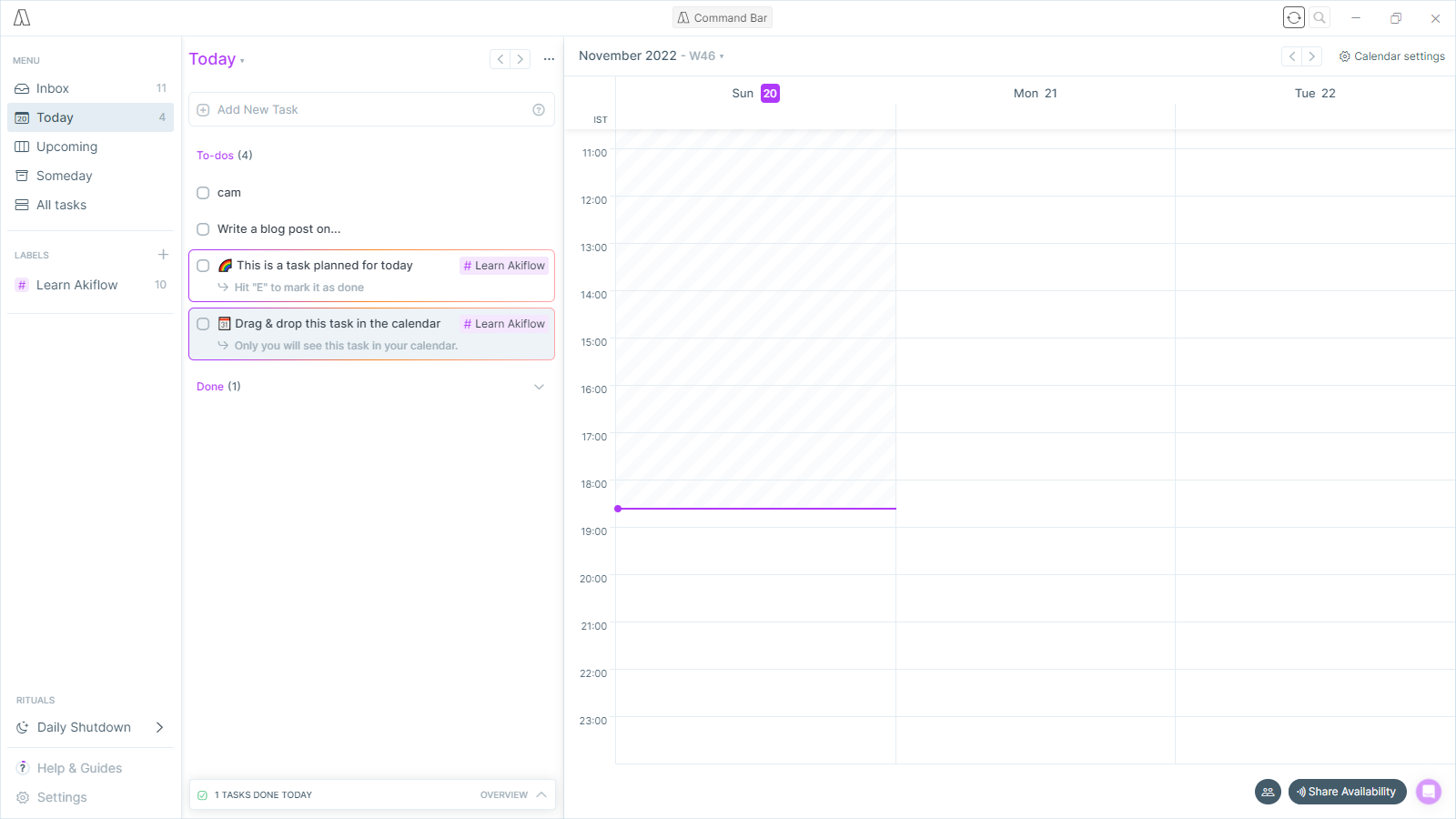 The user dashboard of Akiflow is divided into three different panels. The left panel is the menu to see your today's tasks, upcoming tasks, labels, and more.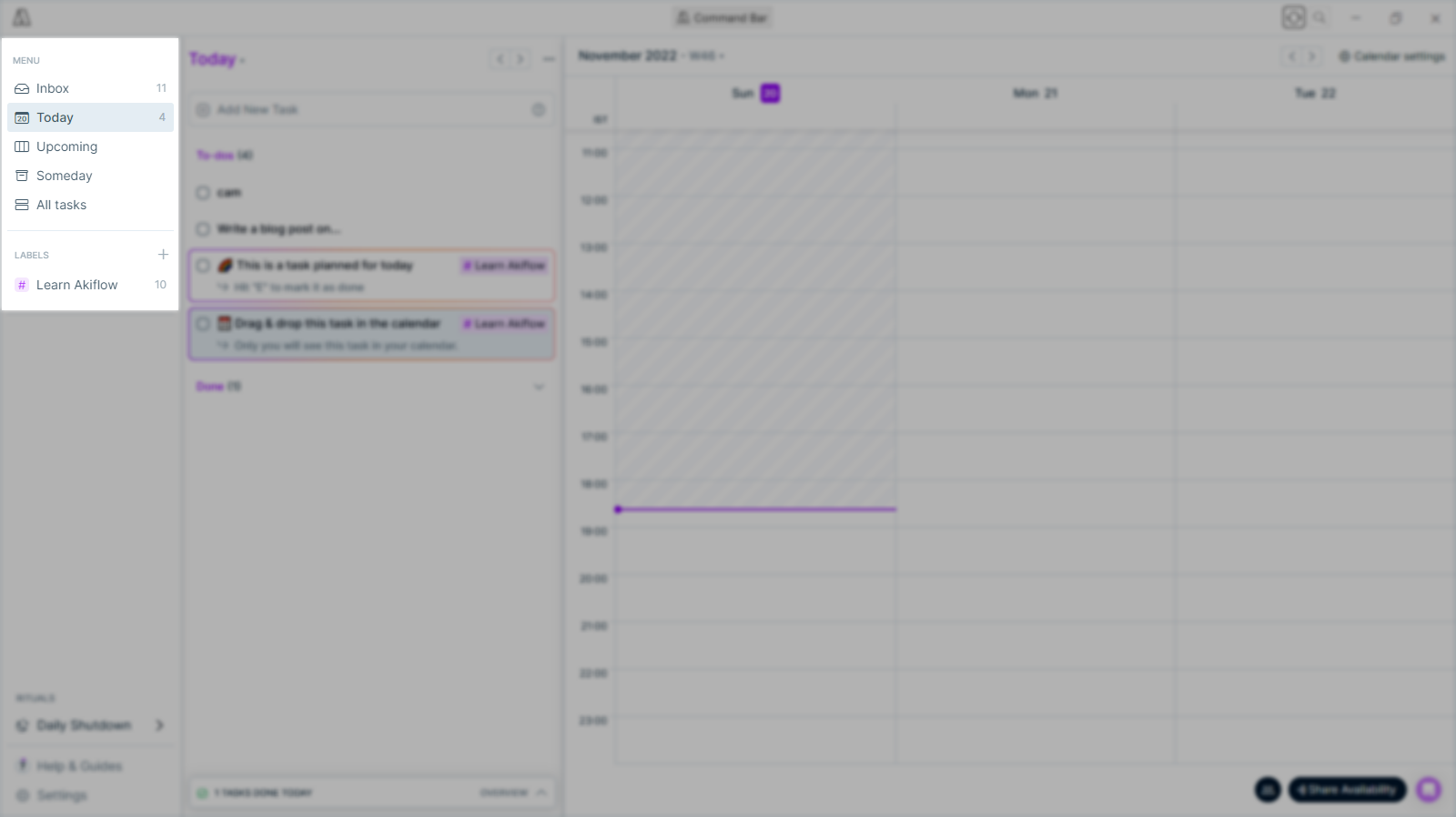 The panel in the middle allows you to create new tasks with natural language processing abilities.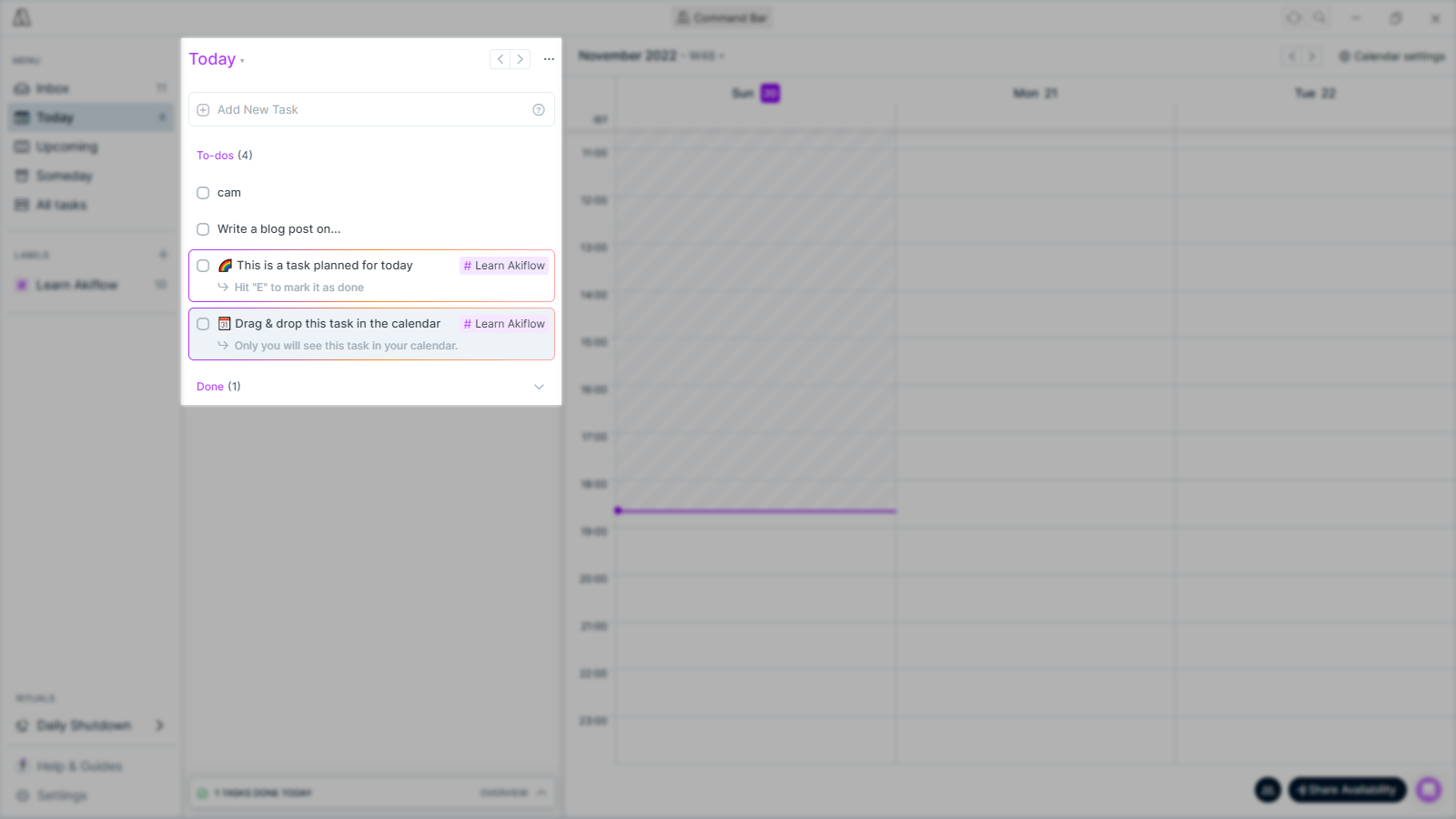 Once the task is created, you can click on the three dots icon on any specific task to open up the additional task-related settings. Here, you can define the priority of the task, add a deadline, and much more!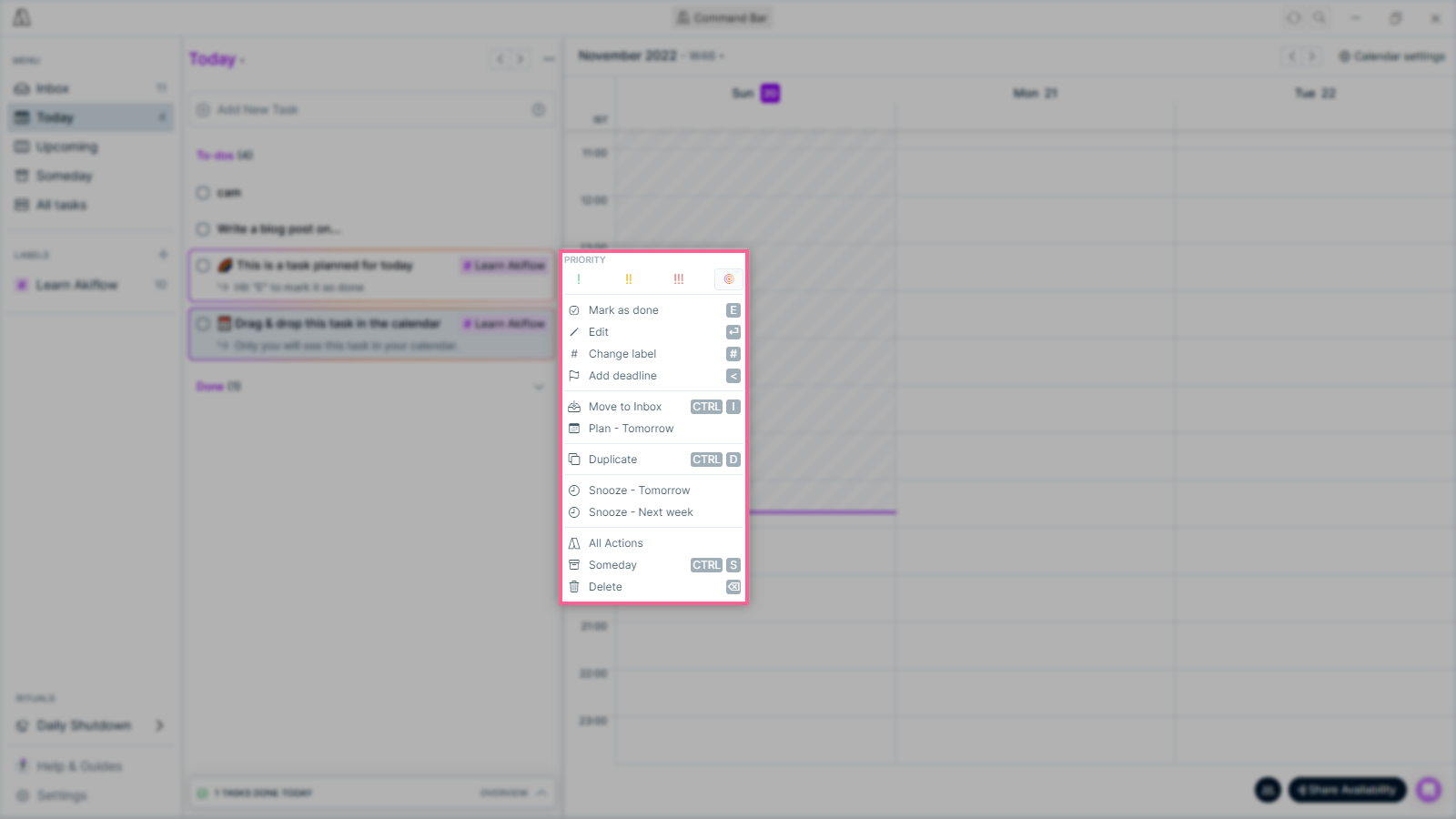 Lastly, the panel on the right side is your connected calendar. Here, you can drag your tasks from the middle pane, share your meeting availability, and so on.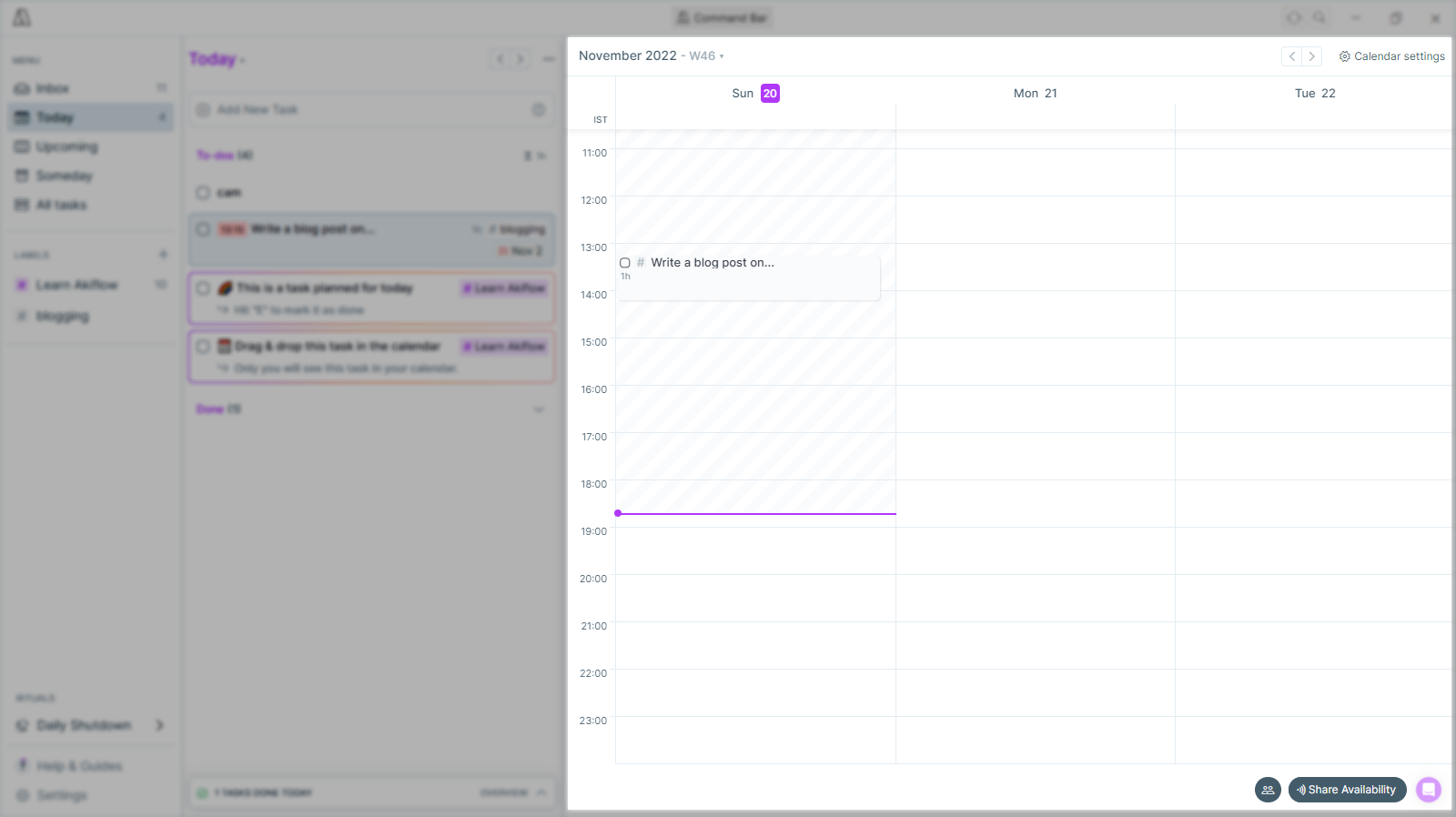 Calendar settings can be accessed from the top right corner.
Lastly, you will be able to see the command bar option at the middle-top position and an option called daily planning/daily shutdown under the Rituals section in the bottom left corner (more on that later.)
2. Task Management
As simple as it may look, Akiflow offers extensive task management capabilities that help you set up, organize and prioritize tasks quickly.
You can either create tasks by adding them from the middle pane as discussed above or use the command bar to do so.
Further, you can sort and filter the tasks by priority, labels as well as deadlines.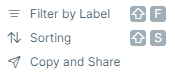 The best part?
Once you add a task to the panel, click on that task to jump onto this page where you will be able to add details like checklists, notes, due dates, and more. Additionally, if the task is related to writing, Akiflow offers a minimal interface for distraction-free writing!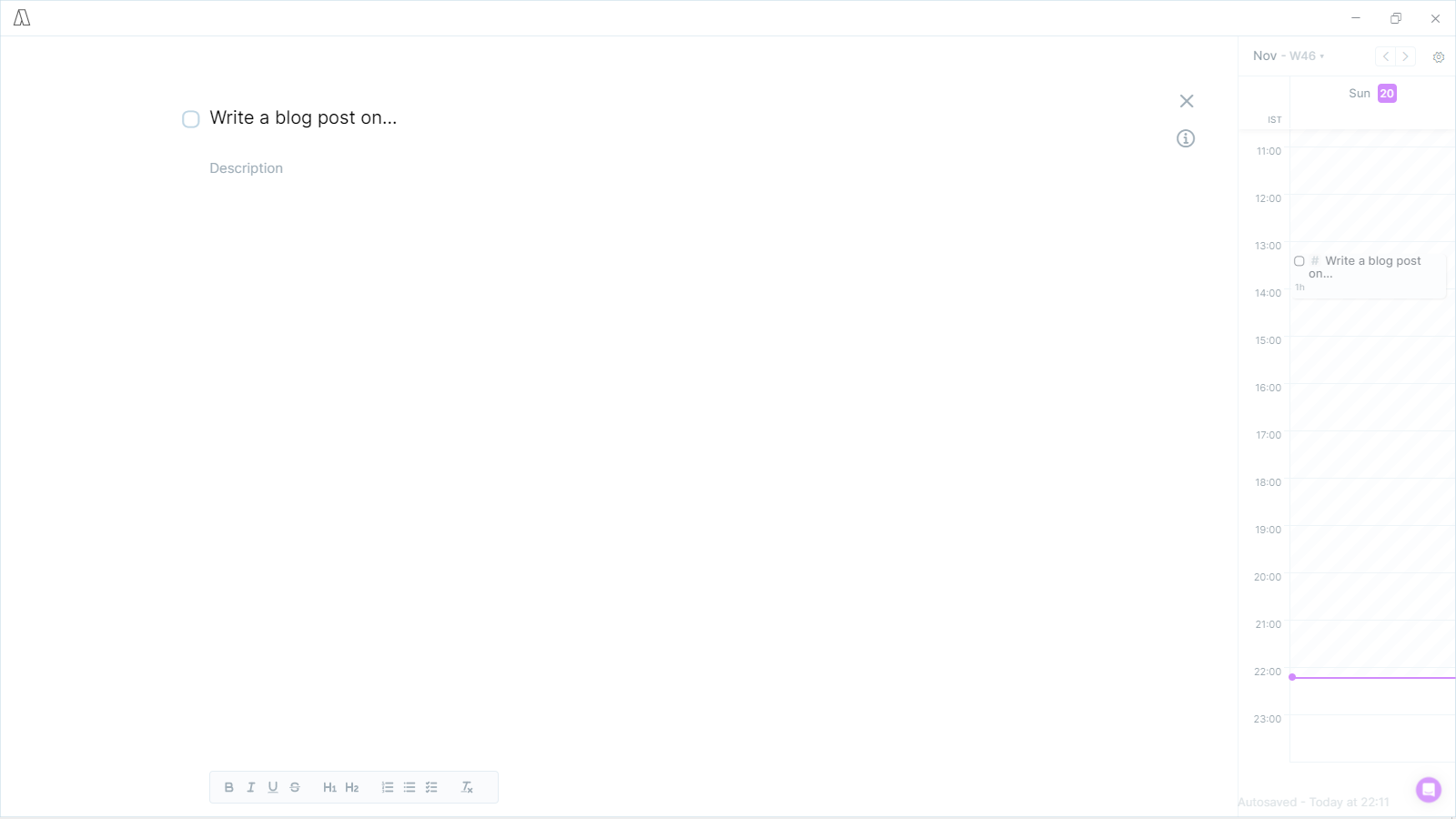 Besides, Akiflow has the integration superpower when it comes to adding tasks.
With powerful connections with third-party tools, Akiflow allows users to create tasks from emails, Slack messages, and even Trello cards – allowing you to manage all your tasks in one place (more on this later.)
This ultimately results in efficient automation and productivity for Akiflow users.
Lastly, head over to Settings > Tasks to configure Akiflow's task settings, including how Akiflow should handle task visibility, snooze timings, default task duration, and more.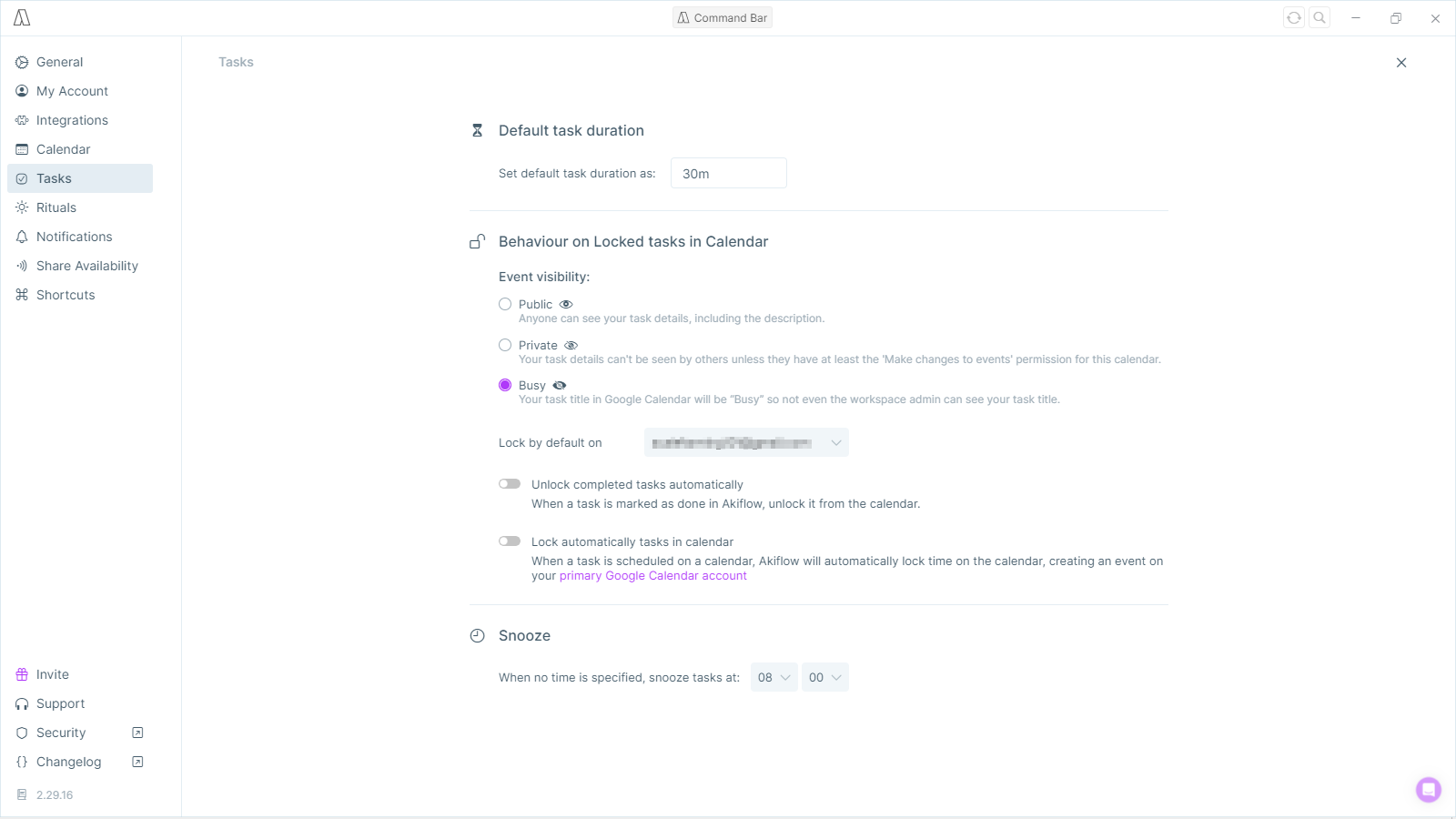 3. Meeting Collaboration
Akiflow also has some great features to help you collaborate on meetings. You can easily share an agenda, assign tasks, store notes, and even share your meeting availability without using any third-party app like Calendly.
To start, Akiflow allows you to create meetings and invite attendees from within the Akiflow platform.
Once you send out the invitations, Akiflow will do the rest. It will sync with your connected calendar and update everybody's schedules automatically.
Akiflow keeps all the details of the meeting in one place, so you can easily access any information from past meetings and ensure everyone is on the same page.
To share your meeting availability, head over to the button named "share availability" at the bottom right corner.
As you click on the button, you will be able to create either a new manual or recurrent slot.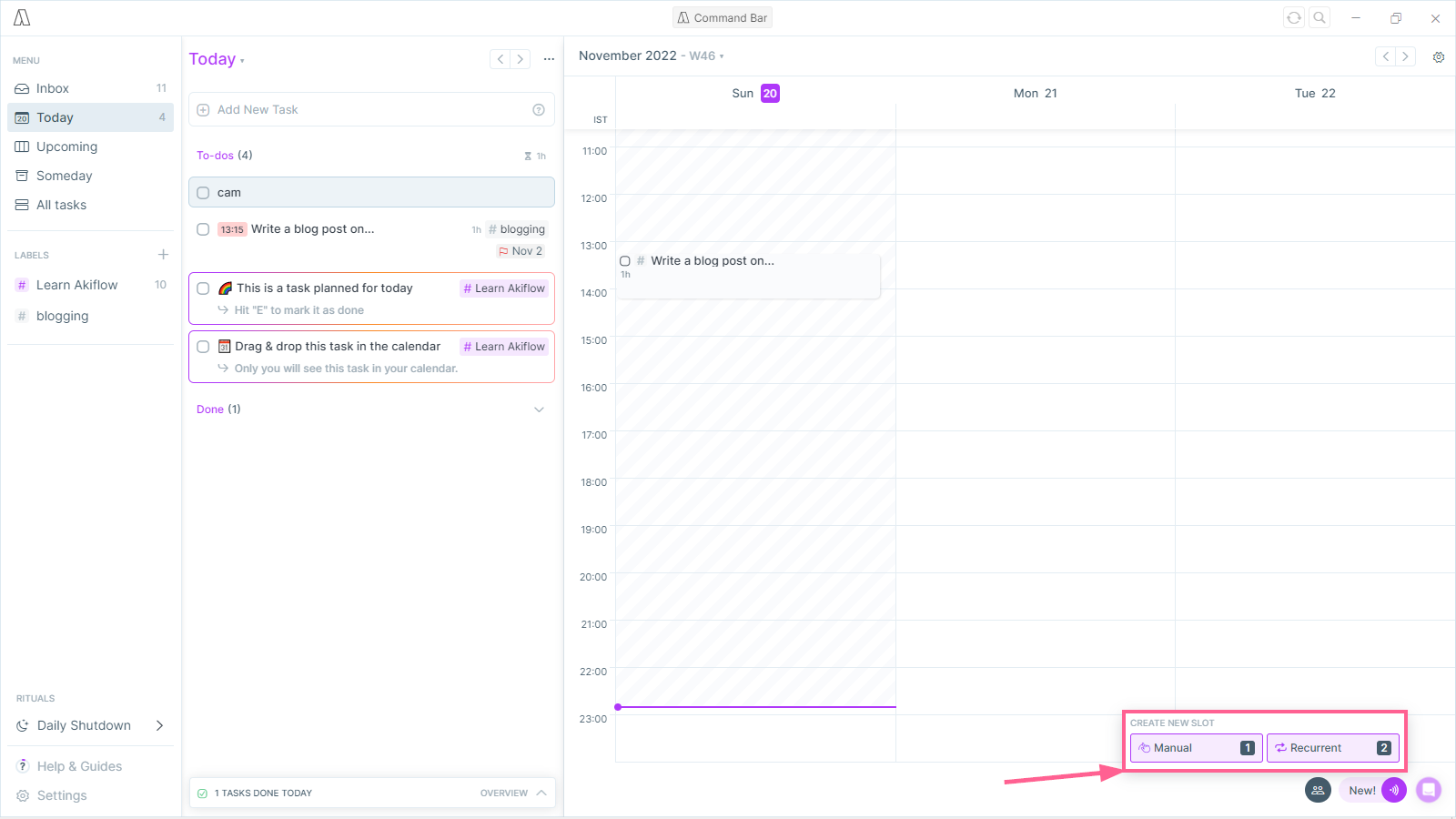 In our case, let's go with the manual mode. To create a sharing link, you will be asked to fill in the title, description, and duration of the meeting. You can then drag all the available timeslots so that the other person can choose from any of those.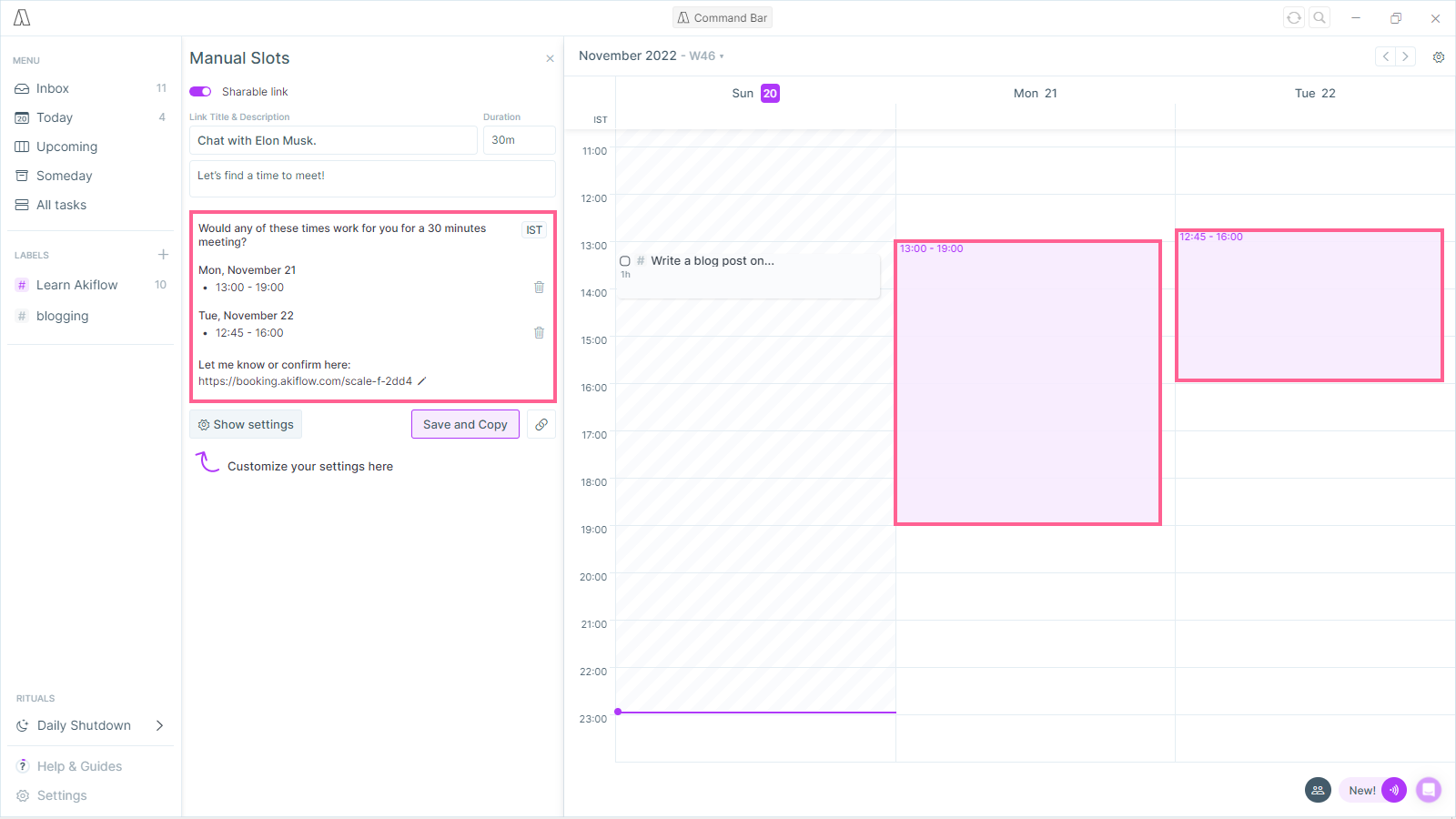 You will also see a button called show settings. From there, you'll be able to control the app used for meetings, reminders, scheduling conditions, and more!
4. Rituals
Ritual is your daily planner - your assistant to keep you on track and help you manage your everyday tasks.
You can find the daily planning option in the bottom left corner: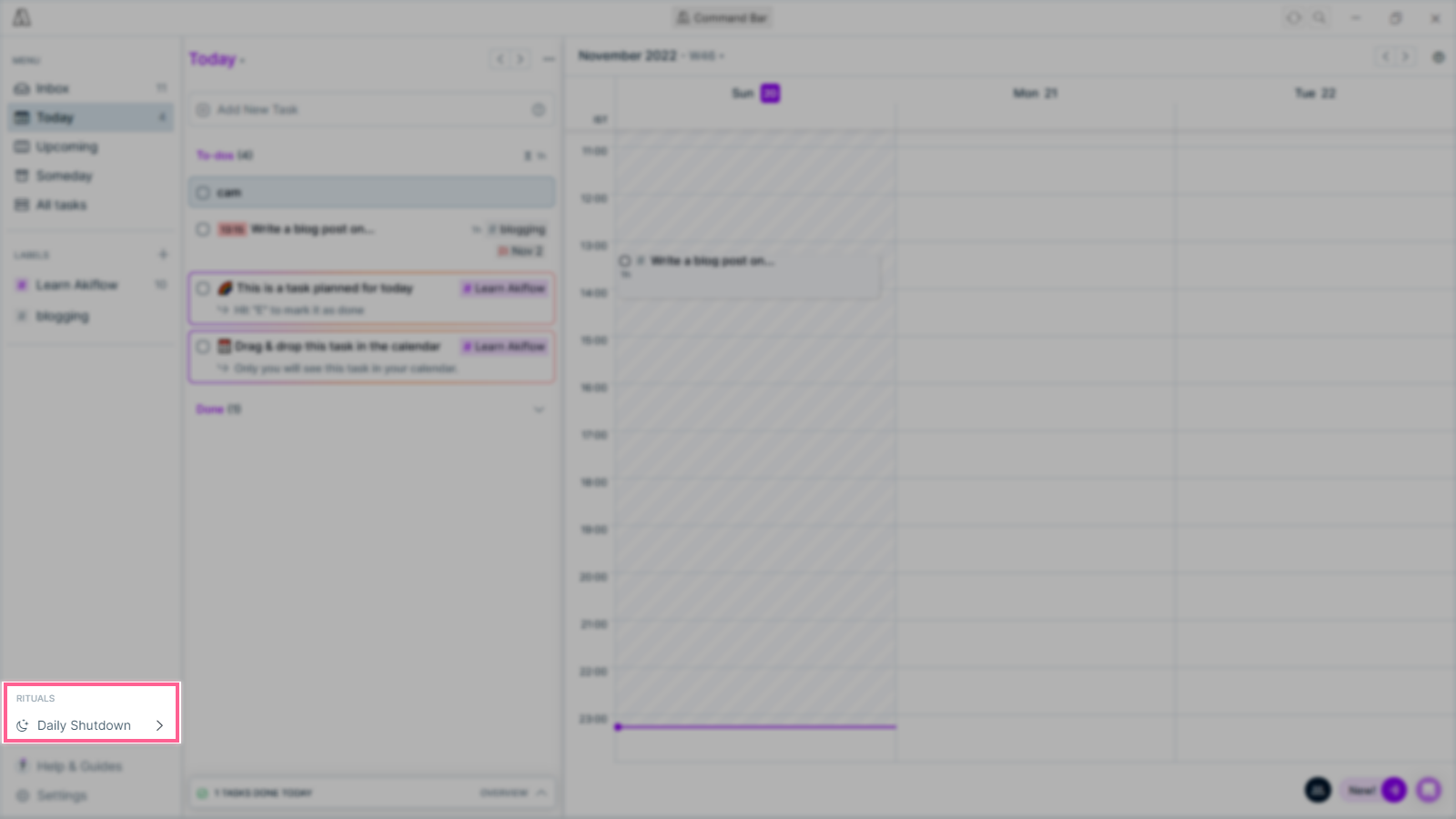 It starts by reviewing how you did yesterday, and what's next. Akiflow helps you to review the progress of your previous day, and make sure that each item was completed properly.
It then enables you to plan for today, so you can manage your time and tasks more effectively.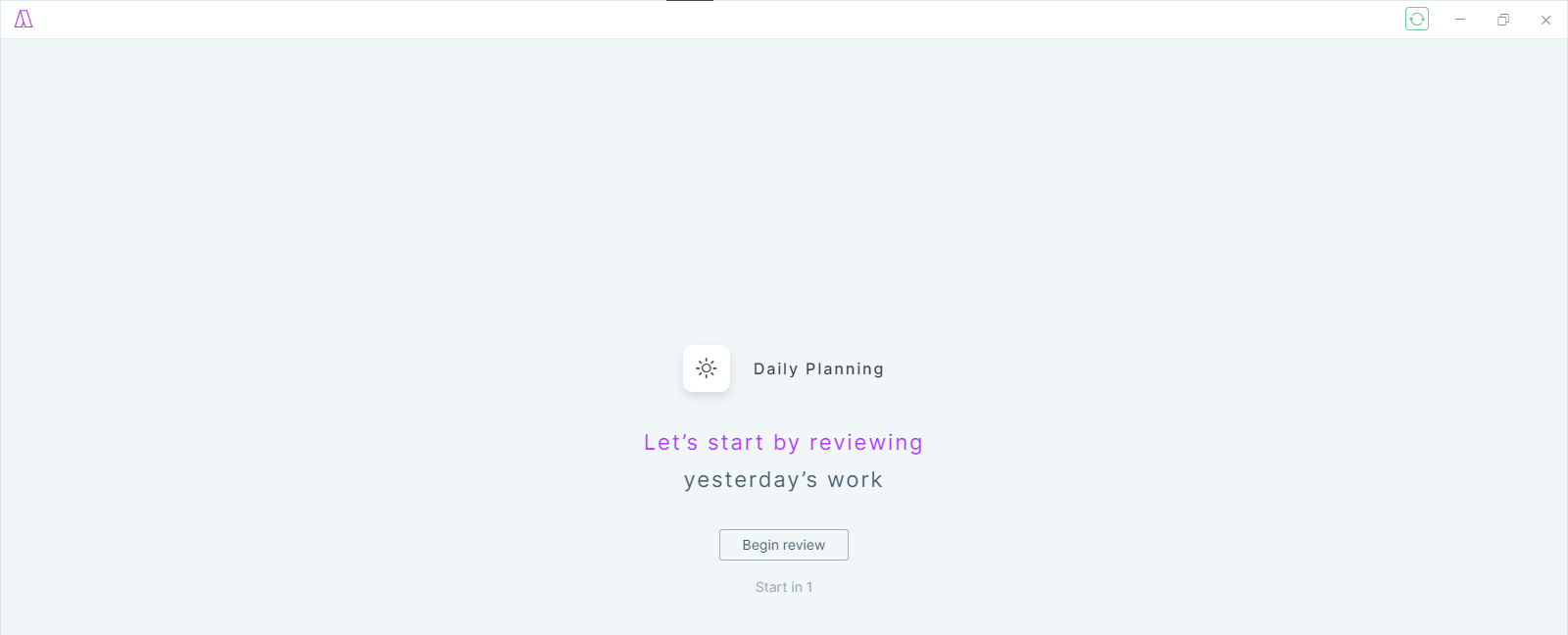 This is very useful for keeping on top of your daily tasks, making it easy to customize your planning process.
To change the default settings of rituals, head over to Settings > Rituals and you'll be able to set reminders for daily planning and daily shutdown and even set days and times for enabling rituals.
5. Real-Time Alerts and Notifications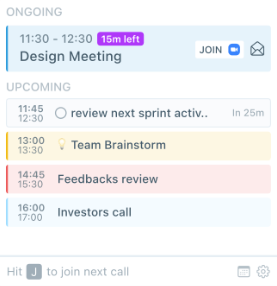 Akiflow also allows users to stay notified in real time with alerts and notifications. Whether it's the completion of a task or an important reminder for a meeting; Akiflow will ensure that you are always up to date with what needs to be done.
The best part is that these notifications can be personalized according to your preferences.
And let's see you have a meeting in 5 minutes, Akiflow will send you a reminder to ensure that you don't forget and show up late! And within that notification, you will also get a button to join the meeting instantly, making it even easier for you to attend the meeting.
Head over to settings and then notifications, to set the reminder timings and so on.

6. Reporting & Statistics
I believe Akiflow can improve the quality of the reporting you can do with all the data it stores.
Currently, all you get is the daily statistics of all the tasks and events completed during the day. You can access these reports from the bottom of the task creation pane.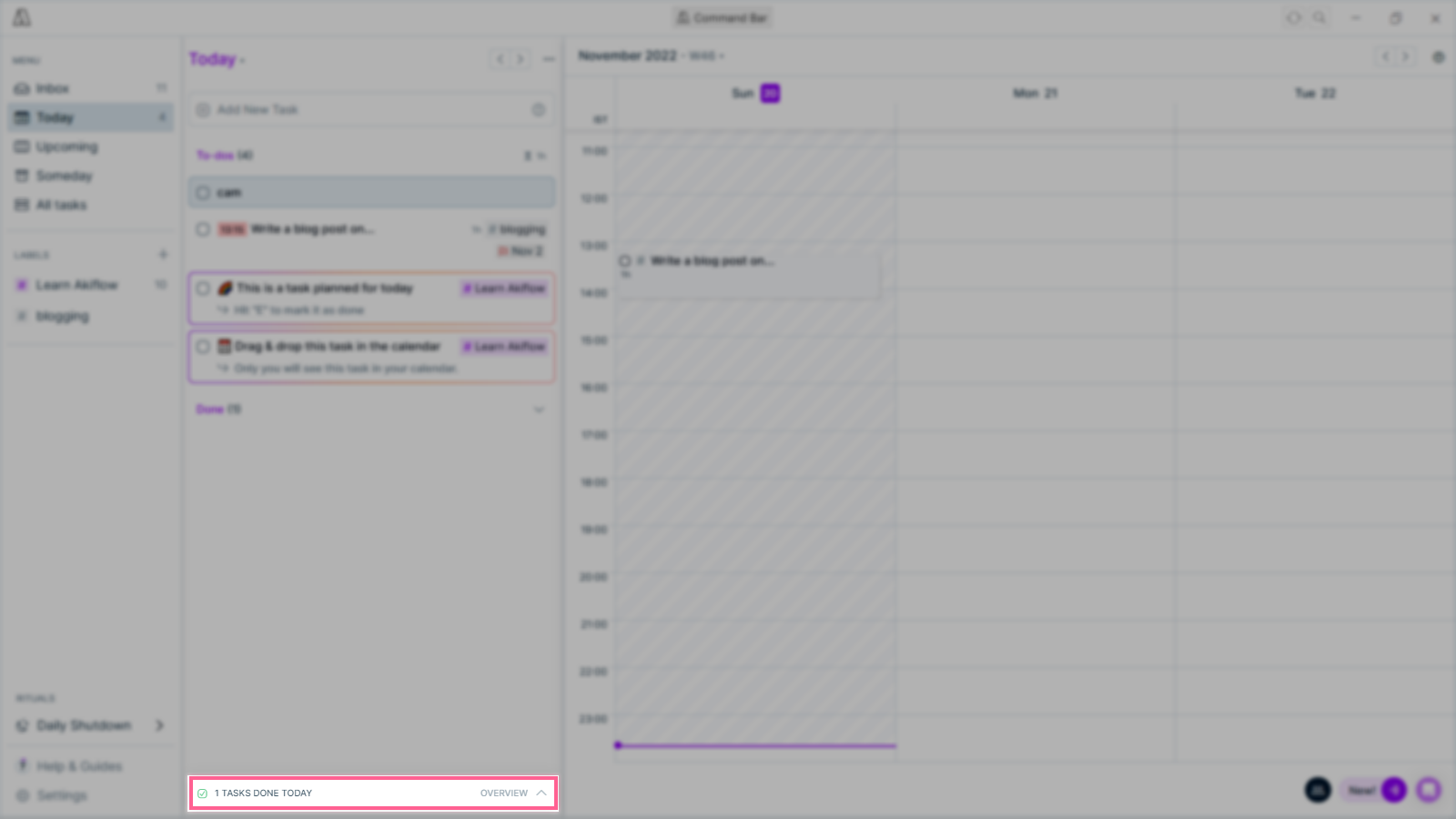 As per their roadmap, Akiflow is also planning to offer much more detailed reports. The Akiflow dashboard will be able to give you a bird's eye view of time spent on each task, time spent in meetings, progress with tasks, and more.
7. Command Bar Search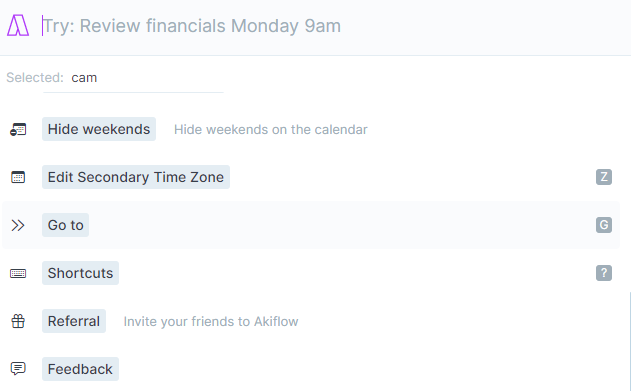 Consider Akiflow's command bar as equivalent to that of Apple's Spotlight search. Akiflow's advanced search and filter functions allow you to quickly find what you're looking for in the app.
Akiflow also various offers keyboard shortcuts to make the search process even more streamlined and efficient.
Additionally, you can use special characters (like #, @, =) to search for specific tasks, meetings, and events quickly.
This comes in handy when you're looking for something specific and want to narrow down the results quickly.
Overall, Akiflow's search and filter feature make it easy to find what you're looking for without having to spend a lot of time scrolling through Akiflow.
8. Third-Party Integrations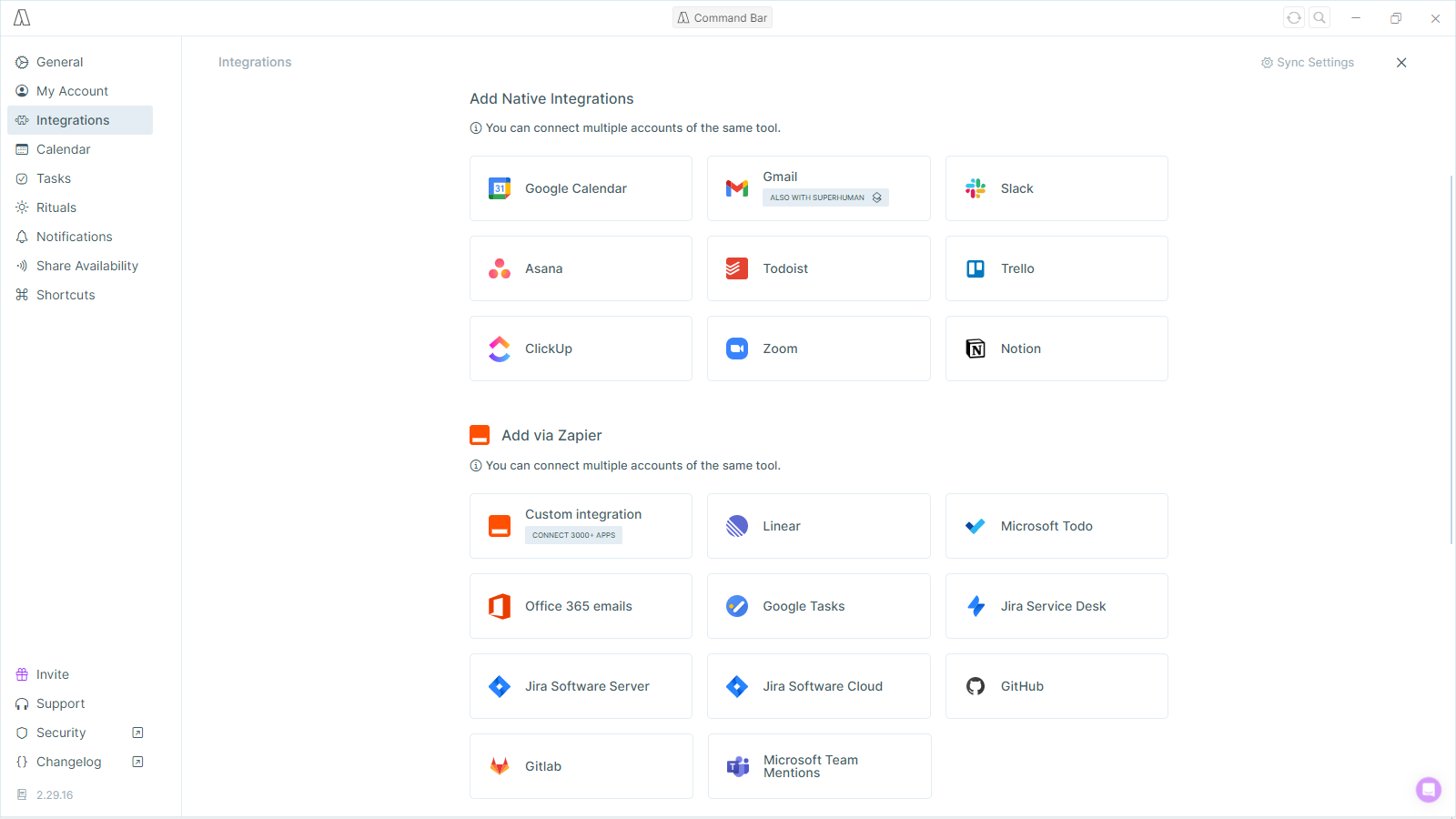 Akiflow integrates with several third-party applications like Slack, Zoom, Microsoft Outlook, and Google Calendar.
This means you don't have to manually transfer data from one platform to Akiflow, as Akiflow can do it for you in a few clicks.
This makes Akiflow an ideal choice for companies or even individuals that rely heavily on third-party applications.
Moreover, you can also connect tools like IFTTT and Zapier to Akiflow, to help automate tasks and streamline workflows.
Akiflow As A Service (Pricing)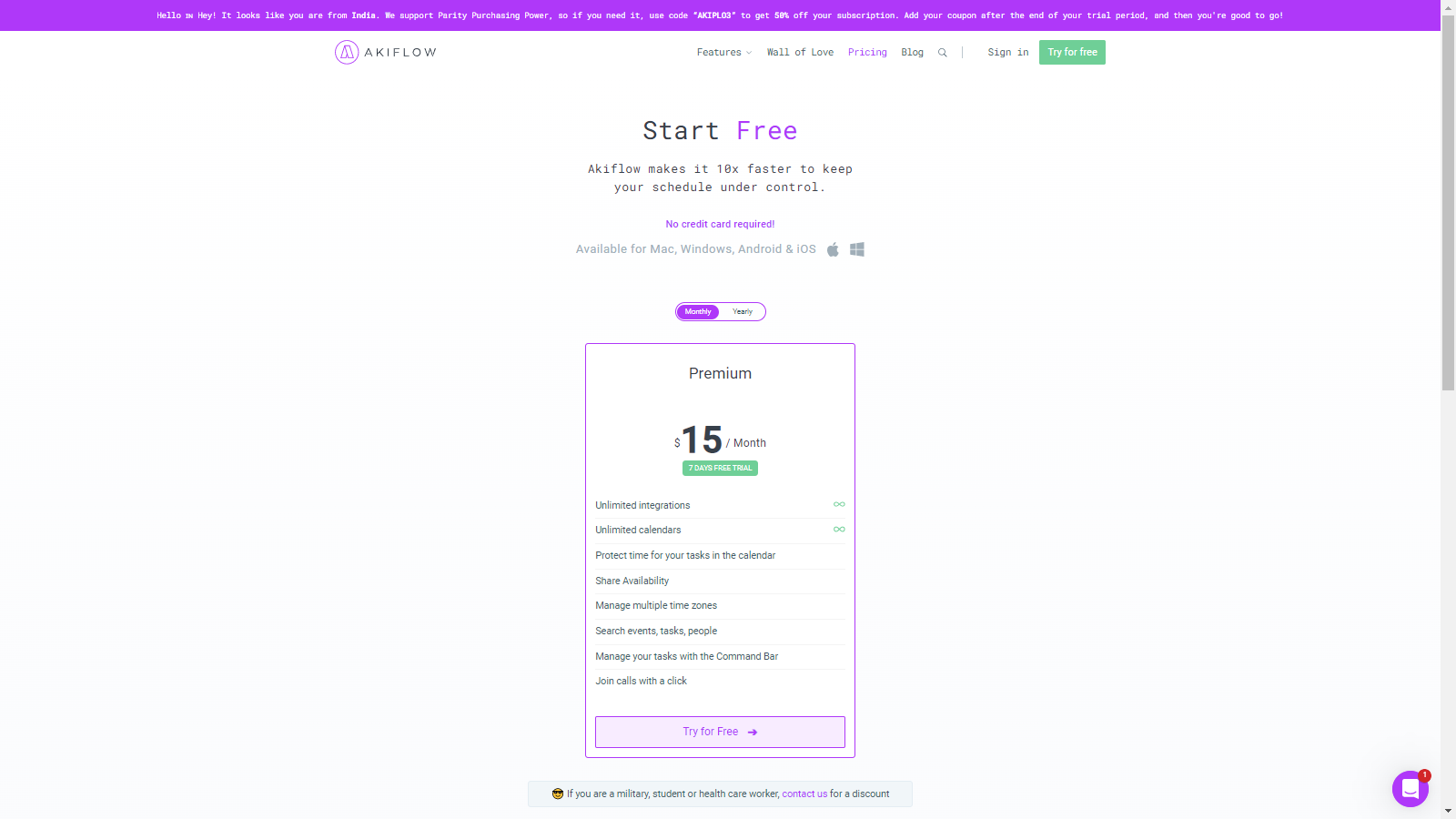 Akiflow does not have a free plan but they do offer a 7-day free trial. The Akiflow monthly paid plan costs $15/month with no restrictions on the number of integrations and calendars.
Akiflow: Things I Like
I like Akiflow because of its robust feature set, which allows you to manage tasks, meetings, and events in one place.
It is simple to use with an easy-to-navigate user interface.
Real-time alerts and notifications are also helpful for staying on top of what needs to be done.
Finally, Akiflow's search and filter function make finding what you're looking for fast and easy.
Akiflow: Things That Can Be Improved
One of the things I don't like about Akiflow is its limited reporting capabilities. Currently, Akiflow only allows you to access daily reports from the task creation pane.
Another thing I don't like about Akiflow is the pricing; Akiflow only has a monthly paid plan which could be out of the budget for some users.
Who Should Use Akiflow?
Akiflow can be used by individuals, small teams, or even enterprise businesses.
It has features to help users streamline tasks and stay organized so they can focus on their work instead of tedious manual tasks.
It allows users to easily manage and delegate tasks, creates automated workflows, and collaborates with teams. Akiflow also features a calendar module that allows users to manage meetings and events.
Akiflow is simple enough for individual users yet powerful enough for complex enterprise operations.
Akiflow Review: Conclusion
There you have it!
Akiflow is certainly worth a look for those who are looking for an all-in-one solution to manage and automate their tasks, calendars, and meetings.
It's incredibly user-friendly and offers a variety of features that make it easy for users to create, organize, and share their work with others.
And with advanced meeting time availability and powerful integration capabilities, Akiflow easily stands out among the competition.
For those who are serious about streamlining their workflow and automating tasks, Akiflow is a great choice. It provides the perfect combination of flexibility and power to make tasks, calendars, and meetings easier to manage than ever before.