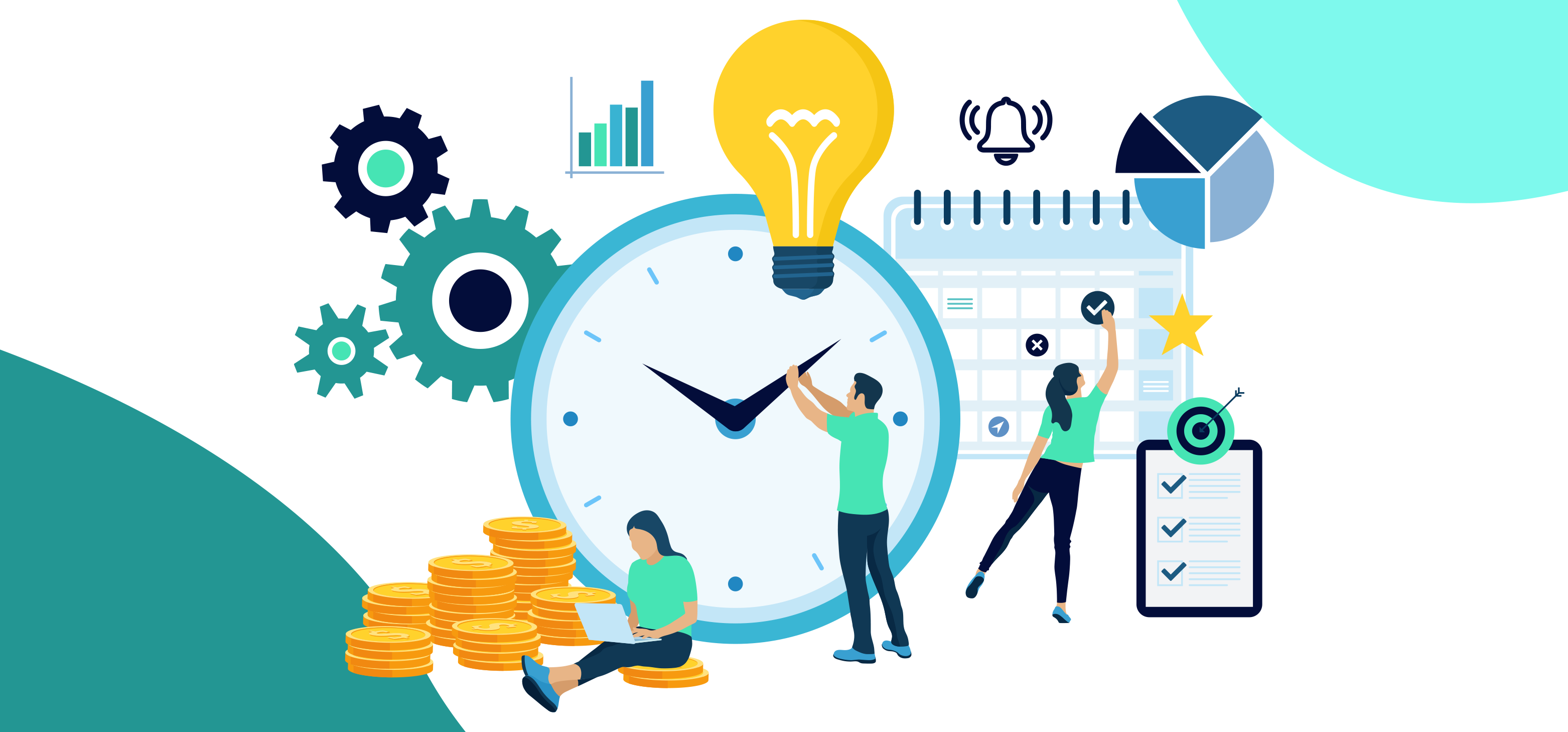 Struggling to meet your goals?
Running a business takes a lot of time and effort.
While most hustlers love their job enough to commit 50 to 60 hours a week to their work, it leaves them vulnerable to burnout.
Time management tools are designed to help you track your time, so you can give your full efforts to your business without feeling overwhelmed.
I have put together the 12 best time management apps that will help you cut down on distractions and boost your focus.
With an optimized routine, you'll ultimately be able to improve your productivity, accomplish your projects, and save some for leisure.
Let's cover them one by one.
Shift offers you a productive way to manage your communication channels and social networks. It provides a dashboard where you can plug in multiple apps you're using and toggle between them to get quick access.
You can add several email accounts and manage your inbox from here. You can sync your Slack and Asana accounts to connect with your team on it. You can browse your Facebook, Twitter, and all your social networks from it.
Shift, in other words, saves you time by letting you operate all your email and social accounts from one place.
The great thing about Shift is that it doesn't change the appearance of the original app interface. If you've added your HubSpot profile, you'll be able to see the familiar dashboard.  It merely simplifies your workspace, sparing you from repeatedly logging into your accounts.
Core Features
Cross-platform desktop app.
Supports an extensive list of tools and plugins.
Allow shared workspace.
Chrome extension.
Simple interface.
Pricing
The basic package of Shift is free of cost. To unlock full access, you'll have to pay $99 per year.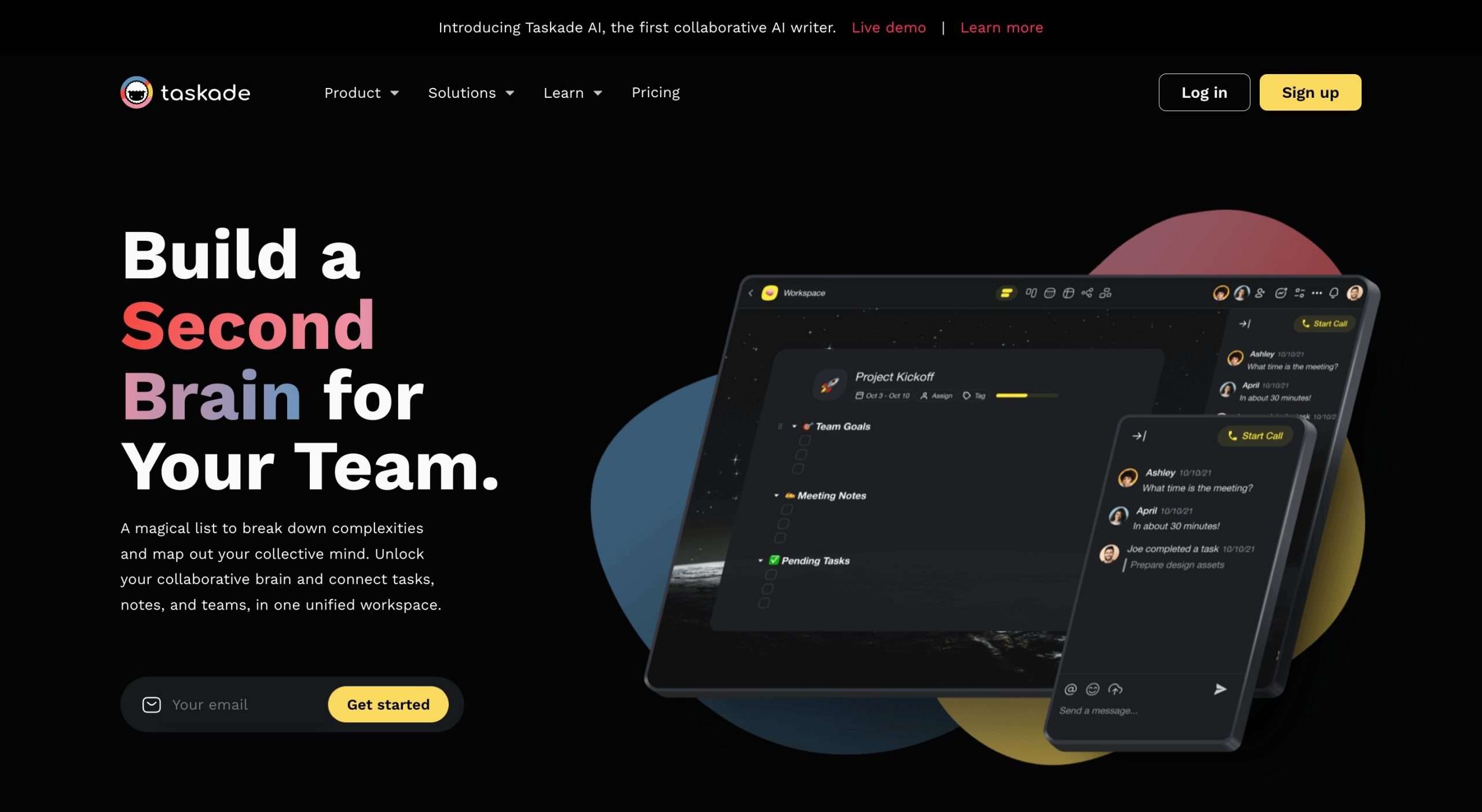 Taskade is an all-in-one solution for team collaboration and productivity.
With Taskade, you can easily create beautiful task lists, notes, and outlines, and share them instantly with your team members.
One of the best things about Taskade is its flexibility. You can use it for individual tasks or team projects, at home or at work.
Also, automatic syncing ensures that your data is always up to date on every device.
With easy one-tap editing, tagging to organize and prioritize, and the ability to assign tasks to multiple team members, you'll find that getting things done has never been easier or more enjoyable.
You can use Taskade to declutter and document your thoughts so you can focus fully on every task and project.
With Taskade, you can work with your team on a variety of templates and workflows, such as weekly planners, standup and scrum checklists, brainstorming and meeting notes, and project roadmaps.
Core Features
Invite and add team members to workspaces

Chat and work together in real-time

Create unlimited nested outlines

Easy one-tap editing projects

Templates and workflows for various tasks and projects

Themes and night mode
Pricing
Taskade has a forever-free plan. Its paid plan starts from $19 and can go up to as high as $99/month depending on the plan you choose to go with.
Akiflow is a productivity optimization app (for both Windows and macOS) that combines a task manager and calendar to help you stay on top of everything.
With Akiflow, you can capture, process, as well as prioritize tasks quickly and easily. Its Universal Task Inbox feature gives you a complete overview of all your tasks in one place.
The Command Bar feature allows you to quickly and easily modify things. Snooze using the spacebar, plan with the command key, and prioritize using the arrow keys.
If you are someone who wishes to get into the flow, you will love their time-blocking feature which allows you to schedule your day.
Tagging tasks is another way to keep your tasks organized. You can tag by project, client, or anything else that is relevant to you.
Smart alerts give you the info you need when you need it, exactly as you want it. You'll never be late for a phone call or a meeting again thanks to smart alerts.
Core Features
Task Manager
Universal Task Inbox
Command Bar
Tagging
Smart Alerts
Pricing
Try Akiflow's Premium plan risk-free for 7 days and pay only $15 per month.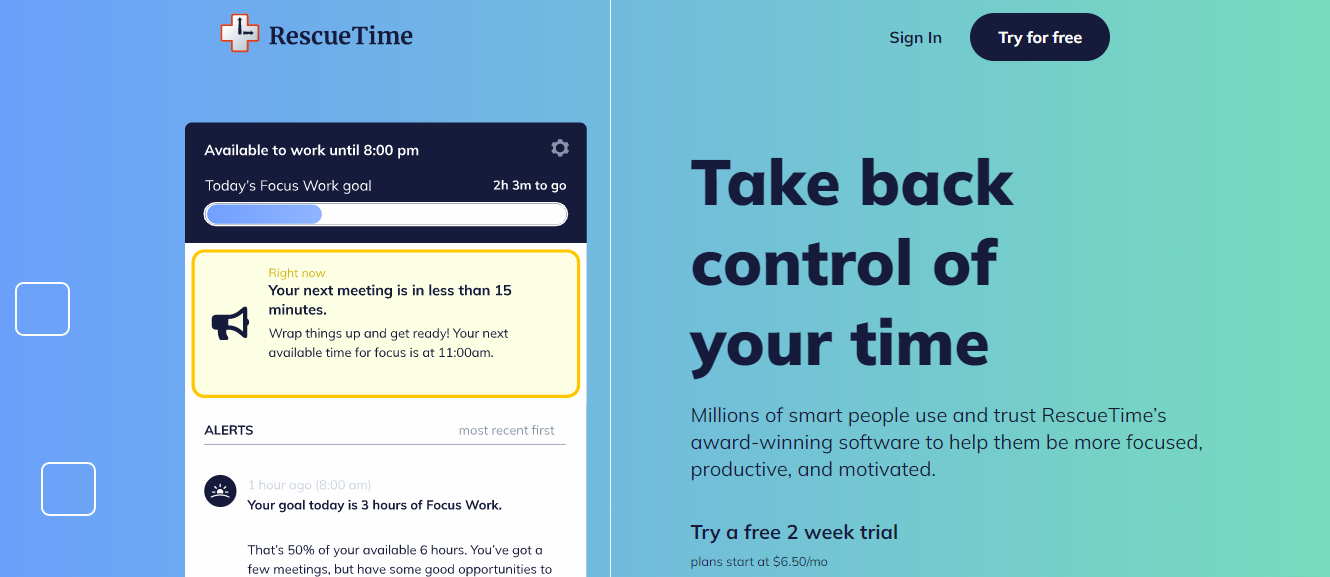 RescueTime is a highly intuitive time-tracking app that combines your average tracker with a smart assistant to help you improve your time management.
It offers an extensive report section to give you a clear picture of the hours you spend on your business activities, leisure, client communication, and learning. With this data, you can identify where your time is being drained, and change your routine to better manage your day.
RescueTime additionally has a productivity feature called "focus time" that blocks distracting websites you typically scroll through, to force you to concentrate on your job. Not only that, you can set goals and milestones to measure your output as well.
With RescueTime, you can clock your online and offline time to get an accurate account of your activities and set achievable goals to use your time productively.
Core Features
Time tracking.
Robust report.
Focus time feature.
Smart alerts.
Cross-platform app.
Pricing
Rescue's basic plan is free. To gain access to all the functions, you can buy a monthly plan for $12 or a yearly subscription for around $80.
Sunsama is an advanced planner that helps you balance your work and personal goals while keeping track of your activities.
It consists of a task manager and a calendar that views your projects based on the deadline you've set and categorizes them. With it, you can create your work, home, and entertainment channels (categories) and build multiple pages to keep them separated.
What's interesting is that if you miss out on any project, you can defer your task to a future date.
You'll find tons of similar intuitive options available on it, such as aligning your projects with your objective or automatically setting a daily ritual. You can also integrate your productivity apps and drag their tasks onto your Sunsama timeline.
I suggest taking a free 14-day trial to explore it.
Core Features
Task manager and calendar.
Advance project creation options.
Customizable categories to separate work and life.
Integration with Google Meeting, Gmail, Outlook, and productivity tools.
Team invitation.
Desktop and mobile app.
Pricing
Sunsama charges a $20 monthly subscription.
Morgen.so is a great online tool for managing your time and tasks. It offers a unified calendar, scheduler, and task manager in one easy-to-use interface.
You can create and manage events, appointments, and tasks, and view them all in one place.
Morgen.so also offers powerful search and filtering features, so you can easily find what you're looking for.
The interface is intuitive and user-friendly, making Morgen.so a great choice for busy professionals or students who need to stay organized.
In terms of a time management tool, Morgen.so is a great choice. It offers a lot of features and is very user-friendly. The only downside is that it doesn't offer as in-depth task management features as tools such as Todoist.
More than anything else, the meeting scheduling feature through a calendar is simply awesome as it helps you schedule a meeting with everyone's availability in mind.
Core Features
Task management features
Meeting scheduling
Countless time zones support
Integration with Google Calendar
Search feature
Pricing
Morgen.so has a free and paid version. The Personal plan costs $6/month while the Pro plan costs $14/month while both plans offer a 14-day free trial.
Emphasis is an iOS exclusive app that operates on the Pomodoro principle to optimize your day.
If you're not familiar with the term, Pomodoro is a time management technique that involves breaking your long tasks into intervals to allow breathing space to "recharge" your mind.
It's a fairly popular trick that works remarkably well if you've got the right tool to manage it for you – like Emphasis.
Emphasis allows you to manually and automatically set breaks and create realistic deadlines.
It's a time tracking tool, but what makes it different from a regular timer is the visual representation.
Rather than showing a countdown, distracting you further, Emphasis presents a clock displaying the portion of time left to complete the task. The lack of figures lets you focus fully on your job instead of repeatedly checking time.
Core Features
Personalized timer.
Organizer and checklist.
Productivity statistics.
Compatible with iOS system only. 
Pricing
Emphasis is free to use and charges only for premium subscriptions.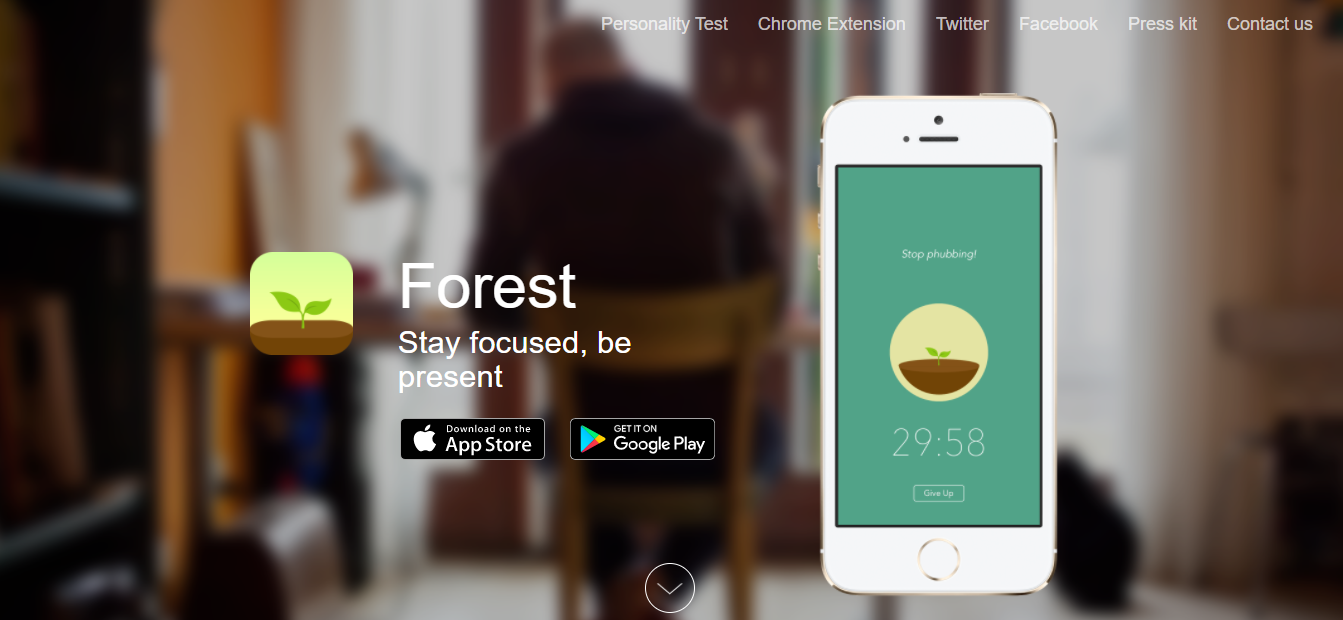 Forest uses a brilliant method to help you manage your time effectively.  It provides a visual representation of a tree that grows with your project and dies if you leave your job in the middle.
The idea behind this concept is to give you a fun way to stay focused on your job with little distraction to stray your thoughts.
And that's not even the best part.
Every time you grow a virtual tree, you earn a coin that Forest donates to an NGO to plant a real-time tree on your behalf.
Yes, real tree.
Forest is in collaboration with a non-profit organization, Tree for The Future, which improves land health through tree plantations. As of now, it has sponsored over 1 million tree sprouts with its user's coins.
The environmental factor is a brilliant tactic to both offer you a sense of accomplishment and motivate you to meet deadlines.
Core Features
Task timer.
Monthly reviews.
Timeline structure to view progress.
Accomplishment and reward feature.
Pricing
Forest is free on Android but charges a minimum of $3.99 for the iOS system. It additionally offers in-app products for between $1 to $20.

Evernote is an excellent app for small business owners looking to have a handy tool to keep track of "all the things to do" in an organized manner.
It provides you with features to unclutter your thought process, create a checklist of your activities, and set reminders to timely meet your deadlines.
Think of it as a digital version of your notebook—only with more features. You can use it to record meeting minutes on the spot, schedule weekly projects, or simply make a list of your weekly meal plans.
Evernote works perfectly on your smartphone, making it easier for you to use it everywhere you go.
Core Features
User-friendly.
Ready-to-use templates.
Text editor.
Sketching function.
Sharing notes option.
Supports mobile devices.
Pricing
As a freemium app, Evernote's starter plan is free. If you want access to widgets and advanced features, you can buy its premium plan for $10.
Todoist is the slightly advanced version of Evernote, and it's a widely used app for its intuitive features.
Apart from the basic checklist function, you can set daily objectives, add priority tasks that require more focus, and sync your projects to Google Calendar to keep track of your goals.
It offers a visually appealing dashboard, customizable views, and shareable features to easily assign jobs. You can even link your email with Todoist to turn them directly into "future tasks." If you use a project management tool like Asana, you can sync Todoist to it as well.
With Todoist, you can create a well-structured workspace for yourself so you can delegate your time to important things.
Core Features
Personalized view.
Progress tags.
Integration with over 50 apps.
Team share.
Supports multiple systems.
Pricing
Todoist is extremely affordable. You can sign up for free to get the initial impression, and can later upgrade for $3 per month.
11. Workflow (Now Shortcuts)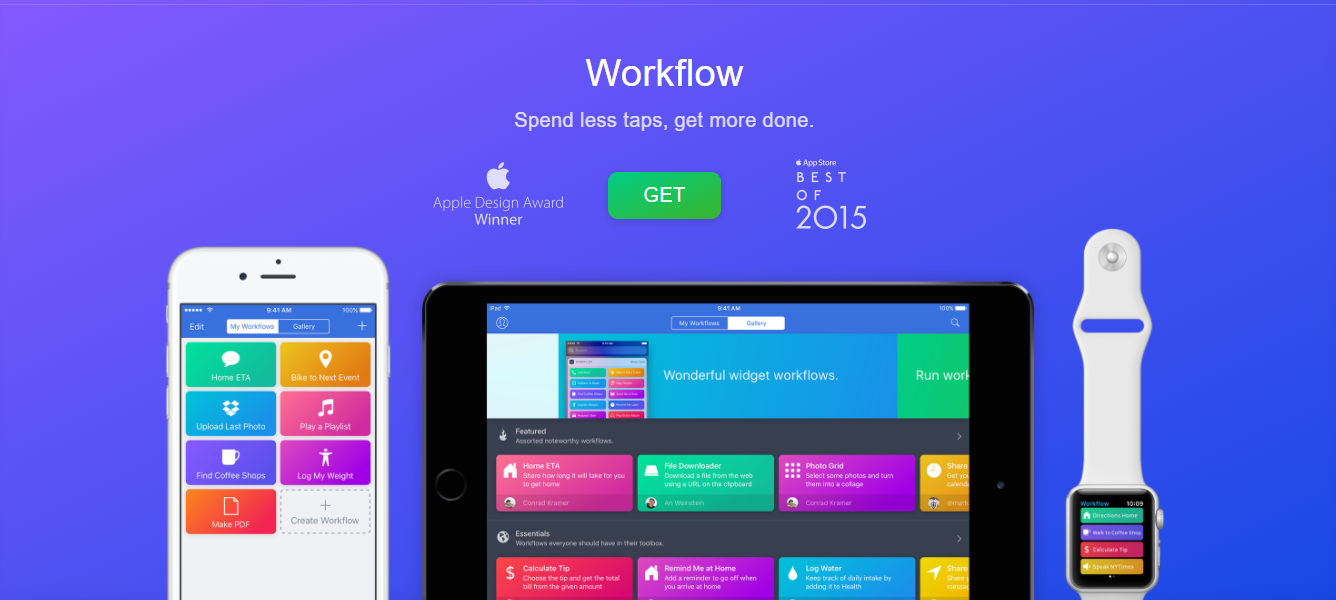 Workflow is an iOS app that allows you to create shortcuts to your regular activities to gain access to them with a single tap. It is an amazing tool for people who prefer shortcuts so they wouldn't have to scroll through the list of apps to search for the relevant icon.
You can both choose from ready-to-use templates and build custom shortcuts to tailor them to your requirements.
For instance, if your current project demands constant communication with one of your team members, you can set a shortcut to their profile.
Or, if your job requires frequent travel, you can fix your rides on the app to avoid the hassle of having to login into it to book them every time you plan to go out.
Additionally, you can also automate your tasks to further save time. Such as triggering the do not disturb action during your meetings.
Core Features
Visually appealing interface.
300 in-built commands.
Conditional Automation.
Works on iPhone iPad, and Apple Watch.
Pricing
Workflow is free to use.
Harvest is designed for businesses that have an hourly-based finance model. It's a time tracking and invoice app that records the number of hours you've spent on your job and generates receipts based on your service charges.
It offers you several features to help you accurately bill your time. You can create multiple projects, set both hourly and fixed budgets for each new task, and add on-job expenses.
Any costs you've incurred during the job—such as meals and convenience—will be automatically added to the related receipt. You can also connect it with other tools you're using to sync your work.
Harvest essentially saves you from individually performing all the steps from different apps, reducing the possibility of mistakes.
Core Features
Time tracking.
Invoice generation.
Reporting.
Third-party Integration.
Pricing
Harvest offers two plans to new users. The starter is free while the premium costs $12 per month.
Conclusion
As an entrepreneur, you work twice as much as an average employee, to make sure your business is running smoothly.
On top of that, you'd have to set aside a part of your time continuously for networking to build connections and discover future opportunities.
Add to that, you have a personal life that I am assuming you would rather not miss out on, but are left with little to spare for it.
Am I right?
With a good time management app, you can effectively balance both your work and personal life.
Explore the options I have listed for you, and start making the most of your time.