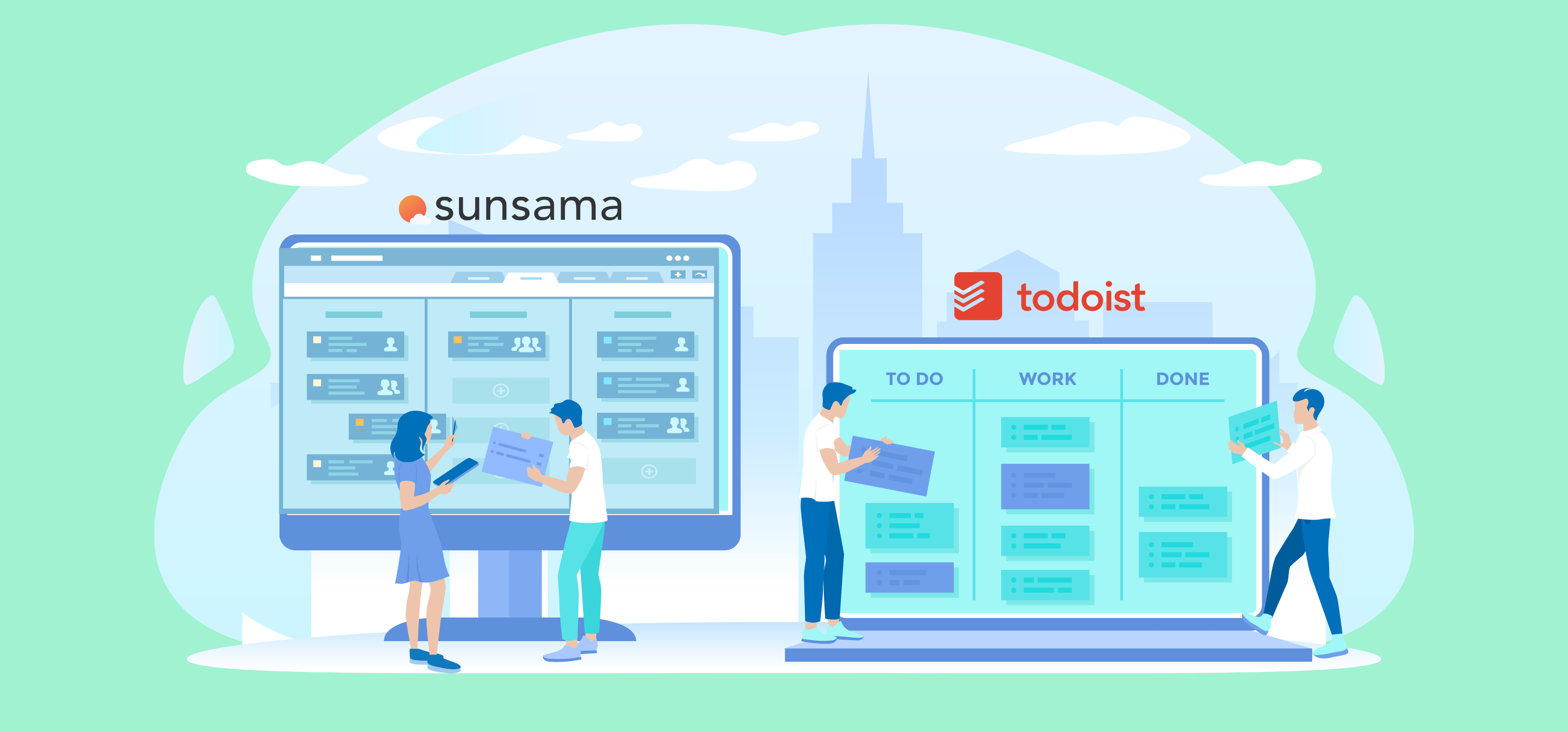 Unlike others, I judge a person based on these two traits:
How well do they manage their time?
And how efficiently do they complete their tasks?
And I am convinced that a person who can master control over their time to complete important tasks as quickly as possible, is the unstoppable one.
Take, Steve Jobs, for example – he was known to be a micromanager and had an obsessive attention to detail. But that's what made him one of the most successful businessmen in history.
The question is, how to take control of your time and tick off all the items on your to-do lists to feel satisfied at the end of the day?
Use a task management tool, of course!
There are many options available on the internet, and it might get overwhelming to choose just one. So, I have decided to carefully compare two of the most popular ones – Sunsama and Todoist.
TL;DR
If you're looking for a simple to-do list app with advanced task management capabilities, Todoist is a great option. However, if you want a more feature-rich app that can help you with your productivity goals, Sunsama is the better choice.
Sunsama offers features like goal setting, calendar integration, and a Pomodoro timer, which can all help boost your productivity.
Sunsama also has a more user-friendly interface than Todoist, making it easier to get started with the app.
Overall, Sunsama is the better choice for those looking for a more comprehensive task management tool with built-in calendar management. However, if you're just looking for a just a robust to-do list app, Todoist will suffice.
| Rating Platform | Sunsama | Todoist |
| --- | --- | --- |
| G2 | 4.4/5 | 4.4/5 |
| Capterra | 4.7/5 | 4.6/5 |
| ProductHunt | 4.1/5 | 4.7/5 |
| GetApp | 4.6/5 | 4.6/5 |
Or, read our full review on Sunsama.
Sunsama Overview
Sunsama is a task and calendar management app that helps you manage your to-do list and schedule.
It offers a variety of features to help you stay organized and on track, including the ability to view your tasks for the day, week, or month; set deadlines and reminders; and track your progress over time.
Sunsama also integrates with a variety of other productivity apps, such as Asana, Trello, and Google Calendar, to make it easy to stay on top of your work.
In fact, its endless integration capabilities are one of Sunsama's key selling points. It is also known for its visual interface and sleek design.
And unlike other task management tools, Sunsama is differently better.
How?
It not only helps you time block the calendar by simply dragging and dropping the tasks, but also helps you reflect upon your day (like an accountability partner that genuinely wants to help you get better after each passing day).
You will love Sunsama if you:
Prefer to view your tasks in a calendar format
Need help staying on track with deadlines and reminders
Document the journey
Want to plan your weeks and months well in advance
And more!
Sunsama Pros & Cons
Pros
Sunsama is a great way to stay organized and on top of your tasks.
It's easy to use and very intuitive.
The integration with other productivity tools is also very helpful.
The pricing is very reasonable, especially for teams.
Sunsama has nearly no learning curve.
Cons
As of now, Sunsama doesn't offer as many task management features as some of the other apps out there.
The mobile app can be a bit buggy at times.
Todoist Overview
Todoist is a to-do list and task manager app with a clean, simple interface that makes it easy to get started.
You can create tasks and subtasks, set due dates and reminders, and even add labels and priorities to help you stay organized.
Todoist also has some great features for power users, such as the ability to share tasks and collaborate with others, as well as integrations with several popular productivity apps.
Besides the web and mobile apps, Todoist also has a desktop app and a browser extension (to quickly jot down ideas on the web), so you can access your tasks from just about anywhere.
With Todoist, you can:
Create and manage tasks from anywhere
Set due dates and reminders
Add labels and priorities
Share tasks and collaborate with others
And much more!
Their templates are also great for those that want to get started with a pre-made productivity system (more on that later).
Todoist Pros & Cons
Pros
Todoist has more task management features than almost any other to-do list.
You can use Todoist on any device with an internet connection. 
Todoist integrates with a variety of productivity apps, such as Gmail, Google Calendar, Slack, and Amazon Alexa. 
The free version of Todoist is feature-rich and doesn't include any ads. 
Its mobile app is highly fast and responsive.
Cons
Some users still find the interface to be cluttered and confusing.  
The learning curve for Todoist is a lot higher than Sunsama.
Todoist does not offer a calendar view.
Reminder notifications can only be played within the premium version.
Some users demand a plug-in for the Safari browser.
Sunsama vs Todoist – Features Overview
| Features | Sunsama | Todoist |
| --- | --- | --- |
| Ease of use | Sunsama is very user-friendly. | Todoist is also user-friendly, but requires higher time mastering all its features. |
| Task Management | Basic task management features with powerful Google Calendar integration (drag and drop tasks easily). | More robust task management features with the ability of natural language understanding. |
| Project time tracking | In-built minimalistic time tracker for each task (with pause and break feature). | You can track time by connecting Todoist to other third-party time trackers like Time Doctor. |
| Collaboration | Easily invite team members and collaborate on tasks and projects. | Ability to invite members to specific projects (restricting what they see). |
| Analytics & Insights | Allows you to see how you have been doing over the day and over the past week(s). | Karma feature to track your consistency of completing tasks. |
| Integrations | Integrates with tools such as Google Calendar, Notion, Gmail and many more! | Integrates with countless productivity tools from different categories (like time tracking, communication, automation, etc). |
1. Ease of use
Sunsama is very user-friendly, and it only takes a few minutes to get set up. Once you've inputted your tasks and deadlines, Sunsama will create a personalized daily schedule for you.
You can also add notes and files to each task, so you have all the information you need in one place. And if you ever need to reschedule something, Sunsama makes it easy to drag and drop tasks around on your calendar.
Here's what their dashboard looks like: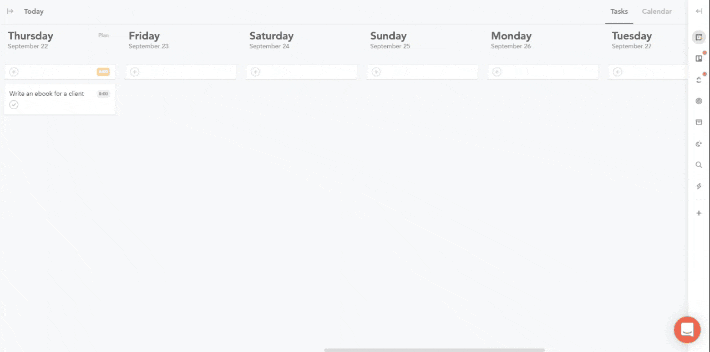 You can collapse or expand menu bars from the left and right sides.
The left one includes:
All the setting options
Miniature Calendar
And the ability to create & manage channels.
And the right-sided menu bar consists of all the integrations Sunsama offers:
Also, from the top-right corner, you can shuffle between the separate tasks and calendar page (here, the calendar is your synced Google Calendar).
Todoist is also known for its ease of use. You can create tasks and subtasks easily, set up repeating tasks, and add due dates and reminders with just a few clicks.
And if you need to collaborate with someone on a project, Todoist makes it easy to share tasks and assign them to specific people.
Plus, the app has a handy "Today" view that shows you all the tasks that are due today, so you can stay on top of your to-do list.
This is the dashboard of Todoist on their web app:
The left menu bar can be hidden or shown based on your needs, and from here you can access different parts of the app, including:
Inbox
Today
Upcoming
Projects
Filters & Labels

On the top right corner, you will be able to see a button named – View. From here, you will be able to sort and view your tasks in different ways, for example:
By assignee
By label
By due date
And more!
You can also press Ctrl + K or Cmd + K on your keyboard to open the command panel where you can create tasks, add labels, and do much more very quickly.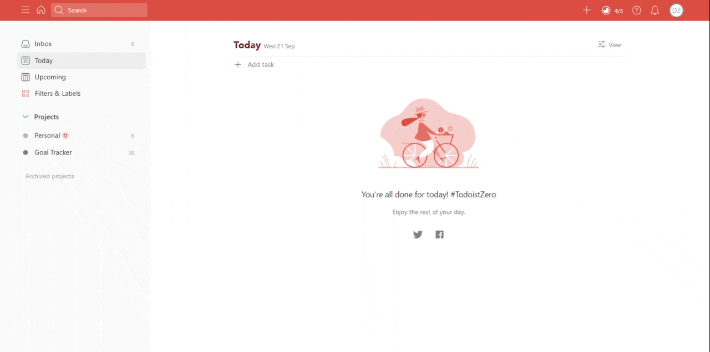 Overall, Sunsama and Todoist are both very user-friendly and easy to use. Todoist has a bit of a learning curve because of all its features, but Sunsama is straightforward to understand even for complete beginners.
2. Task management
With Sunsama's task management feature, you can easily keep track of all your tasks in one place.
Not only can you create new tasks, but you can also assign them to specific days and set reminders for yourself.
This is great for keeping on top of deadlines and making sure that you don't forget any important tasks.
The task management feature is also very easy to use. You can simply drag and drop tasks into your calendar, and you can even color-code them to make them easier to spot.
If you have tasks with no alignment that needs to be separated from each other, then you can create a new project and assign relevant tasks under those projects.
Creating a task in Sunsama is very easy. Press "P" on your keyboard and a new task field appears which is nothing but the current day's advance planner.
Now add all the tasks you want to Sunsama today and hit enter. Sunsama will take care of the rest.
After adding all the tasks, clicking on any specific task will give you the option to add subtasks, notes, links, and even files. You can also set a due date for the task and Sunsama will make sure that it appears on your calendar on that day.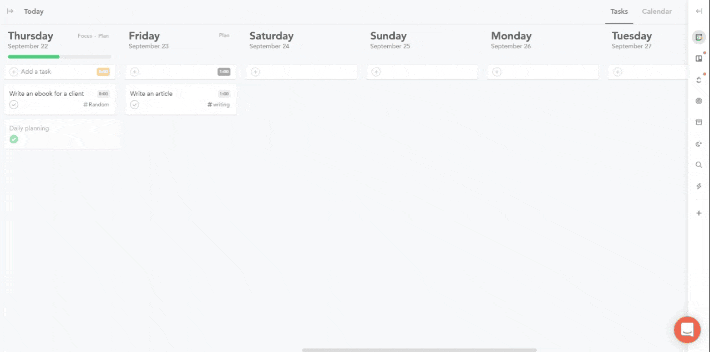 You can then connect your Google Calendar and drag and drop the task to the day you want it done. Sunsama will automatically save the changes and update your Google Calendar.
Todoist task management capabilities also help you keep track of everything, from your grocery list to your next big project at work.
You can create task lists, set due dates and priorities, and even share tasks with others. Best of all, Todoist is available on just about every platform, so you can stay organized no matter where you are.
To create a new task in Todoist, click on Add task button at the top of your screen.
A pop-up window will appear where you can add all the details about your task, such as the title, description, labels, priority, and more.

Now the thing that sets Todoist apart from the masses is its natural language understanding. You can simply type in "Meet Ishita at a coffee shop tomorrow at noon" and Todoist will automatically create a task for you with the due date and time.
However, as discussed earlier, it would be great if they included at least basic reminder features on their free plan.
3. Project time tracking
With Sunsama, you can see exactly how much time you have available for each task and then plan accordingly.
For example, let's say you have an hour to work on a project. You can use Sunsama's time tracking feature to break down that hour into smaller chunks of time so that you can work on the project for 25 minutes, take a 5-minute break, and then work for another 25 minutes.
This way, you'll be less likely to get distracted and more likely to complete the task at hand.
Todoist does not provide an in-built time tracking feature because the app is designed to be simple and primarily for jotting down ideas.
However, you can make use of its integration feature and connect it with Time Doctor (a time tracking app) to get similar results.
The bottom line is that Sunsama's time tracking feature is more user-friendly and easier to use.
4. Collaboration
With Sunsama, you can easily invite others to join your task list and work together on projects.
You can assign tasks to specific team members, leave comments and attachments, and even set due dates.
And because Sunsama integrates with popular productivity tools like Slack, Outlook, and Google Calendar, it's easy to keep everyone on the same page.
To invite members to your Sunsama workspace, follow this simple process and you're good to go:
Todoist easily lets you invite others to work on tasks with you. Simply select a project you want your team members to work on and then click on share project.
Enter the email addresses of the people you want to invite and they will be added to the project automatically.
5. Analytics & Insights
Sunsama has a separate analytics section where you can see how productive you've been over time.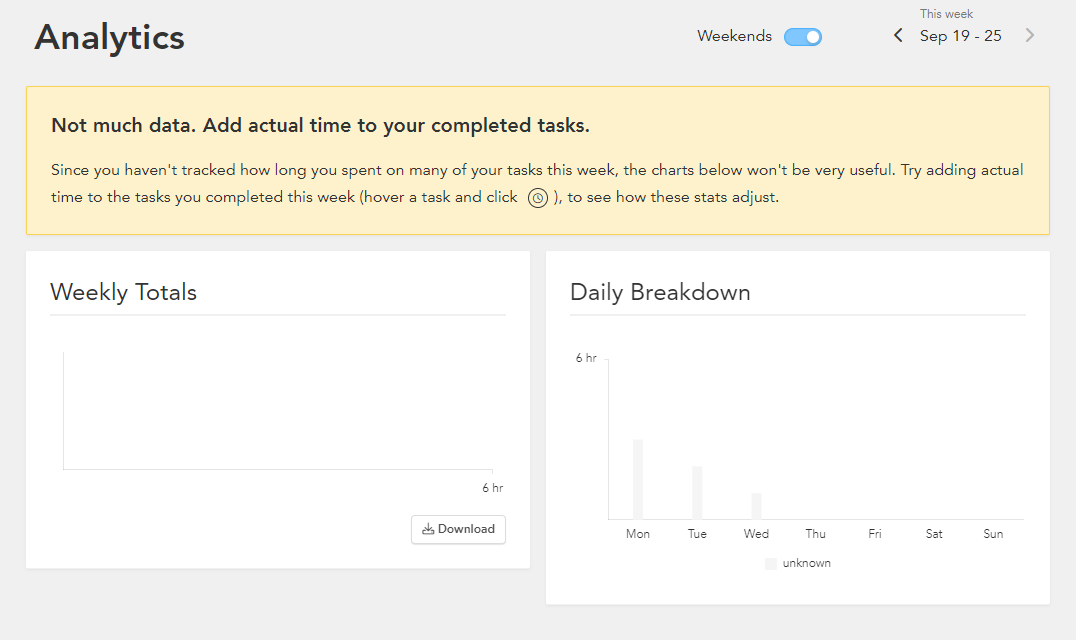 This is useful to track your progress and ensure you're on track to hit your goals. You can also download the data of your weekly performance.
Similarly, Todoist has a Karma section that shows your progress and productivity. However, it doesn't offer as much depth as Sunsama.
6. Integrations
By connecting Sunsama with the tools you use every day, you can automate tasks and save yourself a ton of time.
For example, you can connect Sunsama with your email client so that every time you receive a new email, it automatically gets added to your Sunsama inbox.
Or, you can connect it with your calendar so that all of your upcoming events automatically get added to your Sunsama tasks.
There are tons of ways to use the integrations feature, and it's really up to you to figure out what works best for you. But one thing is for sure: once you start using it, you'll wonder how you ever got along without it!
Todoist allows you to connect your Todoist account to other apps and services, so you can manage all your tasks in one place.
For example, you can connect your Todoist account to Slack, so you can see and manage your tasks right from Slack. Or you can connect your Todoist account to Google Calendar, so you can see your tasks on your calendar.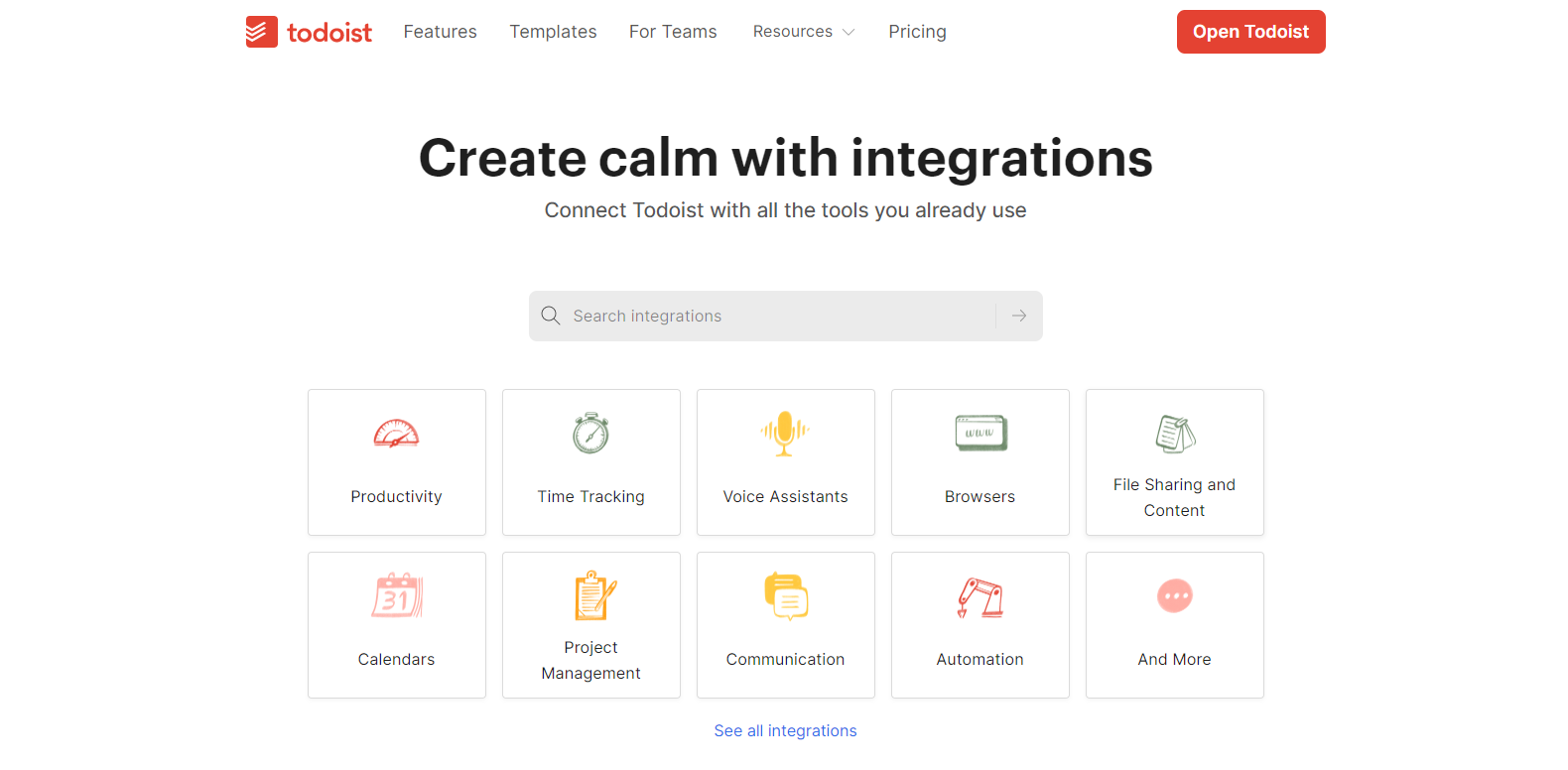 There are also integrations with Gmail, Dropbox, Evernote, and more.
Pricing
Both Sunsama and Todoist offer a free trial, but Todoist takes it one step further by also providing a lifetime free plan.
The Pro plan of Sunsama costs $20/month.
The Pro plan of Todoist costs $5/month, while its Business plan costs $8/month. Sunsama does not have a business plan.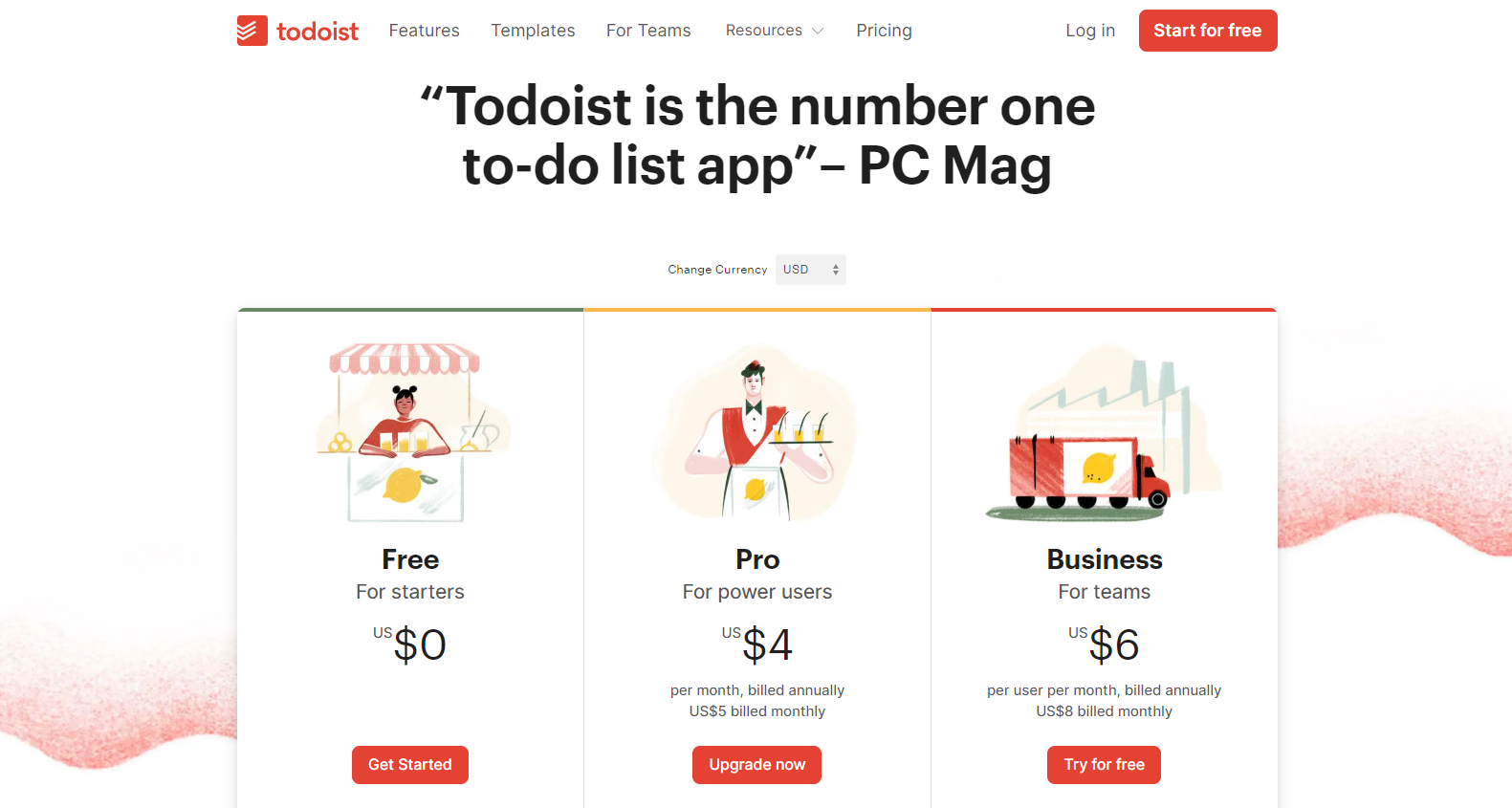 Conclusion
Sunsama is great for people who like to plan their day down to the minute. The app lets you schedule your tasks for specific times, and then sends you reminders when it's time to start working on them.
Todoist, on the other hand, is a bit more flexible. You can still schedule tasks for specific times, but you don't have to be quite as rigid about it. The app also includes features like recurring tasks and subtasks, which can help keep complex projects organized.
So, which one should you choose?
If you're looking for a task management tool that will help you stay organized and on top of your deadlines, Sunsama is a great option.
However, if you're looking for a tool that is affordable and specifically used for task management and brain dumping, Todoist may be a better choice.
I would say give both Sunsama and Todoist a try and see which one works better for you. For the least, both offer a free trial, so you have nothing to lose!