Emails are nothing short of a portal to the digital world.
From personalized communication to accessing an app, an email address opens up the gateway to millions of things online – which ultimately reflect in your inbox.
You're not alone if you impulsively check emails or have hundreds of unopened emails in your inbox.
Managing emails have become overwhelming for a majority of us.
The problem multiples if you have more than one email account. That too with different email services.
Hence, tools to manage emails and control your inbox are a necessity.
This is where an email client jumps in.
Unlike webmail like Gmail or Yahoo!, an email client is software that offers a wide range of features and customization abilities to manage your email accounts.
If you own a Mac or an iOS device, you'd need an email client compatible with your system.
And, of course, the one that offers the right set of features.
Here I have rounded up the 12 powerful email clients and apps for macOS and iOS.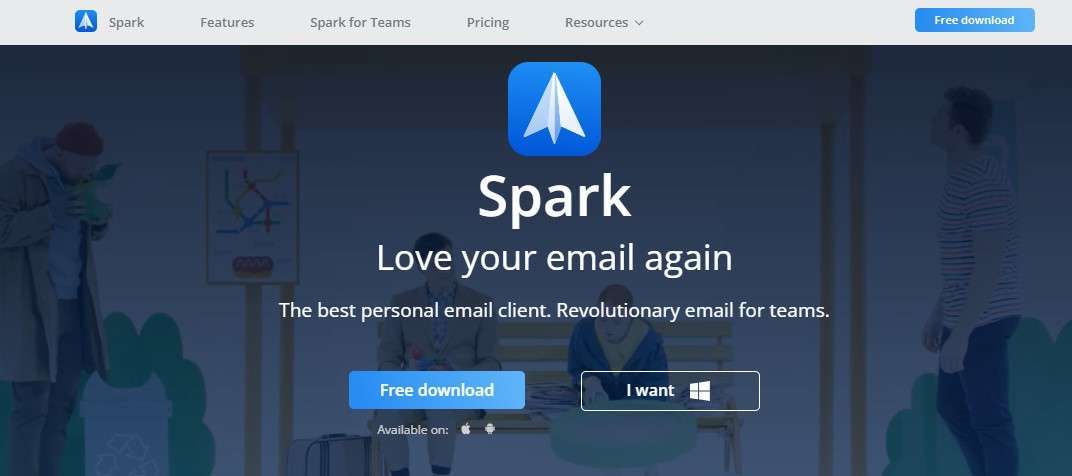 Spark is an excellent email client for macOS and iOS that helps you take control of your inbox with its advanced email tools.
It aims to help your inbox reach zero "for the first time" with intelligent prioritization, noise reduction, and many other helpful features.
Along with personal email management, it offers a great collaboration experience.
You can create emails in real-time with others. You can even privately share and discuss emails with a teammate.
Above all, Spark is compliant with privacy and security standards, giving you a secure experience.
Key Features
Supports Gmail, Outlook, iCloud, Yahoo!, IMAP, Exchange
Smart notifications to receive notifications for only important emails
Smart search to instantly find emails
Smart inbox with quick cleanup
Email delegation with the ability to set deadlines and track task progress
Personalization features to set workflow
Integrations with third-party apps like Dropbox, Google Drive, Evernote, iCloud Drive, etc.
Features to snooze or schedule emails, receive follow-up reminders
Pre-written email templates for teams to save time replying
Team collaboration features like shared drafts and private team comments
Pricing
Spark is free for individual use.
Its Premium plan for teams costs $6.39 per active user per month, and the Enterprise plan for large teams is available on request.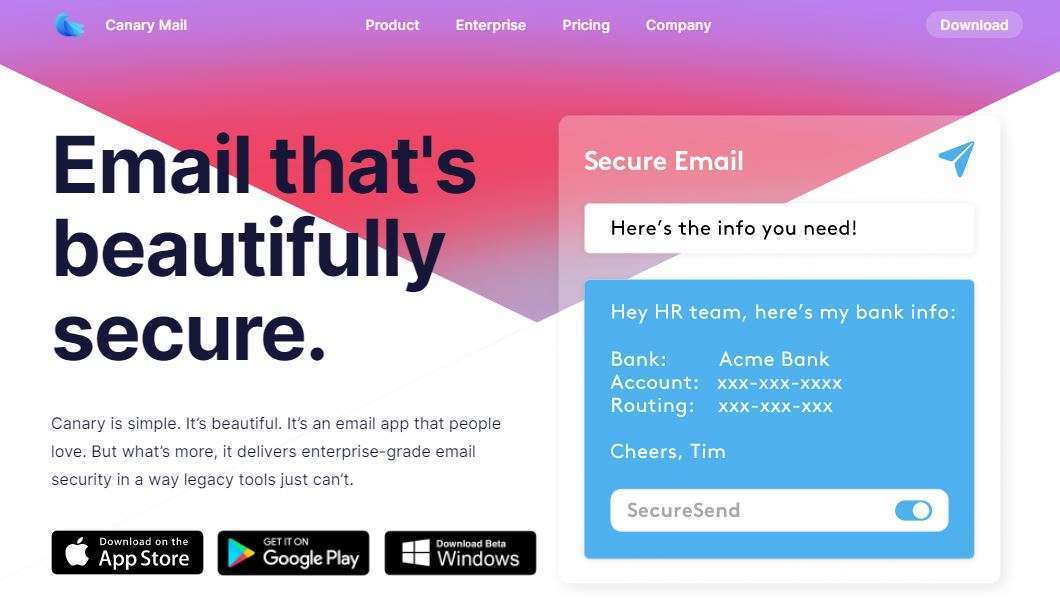 Canary Mail is yet another incredible email app for iPhone and Mac devices, focused on security like no other on the list.
With smart encryption, it lets you secure sensitive emails and files, letting you set expiry or revoke emails in case of a breach.
Canary Mail is soon coming with ML-enabled protection to secure your inbox from scammers, phishing attacks, and social engineering emails.
It is also introducing a feature to help you avoid human errors like sending misdirected emails and files.
Moreover, it is loaded with features to boost productivity and have better control over your inbox.
Key Features
Supports Gmail, Outlook, iCloud, Exchange, Office 365, and Yahoo!
Email encryption with SecureSend, Canary's zero-setup encryption, or via PGP
Customization options, including dark/light themes, custom email actions, and custom alerts
Inbound protection against email frauds, ransomware, social engineering, and phishing attacks
One-click unsubscribe and newsletter management
Save frequently used drafts to reuse as email templates
Expiry setting for outgoing emails for limited-time access by the recipient
Revoke emails anytime after they're sent
Contact profiles with contact details, social links, emails, and files in one place
Options to snooze or pin emails and favorite contacts
Automatic achieves or delete unimportant emails
Pricing
Canary Mail is free forever with standard features. Pro features cost $20 per operating system.
To get enterprise-level security, you can go for its Enterprise plan at $10 per user per month.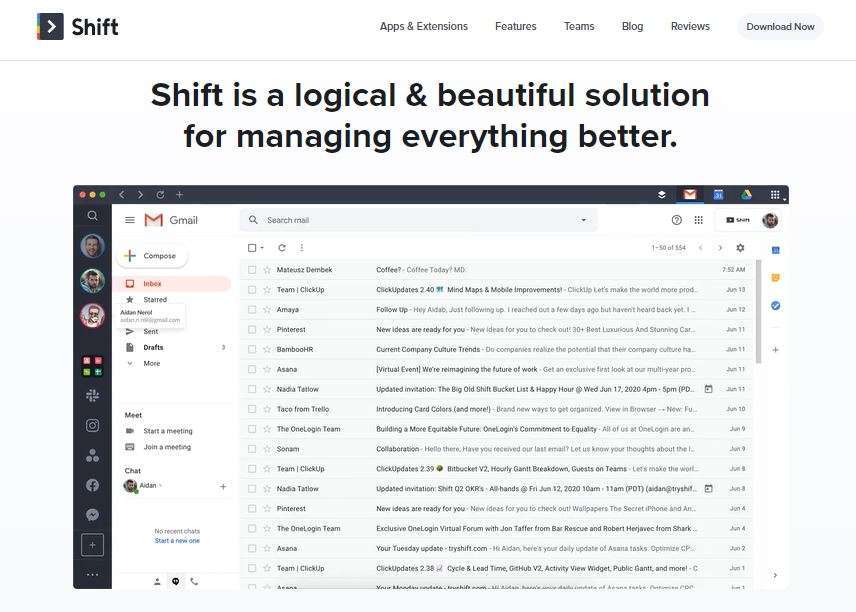 When it comes to productivity, Shift has been creating some waves recently.
Though it is not a typical email client, it goes a step deeper by integrating your email accounts and other web apps in one place.
Available as a desktop app, it streamlines all your email accounts, apps, and workflows in a simple and manageable interface, or your workstation, as they call it.
Its focused web tabs provide a better browsing experience by letting you organize them by account.
It makes it easy to shift between your multiple accounts and offers a unified search across the accounts and apps.
Moreover, it lets you customize your workflows and create focused workspaces. You can also share the workspaces with your team for easier collaboration.
Key Features
Supports multiple Google, Outlook, and Office 365 accounts
Integrates with hundreds of apps and browser extensions, from Slack to Shopify
Manage tabs and organize accounts by accounts
Unified search across Mail, Drive, and Calendar accounts to save time
Create a workspace with specific apps, tabs, and bookmarks for teams
Custom notifications
Automatic sync with all added accounts
Pricing
Shift is free to download for your Mac. If you need it for your team, you need to fill in their contact form, and they'll get in touch.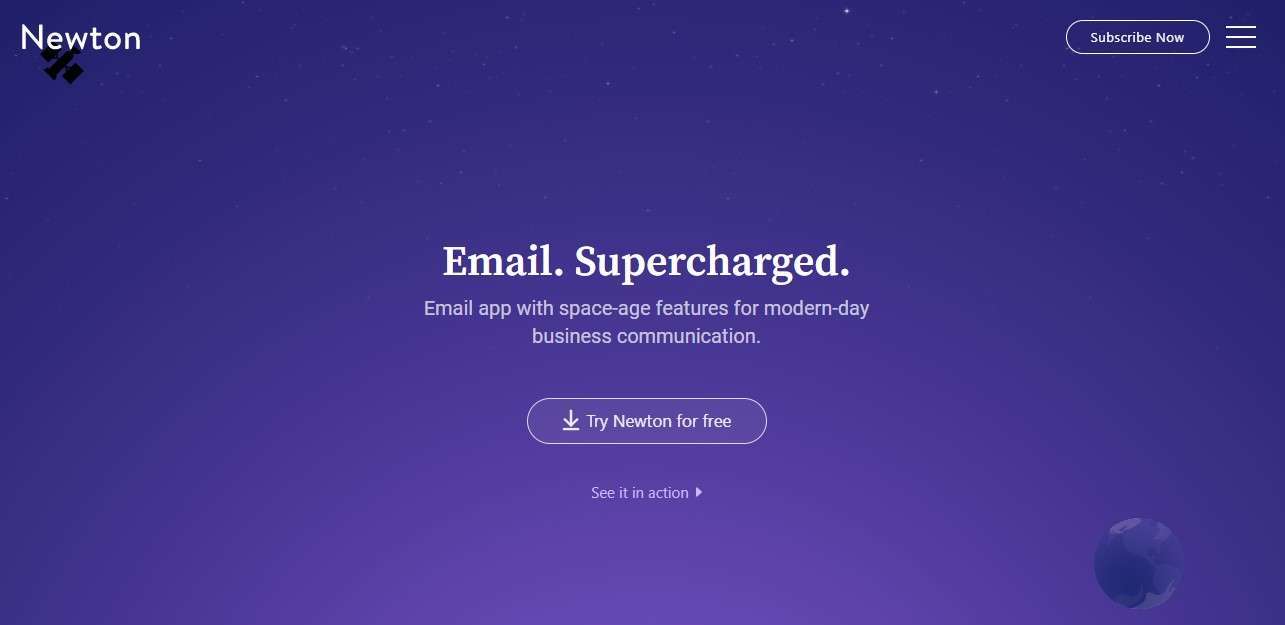 With over 40K subscribers, Newton is a solid email app for your macOS or iOS devices.
It is on the quest to modernize emails with features to supercharge modern-day business communication.
Like others, we have discussed so far, Newton also has a simple interface that helps you deal with the email overwhelm. They've also won The Webbys Awards for visual design – one of the internet's highest honors.
Its Zenbox allows you to filter out unneeded emails to keep you from checking them. It also recaps previous email conversations so that you don't miss out on any crucial communication.
One of its best features is that you can save emails to various task management apps to manage a task assigned over email.
Key Features
Supports Gmail, Outlook, Exchange, Yahoo!, Office 365, IMAP, and iCloud
Dark mode available
Automatically removes newsletters and other unwanted emails from inbox
Read receipts
Snooze emails until a convenient time or device
Conversation recaps, email scheduling, and reminders
Save emails to Todoist, Evernote, OneNote, Trello, Asana, and other apps
Public email sharing via a link with options to exclude attachments or set expiry date
Create and customize templates
Pricing
Newton costs $49.99 per year. It also offers a 14-day free trial.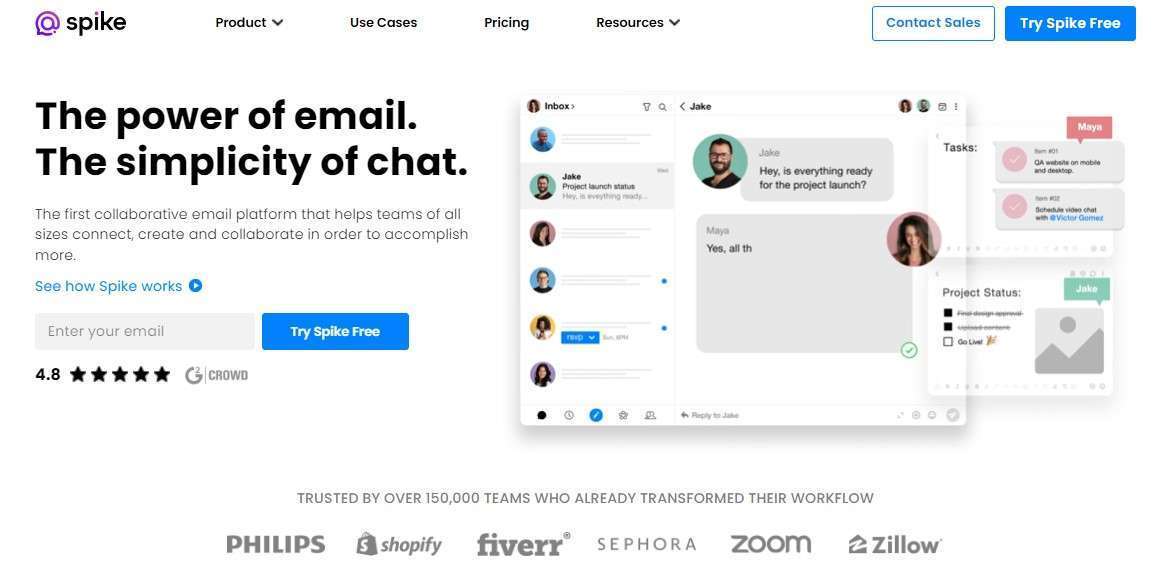 If you're looking for an email app focused on team collaboration, Spike is an excellent option.
Built for teams, Spike offers the simplicity of chat in an email conversation to improve your workflow.
You can also create, edit, and share notes with others and manage tasks from your inbox. It also lets you track tasks with reminders, instant notifications, and other task-oriented features.
Further, its 'Priority Inbox' intelligently sorts emails to remove distractions in your inbox.
Finally, you find a lot of many other useful tools like calendars, video, or audio meetings in one place to support efficient collaboration.
Key Features
Supports Gmail, Yahoo!, Hotmail, iCloud, Outlook, Office/Outlook 365, IONOS mail, GoDaddy email, Exchange, AOL, and all IMAP
Email conversation in a messenger-like interface
Built-in team chat
Note-taking and task management features like to-do lists and reminders
Bulk actions to clean inbox in seconds
Read receipts, quick reply, keyboard shortcuts,
Integrations with Apple Calendar, Google Calendar, Google Drive, OneDrive, Dropbox, and more
Super Search to find the exact message, file, or attachment
Integrated video and audio meetings
Text translation, text to speech, multimedia messaging
Customizable tags, pins, and starring
Encrypted conversations
Pricing
Spike is completely free for personal use. For businesses, it offers two plans with a free trial.
Solo plan for 1 business account at $12 per account per month.
Business plan for 2 or more business accounts at $8 per account per month.
Custom Enterprise plan for 50+ business accounts.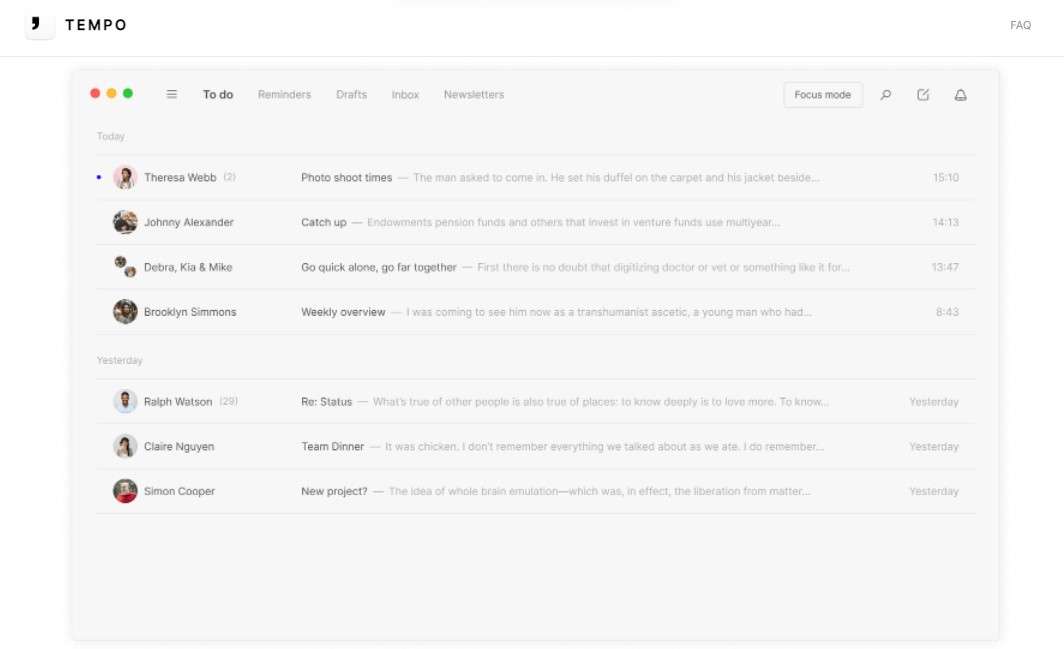 To beat the email overwhelm, you'd likely want something minimalistic and calming.
Tempo offers just that!
Specially created for macOS, Tempo is an email client that aims to help you focus by providing a calming experience through its minimalistic interface and time-saving workflow.
However, there's good and bad news.
Bad news first. Tempo was shut down on October 29, 2021.
Good news?
They have created a standalone app version for macOS. This means you can still install and use it.
The drawback is there won't be new updates to the app. Meaning it runs the risk of being outdated with no new features in the future.
But, its current features are worthy enough of giving it a try.
Key Features
Simple, clutter-free interface
Only supports Google Workspaces and Gmail
Delivers new mails in batches to protect focus
Flexibility to set rules to bucket the inbox
'Quick Reply' with a 140-character limit to save time replying
To-do, Reminders, Draft, Priority, and other labels to sort emails and tasks
Pricing
Tempo is free to download.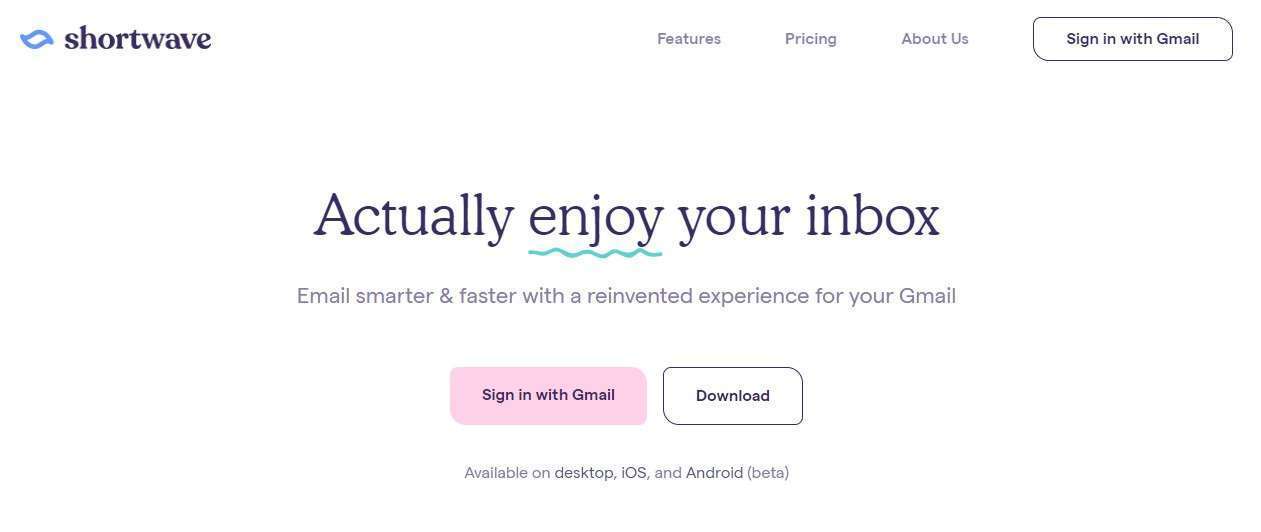 Shortwave is another great email app on the list to help you deal with your emails without mess.
Much like Spike, it keeps your inbox organized like a to-do list.
Further, it offers a chat-like interface and experience for your email conversations with contextualized conversation history and real-time messaging features.
Shortwave is also excellent for team collaboration as it offers functionalities such as channels, mentions, user roles, and thread history.
Not to mention, it is packed with useful features for personal productivity – be it labels to organize the inbox or dark mode to reduce eyestrain.
One of the best things about Shortwave is that it blocks tracking pixels from incoming emails, providing added security.
Key Features
Syncs with Gmail
Categories and bundles to sort and bulk perform actions
Keyboard shortcuts and custom snooze
Drag and drop to group or reorder threads
Rich text and markdown with emoji and reactions
Team collaboration features, including channels, smart threads, mentions, notifications on the addition or removal of participants, user roles, and more
Team availability
Quick quote to highlight texts from other email conversations
Thread links that can be copy-pasted to other docs or task manager for reference
Automatically detects and removes tracking pixels from incoming emails
Pricing
Shortwave is free to use, with limited team features and a 90-day email search and history.
If you want to use it for full-fledged team collaboration, it costs $9 per person per month.
You can also contact them for a custom plan if your teams have additional requirements.
Postbox is another powerful email app for macOS that boosts your productivity with its simple interface and efficient tools.
It lets you sort your emails, separate your personal and work inboxes, and create folders of favorites that you can quickly access.
It offers a superfast search engine where you can create advanced search queries to find anything in no time.
Postbox also offers a robust composition tool with dynamic placeholders, pre-formatted clips, and more to help you write professional emails faster.
You can also customize your inbox to suit your workflow with its wide range of display and personalization options.
Above all, it meets high standards of privacy and security with end-to-end OpenPGP encryption, tracking prevention, phishing protection, and more.
Key Features
Works with any IMAP or POP account, including Gmail, iCloud, Yahoo, Fastmail, ProtonMail, and more
Robust email sorting with mail actions like Quick Move, Quick Copy, Quick Post, new Tag/Topic, new Gmail Label, and Quick Folder Switch
Swipe gestures on macOS for archiving, reminder, junk, and deletion of multiple messages at once
Email organization with tagging, labels, pinning, Focus Pane, Smart Folders, and more
Forward email content to apps like Evernote, Slack, Todoist, Zapier, etc.
70 pre-built email templates and 25 beautifully designed email signatures
HTML editor, pre-formatted HTML block, image scaling, and more for effective email composition
Superfast search by sender, subject, date range, documents, images, or other attributes
Customizable user interface with theme editor, tabbed workspaces, favorites bar, etc.
Robust security features including OpenPGP encryption, anti-tracking, phishing and malware protection, and more
Pricing
Postbox currently costs $29 per user (otherwise $49) for lifetime access. It also comes with a 30-day free trial.
Positioning itself as an alternative to Newton, Mailspring is another fast and functional email client for Mac.
It is built to use 50% lesser RAM, sync emails faster, and not drain your system's battery.
Aside from allowing efficiency on the hardware side, it offers a comprehensive set of features to boost your productivity and send better emails.
It also lets you connect better with your network and optimize sales flow with enriched insights into their profiles.
Further, it supports the translation of incoming and outgoing emails into various languages, including English, Spanish, Chinese, French, and German.
One of its best features is the activity tracking that offers actionable insights to optimize your messaging.
Key Features
Supports multiple accounts, including Gmail, iCloud, Office 365, Outlook, Yahoo!, and IMAP/SMTP
Advanced shortcuts and search for quick access across accounts
Available in over 60 languages from around the world
Translation support for incoming and outgoing emails
Features to snooze messages, schedule reminders, and send later
Enriched contact profiles include bios, links to social profiles
Read receipts, link tracking, quick reply templates, and spell checks
Multiple themes and layout options to customize the display
Mailbox insights of email activity such as clicks, open rates, incoming emails timing, and more
Pricing
Mailspring is free to download with limited features. Its Pro features are available at $8 per month.

Designed specifically for macOS, iOS, and watchOS, Airmail is an award-winning email client laden with an extensive set of features.
Airmail lets you customize actions and integrate your favorite apps regardless of which Apple device you're using.
Its Smart Inbox automatically filters emails to minimize distractions and let you focus only on important messages.
Depending on the device, it offers various customization, action, plugins, and more to make your workflow seamless.
It also supports multiple languages, Siri shortcuts, sharing with other apps, and more.
Airmail for Business is built for businesses with a high degree of corporation privacy.
Key Features
Supports Gmail, G-Suite, iCloud Mail, Exchange, Office 365, Microsoft Outlook, IMAP, and POP3
Rules to handle emails automatically
Today Widget with the overview of the day
Plugins integrations for reading receipts, SMIME or GPG encryption
AppleScriptSupport to send emails with custom scripts
Custom swipe actions, security with Face and Touch ID, interactive notifications, and more on iOS devices
Siri Shortcuts to send email as part of other automation
Custom actions to simplify email workflows
Corporation privacy, no tracking, and mobile device management in Airmail for Business
Pricing
Airmail with basic features is free to use on Mac, iPad, or iPhone.
Its Pro version costs $2.99 monthly with a free trial or $9.99 yearly.
Airmail for Business is available at a one-time price of $49.99.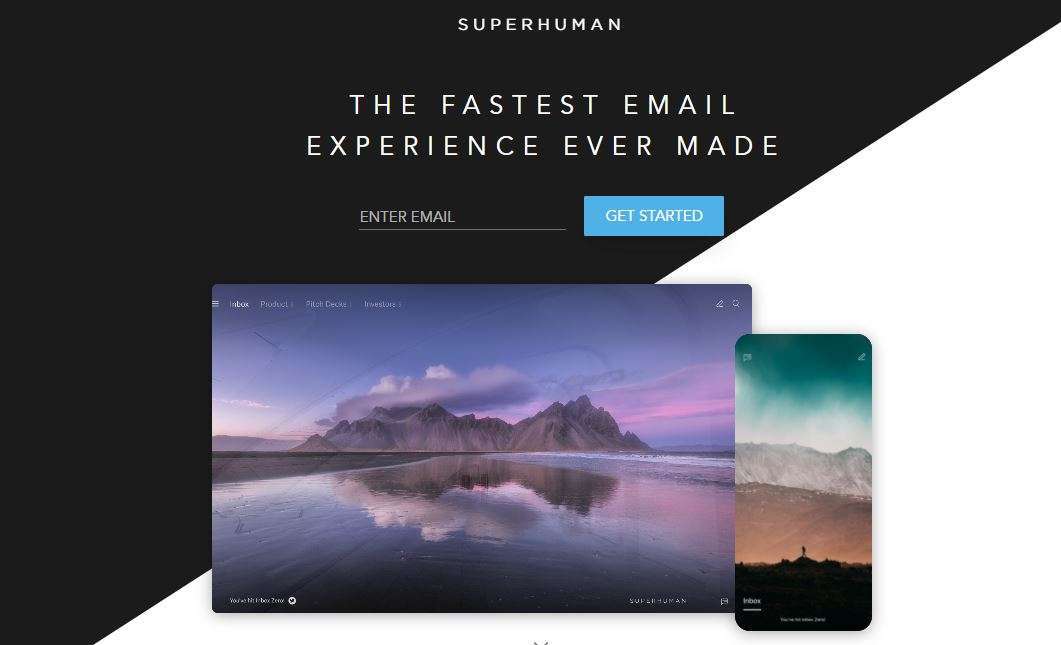 If you're looking for a superfast email client, Superhuman might be the one.
As the name suggests, Superhuman is an email client with advanced features aiming to make you feel like you have superpowers.
It claims to be the fastest email in the world, with every interaction taking 100 milliseconds or lesser. And users back this claim.
It is AI-powered to intelligently sort your email and offers a wide range of features to help you boost productivity and save time.
One of the most helpful features of Superhuman is 'Undo Send,' which lets you unsend that email with typos that you realized once you hit that send button.
Moreover, it offers some unique features like built-in read status for emails and social media insights.
Key Features
Subtle, minimal, and superfast interface
AI-powered automated sorting of emails
Undo Send feature to unsend an email
Read statuses for emails to see if and when the recipient has read the email
Set reminders for follow-ups
Schedule an email to send at a later time
Snooze conversations
Keyboard shortcuts for every action
Integration with social media accounts to view social insights
Pricing
Superhuman costs $30 per month and doesn't offer any trial.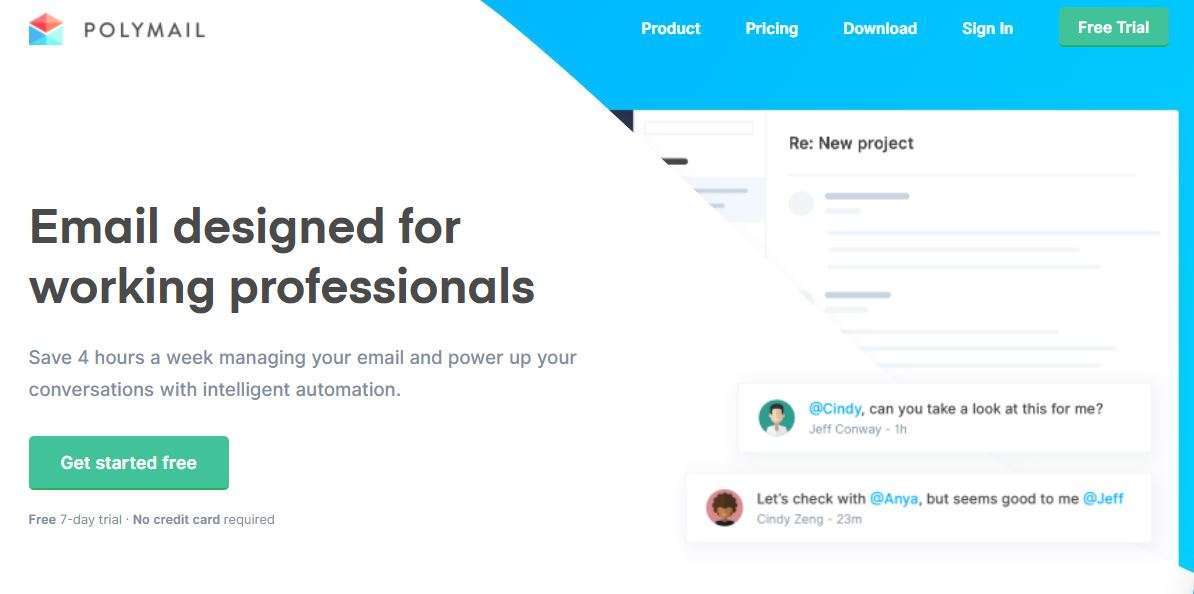 Last but not least on the list of best email clients for macOS is Polymail.
Tailor-made for working professionals, Polymail is focused on saving time and enabling effective communication with its intelligent automation.
It offers various features for team collaboration along with integrations with apps like Slack, Asana, or Salesforce.
Moreover, you also get detailed insights into the activities in your inbox for effective communication and inbox management.
One of its most outstanding features is email outreach automation. It lets you automate repetitive tasks like follow-up, track prospects, and analyze detailed reports of each campaign.
Key Features
Organized communication with comments, mentions, conversation threads
Outreach automation with email scheduling, follow-up reminders, and more
Open, click and download tracking of recipients
CRM integration with Salesforce
Permission controls for team members
Polymail Calendar for scheduling meetings instantly and preventing double-booking with availability controls
One-click unsubscribe from newsletters
Detailed reports and analytics of team activities and outreach campaigns
Features to undo send, block email tracking, and more
Pricing
Polymail offers three plans with a 7-day free trial.
The Basic plan costs $10 per user per month for up to 2 connected accounts and limited features.
The Premium plan costs $24 per user per month for 20 connected accounts and advanced features.
The Enterprise plan costs $49 per user per month for premium features, Salesforce integration, and more.
Takeaway
All the 12 email clients and apps for macOS and iOS on the list have their set of unique functionalities.
If you're looking for speed, Superhuman is an excellent choice. If security is your biggest concern, Canary Mail and Postbox are worth giving a try.
Spike, Newton, and Shortwave are wonderful options for boosting team collaboration.
Further, Airmail is a great choice if you need synchronization among your Apple devices.
Lastly, Shift is the way to go if you need to streamline your workflow on the desktop, including your email accounts and other apps.
I hope this article helps you make the right choice 🙂