Shift (TryShift) is a desktop productivity tool that offers you the space to manage your emails and applications from a single dashboard.
It is a useful tool for entrepreneurs who handle an overwhelming workload and want to have an organized structure to minimize clutter.
In this review, I will talk about Shift's features, pros, and cons, along with a brief demo to give you a general idea of how it works.
Let's start with the basics.
What is Shift and what does it do?
Shift offers you a better way to manage your communication channels and regular apps.
It essentially allows you to add third-party tools, social pages, and emails to the dashboard, so whenever you need them, they're within your reach.
How does it benefit you?
An average person typically runs nearly nine applications daily. If you're self-employed, you'd probably be using even more to support your work.
On top of it, you must be running more than one email account to keep your personal and professional inbox separate.
With Shift, you can put together an organized workspace to handle the administration side of your business. It makes your job easier and helps you make the most of your day.
Let me share its features to elaborate on it further.
Shift Features
Below are the eight functions Shift offers to its users.
1. Simple Interface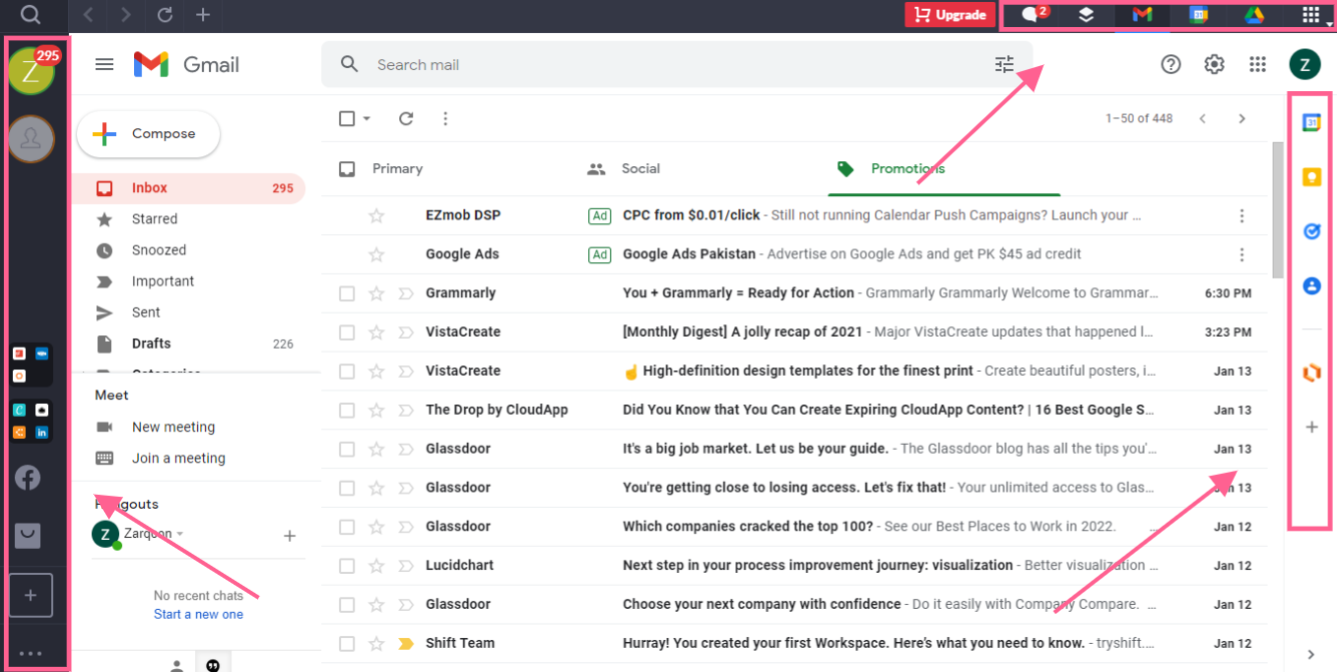 Shift's dashboard shares a minimalist view to help you navigate it easily.
I have separately listed a step-by-step demo of each feature below to give you the complete picture. But to summarize it, Shift displays only three main panels on the dashboard.
The left panel comprises core functions. The right panel holds secondary actions, while the top panel provides access to Chrome, Google Drive, and extensions.
There isn't any hidden or complex feature that requires a learning curve. To jump to another app or toggle between two accounts, you merely need to click on the icon, and it will appear on the center page.
You can also switch the theme from light to dark and vice versa by right-clicking on the panel.
Shift has a pretty simple interface, and every action is accessible via the main page.
2. Email Manager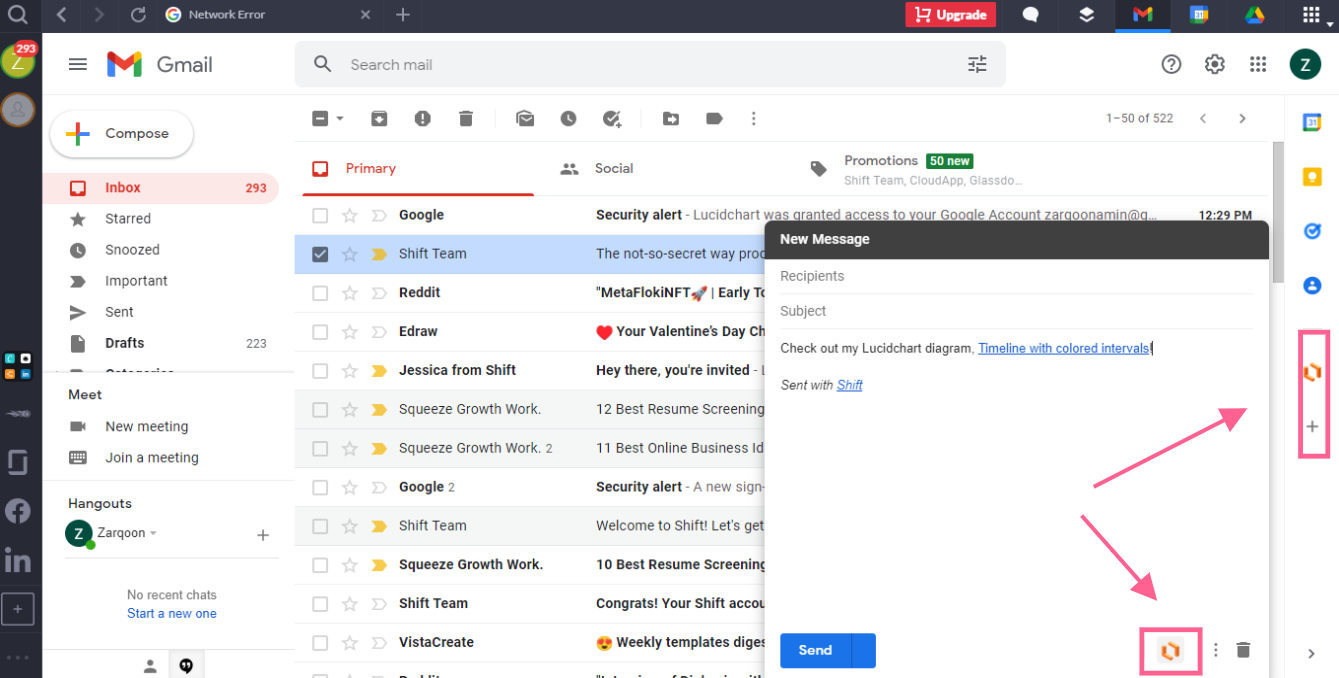 Shift offers you the option to connect your Gmail, Outlook, and Microsoft emails to the dashboard and operate them from there.
It allows you to add multiple accounts to the same service—such as Gmail—and use them as you typically do on your web browser.
Amazingly, the dashboard keeps the original visuals of your inbox, making it easier to check, compose, and send emails.
With this feature, you can monitor all your inboxes, and if required, you can convert them directly into tasks.
Not only that, you can send third-party files via your email, as well.
The above screenshot is of the Lucidchart diagram I inserted directly into my email as a sample.
3. Cloud Access
When you attach your Gmail account to your dashboard, Shift automatically connects your Google Drive account to your dashboard.
With every email, you'll get a separate drive displayed at the top panel. This feature helps you access multiple drives simultaneously with no hassle.
Cloud storage has now become a necessity for entrepreneurs. Today, one can hardly work on any project without a ready space to park large files.
With Shift's cloud feature, you can upload, share and create instant backups of your files as you work.
It's an extremely convenient feature that saves you time and improves your work efficiency.
4. Personalized Workspace
Shift shares a function called workspace to build an isolated page for your apps.
It displays a list of third-party applications to let you select your desired tool and include it on your newly created page.
For instance, you provide digital marketing and graphic designing services to your clients. You can create two workspaces for logo designing services and SEO optimization, adding selected software on the relevant pages.
Both would show on your main panel as independent folders, making it easier for you to manage two projects at a time.
This feature helps you keep your apps segregated for each task, customer, or personal event.
5. Application Manager
Apart from the workspace, you can also add applications directly to the main dashboard.
Since the purpose of Shift is to offer easy access to third-party apps, it provides multiple ways to connect your desired tools to the dashboard.
If most of the tools you use have web versions, the best way is to put them together in a workspace, as mentioned above. It wouldn't require any installation and you can use them on a free plan.
For social networks, directly linking it to your dashboard is more convenient. Emails and social sites are the first pages we typically scroll through. By putting them on the main page, you can access them with a single click.
Shift also offers a third option to include productivity apps specifically for file sharing.
Remember the Lucidchart screenshot I shared above?
You can add tools like Lucidchart on the right-side panel to extract and attach diagrams to your email without logging into it from the main site.
It's a remarkably time-saving feature and comes in handy for quick mails.
6. Google Services and Extensions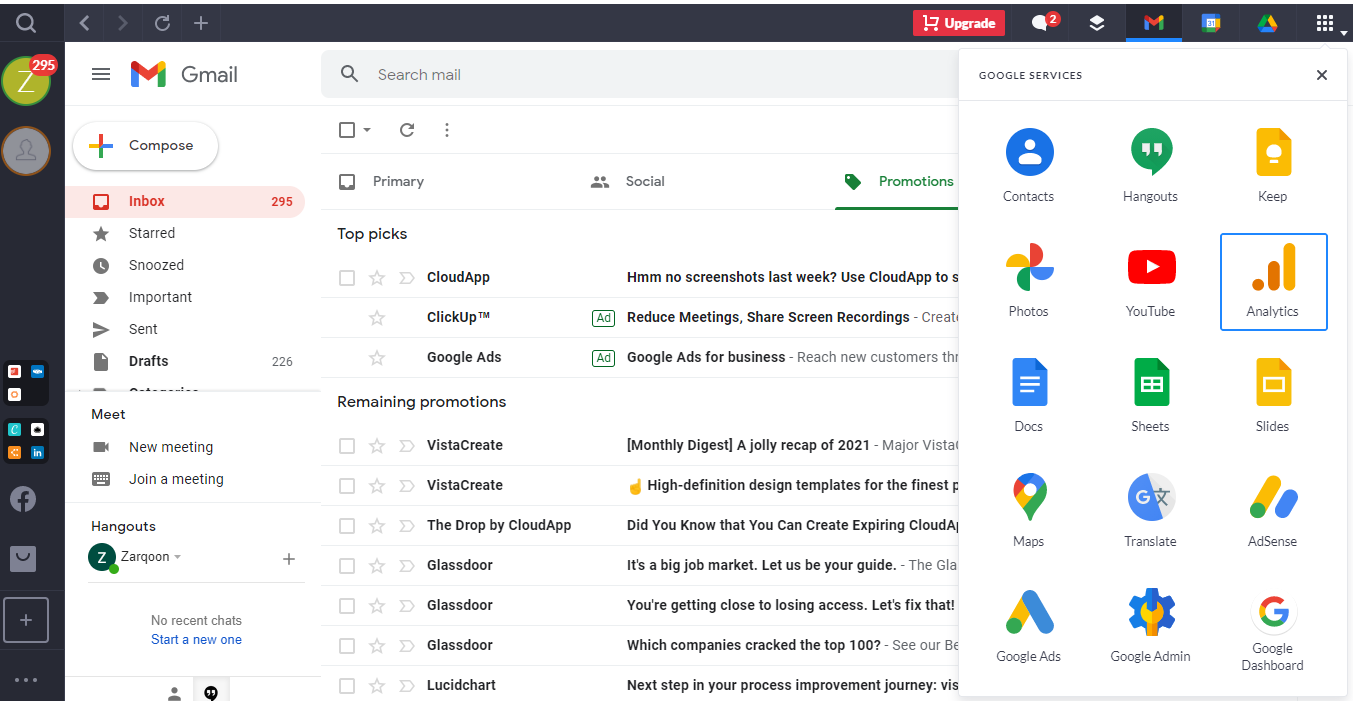 One of the best things about Shift is the easy accessibility of Chrome extensions and Google products.
You might not be aware, but, nearly four billion people enjoy Google services worldwide, out of which 69% use Chrome alone as their primary browser.
With this feature, Shift facilitates Google users and simplifies their workflow.
You can avail yourself of voice conversations services on Shift, seamlessly share documents, and automate emails by attaching extensions like Boomerang.
Currently, it offers over thirty Google services and thirteen extensions, including AdSense, Analytics, and Meet.
7. Team Feature
Shift offers a premium team option for those who want to extend the membership to its team but would like to keep the billing information to themselves.
It provides a team dashboard to control all your member subscriptions. While each of your team members will have their own setup, you can decide which one to invite and how long to let them stay.
This feature will also unlock the limit on the number of emails you can add to your profile and give you access to collaboration apps you can't use on your free account.
You'll find the team function in the settings section at the left bottom and can use it after you've upgraded your plan.
8. System Compatibility
Shift is designed for a standard office setup and, as such, it supports multiple Desktop systems. It's compatible with all three Windows, Mac, and Linux versions and will work perfectly on any of them.
I do like to point out that Shift currently supports only the desktop version. Any device with an Android or iOS operating system may not be able to install it.
When it will launch its mobile version is unknown at the moment.
So, if you run your workspace from a tablet or smartphone, Shift may not be a suitable app for you.
Shift Pros and Cons
Let me give you a quick recap of Shift features to summarize its pros and cons in a few words. It will help you better understand what it offers and make an informed decision.
Pros
Intuitive interface and is easy to use.

Save time by keeping all your apps and emails in one place.

Extends a separate workspace to make your job easier.

Offers access to Google Drive.

Provides Chrome browser to surf the internet directly from the dashboard.

Suitable for both individuals and teams.
Cons
Doesn't support every third-party app. 

Lacks a mobile version.

Sometimes, it slows down the computer speed.
Shift Demo
Now that we have covered Shift's core features, let me share a real-time tour of it to familiarize you with its interface.
I have broken down the guide into nine steps explaining how to set it up and operate it.
Let's get started.
1. Visit TryShift, and you'll find the "Download Now" CTA in the middle of the screen.
2. Click on the button to install it. Since it's a desktop app, you may have to download it to operate it.
The good news is Shift doesn't ask for financial credentials. So, you merely need your email ID to gain access.
3. Once you've clicked on the download button, the site will automatically start the installation process.
4. Select Run, and wait a few minutes for Shift to load. Once opened, it will immediately lead you to the profile setup.
You may have to follow all four steps to complete the profile. The steps are easy to follow, and I don't believe you'll face any complications other than perhaps in the verification stage.
It was a little time-consuming, and I had to spend a couple of minutes getting the security key to verify my account. Rest went smoothly for me.
5. As your profile is created, Shift will offer a video tour to walk you through the basic features. I recommend taking a few minutes to watch it.
6. Below is how your dashboard will appear once you've completed your profile.
On the top left, I can add multiple email accounts and toggle between them for quick access.
At the top right corner, you can view your Drive, Calendar, and Google services such as Photos, Worksheets, and Maps.
The last is a premium feature, though, and you may need to upgrade your plan to access them. You can, however, use the Google search engine from the dashboard and operate your calendar for free.
7. On the left side, you'll also find a plus button to add an email account, applications, and build a new workspace.
The below screenshot is of the sample workspace I created for my Woven brand, linking random tools just to see how it works.
Now, here's an interesting part. If you separately attach apps to the dashboard, you might not be able to sync your social networks without upgrading your plan.
But, if you add it to your workspace, you can open it for free. Workspace, in simple terms, stores the pages rather than the apps.
So, irrespective of software type, if it has a web version, you can include it in your workspace.
8. Lastly, on the right bar, you'll find options to generate time-sensitive tasks and sticky notes. Both are free features.
Shift Pricing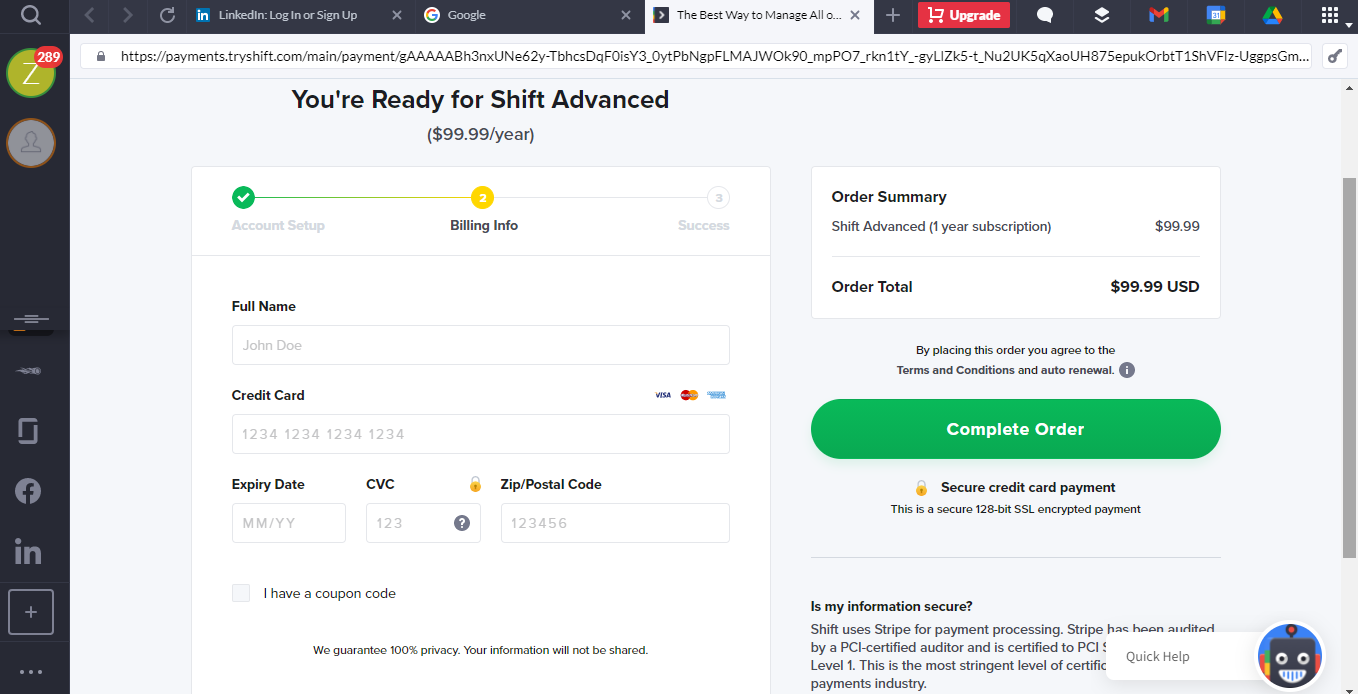 Shift is a freemium app, and you can install it without paying anything. The free plan allows access to core features, including email manager, workspace, and calendar.
But to add teams, unlock unlimited accounts, and attach social networks, you may have to buy its yearly subscription.
At present, Shift is charging $99.99 to upgrade to the plan.
Conclusion – Do you really need Shift?
Small business owners typically keep a short staff due to low-profit margins, and mostly manage a major part of the operations themselves.
As a result, one-third of their week is spent on unnecessary administration jobs wasting some of their productivity.
Shift can help you save a significant amount of your time by keeping your virtual workspace well-arranged.
It spares you the hassle of going back and forth for each app, allowing you to put your productive efforts into growing your business.
I suggest giving it a try.
Download Shift and start your day with a clean workspace!