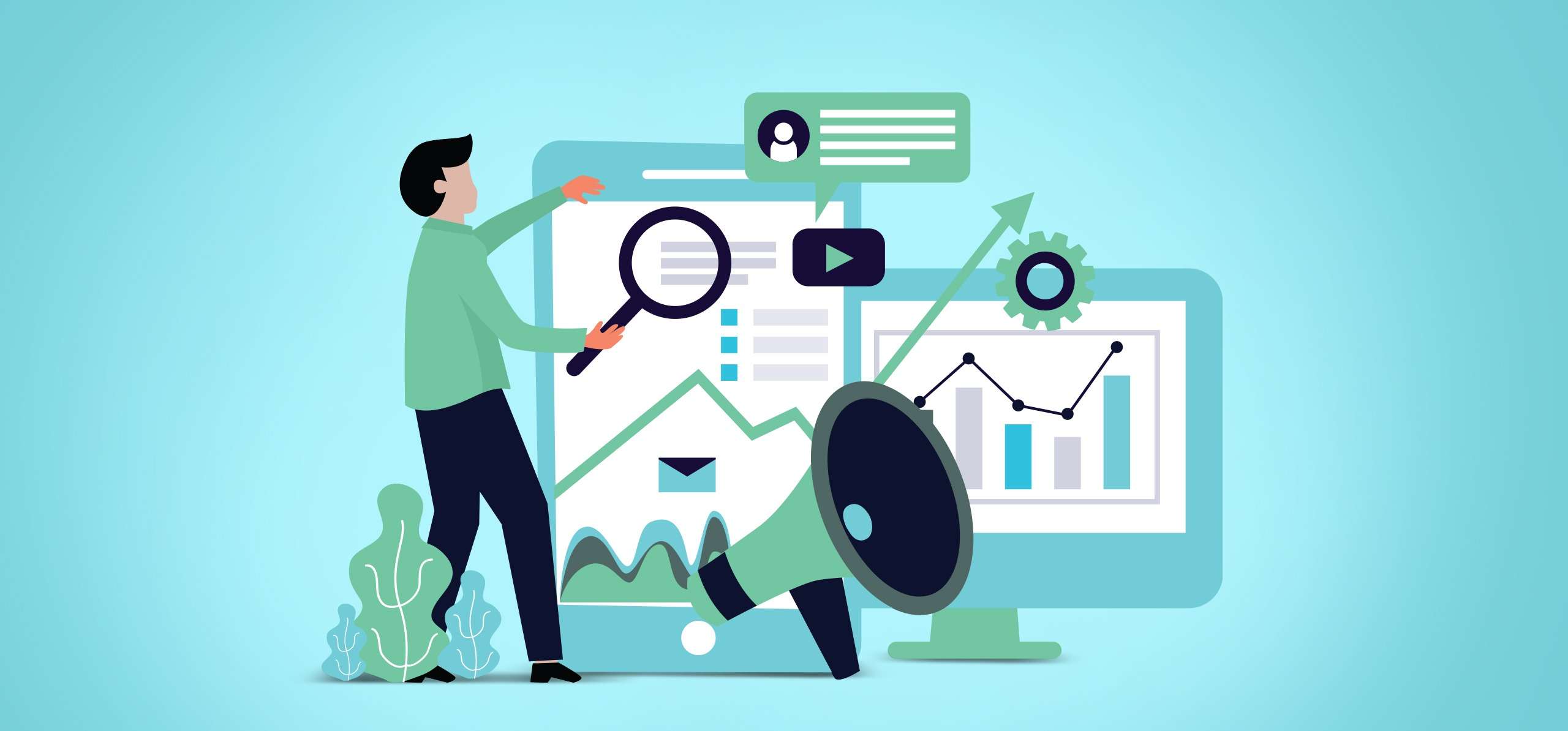 Digital marketing is, "the promotion of your brand through digital media," and it's been increasingly popular since 2000.
As an internet user, you've seen it everywhere, from emails from your favorite clothing brands or blog posts that explain why you should learn to play the guitar.
And no wonder: digital marketing has plenty of benefits like low costs, the ability to analyze performance in real-time, diversify targets, communicate directly with customers, and expand your business, among others.
So naturally, if you have a brand, you should seriously consider digital marketing. These are some strategies to have in mind:
1. Know your target audience
This is the very first step. Knowing the age, likes, gender, and needs of those likely to want your product or service help you know how to reach them and craft messages that would appeal to them.
Would they enjoy it if you made puns related to gaming on Facebook, as Pringles does?
Or are your prospective clients more into books and TV shows? Maybe they are middle-aged men with four kids and would appreciate some discount like a family plan.
Try to picture and build what we call your buyer persona.
That is a fictional representation of your best potential customers. When you imagine it, be as specific as possible. Ask yourself questions like:
How old are they?
What percentage of them are women?
Where do they live?
What are their hobbies?
What's their annual household income?
Besides your own suppositions, you can carry on some interviews or scan industry reviews to acquire some facts. Later, analytics will also be helpful.
After you have found out this information, you need to approach your target audience differently depending on the funnel stage they are in.
Meaning, you won't say the same thing to your community; those who follow you on social media, always comment on your posts, and a new person you seek to attract.
The latter will need a bigger incentive to see what you offer.
Let's suppose you have a small bookstore. For new people (cold traffic) to pay you attention, you need to give them something. Once they are interested (warm traffic), you introduce them to your books.
Finally, they become familiar with your products (hot traffic), and you guide them to the purchase.
Wait, first, what exactly do I give to my cold traffic? Quality content.
2. Quality content
Uploading a picture of your product with its price is easy, but it's not enough if you seek to attract new customers.
They need a captivating hook. Creating valuable content is the best way of putting your brand out there and connecting with people. So remember to be H.A.C:
H. Be Helpful. Don't promote your sales price straight away. Above all, focus a great deal on your consumers. Listen to the consumer's needs and try to solve their problems. Tip: Offer a free resource. Everyone has something to give or teach. In forums like Quora, answer questions related to your niche and link to your blog where it supports your point.
Going back to the bookstore, giving book recommendations, or interviewing authors are things that your audience would certainly love and make them aware of your presence.
A. Be Authentic. Show what makes your brand unique and human, what your values are. Talk about how you started and why, what your struggles were, what kept you going. Your community wants to connect with you and feel like you empathize with them.
We'll see that a great way to achieve this is through social media.
C. Be Creative. There is so much content out there.
To grab people's attention, be interesting. Don't repeat the same old thing. If you feel stuck, go outside, listen to some music, anything that can spark your imagination and get you inspired. Don't try to be perfect. Let yourself be silly and try out new things.
Here's a detailed guide on content curation.
3. SEO
SEO stands for Search Engine Optimization, and it's what makes your blog content rank on the first page of Google, with no payment involved. This means it gets you organic traffic.
When was the last time you clicked page two of Google? That's right: 75% of clicks don't go that far. Good SEO puts you in plain sight, so more people see you.
To achieve this, your website needs to be user-friendly. Here are some (of many) strategies to have in mind:
Keywords. Users use those words to find content. Do some research on Google and find out what people are looking for, which are the keywords for your niche.
Good grammar, spelling, and readability. Besides quality, your content must be well-written, with no formal errors, and easy to read. No one wants to see you instead of you're.
Loading speed. A slow website is very annoying. If your page doesn't load fast, your abandonment rates will increase and therefore harm your ranking.
Pictures, infographics, and headings. They make everything more appealing and facilitate skimming. Make sure images are not too big, though, or they will slow the website down.
Design. A clean website is super important. Font size, typography, and colors have to be pleasing to the eye. When in doubt, keep it simple. Less is more.
Mobile optimization. Make your website fit in all screen sizes. Reading from a mobile phone is pretty common now.
4. Paid Advertisements
Once you define your target audience and make sure you create quality content, it's time to invest in advertisements.
They are key to showing yourself to cold traffic and leading warm traffic to your products, and reminding your hot traffic that they are this close to acquiring that book they always check out. The ad will vary according to who you want to target.
It works like this. Your cold traffic sees a paid ad on, let's say, Pinterest about a free guide you offer, and that leads to your blog. They read your content. They like it, and they come back.
Next time, when they open some random page, they will bump into another ad that shows them a relevant product you sell.
If it's well delivered, they will follow it and check it out. Maybe they won't buy it at that time, but later they will see an ad about a special offer. And boom.
People need a bit of a push sometimes, and that's basically what ads are. But don't forget it's just a push, so you need to do your part too. Don't expect it to do miracles.
Paid advertising goes together with strategy and good content: forgetting one makes it very difficult to succeed.
Also, fear not about the cost: there are different budgets, and you can start with a small investment. Some advertising options include Pay-per-click (PPC), Cost per action (CPA), Cost per impressions, and even PPC. You have plenty of alternatives to choose from.
Needless to say, digital advertisements will always be cheaper than traditional advertisements, with the return on investment (ROI) way bigger. And you see its performance in real-time.
5. Social media
I don't know about you, but if I want to buy something and the business it's not on any social media, I have some second thoughts. I probably won't find real-time information about the brand, which it's a major problem.
However, social media's importance goes way beyond communicating news (you can do that through email, too). On social media, you connect with your community and potential clients.
If someone takes a picture of your product or compliments your service, they can tag your account, and all their friends will notice you.
Plus, whether it's Instagram, Tik Tok, or Snapchat, social media is your chance to show your face -or your community manager's face- and be funny. People go there to relax or learn new things.
Approach them in a friendly manner, then.
Ask questions like those listed before to get a good sense of who you're talking to and focus on your target audience. Play games with them.
There's no need to fix purely on your brand. Wish them a happy weekend or tell them a trivial but funny story of something that happened to you a month ago. Use Instagram's polling feature, ask questions, and make your audience's engagement grow.
Don't obsess over followers, though.
Those numbers don't matter at the end of the day. A lot of followers doesn't equate to a lot of sales. What counts is creating a community and keeping it engaged, so they eventually become hot traffic.
So please, don't waste your money buying more followers.
Most importantly, don't let social media consume your time! Plan your week and choose one of the many automation tools out there, so you stay only as much as needed for the sake of your mental health.
6. Email marketing
You have ads that attract people to your site and a nice customized website that makes them want to stay. Now what? Remember that free resource we mentioned earlier?
That will help you go from "they are interested" to "they are buying" (aka converting consumers).
Here's how it works: to get this free resource, let's say, a guide to starting writing short stories. If you teach them how to write, they need to sign up for your newsletter with their emails.
Email addresses are a precious thing.
Almost anyone checks email regularly. It establishes direct and quick communication with customers. After you have their emails, you can send them very personalized emails that you know will interest them and display your brand's updates.
You don't have to depend on an algorithm or the odds of someone visiting your retail store to make sure your product is seen. It's delivered directly to people's inboxes.
Another great advantage of email marketing is that it's automatic yet personalized: the emails related to makeup, for example, are sent automatically to women and the ones for the male perfume to men.
When you diversify your target audience, they become people instead of objects, and I look forward to reading these emails.
So please make sure you're sending good, quality content that helps your buyer persona. Email marketing has a lot of potentials; don't turn it into spam. Nobody wants spam.
7. Podcast
In an era of multitasking, putting on your headphones and listening to Spotify while you take the bus or cook dinner or really do anything, it's quite normal. Podcasts are becoming more and more popular each day.
They are consumed easily and effortlessly while delivering a private and warm sensation to the listeners.
They are interesting because you talk about your expertise, and they are emotional.
People aren't just consuming the content you've uploaded.
They hear your own voice while you talk about it. That's very personal. It feels like being part of a relaxed conversation with friends.
Imagine if you added some storytelling, too. It's perfect for building an audience and increasing your conversion rate. You´ll reach your audience's heart and make them fall in love with your business, coming back again and again.
Podcasts are a new way of making money, too. If you have enough followers, you could get advertisers. Considering that podcasts are quite easy and cheap to make, you can tell your ROI will be huge.
You may think, Wait, I'm only starting, and you are talking about creating a podcast?
But it's not essential to have your own.
Often, people get interviewed on someone else's podcast, and that's awesome for publicity, too. You can approach podcasts that interview people in your niche and pitch the host to why you should feature there.
Still, podcasts are easier and more affordable than videos, so you might want to give it a go and create your own!
8. Google Analytics
All right, we already mentioned planning is key to saving us time on social media. Well, it is time and money-saving in any aspect of your business, especially in digital marketing.
But how can we determine our future actions wisely? We need to be fully aware of what works and what doesn't. Why sales are decreasing, or how did our advertisements help them grow. Which type of advertisement works best. How much time do users spend on your page, what's their behavior once they land there, and where are they from.
And where do we get all this data from? The answer is to look at analytics.
Analytics allows us to see our performance, failures, and successes in real-time and understand them in full detail.
Thanks to this, we learn what changes should be made and what we should improve, thus making smarter decisions and precise predictions. We understand our weaknesses as well as our strengths, and we understand our customers´ behavior.
With analytics, you have full control over how complex it gets.
You can get very specific or focus on the main things. It shows you all you ask for. Age, interest, and devices of your audience bounce rates on your website. What social media catches more, of the user's attention; what content they are sharing, and, of course, whether or not you are achieving your goals.
You can find all this in Google Analytics, which is the most common tool for analyzing performance. However, there are other options to try out.
9. Ecommerce
It's time to sell. All that work you put into getting people's attention was to get here. Your email marketing, your social media presence, your podcast, everything will lead customers to your ecommerce so they can finally buy your products.
Just like your campaign, your ads, and your interaction with customers, the sales process is better online. Ecommerce is great for:
Acquiring new customers: you miss many potential clients with your retail store because you depend on people living nearby. Millions of people around the globe, though, can view your website without any geographical restrictions. E-business increases your outreach and captures worldwide opportunities. As you keep growing and expanding, your website will too. That's when web localization may come into play. If you want to sell to different countries, factors such as language and culture will eventually be considered.
 Speeding up the shopping process: customers can avoid going physically and thus purchase in a second. The product is one click away instead of a city away.
Selling at any hour and anywhere: you can manage your business from home, and they can purchase from their offices or late at night before bed.
Reduce costs: many brands don't have their products presented in a physical space, or they do, but it's a tiny one. This saves on rent, electricity, salespersons, etc. At the same time, it enables you to lower your prices and attract more customers.
To make the best of these advantages, you need to take the right steps.
If you start from zero and don't have a retail store, you will have to choose a name. Next, make sure your potential business domain is available. If not, you can come up with alternatives like this instead of .com use .Co and that sort of stuff.
You also want to check what are your government regulations on ecommerce.
Finally, choose your platform. There are popular options like Shopify, WooCommerce, Magento, and even Squarespace.
And the amazing thing is that many email marketing/CRM services have ecommerce tools like retargeting. So really, all these strategies we listed connect and help each other.
Wrapping up
You've seen how awesome digital marketing is and all the possibilities it offers for your brand to expand.
And all thanks to knowing your target audience, helping them and interacting with them, providing a good website experience, and using digital tools to improve each step of the way.
Now that you see the importance of digital marketing and know the best strategies, to begin with, it's time to start! Do not feel overwhelmed by all these strategies.
Focus on mastering one and then move on to the next one.
Let us know where you are at and if you have any doubts.
We want to hear from you!