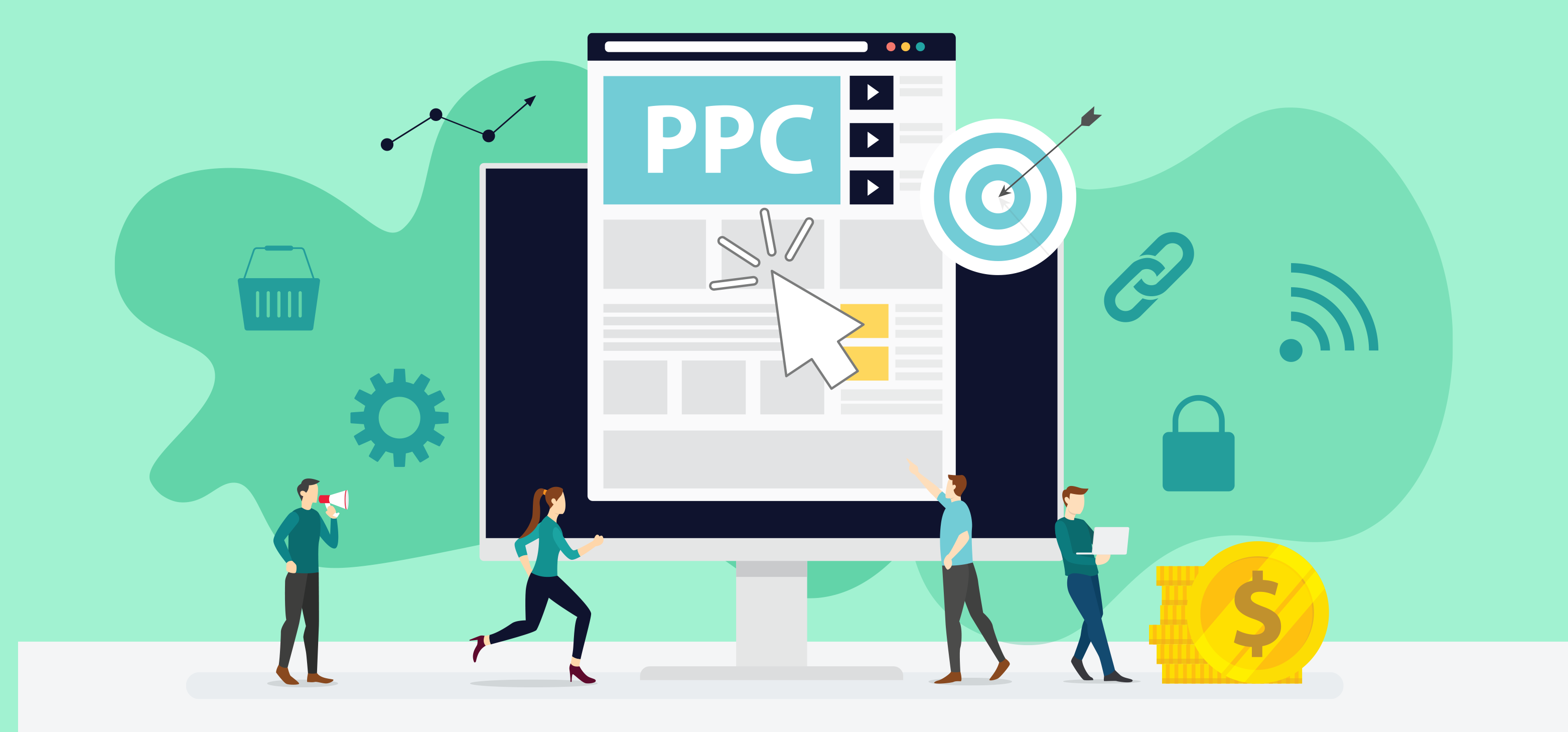 For professional and qualified marketers to effectively market and sell their products, they require the appropriate tools.
In the world of marketing, one of the most widely employed approaches is pay-per-click advertising (also known as PPC marketing).
However, not everyone is doing it correctly. It requires a significant amount of effort due to the large number of factors that must be considered.
PPC is an abbreviation for pay-per-click , which refers to an internet marketing approach in which advertisers are charged a fee each moment one of their advertisements is clicked.
Essentially, it is a method of purchasing visits to your website rather than seeking to "earn" those views organically through search engine optimization.
Every time an advertisement is clicked, resulting in a visitor being directed to our website, the website must pay a small fee to the search engine such as Google.
When PPC is appropriately implemented, the charge is insignificant because the visit is worth significantly more than the fee you pay for it.
To put it another way, if a website pays $3 for a click, but the click leads to a $300 sale, the website has made a significant profit.
By charging advertisers less for ad clicks, search engines recognize and reward marketers who can construct relevant, intelligently focused pay-per-click campaigns.
If your advertisements and landing pages are helpful and gratifying to customers, Google will charge you less per click, resulting in greater earnings for your company.
As a result, if you want to begin using PPC, you must learn how to do so correctly.
PPC can fulfill many of your business campaign roles, mainly increasing product or service sales, lead generation, and brand awareness.
PPC wholly depends on the relevance of your advertisement post. This entire process is all about selecting appropriate keywords, incorporating them into the campaign content, and creating content keeping in mind the site visitor's demand.
For instance, if a person searches for a red dress, your advertisement should cater to the main keyword and pop up in results if you have posted the ad, keeping in mind the particular niche.
The two leading platforms in this PPC industry are Google Ads and Microsoft Advertising.
And since the advertising industry is nowadays super competitive, here are a few tools that would help you in your next business campaign:
For doing keyword research, the Keyword Planner is the tool you can't afford to ignore. You can start with a single seed keyword and generate many search term ideas with varying cost per click (CPC) and search volume.
In the Google Ads (previously AdWords) suite of tools, a free tool is known as the Google Keyword Planner (GKP).
The name of the tool indicates the features of the tool. Its purpose is to help you locate the most relevant terms for your Google Ads projects.
In addition to providing marketers and advertisers with a wealth of relevant keyword data, Google's Keyword Planner tool provides them with various ad group ideas, keyword suggestions, keyword trend statistics, and other information.
However, despite its immense strength and variety, there is one significant limitation to Google's keyword tool: it requires an AdWords account to be used.
Key Features:
Discover new keyword ideas
Get search volume metrics
Create new search ad campaigns
Get to know an average keyword search per month
Pricing :
It is free to use.
Adtomic is part of a comprehensive suite of tools called Helium 10. It is a smart and powerful tool to supercharge your Amazon PPC (Pay-Per-Click) efforts. With Adtomic, you can easily create, manage, and optimize your PPC campaigns on Amazon. 
One of the well-known features of Adtomic is its advanced optimization capabilities. It takes the guesswork out of your decision-making process by providing clear and actionable analytics. 
You'll have access to important metrics like Total Advertising Cost of Sales (TACoS), Organic Ranking, and Sponsored Ranking.
Adtomic also brings automation to the table by keeping an eye on your campaign's performance and offering optimization suggestions.
To make things even easier, Adtomic provides smart templates and custom bid algorithms. These pre-built campaign templates cater to different goals and levels of PPC experience.
Key Features:
Simplified campaign setup and management

Advanced optimization capabilities

Clear and actionable analytics

Custom bid algorithms

Access to important metrics (Like Organic Ranking & Sponsored Ranking)
Pricing:
Helium 10 has a free plan to get started with. It comes with three paid plan options:
Starter ($39/month)

Platinum ($99/month)

Diamond ($279/month)
Adtomic is an add-on starting at $199/month.
SEMrush PPC Keyword Tool makes it simple to create and set up a Google Ads campaign optimized for conversions.
Users may organize keywords at the project and ad group level with this tool, quickly set negative keywords and export the campaign plan for seamless entry into Google Ads Editor.
Y ou may go through the vast keyword database and locate the exact targeted keywords your site should go after using Semrush's Keyword Research tools.
In PPC marketing, some of the most typical mistakes are placing bids on too competitive keywords or failing to omit negative keywords in a campaign. When you're under the burden of handling numerous campaigns simultaneously, it's difficult not to commit some mistakes with each campaign.
This application makes it simple for the marketers to stay organized while also making sure that the campaign is cost-effective. Everything prepared in Semrush can be exported and posted into the Google Ads account directly in a matter of minutes.
A similar feature allows you to import an existing Google Ads campaign and modify the campaign in the exact location.
Key Features: 
Search volume and cost-per-click data based on the target location
Refresh keyword metrics on-demand
Auto-grouping to create ad groups
Pricing :
It starts with a $119 plan.
LeadPages helps you build mobile responsive websites and PPC landing pages.
The app is incredibly easy to use and offers tons of templates and custom options to create personalized yet professional landing pages for lead generation.
Using drag-and-drop builder, you can adjust images, text, and elements, and preview results in different screen sizes to ensure your designs look well on a desktop, tablet, and smartphone.
You'll also get recommendations to help you with text readability and layout, so you can improve your PPC ad quality and conversion rate.
Through A/B testing, you can publish different variations and measure your page performance. Creating test pages for various campaigns is pretty straightforward, and it doesn't require any development skills.
With 90+ integration options, you can connect your business tools with LeadPages and route your PPC ad visitors to your landing page.
One other notable conversion feature LeadPages provides is a pop-up form. You can attach opt-in forms and alert bars on the front page to collect new leads. The opt-in form supports several widgets like videos and a countdown timer to attract site visitors.
Key Features: 
Drag and drop landing page and website builder
Pop-ups and Alert bars.
250+ templates
Pricing:
The pricing plan is divided into monthly and annual plans. Starting from $49/month.
PPC Entourage is an Amazon Sponsored Products management tool.
By analyzing problem factors, you can optimize your advertisements and lower your ACoS with the click of a button, allowing you to generate more sales for less money regarding Amazon PPC.
PPC Entourage is designed explicitly for Amazon Ads.
This tool saves you the struggle of creating countless google spreadsheets with keywords and other data used for optimization. It efficiently optimizes your Amazon ads and helps you gain more visitors. This is possible because of the PPC Entourage bulk optimizer.
Now users can create a profitable campaign not within hours but in seconds.
The tool also helps its users increase their organic sales by generating sales-friendly terms and then turning them into keywords to apply to your newest campaigns.
This strategy helps you increase your sales organically and also increase your pay-per-click rate.
Key Features: 
Specialized keyword cleaner finds underperforming keywords
Negative word and ASIN finder
Bulk Optimizer to run multiple campaigns all at once
Pricing:
Starting from a free trial and the maximum the package reaches is 10,000 per month.
Using Answer the Public, you can conduct free keyword research that sends keywords in the form of relevant questions to your topic.
This is a great way to introduce reasonable adjustments that your prospects are experiencing, which you can then attempt to address in your ad copy.
When you click on "Get Questions," the page begins to load with the explored keywords.
The page is divided into two sections: a keyword wheel and an alphabetical list of keyword information. It is possible to see keyword statistics in both sections if you have the add-on installed and enabled.
The keyword wheel will appear when your mouse is moved over a keyword, and a popup window will appear with the search volume and CPC.
This allows you to find great content ideas and determine how narrow themes fit into relatively broad ones. This method is highly effective.
In this way, you will get a comprehensive vision of what people are looking for and what information they are particularly interested in.
In short, it is the best resource for generating ideas and delving deeply into the heart of the issue at hand.
Key Features: 
Raw search insights
A plethora of content ideas
Picks autocomplete data from search engines
Pricing :
The subscription starts at $99.
It is a thriving research and monitoring platform that allows marketing teams to gain a competitive advantage in the search marketing landscape by conducting competitive research and monitoring.
More than 35,000 clients have used iSpionage to improve their SEO and SEM performance. You can use their unique features to visualize the PPC buyer journey from clicks to conversions.
Keep up to date with competitor offers using their landing page intelligence, track your organic ranking globally, and much more.
iSpionage adds significant value to PPC market research and market positioning activities.
The product, when compared to other products on the market, provides excellent features for a reasonable annual user license fee, and it can provide most of the features that we require regularly.
This tool identifies and customized industry-specific keywords that will help one's business grow. It also enables us to understand target budgets based on the needs of the client and resources efficiently based on the amount of money available.
This is especially useful when creating ad campaigns for specific geographies and commerce zones, allowing for greater customization.
Key Features:
Competitive analysis of the marketplace
Website forms
AB analysis
Pricing :
Pricing starts at $59.00 per feature per month.
In addition to seeing what their direct competitors are doing, marketers can see how they are doing it.
Besides being able to view advertisements and the messaging used, it also shows you the traffic sources, such as how the medium was acquired and which publishers the advertisements were appearing to.
The tool displays the creative, messaging, placement, and size, among other things. It has been beneficial in tracking our competitors and determining the value propositions on which they are concentrating.
Its user-friendly interface Also distinguishes adbeat.
Having gathered all of the information, Adbeat compiles it into a visually appealing report that displays critical information such as expected rival ad spends and visitor volume for each publisher in question.
In addition to this, they provide information on the impact this has on you, how much traffic advertising produces, pay-per-click charges, and other relevant information.
Key Features: 
Global marketplace coverage
Reveals media buying and advertising strategies
Generating reports and statistics
Pricing :
It starts at $249 per month.
Ruler Analytics enables marketing teams to collaborate more quickly and effectively. Teams can increase lead generation quantity and sales efficiency by uncovering the data that underpins every visitor, touchpoint, and conversion they encounter.
This is accomplished by providing optimization opportunities such as call tracking and information not generally offered by data analytics. Organizations that effectively use Ruler Analytics can quickly achieve a three-fold spike in lead growth in a few weeks.
To make sure that you are getting the most out of your marketing efforts, Ruler Analytics provides an easy-to-use analytics software that allows account managers and clients to get a complete picture of their customer's journey.
You're able to identify what works and what doesn't for a given marketing channel via the call and conversion metrics, to make sure that you are getting the most out of your marketing efforts.
Key Features:
Conversion tracked through phone calls and chats
Identifies the accurate user details
Integrations to analytics and CRM
Pricing:
Pricing starts at 99 pounds per month.
Captivise is a platform for automating the management of PPC bids.
It is built to increase profit – the platform automatically highlights high-performing keywords while de-emphasizing or even pausing poorly-performing keywords, thereby significantly increasing your ROI.
The tool works in real-time, updating prices more quickly than any human could, even if they can compute at the same speed as the system does.
You can instantly link your Google Ads account to Captivise, which draws in information to display performance and allows you to add your target goals and conduct automation to reach these goals after you connect your account.
Because of of entering your intended profit or "cost per acquisition," Captivise strives to achieve this by evaluating your account data and making the required modifications to achieve enhanced performance.
Key Features:
Minimize wasted spend through bid adjustment
Pauses non converting keywords
Automated bid management
Pricing:
There are no monthly fees associated with a Captivise account. Instead, they charge a flat rate of 1 percent of advertising spends.
PPC optimization platform Optmyzr is designed for consultants, agencies, and in-house marketing teams who work in the search marketing industry.
Optmyzr, a search marketing platform founded in 2013 by a group of former Google executives, provides search marketers with the tools and insights they need to present approaches for accounts of any size and complexity quickly.
With the help of machine learning and data from your accounts, this tool tops the core automation systems found in Google, Microsoft, and other ad engines to provide a more comprehensive experience.
Optmyzr helps you in automating routine tasks, allowing you to devote more time to testing and strategy development while remaining in complete control, even when using automated bidding techniques.
By bringing Optmyzr on board, marketers can manage more accounts with higher spending effectively. It is especially true for those who have more than doubled the total monthly expenditure under management while maintaining the same number of employees.
Our team now has better visibility into the details of campaigns, improved efficiencies, and more energy to commit to figuring out how to make our clients satisfied.
Key Features:
One-click optimizations
Campaign automation
Budget Optimizer
Pricing :
14-day free trial and monthly plans start from $499.
For those looking for less of a PPC tool and more of a way to combine data from multiple platforms into a single report, NinjaCat may be the best option for you.
NinjaCat integrates with more than 750 platforms and tools, and it uses the information gathered from all of these integrations to generate comprehensive, white-labeled reports for its users.
It connects to hundreds of platforms and pulls in the data, allowing you to quickly and easily create dashboards, reports, and other reports for your customers.
More analysis is done to provide better recommendations rather than pulling data from various sources, as is the case now.
One can increase their professional productivity by automating business performance reporting to spend more time creating and presenting captivating data stories to clients for an appealing experience.
Moreover, to improve alignment and perceived value among distant stakeholders, carefully constructed performance reports should be developed and sent.
NinjaCat helps you deliver essential insights, and proof of performance that will result in better cooperation and campaign optimization cycles, and increased efficiency.
Key Features: 
Fully automated reporting templates
Data Pipeline to 100+ marketing channels
Enterprise-level scalability and security
Pricing :
The average starting price range is around $999-$2599/month.
You can create business performance reports and dashboards for your startup, clients, and marketing departments using Octoboard.
Templates are available so that you don't have to start from scratch when creating your reports, and they can be automated so that you don't even have to think about remembering to send them to clients.
Moreover, Octaboard allows its users to generate and present comprehensive reports within seconds.
The tool does this by visualizing your reports with the best quality infographics. The free SEO audits also give and, resulting in you a chance to redesign your campaigns and capture new leads for you.
Suppose your clients are curious about how their campaign is progressing.
In that case, Octoborad also gives you the option of creating and sharing the tool's login with them (you can create a client's account) so that they can see where their business stands and what improvements they need to make.
You have complete control of the clients can see and what they cannot.
Key Features: 
Automated reports
Customizable dashboards
Drag and drop option
Pricing :
It has different plans for both business and marketing agencies starting from $8/month.
Acquisio is a fantastic tool if you are in charge of various paid search campaigns at once. It makes it simple to keep track of everything and to make large-scale changes when they are required.
The reports are outstanding in that they provide a comprehensive view of the data while also being extremely simple to create.
A custom ad-hoc report can be created in as few as one minute if you have a particular need for it.
It is possible to schedule the reports to be emailed to yourself or someone regularly from that point forward.
Using the efficient dashboard and KPI (key performance indicator) builder, campaign managers can quickly identify which accounts are failing and act to improve their performance.
The Ad Extension manager makes it possible for the user to save their valuable time and spend it on other campaigns.
Key Features: 
Sales tools to predict campaign outcomes
Social reporting tools to save more time
Cross channel ad tools
Pricing :
Its monthly plans start at $300.
It prevents any click fraud and fake traffic using an automated program that employs cutting-edge artificial intelligence to monitor your advertisements.
It analyzes each click and compares the results to data from millions of clicks to determine whether the click was legitimate or fraudulent.
PPC Protect's tracking funnel collects thousands of unique pieces of information about each device going through it, including the IP address, device ID, resolution (including the browser used), user agent, and location, which helps in analyzing the clicks.
The data is analyzed and cross-referenced in real-time with the tool's bank of fraudulent devices/activities and globally available blacklists and employing machine learning and real-time analysis to find new fraudulent behavior that has not yet been identified.
Key Features: 
100% automated
Expert support and help
Secure user access control
Pricing : Pricing starts at $40,000/month ad spend at $240/month
That's it.
We hope our article helped you find the best PPC tool for your business.