Looking to build a website for yourself?
Or maybe for your clients?
Let me guess, you're surely one of those who are so eager to create an online business and watch your friends envy you with their boring 9 to 5 job.
Great. But you're not sure where to go, correct?
A website is a fun way to show your creative talent, sell products online and earn a living out of it. It's easy for you to find many website builder tools out there.
And the fun part is, that you don't necessarily have to be a programmer or a designer.
You can choose just about any one of them to fulfill your dreams. But make no mistake! They've many things in common, yet are so different from each other.
That's why we're here to not let you get along with just any of them.
A lot of you folks have been debating over a number of such tools. And we came to know that tools like WordPress, Wix, and Webflow are the most common ones.
You may anyhow go with your pick only to realize that certain features don't match your business framework well enough. And that another website was perfect for you.
Ugh, such a terrible feeling it is!
You never want to have a bad experience with your first website. Neither do we want that to happen to anyone.
So to help you out with your decisions, we came up with a detailed comparison guide on WordPress vs WIX vs Webflow.
Here you go.
Before we jump right into the comparison, let's talk in brief…
What is WIX?
Most of you have been often interrupted on YouTube by WIX commercials by models, successful store owners and some Hollywood action stars. That's how we see WIX becoming that popular.
After the launch of WordPress, the creators of WIX wanted to make a design-driven platform different from the CMS system. They wanted a platform where an average PC user could save time and money creating websites.
WIX is a SaaS platform that offers you the advantages of blogging, ecommerce and active support on a budget.
That's why, the platform is extremely popular among artists, fashion designers, and independent store owners. Big enterprises like SAP, Deloitte, Lyft, etc. also took the advantage of WIX's services.
If there is anything like a "default" option for building a website, it has to be non-other than WordPress. Soon, WordPress will enter its 20th year of a successful run.
And it's all because of its robust open-source platform and the freedom of code customization that laid the foundation. Although plugins do all the heavy lifting for the site, WordPress delivers what most site builders can't.
No fancy commercials like WIX. It's hard to guess how many businesses have been made on top of it until now.
WordPress is pretty common among developers, bloggers, affiliate marketers, and media brands. Websites like TechCrunch, Spotify, and TED are some of the examples of what you could achieve with this platform.
It's so painful to see a website broken just because of the missing semicolon. Webflow is a modern site builder tool that understands the misery of developers. Its platform is built upon clean code. Automated syntax structuring is the key factor behind its success.
The platform supports code customization and is mostly geared toward designers. That really helps them understand the logic behind why something happens when it happens.
At the same time, Webflow also expands on the idea of no-code movement and lets non-coding users leverage the benefit.
Webflow is packed with intuitive built-in features that reduce its dependency on add-ons. That means, it reduces your efforts in setting things up so that you can take advantage of many unique features.
Rakuten, DELL, and Zendesk are some of the brands that have redesigned their websites with Webflow.
Which platform is easy to use?
For someone with basic computer knowledge, it's important to know how easy or complex it is to walk through a website builder tool.
Is the learning curve low?
Are there any technical barriers?
Let's see each of them from a beginner's point of view.
WIX
WIX was purposely designed to ease your efforts while creating a website. They knew it was not a cakewalk for non-coding people to personalize a website with the existing tools back then.
WIX was therefore established with the vision of developing a website without having you grind in the geeky stuff.
While signing up, it asks you a few questions about the type of website you want to build. You'll then be asked to pick from WIX ADI and WIX Editor to continue the process.

ADI is their AI design feature that puts you in the back seat while driving you throughout your website creation journey.
Initially, the feature asks you some questions so that the website is tailored to your content and design preferences. And once it's done, you can make some changes before going live.
WIX ADI is a pretty useful feature in certain scenarios. But if you want to have full creative control, better choose the WIX Editor.
It's so easy to find your choice of templates and edit them on its drag and drop editor.
All you need is a few clicks to move elements, and configure the color and designs for your page.
The dashboard closely resembles the one on WordPress but is less intriguing. Thanks for a quick tour video where you can learn easy instructions about managing settings, checking real-time stats, and customizing your dashboard widgets.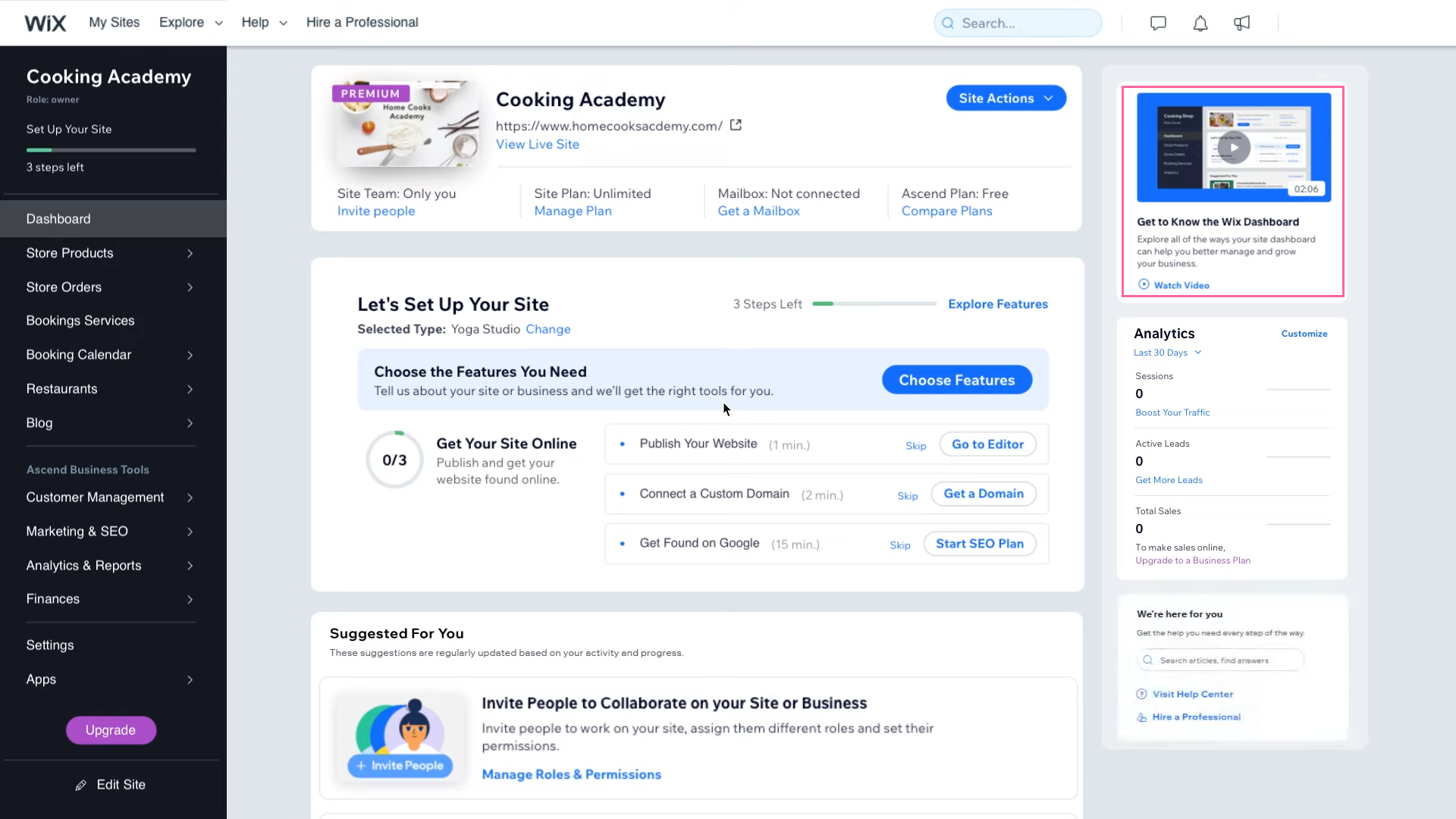 WordPress
WordPress is, indeed, a user-friendly system. But there is a catch.
Because there is no universal set-up wizard, it makes you think about where to begin. So to make things less confusing, there is a common notion among beginners to refer to guides or video explainers on how to use WordPress.
Once registered, you'll be quickly escorted to a sample blog page or directly to the Dashboard. But then on the Dashboard, you'll need to configure admin settings, pages, taxonomies, themes, etc, which is a bit longer process.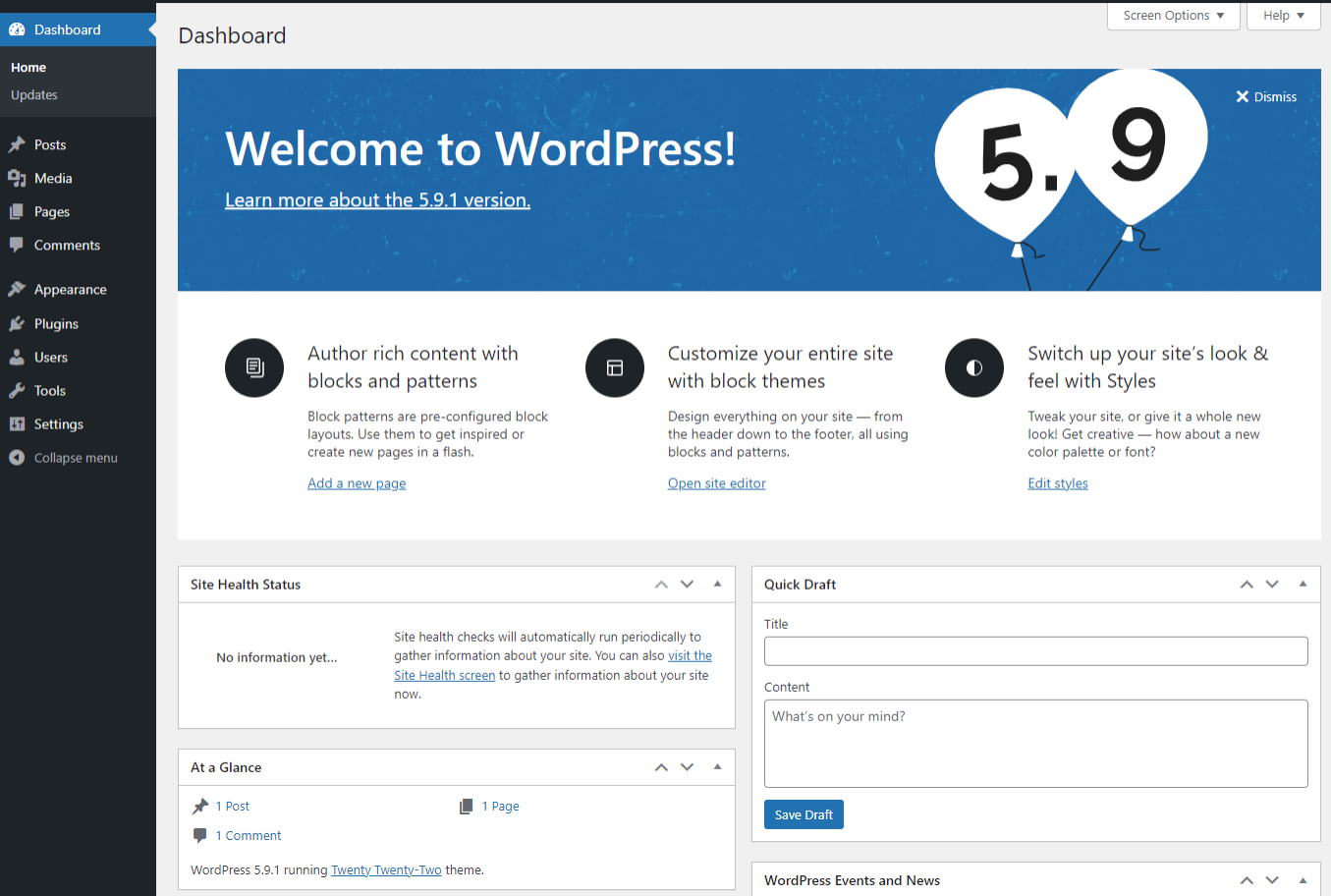 Customizing your Dashboard widgets isn't as scary as you might have heard.
The user interface is pretty simple and neat. You'll have an easy time navigating the Dashboard and tracking your stats and performance.
Though, you may have to scratch your head while searching for the necessary plugins.
May take a while. But with the right combination of add-ons, you'll have a website ready to scale.
Have a change of heart for a theme, template or plugin?
Not a big deal. You'll enjoy the creative freedom here. You can even change the appearance of your Dashboard with the help of plugins.
Now the Block Editor, aka "Gutenberg" is something you'll admire the most. It is the simplest tool to manage texts, images and layouts using blocks and eventually, get your blog published. Unlike its previous editor, you'll feel better control over visual configurations and keyboard shortcuts.
Webflow
Webflow is one of the contributors to extending the frontiers of the no-code movement and making the process easy for website creators.
When you sign up, it launches a quick survey to personalize things for your new website.
Then it welcomes you with a pop-up that prompts you to get started with Webflow by taking a short interactive tutorial.
Now, Dashboard here is quite different from Wix and WordPress. First, it's all blank except for one sample project for you. This is where all your projects are organized. What I really like about it is that the space is clean and makes it easy to find your way.
To get started, you'll go to "New Project" where you'll find many pre-designed templates to save your time. Or you can choose a blank site.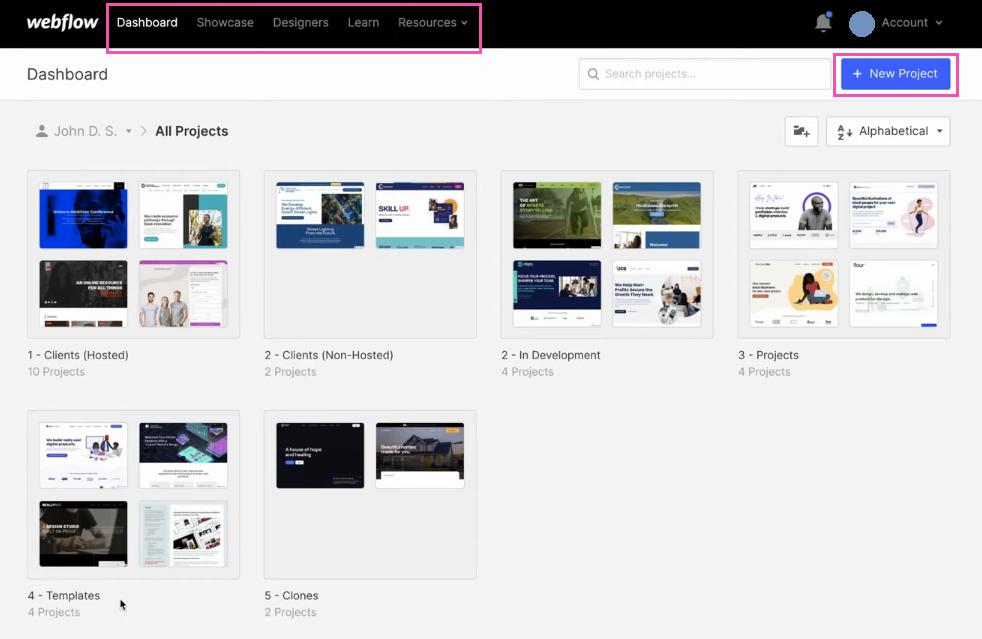 Alternatively, you can clone a site from "Showcase" which houses a number of sites made by real people. Now, you may select a blank site to design your template from scratch. Or you may choose to customize pre-designed templates.
But don't just get freaked out seeing the editor, which pretty much resembles Photoshop or XD. Webflow calls it "The box model".
They have this sophisticated visual editor where any clicks or drag-and-drop actions will take effect on your site in real-time.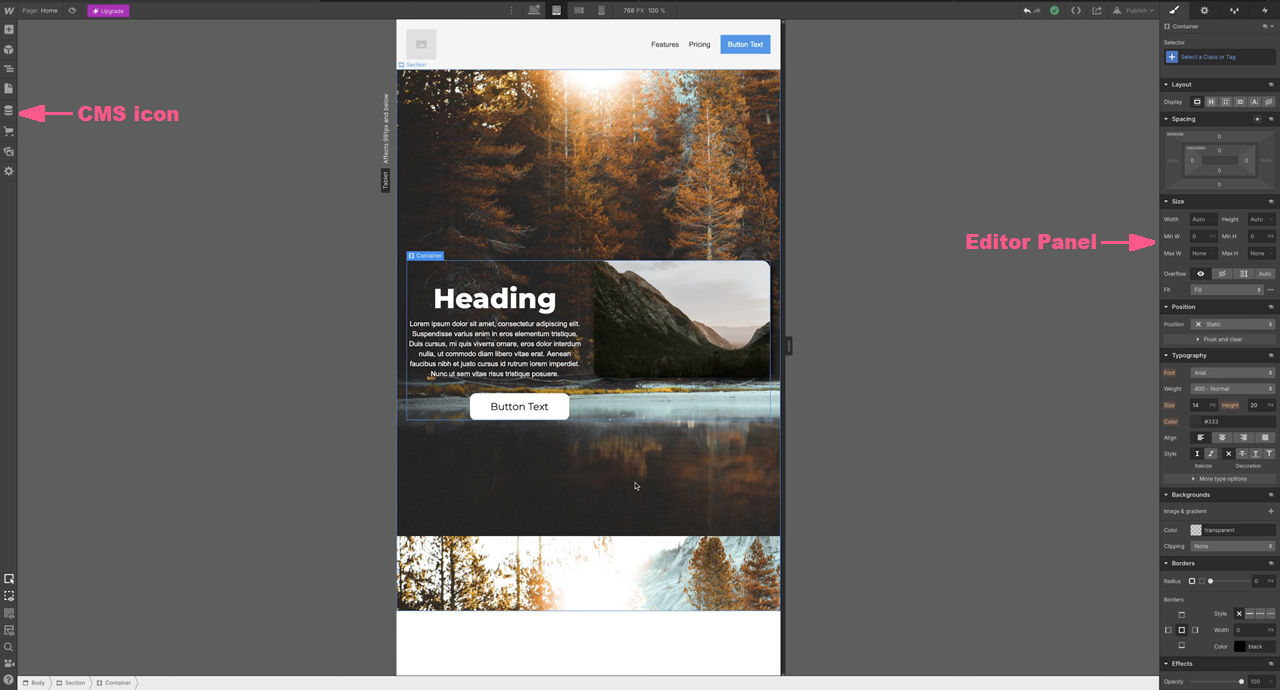 Webflow's CMS is yet another feature that has a unique interface and is nothing like you've seen. Whether you've switched from WordPress or are absolutely new to it, you're going to love it. Though, it may take you a while to get the hang of it.
Unlike Wix and WordPress, however, there is no direct way to check the stats of your site.
To do so, you need to set up SEO details and Google site verification in your account settings. Quite a head-scratcher, but it does make an impact.
Result: Wix
Everything on WIX is easy with a low learning curve. For WordPress and Webflow, however, you shouldn't better skip the tutorials or quick tour guides.
Which one is better in terms of design and customization?
Each of these platforms houses templates for an ecommerce site, service site, or personal blog site. This may make your life easier.
But what if you accidentally found your choice of theme on someone else's website, or perhaps your competitor's?
A custom-made website gives you a unique identity and a better recognition of your brand. And to achieve that, you should ensure that your choice of the platform delivers good design flexibility and theme options.
WordPress
Basically, WordPress comes with about 160 themes. And when you include theme marketplaces like Theme forest, Elegant Themes Divi, Astra, and CSS Igniter, you'll have a massive collection of 30,000 templates.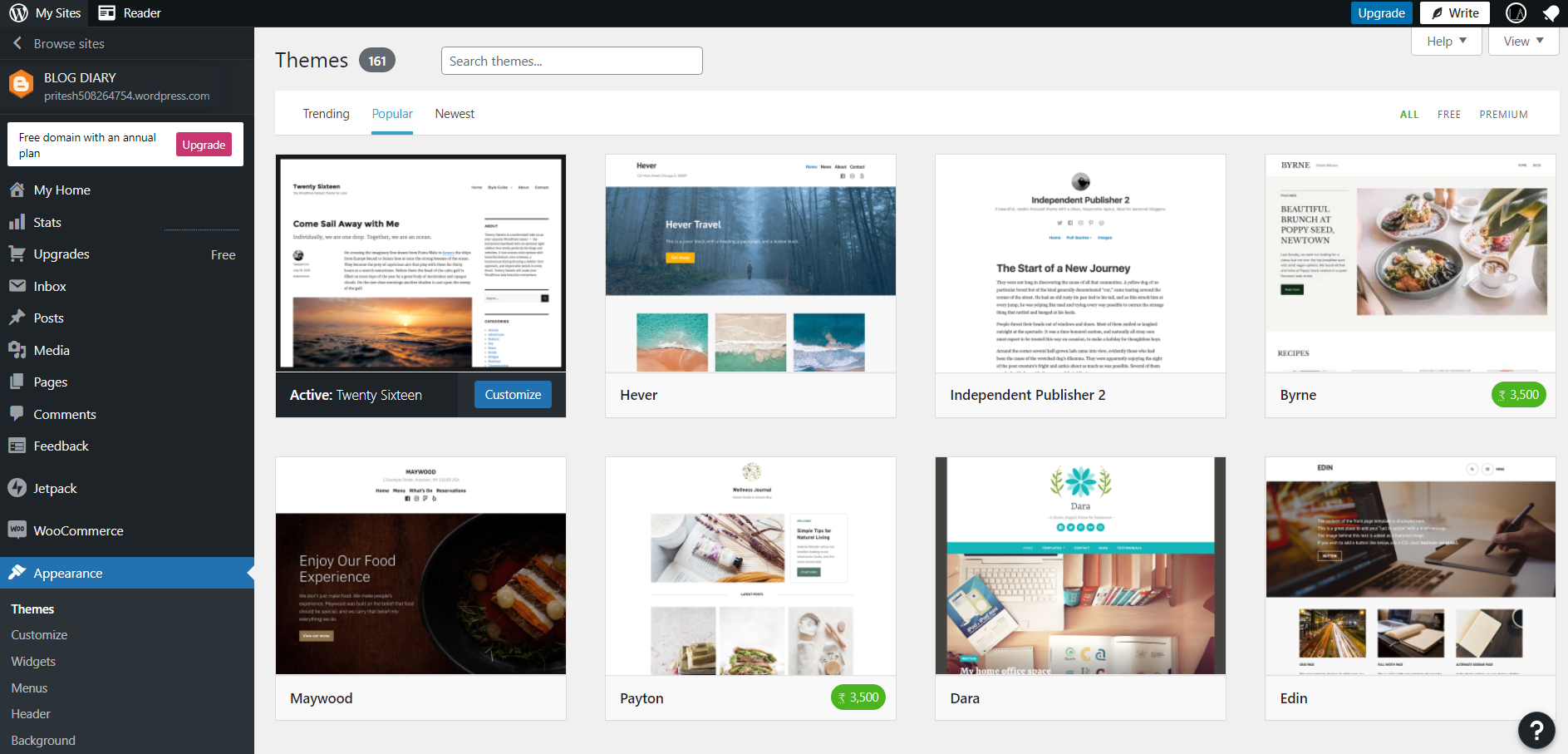 In terms of design flexibility, WordPress provides a range of features to add and position different elements on the page. You can either choose to drag and drop on Widgets or tweak CSS code.
But unlike the visual editor in WIX and Webflow, the drag-and-drop functionality feels a bit sluggish.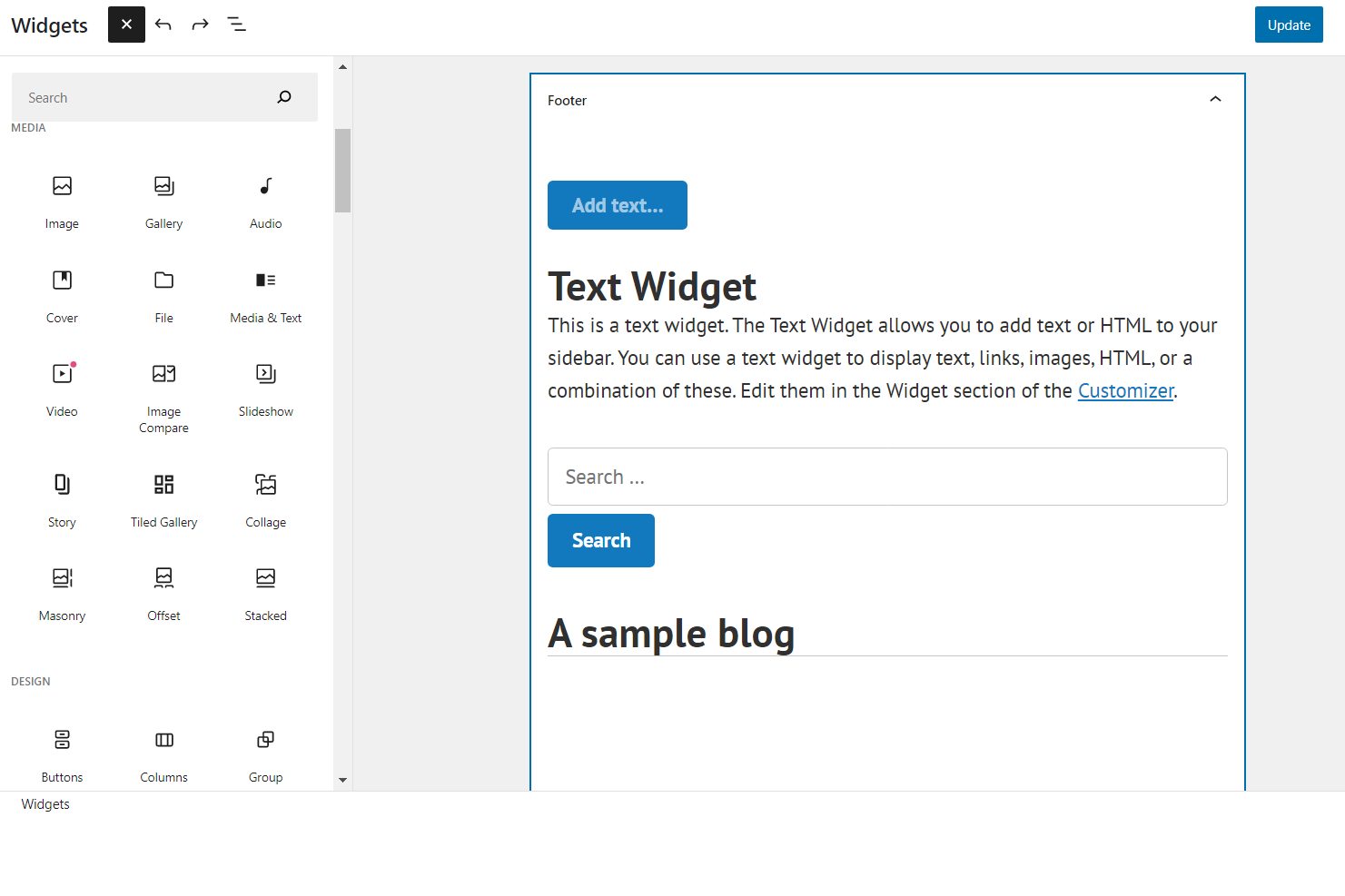 So if you're not comfortable with the native customization feature, you can download page builder plugins like Thrive Architect or Elementor to make editing easy and smooth.
Now to limit dependency on plugins, WordPress has been working on Gutenberg to ramp up its customization capabilities. In addition, they'll most likely introduce collaboration tools to ease editing with your coauthor(s) in the near future.
WIX
Wix's theme library stores over 850 web designs and makes it easy for you to find templates for almost any niche – business, travel, fashion, store, blogs, and many more. So unlike WordPress, it doesn't overwhelm you with truckloads of designs.
WIX eliminates your need to hire a designer and lets you customize your designs on the fly. You can grab any button, box or decorative element and drop it anywhere on the canvas.
Anything edited or changed here is visually demonstrated in real-time.
Also, responsiveness plays really well with mobile devices. Though, the results may not translate well if you try to add advanced designs like parallax scrolling.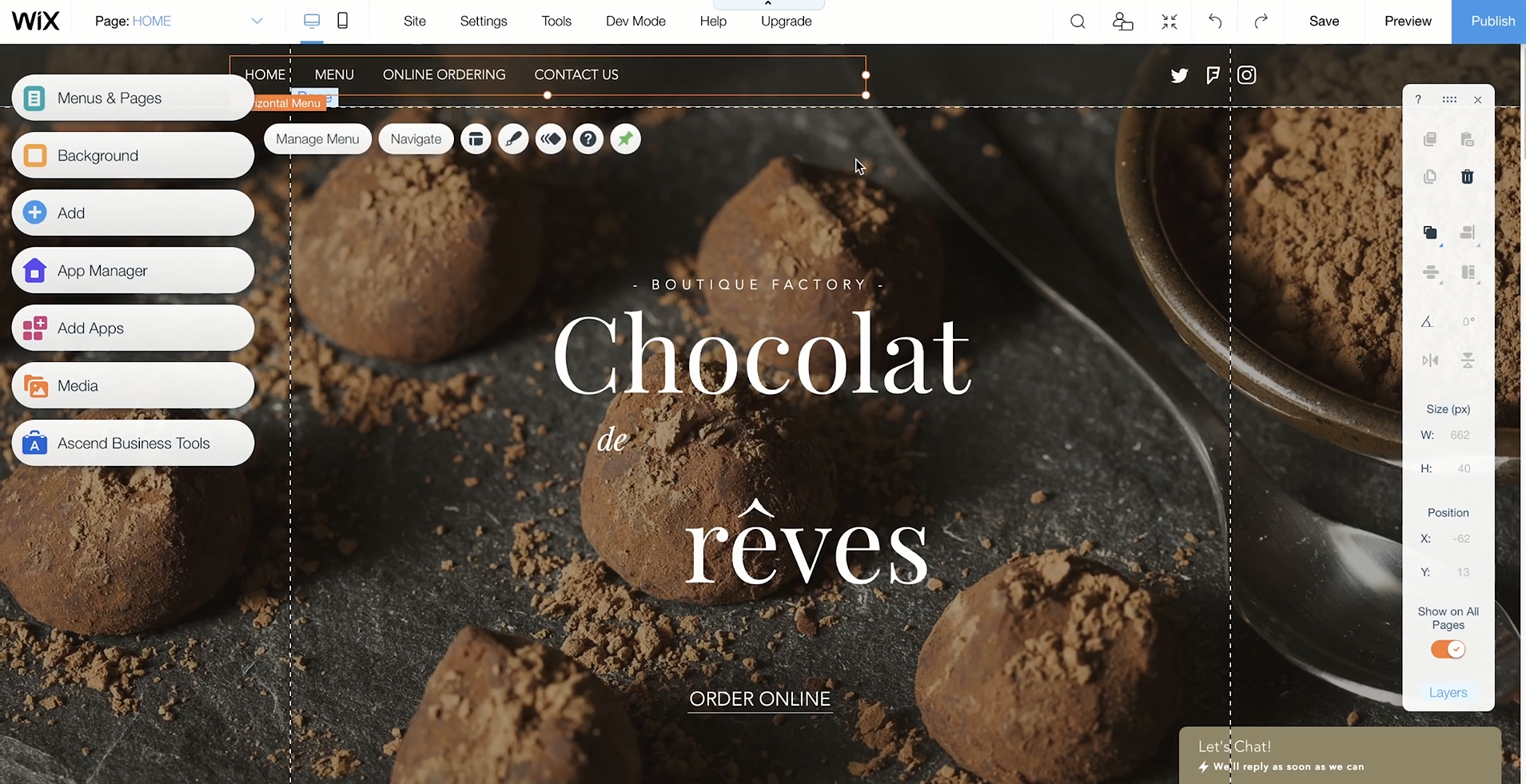 The classic editor comes with some limitations due to the rise of competitors like Webflow. So, they introduced Editor X, which is their Photoshop-version tool to offer advanced design capabilities.
It comes with a subscription and takes a lot of time to get used to it, though. But your patience will receive its due rewards.
Note that, as long as you're subscribed to Editor X, you can't just switch to the WIX classic editor.
Webflow
Webflow has some serious design capabilities that really shook the code-free website builders to its core. Guess why would WIX ever come up with Editor X then?
Webflow makes it easy to choose from over 1000 website templates and get started with the editing part in no time.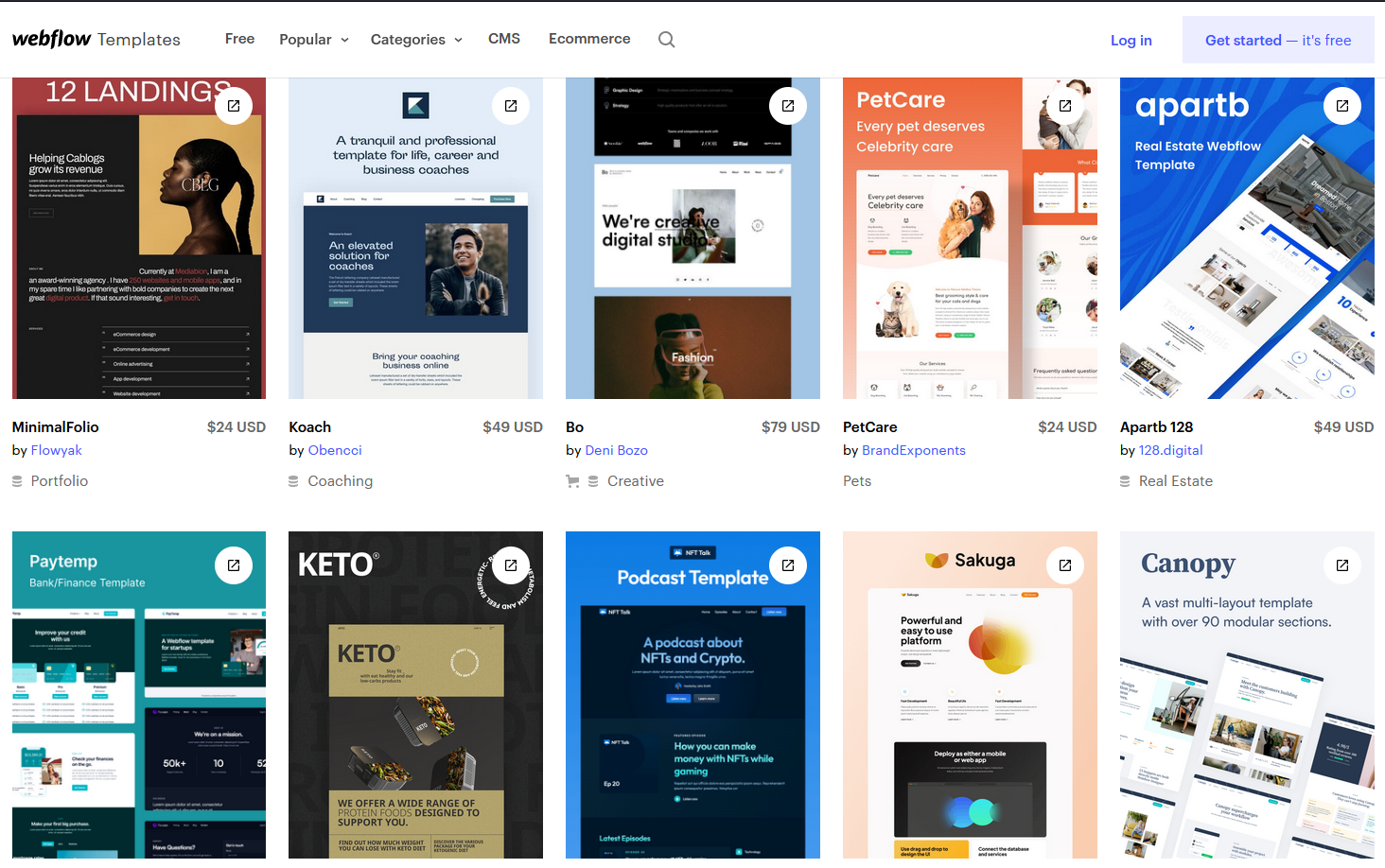 Now, even if you're a little experience with Photoshop, you're going to love its aesthetically similar visual editor.
With some quick guides, you can get the hang of basic editing functionality like drag-and-drop, restructuring the elements, etc.
The typography is so flexible and lets you play with the font the way you want. But there is no denying that for the most part, the interface is still complex for non-designers.
The editor is based on automatic markup generation that creates code followed by any element you add or any action you take.
Just like this flexbox model of a page. And as we overlay the elements, the editor simultaneously generates code in real-time that takes care of padding, margins, sizing, and overall layout.
So having a basic understanding of HTML, CSS, and JavaScript would come in handy.
Specially, you will get to test your coding skills while building some user-experience animations or 3D transforms.
Webflow does an impressive job with interactive animation, which is pretty basic on WIX and WordPress.
Result: WordPress & Webflow
WordPress has the widest range of design layouts. But when it comes to ease of customization, both WordPress and WIX give beginners a similar experience.
However, it's not easy to switch your theme once applied on WIX. Webflow, on the other hand, is geared towards designers and has some learning curve. But it has more robust design capabilities than WordPress.
Which one is the best for bloggers?
Medium, LinkedIn, Quora, and Hubpages are some of the best free blogging platforms where you can share ideas and make connections.
But do they give you control over how your content should be presented?
And do they have earning potential?
That's why WordPress, WIX and Webflow exist that take your blogging to the next level.
But here, we've to figure out which platform really stands out in delivering the complete content experience.
WordPress
About 40% of professional bloggers love WordPress.
It was in 1994 that the first-ever blog post was posted on Links.net. And with the shift in internet usage, many such platforms were made for online publishing.
But most of them lacked stability, open-source structure, and multimedia options. WordPress fixed them all and threw new possibilities for democratizing content creation. It has been the leading blogging platform since then.
The classic editor used to be the default choice for bloggers. But now, Gutenberg is slowly catching on.
Also known as Block Editor, it has replaced standard content blocks with responsive blocks. As a result, the editor now supports the drag-and-drop function. You can use the pre-defined blocks, do inline image editing, and embed media files directly into your editor.
You can also add cool animation effects like parallax scrolling or long scrolling.
You no longer need to use codes for tables or contact forms unless you're looking to craft something unique. More functionalities are yet to come.
Thanks to the powerful and scalable CMS. If you're a starter, you'll easily get the hang of it and truly feel like a companion that cares about your content.
WIX
Composing a blog post on WIX is quick and easy.
You can either click on the "pen" icon or the "+" icon to access the blog page.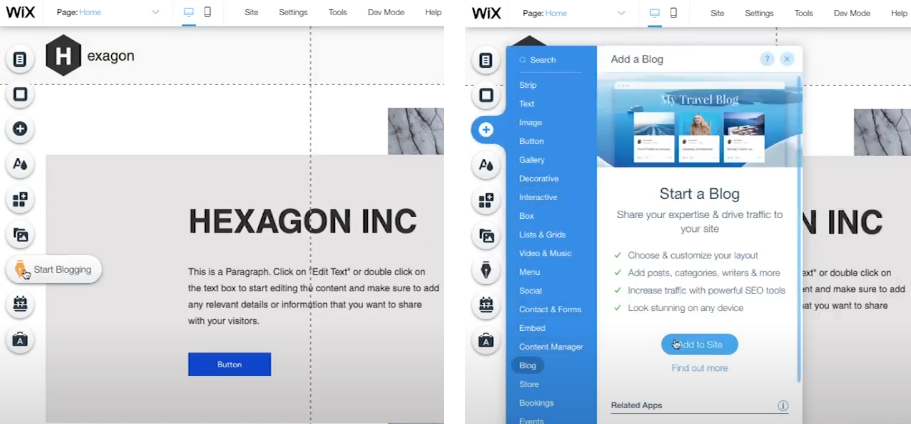 The interface is clean and doesn't mess up with dozens of icons.
Unlike WordPress, they don't feature a static toolbar sitting at the top of your blog editor.
Rather, it shows up while you're working on any text or images so that you can make adjustments on the fly.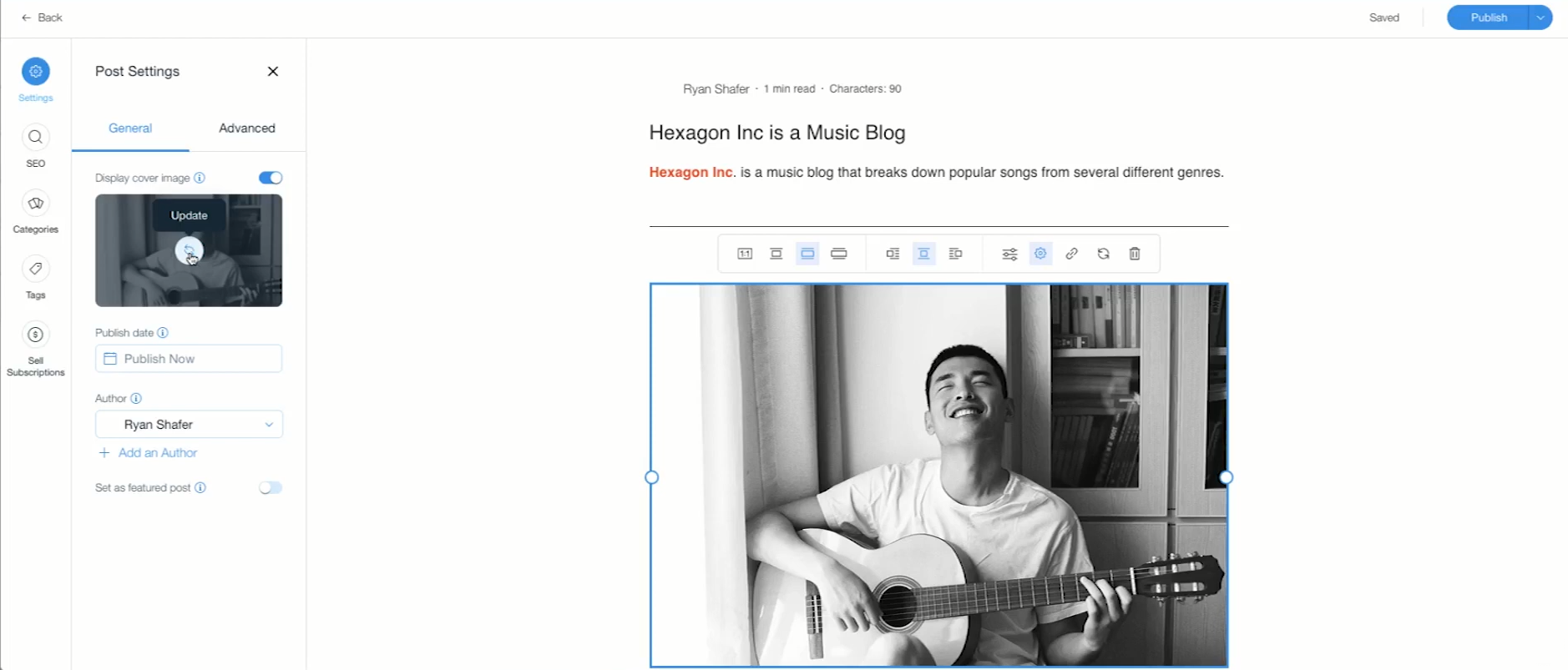 Once done with the article, you can align the blocks to fit the responsive structure.
Interestingly, the editor has an in-built read-time count to give readers a rough idea about the size of the content.
The archive is yet another cool feature where you can find free media or designs for your content without having to visit sites like Pexel.
But what makes it inferior to WordPress is the lack of features like creating private posts, backdating posts, markdown support, etc. There is no match when it comes to the powerful WordPress CMS.
Webflow
Webflow features an intuitive CMS which behaves much like a WordPress CMS but has a modern touch to it.
A great choice for bloggers with a design background. It shows you the collection fields where you can pick any blog element and add it to your Editor Preview.
Frontend design and blogging go hand in hand here. What makes editing easier is its on-page editing property.
For example, while working on a template, you can click the area (div container or flex layouts) where you want to add text, which then takes you to the blog editor.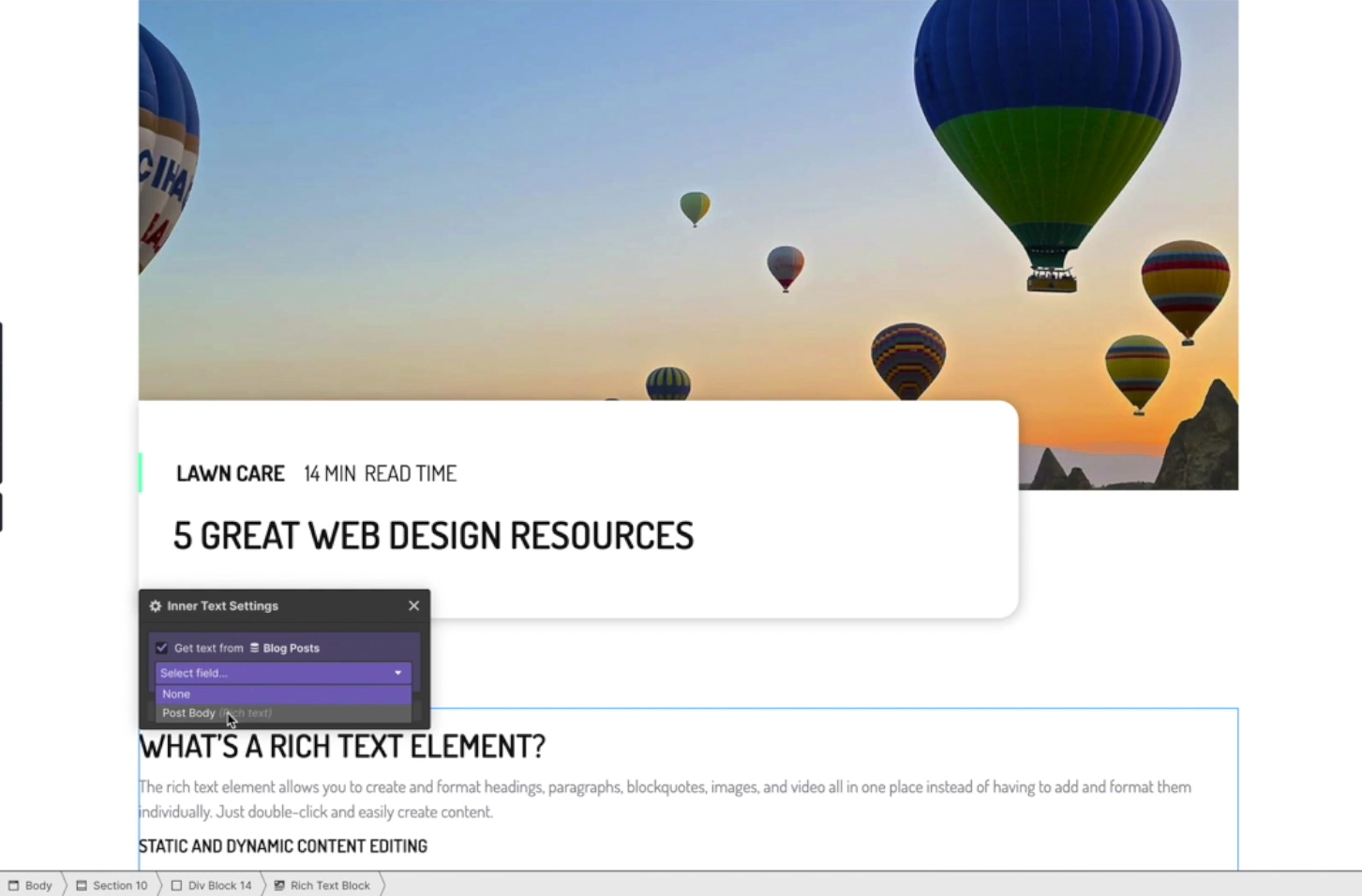 Typography is yet another cool feature that you would usually find in photo editors. It gives you a unique way to organize your content. For example, it lets you style the class of one subheading that would eventually reflect on every other subheading with the same class.
It really saves you time. You can also make your text styling the way you want, such as unique fonts, color gradients, pixel-perfect texts, etc.
Everything seemed to be spot on in Webflow's CMS until we came to know that there is no multiple language support in the CMS.
It also lacks the functionality of account access to different user types and offline access to the application. Something WordPress is really proud of.
Just like Wix, there is no markdown support here as well. WordPress is great in terms of rendering most of the text fields.
But don't worry!
Notion has got you covered.
When you copy your content from Notion, you can achieve almost the same results on Webflow's editor. MagicPaste, Chrome's extension, also claims to deliver similar results.
Result: WordPress
Even though you're not a WordPress fan, you've got to admire the might of WordPress in blogging. Really like the fact that it supports offline blogging, which isn't available on the other two.
WIX is okay, but not for hardcore bloggers. Webflow, however, has impressed with its intuitive features but still falls short on some key areas.
Which platform is better at ranking your website?
Want your site to be easily found by your audience?
You've got to befriend those web spiders then. Having an optimized website saves you from worrying about why nobody is reading your content.
Of course, content is the king. But it needs to be recognized as well.
So to make it count, your website builder should be backed by SEO functionality to properly align with your content marketing strategies.
Let's see which platform lets you manage the SEO better.
WIX
WIX had a lot of problems with third-party SEO tools and their incompatibilities in the past. But now, they're working on full throttle by adding a range of built-in tools.
They do support integration with Rabbit SEO, which is a robust third-party tool for ranking. But it's a bit on the pricier side.
They're now trying to remove the hassle of manual verifications to enable smoother search capabilities.
Even automated image conversion to WebP facilitates improved page loading.
To further ease your digital marketing efforts, WIX features "SEO WIZ" which is basically a step-by-step guide to help you with strategies. Though it's not an extensive guide, decent enough to hit your SEO goals.
WIX, however, falls short when it comes to its overall loading speed. As per the criticism, the website structure has issues of code bloat. And this may impact the response time of commercial website servers because of their heavy codebase.
Also, it may not impress advanced users due to some restrictions in code customization for SEO.
WordPress
It's all fun and games if you've got the right SEO configuration on WordPress. You'll have access to several built-in optimization tools, as well as the flexibility to work on HTML codes.
There was a time when you could easily get your website up and running without having to depend on add-ons.
But with the scalability of search engines, plugins have now become a necessary part of WordPress SEO. Yoast SEO and Google Site Kit, for example, are two of the most recommended plugins for free SEO practices.

There is some learning curve like adding sitemap.xml to Google Search Console, setting permalink, etc. But you can easily find the quick set-up guide to make things easier.
Initially, you may feel short of features for optimum performance on the free version.
So, paying a few extra bucks is not a bad idea if you are looking to have more control over SEO features.
However, you'll have to be careful with other ranking or marketing-based plugins. Using the wrong combination of plugins or excess plugins may potentially cause compatibility issues and give you no result at all.
Webflow
Webflow's SEO functionality is built directly into its Visual Editor.
To access the settings, you'll have to click on the "Pages" icon, where you can choose the page of your site you want to optimize.
You can see how the settings and text field options are compactly adjusted within the dropdown.
Moreover, Webflow has one key advantage over others – design optimization.
Even without optimizing the templates, they score really well on Google's PageSpeed Insights. Thanks to the clean-code ecosystem of the platform and its makers. There is a significant improvement in their response time.
Other than that, they have video instructions on verifying your site and setting analytics right, which you can easily find on Webflow University.
Now, because of native SEO functionality, Webflow never thought of having third-party plugins.
But they do feature some integrations such as Google Analytics, Facebook Pixel, and Email marketing tools to support your digital marketing efforts.
Result: WordPress and Webflow
Wix needs to work on its advanced SEO features. Whereas, WordPress and Webflow farewell with their overall SEO functionalities.
No matter which platform you choose, write good content on a regular basis. Without it, even the best SEO practices won't improve your search rank.
Best tool for building an ecommerce store
Ecommerce is a key difference-maker when you're comparing two or more website builders.
Selling products online has been on the rise in recent years. But to make the most out of the opportunity, you need to figure out which platform could be the best fit for your store in the long run.
WordPress
WordPress doesn't have native ecommerce tools. It's a fact that WordPress was primarily built for online publishing and had nothing to do with ecommerce back then.
Because of its robust and open-source nature, developers were able to figure out to overlay the platform with third-party tools. And WooCommerce is no exception.
However, you'll find that it lacks options for ecommerce integration. But when you've got a plugin as powerful as WooCommerce, you won't ever think of any other option.
About 30% of all ecommerce sites are powered by WooCommerce. It was specifically developed with WordPress functionalities and standards in mind, layered with ecommerce capabilities.
The look and feel may make you wonder if it's really a plugin. Took me a while to confirm.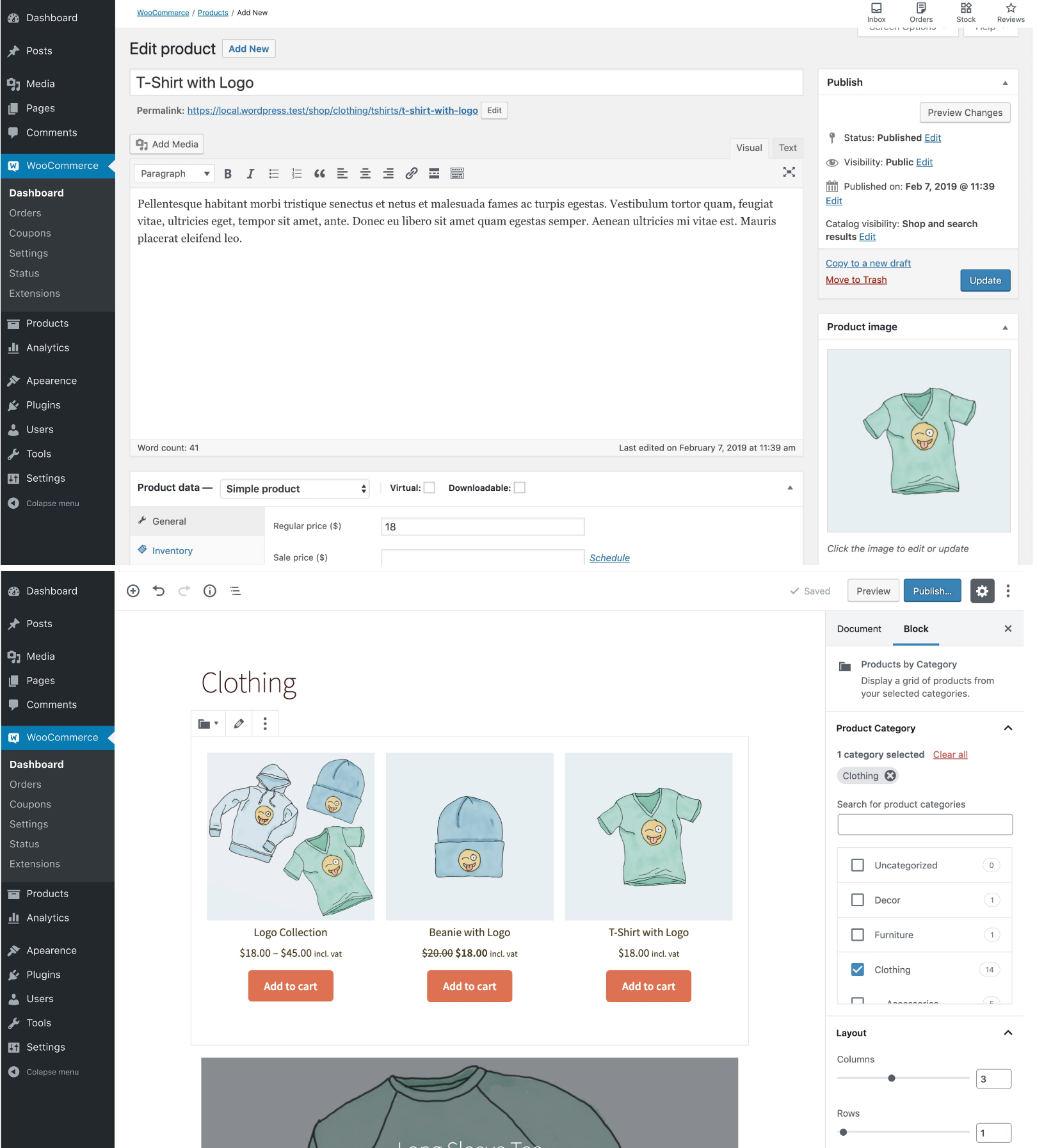 Tools like Shopify don't let you have complete ownership and authority over your online store. WooCommerce does.
No matter how big or small your store is, you can utilize its open-source functionality the way you want. You'll have access to a range of ecommerce-focused themes that are ready to use and easy to customize.
To support the growth of your store, merchandise, and shipping capabilities, WooCommerce features its own range of extensions.
You won't find them in WordPress plugins, though. But with the right number of extensions, you won't face any incompatibility issues.
Talking about extensions, you can add payment processors like Stripe, PayPal, Square, Amazon Pay, or Braintree to ease secured purchases.
Webflow
Webflow had no ecommerce support until late 2018. Surprisingly, it has quickly caught up with the top store builders while offering equally robust features.
No need for plugins as the store is built right into its canvas. Thanks to the intuitive all-in-one visual editor.
You have to click on the "cart" icon to access the store.
You can design custom store, product and checkout pages in a few clicks. It gives you full control over your layout design. You can either choose store-ready templates or create one from scratch.
Similar to Photoshop, you can use shortcut keys and no-code functionality to save time.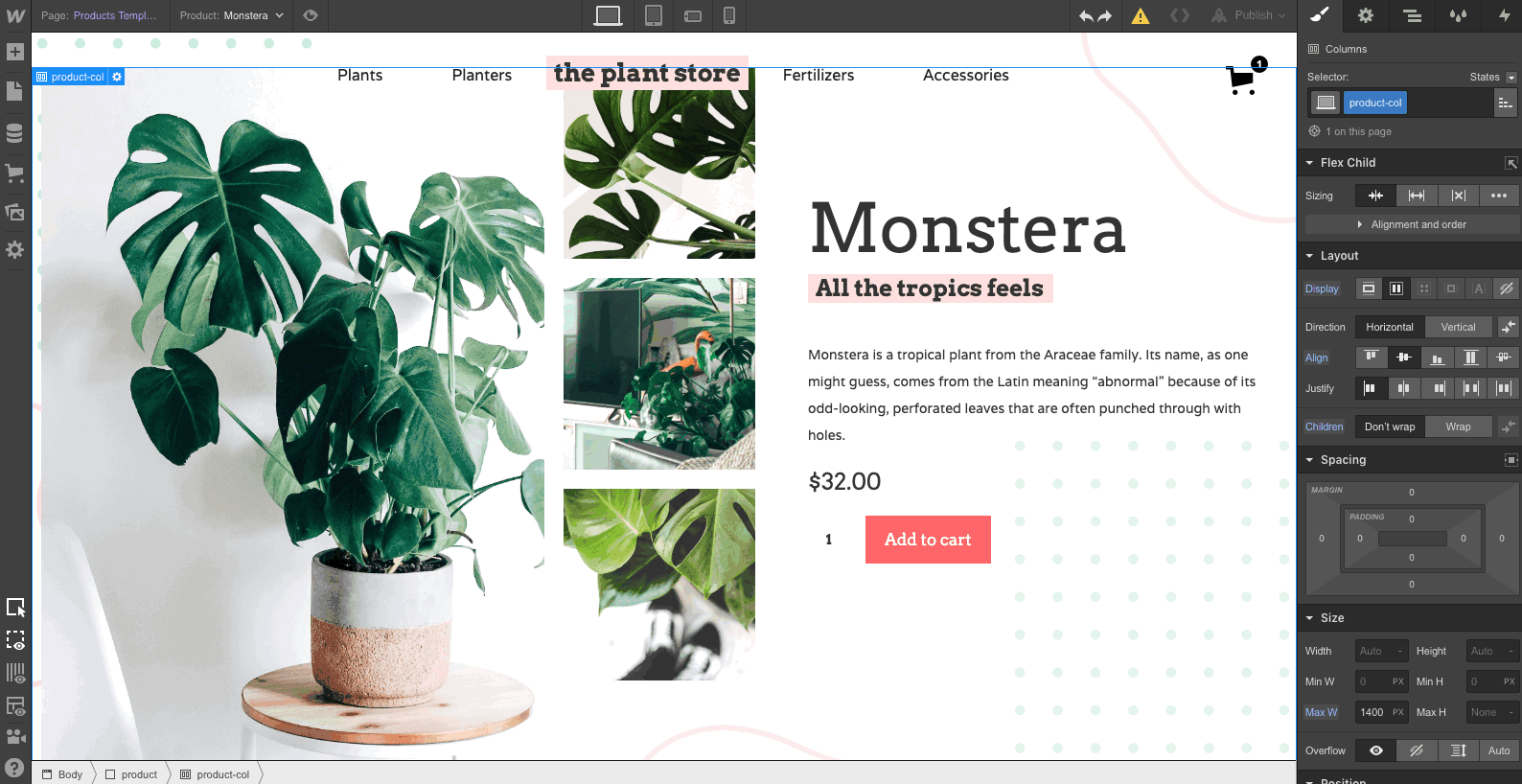 If you're designing from scratch, you'll have the freedom to choose the fields to add to the storefront, such as a listing of products, title, description, images, text fields, product badges, etc. You can also add widgets like add to cart, and go to the cart that basically shows up on each page.
You can further add secured payment gateways like Stripe, Amazon Pay, Apple Pay, and PayPal.
However, it lacks built-in marketing tools, and you'll have to depend on integrations like "Mailchimp" for email campaigns, "Shippo" app for the fulfillment, and "Google Analytics" and "Facebook pixel" to keep track of your target audience.
Thinking of selling your subscription service?
Sadly, Webflow has no support for this yet.
There is also no way to auto-send abandoned cart emails. Moreover, you can integrate with "Monto" to use automated email sequences. The service is not cheap, though.
Seems like Webflow has a lot to work on conversion optimization features.
WIX
Compared to the likes of WordPress and Webflow, there is no free ecommerce plan on WIX.
That means, well, you need to pay for it. But overall, it's still an advantage where you can have all the necessary features at one place.
So, even if you're a beginner with a monthly budget of around $20, WIX is a great place to start your ecommerce journey.
WIX also features a built-in store. But it's way easier than Webflow.
When you select your store template, you'll be sent to the editor page.
Now it's easy to add products and store pages. You just need to click on the "My Store" icon to get started.
While you're on the Dashboard to add the product and descriptions, just take a look at how closely everything resembles WordPress.
Next up, if you're looking to expand the capabilities of your storefront, you can go with some third-party apps to capture leads and analyze traffic.
However, you won't find anything like WooCommerce here.
But if you're interested in dropshipping, it offers you integration with some popular dropshippers like Spocket, Modalyst, Printful, and Printify.
Moreover, it features the Amazon app, which supposedly lets you sell its products in your store. But as of now, it doesn't seem to connect with the store.
WIX also has issues with stock management, as it often fails to alert when supplies are running low. In addition, page load time could be an issue as ecommerce activity grows.
As far as payment is concerned, WIX features a different set of payment gateways for different locations. There are a total of 75 payment processors on WIX, which is, of course, more than any ecommerce provider.
PayPal, Stripe, and Square are the most common ones.

Result: WordPress
Having WooCommerce on WordPress is a good example of the saying "a friend in need is a friend indeed".
WIX is a top choice for beginners, but may not be good enough for enterprise-grade ecommerce. Webflow, on the other hand, has made a daring effort to make an impact in the ecommerce services but needs some time to scale.
Key Integrations to look for
WordPress
Plugins are a blessing for WordPress users. There are near about 60,000 third-party apps, and most of them are available for free.
But it's a tricky job to figure out which ones are the best for your site. So to make things easier, here are some of the WordPress plugins that most experts recommend:
Jetpack: Advanced anti-spam security
Akismet: Fast browsing
Yoast SEO: Best free SEO tool
WP Forms: customizable contact form builder
Redirection: set up custom redirect within the site and track broken URLs
Google XML sitemaps: Eases indexing process by search bots
Google Site Kit: Gives you audience insights
Updraft Plus: Best backup plugin
Note that Jetpack and Akismet come pre-installed on WordPress and can't be removed.
Now, if you want, you can make adjustments within the code provided that you've some programming knowledge. But you also need to make sure that adding any functionality to the code doesn't conflict with your existing plugin feature.
You should even avoid those plugins that haven't been updated by the developers in six months. Any incompatibilities may adversely affect your site's UI or ranking performance.
In that case, check their "Changelog" on a regular basis. You may also need to check out this list of Incompatible Plugins in case you ever encounter such issues.
WIX
On Wix, you can access about 300 apps in its App Market. Unlike WordPress, you don't need to endlessly search for plugins. Most of the apps are made by unofficial developers.
Here, you can find tools to customize your storefront, add live chats, and coupons to engage customers, and even integrate with other ecommerce platforms.
Some of the notable apps are:
Marketing: MailChimp, Rabbit SEO, Google Ads, Coupon X
Online store: Printful, Modalyst, Dropshipping AliExpress, Wix Loyalty Program
Communication: Wix Chat, Constant Contact form, Tidio chat, Jivo chat
Traffic analysis: Visitor Analytics
Webflow
Webflow may not be known for its extension abilities, but it has got all the tricks. The platform is a powerhouse of several built-in features. Website builder, CMS, interactive design and what not.
But lately, Webflow has got into third-party integrations in full swing. They now offer over 250 integration tools and have been consistently looking to add more for full-fledged functionality.
Some of their useful integrations are:
Email marketing apps like MailChimp, AWeber, GetResponse, etc.
Shopify and Printful to expand your storefront
Gumroad to sell your digital products and subscription service
LiveChat and Intercom Acquire help you with real-time chat and lead conversion
Google Analytics, Facebook Pixel keeps you on track with your visitor's actions
Integration with Vectory lets you embed attractive 3D and AR visuals on your web store
The most unique thing about each integration in Webflow is that you'll have access to short tutorials on how to connect them with your project without running into any issues.
Note that if you're switching to a new hosting provider, there could be incompatibility issues with some of your integrations. So, you'll need to get help from support.
Result: Webflow
Having truckloads of apps doesn't necessarily translate to efficient performance. On WordPress, you need to make sure of the credibility of each plugin and if they're regularly updated to avoid compatibility issues.
On the other hand, Webflow proved its extension capabilities by providing a decent range of integrations.
WIX also features a decent number of apps, but many of them seem to have issues with connection. Especially, most of their in-house apps have terrible reviews.
Where can you find better support and learning resources?
WIX
They've really good in-person support as they've got the phone, live chat, and email support for all plan users. For a quick look at your queries, they've supported FAQ articles on "WIX help center" available in multiple languages.
On "WIX Learn", you can find over a dozen explainer videos to help you with getting started on the platform. Here, you can also register for upcoming Webinars and browse through previously recorded sessions.
To get your search optimization right, they've "SEO WIZ" where you can find helpful guides to rank your website.
They even have "WIX Ecommerce School" where the video lessons are focused on creating your WIX store and marketing your business. On an inspirational note, they've also added success stories of business owners to help you with some ideas.
Now, if you're an enterprise and ever feel the need to hire a professional or an agency, you can search for them on "WIX Marketplace".
WordPress
There is no such specialized support on WordPress. But they do offer live chat only to pro users.
WordPress is a community-driven platform and has strong online authority. Thanks to the huge user base, you won't be limited to learning resources.
WordPress websites store tons of self-help guides, and you can find them on Forums or WordPress Codex.
"Contact Support" is yet another way to get help with your queries. Your question is posted on the community forum. Though, it's hard to expect a quick response. You can find a blue "?" icon at the bottom of your Dashboard page.
You can also receive support from the creators of plugins and themes under a subscription. However, support may be limited to their product's use case only.
If you're looking for help from a wider community, you may visit active Facebook groups, YouTube, Stack Overflow and StackExchange.
For non-coders, this is surely going to be a geeky experience. Who knows, you might end up helping newbies someday!
Webflow
Webflow has dedicated manager support for the "Enterprise" plan users, but only email support under the regular plan.
Sadly, there is no live chat support either. They do have AI chatbot support, but not enough to solve critical problems.
Another drawback is that all of their support and resources are provided in English only. Moreover, you can join the "Webflow Forum" where you can engage in discussions with experts or in-house developers.
Disappointed with the support?
No worries. You're going to love the breadth of learning resources.
You'll have access to "Webflow University" for free courses. Covers everything to help you grow your site and is really easy to follow the steps.
You can also refer to the "Webflow TV" streaming service to gain inspiration from successful Webflow experts. Their free e-books offer great value as well.
"Showcase" is yet another unique resource where you can get to know how some popular pages were made. Or you may simply clone your favorite design for your site.
Now, if you're a business owner and looking for a full-fledged development partner, "Webflow Experts" can be of great help. You can find your professional partner based on location and offerings.
Result: WIX
WIX offers balanced support and resources. It could have been Webflow had they included phone and live chat support on its regular plans.
The WordPress community is huge and you're going to get the answers anyway. But it lacks the official interactive support that other platforms offer.
WordPress Pros and Cons
We like WordPress because…
Powerful CMS and blogger-friendly platform
The largest community of developers and businesses
Abundant learning resources
WooCommerce plugin for online store owners
The flexibility of SEO optimization and marketing practices
Open source is an advantage for developers
A few things WordPress isn't good at…
Constantly need the responsibility for regular updates and site health status
Lots of manual settings and takes time in configuring them
Lacks many built-in tools and is mostly dependent on plugins
Lack of dedicated customer support
WIX Pros and Cons
We like WIX because…
Easy interface and smooth customization
Flexible customization and drag-and-drop functionality
Phone support and live chat under the regular plans
Number of integrations for dropshipping and print on-demand service
Decent ecommerce functionality for new store owners
Lets you upload video content to sell under a subscription
A few things WIX isn't good at…
Not favorable for mid to large-tier ecommerce stores
Difficult to switch to a different template
Lacks advanced SEO; SEO Rabbit app helps but on the pricier side
EditorX is an excellent tool but requires you to pay in subscription
Webflow Pros and Cons
We like Webflow because…
Editor geared towards designers with advanced customization tools
Lets you create interactive websites and animation effects
Ease of integration with marketing, lead generation and analytics apps
Webflow University offers professional-grade learning resources
Features built-in SEO functionality
Offers commerce services with Shopify, Printful and Gumroad
A few things Webflow isn't good at…
No blogging option in the basic plan
Bit expensive plans for CMS and ecommerce services
Difficult for users without a coding or design background
Lacks phone and live chat support for regular plan users
WordPress Pricing
When used with different hosting providers, you can basically use most of the WordPress Pro features for free. But hosting on WordPress costs you $15/month when billed annually.
You'll then have access to all the WordPress pro features like premium themes, access to plugins, premium support, and many more. The rest, you'll have to pay for the plugins separately.
Whereas, there is almost nothing to try on the free plan.
WIX Pricing
WIX's "Unlimited" plan is a perfect fit for freelancers. Whereas, a "Pro" plan can help them scale and bring a complete branding experience. Note that the pricing below is billed annually.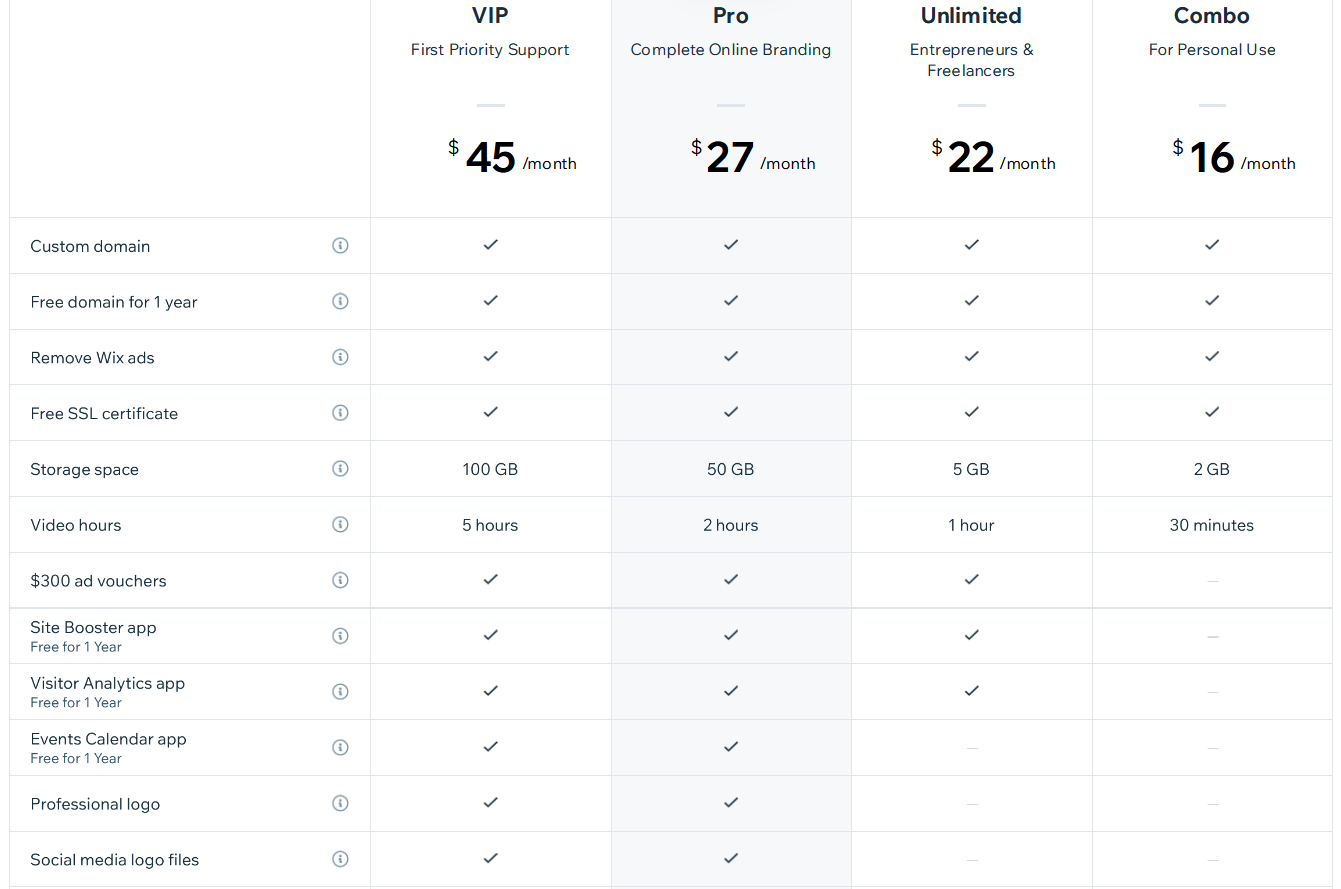 WIX offers a separate plan for ecommerce sites. Their Basic ecommerce plan is priced at $27/month which is a good starting point for novice store owners where they can benefit from the services like unlimited product showcase, abandoned cart recovery, 24/7 support, etc.
They also have an Enterprise plan for growing companies, and they offer customized solutions starting at $500/ month to scale up their business.
Webflow Pricing
If you're a freelancer, it's better for you to avoid the Basic plan.
You can easily bet on the "CMS" plan that gives you the luxury of blogging, adding records to the database, inviting up to 3 guest editors, and unlimited backups.
For ecommerce services, they have a different plan. Their Standard plan priced at $29/month (billed yearly) is a budget-friendly option, for starters.
They also feature Workspace plans where start-ups can manage multiple sites and collaborate with the team. Their plan starts with affordable pricing of $19/month (billed yearly) where they can invite up to 3 members to collaborate.
Conclusion
That's pretty much it for the comparison. Hopefully, this comparison guide will encourage you to speculate deeper into each platform.
Each of them has its strengths and limitations. You need to consider deciding factors as we discussed in this article so that you can make an informed decision.
If you have a knack for web design and want creative freedom in your site, Webflow has surely got all the tricks for you. Way more robust than WordPress and WIX, but on a pricier side.
WIX is definitely a tool to check out, especially when you're a beginner and don't want to risk your time and money on geeky stuff.
WordPress is, undoubtedly, the best pick for website builders of all levels. Only if you're okay with a lot of manual configurations and timely updates to the site and plugins.
There is no better time than this to take your online goals a little seriously. So, it's your time to shine.