The pandemic has disrupted physical marketing channels. Nowadays, sellers aren't using their brick and mortar stores to sell their stuff, and e-commerce platforms have emerged as a popular alternative for buyers to get their commodities.
With all the hype going around, online shopping, brands are increasingly opting for dropshipping to sell online without involving in the hassle of handling order fulfillment or managing their inventory.
Why should you invest in a dropshipping company? 
If you are just starting your e-commerce website and you don't want to spend money on prepaid inventory, storage space, or handle order fulfillment on your own, then dropshipping can be an extravagant idea to hit the ground running.
Also, the investment in dropshipping is minimal, and doing so will help brands identify the high-margin products that can be sold. This can help their marketing strategies, steer their e-commerce model and direct their business in the right way.
In a nutshell, with dropshipping, established or budding e-commerce businesses can generate more revenues without worrying about the added expenses of storing, producing, and fulfilling their own products.
Here are the 15 best dropshipping platforms for beginners:
Spocket is our No. 1 pick for the best dropshipping platform.
Beginners that are looking for a great database of dropshipping items along with good reviews can always go for Spocket. It allows users to sort by country and upload the products in their Shopify store.
There are tons of advantages to using Spocket. It integrates with both WooCommerce as well as Shopify stores and has a colossal marketplace where there are tens of thousands of products.
Overall, the quality control is impeccable and users can deploy samples to test delivery speed. The membership fee isn't skyrocketing either, and the Spocket has an amazingly user-friendly as well as responsive interface.
When you deal with Spocket, you can move products from suppliers to customers more efficiently and swiftly, which allows you to hop on the trend train quickly and try new products to save your business a monumental amount of time. The best part about Spocket is that it's compatible with more than 25 e-commerce platforms, including e-commerce giants like Amazon, Shopify, eBay, WooCommerce, Magento, Shift4Shop, etc.
Key Features:
Automatically update your products inventory.
You can track the status of your order in real-time.
You can import products on the platform with one click.
Automated order fulfillment and automated pricing process.
If you are starting with eBay or AliExpress, then Dropified is the ideal solution for dropshipping. When you get the hang of the software and understand the ins and outs, Dropified will help you to grow your new business.
With the 60-day training program offered by Dropified users can get familiar with the nuts and bolts of dropshipping. With the laser-focused training modules, you can access the most potential of your e-commerce platform and gain access to how supplier relationships and product management work.
You won't feel overwhelmed when you learn the best practices about what is relevant to the current drop shipping scenario. Dropified offers fantastic cost-to-value ROI, and when customers buy online, businesses don't have to copy-paste or re-send the details to the supplier. Besides the 14-day trial period, it also provides a powerful dashboard for monitoring earning stats and making inventory management easy.
There is a Tubehunt feature that helps in finding videos that suit the market. It offers toll-free service for premium customers, seamless integration with Shopify, as well as Facebook ad integration for the products that are available in your inventory.
Key Features:
Easy customization of your product images.
It provides seamless integration with Zapier.
Automated price and availability updates.
Chrome extension that allows you to import products from different suppliers.
One-click product import to add product descriptions and images directly to the store.
It is a plugin for WordPress and WooCommerce that allows users to access product inventory from e-commerce giants at wholesale prices. Due to its versatility and flexibility, the platform offers a variety of products in different niches from global suppliers. It specializes in Aliexpress, and it is relatively easy to install.
Alidropship hands over users complete control over dropshipping tools and supports seamless management of multiple stores with cross-platform integration and compatibility. Also, as it is available for a one-time fee of $89, you don't have to pay time and again for your subscription while the price is kept competitive as well.
Our readers can avail 15% discount on all AliDropshipping plans using the code SqueezeGrowth.
Key Features:
Availability of awesome add-ons.
Easy site customization with inbuilt themes, in-built image editor, and product variations.
Directly import the products automatically from AliExpress.
Custom dropshipping store development feature.
You can choose from over 100 million products.
Businesses that prefer to be on the creative side and are looking for creating branding experiences can always opt for Printify. So, if you are one of those and you want to see branded merchandise without hassling your inventory, then Printify is an excellent solution. It offers businesses a creative space to establish and grow a dropshipping business.
The platform supports high-volume production along with providing fast shipping ways to meet customer demands.
With its unique approach to customization, Printify gives brands access to sell over 250 custom items and build their brand in unique ways. It integrates with popular e-commerce platforms, and their fabulous product management with more than 90 printing facilities across the globe is simply a cherry on the top. There is a free forever play that supports unlimited product designs as well as up to five stores.
Key Features:
Offers white-labeling and custom branding services.
Customize ships and sell products without maintaining inventory.
Resourceful knowledge base and useful guides.
Offer quality checks, reprints, and refunds.
A large and global network of print providers.
This is one of the leading dropshipping platforms with millions of products. Oberlo is in the buzz because of its flexible product management features and a seamless drag-and-drop interface.
It is actually the best Shopify plugin and directory that works dynamically with Shopify stores. It allows users to find all the products that they need. The dashboard shows page views, star-rankings as well as sales. With a neat and well-arranged dashboard, the shipping platform is a delight to handle because of its resemblance with the WordPress Admin backend.
It gives brands the feature to link retailers to multiple products from global suppliers. Oberlo features a top-notch inventory management feature. It facilitates auto-updates for products that are out of stock or have an altered price. The platform offers easy access to trusted suppliers vetted by the Oberlo marketplace. It also provides product page customization and easy importing of products from e-commerce sites such as AliExpress.
As Oberlo is an automated platform, manual interference isn't essential to update every single product on the board. It makes it easy for sellers to search through millions of products in certain categories, get access to data-driven insights, and automate their e-commerce process.
Key Features:
It is easy to import products from AliExpress.
You can customize product details in Oberlo.
Automated inventory updates from your online store.
Oberlo works with multiple languages and multiple currencies.
You can monitor the performance of your Shopify store with analytics.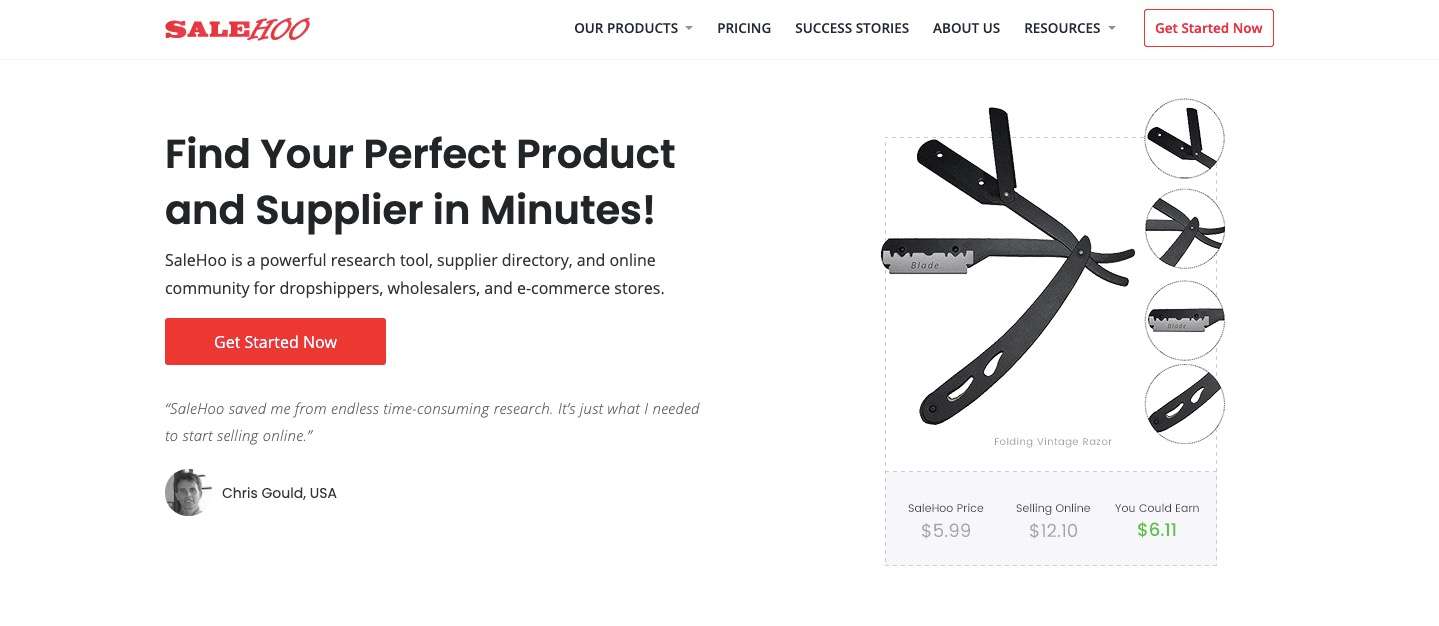 If your business doesn't meet customer expectations, then it won't be around for too long.
To help you maintain quality and meet your customer expectations, SaleHoo is the ideal pre-vetted drop shipping supplier directory and drop shipping platform. There are automatic profit margin calculations, and with step-by-step customer support and top-notch customer support, the platform includes 2.5+ million products that you can sell.
They ship products from Xbox, Canon, Gap, Adidas, LEGO, Converse, Revlon, Sony, etc., and you get access to world-class brand names in a dynamic set of industries.
It is a New Zealand-based company that links retailers with wholesalers with its screening culture within a reasonable time. There are extensive market research tools to search for niche-focused products, video resources for sellers who are trying to sell online, and a competitive membership fee.
Key Features:
Easy to contact Salehoo customer support service.
Some fantastic brands are available through SaleHoo like Disney, Lego, Adidas, etc.
There are no hidden fees.
60-days money-back guarantee to test the platform.
Offer low minimum orders.
The company has been around for 20 years, so if you have been looking for a reputed company with an A+ rating, then Worldwide Brands is your one-stop alternative.
With a one-time fee, you have access to lifetime usage of Worldwide Brands, which hosts over 16 million users across the board. When you opt for Worldwide Brands, you can bid adieu to recurring monthly charges and enjoy a lifetime subscription to one of the biggest global dropshipping directories.
The company provides information and resources to help businesses get started selling online, and there is an option to submit a product search request.
So brands can have an immersive experience, and there are no monthly or annual fees. There are no hidden charges from the suppliers, and if you are a beginner, there are comprehensive educational tools integrated with the platform to help you get through the complexities of the dropshipping platform.
Key Features:
Get an extensive directory of quality suppliers.
Dedicated customer support service.
Easy to claim refund policy.
Organizes free training resources for new users.
Wide range of products available under numerous categories.
If you are searching for the best set-it and forget-it software, then Inventory Source is the way to go for it. It helps online enterprises to set up their business and forget about the stubborn and redundant tasks that plague several drop shipping business owners.
You can unleash the power of automation with Inventory sources to gain your freedom, and this means that you can automatically sync your inventory, upload products, and route orders from different dropshipping suppliers.
With Inventory Source, employers don't have to involve themselves in manual tasks in the fast-paced sphere of online business to beat their competitors.
Key Features:
An automated website that runs on autopilot.
You can import files or integrate supplier data on the platform.
No intermediaries or middlemen are involved.
There is utmost accuracy of product information.
Excellent customer service team available 24/7 to resolve your queries.
This is one of the best drop shipping companies connecting the States and European-based suppliers to global retailers. On Modalyst, you can find millions of products across different categories, and the platform supports a one-click adding feature so that you can easily add products from your dashboard to your website.
As the marketplace of Modalyst is seamlessly interlinked with big names like BigCommerce and Shopify sites through extensions, you can experience multiple products across different niches.
There is also an option to modify product cost as well as other parameters and variants before adding a product to the website.
Modalyst also offers educational resources on Help Center, automated inventory management, responsive delivery times as well as real-time alerts for newly-priced or out-of-stock products.
Key Features:
Offers a curated marketplace of US/European suppliers.
Trendy products for women that ship extremely fast.
Easy integration with Shopify and BigCommerce.
Offer private-label products to its retailers.
This LA-based company focuses on delivering branded electronics to consumers. Although the company doesn't host an elaborate inventory like other dropshipping platforms, it has around 2000 products in almost 45 diverse niches.
The industry specificity and low membership fee, along with the 30 days free trial period, is a win-win, and the platforms cover the most popular brands.
Key Features:
Accommodates quick email and phone support.
Offer low membership costs for the services.
Easy to use for beginners.
The company believes in the quality over quantity approach.
Offer useful products like custom data export, product photo export, and Amazon data export.
SourceLow is a famous B2B directory with more than 100 verified suppliers. It has hundreds of trusted U.S., U.K., and China-based dropshipping names associated with it.
It also has a massive collection of training guides and tutorials that are suitable for both small and large sellers to surf through the details of the app seamlessly.
The free e-commerce guides, resources, and articles make the platform easy to use for businesses worldwide. The website is responsive with filters as well as search bars. There are detailed supplier profiles with no platform commissions and intermediaries. And the platform is free to use without any membership fees.
Key Features:
Thousand of trusted and certified suppliers, wholesalers, and dropshippers.
No middleman is involved, so it allows direct trading.
Completely free for both buyers and sellers to use their directory.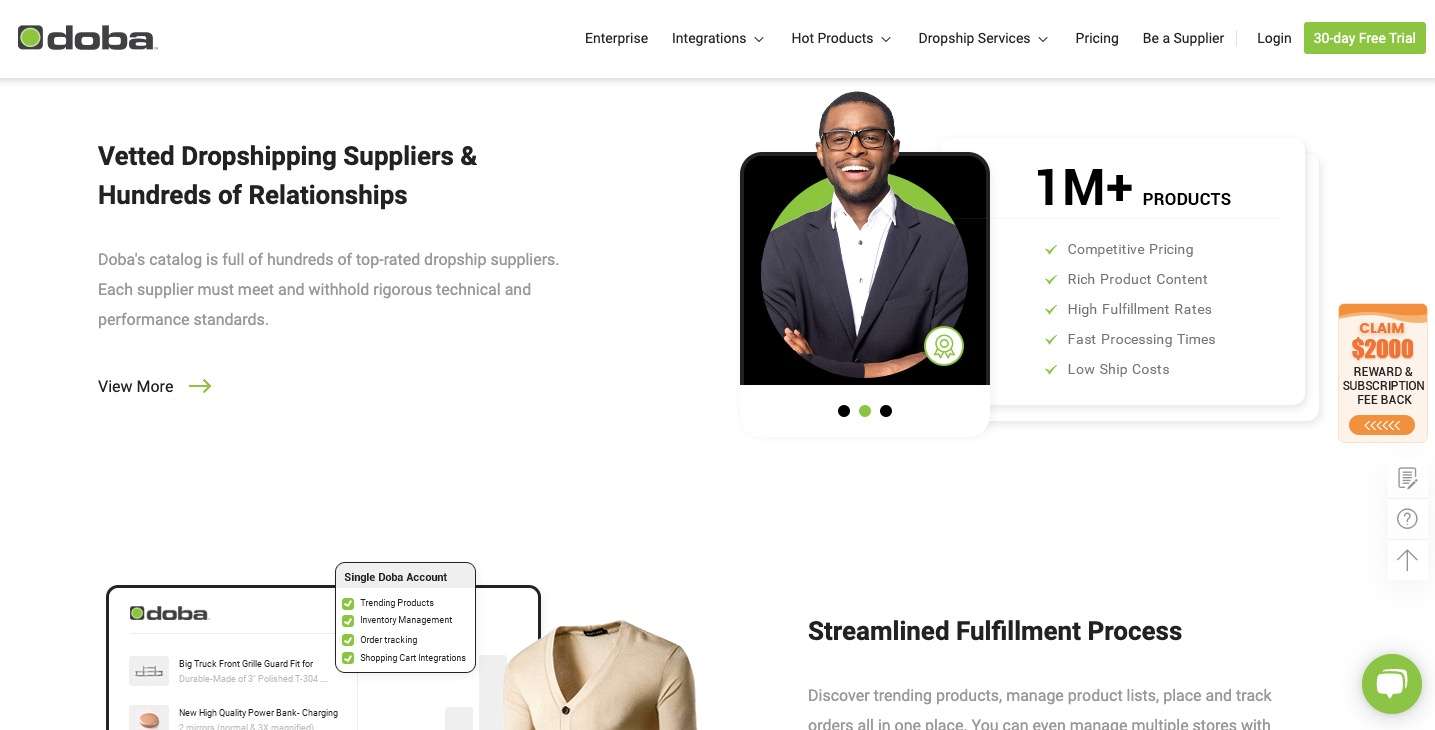 Doba doesn't just offer convenience to the e-commerce merchants; it also lets them scan the marketplace for the product they want to sell. Once the sale is completed on the respective site at a certain retail process, sellers can pay the supplier through the Doba store, and in return, they deliver the product to the consumer.
There are customizable data reports and an advanced search and filter bar to support analytics as well as experiences.
There is a large inventory with more than two million products from more than a hundred wholesale suppliers, and there are streamlined listings for multiple products. Sellers can also receive email updates on product information, and the best part is the platform supports major e-commerce solutions with a free 14-day trial period.
Key Features:
Provides useful educational and training resources for dropshipping.
Easy to customize your inventories for quick reference.
Integration with 100+ shopping carts makes uploading product information fast.
Low inventory alerts to prevent you from over-selling.
Free trial are available to test the platform before you actually pay for it.
This one is another LA-based dropshipping company that went live over 18 years or so. It facilitates a straightforward connection between retailers and suppliers to integrate thousands of products listed on the website.
There are over 30,000 products on the platform from top brands such as Boss, Marvel, Gucci, D&G, Disney, etc. It specializes in wholesale electronics, home decor, electronics, apparel, gifts, toys, tools, etc.
With seamless integration with the best e-commerce platforms, it allows users to browse through different categories. There are also pop-up alerts for price and product updates, and Sunrise Wholesale provides personalized customer service with the facility of live chat support.
Key Features:
Seamless integration with Shopify and BigCommerce.
Offers custom website and domain.
Easy credit card purchasing setup.
Transparent product pricing.
You can order as little as you want.
With 1.8 million products purportedly listed on the platform and a diverse range of suppliers on the board, Wholesale2b is one of the best e-commerce platforms that includes big names like Shopify, eBay, Amazon, and BigCommerce.
Wholesale2b offers expertise for multiple products from top suppliers in nearly 25,000 categories, including electronics, apparel, pet supplies, etc. Businesses that are willing to expand and grow their business operations can use Wholesale2b to save a massive amount of time and money annually.
Besides, they can sign up directly and so managing all the activities becomes straightforward with a single dashboard. Once brands sync their website, all orders can be automatically imported to Wholesale2b. So, no manual input is required, and it reduces human error as well. This way, rather than bouncing back from software to software, brands can save a lot of time.
You can get daily product notification alerts that can help you list hot products in your store and manage your inventory. There is also a powerful search tool for finding a selected product; there is an analytics tool, and a lot more to indulge in.
Key Features:
Offers the best products and suppliers for your dropshipping business.
Entirely free to sign up and access a long list of products.
Allows dropshipping on third-party marketplaces such as Amazon and eBay.
Insightful market trends and product sales insights to monitor your dropshipping progress.
Easy to set up and import products into the platform of your choice.
Wholesale Central is the oldest among all the dropshipping platforms that you see here. It was founded in 1996, and Wholesale Central has an excellent track record for connecting significant distributors and wholesalers to retailers across the globe.
The platform offers multiple products across different niches. It is easy to navigate, and it provides information regarding trade shows and events while including the details of the venue, time, and date. Also, as membership is free, users don't have to pay a fortune.
Key Features:
Offer powerful product-purchased tools.
Free to get supplier information.
Easy navigation and clear product categories.
Free and quick customer support is available.
The bottom line
Dropshipping platforms let your business enjoy lower start-up costs, less inventory management, more scalability, and greater flexibility.
By partnering with these platforms, you can stay on top of all your shipping activities within a snap. If you want to deliver an unparalleled e-commerce experience to your target audience, selecting an optimal dropshipping platform is the way to go.
Check out any of the above-mentioned platforms to ensure impeccable service to your customers and a hassle-free experience for your business.