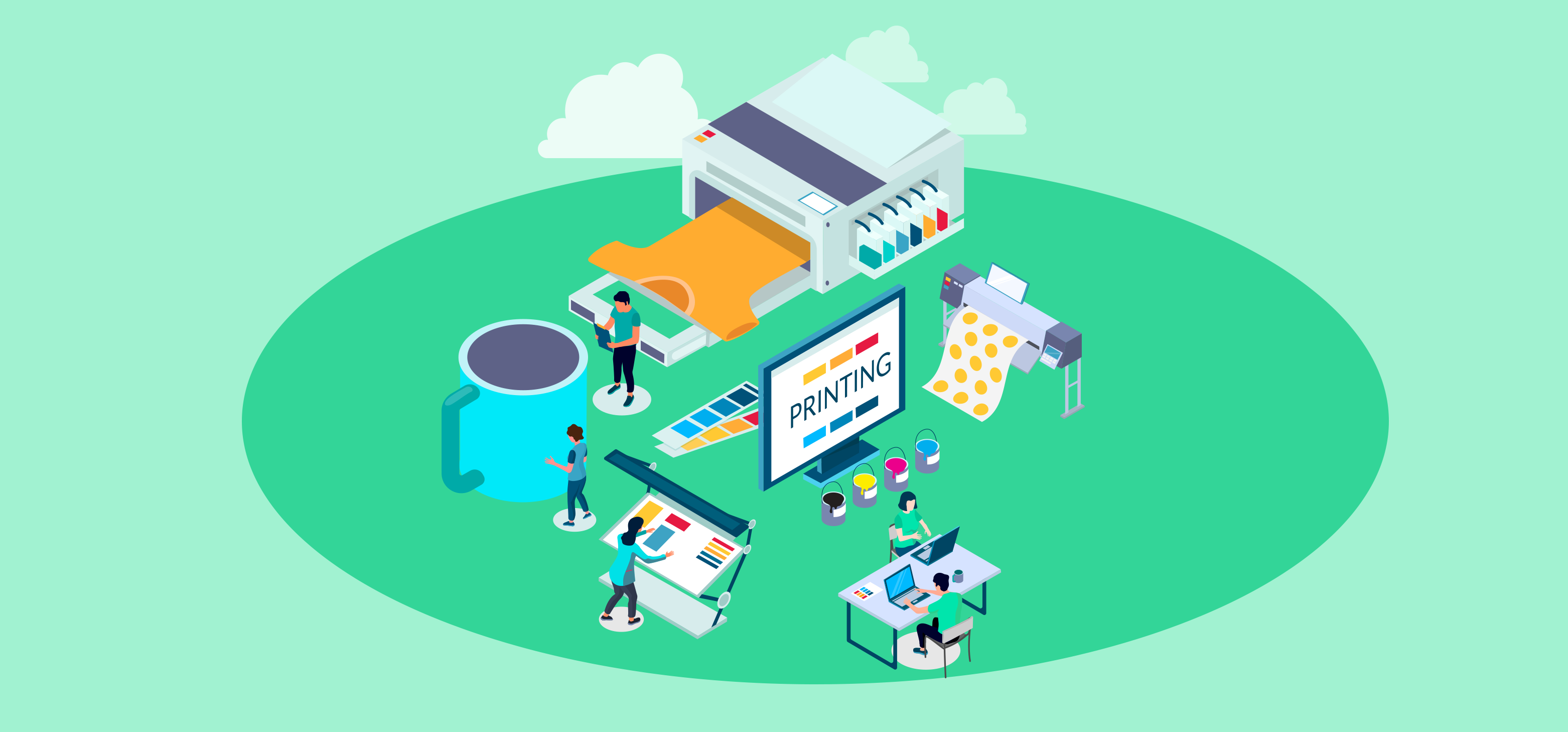 Thinking about an ecommerce startup with exciting business ideas?
What could be more exciting than making money with print on demand?
In the light of the pandemic, ecommerce paved the way for many web store owners and dropshippers for a risk-free investment. Print on demand (POD) is one such ecommerce model that doesn't require you to be a business expert or throw lots of money.
You may not believe this, but the global market size of print-on-demand services is expected to cross $10 billion by 2026, which was about $1 billion in 2020.
A big opportunity for you, isn't it?
Because you as a business owner won't need to buy inventory or printing machines. You'll have the freedom to personalize and design the products the way you think your audience would love.
Gone are the days when dropshippers had to pay unnecessary inventory fees or faced out-of-stock situations.
POD businesses have become more competitive than ever, with each of them bringing something unique and better.
And the best part about the POD business?
A great source of passive income.
Here are the best print of demand companies & platforms for beginners: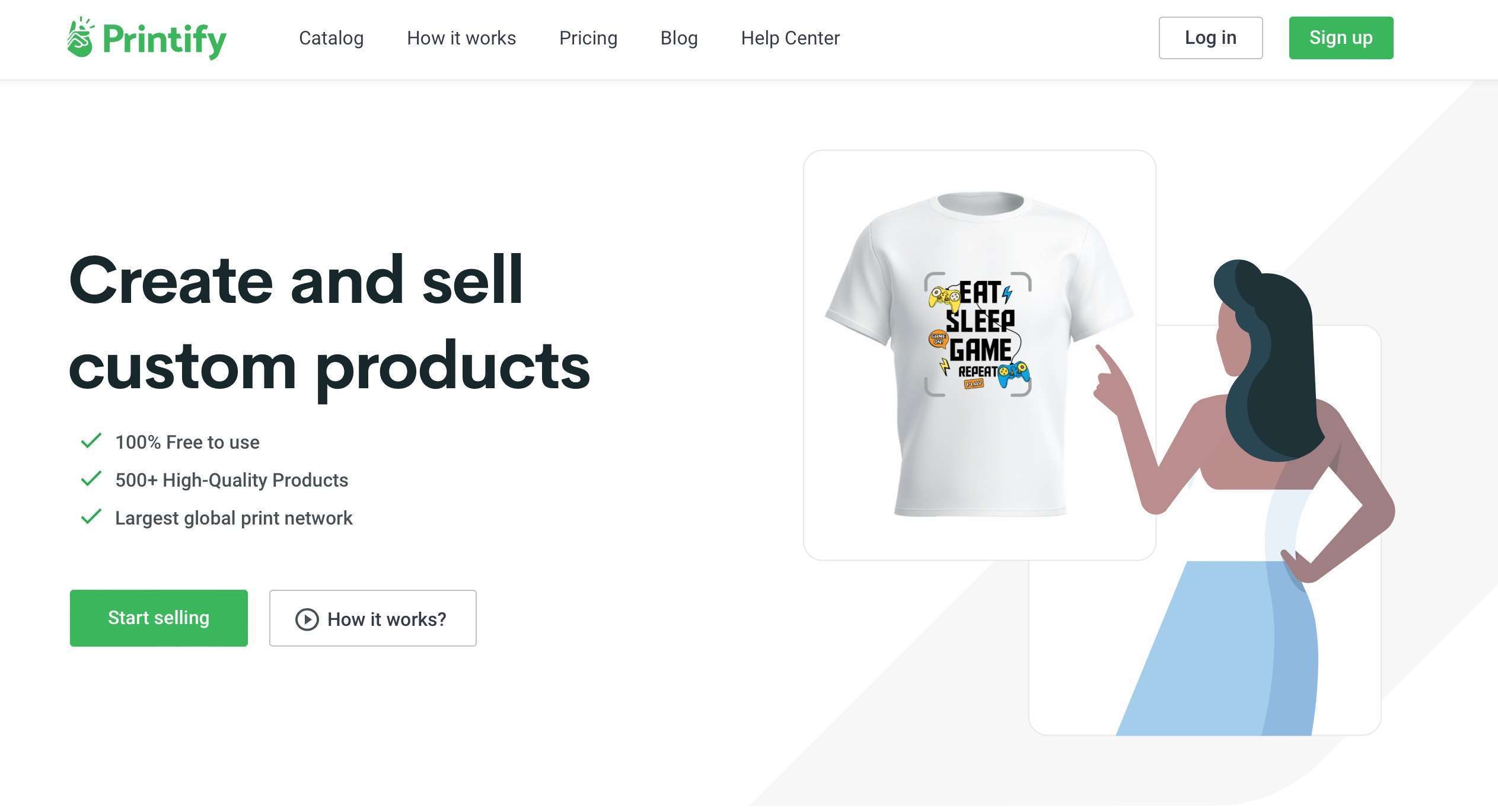 If there is any POD service that delivers excellent fulfillment and gives you creative freedom, you can't deny Printify.
They have over 30,000 products in the catalog that are produced by their 90 print providers. You won't often find a POD company working with a huge number of suppliers.
Your order fulfillment is well managed. However, you may notice some inconsistencies as the production is not fixed to particular print providers.
Right after setting up your account, you can use its interactive editor and create mock-ups using 300 ready-to-use designs.
It includes Drag and Drop, flexible placements, sizes, color options, and uploading your own art to ease your creative process.
Printify often updates its design library to bring fresh designs to the table.
They also feature a premium version priced at $25 per month when you'll receive a one-time sample order fund of $29 and a 20% discount on all the eligible products.
Printify Key Features:
You can choose the print provider based on their ratings, location, sizes, colors, average production time, shipping charges, and overall pricing.
Printify Premium offers 10 stores per account, unlimited product designs, and up to 20% discount on all products.
Technologies used for printing- direct-to-garment, embroidery, sublimation, Cut & Sew, UV prints.
Seamless integration with Shopify, WooCommerce, BigCommerce, eBay, Six, Easy, and PrestaShop.
Printify pros and cons
Printify is a great choice because…
Free plan for beginners
Long list of print providers
Diverse range of products
Efficient shipping and fulfillment
Interactive editor and customization options
But there are drawbacks like…
No discount for sample orders on the free version
Print quality is good but often inconsistent
Limited branding options
Requires some learning curve
Printful is a leading dropshipping service and one of the top choices for beginners. They offer over 230 types of products, tools for artwork, and reliable shipping services.
Printful sources the printing service from their pre-vetted units.
So, they ensure the products are QA checked and deliver the quality that they're known for.
And in case your item gets damaged or lost, they'll reprint and ship them for free.
Besides the plethora of products, you can keep an eye on the upcoming product page that keeps you updated about new product offerings.
You'll also find that the knowledge base is specifically focused on starters to guide you throughout your dropshipping business.
Printful is equally profitable for established merchants. You can avail of up to 30% discount on t-shirts when ordered in bulk.
And to make sure your orders are well managed, they allow you to integrate with a number of ecommerce and marketplaces.
Printful Key Features:
Mockup generator to play with 3000 clip art graphics, 250 thematic fonts, and numerous color patterns.
A wide array of integrations like Shopify, Webflow, WooCommerce, BigCommerce, Easy, Weebly, Amazon, and more.
Two product samples with a 20% discount on each product are limited to one order per month.
Uses printing technologies such as direct-to-garment for apparel, sublimation & cut+sew for clothing, UV print for phone cases, SubliJet for mugs, water-based HDR ink jet for wall art, etc.
Printful pros and cons
Printful is a great choice because…
Extensive product catalog
A number of integration options
Customization options for product design
Good quality of prints
Offers discount on sample orders
But there are drawbacks like…
Shipping service unavailable for many locations
Order fulfillment frequently gets delayed
Not clear how payout is handled
Sellfy is an all-in-one platform for selling digital and physical products. It was specifically designed for selling digital files such as music, illustrations, photos, e-books, or videos.
But now you can find a number of t-shirts, sweatshirts, hoodies, caps, mugs and all sorts of accessories.
Say, you're a photographer and looking to kick-start into merch. With Sellfy, you can sell your e-books or subscription-based courses on photography and simultaneously offer your apparel to your audience.
Unlike other dropshippers, Sellfy doesn't require you to integrate with ecommerce platforms or add-ons. Moreover, you can integrate with WordPress, Wix, or Squarespace to help you with setting up the storefront.
Additionally, you'll have the benefits of store customization, marketing, and 24/7 email support. They all come at a price, though. But for peak performance, you can bet on its starter plan at $19 per month.
And as your business grows, you can upgrade to a Business plan at $49 per month or a Premium plan at $99 per month.
Sellfy Key Features
You can issue unique download links and set limited download attempts to prevent your buyers from sharing your content.
PDF stamping lets you create unique digital files by adding buyer data like name, email.
Features marketing tools like email marketing, coupon codes, upselling, pixel tracking, and cart abandonment.
Lets you embed "Buy now" buttons on any channel, and add "cards" and "end screens" within YouTube videos.
Multiple language support to customize your store based on customer's location.
Sellfy pros and cons
Sellfy is a great choice because…
Content protection against illegal downloads
Easy to use and low learning curve
Physical and digital products
Storefront design, marketing, and customization option
No additional transactional fee under any plan
But there are drawbacks like…
Need to upgrade to a $49 per month plan to remove Sellfy branding
Limited integrations and payment processors
Limited email credits on the starter plan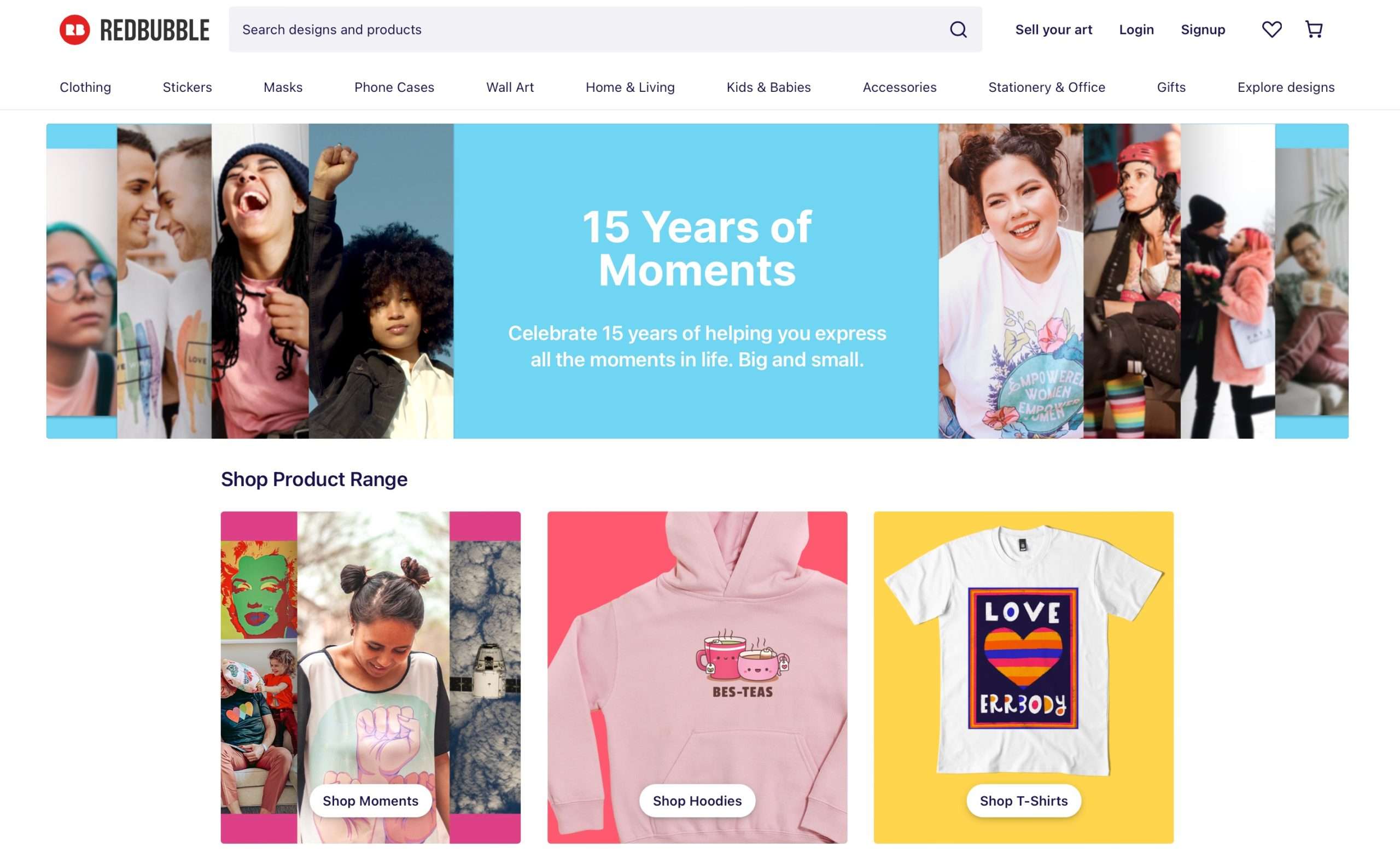 If you're an artist and meantime looking to start a merch store, Redbubble could be the best solution.
It is based on a user-submitted design. So, you won't have in-built customization or a design editor. Though, you can select some pre-made templates and licensed fan-arts from popular movies and TV shows.
The good thing is that it supports a number of image formats, and you have the freedom to create designs in Photoshop or any other photo editor.
Redbubble has good online authority and ranks really well on Google. With some marketing effort, you can find your products easily on Google Shopping Ads at no additional cost.
But at times, it shows the products of other artists on your site, which is quite annoying. Alternatively, you can put those items on your own site using its Rest API.
Redbubble has manufacturers across the USA, UK, Australia, Canada, and Europe. Moreover, there is an option to set your page in German, French, or Spanish to reach a wider audience.
Redbubble Key Features:
Being an artist, you can retain rights for your artwork and can also sell your designs elsewhere.
Features hundreds of attractive pre-made designs and officially licensed fan arts from popular movies and TV shows.
Gives you creative and financial freedom to design products, set the profit margin and sell on the store.
Store customization feature to personalize your storefront the way you want.
Features support for languages like German, French, and Spanish.
Redbubble pros and cons
Redbubble is a great choice because…
Provides web store hosting
Free to sell products on its web store
Decent number of products and profitable pricing
Attractive discounts on the bulk orders
But there are drawbacks like…
Redbubble marketplace is a bit competitive
Customer receipt doesn't label your brand name
Lacks third-party integration
Print quality is fine but lacks consistency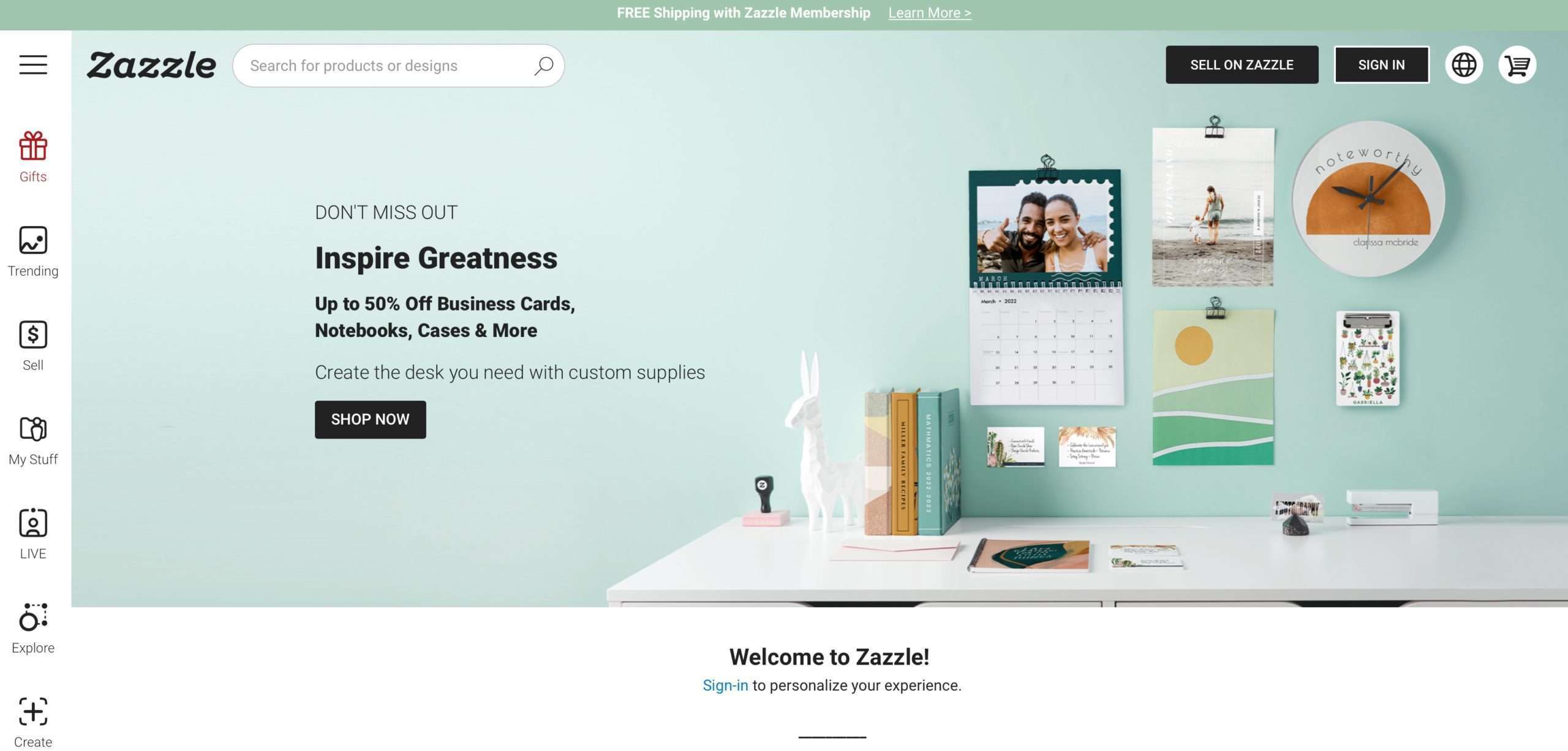 Zazzle is a multipartner and one of the earliest POD companies that do more than sell printed items online.
They offer different ways to make money with their dropshipping service – as a designer, affiliate marketer, or product maker. Zazzle claims to have sold to over 300 million customers across the world.
One of the reasons is because they have tons of products in their catalog including apparel, housewares, decors, drink wares, and much more. But what's more exciting is that they feature pop-culture designs from Disney, Harry Potter, and DC Comics that are officially licensed on the platform.
Absolutely a treat for your kids or teens, isn't it?
As a beginner, you may find it overwhelming or time-consuming to navigate. But there are tutorials and self-explanatory guides to get you through.
Zazzle has a minimum payout amount of $50. But it may cost you $2.50 to withdraw your funds early.
Zazzle Key Features:
An in-built designer tool with tons of templates and customization options.
Being a designer, you can set your royalty rates.
Affiliate marketers can earn 15% from each sale including a volume bonus.
Features automated product optimization to showcase the freshest designs and high-quality products on the storefront.
Printing technologies like direct-to-garment, digital printing, sublimation, and embroidery.
Zazzle pros and cons
Zazzle is a great choice because…
It's a multifaceted POD platform
Offers diverse product catalog
In-built designer with attractive and customizable templates
Phone support and live chat
Discounts upon bulk orders
But there are drawbacks like…
No integrations with ecommerce or marketplaces
Zazzle's storefront is quite competitive
Good but inconsistent print quality
A bit of a learning curve is required to get started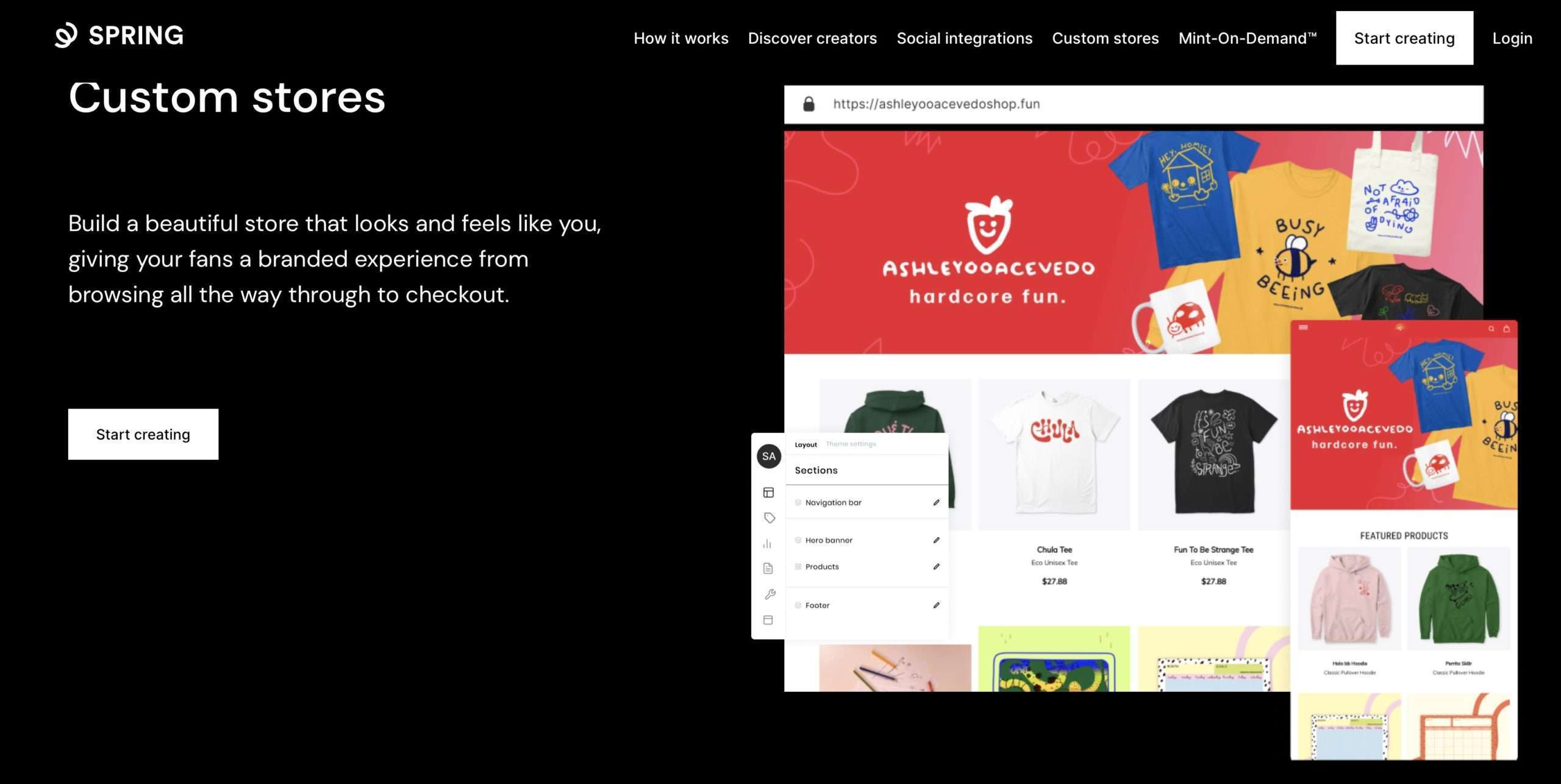 TeeSpring was recently rebranded as Spring. Though, both the names are interchangeably used by merchants, the quality, and service are the same.
Spring is a marketplace in itself. You can create a custom storefront and sell your products directly on its platform.
You may either connect the site with your existing domain or purchase a new domain for your store. However, there are no options to integrate with any ecommerce platform or marketplace.
But it can help you sell your products directly on social media, YouTube, and streaming platforms like Twitch.
They may not have an extensive product catalog but have their facilities. So, nothing to question about the quality!
Being a marketplace, though, Spring misses out on customization options and ready-to-use designs which may require you to hire a designer.
No designer within reach?
Nothing to worry about. You may look for its partner platform Placeit where you can have tons of attractive clipart and designs for a few more bucks.
TeeSpring Key Features
Ability to sell digital products or content in the form of e-books, music, video courses, designs, etc.
Directly sell merchandise on YouTube, Twitch, TikTok, and Streamlabs platforms.
Built-in marketing features like email marketing, visitor retargeting, Facebook Pixel tracking.
Boosted network lets you integrate with Amazon, Easy, Walmart, or Rakuten and help you with organic sales.
TeeSpring pros and cons
TeeSpring is a great choice because…
Ideal platform for content creators
Has its own marketplace without integrating to ecommerce stores
Has built-in marketing tools
Integration with social media sites and YouTube
Branding advantage with boosted networks feature
But there are drawbacks like…
Limited number of products
No design options or clipart available
No text styling is available
Requires marketing efforts due to lack of ecommerce integration
CustomCat is a multi-partner and one of the most preferred print-on-demand services for enterprises, dropship marketers and individuals alike. They feature over 500 products from high-quality brands like Adidas Golf, Gildan, Port & Co., and more.
Besides apparel, I particularly like the variety of bags, caps, and drinkware they offer.
But what CustomCat is especially known for is its HI-RES print quality. Regardless of any color shades or transparency, it allows a resolution of 1200 dpi that gives a long-lasting and detailed look to your design. Whereas, most of the print providers are limited to 150, 300, or 400 dpi resolution.
The design library stores tons of ready-to-use graphics but lacks editing options.
CustomCat uses five different shipping methods: economy shipping, ground shipping, 2-day shipping, overnight shipping, and international shipping for all of its products.
They also feature CustomCat Lite, which is a free plan. Although the features are indifferent to the paid version, each product will cost you an extra $2.
CustomCat Key Features:
Direct-to-garment, sublimation, 3D dye diffusion technologies – they all use 1200 dpi resolution for printing. Besides, they also have embroidery prints.
Fifty high-quality brands such as Gildan, Adidas Golf, Next-Level, Bella + Canvas, Hanes, Port & Co., & Adidas Golf, Brandwearunited, just to name a few.
Discounts if you sign up for their $30 a month pricing plan.
Seamless integration with Shopify, WooCommerce, Etsy, and BigCommerce.
CustomCat pros and cons
CustomCat is a great choice because…
Extensive list of products
Turnaround time is fast
Knowledgebase and customer support helpful for merchants
Seamless integration with the top ecommerce services
Flexible profit margins
But there are drawbacks like…
International shipping services often get delayed
Lacks built-in design tools
Shipping prices for some products are higher
No discount on sample products
Pillow Profits is one of the successful POD startups that offer a wide array of homeware.
They started off selling footwear like shoes, boots, sneakers, slippers, and socks. But now they offer many other products that are unique to the platform.
Besides common apparel, you'll have car accessories like a license plate, seat cover, headrest cover, seat belt cover, steering wheel, and sun shades. I bet you won't get them on any other platform.
However, there is a monthly subscription of $30 per month. You can use the free trial for 30 days to see if it's worth your investment.
Each product is fairly priced. But their base price includes shipping charges, which they advertise as zero shipping fees.
Pillow Profits Key Features
Provides a wide array of homeware, officeware, footwear, and car accessories.
10,000+ free ready-to-use designs with customization tools.
Offers replacements or refunds for damaged and poor-quality goods limited to some t-shirts and boots.
Product mock-up generator for high-converting ads and promos.
Extensive learning resources for budding ecommerce business owners.
Pillow Profits pros and cons
Pillow Profits is a great choice because…
Relevant pricing with an included shipping charge
Features mock-up generator tool
Tons of design templates and ease of customization
Extensive list of products
But there are drawbacks like…
Monthly fee may not be ideal for beginners
You've got to be patient with the shipping and fulfillment
Only integrates with Shopify
Support available only via email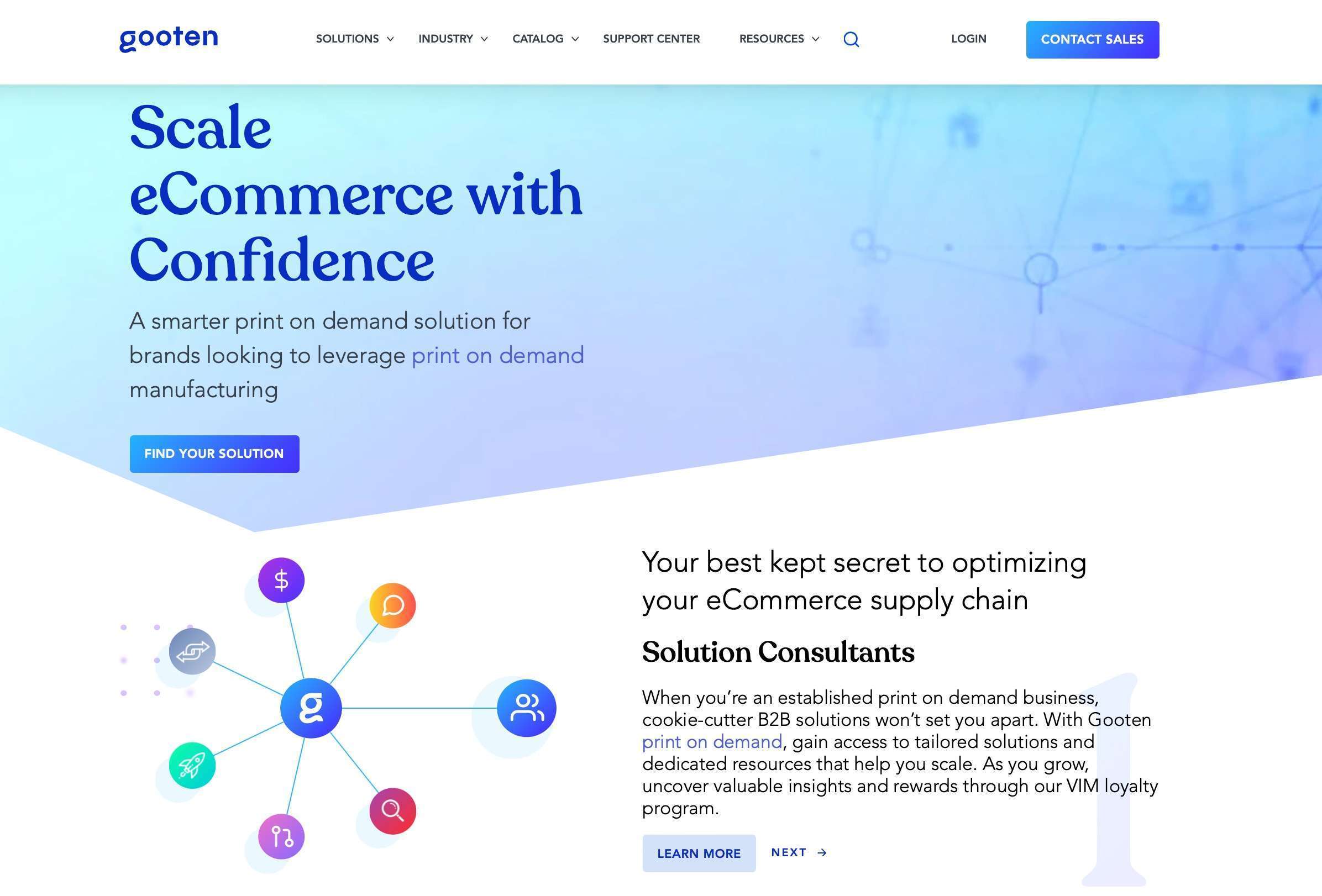 Gooten is one of the most sought-after POD businesses by professional merchants. Its name was inspired by Johannes Gutenberg, the creator of the printing press.
Founded in 2015, the company became a prominent dropshipper with 30+ manufacturing partners in no time. From New York, they took the fulfillment centers to many parts of Europe, Canada, Asia, and Australia.
With such a wide establishment, Gooten welcomes the partners to join a Very Important Merchant (VIM) program that offers unique benefits and bulk orders.
Though the platform is suited for beginners, the VIM program is specially geared towards pro merchants.
They also feature customized neck labeling and packing slips to help you personalize the branding experience. Moreover, for neck labeling, they charge an extra $2 for each product.
Gooten Key Features:
Offers over 150 best-selling POD products such as Tie-dye t-shirts, trucker caps, clutch bags, watch straps, and many interesting accessories.
Rich knowledge base that packs in free learning resources such as articles, podcasts, e-books, and webinars.
Features VIM, a loyalty program designed to benefit merchants and business growth. It offers access to the assigned investment partners, attractive discounts, business intelligence reports, personalized support, and more.
Ability to invite and add new members to the team from Team settings and assign them roles like customer support, admin, and reporting.
Printing technologies like direct-to-garment, Thermo Sublimation (Dye-Sublimation), foil printing, digital printing, embroidery.
Gooten pros and cons
Gooten is a great choice because…
Seamless integration with Shopify, BigCommerce, WooCommerce, Etsy
Good assistance from the support team
More customer satisfaction and less error margin
Features plenty of learning resources
Provides loyalty programs to support merchants
But there are drawbacks like…
Good but inconsistent print quality
Frequent delays in the production and shipping processes
Dashboard's UI is a bit clunky
No discount on sample orders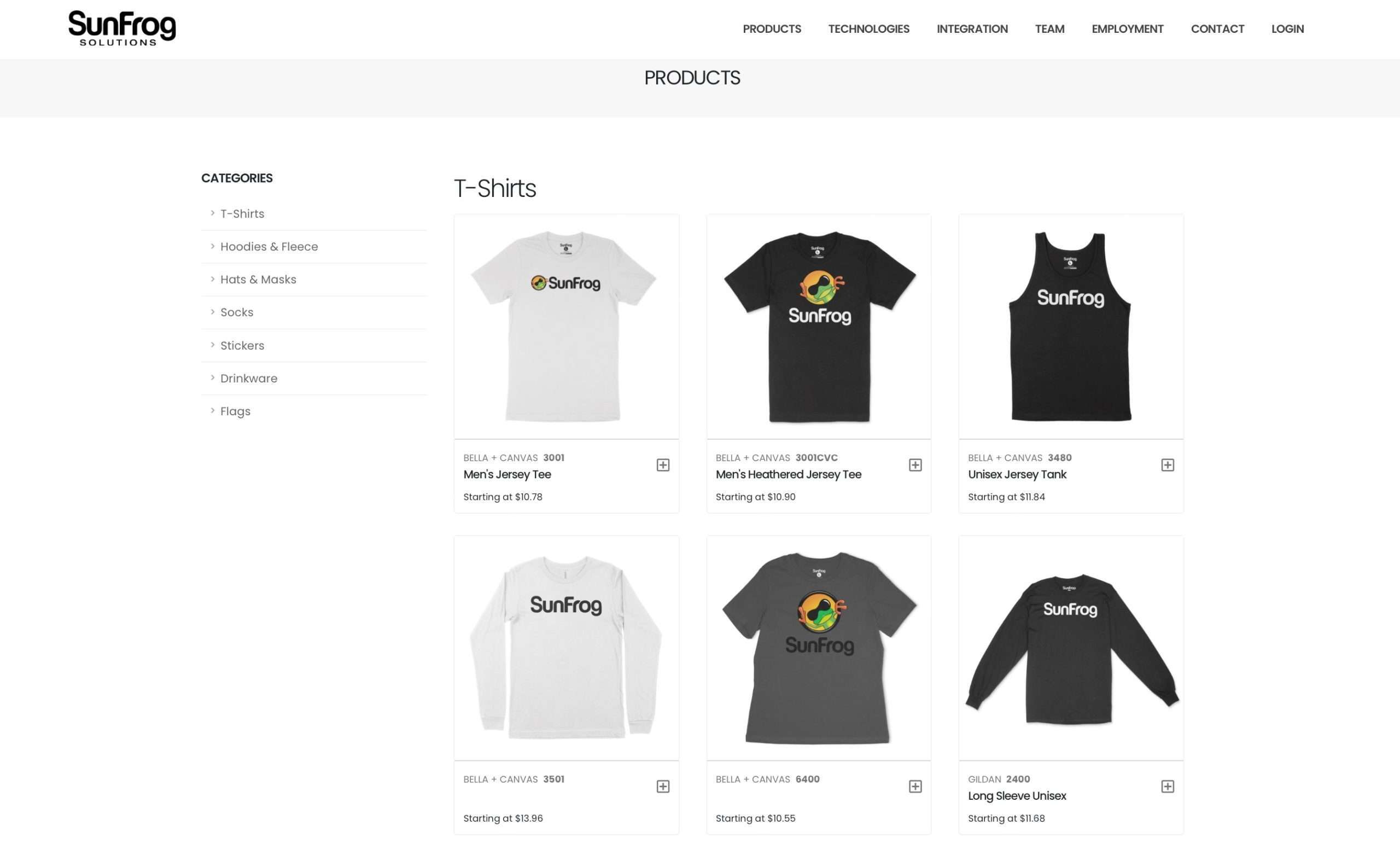 Sunfrog features a limited number of products but is nothing short of printing technologies. Their print providers have some of the best printing techs in the dropshipping marketplace.
And they make sure no printing error occurs from their end.
Currently, they feature just 47 products adding up all t-shirts, hoodies, hats, masks, socks, drinkware, stickers, and flags.
Sunfrog offers attractive compensations for both artists and affiliate marketers. As an artist, you'll receive a 30% seller commission and a bonus 10% designer commission for each sale.
For affiliates, the commission is 30%. But the owner of the design earns 10% for each sale made by the marketer.
However, there are not many details about the website or any tutorials. So, you'll have to stay in touch with their team.
Sunfrog Key Features
Uses printing technologies like direct-to-garment, laser engraving, UV printing, sublimation, embroidery, screen printing, and leather patching.
Over 1 million designs on their site are based on a wide range of themes.
Attractive sales compensations for both designers and merchants or affiliates.
Features community channel on Facebook to connect with peers or Sunfrog team for support.
Seamless integration with Shopify, BigCommerce, Amazon, and Magento.
Sunfrog pros and cons
Sunfrog is a great choice because…
Uses cutting-edge printing technologies
Beginner-friendly platform for artists and merchants
Supports multiple image formats like SVG, PNG, and JPG.
Offers support via live chat, email, phone, and Facebook community
But there are drawbacks like…
Limited products in the catalog
Minimum payment threshold of $50 to withdraw
Limited e-commerce integrations
Delayed international shipping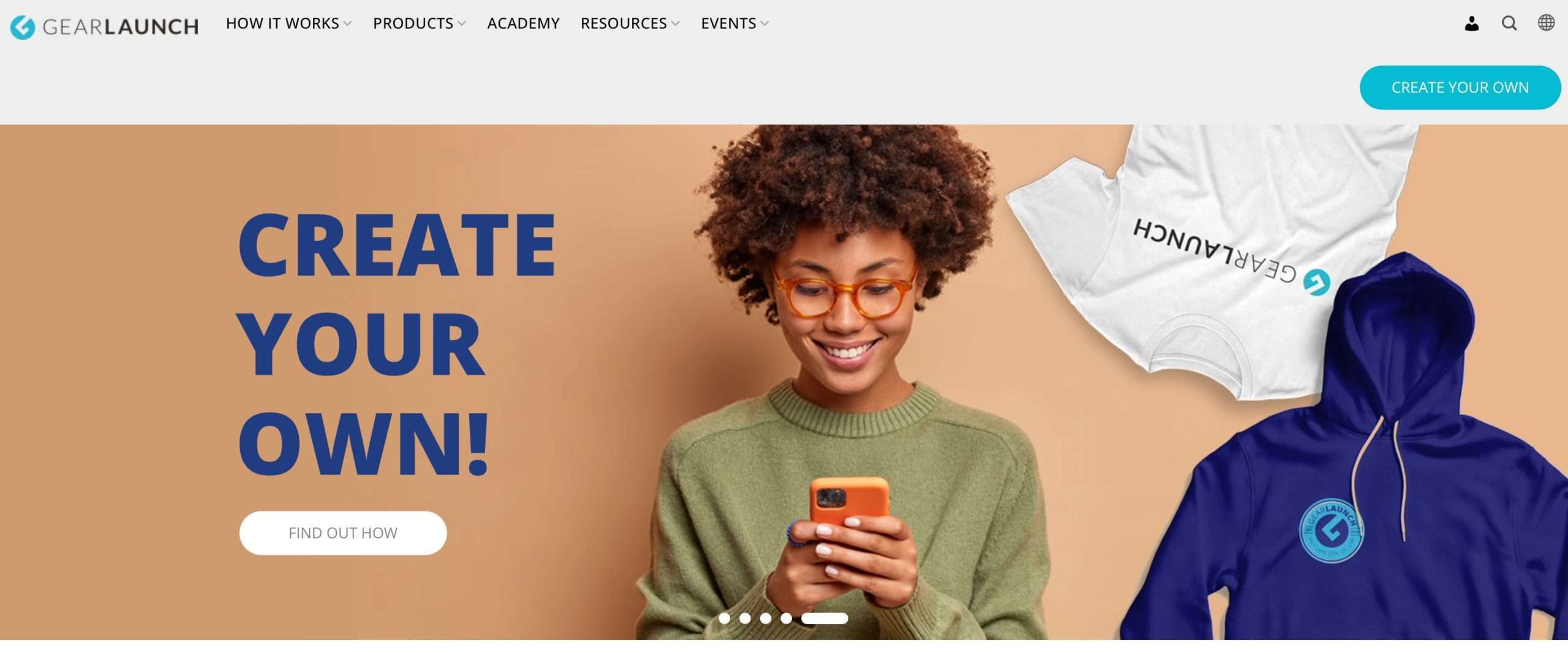 Gearlaunch is one of the budget alternatives for selling via Shopify. You can even set up a fully customizable storefront on its platform, add products and launch campaigns in a matter of a few clicks.
Their entire production and fulfillment centers are located in the US. However, some products like drinkware are imported from international facilities for print jobs.
Though they don't explicitly mention their print providers, most of their products have a price-quality balance.
Unlike many other International dropshippers, Gearlaunch remains confined to the US and European markets. So, it's evident that they have a fast fulfillment service.
But with the competitive dropshipping business and credibility of Gearlaunch, wouldn't it be interesting to see it explore international markets?
Gearlaunch Key Features
Over 70 categories of products mainly include apparel, household covers, bags, pet beds, drinkware, and stationery.
Measure campaign statistics such as traffic, profit earned through the campaign, cart abandonment, etc.
High-end printing technologies like direct-to-garment, sublimation, digital printing, embroidery, and engraving service.
Gearlaunch Academy features extensive tutorials and guides to set up the storefront, run campaigns, and generate sales.
Gearlaunch pros and cons
Gearlaunch is a great choice because…
Ease of setting up and personalizing the storefront
Affordable price range of the products
Affordable fee on Shopify premium version
Responsive support for merchants
But there are drawbacks like…
No phone support available for free users
No third-party integrations except Shopify
Limited number of products
Limited exposure to the International markets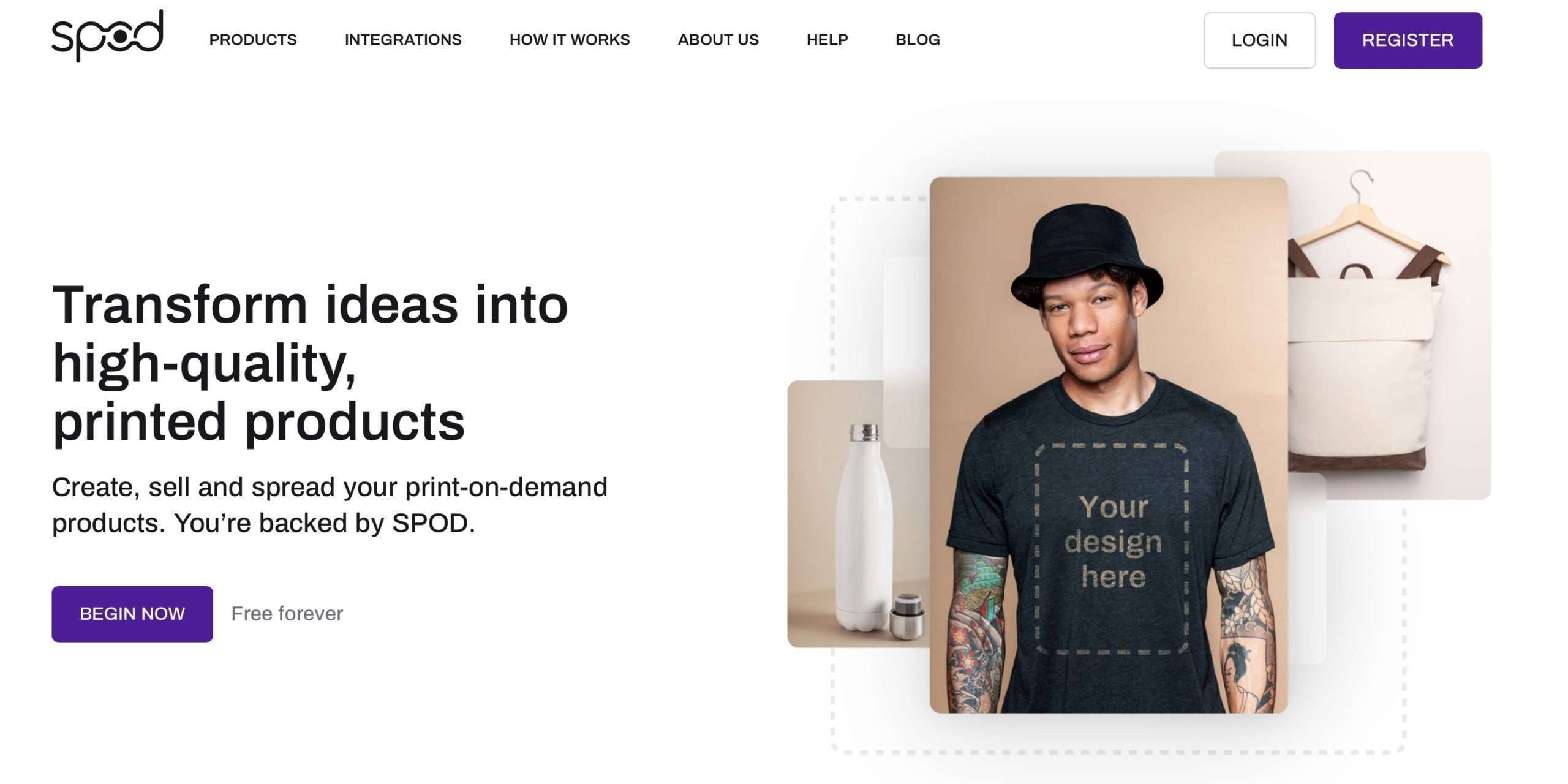 SPOD is a brand-new player in the print-on-demand business. Launched in 2020, SPOD is a subsidiary unit of a prominent e-commerce brand, Spread shirt.
Though, they're mainly geared towards print and dropshipping services.
The platform already features over 200 unique products and cutting-edge printing technology, which makes it one of the most preferred POD websites.
With SPOD, you can scale your business further with a number of integration tools like Shopify, WooCommerce, BigCommerce, and Squarespace. In addition, you can feature your products on social media platforms as well as on Amazon.
Most of their production facilities are based in the US and parts of Europe. So, you can expect a bit higher shipping rates.
SPOD Key Features:
Customizer tool lets you personalize and edit your product design with 50k+ ready-to-use graphics.
Printing technologies such as direct-to-garment, Thermal sublimation, laser print, flex print, flock print, and embroidery options.
Over 200 unique products under categories like unisex clothing, kids clothing, and accessories such as drinkware, bags, calendar, wall art, mask, etc.
A one-time coupon of 20% for sample orders can be claimed once you register on the app.
SPOD pros and cons
SPOD is a great choice because…
Most products have a reasonable base price
Over 50,000 free designs for customization
Supports image formats like JPG, PNG, GIF, and BMP
20% discount on the sample order
But there are drawbacks like…
Shipping rates are a bit high
Only a handful of integrations is available
Limited product categories to choose from
Doesn't feature custom branding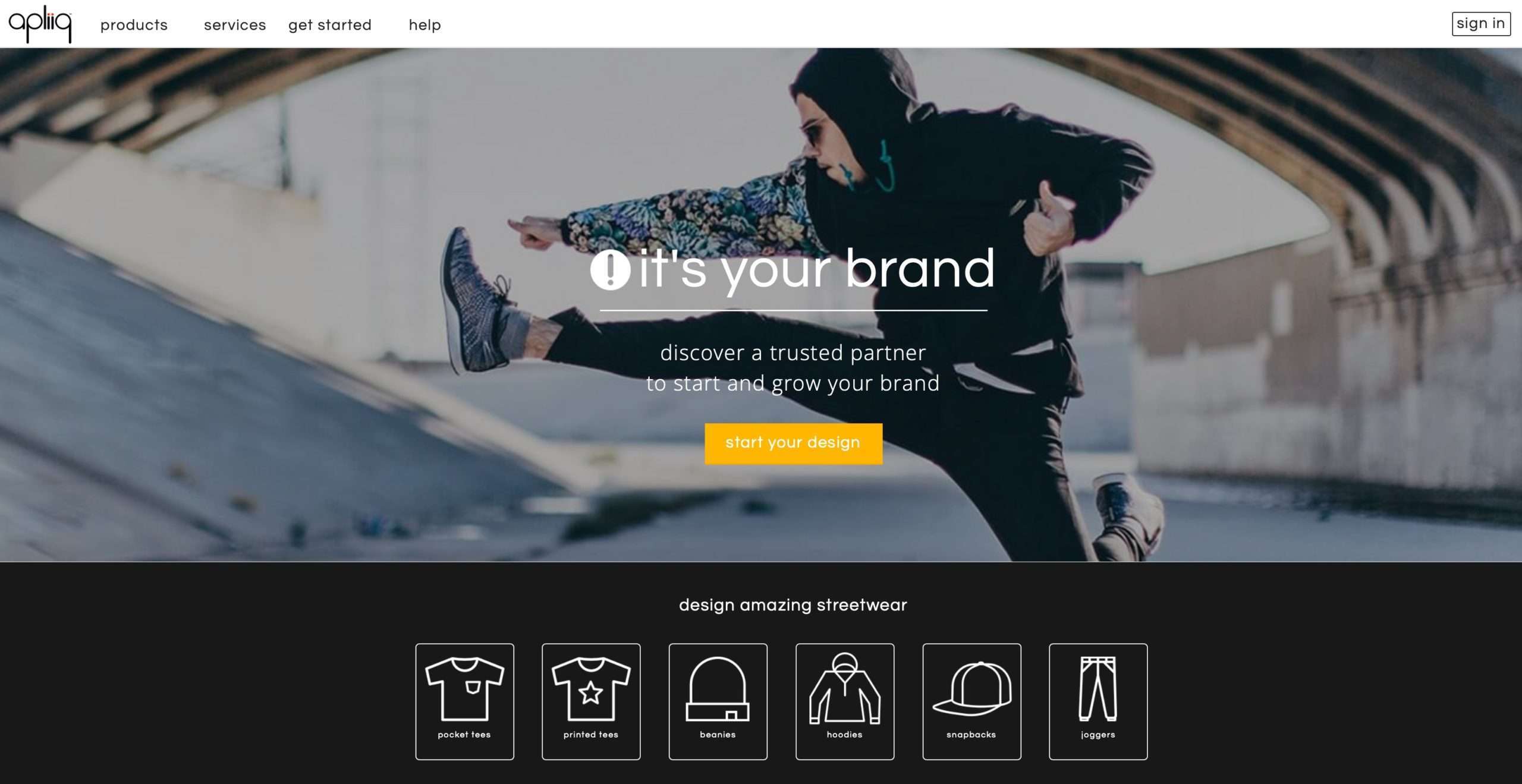 Apliiq's POD platform is mainly geared towards fashion entrepreneurs. So if you're looking into an apparel business where you can display your brand name, Apliiq can help you with that.
You can find an impressive catalog where most of the products are around streetwear and new-age fashion.
Now as an individual brand or influencer, it's great to have labels, clothing tags, or embroidery patches under your name. And therefore, it offers 100 custom label credits to use on any of your products for a subscription fee of $100 each year. Means $1 for each label.
Running out of labels?
Don't worry. You can order extra labels anytime. And for any rush order, there is an additional 10% fee.
Apliiq Key Features
Customized private labeling or logos on clothes, product tags, and embroidery tags.
Discount offer on bulk orders – 20% discount for 10 items and 55% discount for 500 items.
Printing methods include direct-to-garment, woven labels, embroidery, cut and sew.
Quality and designs are reviewed by Apliiq team to make sure the print will come out perfectly.
Apliiq pros and cons
Apliiq is a great choice because…
White-label printing for personalized branding
QA tested by Apliiq team
Customization options for designing items.
Discount for bulk orders
But there are drawbacks like…
Integrations are limited to Shopify and WooCommerce.
Limited warehouses and fulfillment centers
Production of custom orders may take up to a week
Product catalog is strictly limited to clothing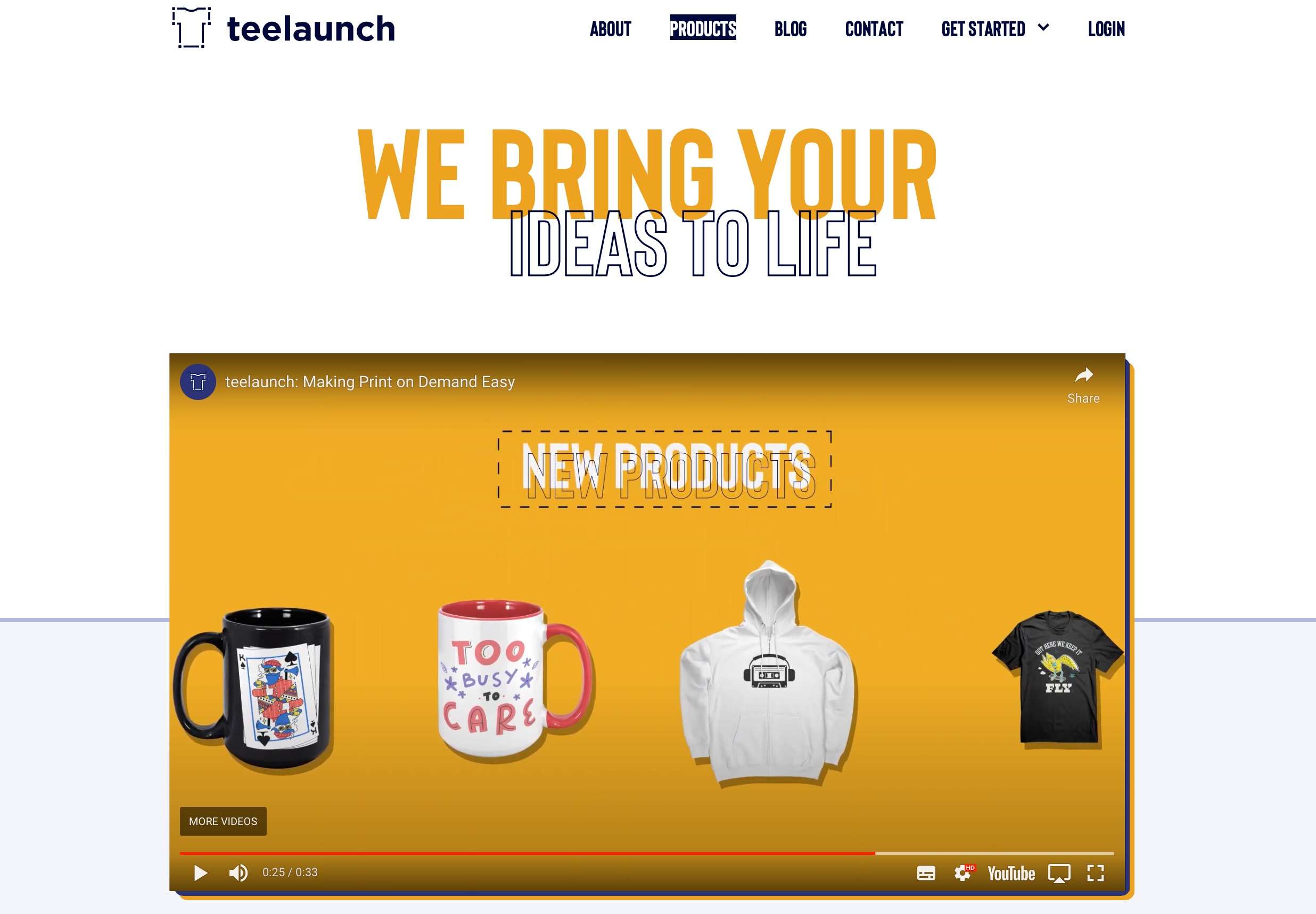 TeeLaunch may not be on the list of big dropshippers but has made decent recognition in the marketplace.
It features almost 124 products, which is of course, limited. But you'll be quite impressed with the diverse range of items in the catalog.
For example, branded Bluetooth speakers, headphones, and many such unique products can only be found on Teelaunch.
Teelaunch is an Australian company, but its print providers are also based in the UK and Spain.
Though they don't offer white-labeling on products, you can still place your brand's logo on the packing slips along with cards and stickers.
You can also claim a sample order for a 25% discount per product per month. But you'll still have to pay for shipping.
Teelaunch Key Features
Print providers use direct-to-garment, sublimation, digital printing, and powder coating technologies.
Also offers laser etching for decorative woodwork on chopping boards and decorative pieces.
Features top-notch Bluetooth speakers and wireless headphones from Origaudio that give a perfect blend of music and art.
Different types of drinkware such as mugs, tumblers are unlike any platform.
Seamless integration with Shopify, WooCommerce, BigCommerce, Etsy.
Teelaunch pros and cons
Teelaunch is a great choice because…
No charges for selling online
Limited yet unique product catalog
Features mock-up generator
Discount on one sample product per month
But there are some drawbacks like…
Shipping services may take time to deliver
Discontinued exchange policy for size issue
Limited customer support

T-pop has nothing to do with music. But it has everything to help you gain online popularity. T-pop defines itself as an eco-responsible POD platform, and that's for a reason.
Instead of using plastic and toxic materials, the company prefers recycled paper for packaging and inks using vegan sources.
The in-house manufacturing unit is, however, located only in France and is mainly focused on EU nations. So considering many languages, the packaging slips are translated as per the customer address.
Though the product offerings are pretty limited, the store is well managed by T-pop. They make sure to avoid out-of-stock situations so that any number of demands can be met.
But above all, you'll love T-pop offering white labeling and personalized packing slips for absolutely free of cost.
T-pop Key Features
Free white labeling and personalized packing slip.
Uses plastic-free, eco-friendly packaging materials and eco-certified inks.
Shipping service is mainly focused on EU nations, so the packaging slips are translated as per the customer location.
Seamless integration with Shopify, WooCommerce, and Etsy
Neck labeling is available only after reaching 100 monthly sales volumes and costs an additional fee of €2.50.
T-pop pros and cons
T-pop is a great choice because…
Package includes a sticker as a gift, similar to apple stickers for brand recognition
Free white labeling and packaging slip
Eco-friendly and quality products
Plastics-free and non-toxic packaging materials
But there are drawbacks like…
Limited products in the catalog
Placement of your design is quite restricted.
Warehouse only centered in France
Limited integration options
Conclusion
So, which POD company seems right for you?
I know this may be confusing at first glance. After all, any one of these 15 companies can help you boost your online visibility and attract more audiences.
You don't even have to pay an upfront cost for most of them. But folks, it's important to look for a company or website that meets most of your deciding factors.
Is the print quality good enough concerning resolution and durability?
Do they provide the apparel or accessories you wanted?
Do they have options for customization and mock-up generation?
Are their rates reasonable?
Is their shipping service reliable?
Do they let you sell your stuff via different online channels?
Let's say, you're looking for a one-stop shop for your fashion store. Just clothing and nothing else.
So, tell me, which company should you go with?
You got it!
It's Sellfy. You'll have a wide range of products and clothing options along with an excellent fulfillment rate.
But overall, we found Printify to have an edge over other POD companies.
It tick-marks areas like product quality, flexibility in choosing sellers, shipping service, and customization options.
Or you can try several and choose the one that works the best for you.
So go ahead, grab a pen and paper, and keep visiting this article until you finally come up with your choice of POD company.