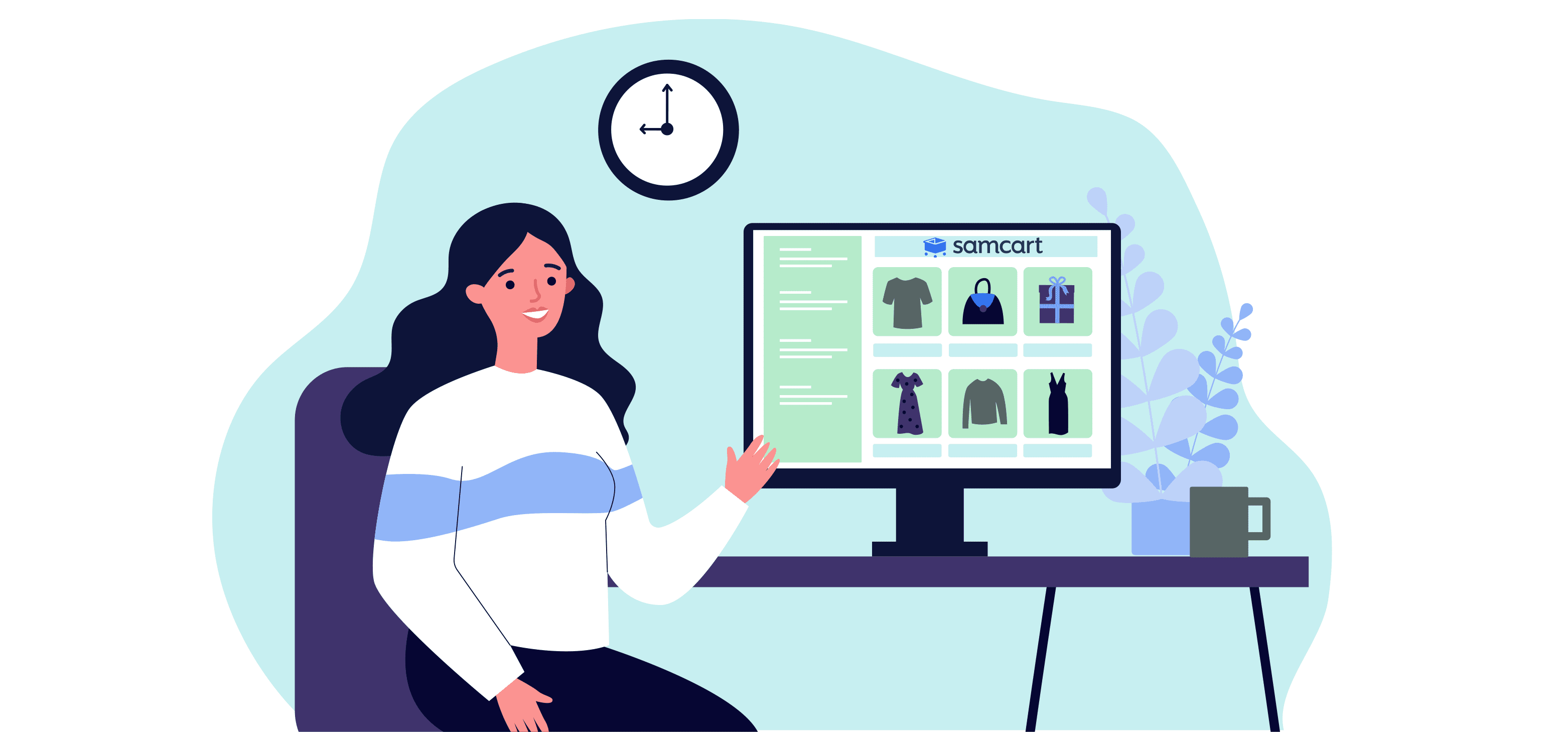 If selling digital products online was ever so easy, you wouldn't have been here.
Would you believe me when I say that you could make hundreds or even thousands of dollars marketing a checkout page?
Due to a recent turn of events, e-commerce quickly became a de facto online business dream. Although many platforms help you with building a site and hosting your products. But then they leave you to figure out how to really generate sales.
Result?
Lack of conversion, abandonment, and high bounce rate. And several jargon-loaded terms that basically mean… your page sucks!
We still believe that e-commerce is one of the best online business ideas. But with around 70% of cart abandonment rate and many unpleasant stats, it's time to look beyond e-commerce.
Which is a "Single-page checkout platform". SamCart is one of a kind that is making a lot of buzz these days. But mostly geared toward selling digital products like e-books, online courses, or subscription services.
Vaguely, you can call it an e-commerce platform. But in precise terms, it's really a platform that helps you make conversion-optimized checkout pages.
SamCart sticks to its core principle – to free your audience from distractions and let them focus on one product they came for.
Why choose SamCart to sell products?
Every now and then, you may hear people bragging about their ventures on platforms like Shopify or WooCommerce. However, selling on storefronts doesn't come easy.
You've to endure a lot of learning curve, patience, and of course, upfront investments. Managing inventory is yet another pain in the head.
Doesn't really sound like a cup of tea for everyone. Does it?
Samcart, however, doesn't take such a long route.
It doesn't have a storefront model. Rather, it helps you focus on one product at a time. One potentially high-performing product you're proud to sell.
Customers already know what they're looking for. But when the search results lead them to choose between a single-product page and a whole storefront, where would they likely go?
Well, it depends on their impulse.
But many sales experts found that the single-product page fares well in terms of click-to-conversion ratio than the storefront.
Problems with an e-commerce store?
Page-load time, too many distractions, and no particular goal.
Whereas, a single-product page is focused. And gives your audience a space to get familiar with the product. And for you, an opportunity to draw your audience towards the funnel.
Now, selling physical products isn't something SamCart mostly focuses on. Unfortunately, there is no built-in shipping and fulfillment service.
What's the solution, then?
Using SamCart's integration feature, you can easily connect with ShipStation. And automate the order data to ShipStation. Which relieves you of the pain of manually handling the orders for fulfilment.
Interface and navigate through Samcart
Generally, it feels overwhelming when you're about to venture into e-commerce. Especially when you think about platforms like Shopify or WooCommerce.
Unlike those heavy storefronts, however, SamCart doesn't overload you with functionalities.
Spend the first few minutes navigating through the app. You'll be at ease and know what is where.
The dashboard welcomes you with a monitoring page to keep track of your activities, product performances, and sales.
But upon closer look, you'll see the page is actually divided into two sections: Marketplace and Accounts.
The marketplace section is where you're going to spend most of your time in creativity and analysis. You can create a product page, upload digital files, embed marketing tools, and consequently analyze your sales metrics.
On top of that, you can keep an eye on activities like course purchases, and subscribed customers. And also get an overview of these activities on Reports. Just to help you with insights into your audience and their buying journey.
Whereas, the Account section helps you with settings, account management, learning resources, and community outreach.
One of the key areas where SamCart stands out is Creator U. Especially when you're starting out with creating and selling your products.
But before you get into the action, you need to configure marketplace settings. That means, the account section.
Don't get overwhelmed to see a lot of blank text fields. All you've to do is register your correct details like address, time zone, currency, tax settings, etc.
Next, you need to hook up a payment processor to receive payments when you make a sale. Want to keep an option for your buyers?
Sure, you can add another processor. And enable digital wallets as well.
Down the list of settings, you'll have Integrations.
With one-click integration, you can easily connect with a number of automation tools. So that you won't need to bang your head elsewhere for digital marketing needs.
Now, what's up with the Email setting?
Here, you can customize your email actions at the Marketplace level.
For example, you can enable an email footer—basically a business contact address placed at the bottom of each email or receipt you send.
You can also edit system emails that auto-update your users based on order, payments, subscriptions, and affiliate status.
Now, as you dig further into the article, we have also discussed customizing emails at the product level.
The next option, "Users" is for you if you're working along with a team. You can give them access to manage your SamCart account. As well as assign them roles such as Administrator.
"Custom Domain" is where you can easily connect your domain with SamCart if you already have it.
Or else, you can create custom name servers on Google or Cloudflare. Interestingly, SamCart has no limit to the number of custom domains you can connect with.
It really feels great when people hit your properly-named landing page for the offers. Rather than coming up with some ugly URL like anyname.samcart.com/product-name.
There's yet another interesting feature SamCart seems to care about—localization. Language setting gives you the advantage to create a checkout page in different languages.
And if you're thinking of marketing your product with a specific audience or region in mind. This is going to help you a lot to broaden your outreach. Currently, it supports French, Spanish, German, Italian, Japanese, Swedish, and Portuguese.
What SamCart can be used for?
SamCart is specifically designed to help you sell:
Digital products like courses, e-books, audiobooks, or premium podcasts,
monthly subscription service or memberships,
and… Physical products.
But remember, you can create only one product page at a time. Not something like an e-commerce site.
Yes, you can create multiple product pages, as much as you like. And sell your print books too.
The dashboard features different tabs for different functionalities.
If you're here to sell your online course, you need to go to "App".
Whereas for other products, click on, well, "Products".
It's pretty straightforward as you set things up. Like when you go on adding a new product or choosing a physical or digital product. Its name, pricing tiers, file type, etc.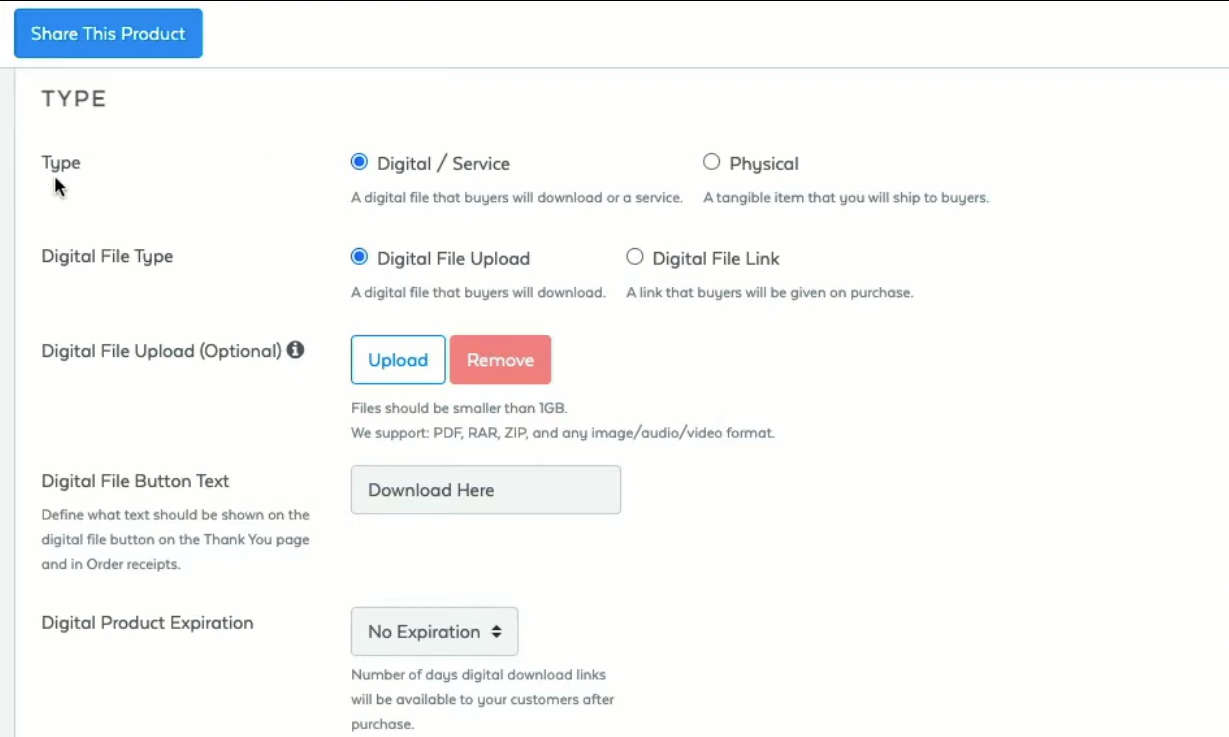 And in case you're setting things up for a physical product, you'll need to enter your location and shipping preferences.
But before you go on creating your products, you need to determine the Pricing type.
It's good to see the payment options are quite flexible to set up. Either select one-off pricing or a monthly subscription.
Moreover, the limited subscription and recurring part are specifically meant for charging your courses.
SamCart's Key Features
Ease of template customization. Checkout themes are optimized for fast response time.
Courses-app is an all-in-one tool to create courses, optimize them, and manage your students.
Set and customize automated email triggers for every action your audience takes.
Rank your sales page with built-in SEO and maximize your outreach with the affiliate center.
Create a lookalike audience and target them with Facebook's ad campaign.
Figure out a better version of your sales page with the help of A/B testing.
Order bump and Upsell features help you multiply your sales effortlessly.
Cross-sell, to help you advertise additional courses within an already-purchased course.
With Coupons, you can create an attractive deal worth checking out.
Give yourself a second chance to call back the left-out visitors using abandoned cart recovery.
Supports multiple currencies, global payment gateways, and secured transactions.
Get in-depth reports of your customers and products. Also, connect with Google Analytics.
Now, let's dive deeper into these features and functionalities. And know if SamCart is really a productive selling platform or just bells and whistles.
Product page customization and designing
The "Products" menu lets you set up your page for both digital and physical products.
What I really like about SamCart is that you can sell any number of products. Regardless of your plans. But only one product per page.
Once you're done setting up the product, it's time to customize.
So you'll head over to "Checkout Design" which basically is your sales page builder. You can either pick one of the templates. Or create one from scratch.
Find designing time-consuming?
Don't worry about that! Here, you'll have a side panel. With one-click customizations.
You can design the content the way you want. Add multimedia stuff, CTA button.
And then materialize your page with widgets like a progress bar or a countdown timer.
To remind your audience that the good things don't last long. Or say something like, they may miss enrolling for a life-changing course or some heavy-discounted product by this date.
So it's up to you. Either, you jump right into the pre-designed templates. Where you can find dozens of checkout design templates.
Or choose to create something exciting from scratch.
Talking about the templates, each of them has a different look and feel. You can preview them. Pick one of them and customize it as you like.
You'll also come across two types of layouts: Empty and Pre-made.
In the Empty layout, you'll find different types of checkout page designs. But without any content. So, you need to help yourself with that.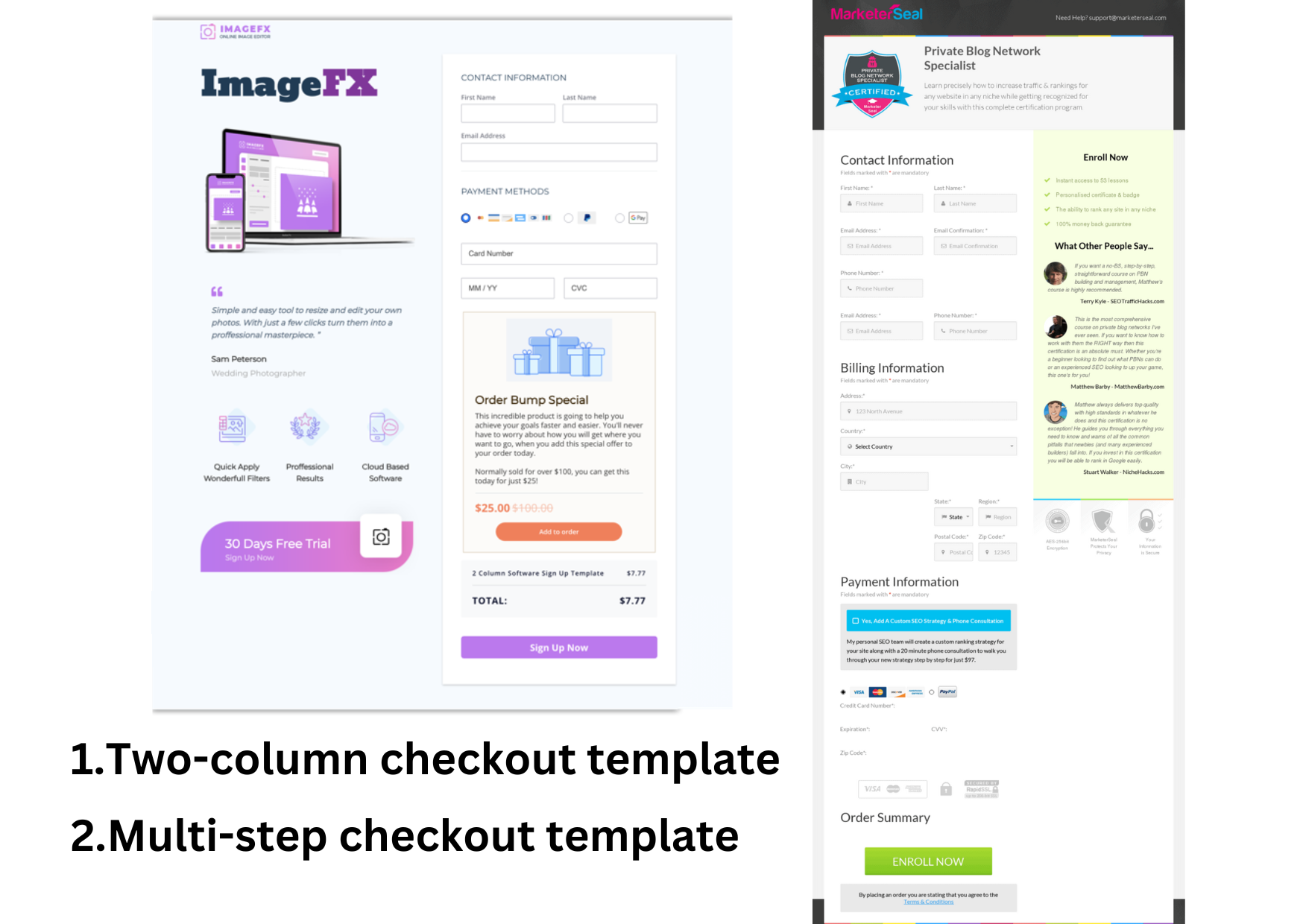 However, in the pre-made templates, you'll be provided with pre-generated content along with the checkout part.
In both cases, you don't have to worry about fixing margins, paddings, and overall aesthetics of the template. Simply click and customize. That's it!
Down the page, you'll also find an option that leads you to a blank slate. So, if you're something of a maverick designer. If none of the designs interest you, it's better to design by yourself.
Overall, each of these templates is responsive and well-optimized for quick loading time.
Creating a course on SamCart: Become the best teacher online
If you think creating courses online is a pain in the head, you haven't tried SamCart's "Courses app" yet.
Once you're on this page (which you can find on the "Apps" menu), you'll find how easy creating courses is on SamCart.
First, you'll come across a form-like page that asks about your course details.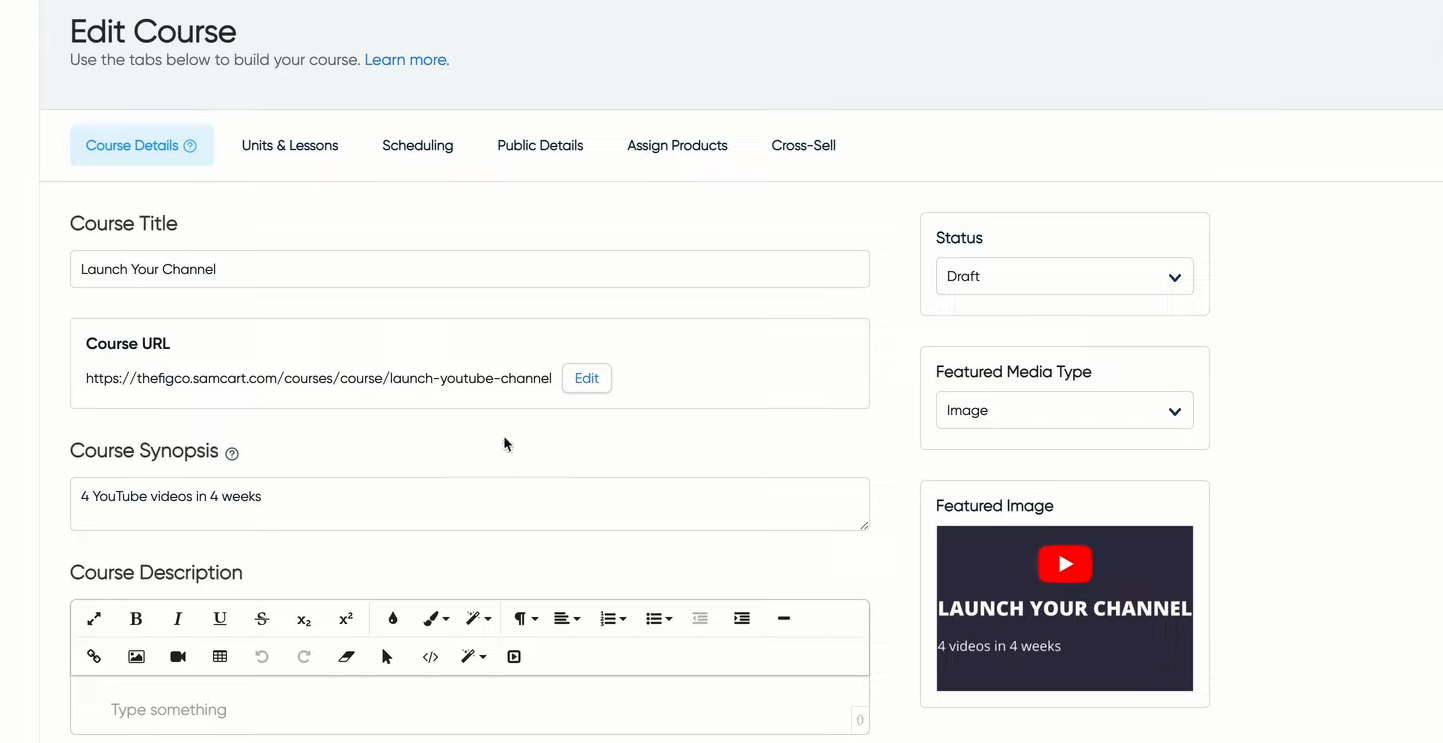 You'll then go on setting up the units and lessons. It's amazing to learn that you can upload as many course lessons as you like. No limits.
You can even manage the accessibility of the courses.
For example, Udemy. Where free courses are accessible to everyone. Whereas the paid courses are locked along with some demo lessons – to let your customers know what they're going to get.
What about editing the lessons?
It's quite easy to follow up on each process while creating lessons for each unit.
To make your course interactive, you may go on adding quizzes, worksheets, and any downloadable materials. This is a great way for your students to take interest in the course, and assess themselves. And eventually, get an immersive learning experience.
Not only, but it also gives you insights into how your students are keeping up with the course. But may also limit course refunds.
Once you're done with lessons, you'll then follow up the next few tabs to make it market-ready:
Scheduling controls how you would like your subscriber to have access to your course. For example, setting instant access to let them access everything after the purchase.
Or maybe you want to release each lesson after a certain interval. Or hold back certain lessons until after the trial period is over. In that case, you need to select the drip schedule.
Public Details, where you can set up how your course appears to your potential buyers when they visit the page.
Assign products, which is used to assign your course to different tiers— basic and premium. Basically, there would be a single sales page offering different pricing tiers.
Cross-sell, which is basically a marketing tactic. Such that, while your audience looks through the course, they're going to notice another course offering.
Your course is now ready. Wasn't that easy!
But what's next?
You've just created a course. Won't you list down those who purchase them?
So to add your students, you'll click on, well, "Students". And with every successful sale, you can go on adding them to the list.
Now, what if you're switching from another online teaching platform to Samcart?
Easy.
Besides moving all your course contents, you'll simply need to import a CSV file with the list of their names and emails.
Once your course is market-ready, you'll get a course library page where your audience can see everything you've to offer. Plus, a course overview page where they can learn what they're supposed to get in a particular course. Or watch a preview before making a purchase.
Note that, you can now host your videos in your SamCart account. On any of the plans. Without having to worry about upload limits. Yay!
A sigh of relief for creators as they no more need a separate video platform like Vimeo.
Setting up email for the product page 
Earlier, we discussed customizing emails at the marketplace level. And now it's time to know about setting up emails at the product level.
Open up any of your market-ready products, and visit the "Emails" tab. And enable email customization.
You'll then be able to tinker with different email actions. Like email triggers upon order receipt, refunds, cancellations, and reminder actions.
The fun part, you can customize each of those email messages for each of your products. Sounds like a personalized approach, isn't it?
In recent years, SamCart updated the settings with "Subscription Saver". That can help you protect your recurring revenue.
But how?
Anytime your customer fails to pay a subscription payment on time, SamCart will automatically drop them a message with a unique link.
So that they can visit and update their credit card information ASAP.
SEO and marketing: Create your online presence
Every e-commerce platform comes up with its own optimization strategies to rank its page.
On SamCart, however, you won't find a breadth of on-page optimization tools. Unlike any content management platform like WooCommerce. The lack of inbound marketing is one of my biggest gripes.
But remember, all you need here is to rank a single product. Not the whole storefront.
Once you've created your products, you'll go on optimizing one page at a time.
So you have to be specific with the keywords you enter on the Page title. Make sure the keywords match the Product Details page. Even the subdirectory of the product URL should be named accordingly.
Pretty basic, duh!
But when it comes to off-page SEO, SamCart can help you expand your marketing efforts.
You can easily share your single-page funnel checkout on any social platform. And make the buying experience easier and quicker.
SamCart has one more exciting feature to monetize your products.
When your product is marketing-ready, you can easily create private links using the "Affiliate Center". Then you can give your affiliates access to promote your product.
SamCart also gives you control over choosing specific affiliates to market your product. So that your affiliates mint profits for you while you're asleep.
However, note that the affiliate feature is only available on the higher plans.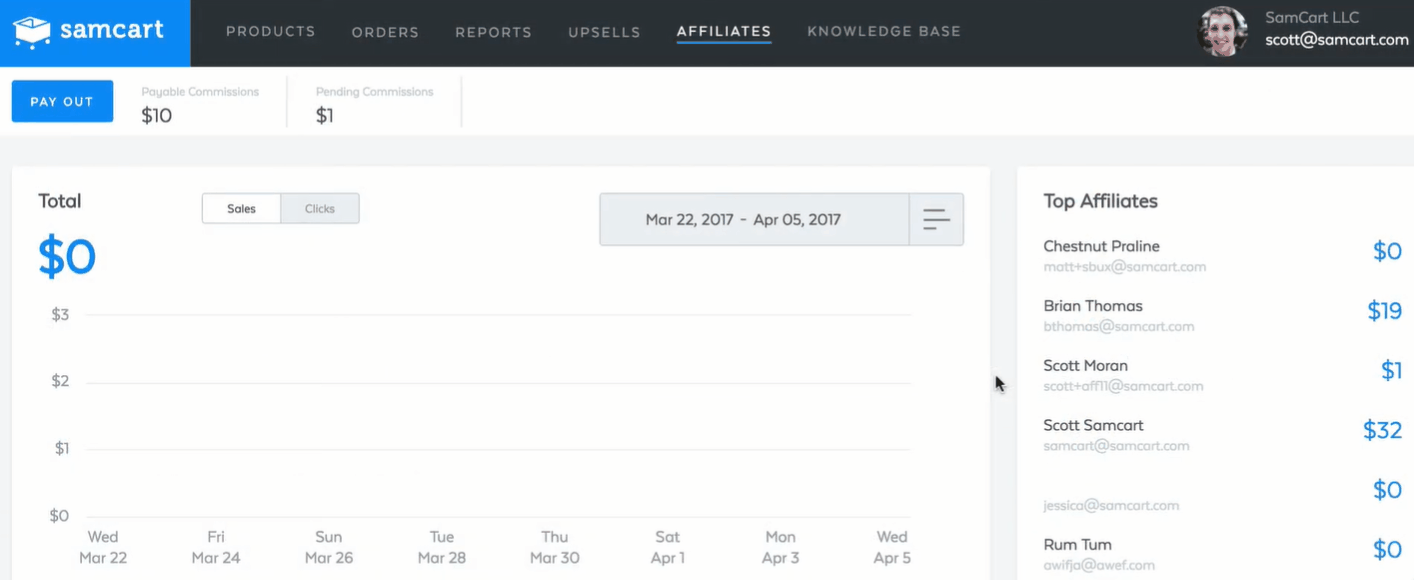 SamCart's unique ad campaign feature on Facebook
Ever heard of a customer value audience?
Facebook is no doubt a powerful medium to run your social media campaigns and generate leads. But with SamCart's recent ad campaign strategy, you can level up your marketing game.
You already need to have a certain number of valuable subscribers. So that you can clone them. And then put ads in front of a sea of Facebook users who are like them.
That means you can create a lookalike audience. And target them with your offerings. Isn't that cool?
SamCart helps you with the lifetime value stats of your customers that you can upload to your Facebook ad account. Based on their activities and interests, Facebook then creates a lookalike audience.
The interesting part, nobody else can target those audiences.
Now all you're left to do is create ad campaigns for them. Not with a competitive approach, though. But that means a better chance for lead generation.
A/B testing: Create better chances of conversion
If you're not well versed with A/B testing your page, you're probably living under the rocks. But SamCart isn't.
Running live A/B tests or split tests helps you create different versions (or variations) of your sales page. Only then you'll get to know which version is likely to convert better.
It's pretty straightforward to get along with this process.
When you're on SamCart's product page, you can get here as you scroll down the "Advanced settings" tab.
Here, you can create single or multiple versions of your check-out page. And based on the customer's perspective, you can see which version is likely to receive better views and conversion rates.
Simple.
Order bump and Upsell: Total game-changers
How on Earth could you sell a $37 product and eventually end up generating $64 on the same order?
SamCart makes it possible. Here's how.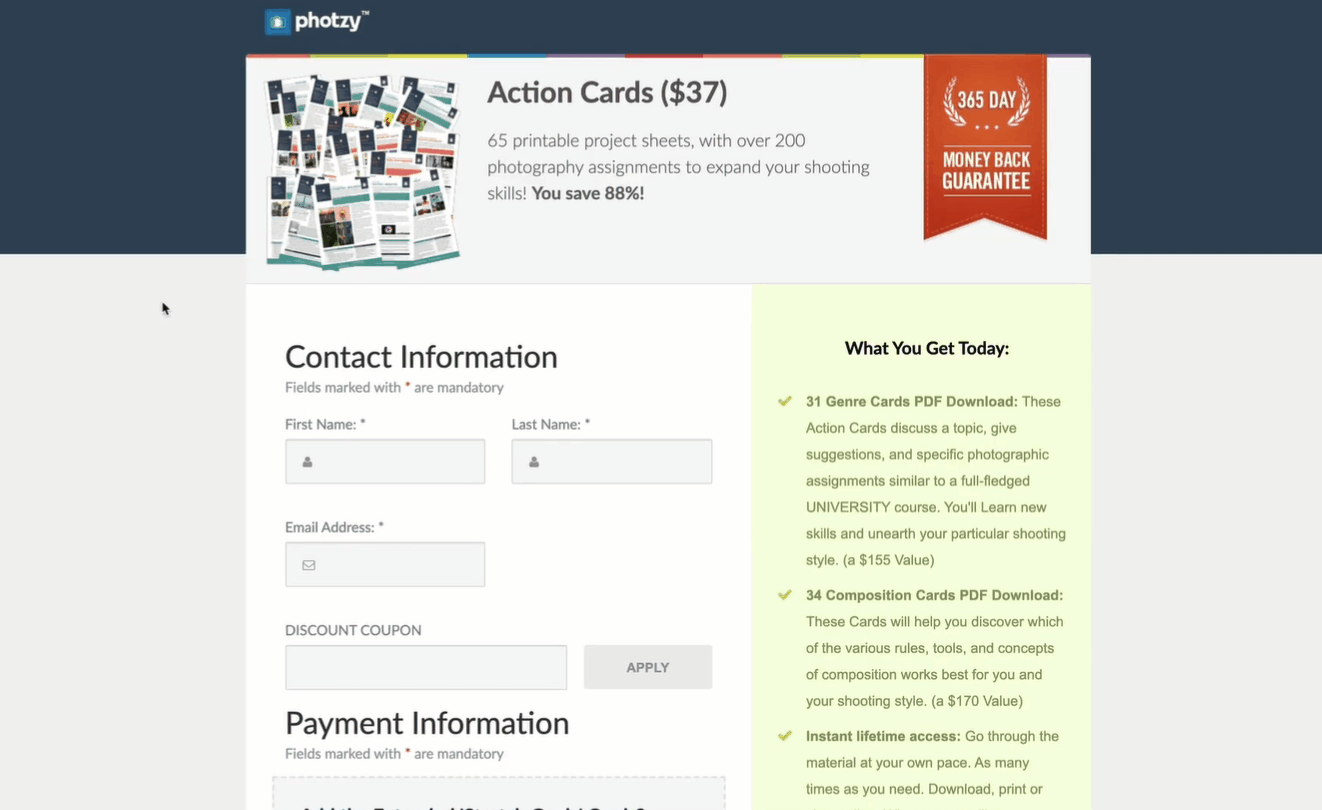 It's just like the stuff right next to the grocery store checkout counters. You're waiting in line and the cashier is billing your items.
Meanwhile, you notice a super-saver Chocolate bundle on the shelf next to the counter. You grab it and toss it in the basket.
An order bump is a great way to multiply your profits. Without having, to do any extra efforts or generate any extra traffic to your site.
In the same way, you can also increase the likelihood that your audience could buy what you put in front of them. And eventually, increase your conversions.
How about selling items without an order bump?
Well, it'll be a missed opportunity then. Without an order bump, you're leaving your customers to endure the frustration of re-entering all information like name, email, billing address, shipping address, credit card details, etc.
And almost all of them would give up going for additional products.
Okay, forget about that!
Because there is, even more, to add to your order, bump the offer. SamCart recently updated this feature, which is going to give your customers a whole new checkout experience.
You can now offer multiple order bumps on the same page. That means even better profits.
You might have noticed when you're going to place an order on Amazon. Right before checkout, it recommends some products to add to your cart. Along with a message that says, "Customers also bought these items…".
Now, what about upselling?
Remember that order bumps occur earlier in the checkout process. Whereas, upsell (or 1-click upsell) is a post-purchase offering. Which appears immediately after your customer places an order.
The credit card details are saved during the transaction and are still live on the order. That means they still have their wallets open.
So, this leaves your customers to consider purchasing an additional product without having them re-enter all the information.
Though, this is completely an impulse buying that sells itself. But don't forget that you can perform A/B testing on your order bump pages. You can refine and figure out which variation could potentially convert better.
Pro-tip: Anything you sell as an order bump shouldn't be expensive. For example, for a $50 product, you should never include a $200 order bump. Instead, a good $20-$30 offer sounds absolutely legit. Also, don't add a lot of details. Try to settle in 2–3 sentences.
Whereas, upsell lets you prepare a detailed pitch. So that you can put in the same marketing effort as you did with the main offer. As far as pricing is concerned, it's okay if you keep it a bit higher than the main offer.
So imagine what order bumps and upsells could do together!
Cross-sell: Course creators gonna love this feature
No doubt, order bumps and upsells leverage your marketing tactics twofold. But SamCart these days has been taking a lot of interest in selling courses.
Recently, they introduced a cross-sell feature (yet another fancy term), which is technically similar to order bumps.
But this time, you're going to use it in advertising your other courses—right within the course your customers have purchased.
Pro-tip: Your cross-sell offer should be relevant to the current course. And even better if it's an advanced course.
So is this selling strategy any useful?
Of course.
As per a sales report, over 70% of the sales experts reveal that both cross-sells and upsells contribute to 10% to 30% of their revenue.
And not only in terms of better sales revenue. But also helps you with a better customer lifetime value (CLV), and convenience. And ultimately, brand loyalty.
Coupons: Create a mouthwatering deal
Who doesn't like discounts?
Whether it's winter holidays or Black Friday sales. You'll always find customers going on a shopping spree.
And there is no better way to drive sales than coupons.
Do you know that conversions can go up to 40% on orders that have coupons associated with them?
That's right!
That's why SamCart ensures you make the best out of such occasions.
Once you're done with your product information, you'll find "Coupon" silently resting down the "Product details" page. You may go on creating a code for one or all of your products. Or choose from a flat rate or percentage type coupon. Up to you.
You may also set an expiration date for digital downloads or subscriptions.
Abandoned cart: Never gonna give you up
That "Argh" moment when a customer enters your shop, sees things, and just leaves.
Leave holidays aside. A lot of people buy only when they see a coupon code. They just register and abandon forever when there is no offer.
In one of the cases, a customer manually entered the code, but the discount failed to show up. Without realizing the fact that there was a typo.
As a result, you get to see a list of unfinished checkouts like this.
That hurts!
Barely anybody returns when that happens. But with SamCart's cart recovery, you might be able to hit some sweet spots.
However, there is no built-in cart recovery option. Thanks to the Zapier, which comes built-in.
With Zapier, you can seamlessly integrate with some amazing marketing automation tools like Keap or ConvertKit.
You can set it to trigger an event based on any unfinished purchases or new sign-ups.
And with an auto-generated list of visitors, you can follow up with them with your sales funnel strategies.
But here's another thing I don't like about Samcart.
Unfortunately, some advanced integrations like this only come with the Scale plan. Which is expensive and geared toward enterprises. So in the lower plans, you might need to handle cart recovery manually.
Payment processor support on Samcart 
The payment processor is a bridge that connects you with your customers. And SamCart does a good job by enabling a number of options that cannot remain untouched from any part of the world.  
As of now, SamCart supports over 20 world currencies. And payment processors such as:
Stripe

Braintree

PayPal

Authorize.net
They recently added SamPay – a home-grown payment gateway that can accept most credit card payments. 
Also, when it comes to processing fees and location restrictions, SamPay stands shoulder to shoulder with Stripe. 
However, we're yet to see any real advantage of having it as a payment gateway. 
You can also enable a Digital wallet that lets your users pay with Google Pay or Apple Pay. 
But remember, you should always have Stripe as your primary processor over others. 
Why so?
All the supported processors perform well with one-time transactions. But when it comes to reference transactions, not all of them can handle by themselves. 
Not all processors have the ease of handling subscriptions, free trials, and one-click upsells. But Stripe has. 
There are many things you need to take care of while creating a converting product page. But the checkout part is the most important one. You can't go wrong on this.  
While customizing the form, you'll need to be careful with the checkout fields. And the types of information you want from your customers. The more information you have, the better will be your chances to offer a personalized experience. 
Also, you want to make sure that your customers don't find it hard to place orders. So down below the checkout page, you can set up payment cards. That leaves your customers with multiple payment options while placing an order. 
A nice addition, you can choose the way you want your checkout button to look. 
SamCart's reporting feature: Be a business detective
Which products bring you more revenue each month?
How your subscription plans are performing?
How much traffic your marketing campaigns are driving?
From where exactly the sales are coming?
Whenever you feel curious about such questions, SamCart's detailed reporting can take you deep into the insights. With a single click, you can get a snapshot of your recent transactions, which include:
One-time purchases
Recurring charges
Failed charges
Cancellations
Upcoming subscription charges
And consequently, take necessary actions.
Reports also let you discover the referrals and from where the sales are generated.
Was that an ad campaign, email marketing, or a social media post?
You'll get to know each and every referral URL and UTM codes that your customers brought with them.
Now, how you're going to analyze what kind of behavior leads to product purchases?
Of course, by running analytics. And what else can you find better than Google Analytics and Facebook Pixels?
Overall, it's great to see how SamCart walks you through each step of your customer's journey and product performance. So that you can make better and more informed business decisions.
SamCart Pros and Cons
Pros:
Ability to sell any digital products
Responsive and conversion-optimized checkout pages
Order bump, upsell, and cross-sell can help you maximize your sales
Built-in affiliate center
Multiple language and currency support
No restrictions to uploading video content for courses
Ability to create as many product pages as you like
You can switch between live and sandbox mode
Cons:
CreatorU is a useful learning resource but doesn't come cheap
The integration feature is unavailable on cheaper plans
Monthly pricing is a bit on a pricier side
Is SamCart's customer support helpful?
SamCart seems to have thorough customer support.
On any plan, you can connect with their team via email. However, you won't get a quick email response on the starter plan. Because priority email support is only available from the "Grow" plan. 
In that case, you may need to go for a live chat option. But you've to be there around ET time business hours for an active response. 
And if you don't want to live under the rocks, you might want to join its Facebook group and weekly webinars. May help you stay updated with new features and marketing trends.
SamCart pricing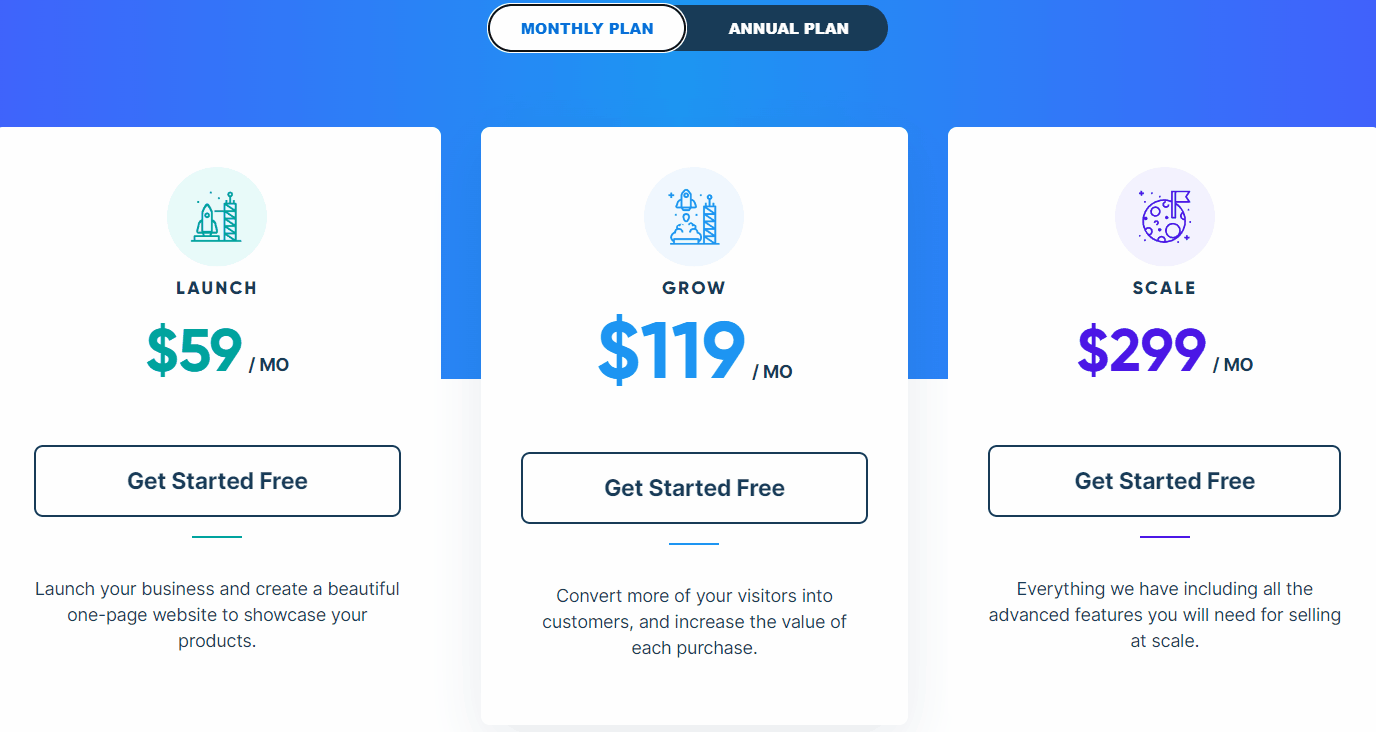 The monthly plans of SamCart start at $59/month when you pay annually. Ideally, once you've started using SamCart for free and your trial comes to an end, you should opt for the annual billing.
This way, you will save 33% on your SamCart subscription.
Is SamCart worth it?
SamCart seems to have great potential for your online business. Especially if your core products are e-books, online courses, consulting, or monthly subscriptions.
However, SamCart is not alone in this single-page checkout game. Or in creating online courses.
Indeed, there are some competitors that can help you in making conversion-optimized pages. But they lack conversion-focused features like order bumps, upsells, and cross-sells.
Sometimes, you may feel the pricing is a bit unforgiving.
But when you think of selling any type of digital product. Even physical products to an extent. And using robust marketing features. All under a single roof.
Then you may consider if SamCart is really the best tool for selling digital products when compared to others.