Creating online courses from scratch requires time and tech skills.
While anyone can record video and audio lectures, designing outlines and converting them into publish-ready formats would be challenging without a developer.
Course builders enable you to bypass the technical areas and quickly produce online learning material.
With beginner-friendly tools, you can develop professionally-designed courses and easily deliver them to your target audience.
What is an Online Course Builder and How it Can Help You? 
Online course builders are software products that provide content editors for lesson outlines and assessment tests. Most learning management systems (LMS) have built-in editors for that purpose, but you can buy standalone builders and embed courses into your own websites.
If you're an entrepreneur, plenty of e-commerce platforms also offer course builders as a part of their product to help you monetize your knowledge. They come equipped with user-friendly hosting and payment solutions to make it easier for you to establish your coaching business.
Below, I've reviewed the 12 best platforms that have online course builders. The list covers standalone products, LMS software, and e-commerce apps.
Teachable is one of the top online course builder platforms. With this app, you can run both live and recorded video lectures and set up a proper checkout system for easy payment processing.
Here, you can create unlimited courses, develop quizzes for students, and conduct group lectures or workshops. You'll also have access to several e-commerce and checkout features to promote your digital products and get more students.
For a seamless payment process, Teachable provides multiple gateways, tax management capabilities, and fraud protection. You might have to pay a certain percentage as a transaction fee, but if you pick the Pro and Business package, the charges will be waived.
Core Features
Recorded and live course option.

Hosting and custom domain.

Student engagement tools.

Affiliate program.

API and integrations.

Payment protection.
Price
Teachable's basic plan is free, and premium packages range between $59 and $159. You can ask for custom quotes.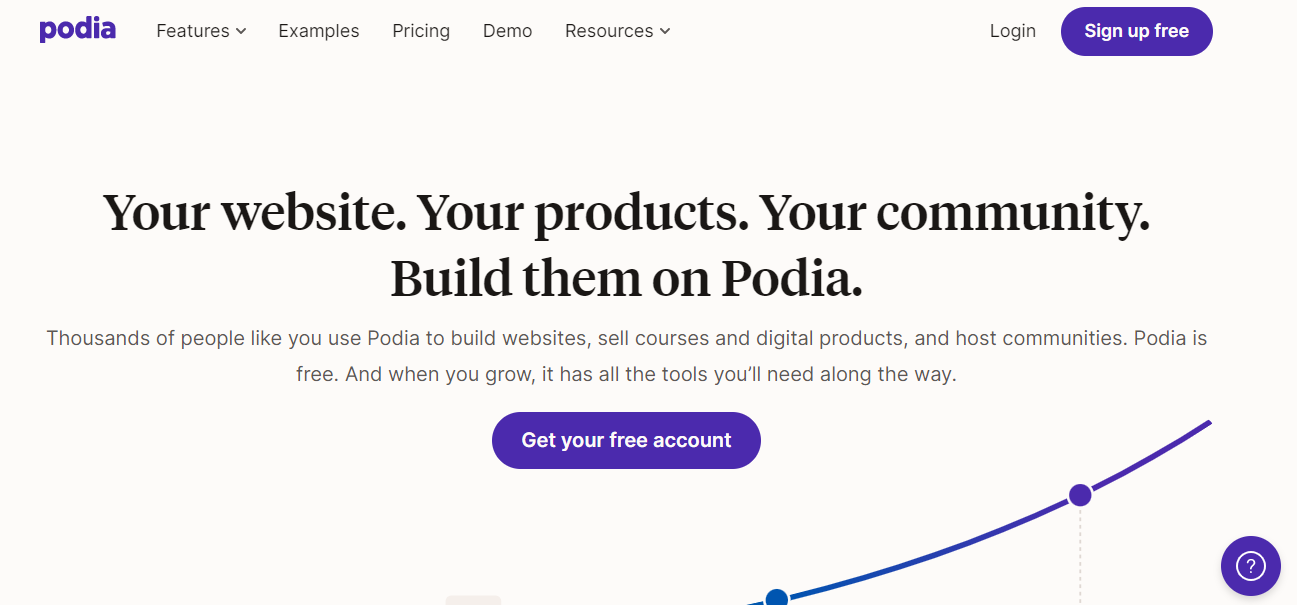 Podia allows you to sell diverse knowledge-based products.
You can produce easy-to-follow courses, run Zoom workshops, make a functioning website for one-on-one consultation sessions, and design a sales page for digital products.
Another thing you can build with Podia is a membership group. 
You can launch a free community for your target audience and create private groups for paid members. In those groups, you can publish premium material, offer discounts, and share expert advice. It's a great way to attract prospective customers and generate recurring revenues.
Core Features
Online courses, digital downloads, coaching, and webinars.

User-friendly website builder.

Free and paid community for members.

Hosting platform and embedded checkout cart.

Promotional features.

Chat widget.

Email marketing and automation.

Integrations with Calendar, Zoom, and YouTube.

Analytics.
Price
Podia's basic plan is free, and its monthly prices start from $39.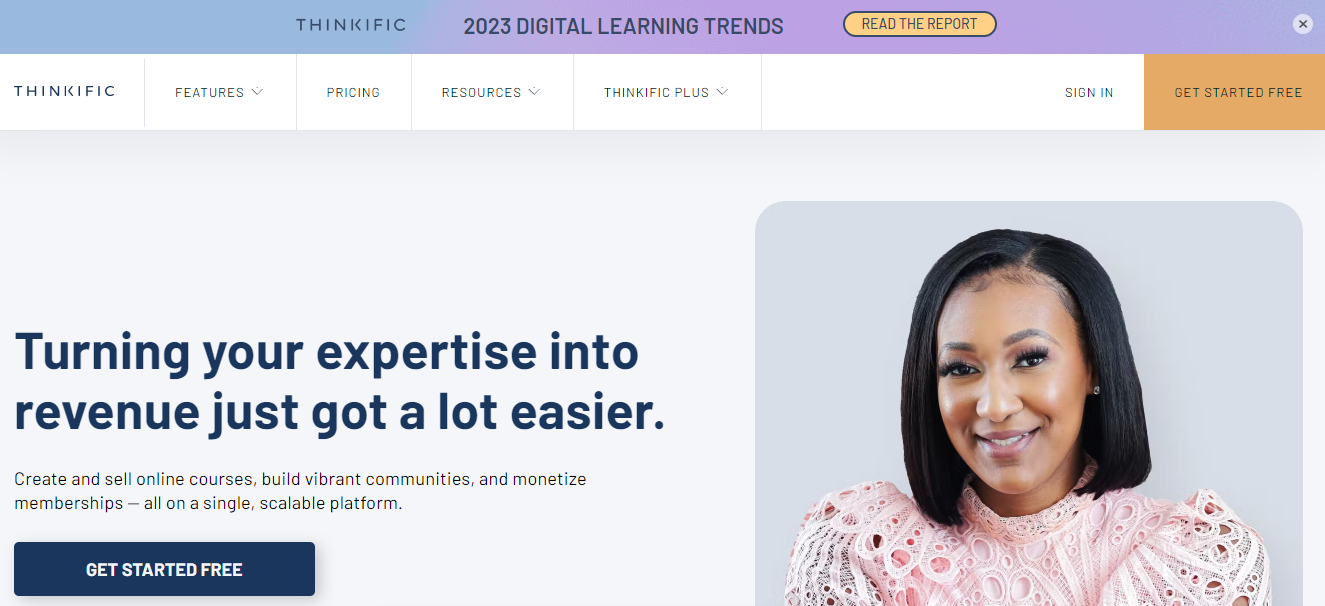 Thinkific is built for scalability. You can kick-start your coaching website with this tool, and as your business grows, you can later expand the functionalities of the builder.
There's no limit on course publication and student enrollment. You can sell seasonal products and create evergreen content to attract learners all year round. 
If you need extra features like WhatsApp integration or a chatbot, you can install third-party platforms from its App store. The store features around 100 software products in the business, learning, and marketing niches.
Core Features
Online courses with scheduling options.

Quizzes, assignments, exams, and certificates.

Zoom meetings.

Paid membership.

Site builder and embedded sales page.

One-page checkout and security.

Reporting and analytics.

Integrations and API access.

App store.
Price
Thinkific charges $49 to $199 per month. You can sign up for free without sharing your credit card details. 
LearnWorlds is power packed with learning and marketing tools.
You can create self-paced interactive courses, deliver private sessions to generate extra income, and add group sessions to nurture connections between students. You can also invite outside instructors and set limited access to your content to keep things separate.
LearnWords' most notable feature is its mobile app. You can launch a branded application to provide easy access to courses and sell new digital downloads. It doesn't require technical skills and works on Android and iOS devices.
Core Features
Website and course builder.

Interactive and assessment functions.

Recorded and live sessions.

Pop-ups and surveys.

Checkout cart and membership plans.

White labeling.

Marketing features and affiliate programs.

Mobile app.

Integrations with third-party platforms.
Price
LearnWorld's monthly subscriptions range between $29 and $299. You can take a free trial and request custom quotes.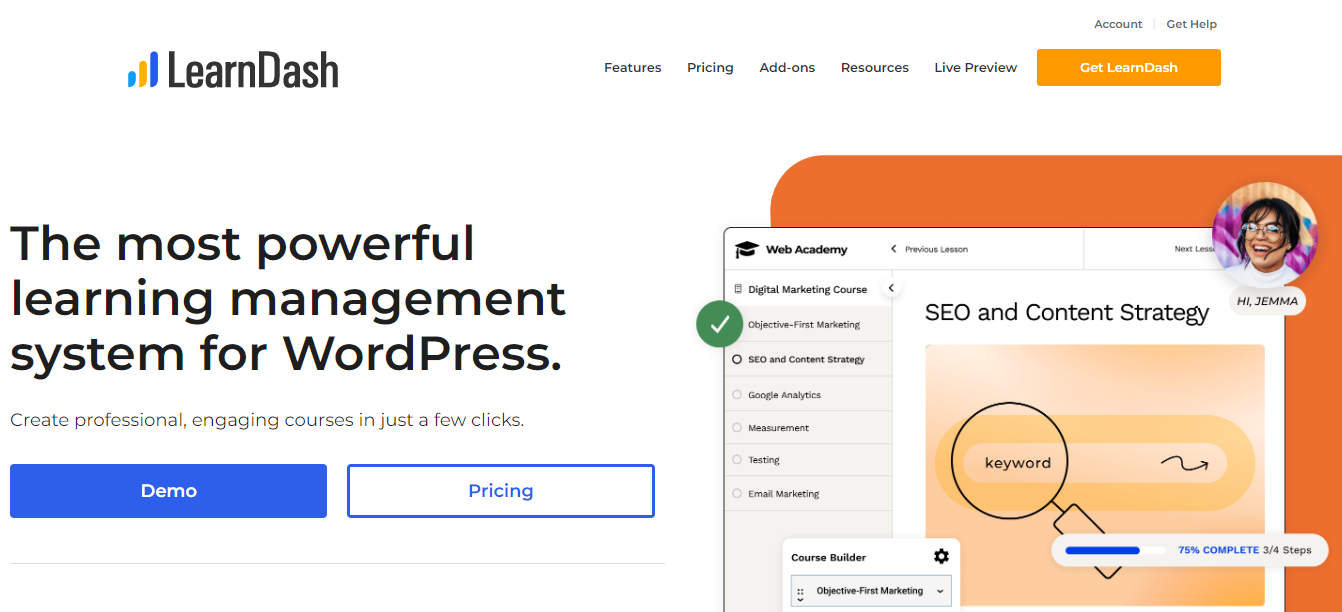 LearnDash is ideal for those who have their own site for online coaching. It offers a WordPress LMS plugin to build courses in a familiar interface.
You can include gamification features like quizzes and badges in your lessons to engage your students. With its automation and permission levels, you can create drip content and add perquisites to provoke curiosity and generate more interest in your courses.
Its e-commerce cart is also versatile. You can sell your courses as digital products or develop a subscription system to receive steady income each month. You can choose from six payment models to optimize your checkout process.
Core Features
User-friendly courses and certificates.
Perquisites and drip content.
Focus mode to remove distractions.
Gamification functions.
Administration and delegation.
Various payment models.
Integrations.
Progress reporting.
WordPress plugin and website builder.
Live Demo.
Price
LearnDash charges $229 annual fees for a full site and $199 for its WordPress plugin.
Circle is best for membership-based coaching programs. It is a community builder that allows you to build private groups for online courses, workshops, exclusive content, and learning activities.
You can conduct live lectures, have one-on-one conversations, start discussion groups, and enable chatrooms for peer-to-peer communication. If you prefer recorded lessons, you can post courses and take weekly live Q&A sessions with students.
You can create private and public groups and connect third-party software for additional functions.
To monetize your content, you can add your branding and design membership tiers with flexible periods to make your courses more appealing.
Core Features
Premium community.
Live and recorded courses.
1:1 conversation.
Group lectures.
Team collaboration.
Several payment methods.
Analytics.
White labeling.
Integrations and API access.
iOS app.
Price
Circle's monthly plans start from $49 per month.
You can purchase add-ons and increase the enrollment volume for extra charges.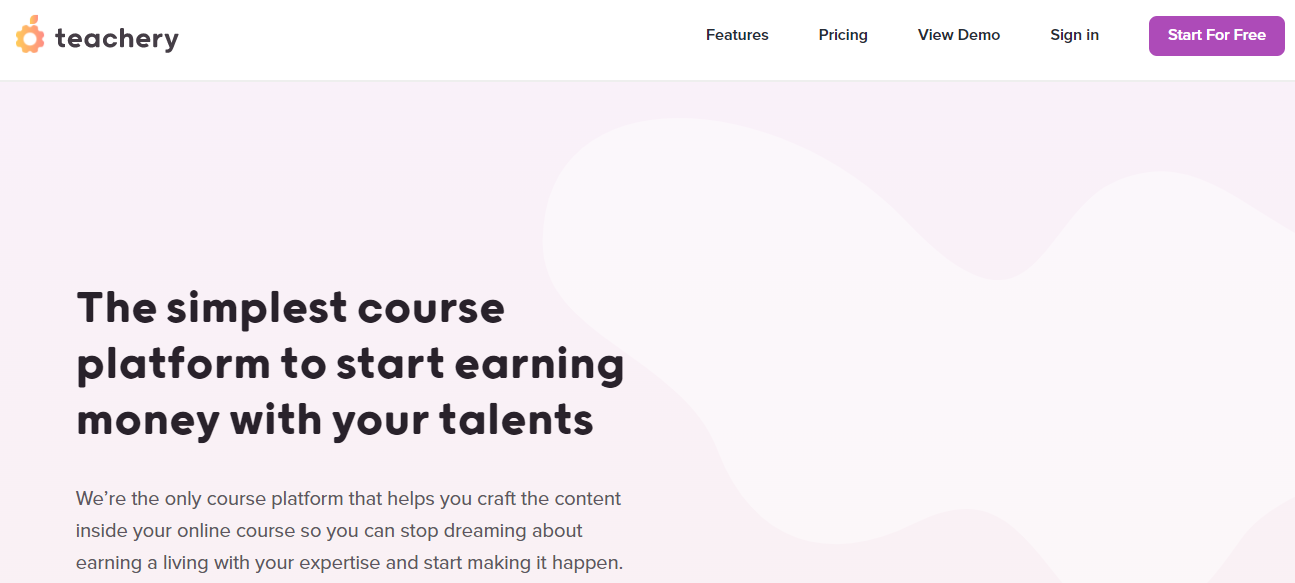 Teachery offers a basic editor for online courses.
You can design minimalist landing pages, post drip content, invite as many students as you want, and set up a recurring payment structure with Stripe.
Its monthly package includes unlimited lessons, multiple landing and sales pages, memberships, and course bundles. If you want to make your products more attractive, you can deliver promo codes and course discounts to new students.
Teachery also integrates with Mailchimp. You can use email channels to interact with learners and set trigger emails to welcome and farewell students.
Core Features
Unlimited courses and enrollments.
Custom domain.
Drip content.
Email integration.
Discounts and upselling.
Affiliate program.
Stripe support.
Customer analytics.
Price
Teachery shares both monthly and yearly packages. The monthly plan costs $49 per month.
You can take a 14-day free trial to explore the tool.
Heights provides an all-in-one platform for online courses. Its features cover website hosting, content management, payment processing, and white labeling.
You can design a branded coaching site to centralize your course-related activities and build a community for discussions. Students will have the option to post their projects and reach out to you privately for information.
To promote courses, you can launch email campaigns and run affiliate programs. Once you begin to attract learners, you can convert them into paying customers through a seamless checkout experience. The app allows one-time purchases, installments, and membership payment structures.
Core Features
Drag-and-drop editor.
Gamification tools.
Flexible checkout options.
Stripe and PayPal support.
Community for learners.
Analytics.
Landing pages and White labeling.
Email automation.
Integration with third-party platforms.
Multi-device support.
Price
Heights prices range between $29 and $499 per month. You can sign up for free and take a 30-day free trial.
iSpring is designed for training courses. It delivers an authoring toolkit to convert PPT slides into interactive lessons and offers a learning management system (LMS) to give you a place to publish those lessons online.
You can attach videos and audio to your slides, construct interactive scenarios to imitate real-life cases, and add quizzes. With templates and some creativity, you can design professional training courses for new employees.
Its LMS products store your lectures and files. You can upload multiple lessons, auto-assign courses to relevant parties, track employees' progress, and maintain a calendar of events.
Core Features
Convert PowerPoint presentations into online courses.
LMS for content management.
Interactive lessons.
Quizzes and badges.
Video, audio, and translation.
Workflow automation.
Customization.
API access.
Price
iSpring shares several packages for businesses, freelancers, and educators. Its authoring toolkit costs $470 per year, while its LMS charges depend on user volume.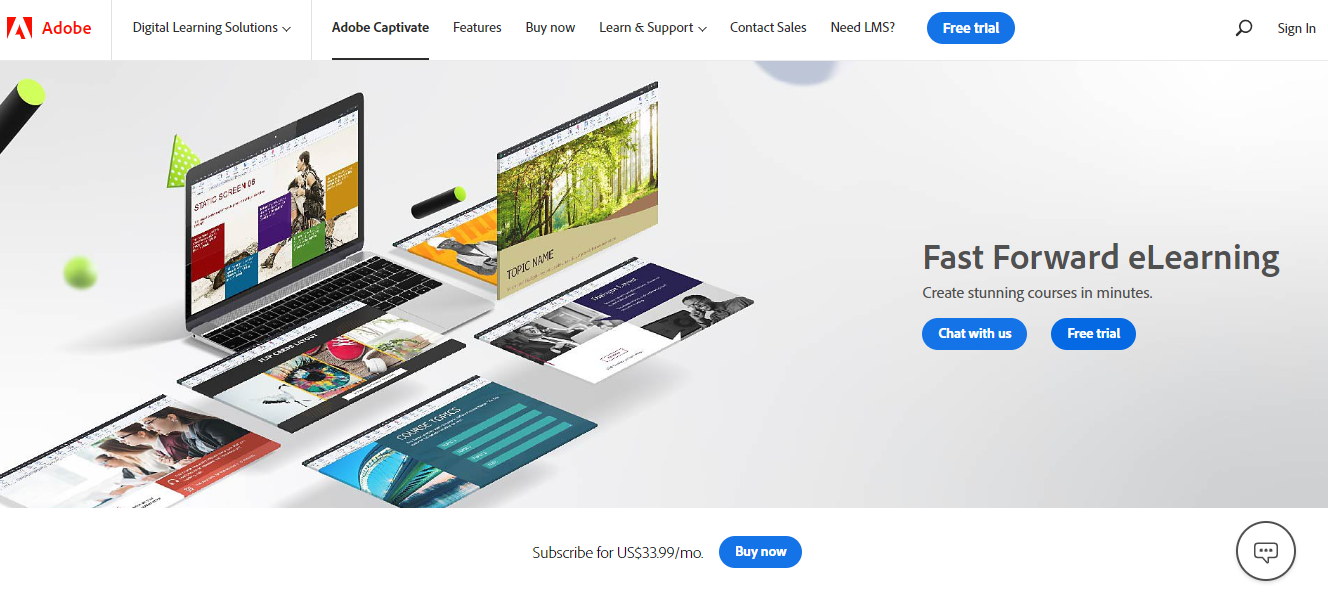 Adobe Captivate is an advanced version of iSpring. It has nearly similar functions but with additional features such as 360 video or multiscreen recording for complex projects.
You can incorporate interactive elements into your PowerPoint slides and enable auto-branching to quickly design outlines. It integrates seamlessly with Adobe learning manager to make course publication hassle-free.
Other notable features of Adobe Captivate are mobile themes and device previews. You can choose responsive templates and preview them to ensure your content displays well on multiple devices.
Core Features
Publish PPT as online courses.
Drag-and-drop Interactive quizzes.
360 images and video for VR experience.
Auto-branching for quick lesson designing.
Mobile responsive themes.
A diverse range of customization.
Webcam and slide recording.
Device preview.
Integration with LMS.
Price
Adobe Captivate individual subscriptions cost $40 per month. For team packages, contact sales.
Xperiencify is an emerging course creation platform that predominately focuses on gamification features. With this app, you can incorporate various engagement features to make learning more fun.
Some of its common gamification functions are video completion points, rewards, surprise gifts, and celebrations. Students can share their achievements and receive encouraging comments from their peers.
Xperiencify's Experience Engine function is especially useful. It's an automation tool via which you can map out your student learning journey and set triggers for email, SMS, and web notifications. You can easily keep in contact with your students throughout their courses without manually doing anything.
Core Features
Course creation and publication.
Landing page builder and custom domain.
Community.
Assessments, rewards, and social proof.
Email, SMS, voice, and web notifications.
Workflow automation.
Payment integrations.
Memberships.
FOMO offers.
Affiliate program.
Price
Xperiencify's prices start from $49, but you can explore it for free.
MCG lets you create micro-courses for marketing purposes. If you offer freebies to generate new leads, you can build quick courses through this app and embed them into your website.
The course layouts are typically in card format, featuring short text or quizzes under images and videos. You can automatically generate text for the cards with its AI assistant and prepare content in minutes.
You can also personalize the layout with custom branding and include a monetizing option to sell your courses. MCG supports Stripe and provides password protection.
Overall, it's easy to use and integrates with third-party platforms.
Core Features
Builder.
Video and image upload.
Completion certificate.
Embeddable lessons and link sharing.
Custom themes for personalization.
AI-writing assistant.
Stripe integration.
Analytics.
Price
MCG's starter plan is completely free. Its premium plans cost $9 to $29 per month.
For NGOs and educational institutes, MCG offer discounted prices.
Conclusion
I am closing the article with a summary of features to look for in a course builder. You might not find all of them essential for content creation, but they can help you present lectures in a professional manner.
Here's what an ideal course builder should have;
Landing page for a point of contact.
Templates or pre-defined outlines.
Quizzes and assignment options.
Payment Integrations.
Marketing features.
Hosting Platform.
Use this list to compare features or discover new products. Good luck!