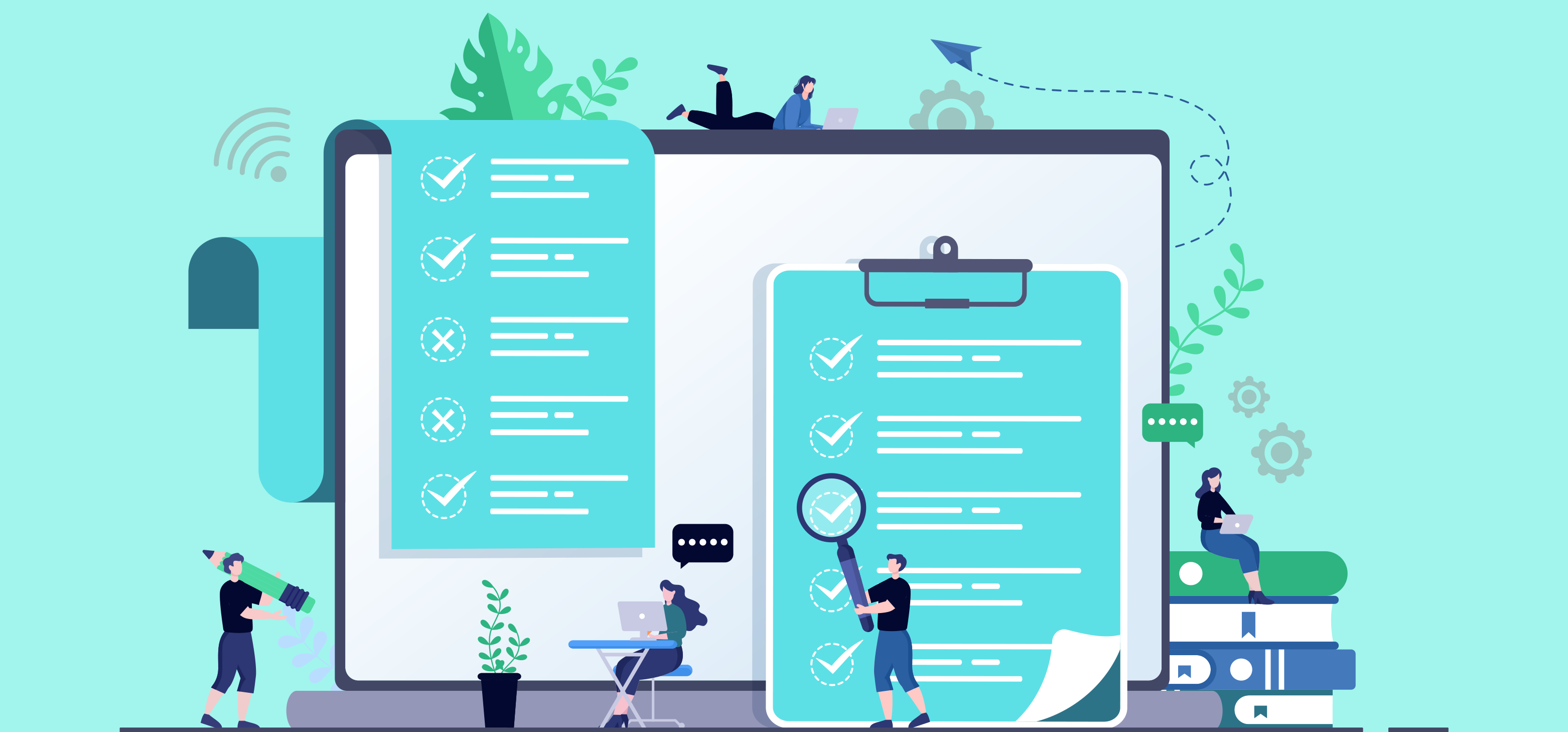 Quizzes and Surveys are extremely useful.
These can be used for both personal and business purposes.
For example, companies can benefit from creating customer feedback surveys, pricing forms, and so much more. 
And there are hundreds of quiz maker software out there, so it might be challenging to pick the correct one.
So, I'm going to talk about the nine best interactive quiz maker software available.
If that sounds interesting, then keep on reading.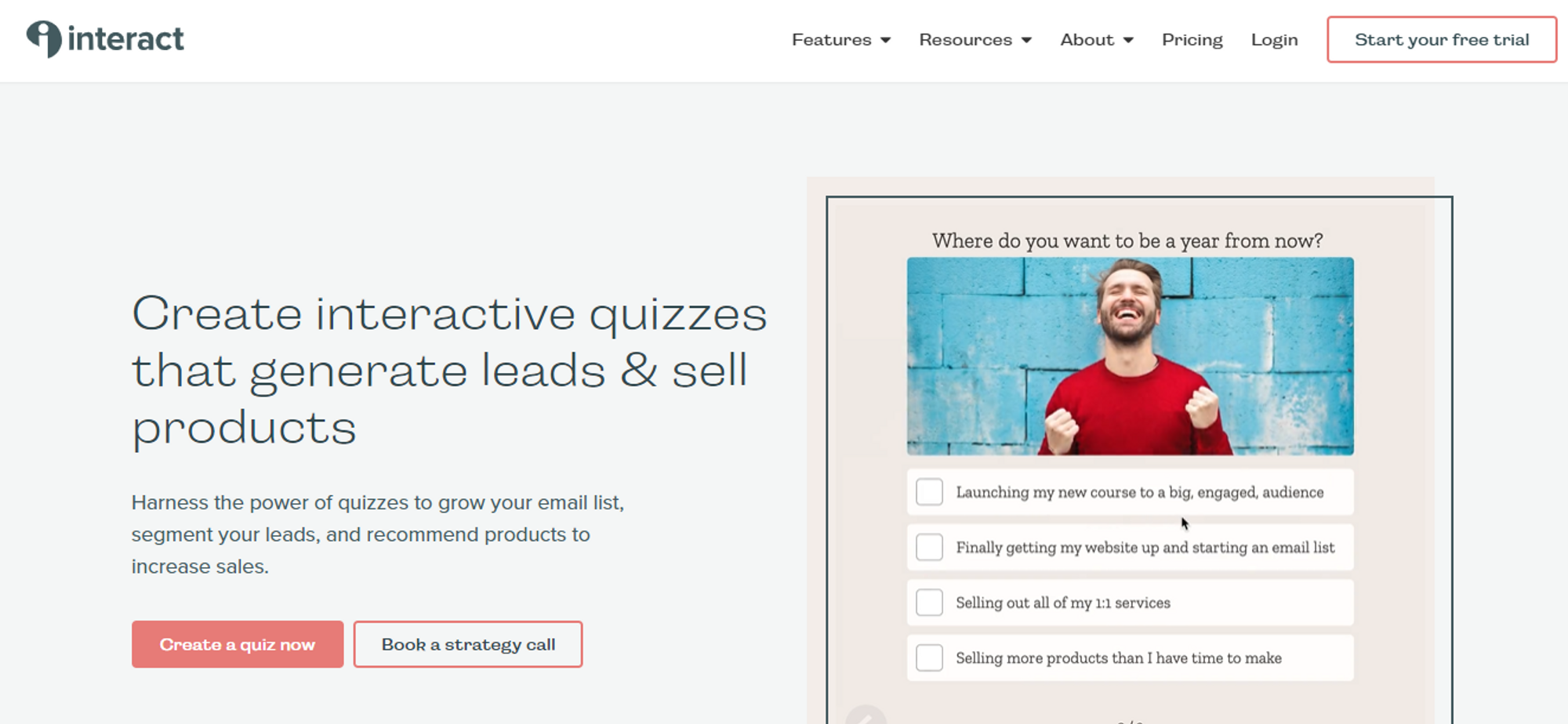 Interact offers hundreds of high-converting quiz templates for various industries.
You can tailor the layout to match your brand theme and set up triggers to deliver relevant quizzes to your target audience. Also, it allows integration with marketing software so you can embed quizzes into your promotional campaigns.
What you'll love the most is its branching tool. With its drag-and-drop builder, you can easily create complex paths and optimize the quizzes.
Its analytics and reporting section is also worth exploring. It gives in-depth insights into your quiz performance and delivers a conversion summary.
That said, interact has comparatively few ratings despite having great features. I wouldn't call it a drawback, but I recommend taking its free trial to make an informed decision.
Pros:
User-friendly interface.
Sharable quizzes.
Customer segmentation.
Cons:
Interact doesn't offer conversion tracking on its starter plan.
Features:
A diverse range of Quiz templates tailored to meet different industry needs.
Integration with email and marketing platforms.
Outgrow is a fantastic tool!
Its biggest strength comes from the number of things you can do. Apart from your regular polls and quizzes, you can create pricing calculators, giveaway pages, and even chatbots. 
Additionally, Outgrow can also be integrated with Zapier. That means you could connect with thousands of other integrations like Google Forms, Pipedrive, and so much more.
Pricing is excellent as well. There's a free plan available, but the pricing starts at $21 per month if you require some more features.
There are a few inconveniences associated with this platform. For example, if you want to remove Outgrow advertisements, you're going to have to go with the Business Plan, which can be too high for many small businesses.
Additionally, the cheaper plans have minimal support.
However, it's still straightforward to use quiz maker software for both business and personal uses.
Pros:
Thousands of Integrations

Great Support

A Large Variety of Quiz Types
Cons:
Complete branding only available for Business Plan Owners
Features:
The survey builder allows you to build quizzes, calculators, market research surveys and much more.

With Zapier, you can connect with thousands of applications and create automation like never before.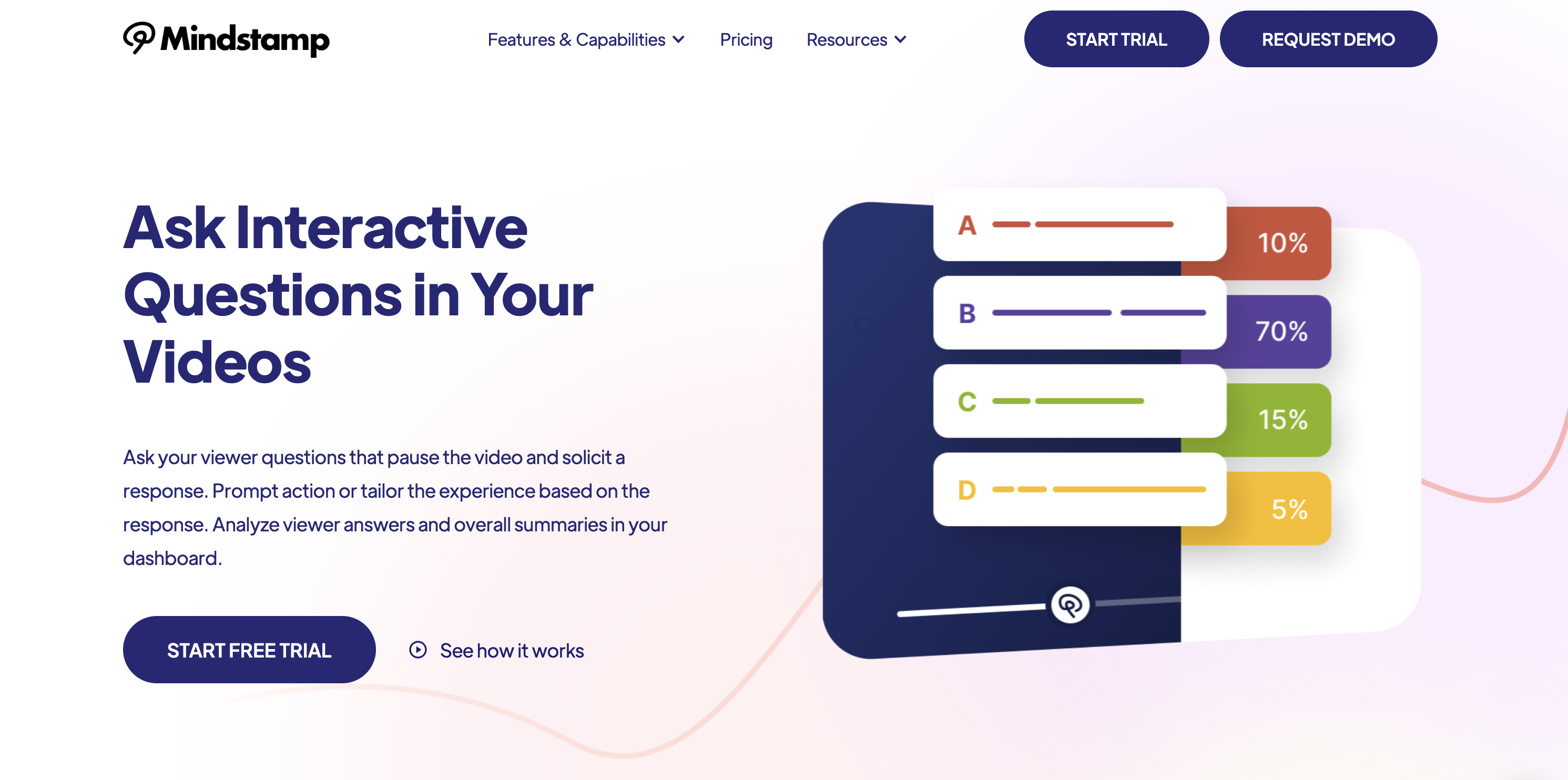 If you're looking for interactive software specifically for promotional or training video content, try MindStamp. It's a versatile platform that offers a powerful quiz builder.
You can develop around ten types of questionnaires including multiple-choice quizzes, drawing responses, and product feedback. What's more, it has a voice response template that would allow you to collect audio replies from your viewers.
With its branching option, you can also deliver a personalized experience to each viewer.
The plan comes with several other interacting elements, an advanced reporting section, and integration with Zapier.
MindStamp does have a slight learning curve for beginners. If you've used the branching feature before, you wouldn't encounter any issues. But if you're a beginner, you might have to familiarize yourself with its advanced functions before using them.
Pros:
10 different interactive quizzes.
CSV data export.
Personalization.
Cons:
It doesn't have any major drawbacks.
Features:
SurveyMonkey is one of the most popular quiz-maker software available.
Creating new surveys with it is extremely simple and quick. That's mostly to do with the easy-to-use interface.
When you start creating a new survey, you're encouraged to try out one of the 230 templates available. Each template is unique and solves a specific problem, making it extremely quick to finish your survey.
However, it's not all sunshine and rainbows. One of the most significant flaws of this platform is that the free plan is limiting.
While you can make as many surveys as you want, you can only have less than ten questions and 100 responses per survey.
Also, the free plan won't allow you to export the data to Excel.
But other than that, this quiz maker software is impressive.
Pros:
User-Friendly Design Interface

Over 230 Survey Templates to Choose from

13 Different Question Types
Cons:
Features:
180+ pre-written survey templates help you build surveys in a matter of minutes.

In-depth analytics page
What sets Jotform apart from all its competitors is its free plan. That's because it offers quite a lot compared to others. You get to use all the features, 100 monthly submissions and five forms. 
Additionally to its generous free plan, you also get to use its easy-to-use drag-and-drop survey builder. With it (and the 10,000 templates), you can create beautiful quizzes in a matter of minutes.
However, there are a few flaws you should know about.
First, a few advanced features are missing. For example, you cannot fine-tune surveys based on the respondent's answers. Also, some users have reported that the service isn't the best.
But other than those two flaws, it's a fantastic quiz maker!
Pros:
Great Free Plan

Easy-to-use Drag and Drop Builder

Easy to Integrate With Other Platforms
Cons:
A few advanced features are missing.
Features:
Ability to make more than just surveys. You can make contracts, applications and acceptance forms

JotForm Tables makes it easy to create a data management system that suits your needs.
Continuing on our list is Typeform. It's a fantastic tool for creating quizzes and surveys for a couple of reasons.
First, the surveys are incredibly customizable.
You can make it look as close to your brand as you need. And just like with Outgrow, this quiz maker software can be integrated with Zapier, giving you nearly-unlimited ways to automate.
But what sets it apart from its competition is that you can have multiple logic jumps. That can be extremely useful to get highly accurate and detailed data.
However, what's a flaw with this platform is pricing. That's because you're pretty limited in how many responses you get. While Typeforms starting pricing is $25 per month, you can only get 100 answers per month. 
Compared to other platforms, this is way too little. Many other platforms offer so many responses on their free plans.
But with that out of the way, it's still an impressive survey maker tool.
Pros:
Easy to Use Platform

Creating Elegant Quizzes is a breeze

Easy integration to your website
Cons:
Building complex forms might be difficult

Some Great Features Locked for Higher Pricing Plans
Features:
Gamification helps to do fun surveys that people want to complete.

A fully Customizable Survey Builder allows you to create quizzes that fit your brand.
Next, let's talk about SurveySparrow.
It's a fantastic platform for creating surveys. That's for a couple of reasons.
Like most other paid quiz maker software, you can also create surveys with logic. But that's not what impresses me the most.
What I love about this survey platform is "White Label Surveys". With this, you start from a blank slate. With that, you can create a survey that is consistent with your brand. It also comes with a CSS Tool to create custom scripts, giving you new possibilities.
And lastly, SurveySparrow comes with a mobile app. Thanks to that, you can more easily share.
However, there are a few flaws. One of the disappointments of this platform is that it has a lack of email marketing features. That makes it challenging to send reminders or segment audiences.
Pros:
Easy Sharing Options

Simple to Create Good-Looking Surveys

Great Support
Cons:
Features:
Chat-like surveys make it fun to complete them on mobile.

Sparrow Recurring Surveys lets you send periodic quizzes to gauge employee or customer pulse.
Next up is Google Forms.
This platform's biggest strength comes from one thing – It's 100% free. The only paid membership is Google Workspace. However, that doesn't come with anything new except 24/7 support.
What also sets this one apart from anything else is that you have no limitations. You can create as many questions as you want and get as many responses as you need. 
Also, the interface is super easy to use. You can start using it today, and you won't mess up!
However, there are a few flaws to it. For starters, this platform has only basic features. For example, there's no way to accept payments or create an image- or video-based questions. Additionally, support for free users is quite limited.
But those aside, you cannot complain about it as it's free. That makes it best for small companies or personal uses.
Pros:
100% Free

Extremely Easy to Create Surveys

Easy to Share & Send Information
Cons:
Limited collaborative tools

No Automatic Backup and Storage

No Logic Skipping
Features:
Collaboration tools make it easy to finish surveys with your team.

URLs make it easy to share surveys with anyone; no login is required.
Last on our list is another great online quiz designer named "Alchemer".
Alchemer's interface is pretty easy to make quizzes. But what makes this platform unique is how many different surveys you can make. That includes your usual quizzes, payment forms, Z, etc.
And if you know how to code, then you're in luck as you can write brand new scripts with Alchemer's coding language or JavaScript. That gives you unlimited new possibilities.
But all that comes at a cost. Compared to other Quiz Maker Platforms, Alchemer is priced relatively high. There is no free plan; instead, you'll have to start with $50 per month.
But if this price is acceptable to you, then you'll have a powerful tool in your arsenal.
Pros:
Clean and Easy-To-Use Interface

Easy to Save and Share Results

Fully Customizable Surveys
Cons:
Compatibility Issues with Safari

Lacks Some Advanced Features
And those were the nine best Quiz Maker Software.
Whatever one you pick, know that all of these are great for their own reasons.
So go ahead and start creating new quizzes!