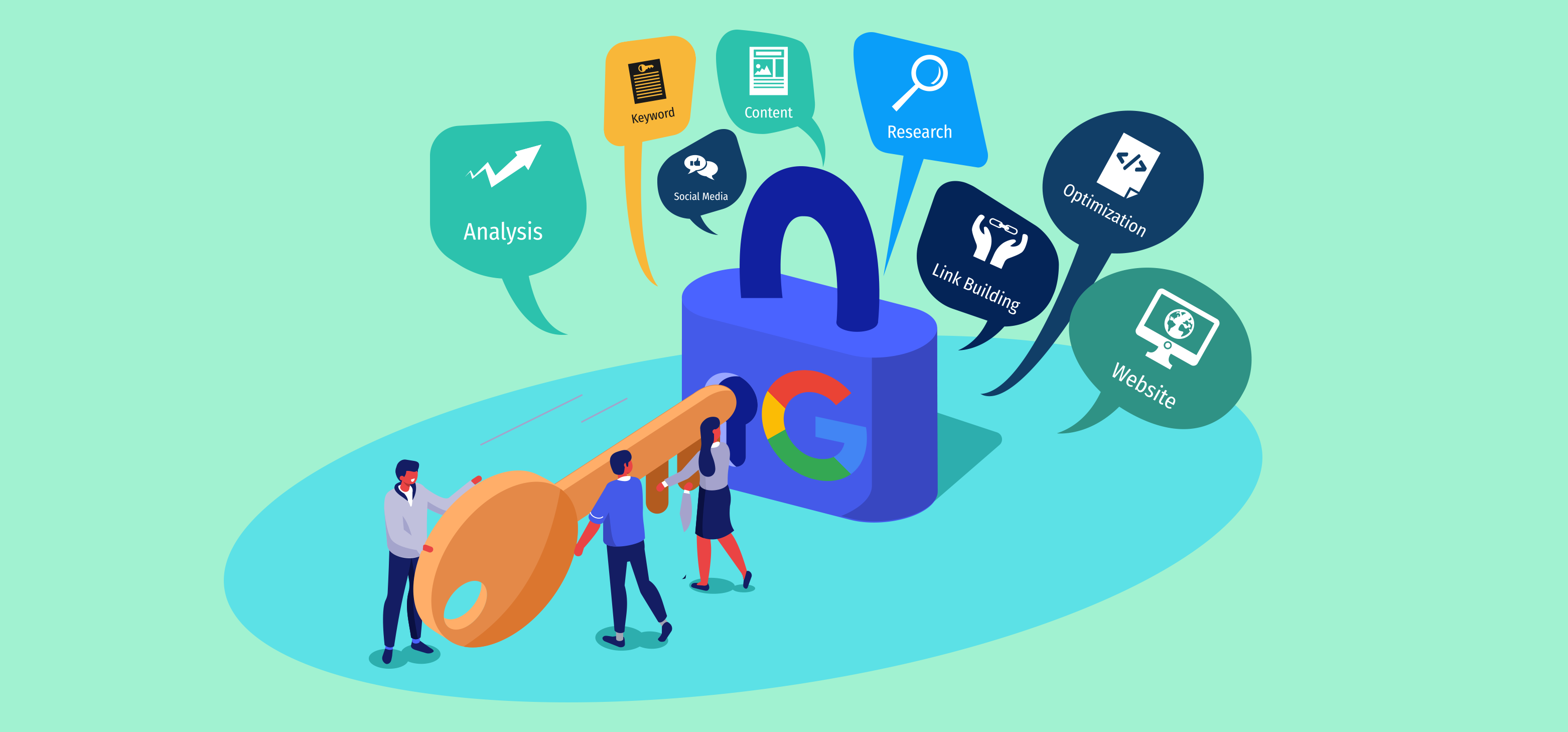 Google receives over 350 billion searches every year, but most users usually stick to the first page.
Because of that, tons of active sites struggle to generate leads despite having a large audience within their reach.
An SEO marketing strategy gives you the opportunity to tap into that huge volume of traffic by boosting your site's rank.
With a well-structured SEO campaign, you can bring your page to the top ten searches and successfully attract qualified leads to your site.
Here, I am going to cover SEO marketing, what it contains, and how to build your strategy.
What is SEO Marketing Strategy?
Many typically assume embedding keywords in your content makes up a good SEO strategy.
It would level up their site and ultimately increase their sales. This general misconception is why nearly 90% of Google pages get zero search results. 
While keywords are undoubtedly the major component of SEO, they're simply a part of it. To fully optimize your marketing strategy, you must have a basic understanding of SEO first.  
SEO—aka search engine optimization—is an umbrella term that covers three main areas.
On-Page SEO

Off-Page SEO

Technical SEO
On-Page SEO requires optimizing every content, from blogs, brand stories, to product descriptions.
Off-Page SEO consists of attracting traffic from other networks to your site through backlinks, and technical SEO makes up making your website super-fast and pretty.
All three factors are involved in your SEO marketing strategy.
They increase your brand awareness, attract visitors, and convert your leads into customers.
In other words, they all play a specific part that gradually drives your prospect from the Google search channel to your buying cart.
Why Should You Pursue SEO Marketing?
You might be wondering why one should go through all the trouble of picking a battle that is hard to win when they could easily generate traffic from social media.
Most pursue an SEO strategy because it attracts 1000% more traffic than you'd typically get from social media.  
The latter is, no doubt, a "must-have" channel for brand marketing, given half of the world now uses social media. But while customers prefer to engage with brands over social networks, regarding product research, they almost always turn to Google for answers.
An SEO marketing strategy makes it easy for your prospect to discover your product on a search engine.
If that's not enough, SEO provides five major benefits to a business.
1.
It Brings Organic Traffic at Minimum Cost
One of the top benefits of an SEO marketing strategy is the large volume of organic traffic it generates at a minimum cost.
SEO ranks your page for a specific keyword to bring it up in search results.
That means, your site will continue to appear for a long time, and the only cost of advertising you'd incur for those efforts would probably be the expert fees.
Even if you don't have a budget to spare you will still be able to boost your traffic by 100% by merely revamping your old blogs. That is one reason, over 70% of marketers consider SEO optimization as their best content marketing strategy.
2.
It Weeds Out Generic Leads
Typically, when you run an advertisement, you get a large amount of impressions, but only one-tenth of the visitors.
Why?
Because traditional marketing involves reaching out to your audience.
And not all might be interested in exploring your site.
In SEO marketing strategy, it's the other way around.
Create content your target market is searching for, optimize your page to make it easy for them to contact you, and let your audience reach out to you.
As a result, only those who are actively looking for a particular product will visit your site. 
This action cuts down most of the generic visitors leaving you with a list of qualified leads to dazzle them with your site design, content, and products. 
3.
It Boosts Brand Visibility
SEO marketing strategy, if done right, can increase brand visibility considerably.
Remember, I said earlier that people often research product reviews on Google before they purchase a product? Customers spend an average of a month on the buying decision.  
Unless someone is an impulse shopper, the rest google the products, relentlessly, reading reviews and blogs, looking over related items, and comparing prices until they're satisfied with their choice.
During the exploration, any page related to your product, be it a blog or product description, will appear multiple times and grow your brand reach.
 4.
It Improves User-Experience
User experience directly impacts your sales.
If your site is not optimized for your target market, your visitor will struggle to navigate it and move on to your competitor's websites. If they're not impressed with your product image, they won't take a minute to leave your page.
If your site is taking a long time to load, they'll abandon it quickly. 
You get my point.
An SEO marketing strategy not only generates traffic but also reduces your bounce rate by improving user experience. 
SEO experts essentially team up with developers and design layouts to particularly attract your target market. 
5. It Strengthens Site Credibility
Whenever someone types in their query, Google sends it to a crawler to bring up sites that match the keyword. 
Since thousands of pages publish repeated content, Google pursues a checklist to decide which site is good enough to be at the top. This checklist makes sure that the content that reached the top results is relevant and the source is credible.
SEO marketing strengthens your site credibility by optimizing your content and creating backlinks.
The first makes your website appear more trustworthy to visitors, while the second makes sure it passes Google inspection and reaches the first page.
How to Create an SEO Marketing Strategy
SEO marketing strategy consists of a combination of skills, trials, and common sense.
Every business requires a different approach, and experts often tailor it to suit their purpose.
But there are five basic steps every SEO expert follows irrespective of the business niche.  
1.
Keyword Research
The first step of an SEO strategy is to discover high-demand and low-volume long-tail keywords.  
Most of the common phrases are too saturated and difficult to target. If you pick a generic one, Google would likely choose a popular site over you regardless of your content quality.
Long-tail keywords offer a better chance of getting your page to appear in the top search results. More, they have a comparatively 5% higher click-through rate.
To discover trending keywords, you can either use Google Analytics or buy a research tool.
Ahrefs Keyword Explorer is one of the top SEO tools to generate keywords ideas. It provides SEO metrics, shares a list of related phrases, and displays top competitors.
I suggest taking the 7-day trial to explore the software.
2. Competitive Analysis
Another best and sneakiest way to find trending keywords is to analyze your successful competitors. The idea is to take a spy on their activities and figure out how they're beating their competition. This will help you create a counter-strategy to beat your rival. 
Ironic, I know, but the trick works all the time. 
Luckily, you don't need technical skills to conduct a competitive analysis. You can simply purchase a tool for the job. Here's one you'll definitely love. 
SpyFu is a competitor analysis tool that generates your rival's SEO and PPC data. 
You can find out what keywords they're using, how many are commercial phrases, what volume they're generating, and against whom they're competing.
It shares a comprehensive report on your competitors' activities.
3.
Content Optimization
Once you're sure what keywords to target, it is now time to optimize your content. 
Content optimization consists of a series of actions to make your content relevant, readable, and persuasive. 
It typically involves embedding keywords to get your page ranked. Create attractive headlines and CTAs to draw your audience toward your site. Go for storytelling and visually appealing images to hook your visitors.
Using easy-to-read content and interlinks to keep your visitors on your site. And much more.
To get assistance on SEO for WordPress, you can install a Yoast SEO plugin.
Yoast SEO shares a step-by-step guideline on how to optimize your content and increase your readability score.
It is a widely popular WordPress plugin and offers useful features to help you improve your ranking.
4.
Site Audit
Your website gives a first—and sometimes last—impression of your brand to your visitors. If it's not fully optimized, it may negatively affect your traffic by delivering a poor experience.
Site audit discovers how user-friendly your website is.
It scans the pages to see how well your site is performing and identifies issues that might require immediate attention.
You can hire an SEO expert for auditing, or use any third-party tool like SEMrush.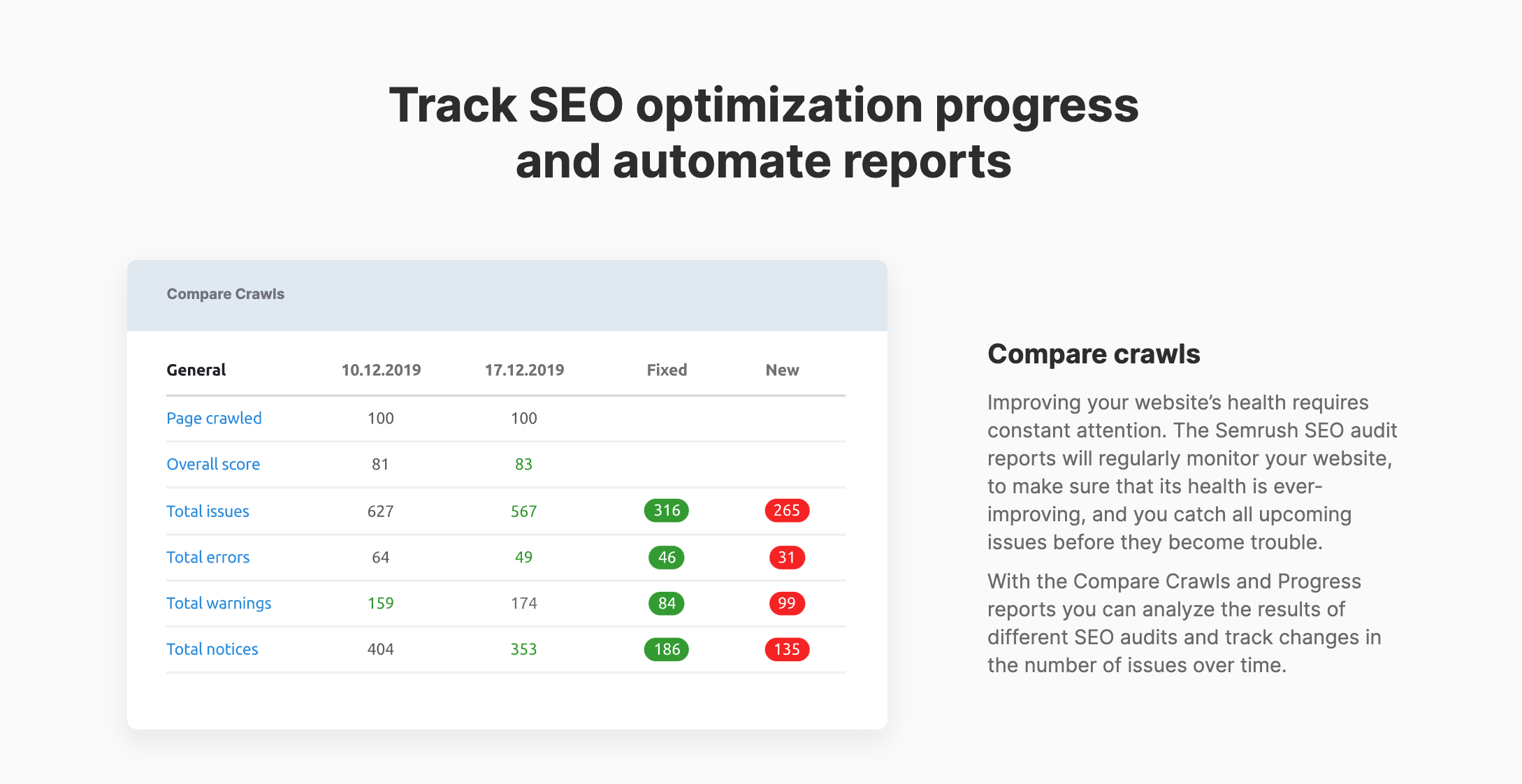 SEMrush is an analytical tool that provides an in-depth audit report.
Through SEMrush, you can detect broken links, evaluate your site speed, check your page structure, and confirm the quality of your content. 
5.
Backlinks
Off-Page SEO—or backlink generation—is the last stage of your strategy. It helps you expand your reach, drive traffic from other sites to yours, and increase your domain authority. 
There are several ways to create backlinks. 
You can sign up to social sites like Quora and share your product as a solution along with the link.
You can ask for influencers to write about you, which automatically gets you a backlink. Or, you can pursue guest blogging.
Here's one article on backlinks I came across on MonsterInsights that offers some insightful tricks.
The author has shared a wealth of information worth exploring.
(By the way, if you prefer to see a live example, the article I mentioned above is the backlink I just created for MonsterInsights.)
SEO Marketing Strategy Real-Time Example
Lush And Brow Supplies is an excellent example of a successful SEO marketing strategy.
It is a premium eyelash online store that was receiving hardly 5.6% organic traffic during the pandemic.
When they realized their targeted keywords weren't generating many leads, the Australian eyelash brand engaged a digital marketing agency to improve their SEO strategy.
The agency initially conducted keyword research and discovered Lush and Brow's target market preferences had changed, causing low traffic.
To solve the problem, they performed a competitive analysis to see what keywords were trending and switched shallow phrases with specific search queries.
They further changed the CTA design, refined the copy, and improved site health. Once the website began to show visitors, they focused on building backlinking. 
Within six months, the site rank jumped to the top page, and Lush and Brow Supplies sales grew by approx. 350%.
Conclusion
SEO marketing will remain one of the most effective strategies to generate sales.
It helps you increase your website visibility, brings more traffic organically, and provides you with opportunities to gain high-qualified leads.
Nearly 70% prefer SEO marketing over PPC advertisements despite Google's ever-changing algorithms.  
Follow the above steps I mentioned to optimize your strategy and tailor it as per your business needs. 
If you need help with finding more SEO tools, check out this piece I wrote on the best available WordPress SEO Plugins.