A.I. SEO software makes your job incredibly fast and efficient.
It cuts down your market research time, simplifies your on-page SEO tasks, and provides you with tools to optimize your page content.
With its smart automation and user-friendly recommendations, you can quickly increase your site visibility and start gaining organic traffic.
Let's look at the summary of the A.I. SEO platform to find out what it can do for you.
What is an A.I. SEO Tool and What Does It Do?
A.I. SEO tool refers to software products that use artificial intelligence to improve content quality and site ranking.
The process involves several functions, from site diagnosis and monitoring to generating keywords and outlines.
In general, an A.I. SEO app helps you with the following functions;
Market analysis.
Content planning and keyword research.
Content creation.
Site analytics and optimization.
I've reviewed versatile software products in this article to cover all the above functions. The list includes monitoring apps, AI-writing assistants, research tools, and all-in-one platforms.
Let's explore the list to get more details.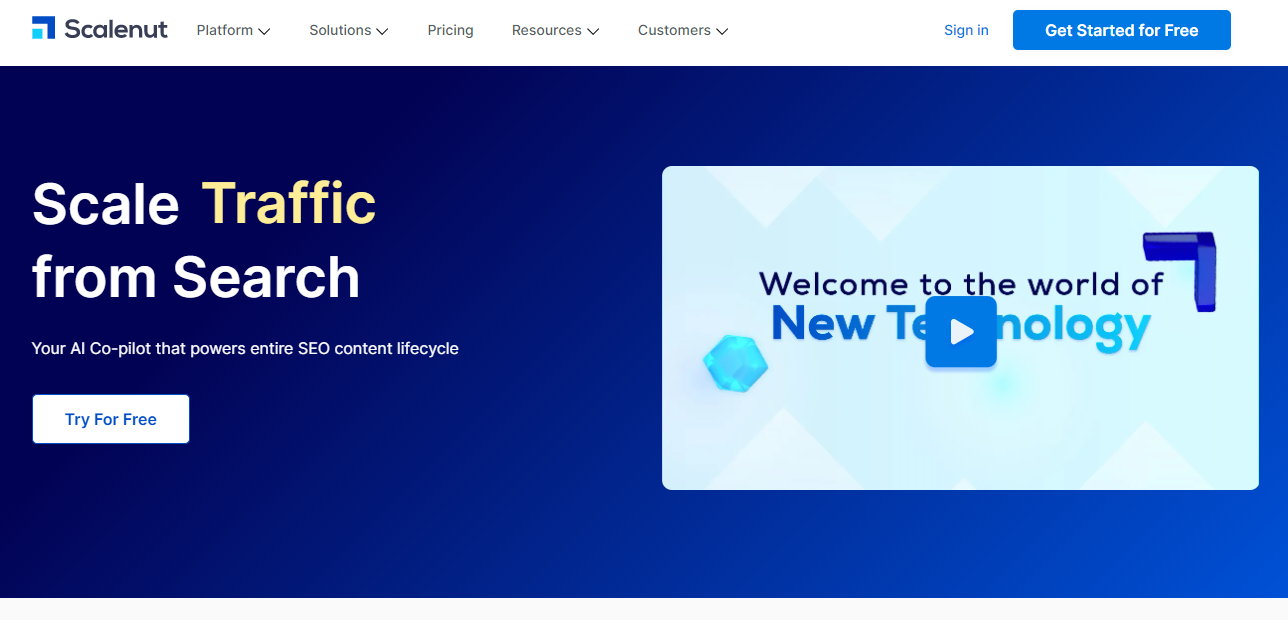 Scalenut helps you find, create, and optimize your web content.
It has powerful search and social listening tools via which you discover trending keywords and generate blog ideas.
You can develop unlimited content, build a cluster of topics to plan your content, use templates for marketing copies, and share documents with your team for review. Using its AI-assistant and keyword usage suggestions, you can create articles within minutes and optimize them easily.
Scalenut also comes with SEO scoring to analyze your published articles and improve your ranking. You can integrate the app with WordPress or download its Chrome extension for quick access.
Core Features
Keyword planner.
Blog idea generation.
Social listening and SERP analysis.
AI writer and editor.
40+ templates.
Content audit and optimization.
File sharing.
WordPress and Copyscape integration.
Chrome extension.
Price
Scalenut's monthly subscriptions start from $39. You can take a 7-day free trial to test the features.
AlliA.I. is an on-page SEO tool that scans your website and offers recommendations to optimize it.
It takes around 15 minutes to install it and one click to run the analysis. The list shows all the content, keywords, and page optimization suggestions in priority order to let you focus on tasks that need the most attention.
You can make edits or delete tasks from your browser. The live editor applies the changes on the spot and updates the websites instantly.
The app works well on major CMS like WordPress and Shopify and can be deployed on unlimited sites.
Core Features
Team invitation.
5000 to 50k ranking updates.
15k to 150k page crawls.
Weekly, daily, and hourly recommendations.
Multi-language support.
Customization.
API access.
Chrome extension.
Price
AlliA.I. shares three monthly plans ranging between $249 and $999. You can add extra pages and keywords to your package.
Take a 10-day free trial to test it.
Wordlift automatically adds structured data to your website to make your content understandable to search engines.
Its core function is to analyze your page, classify words into entities, and generate recommendations to optimize it.
The plugin comes with several widgets, such as Geomap and timeline, to enrich your blogs with more visuals. The widget is incredibly easy to use and doesn't require any tech skills.
Other things Wordlift does for you include finding content inspiration, suggesting relevant images, generating metadata, and creating internal links.
Core Features
AI-structured data.
Knowledge graph creation.
Content and product recommendations.
Metadata generation.
Navigator, Timeline, Geomap, Chord, Faceted Search widgets.
Image suggestions.
Integration with Google Analytics and sheets.
WordPress plugin.
Support up to 5 websites.
Price
Wordlift's prices start from €59.
You can take a 14-day free trial to explore the software and extend it to 7 days to get more time.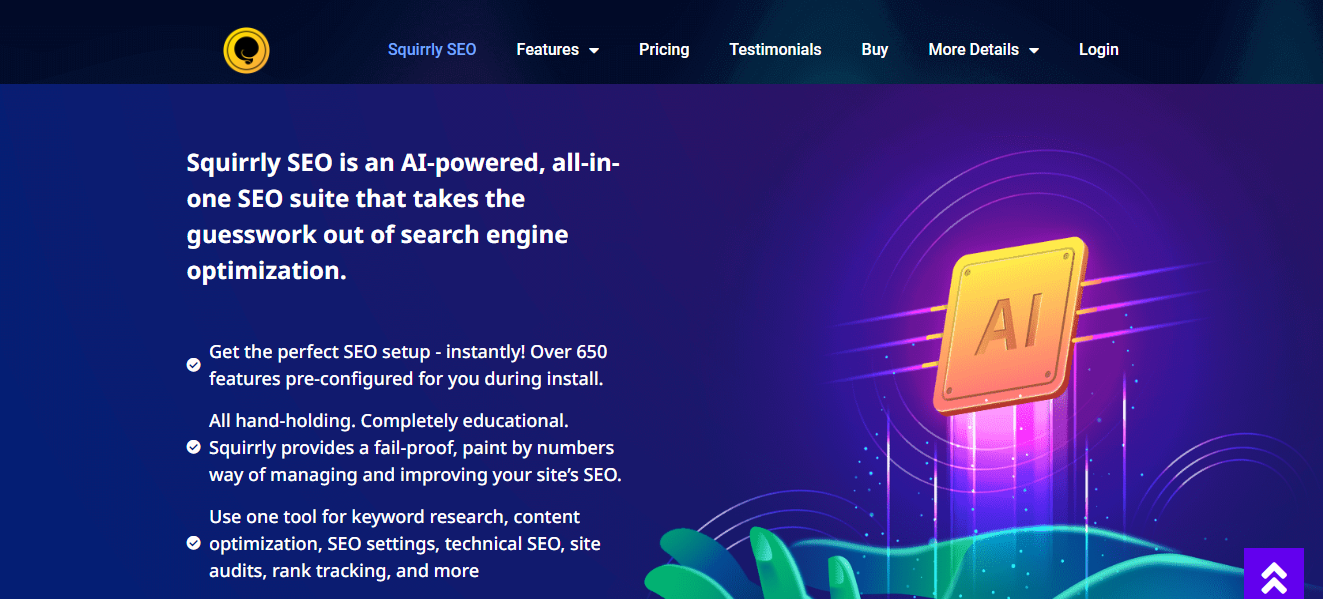 Squirrly SEO is a multi-purpose WordPress plugin.
It helps you with keyword research, provides an A.I. assistant for content optimization, offers actionable insights to improve site performance, and monitors your ranking.
You'll get a suite of related tools, like keyword clustering, duplicate remover, and SERP checker, to automate your workflows and track your Google ranking.
For monitoring, Squirrly sends weekly reports with recommendations to fix errors. You can manually audit each page to identify SEO issues, and even track your social media pages via Squirrly.
It's a perfect app for solopreneurs, startups, and agencies.
Core Features
Keyword research and grouping.
Content optimization.
Site audit.
Auto-reports.
Duplicate metadata remover.
Analytics.
SERP checker.
Social media tracking.
Integrations.
Price
Squirrly charges $20 to $75 per month. You can try it for free to explore its features.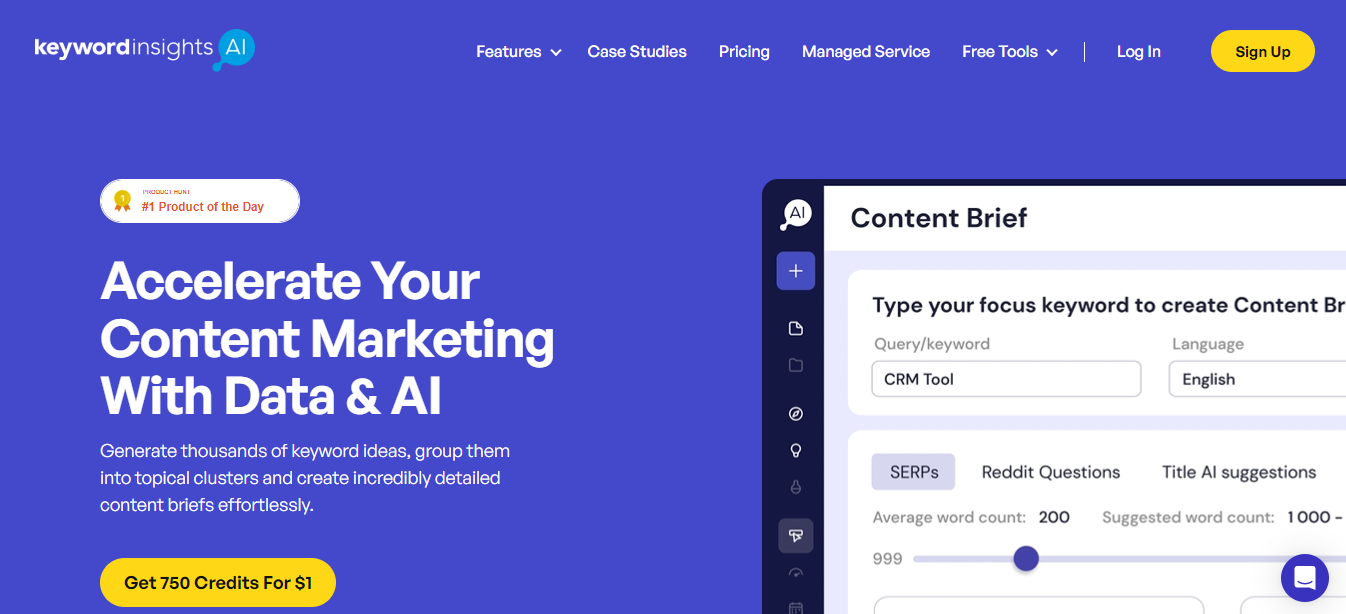 Keyword Insights is a content marketing platform that finds keywords for articles and generates content briefs.
It has a discovery feature that produces a list of phrases based on your seed keyword and runs search intent analysis to show where you can possibly incorporate them. With its clustering feature, you can automatically sort relevant keywords into groups so you don't have to manually organize them for the blog.
On average, you can download around 6000 to 100k phrases per month and create up to 100 content briefs.
Keywords Insights also shares a free SERP checker and a similarity tool. You can use them to generate content ideas and compare phrases to see if they can be used together as LSI keywords.
Core Features
Keyword research.
Intent insights.
Clustering.
Content brief generation.
API.
Integrations.
In-house consultation.
Free SERP and similarity checker.
Price
Keyword Insights' monthly prices start from $49. You can purchase additional credits for both research and content briefs.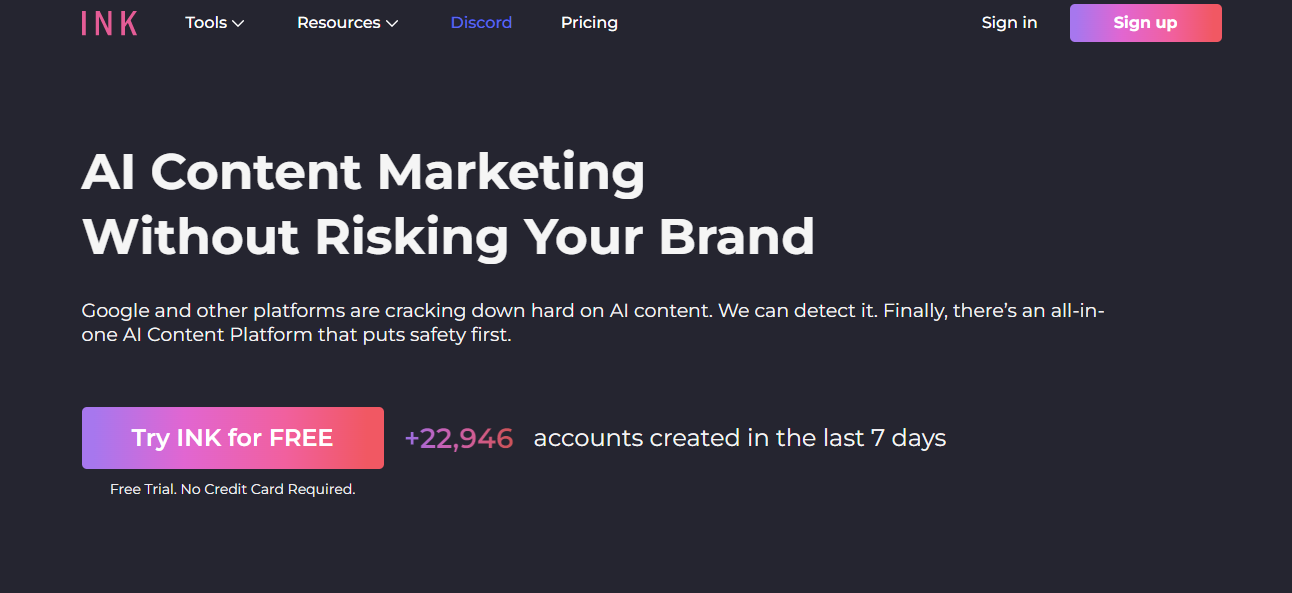 INK's core function is content generation and optimization. With this app, you can automatically compose SEO blogs from keywords and produce images from text.
The editor comes with a built-in content shield that detects bot and plagiarized text to let you know which sentences need paraphrasing. You can automatically change sentences with an A.I. paraphraser and run SEO scoring to fine-tune the text.
For content optimization, INK delivers a keyword research tool. You can use it to find and group relevant keywords for the blogs.
Core Features
A.I. writing and images.
Auto-meta title and descriptions.
Plagiarism checker and bot content detector.
Text, keyword, and competitor analysis.
SEO scoring.
Over 130 Templates.
Multiple languages.
WordPress integration.
Price
INK's basic plan costs $49.
For teams, go for the enterprise plan. It costs $119 per month. The enterprise package contains a bonus training program for emerging marketers, which covers tips and tricks to rank on Google.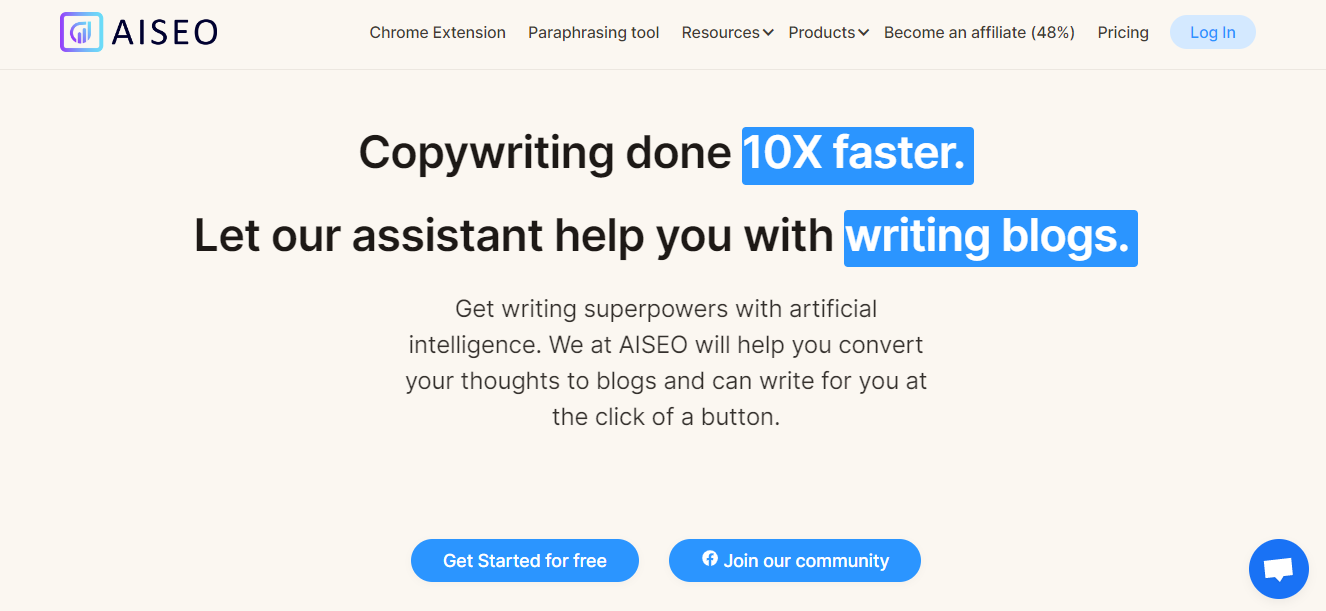 AISEO, like INK, is an AI-writing assistant, but it purely focuses on content generation.
It delivers an article editor to create SEO-optimized content and a paraphraser to refresh old articles. The editor automatically develops outlines based on keywords and converts points into well-written paragraphs.
For proofreading, you'll get access to a powerful app called Hemingway, which uses artificial intelligence to polish sentences.
You'll additionally receive a wide range of free tools and templates to generate a variety of content, such as captions, meta descriptions, ads, reviews, FAQs, headers, etc.
Core Features
Article writer.
Intuitive dashboard.
Paraphraser.
Hemingway access.
Chrome extension.
Custom copywriting templates.
Around 46 free tools.
Multi-language support.
Up to 2 user accounts.
Price
AISEO charges $19 to $48 per month with a 5-day money-back guarantee.
Link Whisper is an A.I. link-building WordPress plugin.
It scans your draft, finds relevant topics in the published content library, and automatically generates a list of suggestions for internal linking.
You don't have to do any work from your side. It displays the suggested sentences with editable anchor texts directly in your editor and updates the article with a single click. Any link you generate with this tool will be permanent and remain active even after you unsubscribe from the service.
You can use this plugin to connect articles, optimize existing blogs, convert keywords into anchor text, and identify broken links. The reporting section automatically displays articles with internal, outbound, and broken links to make your job easier.
Core Features
WordPress plugin.
Auto-internal linking.
Editable texts.
Reporting and analytics.
Broken link detection.
Keywords suggestions.
Multi-site linking.
Integration with Google Search Console.
Price
Link Whisper charges $77 for one site and $167 for ten sites. You'll receive a 30-day money-back guarantee.
Postaga delivers off-page A.I. SEO tools to help you bring more traffic to your site. It's an outreach campaign generator that analyzes your website content and finds relevant contacts for backlinking and shares.
Postaga generally discovers contact information based on the campaign type. You'll receive several campaign layouts to specify your goals and a sequence builder to create cold emails. But it also produces custom campaign ideas for targeted emails.
To personalize the content, Postaga provides an A.I. assistant that automatically extracts sentences from your target audience's published content and suggests phrases to include in the email body.
It's an incredibly helpful feature that saves tons of research time.
Core Features
Outreach campaign generator.
Link building.
Email automation.
Message templates and campaign layouts.
A.I. assistant for content personalization.
Customization.
Multi-user support.
Integrations.
Price
Postaga offers two packages starting at $99 per month.
You can take a 14-day free trial before purchasing any plan.
Surfer SEO provides content development, optimization, and monitoring features in a single package.
You can use it to run SERP analysis, discover best-performing keywords, produce outlines, and audit site pages.
With its A.I. recommendations, you can identify gaps in your content strategy and find areas for improvement. The audit tool highlights missing keywords, shows SEO problems, and provides opportunities for backlinking.
For content optimization, Surfer generates scores and suggestions. You can fix your heading, paragraphs, and images score with easy-to-follow guidelines.
Core Features
AI-editor.
Keywords research.
Site audit.
SERP analysis.
SEO insights.
Tracking and monitoring pages.
White labeling.
API access.
Price
Surfer's monthly subscriptions range between $59 and $239. There's no free plan, but you'll receive a 7-day money-back guarantee.
You'll also get a free Chrome extension for keyword research and an A.I. outline generator for articles.
Screpy is an A.I. monitoring software. It browses your website pages and provides reports and tasks to optimize your site.
Some of the data you can generate through Screpy include keyword analysis, page speed, site SEO, and uptime metrics. The uptime tracker runs 24/7 and sends real-time notifications during downtime to alert you.
Another tool Screpy delivers to improve your ranking is a syntax checker. It scans your website to ensure your site content is readable to search engines.
Overall, the app is simple and ideal for solopreneurs and small businesses.
Core Features
Site audit.
Keyword analysis.
Rank tracker.
Page speed and uptime monitoring.
Syntax checker.
Multiple accounts.
Price
Screpy charges $5 to $30 per month. It has a 14-day refund policy, but you can take a free trial to make your purchase decision.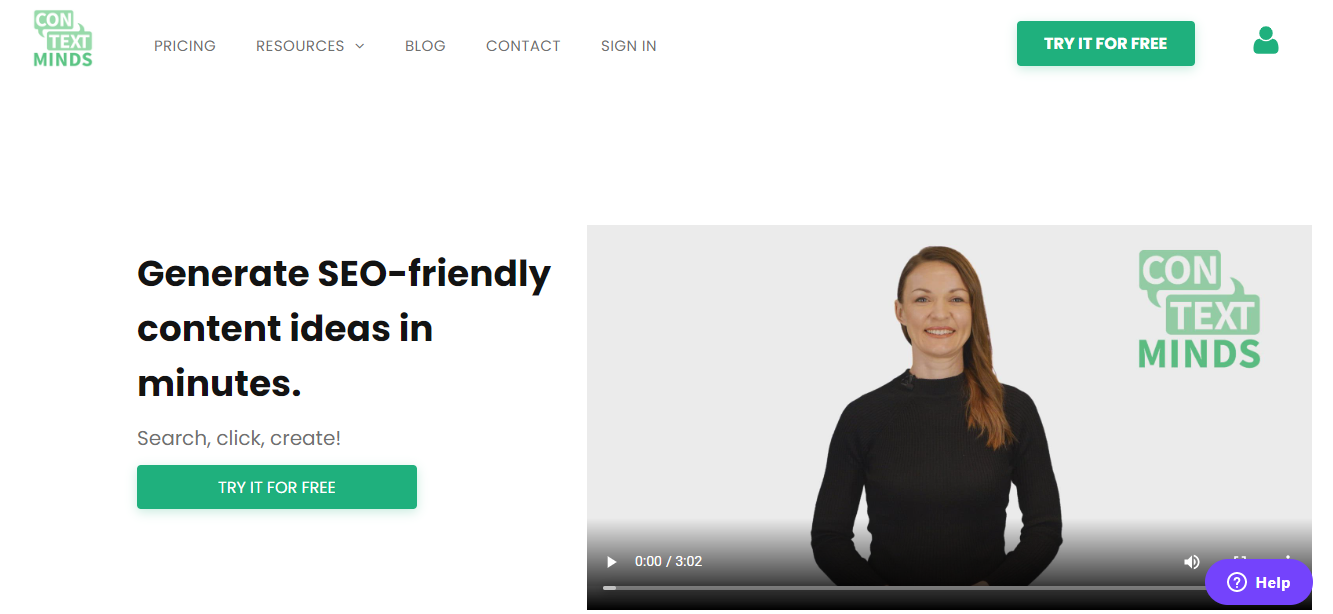 Contextminds is an AI-powered topic idea generator. It develops article titles and keyword suggestions based on your seed keyword.
The app has a visual board with a drag-and-drop interface and a filter to map out the content plan. As you pick topics from the suggested list, the A.I. automatically tailors its search results to generate relevant content for you.
Next to your maps, you will find key metrics, like rank difficulty, and a separate section to write notes for suggestions or instructions.
You can arrange, group, and link the topics together to show a connection between the articles, and save them in the library to use the ideas later.
Core Features
Content idea generator.
Up to 6000 Topics and keyword suggestions.
Visual map for planning.
Filters.
Unlimited maps.
Content library.
Downloading option.
Price
Contextminds' basic plan is free, and premium plans start from $19. You can purchase a lifetime plan for $69.
Final Thoughts
The above list offers several SEO optimization solutions to meet different organizational requirements.
Not all may suit your purpose, but you'll find a tool for almost every SEO function.
I recommend comparing the core features and pricing to discover the ideal solution for your business. Good luck!