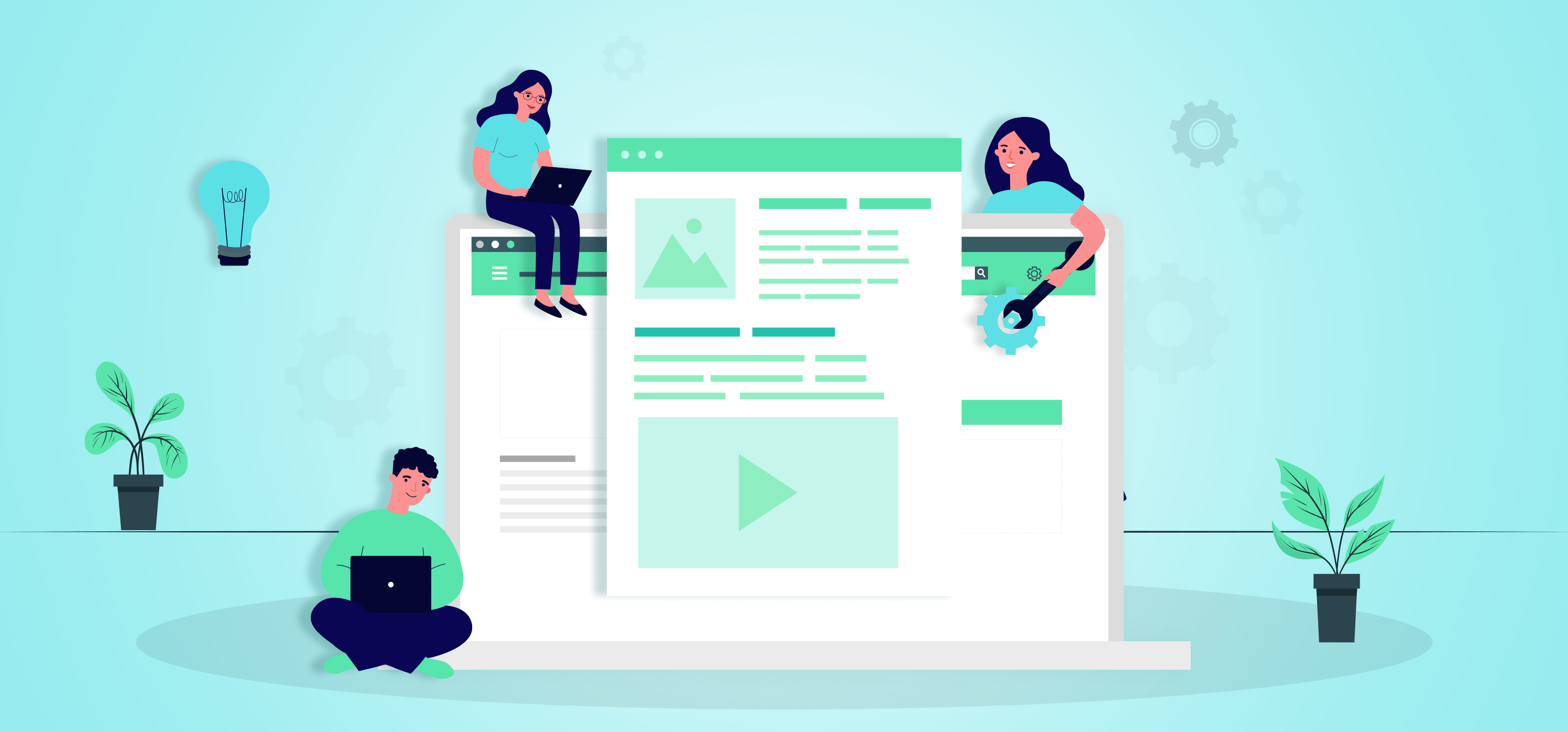 Content is all around us. It's a fact that hasn't changed in the decades we've been online, and it won't change shortly.
Every website, blog, and business seems to be vying for the top spot in Google's search results.
As search engine algorithms and content strategies are ever-changing, you're only as good as your content!
But if you aren't receiving enough traffic from your well-written, keyword-optimized content, maybe you should consider using a content optimization tool.
There is a lot of noise on the internet, so optimizing your content and web pages is crucial for gaining traction among search engines and potential customers.
Therefore, without further ado, to the batmobile.
What is a Content Optimization Tool?
Content optimization refers to the processes that improve content performance and thus lead to highly engaging and result-oriented content.
During content optimization, you analyze how each piece of content performs regarding increasing website traffic, managing customer interest, and improving search engine ranking.
A content optimization tool is a software or web-app that automates these repetitive tasks and processes to save time, resources and achieve faster results.
Why Content Optimization is So Important?
It's important, as a content marketer, that you stay on top of your content game.
That means testing and tracking your website's performance, constantly, optimizing your content for search engines, and listening to what your audience is saying.
Over the past decade, content optimization has been the mantra of online marketers everywhere.
This is completely understandable, given the importance of it—without optimized content, you'll never rank on search engines, you'll have more visitors leaving your site than clicking on anything, and you can forget about conversions.
You are failing to communicate your ideas in a way that your audience will understand and appreciate. You need to optimize your content for your targeted keywords if you wish to rank on Google.
The question is, how do you do this?
By using content optimization tools, you can make sure that the content you produce is optimized for search engines without the need for additional effort.
In this article, I'm going to provide you with a list of content optimization tools that you can use to analyze your search engine rankings, optimize your website, and even create a content calendar.
Get your content ready for Google and make it easier for search engine spiders to crawl and rank your website with these powerful content optimization tools.
Learn more about these powerful tools that help you create engaging, high-quality and SEO-optimized content in no time! Give your content the boost it deserves.
Frase is an AI-powered, web-based solution for content optimization that combines all of the tools you need to increase traffic to your website into one unified platform.
It identifies your audience's questions and creates detailed content briefs that enable you to deliver high-quality content every time.
Frase content briefs are one of a kind as they focus on the search intent specifically for your topic, helping you dominate organic search results.
Furthermore, Frase saves you the time and effort required for research, which is so boring, to begin with.
Features:
Frase is a handy content optimization tool that cuts content research time in half while maintaining consistency across your content.
With Frase's content optimizer, you can improve your site's ranking, meaning an increase of hundreds, even thousands, of visitors to your site each month.
It makes it easy for you to create valuable, relevant content that answers the questions your visitors are asking, keeping them engaged during their visit.
Cons:
At first, it is a bit of a pain to wrap your head around and learn to use, so if you're looking for something super easy to use, Frase may not be the one.
Pricing:
Frase has a free plan that is available alongside four other paid plans, each offering differing levels of flexibility and functionality. The Basic Plan starting at $44.99/mo includes 30 document credits, with other features such as templates, briefs, etc. Other plans include the Team Plan, Growth Plan, and Enterprise Plan.
Setka Editor is an editorial design tool that gives you complete control over your visual content so that you can create any creative design.
It makes it easy for you to create stylish content by arranging images, text, and other visual elements directly from your browser — without having to code.
It's page builder is packed with customized style packs and reusable templates.
Ultimately, it helps brands create an end-to-end branded experience by providing consistency throughout the content creation process.
Features:
Offers you the ability to create custom styles using grids and templates so that you can incorporate your brand into every single post you write.
Setka Editor works in tandem with several content management platforms, replacing standard editors with an easy-to-use design tool.
Includes additional advanced layout features such as animations, snippets, dividers, etc. that you can use to add advanced styling to your page.
Cons:
It takes some time to get familiar with the tool, but Setka has a responsive support team to help you along the process.
Pricing:
Setka offers different plans, each with a 14-day free trial that you can use to see how it works without having to provide any credit card information. The Starter Plan is priced at $187/mo and is ideal for small teams that want to elevate their content.
Other plans include the Pro-Plan starting at $625/mo and the Enterprise plan with custom pricing.
If you are looking to improve your writing, ProWritingAid is a premium grammar checker and style editor that catches grammar and spelling errors as well as stylistic errors.
ProWritingAid will help you produce more polished writing, more easily and often.
ProWritingAid includes a grammar checker that will point out all mistakes as you write.
It also offers an in-depth report that provides suggestions on how to polish and improve your writing. It's a helpful writing assistant that gives you the extra push you need on the way to achieving your ultimate writing goals.
Features:
ProWritingAid is available on multiple platforms such as Chrome, Firefox, and Edge. It can be used with Word, Google Docs, and has a desktop app as well.
It helps you simplify your writing by crossing out misspelled words, thereby improving readability, and creating clear and unambiguous content.
It highlights patterns of repetition, unclear wording, passive voice, overly complex sentence constructions, and more.
Cons:
Unlike other writing assistants available on the market, ProWritingAid does not offer a mobile app for Android and iOS devices.
Pricing:
ProWritingAid comes in two different plans: free and premium. With the free version, you can test your writing up to 500 words at once, and it is only available as an online editing tool. The premium subscription can be purchased for $63 annually or $20/month. Besides, you can get lifetime access for $319 as a one-time payment.
Grammarly is a writing assistant that works constantly while you write on any site, email, Word documents, and even social media so you can deliver better-written content.
Every time it finds a spelling, grammar, punctuation, word choice, or style error, it underlines it with a red, squiggly line and presents you with a suggestion to solve it.
Grammarly's AI-powered writing assistant helps you write clearly, and become a better writer. Grammarly also suggests style improvements to help you communicate clearly and effectively.
Features:
It offers browser extensions for Chrome, Firefox, Edge – and a Microsoft Office add-on for Windows and Mac, and is also available on iOS and Android.
Grammarly not only helps make sure that your documents, emails, and posts are written in correct English, but also that you'll improve your writing as you go.
It is easier-to-use, streamlined, and functional than its competitors and offers a user-friendly and minimalistic interface.
Cons:
Grammarly's free version doesn't detect plagiarism and is limited in what it can do, keeping in mind what features it offers.
Pricing:
Grammarly has a free version and a premium version. Providing basic writing suggestions, the free version is ideal for writers and bloggers on a budget. There is also a premium version that starts at $11.66 per month, and it has additional enhancements such as style, tone, and clarity options.
Semrush SEO Writing Assistant is an extension for Google Docs and WordPress that allows you to check your texts for SEO friendliness on the go.
Today, when there is always pressure to turn in top-quality content quickly, SEMrush Writing Assistant can be a complete life-saver!
Semrush Writing Assistant is recommended both for beginners and SEO professionals as it significantly simplifies the process of creating and optimizing content.
Based on its analysis, the writing assistant suggests ways to make texts more readable, rankable, SEO-friendly, and overall good content.
Features:
It helps you save time and add value to your content through targeted SEO improvements such as keyword suggestions, plagiarism checking, etc.
It gives you a general quality assessment of your content based on factors such as readability, text length, and keyword focus.
Using the recommended Flesch-Kincaid reading-ease score, SEMrush Writing Assistant evaluates the readability of your text and gives suggestions.
Cons:
There are severe restrictions on the free subscription and only 1 recommendation set is allowed while on paid accounts, there is no limit.
Pricing:
SEMrush has several different pricing plans, while the SEO Writing Assistant can also be accessed with a free account with a limitation cap. The Pro-Plan starts at $119/mo and is suitable for freelancers, and marketers on a budget.
You can also choose between the Guru plan, starting at $229/mo, and the business plan, which comes in at $449/mo.
Outgrow is a cloud-based marketing solution that allows users to create quizzes and calculators with custom branding for lead generation.
With Outgrow, you can create fully functional calculators, quizzes, surveys, and more that allow you to capture leads without coding.
Outgrow gives you the ability to boost your marketing growth with interactive elements such as calculators, recommendations, assessments, polls, giveaways, and many more. These elements are easy to set up and customizable.
Adding custom branding, colors, and even logos to enhance their look can enhance these elements.
Features:
It has an easy-to-use, intuitive interface that lets you craft questions and options for surveys, calculators, quizzes, and whatnot.
It offers seamless integration with over 1000 sales & marketing tools making it easier for you to easily collaborate with your colleagues.
You can embed Outgrow anywhere you want, such as a full-screen responsive page, your website or blog, or even as a pop-up or a chatbot.
Cons:
Outgrow can seem confusing at first since it has so many options and features that it can be a bit overwhelming.
Pricing:
There are several Outgrow pricing plans available, depending on your needs, as well as a free plan with limited functionality. For $22/mo there is a Freelancer plan which offers up to 1000 leads per month.
For $85/mo there is an upgraded plan ideal for small businesses and startups.
Drift is a conversational marketing and sales platform that helps you increase business growth by making it easy for you to reply to your customers' inquiries improving their experience.
It integrates seamlessly into existing workflows and websites, allowing you to connect with your customers on their terms, with real conversations.
By using Drift as a live chat and chatbot system, you can capture more leads with less effort and gain insight into your audience that you can take advantage of to boost your marketing efforts.
Features:
It has a chat widget that allows you to engage every website visitor with an instant, personalized experience creating a very good user experience for them, both on mobile and desktop.
Drift has an API for creating apps and customizing the chat widget and integrating with platforms that enable you to deliver exceptional service across all your channels.
It lets your website visitors and customers book meetings with your staff, so they can chat directly with you and reduce friction throughout their experience.
Cons:
It's free for the standard features, but you have to get the most premium license for the super cool top-tier stuff, which can be a bit frustrating.
Pricing:
There are four options available: Free, Standard, Premium, and Enterprise. The free version offers basic functions with limited access, which can be great for small businesses.
The Standard package costs $40 per month and is designed for small to midsize businesses, while the Enterprise version costs more than $1,500 per month and is ideal for global enterprises or businesses with unique needs.
MarketMuse is a content marketing platform and keyword planning tool that helps you create higher-quality content by making it thorough and more engaging to improve search engine rankings.
MarketMuse analyzes your content performance, patterns, and audience to give you actionable recommendations on how to write killer content or improve existing ones.
MarketMuse improves the quality and visibility of your content and reduces the time and effort involved in the research part of creating content.
You won't get very detailed results, but you'll be able to come up with some good keywords and ideas to start with.
Features:
From research and production to optimization and analysis, MarketMuse offers workflows for all phases of content creation.
It offers customized metrics considering your content, revealing its strengths, and weaknesses, giving you a competitive edge.
MarketMuse helps you plan and assess your content more strategically, making sure your content is consistent across the board.
Cons:
Though they offer good value for money, the tool's pricing is on the expensive side, which might not be suitable for everyone.
Pricing:
MarketMuse offers several different paid plans. However, there is no free plan. For $79/mo, the Optimize plan is the most popular one that it offers. Additionally, there is the Plus plan starting at $179/month and the Pro plan starting at $499/month.
There is also an Enterprise plan suitable for larger teams and agencies, starting at $1,499/mo.
Blogely is an all-in-one platform that takes care of all aspects of content marketing, from research and optimization to keyword research and editing, and more.
Blogely gives people with a busy schedule a way to focus on creating quality content while the platform takes care of everything else.
Blogely helps you with all your writing needs.
It takes the complexities involved in creating, editing, and maintaining content and simplifies it into a simple, user-friendly product that anyone can use.
Features:
It is loaded with features that help you improve your site's ranking, including accurate on-page SEO analysis and keyword tracking, for all content in one place.
It makes your content research effective by allowing you to effortlessly collect online content with references, and keep it organized and easily accessible during writing.
Blogely has a plagiarism checker inbuilt that checks for duplicate content and plagiarized content.
Cons:
Several features of Blogely are limited to even the top-tier plan.
Pricing:
Blogely has a free plan that lets you test the waters, plus a starter plan for $29/mo with some limitations. Other plans include the Solo plan, starting at $49/mo, and the Growth plan, starting at $99/mo, suited for mid-level and high-end content producers, respectively.
StoryChief is yet another content optimization platform out there, that allows you to collaborate on campaigns from the beginning to the end.
StoryChief makes it easy to create blog posts, stories, collaborate, improve content, and more – all from one convenient effective dashboard.
With StoryChief, you can polish your SEO strategies and reduce the time and effort involved in the content creation process by more than half. You can go from a blank page to a 100% finished article in just minutes.
You'd also like to read our full review of StoryChief, where we also covered it's demo in detail.
Features:
StoryChief lets you publish articles to different channels from one place, saving you time and effort, and letting you focus on creating better content.
It lets you work together on content in one collaborative workspace and share content with your team from anywhere.
It lets you publish content to all of your social media channels in a few clicks, saving you time by managing all of your social media in one place.
Cons:
No functionality is available for embedding custom code regarding StoryChief. However, it is not that big of a deal.
Pricing:
StoryChief is offering 3 different pricing plans, each with its own unique features and selling points. For $120 per month, the Team plan is perfect for marketing teams who want to provide more leads for their sales team.
Other plans include the $300/month Agency plan and the $750/month Custom plan, which are more suitable for marketing agencies with larger teams.
Surfer SEO is an on-page SEO tool that audits your website in minutes, pointing out the good and bad aspects, and gives you recommendations on how to fix and improve your website's search engine optimization.
It breaks down the on-page elements so that you can hone in on the most important ones, and boost your organic traffic.
It compares your content against a competitor's webpage to see how well yours matches against theirs.
Surfer Content Editor helps you write your content while making it optimized for your main keyword.
Features:
Surfer uses an AI-powered text editor that allows you to check the prominence of each word on a competitor's pages and provides recommendations on how to make your content stand out.
Using its Content Planner, Surfer makes it easy to create content by helping you generate dozens of relevant topics & keywords in minutes.
Surfer's SERP Analyzer pulls trends from the top pages and points out what's working right now so you can ditch the manual effort so you can boost organic traffic and climb up more SERPs.
Cons:
Although Surfer SEO excels in all of its other aspects, the keyword research tools feel a little clumsy and difficult to use.
Pricing:
Surfer SEO has a Basic Plan that costs $59 a month and is best suited for freelancers. It increases to $99/month for their most popular Pro plan, which is best for in-house teams and agencies.
The Business plan costs $199/month and is ideal for businesses and agencies with large teams.
Final Thoughts:
Using content optimization tools to get actual performance metrics from your content is one of the best ways to get the most out of it after it is published.
With the information you're gathering, you can identify ways to increase conversions and traffic, so you can spend more time on creating better content that performs well in SERPs.
There is a lot that goes into optimizing your content, especially if you are doing things manually, and you might be wasting a lot of time.
With content optimization tools at your disposal, you will not want to be without them throughout your entire content creation process. They're that good.