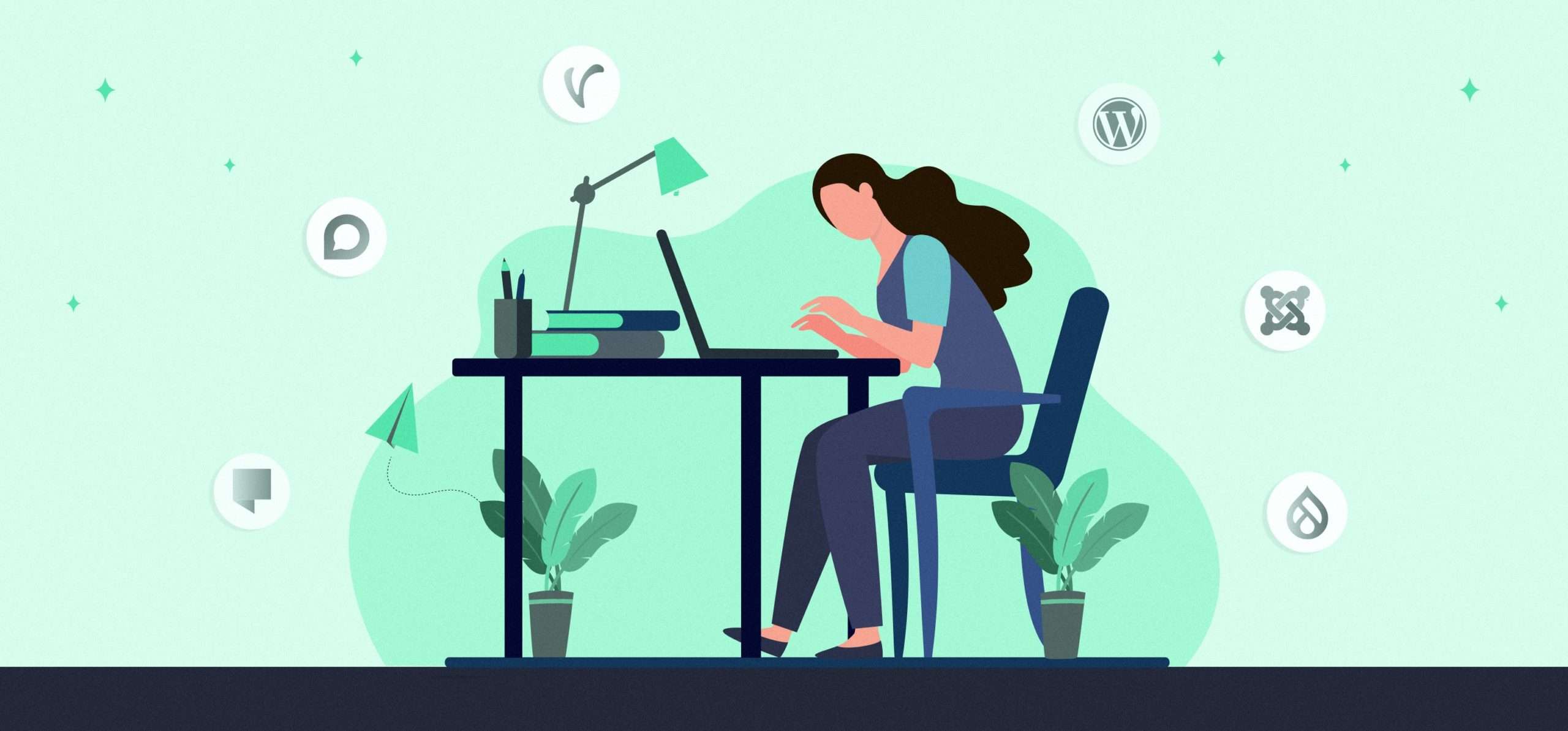 If you've been around for as long as the internet has been, you may realize that forums, and forum software, in some capacity, have been around since the beginning. They have always been a place for like-minded individuals to come together and grow an organic community.
Although typically anonymous, with today's boom in social media, more brands are now looking to use forum software on their websites to better help grow these online communities.
Forum software allows you to create a space where you can bring your audience together and give them a place to connect. It's also used as a means of gathering feedback and allowing users to offer inter-community support.
While there are various uses of forum software, the underlying benefit and use is its ability to create and strengthen the bond between your products/services and your audience. We will analyze 9 of the best forum software, discussing the pros and cons, and how they can be used for your business.
But first, let's consider what features are important to look out for when evaluating which forum software is right for you.
Important Forum Software Features
User-friendly interface and experience
With so many social tools and software, you want to make sure that your audience has a seamless experience. Otherwise, your forum users are not going to return and use the forum to further ask questions, make comments, etc. The same goes for you, as the owner of the business, you want an interface that's intuitive and easy to use.
Private messaging features
The idea behind a forum is to create a community for like-minded individuals to engage with each other. In most situations, you would want to give users the ability to privately message one another.
This allows them to create stronger connections, get to know each other better, and ultimately build community. So, it's typically an essential feature to have when considering forum software.
High customizability options
As businesses create more personable brands, you will want to be able to customize the interface to match. When evaluating the different forum software, look for those that offer features like customizing your brand theme, giving users the ability to edit profiles, fonts, profile pictures, and more.
Community building and management tools
With strangers interacting with each other, you want to make sure that you have the proper tools and features to effectively manage it all from the backend. The forum software that ranks at the top is one that provides you with both management and community-building tools.
Such as being able to flag inappropriate content and allow members to report content. As well as features that foster community-building, like awards or achievements for being an active or long-time user in the discussions. Giving users benefits and incentives to further participate and continue to help the community grow.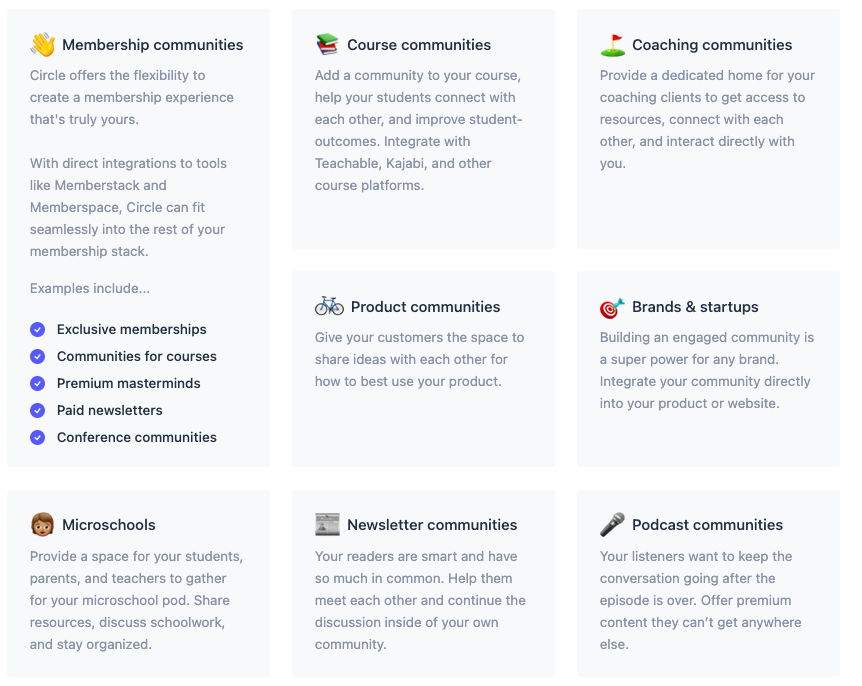 Purpose
This forum software is designed with content in mind. Businesses typically use Circle.so when looking for a forum software that encourages discussion around their content and ultimately turns these users into paying customers.
Circle.so gives their users the opportunity to create different types of communities including ones like coaching, newsletters, products, courses, memberships, and more. These can all be customized with different settings and discussions can be organized into private and public spaces.
For these reasons, Circle.so is commonly used by influencers and bloggers who are looking to connect further with their audience and also open up discussion among themselves. It's also popular among those whose primary goal is to create a community around a particular product or brand.
Features
Circle.so's focus on community engagement and content means relevant features to help you achieve this. Firstly, they offer integration within your current website. Whereas forum software like Discourse has to be hosted on a subdomain, Circle.so makes it easy to include a new forum on an existing website.
Their customization options are sleek and give you the opportunity to choose colors representative of your brand. They allow you to use custom domain names and also provide the basic features we know to look out for, like private messaging.
Additionally, as many coaching businesses use this forum software, they like it because of its usability in sharing content created from online course platforms such as Teachable and Thinkific.
Pros of Circle.so
Integration with an existing website
Micro schools
Newsletters and communities
Membership communities
Customization and branding features
Cons of Circle.so
No free version, only paid monthly plans
Doesn't offer self-hosting versions
Price
Packages range from $39-$199/month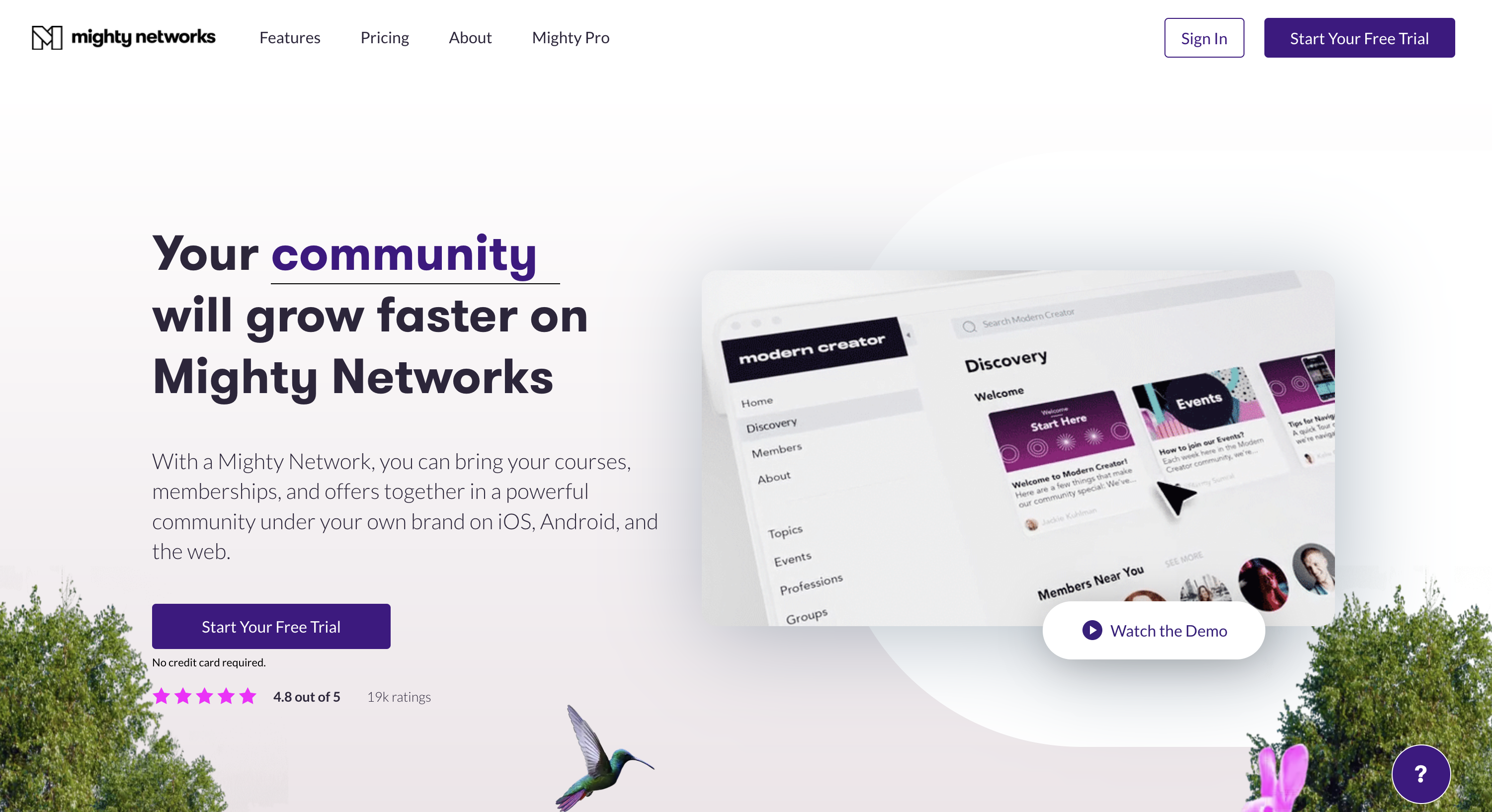 Purpose
Mighty Network is built for scalable membership communities. It provides businesses with a single platform to create their brand networks without enduring unnecessary distractions that are typical of popular free social channels like Facebook.
Most of its customers are content creators who need a flexible solution where they can engage users, monetize their digital products, and provide a better community experience to their customers. The forum is highly customizable and shares an extensive range of functions to allow more control over the group.
Almost 50k businesses use Mighty Networks including major names like TED and Fortune.
Features
Mighty Network focuses on delivering a premium experience to members. Its core features comprise live streaming, a course builder, several engagement activities, and group moderation.
Its growth functions are pretty advanced, allowing brands to launch referral programs to boost their member list and integrate analytics to track progress.
The forum is also popular for its easy accessibility. Its branded app makes logging in to the community incredibly convenient for users.
Pros Of Mighty Networks
A wide range of learning tools and engagement tools.
Versatile functions.
Scalable community options.
Exclusive branded app.
Integration with well-known software.
Cons Of Mighty Networks
It may take you time to familiarize yourself with its functions.
Limited payment gateways.
Price
Free Trials. Two-month exploration period with the annual plan.
Premium plans start at $39 a month.
Purpose
As we previously discussed, forum software has been around for a while, and phpBB is one of the true originals. Having first launched their company in 2000, they are still thriving today and constantly updating their software and features to keep up with digital trends.
This forum software is a popular choice among businesses because it is open-source software. Meaning that there is a huge database of extensions that have been created and shared for free with other users.
This allows for a lot of customizability and the entire platform is completely free to use. For a free forum software solution, they provide users with a wide range of features to choose from.
Features
They offer the basic important features that we previously discussed like management tools and user moderation. Community-building features like community newsletters, and special role permissions.
As the forum software is self-hosted and open source, there are constantly new extensions and tools being added by the community for free use.
Pros of phpBB
Completely free, no hidden costs or fees
Wide range of features and extensions
Highly customizable
Active support community with phpBB users for advice, tips, etc.
Cons of phpBB
Basic coding knowledge needed to discover full use of the software
Poor SEO support in comparison to its competitors
Not as visually appealing as other platforms
Lack of social media integration
Price
Free downloadable, open-source forum software
Purpose
Vanilla Forums is a forum software that is greatly known for its easy-to-use management dashboard, a wide range of features, and advanced marketing integration options. Offering more user-experience features in the dashboard in comparison to their competitors.
This forum software is widely chosen for its gamification features, well-designed theme templates, and business tools. Vanilla's paid plan is commonly used by mid-sized and big businesses as they offer in-depth marketing integrations and tools.
However, Vanilla also offers users to download their open-source software for free. It's simple, flexible and commonly used by smaller businesses that do not need extensive business and marketing services.
Features
These in-depth features focus on enhancing user experience and helping businesses increase engagement through online forums. These features include things like social media integration, member notifications, automatic content curation, a seamless onboarding experience, and customizable profiles.
These features make for a much more comprehensive experience as Vanilla offers users the ability to create member groups and private/group messaging chats. Since typically the communication ends between user and brand, Vanilla allows communities to grow even further by giving them the space to communicate among each other and create sub-communities through these chats.
Its features also make it a popular tool used by businesses that need a ticketing system. Including knowledge base systems and articles that users can search through for commonly asked questions and answers to their issues.
All of these features make it one of the most integrated forum software to date. The extent of their features is hard to compare to but does come at a high monthly cost.
Pros of Vanilla
An incomparable and highly extensive list of features and integrations
High gamification capabilities
Advanced admin and management tools
Customization tools for discussions, questions, idea voting, and polls
Cons of Vanilla
The high monthly cost for business plans and access to all features
Limited customizability options in the free version
Pricing
A free downloadable version of their open-source software
Business plans start at $690/month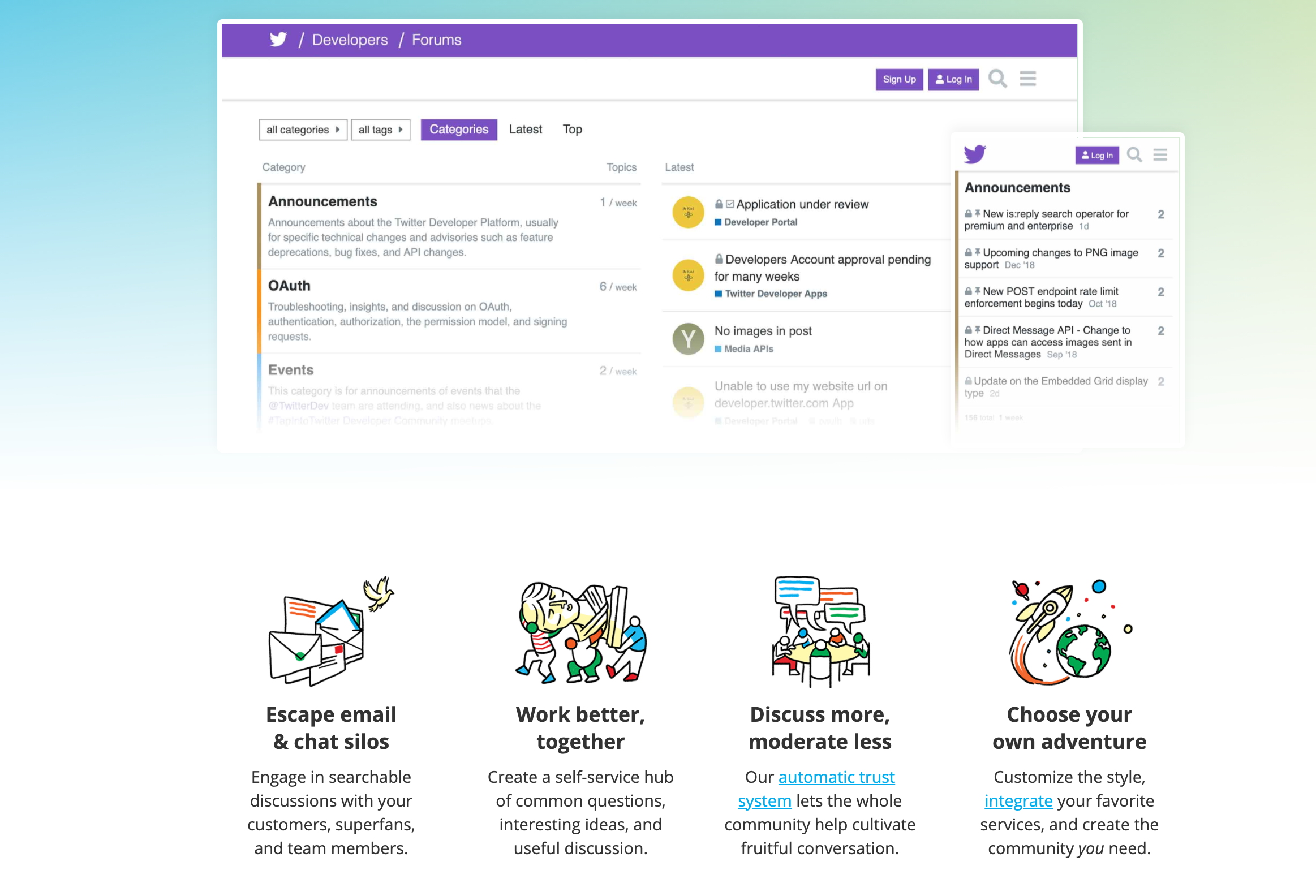 Purpose
This forum software has taken the technology and modernized it, as it is user-friendly, quick, and very intuitive to use. Unlike other forum software, the interface offers amenities similar to those of big social networks. For example, you can easily mention people by their @name, paste images and links, quick replies and quotes.
It is also an open-source platform allowing users to customize it through various integrations and extensions. Offering users, the ability to host the platform for free on their own and customize it as they wish. As well as a hosting solution with a monthly fee for those who want a done-for-them solution. 
Features
Discourse offers modern features like mailing lists, long-form chat rooms, gamification features and more. One of the most prominent and well-known features is the unique ranking system where users are given certain moderation capabilities based on their activity and experience in the community.
This feature is popular among brands as it encourages community growth and self-moderation where users can be rewarded for their collaboration and honest engagement.
Pros of Discourse
Intuitive dashboard and great user-experience
Easy onboarding process and setup
Free open-source downloadable version
Integrated moderation and marketing features
Cons of Discourse
Has to be hosted on a subdomain
Price
Free open-source software download
Business plans start at $100/month
Purpose
Invision Community is a popular forum software used by medium-sized businesses and large enterprises. It is easy to set up and manage, offering a customizable interface with unique tools for content creation and a detailed admin interface.
Although it is used by brands like Shutterstock, Evernote, Subaru, and more, it is commonly used by large enterprises as a support forum. Meaning that it is used by big businesses who want a simple and easily integrated forum software to manage large influxes of messages.
Features
Invision Community offers various features from content apps to moderation and user management. Their flexibility in features gives you and community members the opportunity to create and manage communities within the main forum. These are also called clubs where you can assign managers special access to manage private forums, calendars, and galleries.
Although less customizable than open-source forum software, its features for managing entire support systems are what make it attractive to large enterprises who are wanting to use it for this exact purpose.
Pros of Invision Community
Comprehensive content apps and tools
Achievement and recognition rewards
Advanced security systems and settings
Minimal setup and maintenance for simple forums
Cons of Invision Community
Not as customizable as open-source forum software
Not built to focus on community engagement (more commonly used for things like support)
No free option only paid monthly plans
Price
Free 14-day trial period
Packages ranging from $39-$199/month
Purpose
Unlike its competition, Flarum is forum software that has not been around for many years.
Rather, it is one of the newest ones and makes sure their interface reflects that. As a newer forum software, it is a platform that is based on providing its users with a modern, easy-to-use, and efficient platform.
Flarum is also an open-source platform, which means that it's free for its users to download and use. As new software-more focused on design, their forum appearance customizability and functionality are a big attention grabber.
Businesses like GiffGaff, a leading British telephone network that services millions of customers, have used Flarum to build a peer support community where users can engage with each other, which has ultimately improved support and customer engagement.
Features
One of the most popular reasons that people flock to Flarum is its two-pane interface. This provides users with an environment where they can be part of numerous discussions at once without having to open multiple tabs.
Its other engagement-focused features that make it a popular choice are its floating composer, discussion-specific notifications, live chat among users, and @mentions. Additionally, they provide features like touch-optimization, advanced permission settings and extensibility.
Pros of Flarum
User-friendly and easy-to-use
Open-source software and free to download
Mobile optimization
Two-pane interface
Cons of Flarum
Minimal customer service support
Still going through BETA versions so could run into glitches
Price
Open-source forum software, free to download
Purpose
vBulletin is another forum software that has been around for a while, over two decades to be exact. They developed their platform with bigger communities in mind, including engagement features powered by AI technology.
They offer both cloud hosting and self-hosting options, allowing them to be accessible by those who do and do not have the technical or coding knowledge. vBulletin's interface is easy to use and can be set up in under 15 minutes regardless of which version you choose to use.
Features
This forum software provides users with SEO tools, engagement features powered by AI, advanced security, and powerful moderator and admin tools. vBulletin uses this technology along with natural language processing to help increase organic engagement within the community.
This forum software also allows its users to create private groups and forums, helping boost overall engagement among each other. As well, vBulletin allows you to create blogs directly within the platform. This ultimately helps with things like SEO ranking for your forum and gives you the ability to provide valuable content directly within the forum.
Pros of vBulletin
Built-in SEO and engagement tools
Highly customizable themes
Marketing and media features
Mobile-device optimization 
Cons of vBulletin
More expansive paid version than most of its competitors
Only paid versions, no free downloadable version
Technical knowledge as minimal coding is required for setup
Price
Monthly plans start at $249/month
Purpose
MyBB is another well-known open-source platform that is entirely free to use and customize. This is a good forum software to choose from if you are looking for more design options. They provide a theme editor and various templates that are ready to use.
In comparison to their competitors, they offer fewer extension options, but the modern design and theme customizability make it a popular choice among businesses.
Features
In addition to their customizability options for themes and templates, they also offer similar customizability options to end-users. Where they provide them with the ability to adjust how they view the discussions they are a part of.
MyBB offers all of the key features you should typically look out for when evaluating different forum software, from gamification options to email blasts and support, security features, and more. They are also well known for their multi-language support.
While not all businesses may need this, particularly if you are focusing on one area with one main language. But for those that have users across the world who speak various languages, this support feature can make or break your user's experience.
Pros of MyBB
Free open-source software
Database management integration
Design focused on customization options
Email blasts and support
Multi language support
Cons of MyBB
Limited spam control features
Price
Free downloadable open-source forum software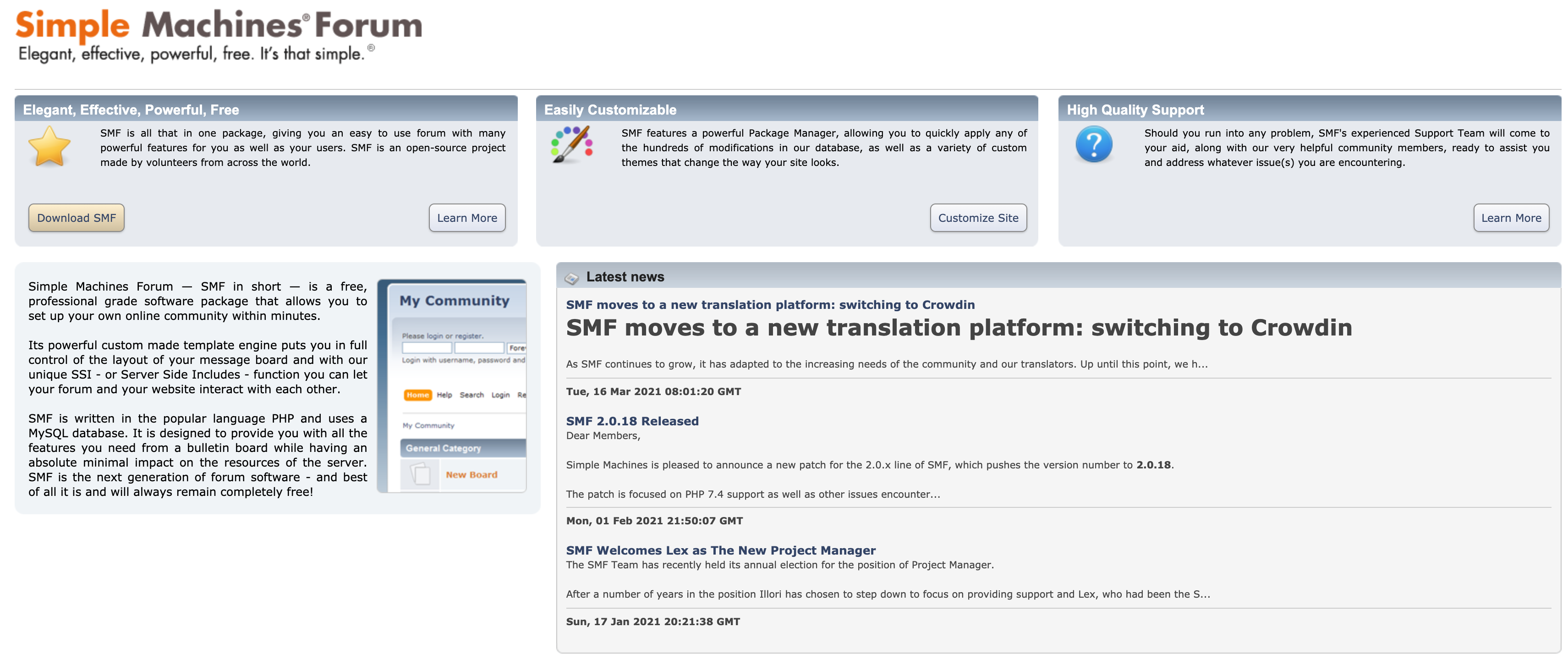 Purpose
Simple Machines Forum, also known as SMF, is another open-source software that has been designed with large communities in mind. A lot of corporate businesses tend to like CMF as it avoids heavy design features and provides a clean, professional, look.
This forum software is popular among those who are technically knowledgeable and want complete access to customizability. They provide various plugins and features along with structured and clear code documentation.
Features
As open-source software, they provide a valuable advanced package manager which gives its users the ability to quickly implement user changes on a mass scale. This is beneficial to large businesses that have to work with big databases.
Additionally, they provide advanced security features so big businesses can feel safe with their users on the platform, built-in SEO features, multi-language support, and highly customizable extensions.
All of these features make it a popular choice among those who are technically knowledgeable.
Pros of SMF
Highly customizable
Free open-source forum software
Countless templates and extensions
Paid subscription features
Cons of SMF
Need technical expertise to implement
Admin and management panel is not as intuitive
Price
Free to download, open-source forum software
Conclusion
The best forum software is the one that checks off all of your boxes.
Whether you're a small or large business, looking for self-hosted or not, marketing integrations, or otherwise, there is excellent forum software out there for everybody!