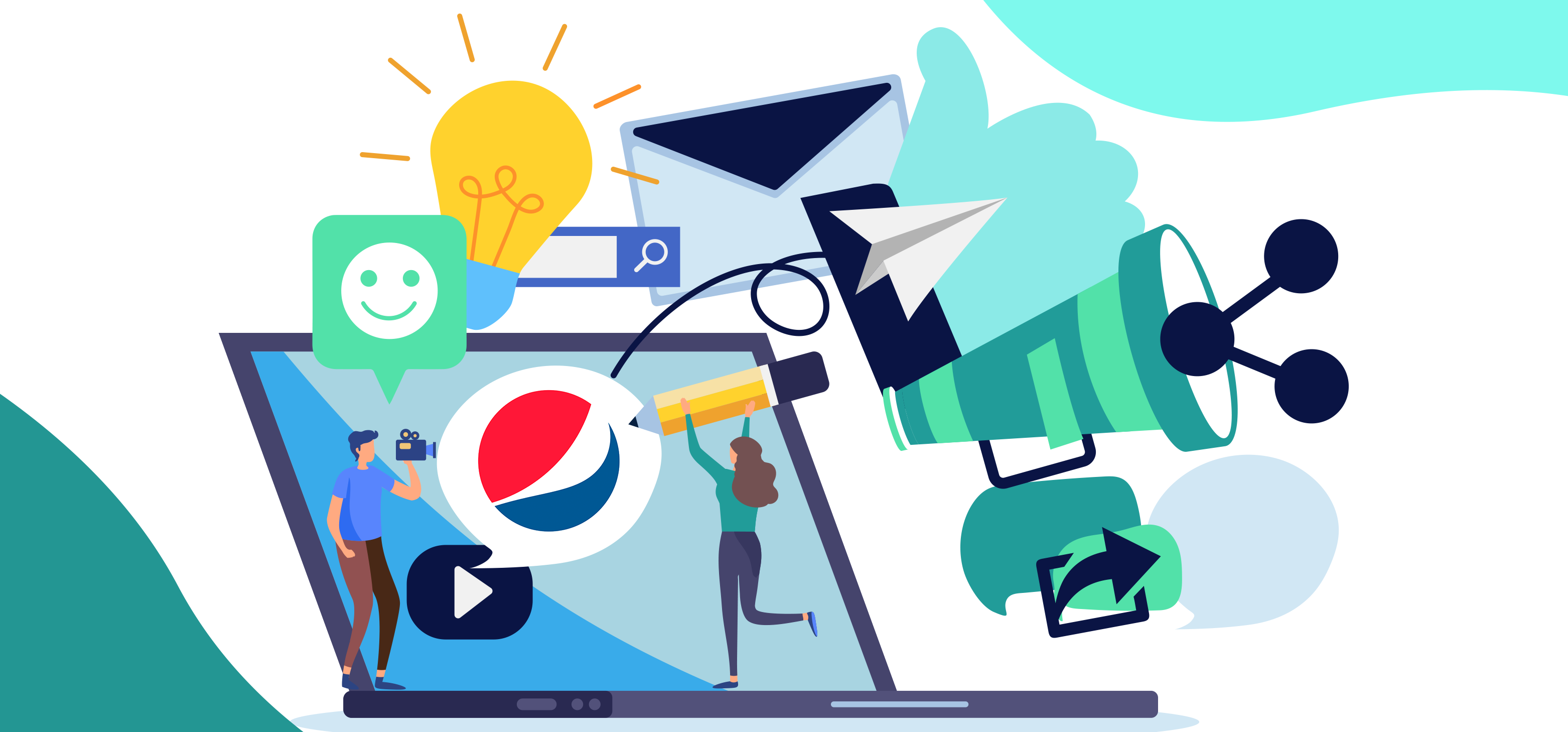 Pepsi is one of the few beverage brands that has kept a dominant position in the market for over 100 years, despite facing tough competition from leading rivals like Coca-Cola.
It has gained global recognition by establishing itself as a trusted brand, using both traditional and digital marketing to its full potential.
It might sound simple, but Pepsi took pains to reach the place it now enjoys.
Pepsi has a long history of trying out bold moves, experimenting with almost every marketing technique to understand what works well and what to avoid. Through trial and error, Pepsi honed its strategies and secured a stable position in the market.
Pepsi still suffers from advertising disasters, no doubt, but it has built enough reputation to bounce back from setbacks quickly. That's how it remains at the top.
If you're starting or planning to scale your business, I have put together Pepsi's eight successful marketing strategies for your inspiration. They will help you learn how to increase your brand visibility and build a loyal customer base.
So, let's dive into some of the popular marketing strategies of Pepsi and learn the secrets behind its staggering success.
1. Jingles and Catchy Slogans
One of Pepsi's classic marketing tactics to simultaneously broadcast its product values and boost its brand image is to use jingles and slogans in its advertisements.
It has been actively using them from the time its first "Pepsi-Cola hits the spot" took off spectacularly, and Pepsi saw great potential in jingles and slogans.
Pepsi started with print media to attract its audience's attention through catchy slogans. When radio became a common accessory, it tried audio jingles on radio and later television.
When digital media became a mainstream media channel, Pepsi Digital leveraged it to launch widespread video campaigns to capture the global market. Today, music commercials are Pepsi's benchmark advertising method.
Jingles and slogans are traditional advertising techniques companies employ to connect their brand identity with a memorable phrase or tune. Most people retain information through jingles and often recognize brands with their slogans only.
To Pepsi, the Jingle was the turning point that brought it to the limelight and nationwide attention.
It has generously used jingles and slogans over the years to emotionally connect with its target audience and deliver brand messages. The Pepsi Generation, and For the Love of It, campaigns are prime examples of them.
2. Participation Marketing
Traditional marketing has always been Pepsi's go-to strategy to capture both U.S. and global markets and increase its revenues.
It still relies on commercials and print media for sales, but now Pepsi majorly employs a customer-centric strategy called participation marketing to create awareness of its products.
Participation marketing is exactly what the name says. You use social media campaigns like contests to encourage people to take part in the competitions and turn your post into viral content.
Pepsi typically uses participation campaigns to introduce new flavors to a large market or increase its reach.
For instance, in 2020, it co-partnered with Grammy nominee Fat Joe and started a six-week virtual hip-hop contest on Triller to inspire music fans to become a part of the campaign. Pepsi used the competition mainly to promote its new wild cherry flavor.
Pepsi 2001 World Challenge, on the other hand, helped it tap into sports fans worldwide in a relatively short time. The above screenshot is the latest Pepsi challenge.
Social media has made it remarkably easy for Pepsi to promote its products through innovative ideas. Whenever Pepsi launches a new item, it simply starts contests on social media to advertise its products.
3. Versatile Portfolio
If you take a look at Pepsi's parent company's site, Pepsico's product portfolio is not only versatile in beverages, but you'll find snacks, and nutrition product lines as well. It owns a wide array of brands, from Doritos, Aquafina, and Mountain Dew to Quaker oats to offer variety to its target market.
It has significantly increased Pepsi's market share and given it a tremendous advantage over its competitors.
How?
Let's go over some of its mergers.
Pepsi's merger with Frito-Lay allowed Pepsi entry into the snack market, making it one of the largest snack companies worldwide.
Its decision to acquire Gatorade helped it capture the Sports niche, and now Gatorade is its fourth-largest revenue generator. Buying a two-thirds share of Wimm-Bill-Dann Foods aided Pepsi to dominate the Russian beverage industry.
The point is, diversification is a common tactic popular brand employ when they either want to target a new market or beat the competition.
While you still earn mainly from your flagship brands, product diversification distributes your risk and provides you with new business opportunities.
Pepsi has been merging and acquiring different brands as a growth strategy since the 1960s, which has allowed it to increase its presence and adapt to the changing needs of its customers.
4. Brand Positioning
Brand positioning is Pepsi's powerful marketing strategy that has gained it a competitive advantage and helped it build a strong customer base.
If you're not familiar with the term, brand positioning is a marketing technique companies use to create a certain perception of their brands in people's minds. It is an effective method to penetrate a saturated market and attract your prospect's attention.
Given the nature of Pepsi's products, it's hard to generate revenues through its product quality alone. To carve out its place in the beverage industry, Pepsi instead focused on its image and positioned itself as a contemporary brand.
If you notice Pepsi's ads, almost every commercial features either teenagers or millennials. It associates itself with elements like energy, youth, and joy, and often gives pop culture references to connect with its audience.
Even the celebrities featured in Pepsi ads are mostly singers, young artists, and athletes.
Today, much of Pepsi's success is also attributed to its brand positioning. It has embraced the same theme in its ads consistently to build its image—and now, it enjoys a huge following.
5. Smart Market Penetration
Pepsi had significantly grown its business by finding gaps in the market and making a grab for it. It is the classic move you'll see in many of its marketing campaigns.
Pepsi's logo itself is a prime example of it.
Do you know what the colors of Pepsi's logo represent?
When the soft drink inventor Caleb Bradham started the company, the Pepsi logo was red and similar to Coca-Cola. During World War 2, Pepsi revamped its logo to support the country as a part of its strategy to reenter the market.
The tactic worked amazingly, and Pepsi successfully established its presence again.
It used similar strategies several times, such as its entry into the Middle East in the early 90s. It took advantage of Coca-Cola boycott and made its move enjoying a dominant position for years.
The global market offers tons of opportunities for brands that want to expand their business and grow their customer base.
Pepsi played smartly to gain access to new markets, giving it a boost in reputation and earning international recognition.
6. Easy Accessibility to Products
As a reputable global brand, Pepsi operates in over 200 countries and sells nearly a billion items on a daily basis.
To provide this level of easy accessibility to its target market, Pepsi has a personalized distribution system in place that is mainly based on consumer needs.
For instance, in North America, Pepsi runs over 100 manufacturing units, to ship items directly to retailers.
The direct sales delivery system allows it to tap into the eCommerce market and build a strong relationship with major retailers like Walmart. It has also situated vending machines to offer easy access to its products to direct customers.
For global distribution, Pepsi outsources distributors where demand is low. Like in Ukraine, it employs third-party bottlers to supply its products to the market.
In countries with high demand for soft drinks, such as India, Pepsi circulates items by direct delivery and through independent warehouse partners.
Pepsi has put immense efforts into its distribution to make sure the supply of its products remains uninterrupted worldwide. It uses both private and outsourced distribution channels to offer a seamless shipping experience.
Having easy access to its products is one reason Pepsi enjoys global success.
7. Multiple Pricing structures
Pepsi's price strategies are based on the target market, product popularity, and item quantity. Most of its products offer market-competitive prices due to the nature of the items, but within the same niche, its produce prices vary as well.
For example, its soft drink costs are almost all the same, but if you check out its tortilla brands, the price difference between Doritos and Tostitos is vast. Why? Because Doritos is a global brand and comparatively more popular.
Similarly, Pure Leaf is relatively more expensive than Lipton Ice Tea even though both fall into the same category. Since Pure Leaf promotes premium features, people are more willing to pay for them.
Perception can have a tremendous effect on your price strategy, and Pepsi uses it to its advantage to increase its profit margin—even in its everyday pricing strategy.
Pepsi's major income comes from middle-income groups. To attract more sales, it applies everyday value prices and seasonal discounts.
It uses EDPL to generate revenues and cover costs with diverse packaging. That is why you'll find Pepsi 24-can pack is cheaper than its 12-pack.
8. Sport Sponsorships
If you're a sports fan, you must have noticed Pepsi's logo at almost every other event. It invests heavily in sports sponsorships to gain access to millions of people at once and boost its brand awareness.
In the 2018 FIFA World Cup, Pepsi tapped into three million visitors to the stadium and casual sports fans remotely through creative advertising.
In 2019, Pepsi became an official drink of the National Football League and took advantage of its entertainment shows to receive immediate brand awareness.
In 1997, Pepsi sponsored Jeff Gordon, and the former race driver drove with Pepsi Logo painted on its car for two long years. You can imagine how much publicity Pepsi got from this one contract alone.
People love sports because it brings families together and is generally fun to watch. The spirit of the game draws tons of spectators, and it's probably the only time people actively enjoy creative advertisements.
Not only that, the popularity of the sport leaves a positive impact on the brand image.
Pepsi offers sports sponsorships because the reputation of the sport also boosts its product portfolio. The results have improved its brand equity and inspired trust.
Final Word 
Pepsi's marketing strategy gives an incredible insight into its success.
It has stayed at the top by adapting its marketing to the times and making the best of challenging situations.
If you look at its history, Pepsi started its growth during the great depression, when most businesses were under the grip of the economic crisis.
It employed popular advertising methods that were available at the time and used them to its full advantage, ultimately hitting the international market.
Today, Pepsi ranks under the top 50 in the Fortune 500 and is well known worldwide.
Explore the above Pepsi marketing tactics, incorporate them into your strategy, and prepare for your brand's success.