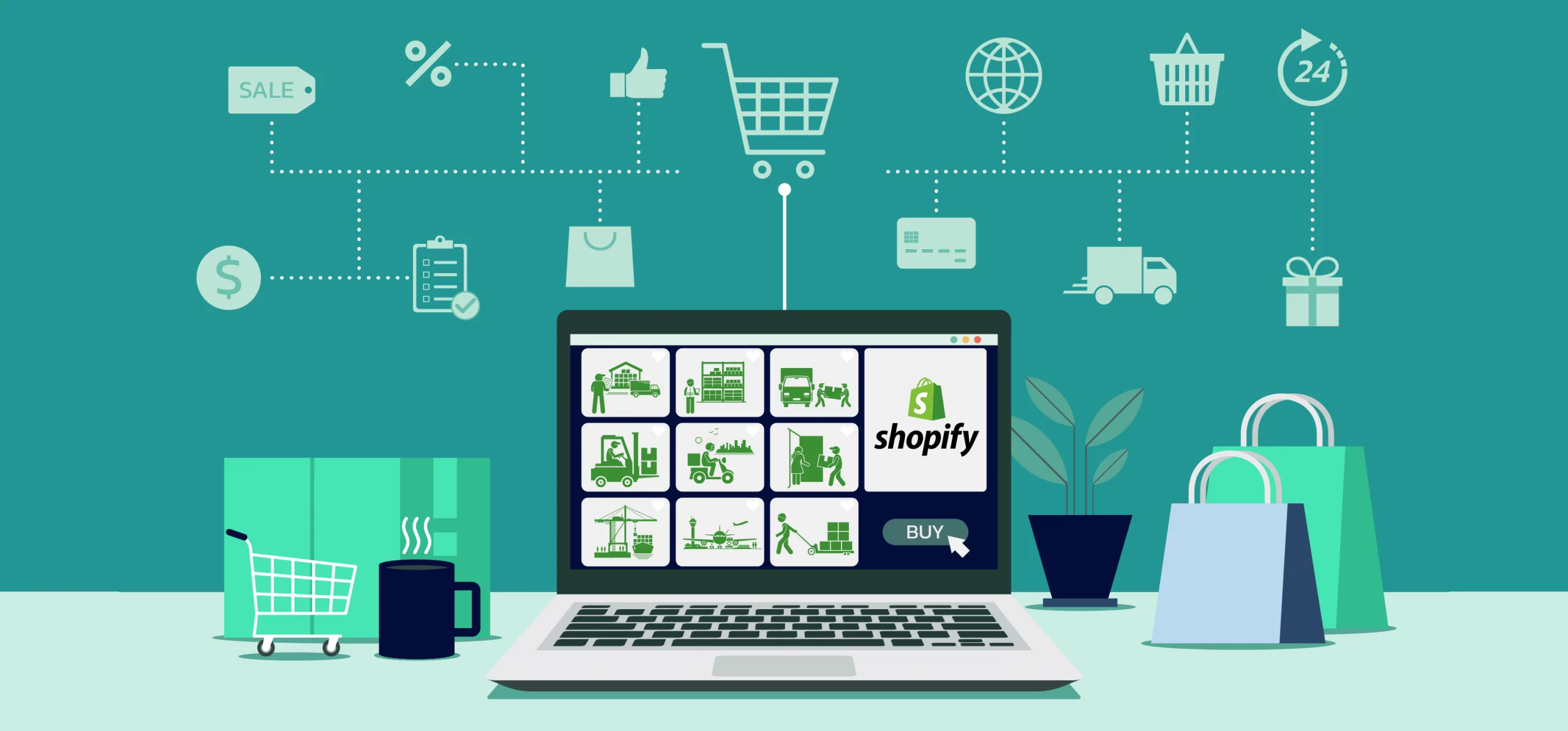 Shipping is one of the most crucial aspects in deciding the success of your product-based eCommerce business.
On the one hand, your customers expect timely (and cheaper) delivery. On the other hand, shipping can be a complex and costly part to set up and handle for you.
Hence, picking the right shipping solutions is absolutely essential to make sure your customers are happy.
Plus, it also plays a huge role in optimizing your costs and order fulfillment processes.
If you own a Shopify store, you'll find hundreds of shipping solutions to pick from in the Shopify app store.
From rates to documentation to managing returns, there are lots to consider.
Of course, trying and testing each of those will be inefficient.
So, here I am with the 15 best shipping apps for your Shopify store.
Let's check each of them out in detail.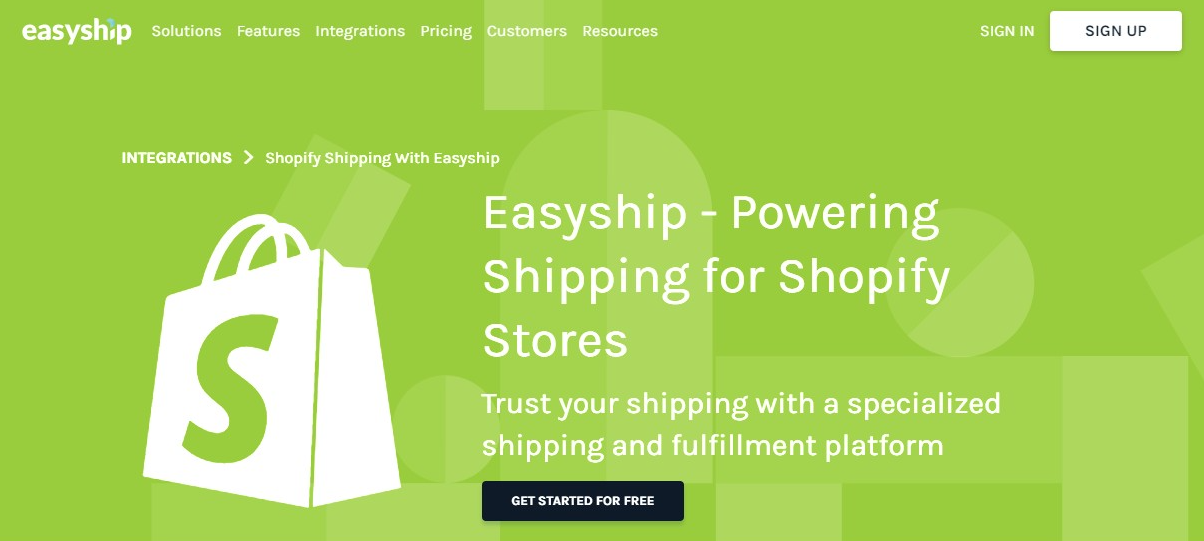 One of the best rated on Shopify, Easyship is a cloud-based, all-in-one shipping platform that helps businesses of all sizes streamline shipping and fulfillment.
It lets you manage your shipment on one platform with its extensive set of features, vis-a-vis. courier selection, shipment management, integrations, automation, finance, shipment creation, and delivery experience.
One of the most attractive things about Easyship is that it offers pre-negotiated, heavily discounted shipping rates.
Further, it makes it easy to reach your customers globally through its international courier partners. It also takes care of all kinds of paperwork and taxes requirements across borders.
Also, its powerful automation can help you save a lot of your time managing repetitive shipping tasks.
On the customer front, Easyship offers a lot of flexibility in shipping options and in-cart settings.
It also offers a customizable post-purchase brand experience to your customers – from tracking orders to delivery status emails.
Overall, along with simplifying shipping and saving shipping costs for you, it facilitates conversions on your store and improves customer satisfaction.
Key Features
Global fulfillment through 250+ shipping services
Detects the best flat-rate service suitable for an order
Robust shipping management, including batch shipping, accurate delivery estimates, printing options, and more.
Available couriers at checkout and insurance at checkout options for your customers
Automation for courier selection, delivery preference, package size, product value, fulfilled order updates, and more.
Manage finances by keeping track of past invoices, receipts, and transactions statements
Shipment document creation with address validation and product information
Shipment insurance and residential fee coverage
Branded tracking (emails, webpages, etc), and packing slips
Option to outsource warehousing and fulfillment
24/7 support
Pricing
Easyship is free to install. You only pay shipping costs for up to 100 shipments per month.
Its subscription plans start at $20 per month for up to 500 shipments and some advanced features; $49 per month for up to 2500 per month, and more advanced features.
It offers a custom plan if you have more shipment requirements.
Outvio is an all-in-one app, that makes shipping and order processing hassle-free.
It's an automation platform that centralizes the entire post-checkout processes, from order fulfillment and courier management to order tracking, notifications, incident management and product returns and exchanges.
With access to over 60 courier integrations and multi-country warehouse support, you can provide both national and international courier options to your customers and increase your revenue streams.
For an excellent buying experience, you can offer your own branded tracking page and a self-service portal where your customers can effortlessly return and exchange products.
You can connect Outvio with all your eCommerce platforms and couriers to bring your orders to one place and fully automate the shipping process with bulk shipping label printing, picking and packing tools, and smart shipping rules.
Key Features
Seamless integration with your E-commerce platform, CMS, and your courier

Advanced Fulfillment System for error-free picking and packing processes

Automatic order processing and shipping with custom rules
Pre-agreed delivery rates
Bulk label printing
Automatic invoice generation for international orders
Multiple tracking and return options
Self-serving return portal
Smart tracking and auto-email alerts
Multi-language support

Your own branded tracking page, with upselling features and advanced customization

Full insight into post-checkout operations with sales, fulfillment, shipping, and notifications analytics

API Access

Automatic and customizable delivery notifications via email and SMS
Pricing
Outvio offers four plans with a 14-day free trial.
The launch plan costs €29 per month. It has basic functions and custom branding.
The Grow plan costs €99 per month. It includes direct shipping label printing and smart AI tracking alerts.
The Conquer plan costs €199 per month. It allows unlimited warehouse location and API access.
For the Enterprise plan, designed specifically for the needs of the large eCommerce, you may have to contact sales.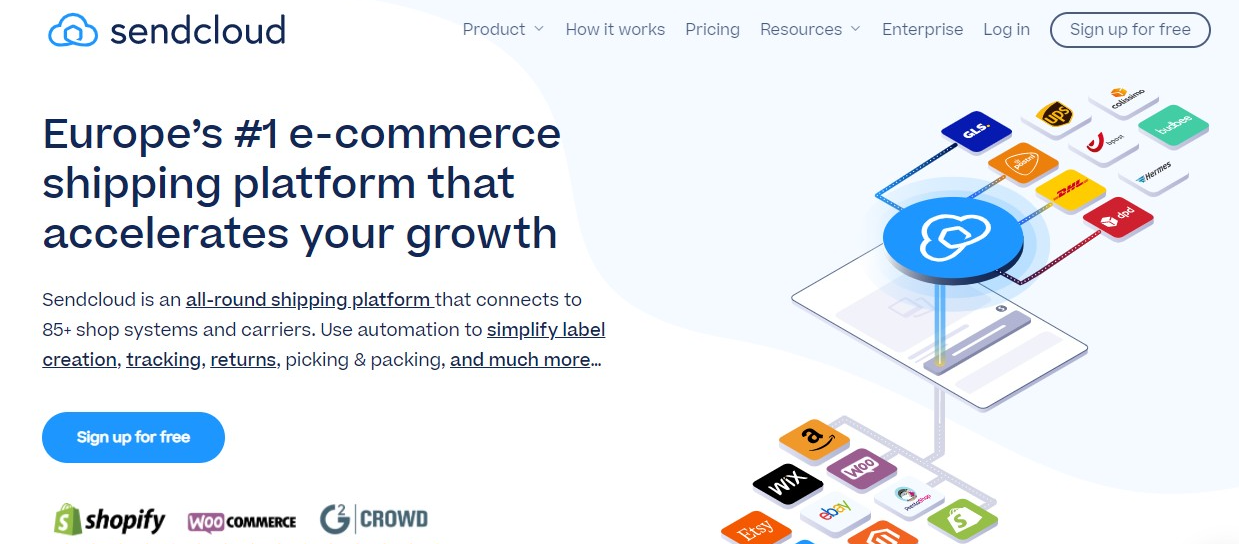 If your eCommerce business is based out of Europe, you might want to explore Sendcloud.
It is also a comprehensive shipping app helping you save time and money with an automated shipping workflow, from printing labels to managing returns.
With 30+ carriers delivering within Europe and internationally, it offers your customers flexible delivery options at the checkout.
Sendcloud lets you create custom automation rules to make sure the shipping options displayed remain error-free.
Besides allowing a branded tracking experience, it lets you build your own returns portal on top of its return portal API to understand the reasons for returns.
Its analytics dashboard gives you insights into your orders and returns to improve the shipping experience.
Key Features
Easy and fast set up without any coding requirement
Pre-negotiated shipping rates
Bulk and individual printing of labels
Multiple delivery methods, including service point pickers, same-day delivery, and COD
Custom automation rules and workflows
Automated generation of custom forms and other documents
Customized tracking page, emails, and status notifications
Automated multi-language tracking
Customized returns portal
Analytics dashboard with orders, returns, and carrier performance data
Pricing
Sendcloud offers a free plan for less than 100 shipments. It has three paid plans with a 7-day free trial:
Small Shop plan costs $45 per month for up to 400 shipments.
Large Shop plan costs $99 per month for up to 1,000 shipments.
Business plan costs $199 per month for more than 1,000 shipments.
ShipStation is another highly rated shipping app for Shopify. Like Shippo and Easyship, it lets you manage your shipping workflow in one place.
It lets you import orders from multiple channels and quickly generate discounted shipping labels at the best rates.
You can also connect existing accounts and keep your negotiated rates.
ShipStation also lets you add multiple delivery options to your store's checkout and offers free, flat-rate, and live-rate options.
Furthermore, it provides inventory management solutions to make order fulfillment efficient.
Additionally, you can create a branded shipping and post-purchase experience for your customers.
Key Features
50+ shipping carriers across the U.K., U.S., Canada, France, New Zealand, and Australia
Integrations with 200+ shopping carts, marketplaces, ERP, inventory platforms, fulfillment services, and other eCommerce tools
Order import from unlimited channels
Wide range of automation rules from simple presets to complex rules
Multi-location inventory sources map
Real-time information for
Batch printing of labels
Branded tracking page, returns portal, notification emails, labels, etc.
Robust customer support via live chat, emails, phone, and community forum
Pricing
ShipStation offers six pricing plans with a 30-day free trial:
The starter plan costs $9 per month for up to 50 shipments.
Bronze plan costs $29 per month for up to 500 shipments.
Silver plan costs $49 per month for up to 1,500 shipments.
Gold plan costs $69 per month for up to 3,000 shipments.
Platinum plan costs $99 per month for up to 6,000 shipments.
Enterprise plan costs $159 per month for up to 10,000 shipments.
With over 100K customers, Shippo is one of the most reputed shipping apps to simplify your shipping and fulfillment journey on Shopify.
It offers some of the lowest rates from top carriers around the world, potentially saving you up to 90% on shipping labels.
Like Easyship, Shippo also offers an extensive range of functionalities and end-to-end automation for a seamless shipping experience for you and your customers.
It lets you sync all your sales channels to manage orders from one place.
Besides creating discounted shipping labels, it keeps your customers updated with real-time tracking information.
In the case of return requests, it automatically generates return labels for free.
Moreover, it handles damage and delays issues with carriers on your behalf.
You can simply integrate Shippo with your Shopify store using its API and import orders to get started.
If you manage orders from multiple stores or multiple locations, Shippo doesn't currently support it.
Key Features
85+ global carriers including USPS, UPS, FedEx, DHL Express, and more
Faster label generation with pre-filled package information
Auto-generated custom forms and invoices for international shipping
Split orders into multiple shipments
Real-time tracking and notifications
Branded tracking pages, shipping emails, packing slips, post-purchase experience, etc.
Shipping analytics and reporting
Multiple layers of customer support, from integration to delivery issues
Pricing
Shippo is free to install in your Shopify store. It doesn't charge you a per-label fee or service fee for its default carriers.
However, you don't get automation and customizations with the free plan.
The paid plan starts at $10 per month wherein you get automated workflows and a branded customer experience. It also comes with a 30-day trial.
ShippingEasy is another shipping app rated highly by Shopify users.
As the name suggests, it makes shipping easy and saves you time and cost through automation and discounted rates.
Unlike other shipping apps we have discussed so far, it primarily provides discounted rates only from USPS and UPS.
But if you have your own FedEx account, you can integrate it and use your own rates.
It lets you sync, manage, process, and print shipping labels for your orders and provides a branded shipping experience.
What makes ShippingEasy different from others is that it offers Customer Marketing add-ons to increase your conversions and repeat sales.
Key Features
Carrier partners – USPS, UPS, FedEx, DHL Global
Proprietary Flat Rate Green Cubic shipping rates based on package dimensions
Automatic order imports from multiple selling channels
Batch and one-by-one label printing options
Auto-population of custom forms and international shipments
Customer information and purchase history in one place
Branded tracking pages, packing slips,
Pre-built email marketing templates for abandoned carts, email list building, and other campaigns.
Customer marketing segmentation, analytics, and more
Pricing
ShippingEasy offers six pricing plans with a 30-day free trial:
Starter plan at $5 per month for up to 50 shipments.
The basic plan at $29 per month for up to 500 shipments.
Plus plan at $49 per month for up to 1,500 shipments.
Select plan at $69 per month for up to 3,000 shipments.
Premium plan at $99 per month for up to 6,000 shipments.
Enterprise plan at $159 per month for up to 10,000 shipments.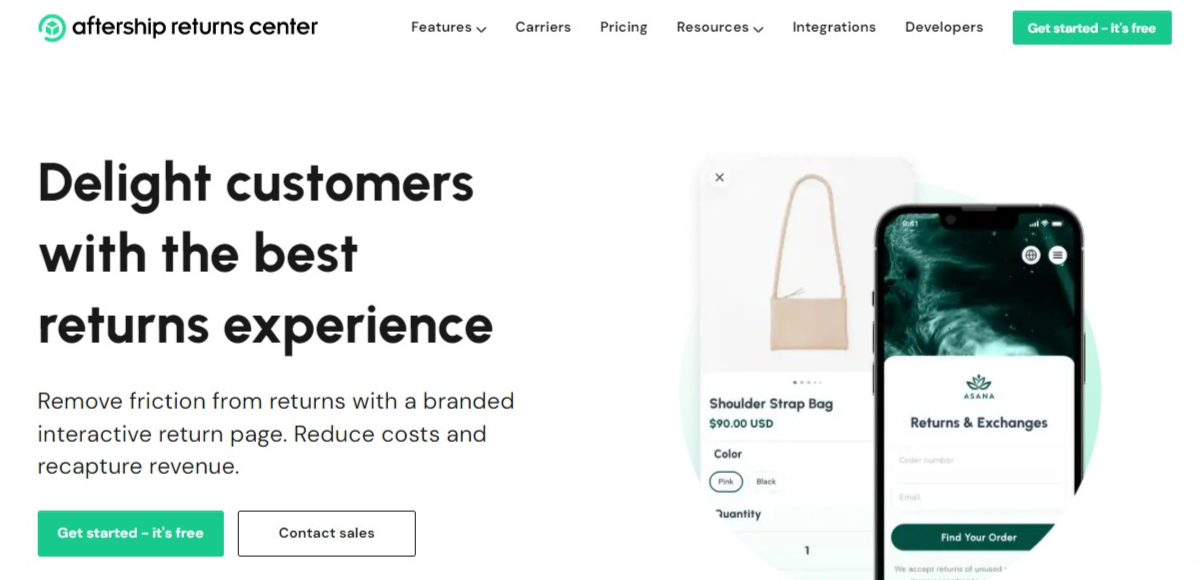 If you're looking for a dedicated shipping returns solution, AfterShip Returns Center is one of the best apps for Shopify.
It makes the returns and exchange process easier to handle for you with its returns management portal.
For your customers, it helps you provide a pleasant return or exchange experience with self-service returns, branded tracking, timely updates, and easier refunds.
Moreover, your customers can submit returns requests in just a few clicks by entering the order number and not emailing you.
AfterShip Returns Center supports various return methods, integrates with 13+ couriers to provide easy-to-print return labels, and routing rules to help you cut returns costs.
You can also set up advanced rules for special cases and set up shipping rates accordingly.
Lastly, it lets you keep track of returns and exchange performance so that you can plan your inventory better and improve your offerings.
Key Features
Supports multiple returns methods – pre-paid label, returns to store, carrier of customer's choice, and green returns
Flexible payment resolutions – refund to original payment method, return store credit, exchange within product variant or for any product
Auto-calculation of refund amounts
Automatically generate or manually upload prepaid labels
Gift card issue for Shopify Plus users
Integration with 13+ carriers, including UPS, USPS, DHL, DPD, FedEx, Swiss Post, etc.
Branded returns page, labels, notifications, and more
Pricing
AfterShip Returns Center offers a free plan for up to 3 returns per month.
The paid plans are categorized into three plans depending on the number of returns and advanced features:
The essential plan starts at $9 for 20 returns and goes up to  $29 per month for 100 returns.
Pro plan starts at $99 per month for 400 returns and goes up to $599 per month for up to 3000 returns.
Enterprise plan is a custom plan for 3000+ returns per month.
If you operate your eCommerce business from India, Shiprocket might prove to be an excellent shipping solution for you.
It helps you ship across 29,000 pin codes in India and 220 countries at cheaper rates and COD and pre-paid facilities.
Its Courier Recommendation Engine suggests the right courier partner, taking over 50 key metrics into account.
Its automation features let you sync all your orders, map order, and payment status, manage undelivered orders, and returns.
Shiprocket also provides a dedicated panel to manage weight discrepancies and bills reconciliation.
It offers end-to-end package tracking and real-time communication to your customers.
Moreover, you can customize the whole experience with branded order tracking, labels, and communication.
Key Features
One-click integration with your Shopify store and automatic sync
17+ courier partners including DHL and Aramex
Multiple sales channel integration
5-15% lower return costs; damage and loss protection for shipments
AI-enabled courier recommendation engine
Quality control enabled return order processing
One-stop customer support for shipping-related, technical, and other queries
All-in-one analytics dashboard to order tracking and reports on the courier, channel, and seller performance
Pricing
Shiprocket is free to install and offers a free Lite plan with shipping rates starting at ₹29 per 500 grams and basic features.
To access lower shipping rates and advanced features, you can go for paid plans starting at $17 per month.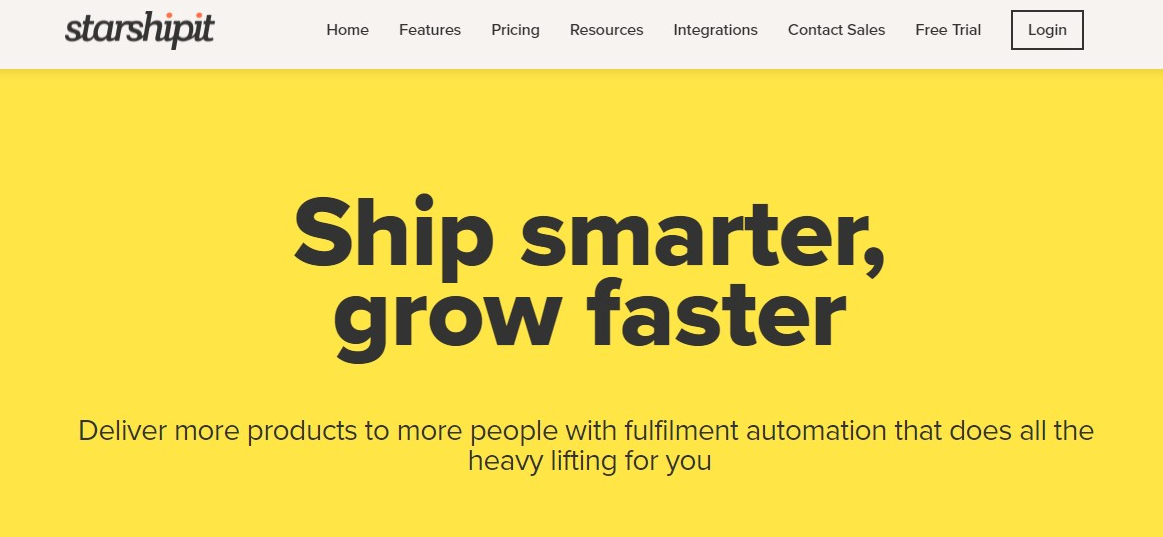 Starshipit is another comprehensive shipping app for Shopify that automates and manages every step of your fulfillment process.
Operating across Europe, Australia, and New Zealand, it supports multiple warehouses or stores, and multiple channels.
It imports all your orders and allocates the orders to pre-specified couriers at your negotiated rates.
You can create rules for location, weight, SKU, and shipping method to make your delivery efficient.
It also generates labels that you can print individually or in batches and submits custom documents.
Along with providing your customers with multiple delivery and shipping rate options, Starshipit makes it easy for them to return by easily generating return labels.
Moreover, it enables a branded tracking and post-purchase experience.
Key Features
Integrations with online marketplaces, accounting software, international, and domestic couriers
Automated generation of packing slips, shipping labels, and manifests
A range of shipping options at checkout
Automated tracking notifications via SMS and emails
Manual and automatic order creation and update
Auto-correction of invalid addresses
Order-splitting, ship from store, and multi-location shipping options
Branded marketing to enhance customer post-purchase experience
Pricing
Starshipit offers four pricing plans with a 30-day free trial:
Starter plan costs $35 per month for up to 250 shipments.
Starter Plus plan costs $100 per month for up to 1,000 shipments.
Professional plan costs $115 per month for up to 2,000 shipments.
Enterprise plan costs $170 per month for up to 4,000 shipments.
Better Shipping is a shipping app built specifically for Shopify. Unlike Easyship, it is not an extensive shipping solution.
It is primarily focused on shipping rate calculations, offering a great deal of flexibility over shipping rates calculation. It quickly and reliably retrieves rates at checkouts.
However, you'd need to enable Shopify's 'third-party carrier-calculated rates' feature to retrieve the rates.
Moreover, you can easily manage shipping rates and set up rules to suit different scenarios.
It helps you make sure your products reach your customers on time and remain intact. Your customers will see only the rates relevant to them.
Along with an option to set flat shipping rates for each product in your store, Better Shipping also lets you set up variable rates and cover complex delivery requirements.
Key Features
Flat shipping rates settings for every product in your store
Variable and tiered rates based on product variants, delivery area, and more
Delivery restrictions for products based on ZIP codes for fragile items and time-sensitive deliveries
Option to offer customers multiple pickup options
Specification of pick up availability time
Shipping rules to help you avoid overcharging your customers on shipping
Rules for customer rewards such as free shipping on spending a certain amount
Bulk product update tool for fast set-up and management
No coding requirements
Personalized customer support
Pricing
Better Shipping will cost you $19.99 per month. It also comes with a 7-day free trial which allows you to explore all its features.
Intuitive Shipping is the shipping app that primarily helps you take control of the shipping costs and shipping options at the checkout, at a fast speed.
It aims to help you reduce abandoned checkouts by removing frictions for your customers, such as vague delivery options or unexpected shipping charges.
With its flexible rule creation, you can assign various conditions for displaying shipping rate and delivery time estimates.
You can assign custom rates based on different parameters like weight, distance, etc.
Intuitive Shipping's proprietary algorithm, SmartBoxing™, automatically calculates the appropriate size, weight, and number of boxes for each order.
Moreover, its advanced rate blending feature lets you combine different rule sets at the checkout to minimize shipping costs.
And the best part, you only pay for completed orders and not the orders abandoned in the cart.
Key Features
Live rate calculations from major carriers like USPS, UPS, FedEx, Canada Post, and more
Custom pricing based on product quantity, weight, distance, etc.
Blending of shipping rates from multiple vendors, shipping methods and cart rules at the checkout.
Optimized dimensional shipping with SmartBoxing™
Customizable free shipping triggers
Store pick-up options within U.K. postcodes
Onboarding demo support and dedicated customer support
Pricing
Intuitive Shipping offers three pricing plans with a 15-day free trial and an unlimited trial in testing mode:
Silver plan costs $29.99 per month for up to 600 orders.
Platinum plan costs $49.99 per month for up to 2,000 orders.
Prestige plan costs $99.99 per month for up to 8,000 orders.

Packlink PRO is another great shipping app you should explore.
It is a Spain-based shipping company that helps small and medium businesses optimize the complete shipping process.
It connects you with over 350 shipping services from across the world to let you ship globally and save up to 70% on your shipments.
From printing labels to picking and packing orders, you can automate each step and build a custom workflow.
With the Packlink PRO dashboard, you can keep track of the delivery status of all your orders. You can also send emails to your customers about the status.
Their customer support is worth a mention. If you look at their reviews, you'll find a lot of praise for their quick and friendly response.
Key Features
Easy to install and intuitive interface
Worldwide shipping with the help of leading carriers
No minimum volume requirements
Real-time import of orders
Optimized checkouts with best carrier and delivery options
Custom workflow to pick, pack, and print shipping labels
Activate up to 30 carriers and switch with one click between them
Shipment tracking and status intimation
Dedicated 7 days phone support
Pricing
Packlink PRO is free to install. You only have to pay for each shipping label purchased.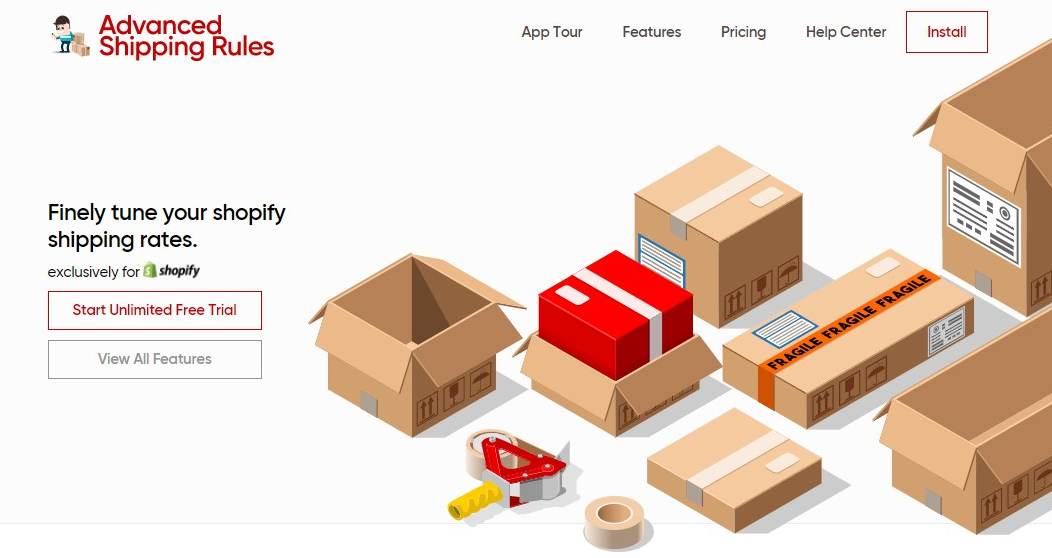 Advanced Shipping Rules is an exclusive app for Shopify that helps you set rules to fine-tune your shipping rates.
While it may not offer an extensive shipping solution like Easyship or ShippingEasy, it makes your shipping workflow more efficient and cost-effective with its rules flexibility.
For example, you can set unique rates for different product groups, add custom duties, restrict or hide rates for certain conditions, and much more.
You can also create sub-zones within your Shopify zones and offer blended rates.
However, the blended rates functionality works for product groups having the same shipping profile and shipping location.
It also integrates directly with on-demand printers like Printful and Printify and on-demand fulfillment providers like Modalyst for their real-time shipping rates.
Key Features
Many variables and conditions to hide, show, and adjust rates
Unique rates for different product groups
Restrictions for shipping methods and zones
Mix and match rates based on items, size, weight, and dimensions
Multiple versions of the same carrier method
Advanced rate types like 'By Items', 'Per Pound', 'Percentage of Product Price'
Dual-layer dropship
Requires real-time carrier rate feature enabled
Unlimited trial in test mode
Pricing
Advanced Shipping Rules offers four pricing plans with a 7-day free trial in live mode.
Lite plan costs $9 per month.
Standard plan costs $29 per month.
Pro plan costs $59 per month.
Unlimited plan costs $99 per month.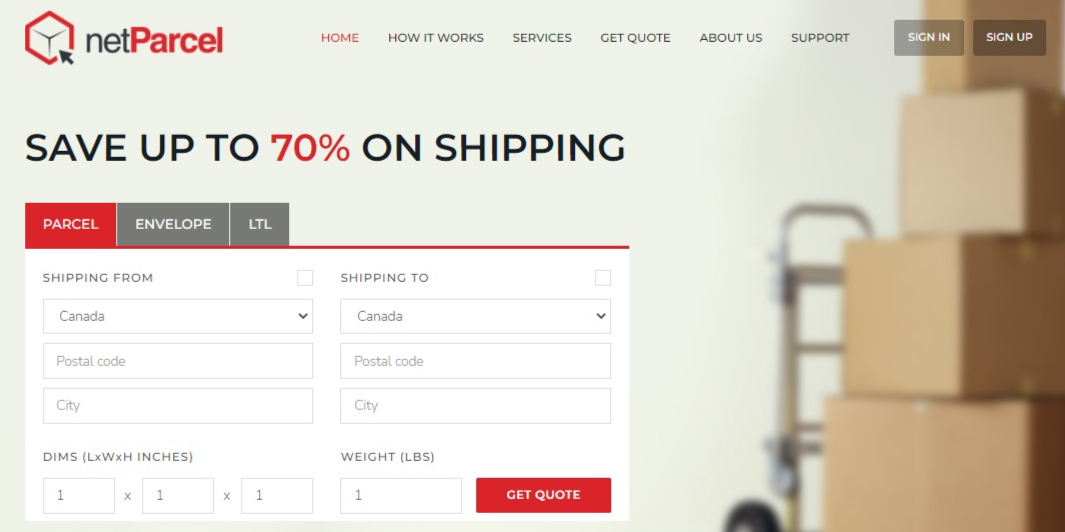 If your business is based out of North America, netParcel can help you save a lot of money on international shipping with its discounted small parcel and LTL (Less-than-TruckLoad) freight services.
It offers negotiated rates from FedEx, Loomis, DHL, Purolator, Conway, and other reputed carriers.
It also provides multiple shipping options for routes from any location in the world to U.S. and Canada.
netParcel allows you to import orders, generate labels, and publish real-time shipping rates at the checkout. Its rate comparison tool lets you select the best shipping rates and carrier options.
With its tracking tool, you can easily send tracking emails to your customers.
Key Features
Instant access to reputed domestic and international carriers and LTL freight services
Multiple carrier and service offerings for each route
Real-time shipping rates at the checkout
Volume consolidations and discounts
Printing of shipping labels
Order imports and scheduled pick-ups
Shipping confirmation emails to customers with tracking numbers
Pricing
netParcel is completely free to install.
EnviaShipping is another notable shipping app that helps you manage all your shipments from one platform.
They handle domestic and international shipments across 11 countries through 65 well-known courier services. The countries include the U.S.A., U.K., India, Mexico, Canada, Argentina, Brazil, and India.
With Envia, you can automate shipping rules, create shipping labels, and get real-time shipping quotes at low rates.
You can also request store or warehouse pick-up.
Its online tracking system lets you send shipment status updates to your customers.
Key Features
Carrier costs comparison
Real-time shipping quotes with preferential quotes
Multiple shipping labels creation
Shipping rules automation
Automated tracking and personalized notifications
Credits and financing for businesses
Package insurance against loss and theft
Pricing
EnviaShipping is free to install. You only pay for the shipments.
Conclusion
Each of these 15 shipping apps for Shopify are feature-packed to make your shipping process easier and cost-effective.
Apps like Easy Ship, ShippingEasy, or ShipStation are global and offer comprehensive shipping solutions from printing labels to customer marketing.
However, you should also give weightage to your store's location to see which app may be most suitable for your requirements.
You may find a more localized option like Sendcloud or Shiprocket suits you better.
And, don't forget to take a look at the reviews in the Shopify app store to get a sense of what you may expect.
Happy exploring and shipping!