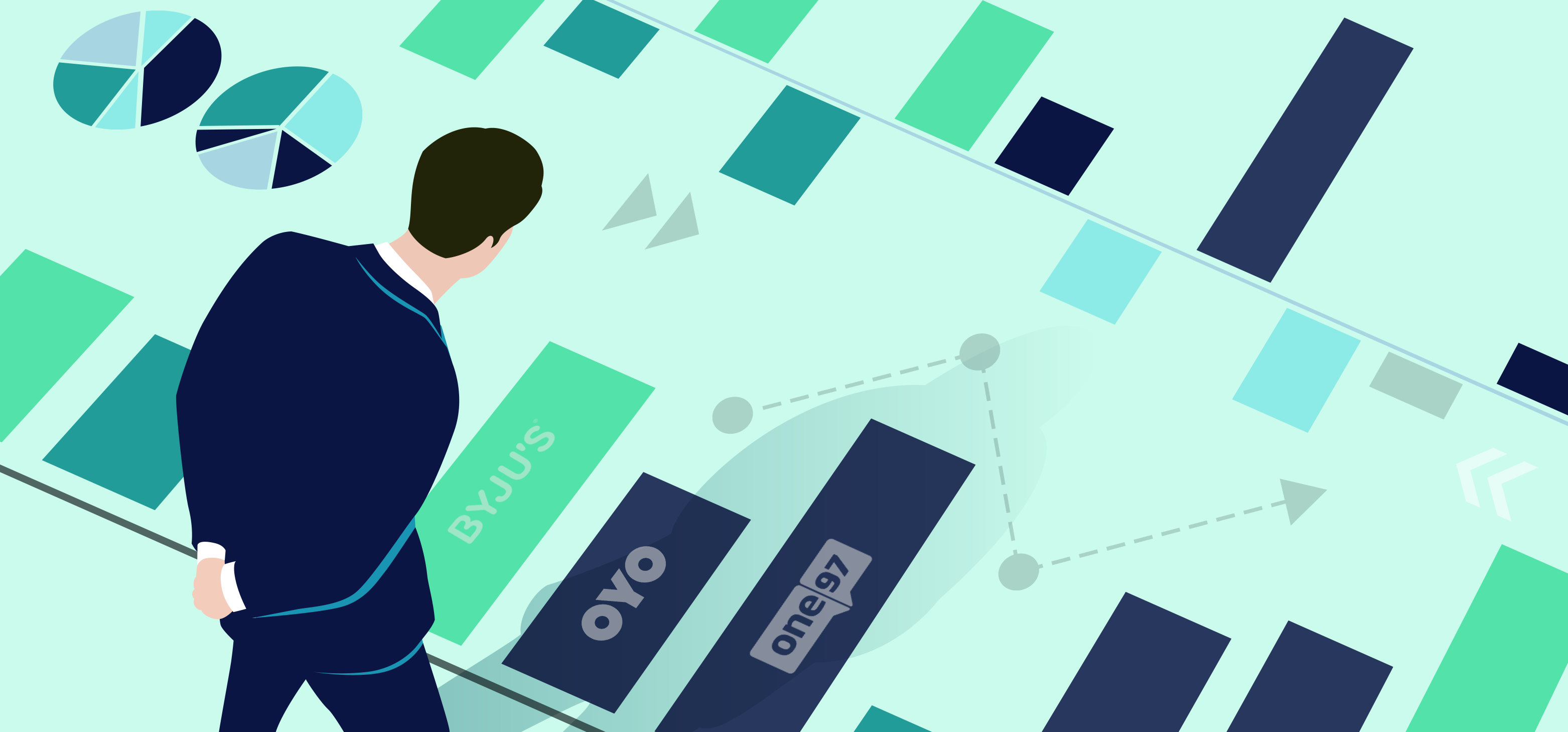 Indian startups have been on a roll lately. With a population of more than 1.3 billion people and a rapidly growing economy, India is a key country for startups seeking to grab a share of the market. Across the globe, startups from India are proving to be a force to be reckoned with.
Across all sectors, startup companies in India are doing well. The world is taking notice of the Indian startup's success.
Due to this, investors are also joining the bandwagon. In addition to creating more job opportunities in all sectors, including e-commerce and the IT sector, this has also boosted the job market in general.
Investors and companies around the world are looking to invest in Indian startups.
In addition to its well-educated and hard-working population, India has a strong startup culture, making it one of the most startup-friendly countries in the world. Right now, the Indian startup scene is as hot as it gets.
With great determination and a dedication to innovation, these startups are rewriting the rules and disrupting major industries within the country.
Startups in India are pioneering modern technologies that we rely upon today in both our personal lives and our business lives. Innovative technologies and products they develop are contributing to reshaping business in various sectors.
The startups offer a variety of services ranging from helping creators to teaching businesses how to conserve water.
Developing new ideas in a globalized, competitive market gives these startups a leg up on traditional businesses, as they don't have to adhere to routine restrictions. These Startups are changing the way we do everyday tasks and opening greater opportunities with their trust in their instincts.
Here is a list of startups that are stoking business with their technology and innovation, and have garnered the attention of entrepreneurs around the world. As varied as the list may be, they all have one thing in common — India.
1. Paytm – $16b:
One97 Communications Ltd. is a leading mobile internet company in India that has its hands in multiple pies. With a value of more than $16 billion, it is India's most valued startup. One97 is on a mission to simplify and innovate the online payment paradigm in an era of chaos and confusion.
Vijay Shekhar Sharma founded Paytm in 2010 with the first investment of $2 million. Within five years, Paytm grew into a $16 billion digital financial services platform with over 250 million users. It has been part of a thriving ecosystem that has helped millions go cashless and led to the growth of e-commerce and digital payments in the country.
Paytm is One97's flagship brand, offering a full suite of financial services and payment solutions to consumers, merchants, and platforms. Paytm is the largest mobile commerce platform in the country, enabling new businesses to thrive, and enabling consumers to explore their digital potential.
Paytm is an e-commerce transaction provider, or, as they call it, a payment gateway for consumers as well as merchants. Mobile recharging, utility payments, movie tickets, airline and hotel bookings, etc. are among the services it offers. Additionally, users can transfer money online between one another using the service.
In India, Paytm dominates online payments, garnering a larger share of revenue and users than its counterparts, Freecharge, Mobikwik, PhonePe, and Google Pay. Paytm is backed by several investors, including Softbank, Ant Financial, AGH Holdings, SAIF Partners, Berkshire Hathaway, T Rowe Price, and Discovery Capital.
2. Byju's – $15b:
Byju's is an Indian multinational company headquartered in Bengaluru, India. Founded by Byju Raveendran and Divya Gokulnath in 2011, it provides online education courses to explain academic subjects and concepts to students. Byju's is currently one of India's hottest startups, valued at about $15 billion.
Byju's is India's largest school learning app and education provider, and the company offers students a highly adaptive, engaging, and effective learning program that offers highly adaptive, engaging learning experiences. With Byju, technology plays a critical role in transforming both student learning and the way teachers teach.
Byju's personalized learning program combines world-class teachers, proven pedagogical methods, data science, and innovative technology to redefine how students learn in the digital age. Through Byju's app, students can get a clear understanding of math and science concepts and build a strong base of knowledge at an early age using digital animations and interactive elements.
Byju's success is primarily due to its focus on education rather than technology. Hence, it's not surprising that Byju has emerged as India's most prominent EdTech company and is aiming to dethrone Alibaba-backed Paytm as India's most valuable startup.
As of today, Byju's is India's second most valuable startup, behind Paytm's financial services business.
Without a doubt, Byju's is India's most celebrated EdTech startup and Bengaluru-based Byju Raveendran helped propel the brand to success with his charisma and technical prowess. With over 80 million users, 5.5 million of whom are paying subscribers, Byju's has amassed a considerable audience.
Tencent, General Atlantic, Aarin Capital, Sequoia Capital, Lightspeed Ventures, and Tiger Global are some of the company's investors.
3. OYO Rooms – $8b:
Starting as Oravel in 2011, OYO Rooms is an Indian multinational hospitality company that offers leased and franchised hotels, homes, and living spaces. The startup that started as just another budget hotel aggregator has changed the way India vacations. With an estimated value of $8 billion, OYO Rooms is India's third most valuable startup.
OYO Rooms, the brainchild of Ritesh Agarwal, is revolutionizing the hospitality industry in India and making budget hotel accommodation affordable to the average person. With its ability to design stylish and comfortable living spaces, OYO is reshaping the accommodation landscape across the world.
OYO has a presence in over 800 cities in 80 countries.
The rapidly growing network is tapping into the growth of business and leisure travel while addressing the needs of budget-aware travelers. OYO is part of a growing tribe of startups that are on the constant lookout for innovative ways to make life more convenient.
OYO Rooms has gone on to become India's first technology-driven network of standardized branded budget hotels and has also widely expanded its presence to 43,000 hotels with over 1 million rooms. Millions of travelers turn to OYO every month for their homestays, hotel bookings, and vacation lodge inquiries.
Oyo Rooms is one of the most funded hotel aggregators in the world, with investors such as SoftBank Group, Didi Chuxing, Greenoaks Capital, Sequoia, Lightspeed, Hero Enterprises, Airbnb, and China Lodging Group.
4. Zomato – $5.4b:
Zomato, the largest restaurant aggregator and food delivery company in the world, has evolved dramatically since its inception.
It was started over a decade ago as a scanned menu delivery platform — essentially helping restaurants share their menus online and share reviews — but that was only the beginning. Zomato, the online food ordering service, is now valued at around $5.4 billion.
Deepinder Goyal and Pankaj Chaddah founded zomato. Though it operates globally, it is headquartered in Gurgaon, near New Delhi, India. When Zomato was founded in 2008, the two co-founders were also alumni of IIT Delhi. The company began as Foodiebay, before changing its name to Zomato in 2010.
This amazing Indian start-up revolutionized the food-tech industry.
Zomato has tie-ups with more than a million restaurants and its online food ordering service is available in more than 10,000 cities across 24 nations. The company not only offers delivery from its list of restaurants but also provides user reviews, information, menus, and ratings for those restaurants.
With contactless deliveries and grocery deliveries, Zomato stayed at the forefront even during the COVID-19 pandemic.
Zomato is one of the most popular destinations for foodies around the world. It has raised millions in funding and is backed by investors like Info Edge, Sequoia Capital, Vy Capital, and Alibaba.
5. Swiggy – $5b:
Swiggy is one of the top players in the online food delivery & ordering industry, delivering convenience that no other service provider can provide regarding food ordering, delivery, and overall experience. Food tech is a hot space in India, and Swiggy is one of the market leaders. This year, the Indian food delivery startup was reported to be valued at nearly $5 billion.
Based in Bangalore, India, Sriharsha Majety, Nandan Reddy, and Rahul Jaiminiin founded swiggy in 2014 to reinvent the food ordering experience. In the last six years, the company has experienced phenomenal growth and has become the largest online food ordering and delivery platform in the country.
Swiggy launched a range of instant pick-up and drop services for the convenience of its users. The service, known as Swiggy Go, will offer self-assistance by tapping on Swiggy's network of partners to deliver goods in the form of laundry and dry cleaning to customers.
Swiggy has also spiked competition in the food delivery industry with its new "Swiggy Store" initiative. Within the Swiggy app, customers can now order groceries and daily essentials from a variety of stores. People have loved it and have taken it as their first choice app for their grocery ordering purposes.
Swiggy now has a major presence in over 500 cities across India including Delhi, Mumbai, Pune, Bangalore, Hyderabad, Chennai, and Kolkata. Not just that, they are partnered with 125,000 restaurants and over 200,000 delivery executives. The company is backed by investors like Accel, SAIF, Norwest, Naspers, and Tencent.
6. Dream11 – $5b:
Dream11 is India's biggest fantasy sports platform and the go-to destination for tens of millions of fans who want to put their skills to the test against other passionate and knowledgeable fans. The market capitalization of the company is around $5 billion, which makes it the most valued fantasy sports platform in India.
Harsh Jain and Bhavit Sheth founded Dream11 in 2008, a collaborative endeavor between two young and talented founders. Headquartered in Mumbai, it is an Indian startup that has created a niche in the industry with its innovative and exciting concept of Fantasy Sports for Cricket, Kabaddi, Football, Hockey, and Basketball.
Fantasy sport or fantasy gaming is as popular as real-life sport is. It's yet another form of entertainment we have other than real sports. Fantasy sports leagues are typically based on a large number of actual sporting events each season, allowing participants to pick their players based upon their performance. This creates an opportunity for fans to create fantasy teams that can be used to compete.
Dream11, which has grown its user base to over 100 million, plans to capitalize on the growing popularity of fantasy sports in India. Investments in Dream11 have come from all over the world as the company has grown. Among the company's investors are Kalaari Capital, Tencent, Multiples PE, Steadview, and Falcon Edge Capital.
7. Ola – $3b:
Ola is one of the world's largest ride-sharing companies and India's largest transportation network, serving more than 250 cities in India, Australia, New Zealand, and the United Kingdom. Ola service provides customers with a wide range of products under one single umbrella — from everyday transportation services to super-luxury cars. As of March 2021, Ola is valued at about US$3 billion.
The founders of Ola Cabs had the vision to provide their users with an affordable and convenient option of transport. Because of delivering on their vision, they could create value. Ola Cabs' high standards have made it one of the most recognizable taxi companies, among all those that offer cab services in India.
Founded in Dec 2010 by Bhavish Aggarwal and Ankit Bhati, Ola's goal is to make mobility more accessible to a billion people. While the road has not been without its challenges, they have delivered a super smooth ride to over 3 million users & $1.5m driver partners through their platform.
Ola, with this business scale, has not only offered mobility solutions for customers but has also helped create jobs for drivers through its mobile technology platform and management expertise. Several venture capital firms are behind Ola Cabs, including Tiger Global, Matrix Partners, Steadview, SoftBank, and Tencent.
Final Thoughts:
India has been a country of startups, ever since the swinging sixties. The journey of some of the startups in India has been quite fulfilling, and they've come a long way since their inception. Despite all the advancements and new tech advancements, the core belief that lies behind every startup company in India is "Make in India".
It's not just about building the next Facebook, or Uber, or Airbnb that these startups are doing. By using big data-driven models, they are transforming industries such as healthcare, automotive, and others. India is transitioning from just being a consumer-oriented web hotbed to becoming a technology center centered on the enterprise as well.
India is one of the fastest-growing economies with booming urban centers, shining stars in the startup world, and a humongous young population with immense potential. With its huge population, access to world-class universities, and growing Internet penetration rates, it looks poised to continue to be a startup hub for some time to come.
The number of startups in India has grown to more than 40,000 in just the past six years, raising more than $50 billion in funding. With 14 unicorns valued at $61 billion, Bangalore, India's startup capital, has been the leading driver of India's startup growth story. In 2021 and in the years to come, India's youth will have a lot to look forward to.