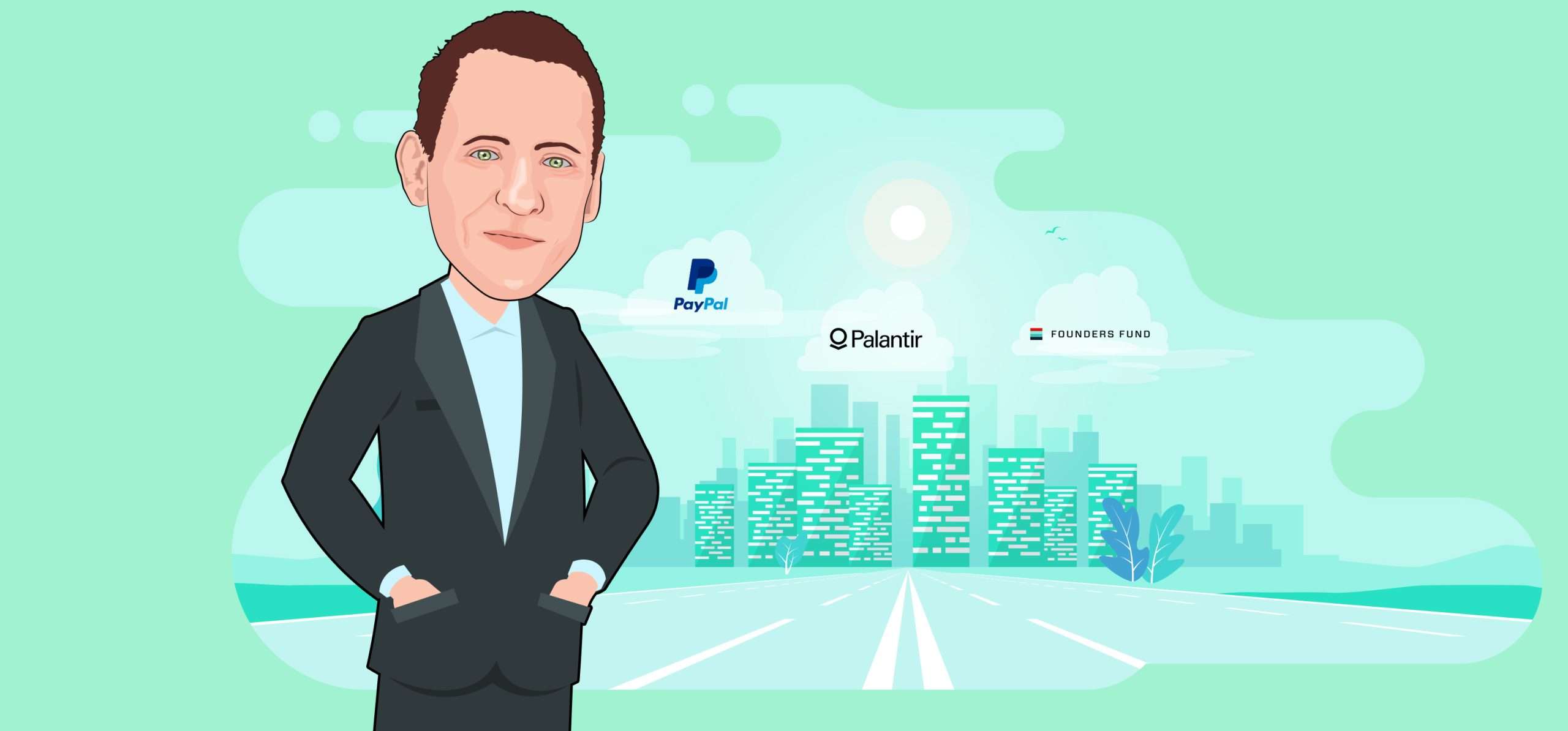 Let's face it: Most advice out there about how to be successful is filled with the same old cliche about "following your passion" or "believing in yourself."
And for the most part, it's a giant waste of time.
But every once in a while, someone comes along who throws conventional wisdom out the window.
Someone who says what nobody else dares to say. Someone like Peter Thiel.
Love him or hate him, Thiel has some counterintuitive insights on doing business that just might change the way you think.
He questions things like the value of college, the virtue of competition, and the inevitable march of technological progress.
Yeah, he goes there.
And this billionaire investor doesn't give a damn about following the herd. He thinks for himself, even when it leads to uncomfortable conclusions.
That's what makes his advice so interesting. It opens up new possibilities that most "thought leaders" would shy away from.
In this post, we'll look at 15 of Thiel's most provocative lessons on startups, innovation, and life.
They're sure to piss some people off.
But they also might completely transform how you work, invest, and reach your potential.
1. Think for yourself
Thiel is known for his independent thinking and willingness to go against the grain.
He urges entrepreneurs to develop contrarian views rather than blindly following the herd.
According to Peter Thiel, thinking for yourself is important because it allows you to:
Uncover insights hidden from popular opinion
Create something new and valuable
And question received wisdom to create the future.
It also helps you avoid getting trapped in competition and culture.
2. Aim for monopoly
Peter Thiel is known for his controversial view that monopolies are desirable in business.
He suggests creating companies that are unique, interconnected, and hard to copy to gain power and control prices in a market.
In his book Zero to One, Thiel writes:
"Capitalism and competition are opposites. Competition makes it hard to earn profits."
Thiel praises companies like Google that control markets, set prices, and extract profits.
He sees monopoly power as far more valuable than facing competition, where profits get competed away.
Of course, Thiel cautions that he means monopoly "in its best sense," without the abuse of market power.
For example, eBay captured the online auction market and PayPal locked down online payments.
Google dominates search and Facebook social media.
3. Build a small team of like-minded people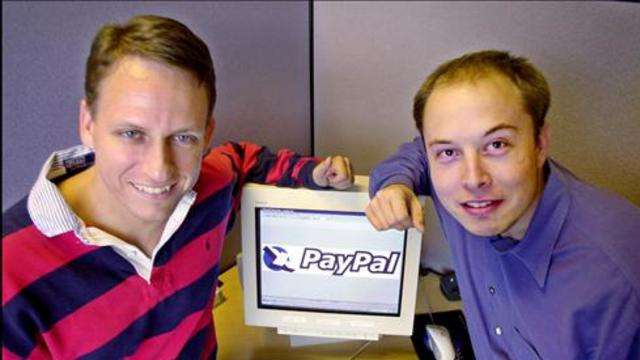 Having a big team might make you feel important. But having a bunch of random people just for the sake of having bodies around is stupid.
It's just going to slow you down.
What matters is finding a few people who share your mindset and values. Get selectively obsessive if you have to.
Handpick each person.
As Thiel says, "You should only consider working with those you'd work with even if you didn't need the money."
Take Facebook, for example, which started with just Mark Zuckerberg and a few friends with the skills and drive to change social networking.
Resist the temptation to staff up just to feel like a real company. Obsess over recruiting people as determined and crazy as you are.
Thiel strongly believes that a small group of believers is worth more than an army of the indifferent.
4. Find secrets
Thiel defines secrets as truths that are not widely known or accepted, and he thinks that finding them is the key to success.
You don't create real value by playing the same game as everyone else. You have to find secrets—proprietary insights that no one else has uncovered yet.
As Thiel puts it brilliantly: "The next Bill Gates will not build an operating system. The next Larry Page or Sergey Brin won't make a search engine. If you are copying these guys, you aren't learning from them."
Thiel invested in Facebook because he saw the untapped potential in online social networks before others did. That's the type of secret edge you need to find.
He thinks that the most fulfilling secrets are the ones that are difficult to find. To uncover secrets, he suggests being a polymath and not following others.
5. Start from scratch
Don't get into a game you can't win.
Find a fresh space.
As Thiel advises, "It is easier to dominate a small new market than to compete in a large established one."
Look at what PayPal did.
Online payments were complicated and broken before PayPal came along. But instead of trying to take on banks, they created a new parallel system optimized for the internet era.
Same with Airbnb. They didn't defeat hotels—they unlocked an entirely new category of accommodations.
You couldn't even call it competition. Airbnb's offering was different.
In all those cases, these companies didn't obsess about beating rivals. They designed something completely new, making the competition irrelevant.
6. Use first principles of thinking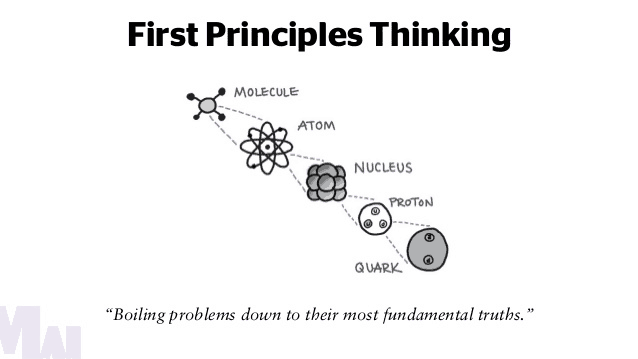 Most people just imitate whatever's around them. They operate on assumptions without questioning why.
Don't be a mindless copycat.
Learn to think from first principles like Elon Musk. Get down to the foundations. Dismantle complex problems to their core truths and reason up from there.
PayPal did this when building a new payment network. Instead of incrementally improving the credit card system, they asked deeper questions.
How can we transfer money online between any two parties?
What's the logical way to enable Internet payments?
Don't take existing models for granted. Think for yourself, go back to first principles, and you'll find answers others overlook.
Don't live your life on autopilot based on stale assumptions. Bring a beginner's mindset to everything.
The limits we assume are often just illusions. You can reinvent the game if you learn to question everything.
7. Don't rely purely on intuition
Raw intuition isn't enough. You can't succeed on good vibes alone.
Thiel sees far too many founders who trust their guts without doing the homework. But without critical thinking, you'll end up running on hope and prayers.
Intuition provides the spark and vision. But analytics supply the precision. Creativity gets you started, rationality keeps you grounded.
Leaning too hard in either direction can get you into trouble.
Thiel is a big believer in collecting hard data to test hypotheses and validate ideas. Intuition gives you hunches, but analysis separates the brilliance from the bullshit.
That's why Thiel partner Keith Rabois asks, "How do I know it's true?" about every assertion. They don't take anything at face value just because it feels right.
They question, research, and analyze.
8. Be bold and determined
Thiel looks up to entrepreneurs like Elon Musk. They dream big and achieve the impossible with determination.
Thiel seeded SpaceX because he believes ambitious visions attract top talent.
Musk's mission of colonizing Mars inspires the best engineers. People need missions that demand their absolute best.
But bold visions also require determination.
It's about turning inspiration into perspiration, as Thomas Edison said. Execute ambitious plans through focused intensity day after day.
Thiel praises Musk's work ethic of "relentless optimism." He works insane hours to will his visions into reality through sheer force of effort.
Think big, but also work tirelessly.
9. Master sales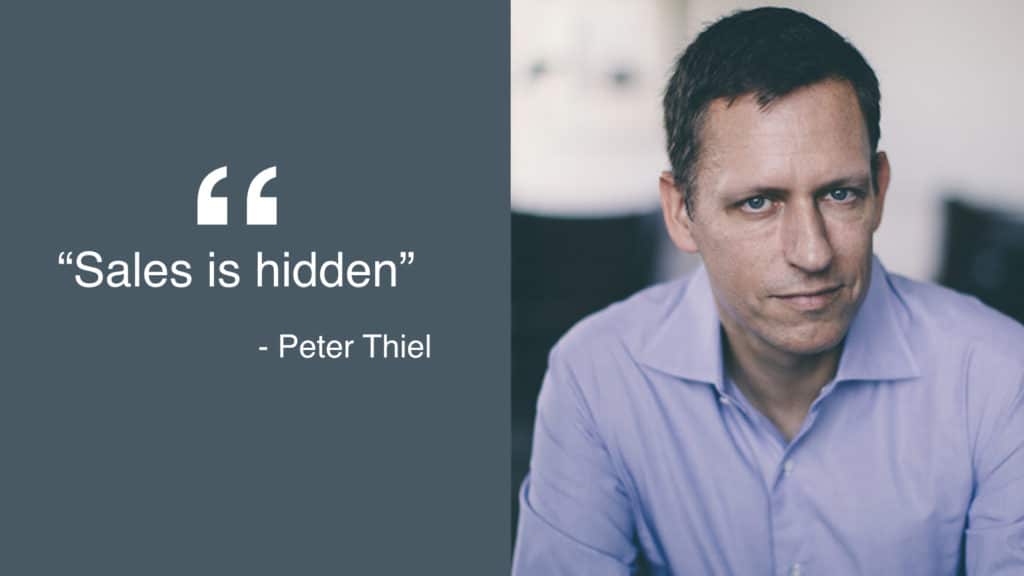 Thiel believes salesmanship is critical, even for introverted founders.
"If you've invented something new but lack an effective way to sell it, you have a bad business—no matter how good the product," he says.
Even if you build an amazing product, you need to convince customers to buy it. Great technology alone is not enough. You need the persuasion to translate it into business.
That's why Thiel worked to improve his own sales abilities early on. He realized that influencing and convincing were crucial to effectively spreading ideas.
Look at the greatest entrepreneurs—they're all master salespeople.
Steve Jobs unveiled an Apple product was performance art.
Elon Musk sells his grand visions better than anyone.
Or take negotiator Chris Voss, author of Never Split the Difference. He knows life is one long sales pitch. You constantly need to pitch your value, market yourself, persuade others.
10. Invest in yourself
Thiel is a big believer in lifelong learning. He views gaining rare and valuable skills as the ultimate ROI.
After starting PayPal, he doubled down by going to Stanford Law School. It delayed his career, but boosted his critical thinking and credibility.
Look at leaders like Elon Musk or Bill Gates. Their obsession with learning is what separates them from the pack. They read constantly across disciplines to expand their mind.
Or take Warren Buffett's business partner Charlie Munger.
He's said, "I have no problem with someone who's wealthy just from playing the guitar. Neither should you. But for God's sake, play it well."
11. Develop contrarian thinking
Thiel believes in questioning consensus and developing unique perspectives.
By nature, most people run with the herd.
But breakthroughs happen when you push back on conventional thinking and see things differently.
Look how Thiel invested early in Facebook when social networks were uncool. He saw potential no one else did by going against the trend.
Or consider scientist Barbara McClintock. Her discoveries in genetics were dismissed for years because she challenged accepted ideas. She persisted and eventually won a Nobel Prize.
Thinking differently is difficult by definition. But it allows you to see the future before anyone else.
12. Learn from failure
Failure provides important lessons if you study it, says Thiel. Treat setbacks like a coach reviewing the game tape to improve.
Thiel likes the saying from Seneca: "There is good fortune in every failure." Mistakes teach you what doesn't work and why.
Look at James Dyson who made over 5,000 prototypes before getting his vacuum right. He leveraged each failure to tweak and improve.
Or Einstein who saw failures as signposts on the road to success. "A person who never made a mistake never tried anything new," he said.
13. Focus on progress, not perfection
Thiel believes founders focus too much on small details instead of making big advancements. Don't let the perfect be the enemy of the better.
Look at YouTube—the videos and interface were embarrassingly bad at first. But it let people share videos when that was previously impossible.
Or Facebook which famously launched as a minimum viable product from a college dorm room. It focused on broad progress on an idea rather than refinements.
Don't wait until everything is flawless because it will never be.
14. Prioritize speed over scale
Thiel believes in moving fast even if it's imperfect, rather than waiting to get big before launching.
Outrun competitors with speed.
Think of Facebook rapidly rolling out new products to stay ahead of its social media rivals.
Or how Netflix quickly expanded its content library before others could catch up.
In the beginning, it's all about speed. Worry about scale when you have a dominant market share.
Ship quickly before competitors copy you. Of course, you'll have bugs and shortcomings when moving fast.
But perfectionism kills momentum, as discussed earlier.
And speed enables you to fail fast and learn.
15. Live consciously
Thiel emphasizes living a focused, intentional life. It's easy to get caught up chasing shallow goals like money or status.
But real meaning comes from going deep in relationships, hobbies, and spirituality.
That's why Thiel practices mindfulness and spends weeks in isolated retreats. He tunes out noise in order to think and live more deliberately.
He encourages asking questions like:
Am I allocating my time wisely each day?
How will today's actions move me toward my goals?
Look at top performers, from John Lennon to LeBron James. They cultivate self-awareness and live purposefully. Their days are crafted to energize and actualize.
The unexamined life is not worth living, said Socrates. Don't sleepwalk through life reactively. Live each day, each moment, consciously.
Conclusion
At the end of the day, success means different things to different people.
Maybe for you, it's building the next Facebook. Or mastering the guitar like Hendrix. Or just being a little happier and more peaceful each day.
The key is not to get perplexed by society's bullshit definitions of success. Figure out your own measures of a life well-lived.
Thiel's ideas are provocative for a reason. With some courage and critical thinking, they might just change your life.
Not in the way Thiel expects—but in the way YOU want.
If Thiel's ideas resonate with you, act on them. Pick one unconventional idea from this post and try applying it in your own life.
You have nothing to lose by thinking for yourself.