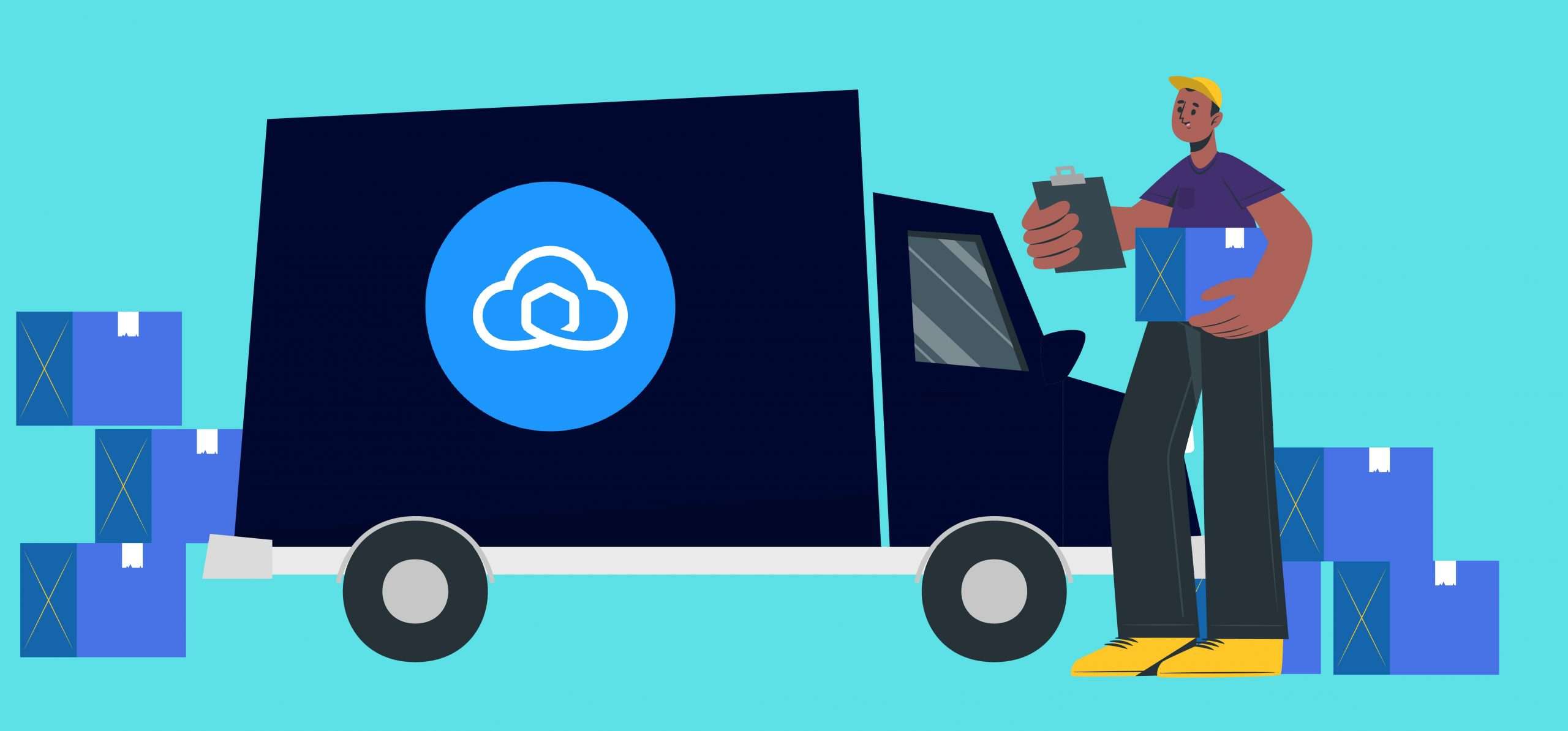 One of the major challenges of running an eCommerce retail business is the tedious shipping processing.
Inventory management, order tracking, and communication with carriers take a large chunk of your time. Add to that, the costs and efforts that come with order delays and package returns make your job even more difficult.
SaaS products like Sendcloud offer you an easier and cost-effective way to handle your shipments. Through these platforms, you can optimize your logistic strategy and automate most of your tasks.
In this review, I will talk about Sendcloud in detail. The article will cover its core features, dashboard demo, and product pricing. 
What is

Sendcloud

?
Sendcloud is built for eCommerce shipments.
It's a Europe-based SaaS product that provides a centralized digital platform to let you manage everything from label printing and package dispatches to order tracking and returns.
Through this platform, you can access a large pool of carriers and manage your deliveries at scale. It's incredibly easy to use and provides smart automation to simplify your workflows.
As for its reach, Sendcloud has teamed up with popular national and global carriers to offer its services in eight major EU countries, including the U.K. Germany, The Netherlands, Italy, Austria, and France. Some of the well-known delivery partners it hosts are DHL, UPS, GLS, DPD, and FedEx.
But you can also find the carriers list on its official site to see if your choice of delivery service provider is available on the platform.
Here're the core solutions Sendcloud provides;
A large network of local and global carriers.
Discounted shipping rates.
Label printing.
Multiple shipping methods.
Easy product returns.
Integration with major eCommerce platforms.
Hassle-free tracking.
The platform supports over 23000 businesses and provides flexible shipping solutions to accommodate both small shops and large-scale companies.
Let's go over its core functions to explore them a little more deeply.
Sendcloud

Features 
Most of Sendcloud's features focus on automating your workflows to ensure smooth shipments. But some are also built to help you optimize your costs and scale your business.
Below, I've covered the six core features of Sendcloud to give you a general idea about the platform.
Let's start with its integrations.
1. Integration with eCommerce Platforms and Carriers
Sendcloud gives you access to over 80 local and international carriers and 50 eCommerce platforms.
If you run your online store on popular eCommerce sites, you'll have no trouble connecting your shop and enabling delivery carriers.
But even if you don't, it offers you the option to use its API to connect with any eCommerce platform, inventory software, or third-party system.
And the best thing? The customizability is not limited to shipping carrier integration. With Sendcloud API, you can build an entire shipping structure to your web shop and attach third-party productivity apps to streamline your operations.
Check out the API integration guides on its official website to learn more about it.
2. Workflow Automation
Automation is the core of Sendcloud's functions. You'll find tons of smart features at almost every stage of the delivery cycle to make your job easier.
With this tool, you can link your store data to the dashboard within minutes and print your labels in bulk. More, you can automatically assign insurance to valuable packages and designate shipping methods based on the designations. Its custom rules cover most delivery conditions, allowing you to optimize your shipment path and save costs.
Here're a few things you can automate to save your time;
Store data syncing.
Bulk label printing.
Shipment assignment.
Brand tracking messages.
CN22 form generation.
Package pickup scheduling.
Returns.
3. Flexible Shipping rates
One of Sendcloud's unique selling points is its discounted shipping rates. It delivers a list of pre-negotiated prices to give you the best possible rates for your orders.
You can also opt for a direct contract with your desired carrier and upload the custom prices on the SaaS platform. Additionally, you can connect with more than one carrier to manage your orders.
The idea is to give you the flexibility to pick the best shipping rates for various destinations and choose well-suited companies for specific types of packages.
For instance, if you want to send a parcel from the UK to Austria, DPD might be more economical than, say, UPS. But the latter has a better reach and more options for international shipments. The same is with domestic shipments. Where one offers excellent standard delivery services, another would be ideal for same-day deliveries.
4. Dynamic Checkout
Sendcloud offers a dynamic checkout for WooCommerce and Magneto users.
It's a smart tool that allows you to offer versatile shipping options to your customers and deliver a personalized shopping experience.
Currently, Sendcloud's dynamic checkout supports four major shipping methods.
Your buyer can go for standard delivery, nominate a date to receive their parcels, select a service point to pick up the parcel themselves, and enable the same delivery services.
From your side, you can import zones to automatically displays relevant carriers on the checkout page. It's designed to make your entire checkout process efficient and effortless.
5. Return Portal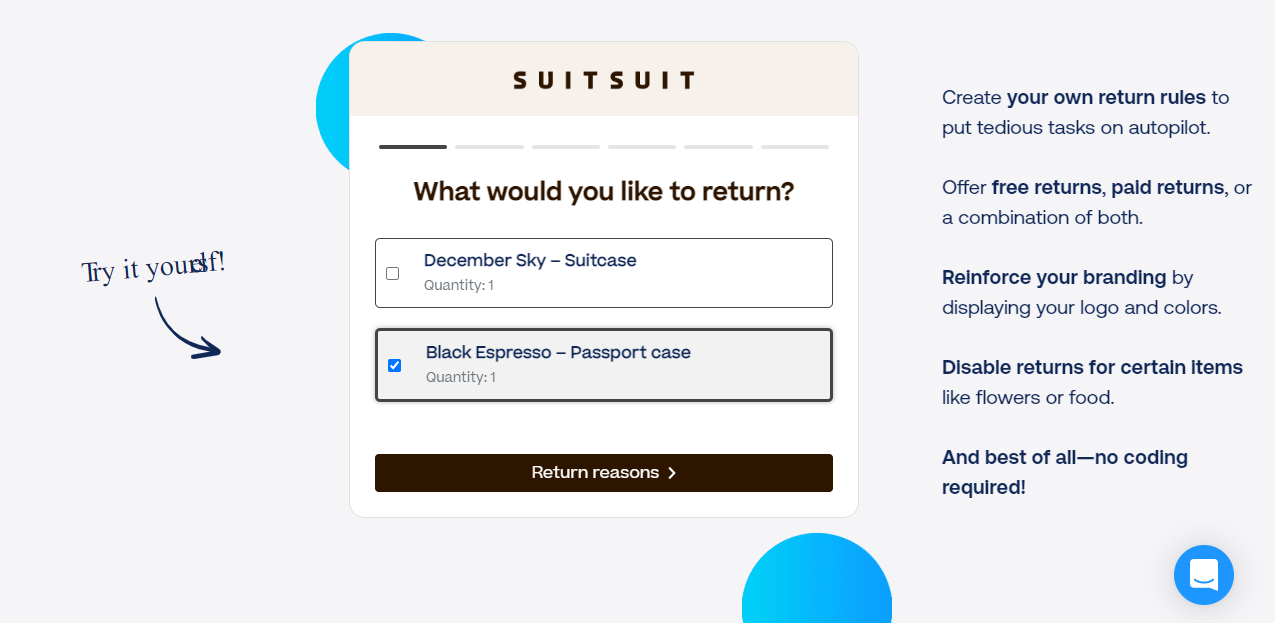 Purchase return is a fairly common practice in retail businesses. eCommerce stores, on average, see a 20% to 30% return rate and invest considerable effort in that area to ensure customer satisfaction.
Sendcloud helps you make the purchase return procedure as simple as possible with a return portal. It delivers a separate platform that allows you to offer your customers an easy way to exchange packages.
You can customize the portal fields as you see fit, provide multiple exchange methods to facilitate buyers, and share tracking links to keep them updated.
You can also charge a return fee to recover some of your revenues. Sendcloud's partnership with Mollie (Payment service provider) ensures hassle-free transactions.
The portal additionally delivers several internal functions to expedite the processing. You can set your transactions on autopilot and monitor upcoming and canceled orders on your dashboard.
6. Tracking and Analytics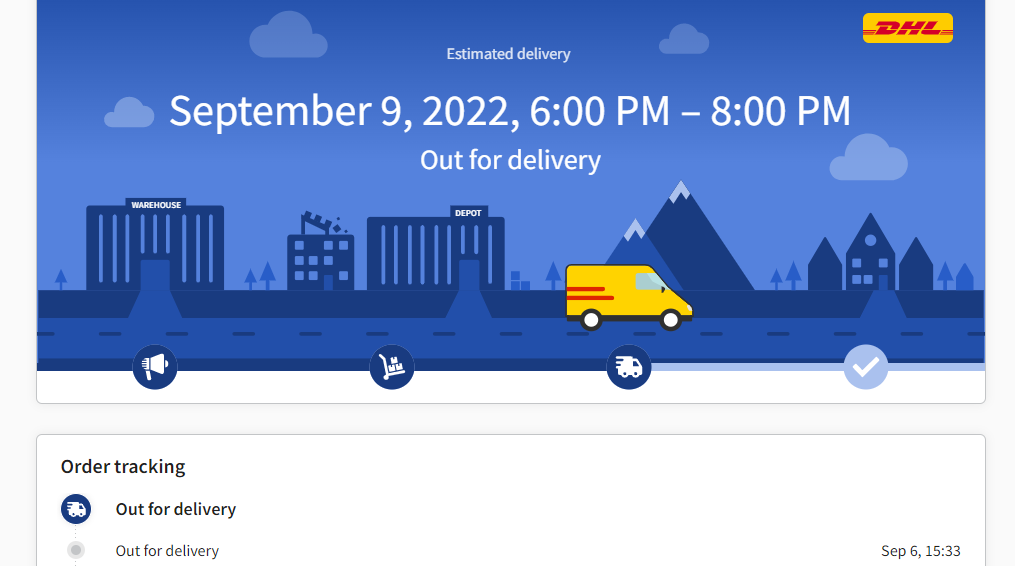 Last is the order tracking.
Tracking is an essential feature of any shipment tool. But SendCloud takes one step further, allowing you to send branded messages to boost your customer experience.
You can create custom tracking pages, add recommended products to cross-sell other items, and offer promo codes to encourage impulse shopping.
With this feature, you can turn your tracking message into a sales page, promoting your business while informing buyers of parcel dispatch.
Besides order tracking, you can also review your operations.
The analytics section offers in-depth insights into your shipments and returns to highlight monthly trends, delivery patterns, and valuable carriers.
You can leverage those numbers to identify areas of improvement and discover future opportunities.
How Does 

Sendcloud

Work?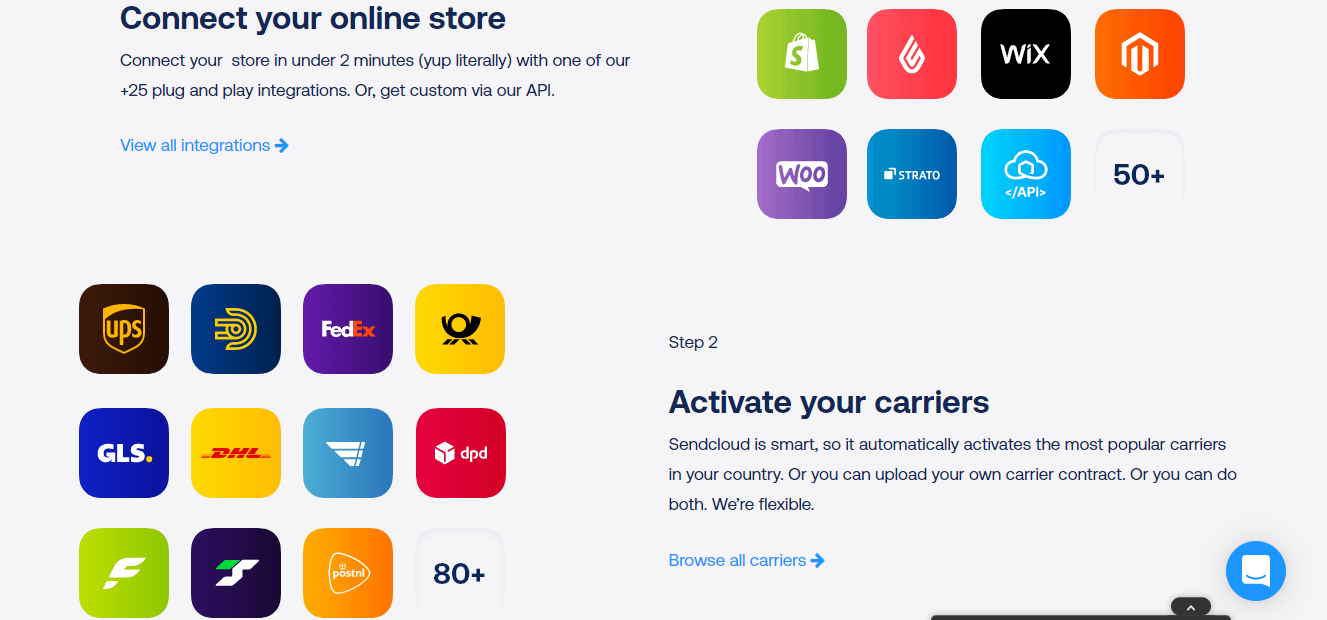 You can get started on Sendcloud with three simple steps.
Create your account.
Connect your store.
Enable your desired carrier.
Sounds too vague?
Let's assume you run your retail store on Shopify.
You'll find Sendcloud's plugin in Shopify's marketplace accessible via the app section.
Install and activate the app to integrate with your store.
It may take a couple of minutes to process the request. Once connected, your Shopify data will automatically sync with Sendcloud and direct you to the dashboard. From there, you can enable your carrier partner and start setting up your account properly.
I recommend checking out Sendcloud's academy to get step-by-step guides.
[One thing you should keep in mind is that your dashboard will only display delivery partners that are active in your area. In addition, some shipping methods might not be available on a specific paid plan. If you can't find what you're looking for, no worries, contact sales for clarification.]
Let me walk you through SoundCloud's dashboard to show how it works.
Platform Demo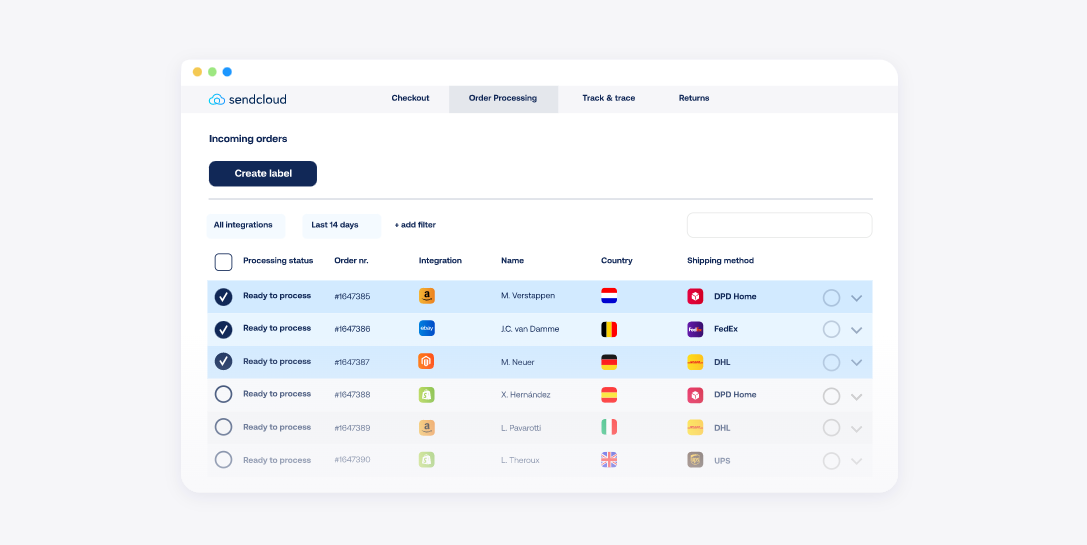 Sendcloud allows you to sign up for free to use its digital platform. The basic account might not provide access to all its tools, but you'll be able to explore all its core functions.
Let's dive in!
1. Visit the official Sendcloud website and click on the "Sign up for free" CTA displayed at the top. It will lead you to the account creation form.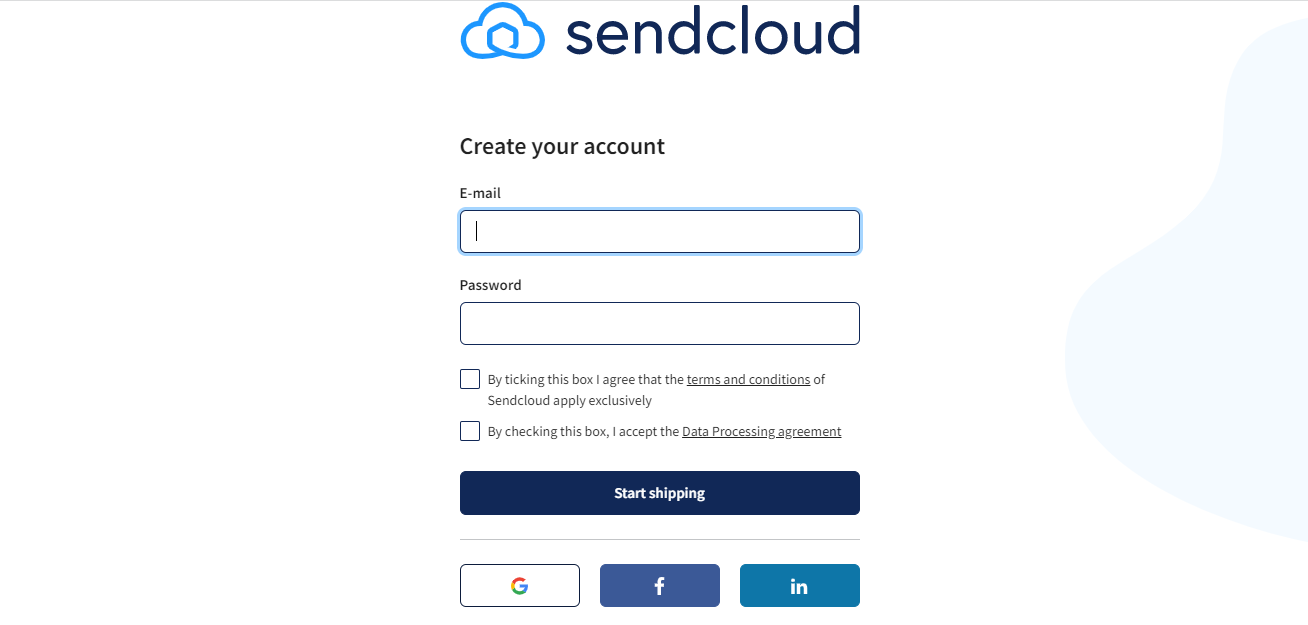 2. You can sign up with your Google ID or any other business email. Once, you've created the account, Sendcloud would ask you about your shipment volume to gather the size of your company.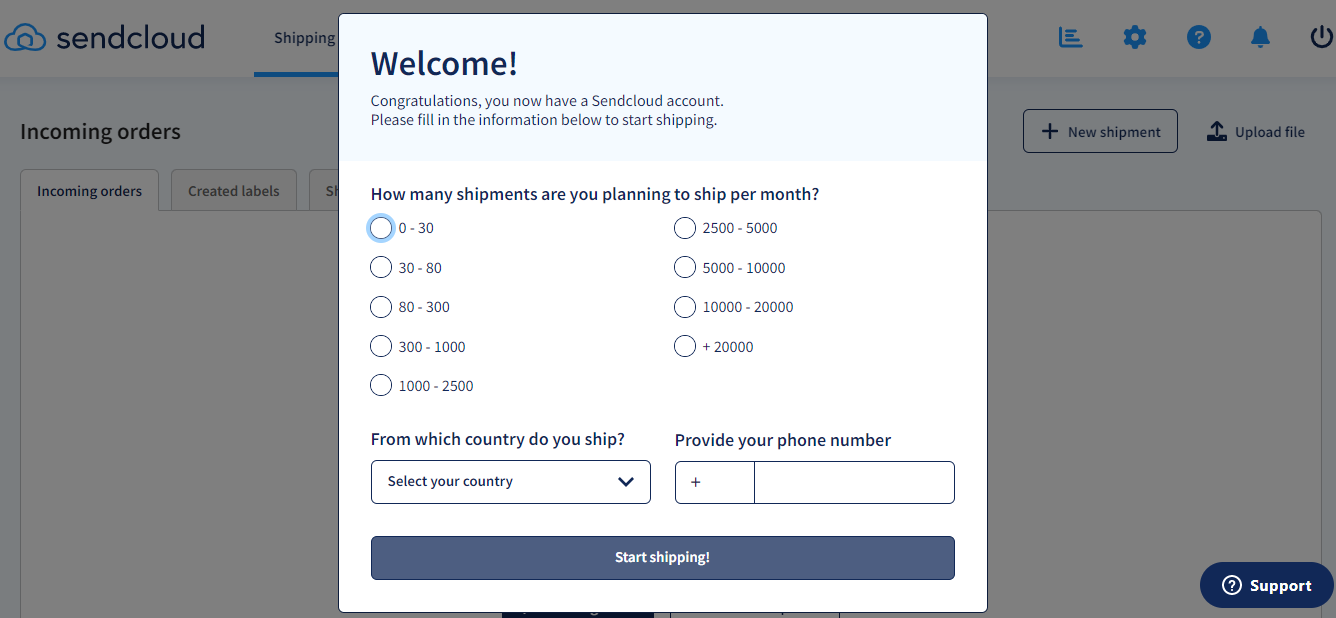 3. This is the main dashboard where you'll find your incoming orders and can bulk create labels. Since it's a demo account, there's no visible data feed. But here, you'll generate shipping orders, print labels, monitor shipments, and manage cancellations.
Once you start adding data, your packages would appear as below.
4. The dashboard also features a side panel when you click on the setting icon at the top. The panel holds separate sections for general, shipping, return, and tracking settings.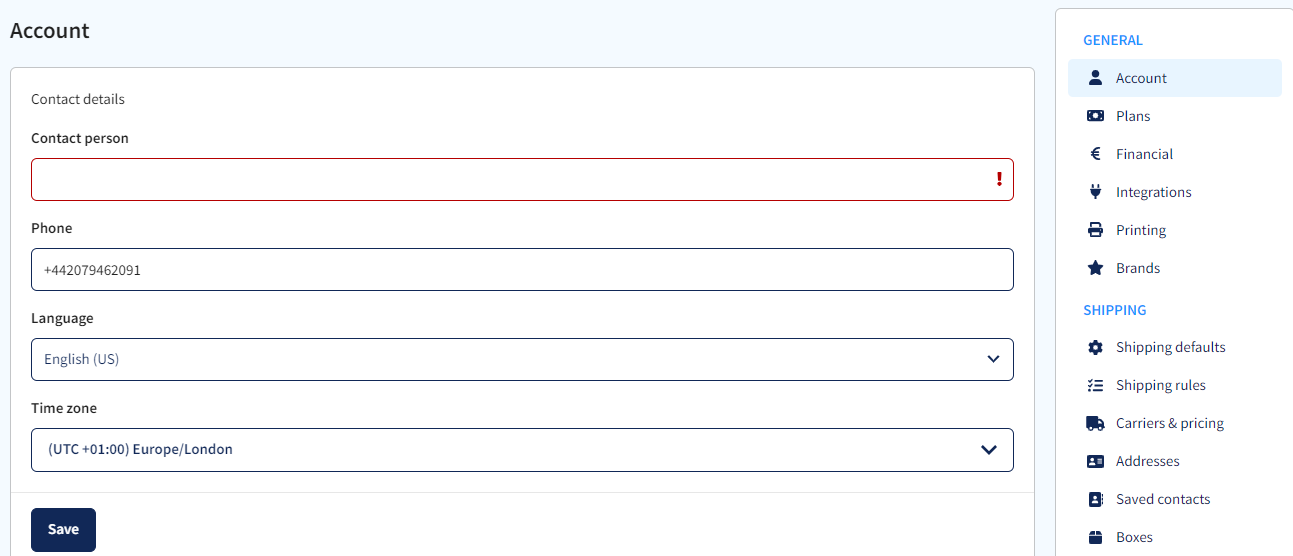 5. The generate section comprises your account and brand data. For instance, inside the printing tab, you can set your label format and apply customization, while in the financial tab, you can include your debit card information.
6. The shipping tab leads you to available carriers. Here, you'll connect your desired company, get pre-negotiated rates and add rules to automate some of the workflows.
7. Once you've shipped the order, you can manage the tracking via the last section. You can add your branding to the tracking page layout to improve your customer's shopping experience.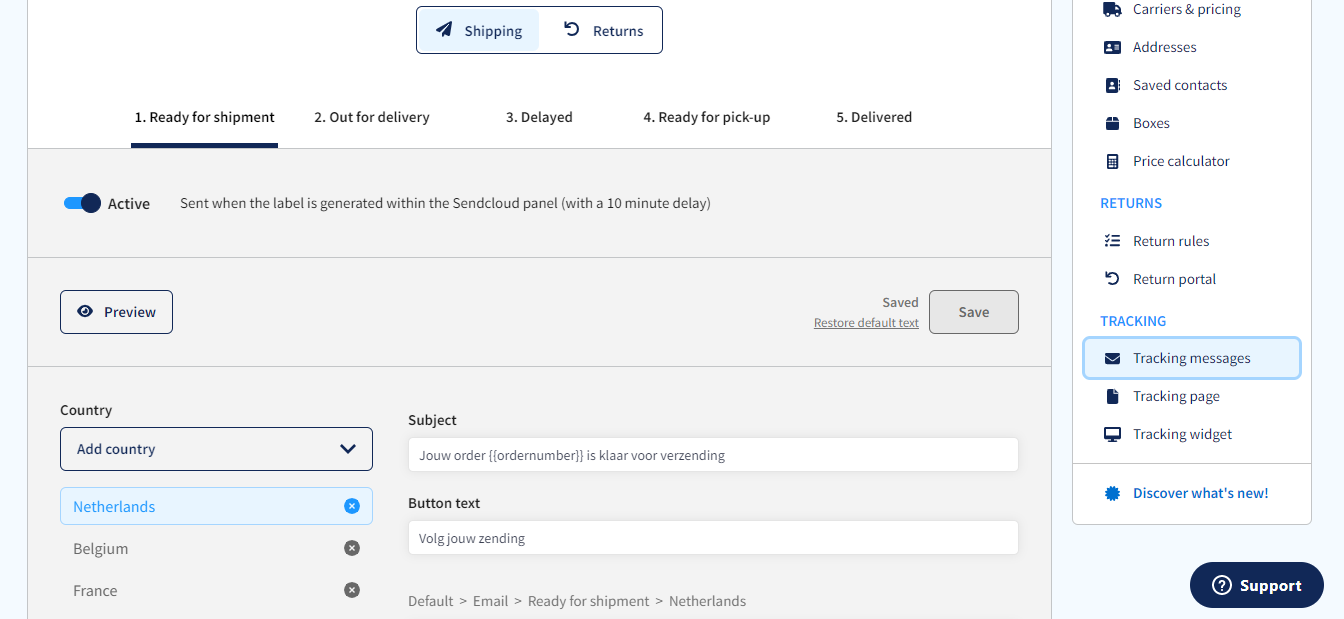 These are the sections you'll frequently use for your regular shipments. There're some functions like Return Portal you might not be able to access without buying a premium plan, but most sections are available on the free plan.
I recommend creating your account to explore them further. If you're interested, click here to sign up for free.
Sendcloud

Pricing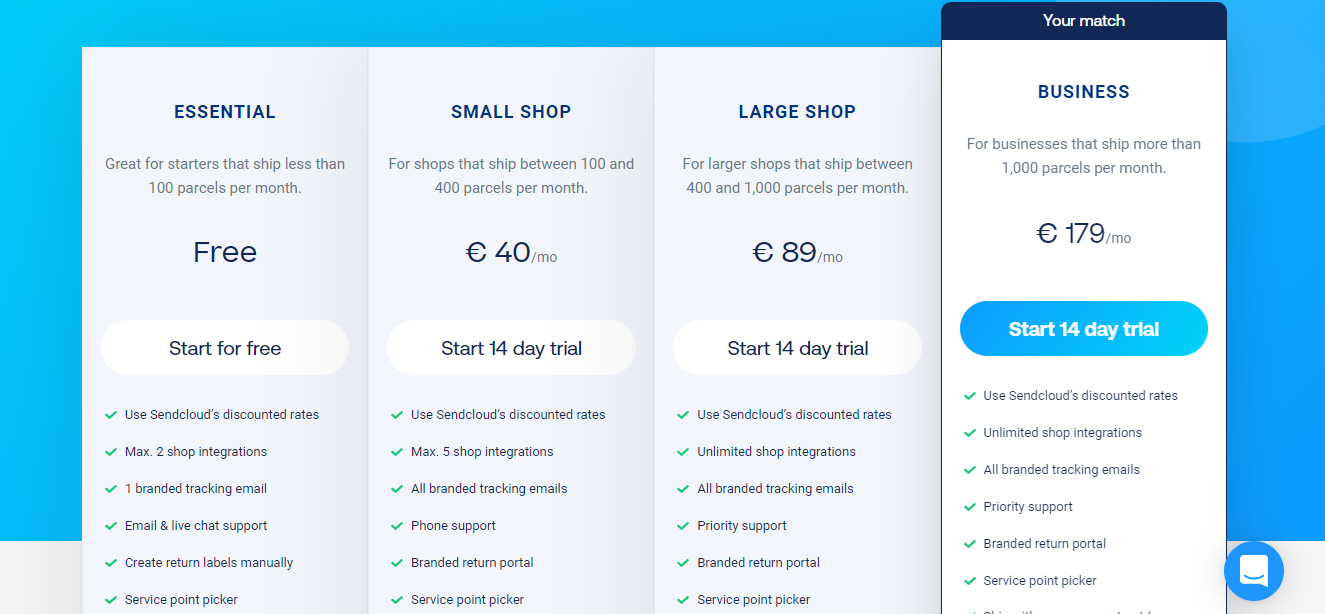 Sendcloud shares tailored plans for every organization size. Whether you're a small store owner or represent a large company, you'll find a personalized plan for your business.
Let's review their subscription tiers.
Here, the free plan is built for emerging entrepreneurs. If your shipment volume is smaller than 100, but you expect an increase in orders, try its free plan to set up a system in advance.
As your company grows, you can later upgrade your subscriptions to meet your monthly quota.
Its premium plans start at 45 EURO per month.
Sendcloud also shares an enterprise solution for multinational organizations. The plan is designed to facilitate global shipment. 
Book a Demo here to learn more about it.
Sendcloud

's Pros and Cons
Throughout the article, we've discussed a lot about Sendcloud functions and their benefits. Here, I am wrapping up the article by summarizing its core strengths and limitations.
Check out the below list to get a quick recap on Sendcloud.
Pros
User-friendly and super convenient.
Integrates with major eCommerce platforms and carriers.
Cost-effective shipments.
Workflow automation to manage large-volume deliveries.
Easy purchase returns.
Powerful monitoring system.
Cons
Ideal for shipments across Europe only.
Limited features in the basic plan.
Verdict—Is

Sendcloud

Best for your Business?
Before you make your purchase decision, consider what problem Sendcloud can solve for your business.
As an automation platform, it offers you a hassle-free way to send and manage your parcels.
With it, you can connect with different carriers, print labels within minutes, and automate your delivery cycle to save time.
But more than that, you can use its flexible shipping options to cut down your costs and expedite your shipments. It also integrates seamlessly with your web stores and provides a smooth checkout experience.
Overall, if you want to simplify your shipment workflows, then yes! It's an excellent SaaS product for your online store. It has been steadily growing its presence in the last few years and shows a promising future in the logistics industry.
Please keep in mind that Sendcloud, at its core, is a third-party platform. You'd technically be engaging other companies via its platform.
As long as you're aware of it, you'll find it incredibly useful. Go ahead and give it a try.