Shopify offers over 100 free and premium themes to help you set up your store with ease.
But while its themes are versatile and scalable, they have their limitations, which makes it difficult to personalize them, and results are often unsatisfactory.
With a Shopify page builder, you can design your landing pages just the way you want without extensive coding knowledge. These apps are comparatively more flexible and make customization almost effortless.
What is a Landing Page Builder, and What Features to Consider for Shopify?
Landing page apps are typically no-code builders that come with intuitive editors and pre-built templates. They give non-technical merchants like you quick and efficient ways to develop professional pages for your Shopify stores.
Some things to look for in a landing page builder include;
A user-friendly editor.
Mobile responsive themes.
Ability to customize sections.
Integration with third-party platforms.
Below are the 12 landing page builders that offer the above functions and integrate seamlessly with Shopify. Most are exclusive Shopify apps, but some are a little more versatile.
Let's explore them.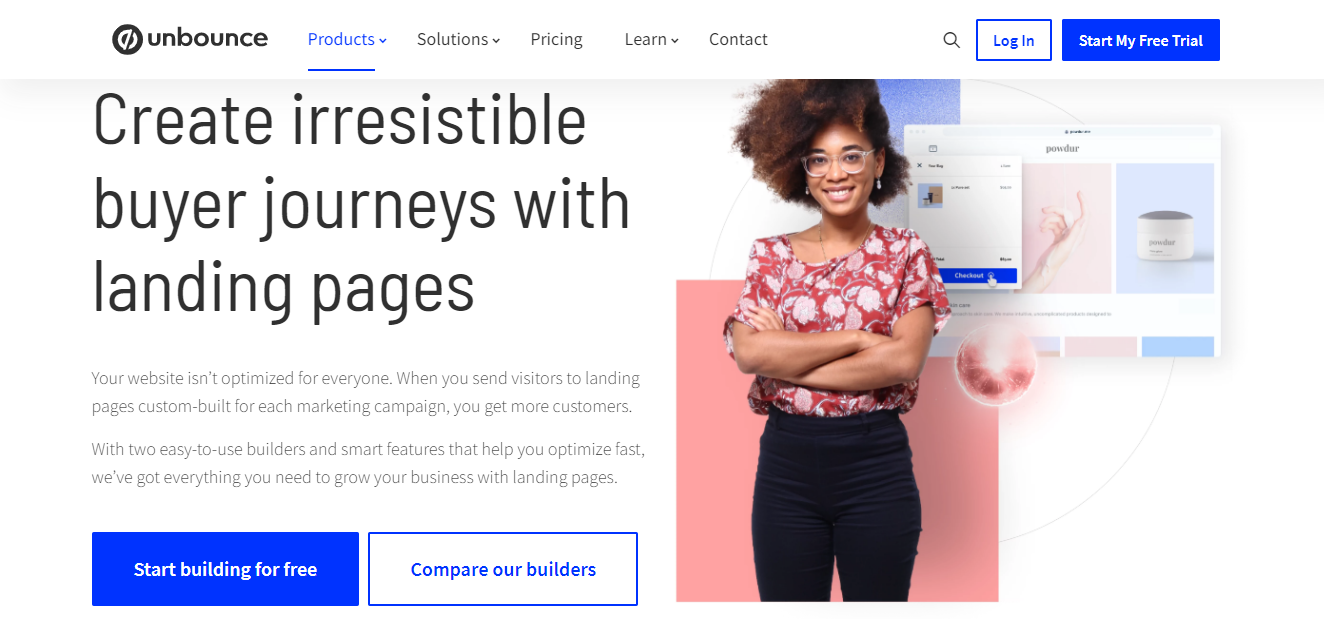 Unbounce helps you sell your Shopify products via custom web pages. It delivers a drag-and-drop builder and a large library of ready templates to design personalized landing pages and embed a Shopify Buy Now button into them.
There are plenty of interesting features attached to the page builder if you check its website.
With tools like AI suggestions and smart traffic, you can easily identify areas for improvement and optimize your page content. Also, you'll receive an A/B testing feature to measure your page conversions.
Connecting Unbounce to Shopify takes only a couple of minutes. Once integrated, you can easily add your Shopify cart and sync the data.
Core Features
Shopify purchase button.
Smart builder.
Pop-ups and sticky bars.
AI copy and optimization.
Mobile responsive themes.
A/B testing.
Visitor analysis.
Multi-device preview.
Price
Unbounce's prices start from $99. You can take a 14-day free trial.
Pagefly offers a rich library of templates to design almost any type of landing page for your Shopify store.
You can tailor the layout for desktop and mobile devices, apply a global style to create a consistent theme, and save sections as templates for reuse.
For a better visitor experience, you can add several interactive elements, like color swatches, and enable lazy loading to optimize your page speed.
Pagefly has tons of customization, attention-grabbing features, and conversion elements to help you develop high-converting website pages.
Core Features
Drag-and-drop builder.
120 templates.
Mobile responsive themes.
Global styling.
Built-in color swatches.
Interactive and optimization tools.
Integration with third-party platforms.
Excellent customer care.
Price
Pagefly's basic plan is free, and premium packages start from $24.
You can ask for an enterprise plan.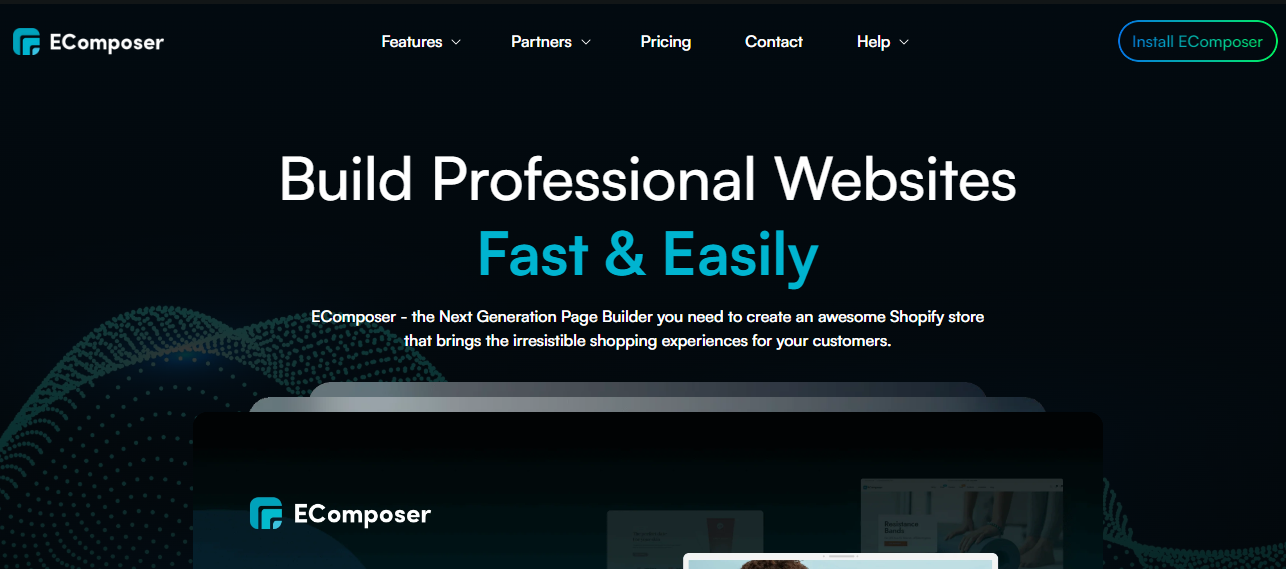 EComposer offers a diverse range of tools and templates to create stunning, optimized, and lightweight landing pages.
The editor comes with a drag-and-drop interface and a live preview that enables you to make quick changes to your template and see the results in real-time for further fine-tuning.
You can copy/paste sections to your page, embed different elements, tailor the font and style, and apply custom codes.
With its built-in add-ons, you can incorporate around 16 marketing elements into your page and improve your site content.
Some of its notable extensions include; product color swatches, sales notifications, Frequently Bought Together block, and sticky Add to Cart.
Core Features
Page builder.
70+ templates and 200+ sections.
SEO optimization.
Mobile responsive themes.
Lazy loading.
Customization.
Built-in extensions.
AI-content generator.
Integration with third-party apps.
Price
You can get started on EComposer for free. It charges $19 to $149 for its premium packages.
Shogun is best for personalized Shopify storefronts.
It provides over 30 templates to get you started and a robust set of editing tools to customize the landing pages.
You will receive all the essential fields like product review and purchase cart to make your sales page fully functional. Once you hit publish, Shogun monitors your page performance across multiple devices and shares useful insights to help you improve your layout.
You can develop various types of pages via Shogun, and if you have a Yotpo account, you can import customer reviews from it to your homepage. You can also save your settings and re-apply them.
Core Features
Page builder.
Mobile responsive templates.
Sections especially for Shopify themes.
Basic sales elements.
SEO settings.
Content scheduling.
Integrations.
Content syncing.
Analytics.
Price
Shogun's basic plan is free, and premium packages range between $39 and $499.
Gamepages is also a good option for Shopify landing pages.
It's well-reputable, user-friendly, and offers a free plan to let you explore its features before committing to it.
With over 80 ready templates and AI-assistant, you won't have to work too hard to design high-converting landing pages. If you've dev skills, that's even better! You can apply custom coding to add personalized fields.
For content optimization, Gempages delivers a GemMeter that pinpoints design errors and shares useful tips.
The app's customer service is specifically outstanding. You'll receive tech support in the initial stage. And anytime you face an issue, you can easily reach out to the representative to help you out.
Core Features
Drag-and-drop builder.
Customization.
Mobile responsive templates.
A/B testing.
Optimization suggestions.
Native elements.
Page scheduling.
Excellent customer support.
Price
Gempages charges between $24 and $160 per month. Its basic plan is free.
Zipify ranks high in the Shopify page builders list for its usability.
The app enables you to create as many pages as you want and split test variants to optimize the layouts. In addition, it provides multipage templates and marketing elements to develop proper sales funnels for your e-commerce store.
It is easy to use and shares resource material to help you with the initial setup. If you need any additional block or feature that you can't find in the template, you can place a request to the sales team. They're generally responsive and quick.
Over 3600 merchants have used Zipify for their Shopify stores and seem satisfied with the results.
Core Features
Page builder.
Split testing.
Analytics.
Lightbox.
Marketing features.
Mobile responsive themes.
Shopify blog page.
Integration with third-party platforms.
Price
Zipify prices start from $67. You can take a 14-day free trial to explore the tool.
It additionally offers a separate product for upselling. You can connect it with your page builder and extend your functions.
Automizely allows you to develop SEO-optimized web pages. With this tool, you can design several types of pages for your Shopify store, including storefronts, product pages, blog posts, and FAQs.
You will initially receive over 100 responsive templates for a quick launch, but with an upgraded plan, you'll get access to more advanced sections and premium features like a sticky cart widget.
All plans also include multi-store management, team invitation, and third-party integration.
What makes Automizely appealing is its suite of other Shopify products. You can add around six to eight additional automation to your store without going outside.
Core Features
Drag-and-drop page builder.
100 + templates.
Customization.
Saved sections for reuse.
Lazy loading.
Cart widget.
Real-time analytics.
Integrations.
Multi-user account.
Price
Automizely's basic plan is free, and premium packages start from $35. You can ask for custom quotes.
Beae's page builder is intuitive and flexible.
It provides around 204 templates, over 65 elements, and support integration with 95+ apps to help you design personalized landing pages.
You can customize your page sections and font, add meta tags for SEO, change your language, and optimize the layout for mobile and tablet devices. Additionally, you will be able to build opt-in forms for lead generation and design custom sections to upgrade your existing page content.
Beae's customer support is excellent and delivers prompt responses to any tech problem.
Core Features
Drag-and-drop page and section builder.
240+ mobile responsive templates.
Pop-ups and forms.
SEO optimization.
Customization and preview.
Multi-language support.
Integration with 80+ third-party applications.
Price
Beae's offers premium packages for $11 to $90 with a 30-day money-back guarantee.
Its basic plan is free.
LayoutHub is a basic landing page builder that shares several templates to get you started. But what makes it unique is a rich library of pre-built block designs that allows you to feature different elements on your page without making extensive customization in your templates.
You can pick pre-built headers from the library, choose 40 different product grids, embed pre-defined newsletter blocks, and even grab ready-made service sections. The editor arranges sections into blocks, allowing you to add, remove, and rearrange fields as you see fit.
If you lack tech skills and need a simple editor for landing pages, LayoutHub is an ideal solution for you.
Core Features
Block editor.
Over 140 Templates and 800 pre-built blocks.
Lazy loading.
Auto-save.
Compatible with Shopify themes.
Multi-device support.
Integration.
Price
LayoutHub shares three premium plans ranging between $15 and $60. You can publish three pages for free and take a free trial to test the premium features.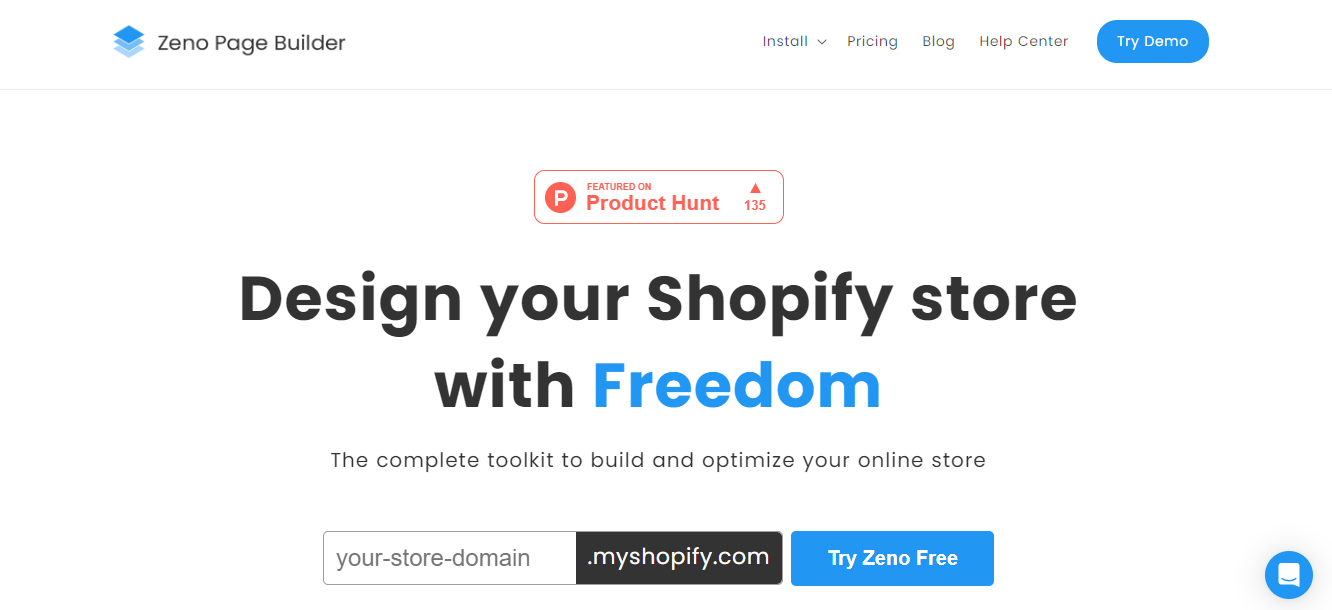 Zeno delivers a drag-and-drop builder and over 100 elements.
You'll get pre-built templates, a custom coding option, an SEO optimization feature, and several add-ons like an announcement and Facebook live Messenger. You can also preview changes in mobile and tablet layouts to test their look on different devices.
What's amazing is that you can try Zeno on the spot without going through the signup process. The app shares a demo store on its Shopify page that leads you directly to the editor.
I recommend checking out its Shopify store to explore it.
Core Features
Drag-and-drop builder.
Over 20 Responsive templates.
100+ elements.
Custom coding.
SEO optimization.
Multi-device preview.
Add-ons.
Price
Zeno shares two premium plans ranging between $19 and $29. You can get started for free and take a 10-day free trial to explore all the features.
Replo is built for mid-size stores. It's an emerging Shopify app that comes with user-friendly and time-saving functions to help merchants create and publish web pages with ease.
You'll receive page templates and pre-defined blocks in the package, with the option to tailor the sections and change the overall page appearance.
The templates are lightweight and responsive, making it easier to customize them for desktop, tablet, and mobile devices.
Another good thing about Replo is its seamless integration with Shopify. Once you connect your store, you can easily import products to the builder.
Core Features
Drag-and-drop builder.
Template library.
Pre-defined blocks.
Customization.
Preview mode.
Integration with Shopify and third-party apps.
Multi-device support.
Price
Replo's basic plan is free, and premium plans start from $99.
You can ask for custom quotes.
Section Store is ideal for those who only want to add custom sections to their Shopify theme. It delivers a library of pre-built blocks that you can embed into your existing pages to increase your store features.
The app integrates easily with your theme editor and imports purchased sections for quick access. With a one-click install, you can attach sections to any of your pages and tailor them to match your theme.
SS developer continuously updates the template library to offer new designs each week. And every featured product comes with a demo to show how it would appear on your page in real-time, so you can make a better purchase decision.
Core Features
Section builder.
A diverse range of pre-built blocks.
Easy installation.
Customization.
Preview mode.
Frequent updates to the template library.
Price
Section Store is free to use and only charges for its premium templates. You can buy a premium block for $9. It's a one-time fee.
Final Thoughts
Shopify, undoubtedly, has a diverse library of professional layouts for your e-commerce store. But landing page builders give you more tools to design attractive storefronts and webpages.
I have included a mix of basic and advanced builders in my review to offer you flexible options.
Check out their demo stores and pricing structure to make an informed decision. Good luck!