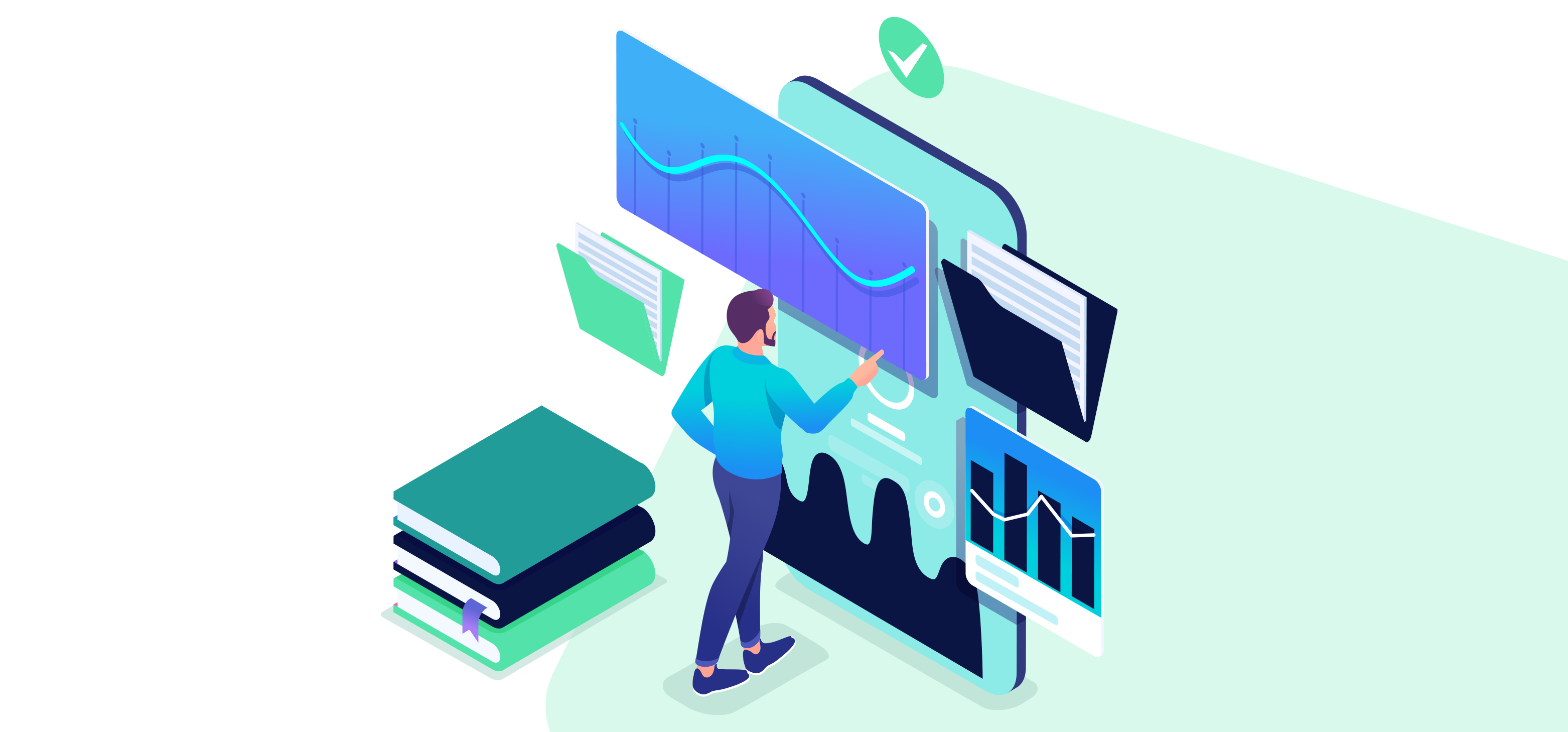 Be it your room, working desk, or even a car – everything looks good when organized.
Imagine coming to your house after a tiring day only to realize that even your bedroom does not seem like a good place to take a rest at the moment.
Similarly, if you are working online, you may have felt a need to bring control over your schedules as everything may look messed up.
Countless open tabs, a bunch of unidentifiable folders, hardcore distractions – everything starts to fall apart.
This is where organizing apps come into the picture.
They keep your virtual life and work environment organized by creating better routines, time blocks, online shelves, etc; with the help of cutting-edge technology and smart algorithms.
I have listed the 12 best organizing tools to make your life a tad bit more productive and organized.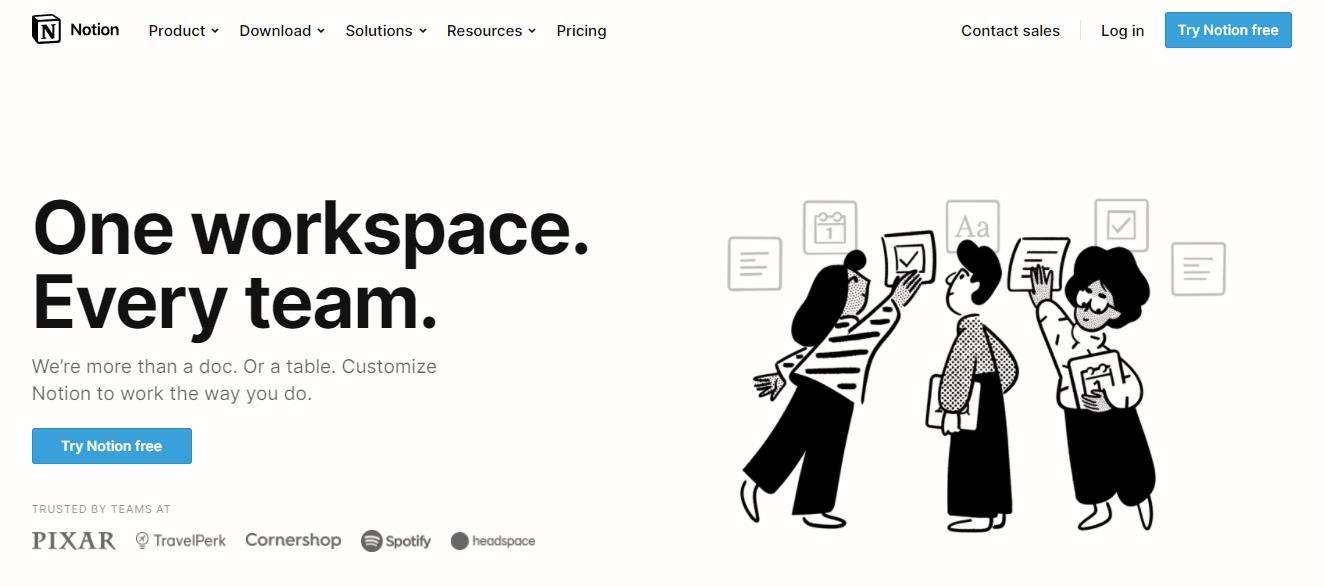 With Notion, you can organize all your notes, articles, media files, and other attachments, all in one place by creating a personal cool-looking website.
You can treat Notion as a combination of a productivity and project management tool.
Whether you are a student, an online entrepreneur, or a design person, you can use Notion to organize your thoughts into a well-printed web, with the help of their pre-built templates for all.
The features provided by Notion do not end, at least anytime sooner. There is a lot to explore.
You can use Notion to schedule your tasks/projects, tick your to-dos, and even for planning and outlining your projects.
Key Features
Easy to use app that lets you get everything done with keyboard shortcuts.
Quick import feature to import your Notion pages in the form of a word doc, pdf, and even the excel file.
With the help of the board switch feature, you can easily switch between different boards/tables as per your preferences (e.g. kanban board, timeline, etc.).
Breadcrumbs allow users to navigate to pages and subpages smoothly.
Favorite Feature
Keyboard shortcuts – Once you type "/" anywhere in Notion, you can add any block that you want without leaving your keyboard. You can write the whole article (including media and links) without touching your mouse, all thanks to keyboard shortcuts.
Pricing
Notion has a forever-free plan, which is pretty much adequate if you are working solo.
If you wish to get some additional features such as unlimited guests and file downloads, then there are two premium plans for you:
Personal Pro ($4/month)
Team ($8/month)
Akiflow is an all-in-one powerful productivity automation app that helps you get more done in less time.
With Akiflow, you can easily automate your most repetitive tasks, including:
Setting up new projects
Adding and scheduling tasks
Tracking progress
Communicating with team members
And more!
You can connect your Google Calendar, connect all the essential tools you use, and can simply drag and drop tasks to your timeline.
The keyboard shortcuts make it easy to move between tasks and get things done quickly. Plus, the visual interface makes it easy to see what needs to be done and when.
The command bar quickly lets you search for anything you need, whether it's a task, a project, or a team member.
Akiflow is available on Mac, Windows as well on Android, and iOS.
Key Features
Integrates with all your favorite tools
Powerful automation features
Keyboard shortcuts for quick productivity
Visual interface for easy task management
Command bar for quick search
Favorite Feature
My favorite feature is the integration with all my favorite tools. I can connect my Google Calendar, my to-do list, and even my email. This keeps me organized and helps me get more done in less time.
Pricing
There is a 7-day free trial for the paid plan if you want to test out Akiflow. The monthly charge for the premium plan is $15.
Morgen is a productivity app that helps you get things done by Morgen. Morgen automatically keeps track of your tasks and priorities, so you can focus on what's important.
Morgen has a task manager, to-do list, and calendar all in one so you can easily keep track of your day-to-day tasks.
And the user interface is clean and simple, so you can get started quickly and easily.
I really like Morgen because it helps me stay organized and on track with my tasks. Morgen makes it easy to see what's due when, and I can easily add new tasks or priorities.
There are over 5 different calendars I can connect Morgen to, which is really helpful. Morgen also has a lot of other features like goal setting prioritizing, and more.
The Scheduling Links feature is Morgen's best feature in my opinion. Based on your priority and availability, Morgen cross-checks all your calendars and helps book a meeting with the people you need to meet with.
And its real-time availibility check makes sure that everyone you're inviting is available at the time of your meeting.
Key Features
Cross-checks all your calendars and helps book a meeting
Task manager, to-do list, and calendar all in one
Real-time availability check
The user interface is clean and simple
Scheduling meeting links
Favorite Feature
Morgen's best feature is the Scheduling Links feature. Based on your priority and availability, Morgen cross-checks all your calendars and helps book a meeting with the people you need to meet with.
Pricing
Morgen has a free trial and a free plan. They have two paid plans:
Personal ($6/month)
Pro ($14/month)
Deepstash is not, particularly a productivity app per se. It is rather a website that organizes your thoughts in the right direction.
The Android, as well as the iOS app for Deepstash, is minimalist.
With Deepstash, you can read summaries of the best articles, videos, books, etc, served as bite-sized nuggets of content.
You can not only consume but also create content and publish it in Deepstash for others to read.
Most content produced on Deepstash comes under:
Productivity
Financial knowledge
Non-fiction book summaries
Relationships
Leaderships
Entrepreneurship, etc.
Overall, it is a great app to channel your thoughts and learn something truly mesmerizing.
Key Features
Knowledge Library – Organizes content ideas based on the topic clusters, ideas, article links, etc.
Curators Programme – If you love to write, the Curators Programme is just for you. You can apply for the same and once you get accepted, you can start contributing to the platform.
Stashing – In Deepstash, stash means liking or bookmarking the particular article that you like. You can access the stashed article whenever you want.
Favorite Feature
Hashtags – The hashtags that you follow will determine the content that will appear to you; meaning you can see the content you love by following those hashtags.
Pricing
Deepstash is completely free to use without any hidden charges.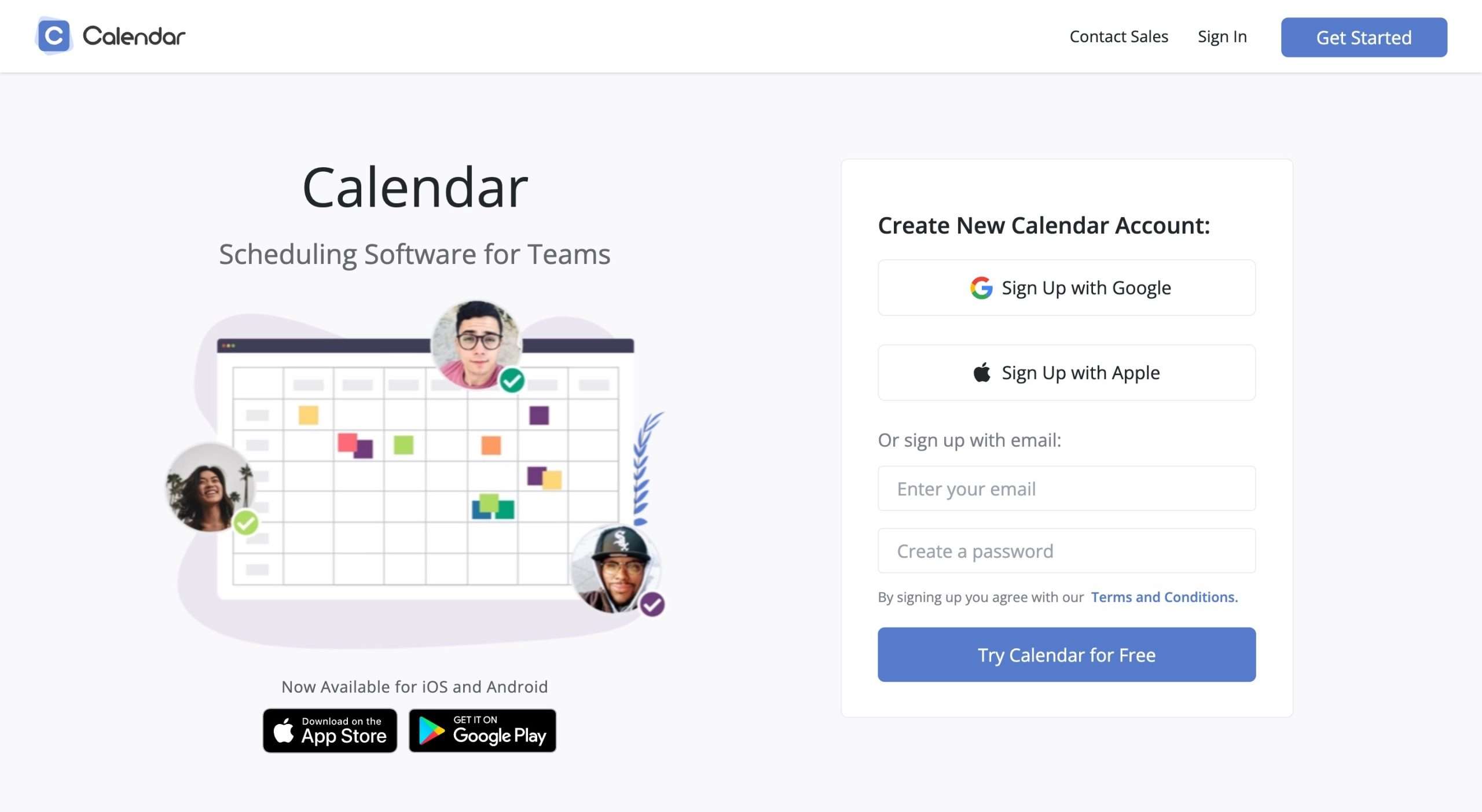 Calendar is an exceptional online tool created to simplify the process of scheduling appointments and effectively managing your time.
With Calendar, scheduling and managing appointments becomes effortless. You have the flexibility to create customized time slots and event templates that perfectly align with your schedule.
The greatest advantage lies in the ability to control which time slots are visible, allowing you to effortlessly manage your availability. By sharing personalized calendar links, others can easily schedule meetings based on your online availability.
Furthermore, Calendar offers a unified online calendar, merging your personal and work calendars into one convenient location. This synchronization ensures team schedules are coordinated, avoiding double-booking and ensuring that no crucial sales leads or appointments are overlooked.
For those who appreciate data and analytics, Calendar includes an impressive feature called Calendar Analytics. This powerful tool empowers you to analyze your calendar usage and gain valuable insights.
Key Features
Unified online calendar for personal and work schedules

Customized time slots and event templates

Control over visible time slots

Personalized calendar links for easy scheduling

Synchronization to avoid double-booking

Calendar Analytics for data and insights
Favorite Feature
My favorite feature of Calendar is the ability to create customized time slots and event templates. Whether you have recurring appointments or unique scheduling requirements, you can easily set up time slots and event templates that align with your schedule.
Pricing
Calendar offers a free plan called "Basic" that comes at no cost. For those seeking more advanced features and capabilities, there is the "Standard" plan available for $25 per month. Additionally, the "Pro" plan, which includes enhanced functionalities, is offered at a monthly rate of $30.
Sunsama is your daily task manager and calendar app.
It's similar to Google Calendar, but it's much cleaner and easier to use.
Features like daily planning, reflecting at the end of the day and syncing to Google Calendar make it a powerful time-management tool.
You can also set a Pomodoro timer while working on a specific task, take short breaks in between, and track your progress altogether.
Key Features
Finished tasks can be auto-archived and unfinished tasks can be forwarded to the new day.
Daily planning – If you like to organize your thoughts in a journal, then this feature is just for you.
Sunsama works in great coordination with apps like Google Calendar, Gmail, Trello, ClickUp, Github, etc.
You can create different channels to group your tasks together.
The progress bar and the number of hours help you determine the amount of work you did that day.
Favorite Feature
Drag and drop – I use Sunsama and Google Calendar in sync, meaning I can create a task in Sunsama, drag it to Google Calendar at my free slot. An incredible time saver.
Pricing
Sunsama follows a fairly simple pricing structure. You get a 14-day free trial and then you pay $16/month on annual billing.
LastPass organizes all your passwords in one place and also makes them highly secure online. With LastPass, you don't need to worry about data breaches or web monitoring.
If you are someone who keeps testing new tools and software and entering new passwords every time, then it would be a great practice to save your passwords in LastPass.
Besides passwords, you can keep track of wi-fi passwords, insurance cards, memberships, etc in LastPass that you can access anytime on the web/app.
Key Features
Password generator – With the assistance of an in-built password generator, you can generate very strong passwords.
LastPass authenticator – This makes sure that only you can access and see your passwords.
Dark web monitoring – If anything related to you is being shared on the dark web, LastPass will immediately alert you to mitigate the risks.
Favorite Feature
Secure online shopping – Whenever you are about to pay online, LastPass will camouflage your card details to secure your sensitive information. 
Pricing
LastPass has a free plan where you also get to try the premium version for the first 30 days.
The basic premium plan starts at $3 per month, followed by the family plan that costs $4 per month.
Business plan pricing starts from $4 per month for the teams and $6 per month for businesses looking for scale.
ClickUp may seem a bit complicated for a while due to a lot of features, but it is truly a remarkable project management tool.
Although most people use ClickUp for project and task management; it can organize every aspect of your professional life, if used correctly.
It has advanced built-in features such as workload checking, a mind map for brainstorming, different board views, whiteboard, embeds, and much more.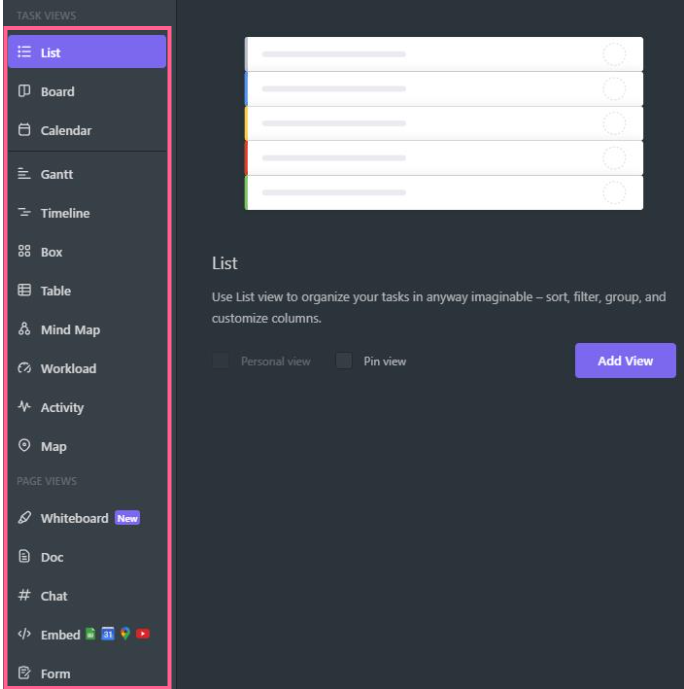 You can even create automation based on conditions, much easier than Trello.
Key Features
Task prioritization – With the help of color-coded flags, you can prioritize one task above/below or equally to the other.
Brainstorming – ClickUp has built an ecosystem within the app where you can jot down your ideas, convert them into plans, and then execute them.
Templates – You also get various in-built templates with distinct settings that you can start using immediately.
Creating and assigning tasks – The majority of users find the task creation and assignment part best suited in ClickUp.
Favorite Feature
Commenting – I found the comment part of ClickUp very useful, especially when it's about tagging or mentioning someone. Whenever you get mentioned in a comment, you get an app notification as well as the email notification.
Pricing
ClickUp has a forever-free plan. 
The premium plans are categorized into 3 versions:
Unlimited ($5/month)
Business ($9/month)
Business Plan ($19/month)
Key Features
Capture tasks, projects, and ideas in one place
Organize tasks into lists like Today, Upcoming, Personal, Work
Smart suggest recommends tasks based on time and location
Integrates with Siri, Google Assistant, Slack
Supports native integrations with tools like Slack, Zoom, Gmail
Favorite Feature
Voice capturing capability – I love how intuitive the voice capture is. You can use natural language to add tasks, without worrying about formatting.
Say "Pick up milk at 5pm today" and Any.do will add it to your list and set a reminder. It's so fast and seamless.
Pricing
Any.do's Personal plan is free to use. The Premium plan costs $3/month and the Teams plan costs $5/month/member.
Google Calendar needs no introduction, yet, this is one of the most underrated free tools.
It allows you to maintain a color-coded calendar with some advanced settings that you can play with.
For any task scheduled in Google Calendar, you can create unlimited reminders/notifications, schedule recurring tasks (e.g., every Tuesday)
You can even locate a free time that you can use to achieve a healthy lifestyle (like hitting the gym).
With Google Calendar, you can do much more than organize a sound calendar thanks to tons of addons they tie-up with.
This free tool is present on almost every smartphone (at least Android) in this world, yet most of us don't even bother to look at what's in there.
Key Features
Provides a clean dashboard with calendar and tasks on the same page, just like Sunsama.
Hovering through daily, weekly and monthly tasks in a calendar is very useful.
You can create unlimited calendars for different purposes and then enable or disable them as per your need (e.g., personal, business, academic, etc.).
Addons like Zoom allow you to schedule meetings directly in the calendar after looking at your free slots.
Favorite Feature
Creating a new task – Creating a task and dragging it to your preferred timing is the best way to organize a calendar. While creating tasks, you get a truckload of additional settings to get an exact outcome.
Pricing
Google Calendar is free to use with no restrictions on any of its features.
People spend around 5 hours every day checking their emails on average, as per one of the studies.
And if you are one of them, then here's the deal.
Do you like that feeling when you have hundreds if not thousands of unread emails that keep bothering you to open them up?
Clean Email is a superb tool to organize your inbox and keep it clean from unnecessary email flooding.
The best part?
You can automatically keep cleaning emails on your behalf with the help of Auto Clean Rules.
Another very useful feature allows you to distinguish between a mail sent by a human and another one sent by a robot or through automation.
Once you sign up, it will take a few seconds to analyze your emails and then start cleaning all of them with a single click of a button.
Key Features
Quick Clean – With the help of this feature, you can quickly delete a lot of emails. It categorizes your emails into Unread Emails, Social Notifications, Misc Notifications, and Emails that are older than 6 months.
Auto-Clean bot – This bot allows you to create rules based on which you can remove or forward emails.
Privacy Guard – If any type of breach, if found in any emails, Clean Email alerts you with a notification and encourages you to delete those emails.
Favorite Feature
Auto-Clean – There are many types of rules you can create to organize your inbox. You can, for example, create a rule which says that whenever you receive an email from Facebook, it should directly be marked as read.
Similarly, you can play around with many different rules. Possibilities are limitless. Your imagination is the only limit.
Pricing
You can clean 1000 emails for free. To clean more than that, you require a premium version of Clean Email.
For a single account, it costs you around $29 per year or around $2.4 per month.
Slack connects your team by creating a wonderful communication medium. Healthy communication is crucial for team members to perform optimally.
This is where Slack helps.
You can chat with any of your group members, call them, or tag them in a group chat.
Attaching files has never been easier than this. You can even react to someone's message and create a thread, just like Twitter.
Slack also integrates with apps such as Canva, Twitter, Zoom, Asana, etc; to create a better workflow.
Key Features
Chat encryption – Slack follows its security and privacy policy rigorously. Your chats are end-to-end encrypted.
Group video calls – After creating a channel and adding members to it, you can start a group call without any third-party interruptions.
Communicate with yourself – You can send/schedule messages, attachments, etc. to yourself. This feature helps especially when you need to remind yourself of something.
Keyboard shortcuts – Just like Notion, Slack has a lot of keyboard shortcuts. The only difference is that Slack focuses more on the automation part.
Favorite Feature
File browser – This feature organizes all your files in one place. So, you can look through all the files that were sent to you or by you from the very beginning.
Pricing
Slack has a free version with certain limitations. You cannot, for example, send direct messages, view archived files, etc, on the free plan. Also, you get upto file GB of file storage.
Slack offers two premium plans:
Slack Pro ($6.67/month)
Slack Business Plus ($12.5/month)
Conclusion
The above 12 tools will help you in organizing your personal as well as professional life. Despite serving different purposes, the above apps will keep you from micromanaging and help keep things in order.
Be it a project, to-do, or even your password, you will never have to look for your valuables in different places.
Pick the ones that best suit the problems you're encountering and take back control of your days.