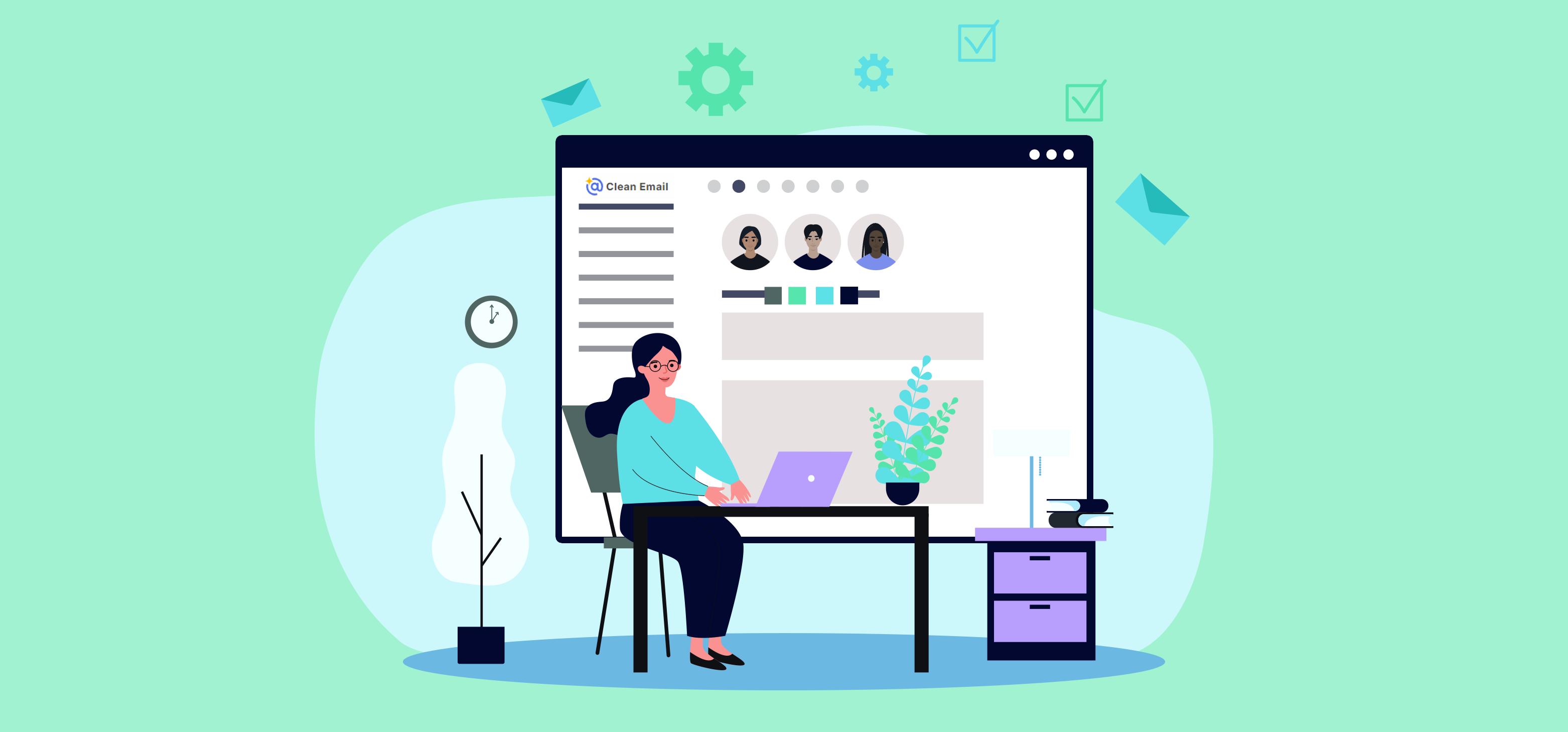 Aren't we all guilty of subscribing to newsletters and never opening them?
On the one hand, we purposely give out our email information to avoid FOMO. Other times, we're not even mindful of allowing platforms to reach us via email.
The point is, as we get bombarded with endless emails every day, it's rare to find an inbox without hundreds, even thousands, of emails.
In the enormous pile of emails, missing out on an important email and information overload is increasingly becoming common.
However, we often struggle with finding leisure to sit down, sort through our inboxes, and organize it.
This is where software like Clean Email comes in. A software that can clean, organize and manage your mailbox for you. 
Let's find out what it is, how it works, and what to expect from the Clean Email app.
What is Clean Email?
Clean Email is an email management software that focuses on dealing with the numerous wanted and unwanted emails you receive in your inbox daily.
It is basically a mass email purifier that helps reduce the manual work of cleaning up the mailboxes by grouping, arranging, organizing, deleting, labeling, and archiving the additional emails with complete ease.
Going by the name given to it, it can easily sort and filter the new recent emails to clean up your email inbox.
With the help of a few clicks, Clean Email can easily let you:
Unsubscribe from unwanted newsletters
Block or mute undesired senders
Automate email-related operations
Keep your inbox clean and smooth-running
Efficiently operate alongside all the email providers based on IMAP (Internet Message Access Protocol). These include popularly used email platforms like Gmail, Yahoo Mail, Outlook.com, etc.
Types of Email/Notifications Dealt by Clean Email
You can use Clean Email for cleaning up and filtering:
Top senders
Travel emails
Copied emails
Fundraising emails
Long and bulky emails
Online shopping emails
Social media notifications
Miscellaneous notifications
Rejected email notifications
The emails you responded to
Subscriptions and newsletters
Emails that you sent to yourself
Emails originating from dead ends
Spam and other unwanted junk emails
Notifications from project management tools
The old emails that were sent or received
Emails that you recognize and confirm are from safe and secure addresses.
Clean Email Features
Clean Email is packed with some compelling features that will help you manage your overloaded mailbox efficiently at a fast and easy pace without any problems.
It is an automated bulk email cleaner without any unnecessary obligations and works with equal ease with large groups of emails by deleting thousands of emails all at once.
Thus, every single time you feel like unsubscribing from emails, and reviewing, filtering, and/or deleting heaps of unwanted emails quickly, all at once.
Let's take a look at Clean Email features in detail:
Quick Clean
Quick Clean is a feature of Clean Email that helps maintain your email by cleaning your inbox to make it run smoothly.
The maximum number of emails that it normally cleans up is organized into various categories, including "social notifications" and other emails received more than three years ago.
By doing so, it makes it easy for you to remove or archive them all simultaneously.
Smart Views

Smart Views is a clever filtering feature of Clean Email that prevents you from getting lost in your electronic mailbox.
Be it Gmail, Yahoo Mail, or Outlook.com, you will be able to clean, locate, and display the important messages you want to peer at and forget about those you do not want to view.
Some organized Smart Views display examples include "Emails from social networks" or "Old emails."
Email Groups

The Email Groups feature of Clean Email lets you view all the emails that require your speedy attention by making a group or collection out of them right away.
You can easily edit and delete these groups by simply picking out one of them for your preferred inbox view.
This feature works as a great project control, venturing, and organizing tool which creates groups primarily based on different parameters like date, size, sender, or subject.
Sort and Filter
In Clean Email, you can observe, discover, and apply extraordinary filters to your email based on the age, size, or sender as well as status, i.e., read or unread. You can properly view these filters right below the search bar.
All these filters and sorting features will help you locate the emails of your choice and hold onto them or do away with them out of your inbox without any difficulty.
Mute, Block, or Unsubscribe
Clean Email allows you to mute, block, or unsubscribe from unwanted emails and senders. Using this, you can effortlessly prevent your inbox from getting stuffed or cluttered.
The mechanism of this tool prevents undesirable emails with the aid of sending "Unsubscribe" requests or "Pausing" subscriptions.
It can also unsubscribe, mute, or block incoming mail from unwanted senders on your behalf who do not supply links to unsubscribe.
Automated Operations
The automated email cleansing routine of Clean Email performs the terrific task of cleaning your inbox so that it keeps running smoothly.
You can circulate all emails sent by a specific sender or source to your "Read Later" folder without any notifications and move on to unsubscribe from other emails or clean up your inbox.
Later, you can link them in the "Keep Newest" folder and subscribe to your preferred latest newsletters.
Automatic Archive
With Clean Email, you can create groups of emails primarily based on numerous standards or criteria.
These groups could have their own personalized clean-up parameters to routinely archive, delete, or hold the emails they keep in an automated manner.
You get both an easy-to-use, straightforward auto-cleaning feature and also a well-informed and superior alternative to regulate fast email strategies or target certain messages with advanced superior filters.
Privacy and Security
The Clean Email platform is extremely privacy-oriented as it does not read or sell any information about its users, be it personal account data or business account data.
Its Privacy Guard feature tracks and monitors whether or not your email address is associated with any known or familiar security or data breach incidents.
Pros
Let's take a quick look at some of the advantages of using Clean Email.
Your email inbox will be cleaned regularly.
You'll be able to discover emails quickly.
It will keep all the messages highly organized by decluttering your inbox.
You'll be able to easily decrease the time you spend on e-mail with the aid of using as much as 50%.
The "Smart Views" feature allows you to type emails with pre-created filters without any issues.
You can use it individually or with your team.
Junk mail or spam figuring out functions have received a high rating from users.
It has an intuitive and simple user interface.
Cons
Even though Clean Email is great at operating the necessary functions, there are a few minor disadvantages you should know about:
It does not work on Windows, Linux, or Chromebooks.
Some customers complained that it blocked each incoming message for days.
The customer support service often takes a few days to reply to queries requested by customers.
You must pay for an upgrade to revel in its top-rate services. A free-trial account can clean only up to 1,000 emails.
How to clean your inbox using Clean Email? (Demo)
Clean Email takes only a few minutes to clean up your email inbox. Here's a step-by-step demonstration of how to use the tool.
Sign up for your Clean Email account.

Connect the app to your Gmail account.
Sit up for it to research and investigate the inbox and advise numerous alternatives on the way to clean it all up.

Clean Email will most certainly allow you to label a whole segment, delete it, and then pass it or achieve it so that it can easily filter your mailbox.
You have two options —"Quick Clean" or "Auto Clean."

Since this is primarily a demo of cleaning your mailbox, click on the "Quick Clean" button.
You'll be asked to set a couple of rules for the quick cleansing process in the next window.
Select every choice from the diverse drop-down options.

You can optionally click on it to feature every rule in the "Auto Clean" process.

Once you choose, click on the "Clean" option at the bottom of the window.
You will then get click on the "Run Quick Clean" option. When you do this, the cleansing process will begin.
If you have opted to set guidelines for the Auto Clean process, the automated cleansing of your inbox will cover all of it. In other words, if you properly manage the Quick Clean, Clean Email will mechanically maintain your inbox considerably cleaner without any additional requirement of your interaction with it.
When the whole process is complete, click on the "Continue" button, and you will be able to go back to the" Quick Clean" window.
Pricing
Clean Email has a flat-rate subscription-based pricing model that involves three plans. This includes:
Free-Trial Plan will help you test out the services and features offered by the platform. No credit card details are required for this plan.
1 Account Plan at a monthly cost of $9.99.
5 Accounts Plan at monthly $19.99.
10 Accounts Plan at monthly $29.99.
Get Started with Clean Email for Free →
Frequently Asked Questions
Can Clean Email integrate with other third-party software or applications?
No, it does not have integration functionalities with other third-party applications or software.
Does it have API services?
No. Clean Email does not grant any Application Programming Interface (API) services to connect or link up with other software or applications.
Can multiple users or teams operate through the platform?
Yes. Clean Email allows multiple users or team members to operate on the platform.
What other applications can be used simultaneously?
Common applications used simultaneously alongside Clean Email include Gmail, Yahoo, Outlook, and various other email service-providing platforms.
Does the platform provide customer support services?
Yes! Customer care is a top priority for Clean Email, and they have a 24/7 customer support service team.
Does Clean Email provide guides or tutorials?
Yes. There are guides and tutorials available for cleaning emails, including video training and documentation.
Who can make the best use of Clean Email?
Clean Email is highly beneficial for business or enterprise email users as well as individuals who make regular use of emails and encounter social notifications, marketing newsletters, spam, etc., and desire to remove all unwanted emails.
What devices is it compatible with?
Clean Email is a web and cloud-based SaaS (Software as a Service) platform that works well on Android, iPad, iPhone, and macOS.
Conclusion
Keeping the email inbox clean is becoming vital to increasing your productivity and avoiding information overwhelm.
Clean Email is a highly efficient app that helps you manage tons of stored old emails at a quick pace and easily organize all the new ones.
Since it comes with a free trial plan, I highly recommend giving it a test drive and experiencing its useful features.