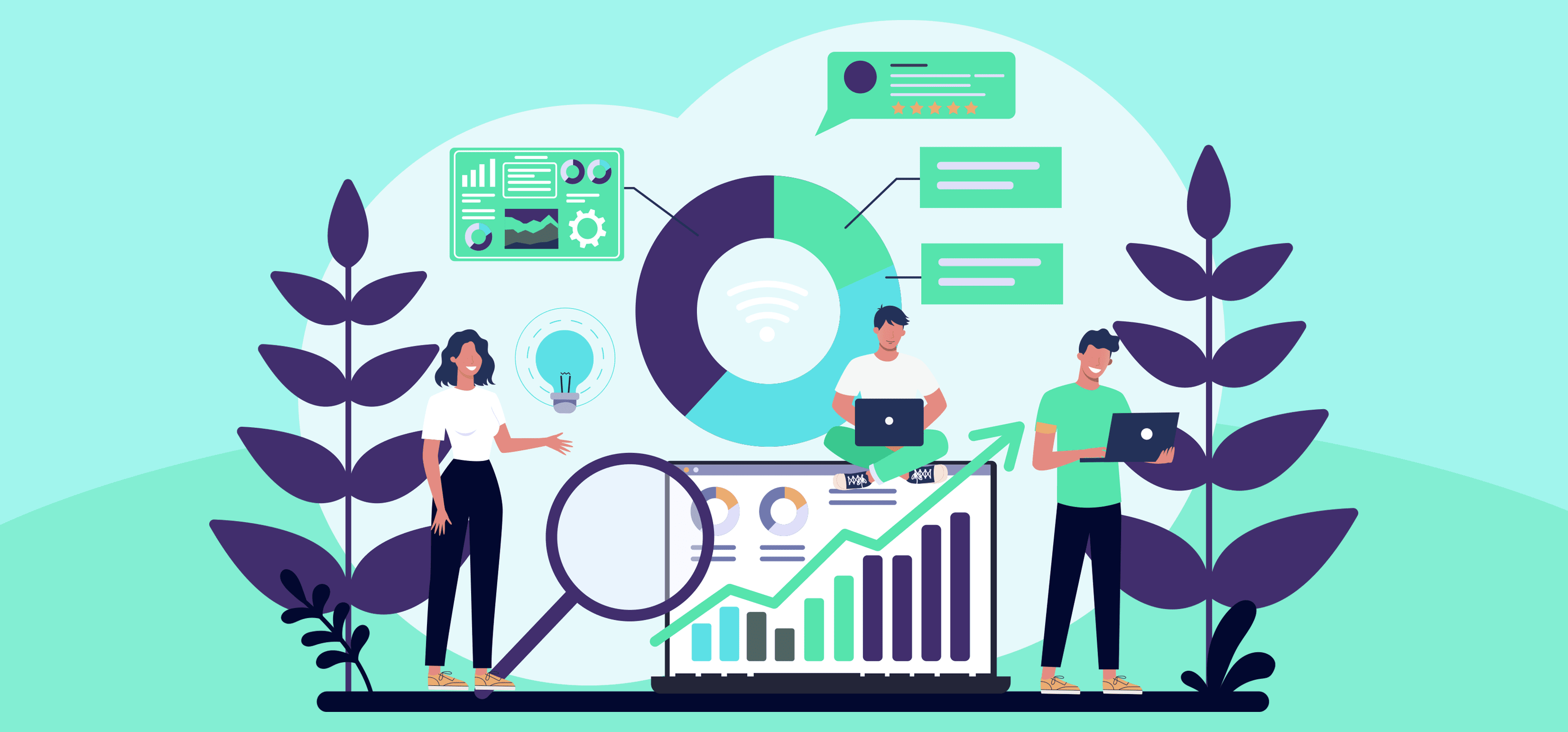 A web analytics tool plays a key part in your online business operations.
It provides you with valuable website statistics to help you deliver a better digital experience to your customers.
In this article, I have reviewed some of the best web analytics apps for startups. Let's learn what features they typically offer and explore the list to find the ideal software.
What is Web Analytics Tool?
Web analytics platforms evaluate site traffic and share in-depth insights into your target audience's behavior. The data usually includes the number of people who have visited your site, the top pages they have browsed, the content they liked the most, and other useful states.
Some also provide niche functions like sales performance or competitive analysis for eCommerce businesses.
In general, here are some of the key data a typical analytics software collects;
Total visitors.
User profiles.
Top activities.
Conversions.
Benchmarking.
Site performance.
Why Do you Need a Web Analytics Software?
Analytics software not only helps you keep an eye on your visitor's browsing pattern, but it also shares relevant data to optimize your website.
For instance, if a page shows a high bounce rate within a certain period, you can easily find out whether the site layout is driving people away or the content. Or, if you see certain promotions generating the most clicks, you can focus on that marketing campaign to get better results.
With access to such valuable metrics, you can develop data-driven strategies and convert more leads into paying customers. 
Below, I've compiled a list of the 12 best software products for website analytics. Go ahead and check out the reviews to see their core features.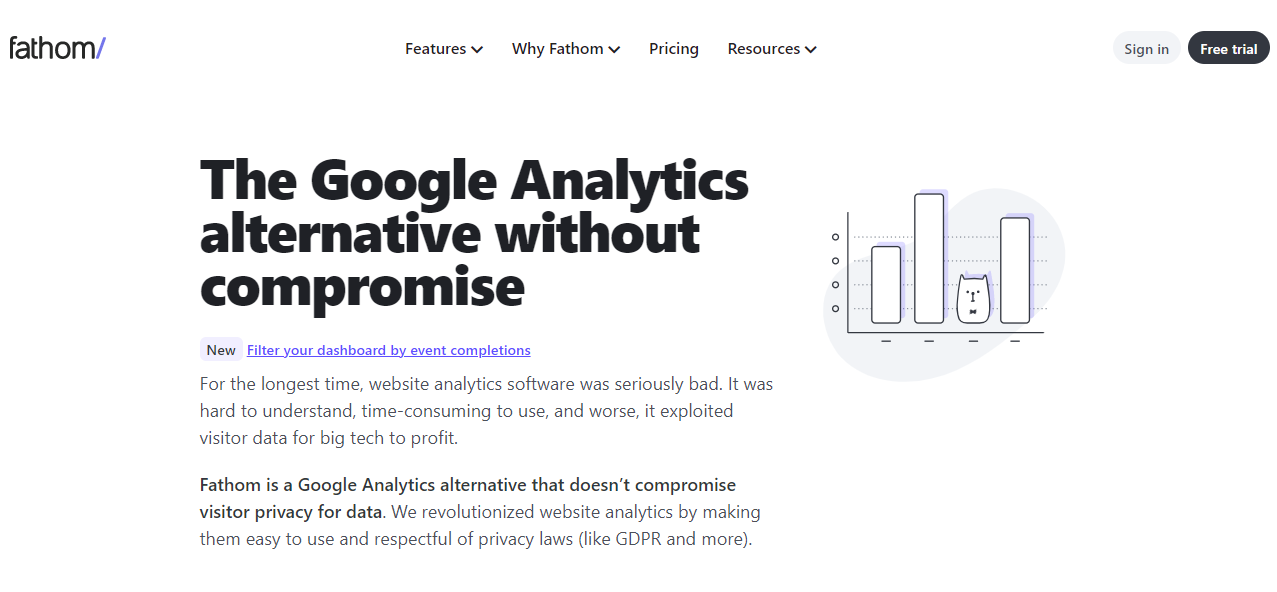 Fathom is a minimalist, secure and lightweight web analytics platform. It summarizes all your data in a single dashboard, allowing you to monitor site activities with ease.
Some of the statistics it delivers are page views, number of visitors, bounce rate, and conversions. It additionally tells you where most of your traffic comes from and what devices your audience prefers.
You can monitor up to 50 sites and add campaigns to track them directly via the dashboard.
The best thing about this platform is that it doesn't use cookies to gather data. It makes Fathom an ideal app for startups that have privacy concerns with free tools.
Core Features
Site activity.
Campaign and event tracking.
Uptime monitoring.
Cookie-free.
Data privacy.
Support multiple sites.
Email support.
Price
Fathom charges $14 for 100k page views. You can view the live demo to explore the features.
Hotjar is a visual web analytics software. Its core features primarily include heatmaps and session replays.
With session replay, you can retrace your victor browsing history and "see" their site experience on a recorded video. You can narrow down your data and pull up recordings with the least clicks to diagnose issues—and vice versa.
Through heatmaps, you can discover your most attractive site feature, pinpoint poor-performing sections and compare the mobile and desktop experience.
The platform is incredibly easy to use and integrates with popular apps.
Hotjar also provides a separate product for feedback and Surveys. You can use it to publish surveys and review bars to collect real-time feedback from your customers.
Core Features
Unlimited Heatmaps.
Session replays.
Comparison charts.
Filter by clicks and U-turns.
Feedback and surveys.
Data security.
Key metrics.
Price
Hotjar charges $39 for its visual analytics product and $59 for its survey plan. The basic plan is free.
Plausible is similar to Fathom.
It has a simple dashboard that features a top line highlighting web states and several charts displaying individual values.
The top bar shows the number of people currently browsing your site, unique visitors who have explored it in the past month, and basic metrics like bounce rate.
The interactive charts offer in-depth information in timeline formats to track visitors' geolocation, best-performing marketing channels, and goal conversions.
What makes Plausible particularly appealing is the detailing. While Fathom comparatively provides more parameters, Plausible pinpoints the exact time and city of the visitor. For instance, you can tell from the charts that someone from San Francisco visited your site through Twitter via a MAC device at 10 am and signed up for the newsletter.
Core Features
Open-source.
One-page dashboard.
Website statistics.
Interactive graphs.
A Powerful geo-chart.
Privacy protection.
Team invitation.
Email support.
Price
Plausible provides a flexible pricing model. Its basic account cost is $9.
ZOHO Analytics is a powerful business intelligence platform. It pulls sales, marketing, and financial information from your source files and compiles it into readable reports.
You can extract data from 250 sources, including CRMs, accounting software, and eCommerce platforms like Shopify. It allows you to analyze your marketing campaigns, monitor your social media profiles, build financial reports and track key sales metrics.
Secondly, ZOHO provides an AI assistant that delivers smart analyses on request. With this tool, you can develop what-if scenarios, automatically generates reports on any specific area, and even set alerts for anomalies.
Core Features
Business Intelligence analytics.
Data upload from multiple sources.
Reports on campaigns, social media, sales, and finance.
AI-assistant.
Share, publish, and embed reports.
Data security.
APIs.
Mobile friendly.
Price
ZOHO's basic plan starts from $30. You can buy a cloud and an on-premise version.
Kissmetrics offers product analysis. It provides valuable data on your product users to help you convert them into long-term customers.
Here, you can track daily and monthly visitors, count new users, and monitor your product usage.
The funnel measures your customer journey and highlights checkout stages that need improvement. The dashboard further shares total visitors, sign-ups, conversions, and revenues to give you a glance at the numbers.
Another feature you'll find helpful is the churn rate. It shows how many people have stopped using your product and when they did it.
Core Features
User-friendly dashboard.
Activity, funnel, and revenue reports.
Interactive graphs.
Data by customer type.
Acquisition and cart abandonment analysis.
Filters and customization.
Price
Kissmetrics charges $299 to $499 for its premium plans.
Glassbox is ideal for customer-focused insights. It gives you the exact information you need to improve your product's UI and the checkout experience.
Its most notable features are journey graphs, screen sessions, heatmaps, and funnel metrics. The visual analysis captures your visitor's interaction with your site to show you where they struggled, dropped off, or encountered issues. With visual and quantitative data, you can quickly detect performance errors and fix the problem on time.
The collaboration tool of Glassbox also makes it easier to share information. You can invite your team to brainstorm ideas on how to make the digital experience better.
Overall, it's a good option for startups that are currently facing customer acquisition challenges and need in-depth information to improve their strategies.
Core Features
Website and product analysis.
Augmented journey map.
Session records and heatmaps.
Funnel metrics.
AI-driven insights.
Performance report.
VoC tool to collect feedback.
Integrations.
Price
Glassbox provides prices on request.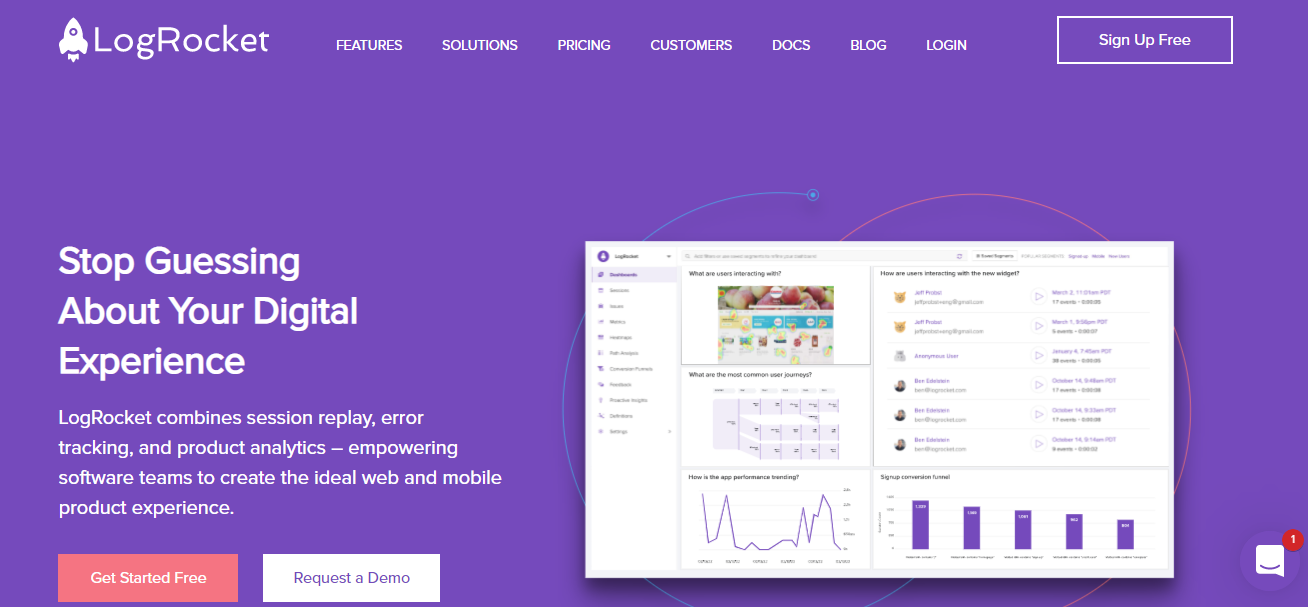 Logrocket shares nearly similar features to Glassbox.
You can use it to build custom conversion funnels and split data into stages for precise analysis. With session replays, click maps, and user experience analysis, you can record each funnel stage activity and easily spot low-performing areas.
The dashboard comes with a front-end monitoring feature to track page load time, network speed, and memory usage. You can apply filters to prioritize information and set rule-based alerts to get regular notifications on email or Slack.
If you generally watch your site's status from your smartphone, you can get a separate package for your mobile device as well.
Core Features
Session replay.
Heatmaps.
Site monitoring.
Funnel metrics.
Error tracking.
AI-powered insights and auto-alerts.
Data security.
Both SaaS and self-hosted options.
Price
Logrocket's basic plan is free, and monthly subscriptions range between $99 and $500.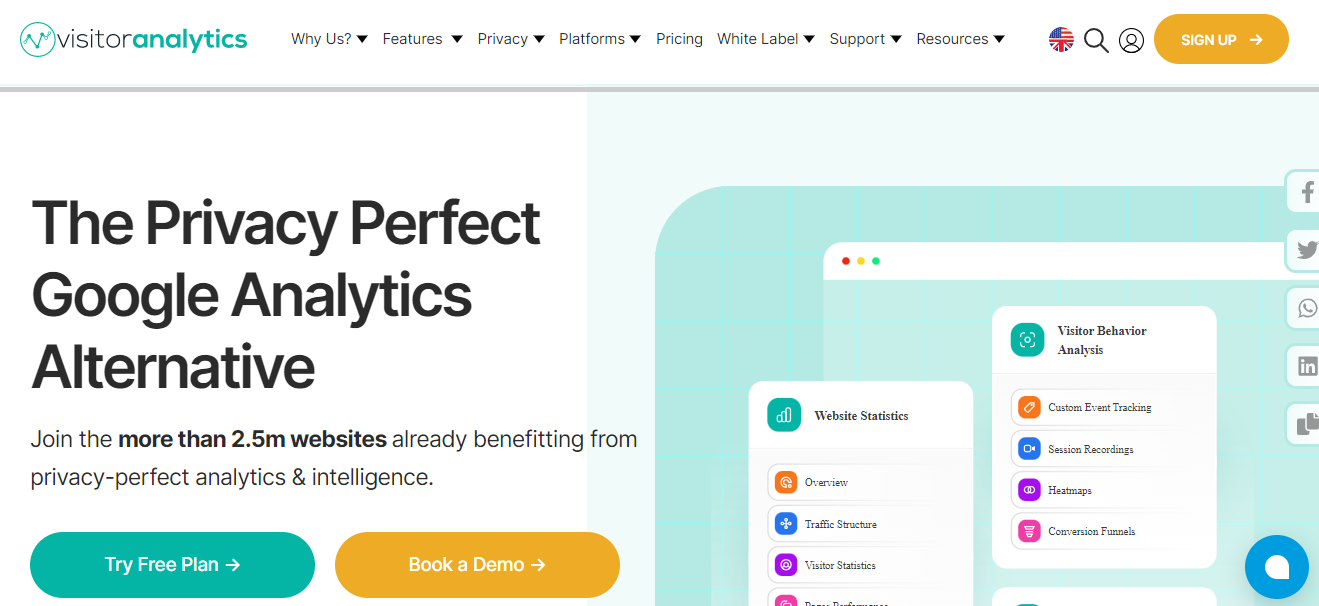 Visitor Analytics provides site statistics and visitor behavior analyzes in a single platform.
It has a user-friendly interface that makes it easier to keep an eye on key metrics and have a quick view of your website performance.
Here, you can monitor the total number of new visitors and compare them from the last months. For in-depth analysis, you can turn on heatmaps and session recordings to see the real-time interaction of your visitors.
If your traffic comes from multiple channels, you can easily identify weak venues with line charts. You'll also get an option to run competitive analyses to measure your site performance.
Core Features
Visitor view and page performance.
Campaign and event tracking.
Session recording and heatmaps.
Competitive analysis.
Funnel metrics.
No cookie required.
Feedback and surveys.
Team invitation.
Price
VA's starter plan is free, while its premium plans cost $13 to $79 per month.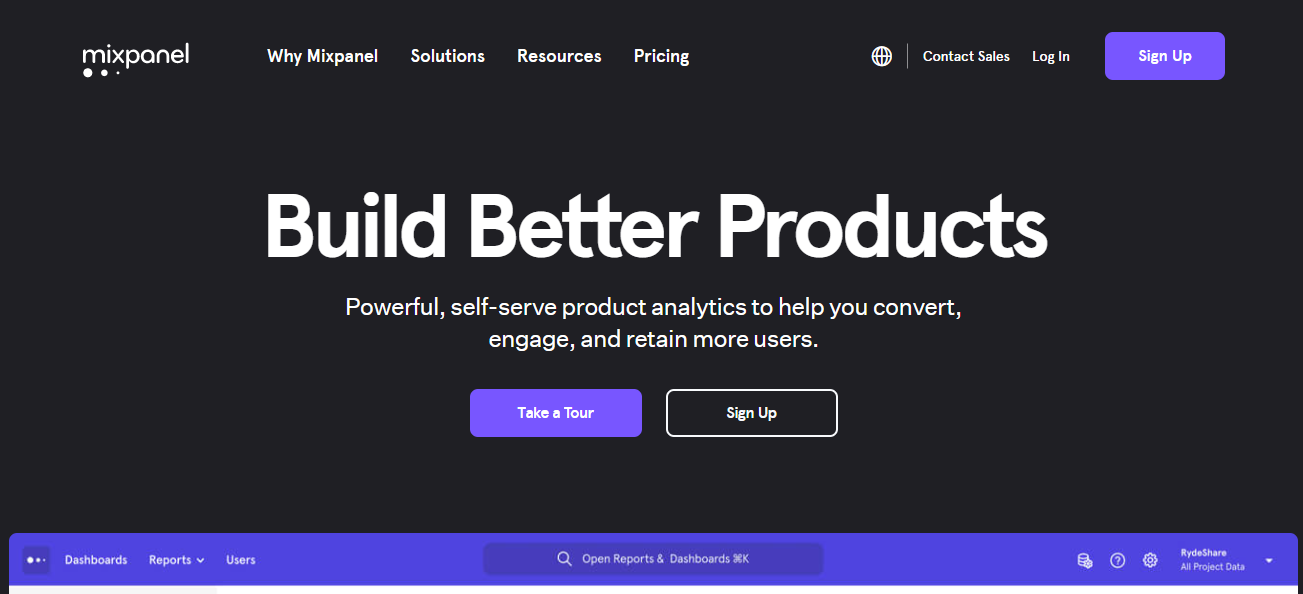 MixPanel offers advanced and scalable product analytics for B2B companies.
You can generate multiple interactive reports to monitor product usage, track buyer checkout experience and learn more about your target audience.
The advanced analytics lets you breakdown user activities into readable charts to measure retention rate and identify friction. You can also track upgrades and experimental launches to see how people respond to the new additions.
With the trigger alerts, you can easily keep yourself up to date on any issues that might hinder site performance.
Core Features
Interactive reports.
Custom dashboard.
Customer segmentation.
A/B testing.
Smart alerts.
Slack and email integration.
Data security.
Price
You can get started on MixPanel for free. It charges $25 per month for its premium plan.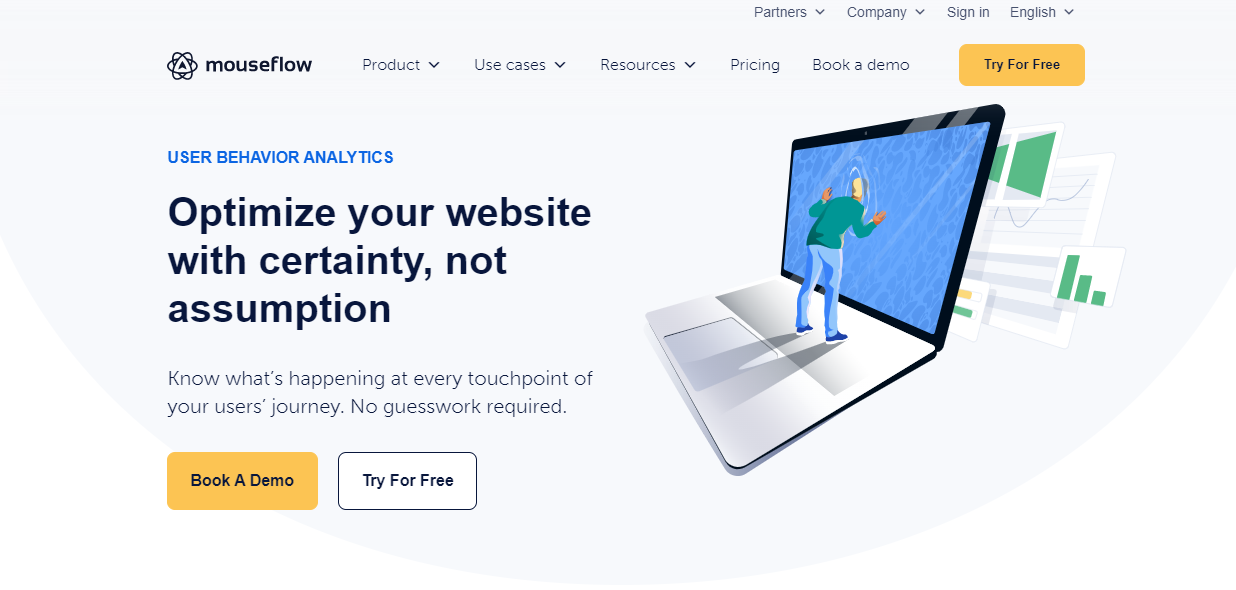 Mouseflow is best for its heatmaps.
You can run six types of maps to track several things, such as visitor locations, high-performing CTAs, and the time people spend on your content. The session replay function here is more advanced as well. It automatically detects friction and delivers a scoreboard to highlight weak areas for improvement.
Mouseflow has another amazing feature called feedback trigger that alerts you when your visitor performs your desired action. The idea is to collect feedback from visitors on the spot to investigate the cause of frustration right away.
Core Features
Session records.
Heatmaps.
Event tracking.
Opt-in form analysis.
Integration.
Feedback trigger.
Mobile friendly.
APIs.
Price
You can try Mouseflow for free. For premium features, buy its paid plan. Their prices start from $24.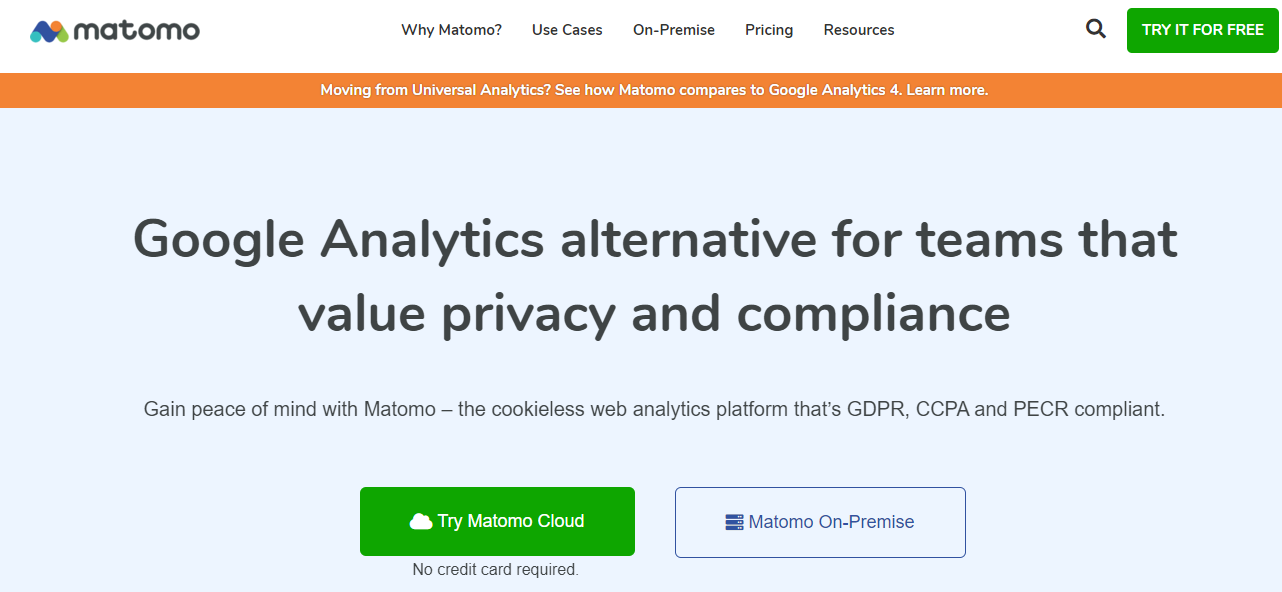 Motamo is an open-source web analytics platform. It's incredibly flexible, provides cloud and on-premise app, and offer 100% data ownership.
The main features you'll get are behavior analysis, conversion funnels, and opt-in form evaluation. But you can also monitor your site and PPC campaign keywords to identify high-performing phrases.
One of Motamo's bestselling features is customization.
It offers over 250 setting options and a marketplace for plugins to adjust the dashboard as you see fit.
Core Features
Open-source.
Behavior, acquisition, and retention analyzes.
Conversion funnels and form analytics.
Heatmaps and session recording.
SEO keywords and PPC ads tracking.
A/B testing.
Consolidated reports.
API.
Price
Motamo's On-Premise app is free to download, and the cloud platform costs 19EUR.
Panelbear is a simple traffic and site monitoring tool.
It delivers helpful insights into your site visitors and reports any lag in the page performance.
For traffic analysis, the dashboard shares the geographical location of your audience and the source from where they learn about your brand. You'll have the option to track events and record conversions to measure your site promotions' progress.
To improve page performance, Panelbear keeps an eye on your page response time for 24 hours and alerts you of any errors. It has a notification feature that allows you to set up auto-alerts and connect messaging and email apps to receive notifications on your preferred channel.
Core Features
Easy to use.
Traffic insights.
Uptime monitoring.
Website performance tracking.
Auto-alerts.
Integration.
Price
Panelbear's basic plan is free, and premium plans cost $29 to $99 per month.
Final Word
Before you make the buying decision, remember, the information you receive from web analytics software largely depends on its core features. 
Most typically provide a summary of key data in traditional charts to give you a clear but precise picture of your web activities. But some visual tools also record entire user sessions to show every action your visitor performed while browsing your website–as mentioned above.
Each type serves different purposes. So, note down the specific data you need and select the app that matches your requirements.