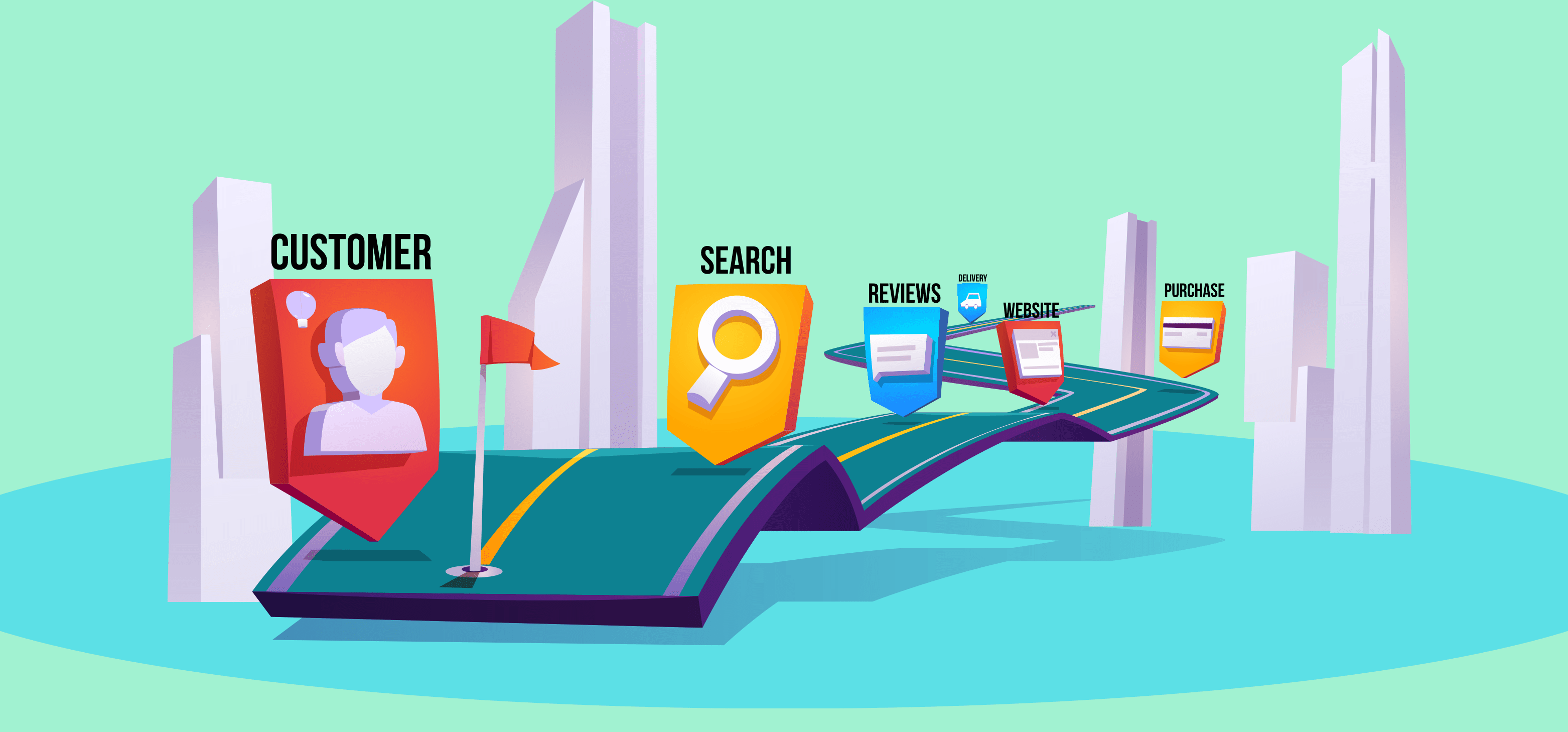 A well-structured customer journey map gives you a better understanding of your buyer's shopping experience.
By breaking down their actions into measurable paths and goals, you can easily identify strong and weak touchpoints and focus on optimizing those marketing channels.
In this article, I've put together a list of the 12 best software products that deliver customer journey map makers and templates. Here, you'll learn more about CJMs, their significance in marketing, and the tools to create them.
What is a Customer Journey map?
Customer journey maps are diagrams that show the graphical depiction of the purchase process.
The illustration summarily describes your buyer's first interaction with your brand, the various engagement they had, to the point where they bought your product and services.
It essentially gives you a 360 view of the different paths your audience takes to discover your brand and make the purchase decisions.
If you want to learn more, take a look at our in-depth guide on customer journey.
Why Do you need a Customer Journey Map?
Customer journey maps help you think from your buyer's perspective to anticipate their reactions.
People typically connect with brands multiple times before they purchase the items. Someone sees an advertisement on Facebook and forgets about it soon. But when they hear your brand name during a random conversation, they immediately recall that Facebook Ad and decide to visit the site to explore your products.
This is just one scenario. 
With a CJM, you can visualize your target audience's motivations and implement relevant touchpoints for maximum results.
Let's check out the software products you can use to design customer journey maps. 
UXPRESSIA is a cloud-based platform for CJMs, impact maps, and buyer personas.
It provides several templates customized for different industries and a library of vector elements to add visual elements to your maps.
It also allows you to import relevant data from external files to the diagram. The map automatically updates the information as the information on the original file changes in real time.
Additionally, you can invite your team to work together on the project, let them comment on areas that need improvising, and enable presentation mode to share the final design.
Other useful features of UXPRESSIA are code embedding, white labeling, file exporting, and password protection.
Core Features
Customer journey map.
Email share.
White labeling.
File export.
Presentation mode.
Collaboration.
Price
UXPRESSIA's basic plan is free, while its premium plans start from $16 per month.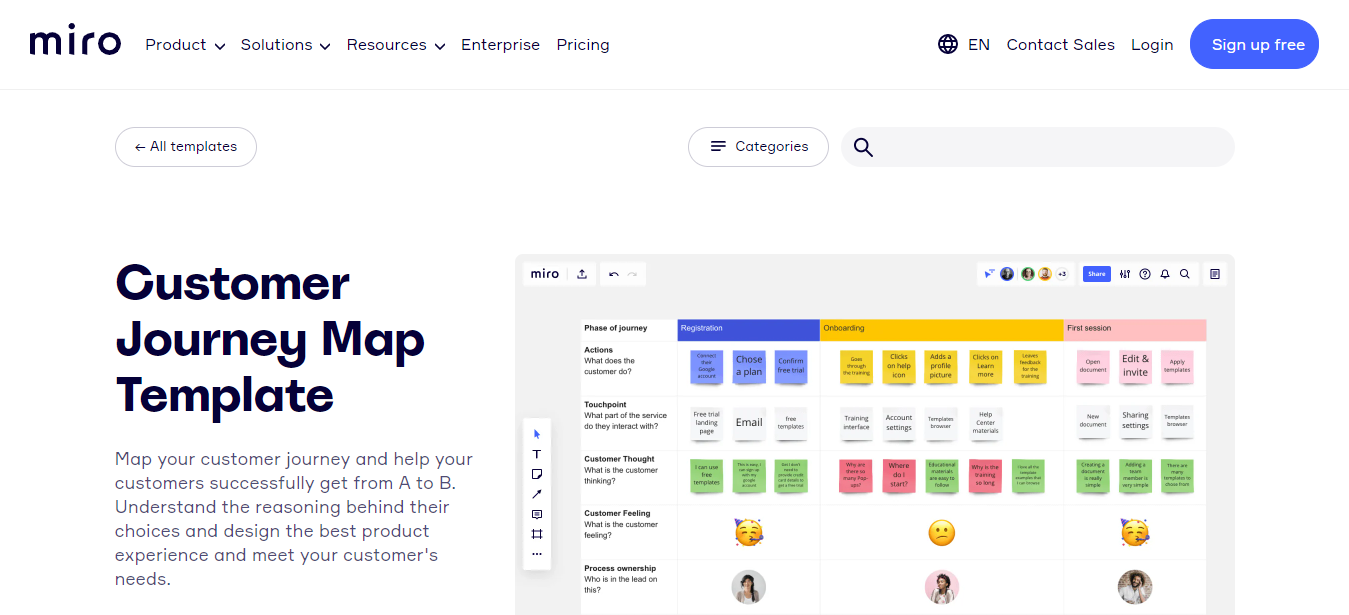 Miro is a whiteboard application, but it also shares tools and templates to create customer journey maps.
With its blank Canvas, sticky notes, and media import, you can build full-fledged visual purchase funnels and present them to your team for brainstorming. Furthermore, it has powerful collaborative features like video conferencing and slack integrations that make it easier to share your ideas with other departments and get their input.
Another thing that makes Miro an appealing option is its multi-device support. Whether you have a laptop, tablet, or smartphone, you can access that map remotely.
Core Features
Blank Canvas.
Sticky notes, markers, and shapes.
Media import.
Presentation mode.
Team collaboration.
Integrations.
Mobile app.
Price
Miro's starter plan is free of cost. For premium features, it charges a minimum of $10 per month.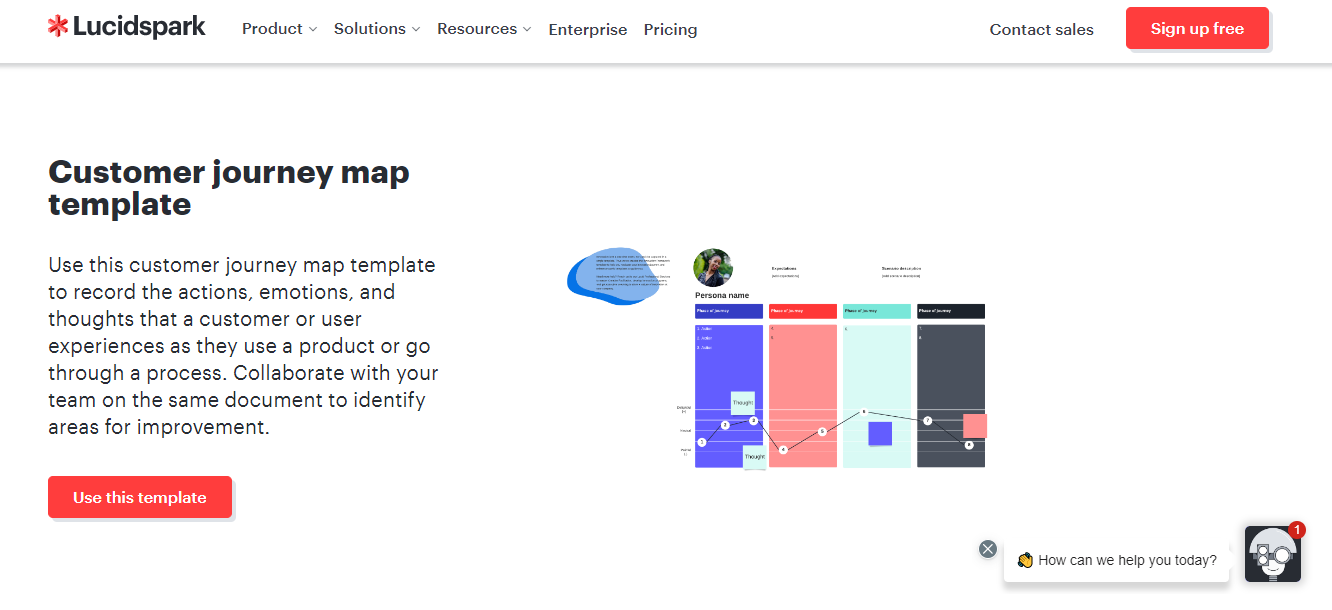 Lucid Spark is a milder version of Miro. It shares basic templates and sticky notes to let you map out customer journeys with little learning curve or distraction.
You can create buyer personas, categorize touchpoints, and use freehand drawing to make custom notes.
You can also choose its visual map templates if you prefer illustrations to text.
In addition to that, you can access the app from your personal device and invite teams remotely to look at your project and vote on the best ideas.
If you're looking for a simple tool, I recommend lucidSpark.
Core Features
Whiteboard.
Templates.
Freehand drawing, emojis, and icons.
Voting and timer.
Admin control.
Integrations.
Password protection.
Price
LucidSpark shares four plans tailored to different organization sizes. Its basic plan is free, and monthly subscriptions start from $8.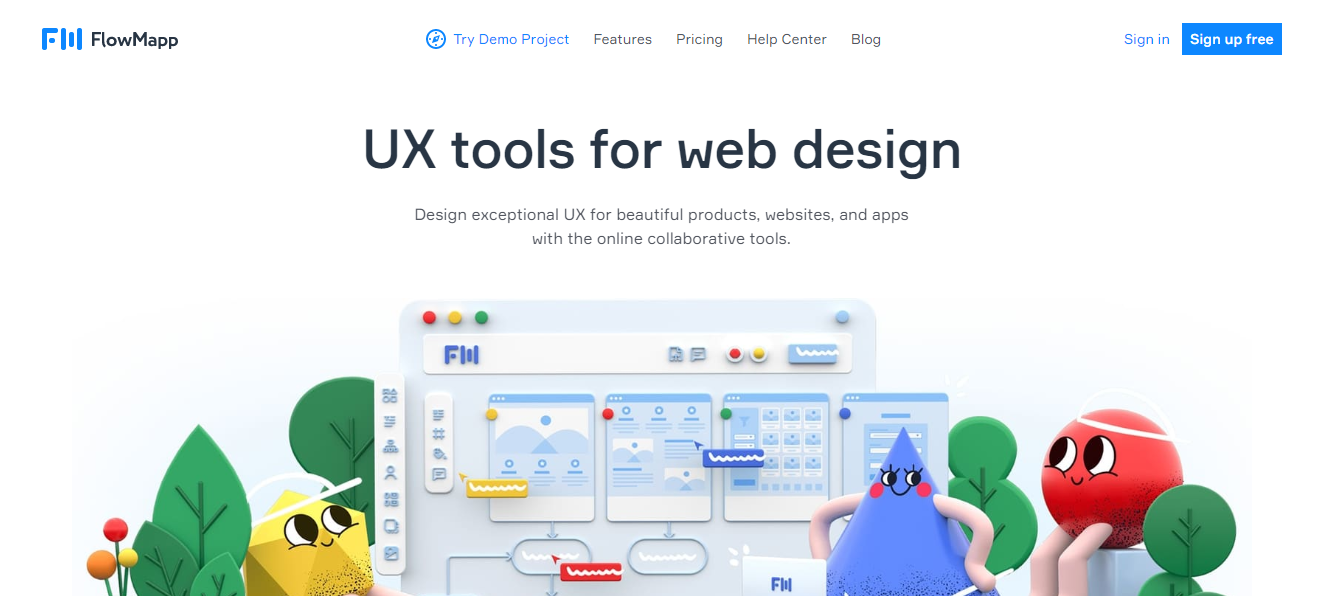 Flowmapp delivers flexible mapping tools.
It has a drag-and-drop builder that comes with over 70 icons and versatile connectors, and custom shapes. With it, you can easily create diagrams from scratch, allow your team to offer suggestions, and keep a trail of your project activities for later review.
It also shares Demo maps as templates for those who need a starting point to develop buyer's personas and journeys.
One of the best things about Flowmapp is its simplicity. It has provided a step-by-step guide on its website to let users know "how" and "where" to apply a particular tool.
Overall, it's a good choice for customer journey maps.
Core Features
Drag-and-drop builder.
Over 70 icons and custom elements.
Team collaboration.
Project history trail.
File transferring and sharing.
Integrations.
Price
You can explore Flowmapp for free. Its paid plans cost $9 to $99 per month.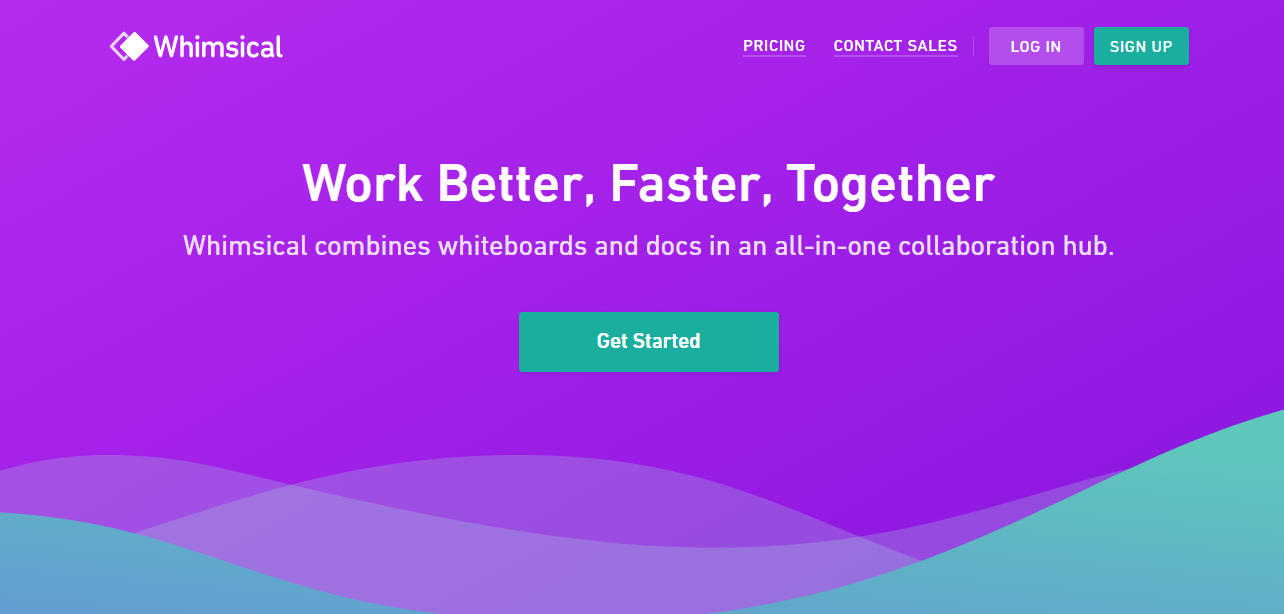 Whimsical is built for speed.
It's super easy to use and offers tons of time-saving features to quickly design professional customer journey maps.
You can create basic frames in minutes with its shortcut penal bar, access 36 different categories of icons, and develop diagrams at scale.
It also has a built-in chat feature that lets you assign part of the map to your team and post comments to offer feedback. What's more, you can invite guests and allow them to see your files.
If you work with multiple clients, this is an ideal app for you.
Core Features
Blank Canvas.
Customization.
Icon library.
Templates.
Guest invitation.
Admin control.
Comments.
Two-factor authentication.
Price
You can create two workspaces on Whimsical for free. To unlock the limit, try its paid plans. It charges $10 to $20 for its premium features.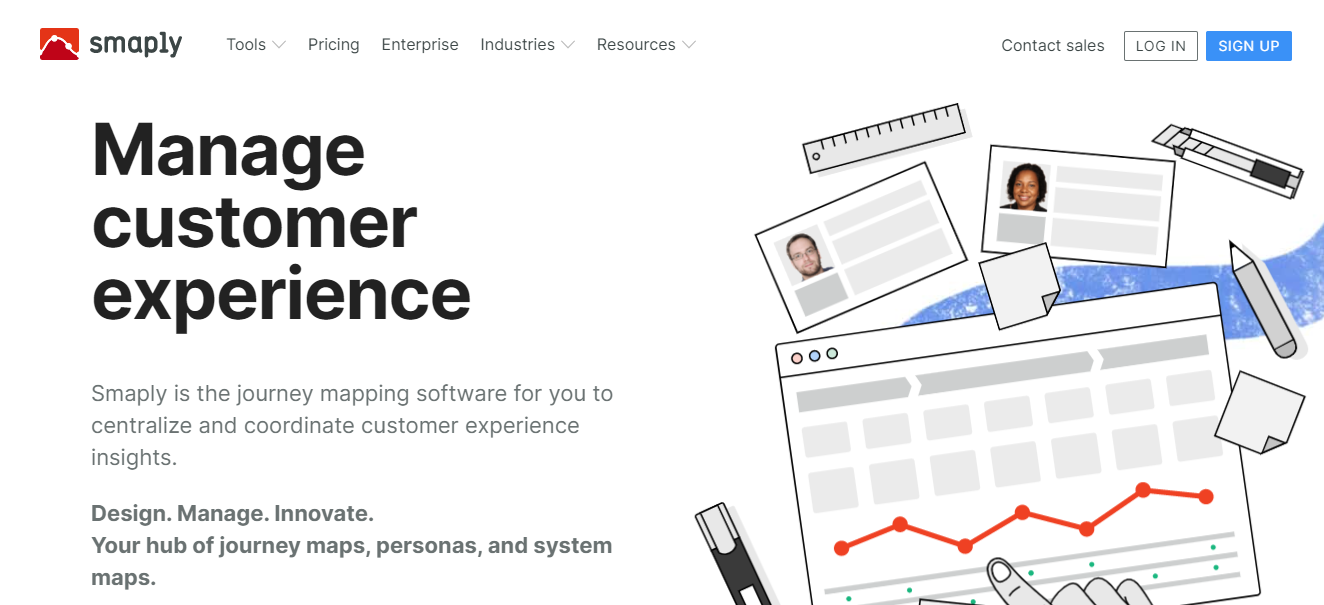 Smaply's features are similar to UXPRESSIA.
It delivers a standard customer journey template that represents funnel stages, touchpoints, and marketing campaigns.
You can draw omnichannel paths, note down your customer's expected reactions, and create a storyboard to illustrate the scenarios. If you like using paper for brainstorming, you can take a picture of your drawing and digitalize them for your CJM.
Additionally, you can extract the map and embed it into the presentation slides for official meetings.
Apart from CJM, Smaply also lets you design buyer personas and system maps. With its drag-and-drop builder, you can customize the templates and adjust the details.
Core Features
Journey maps.
Buyer's personas.
Templates.
Rich tools.
Guest invitation.
File import and export.
Integrations.
Price
Smaply offers you free access to three journey maps and three personas. Its premium subscriptions cost 29 EUR.
Custellence is another good software for customer journey maps. It's easy to use, delivers a scalable canvas, and has excellent visual elements.
You can add as many lanes as you want in your CJM, resize fields to include more text, import illustrations, and rearrange entire rows.
In addition to its main features, you'll find several useful side functions that can help you save time. For instance, you can freeze lanes to zoom in and out or connect multiple maps into one parent page.
Custellence shares a few collaborative features as well. You can set access restrictions to your files and get notifications every time someone from your team edits the map.
Core Features
Unlimited maps.
Templates.
Icon library.
Productivity features.
Presentation mode.
Team collaboration.
Admin control.
Versatile file export options.
Integrations.
Price
Custellence's basic plan is free, and premium features cost $30 per month.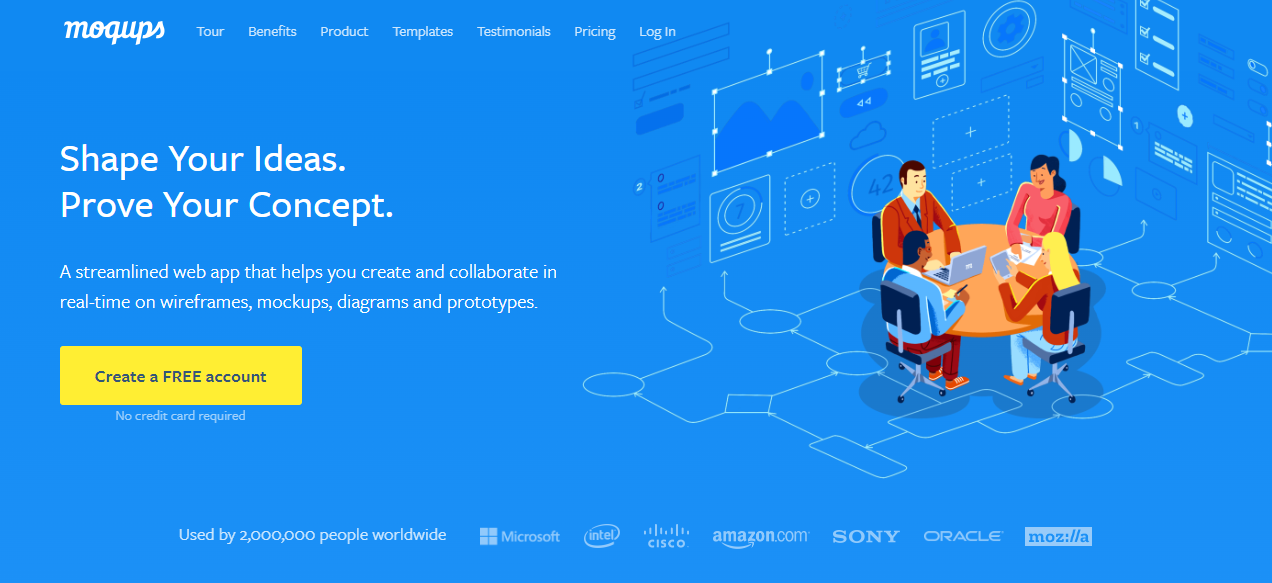 Moqups is one of the most well-thought-out designing apps.
It's created to help you visualize each process in detail, which, inadvertently, makes it an ideal platform for diagrams and other mind-mapping charts.
Using its versatile library of templates and tools, you can develop both general and specific customer journey maps. While the app has a separate template specifically for story mapping, you can choose other diagram makers to develop complex or tailored illustrations.
Moqups also offers collaborative features to invite teams or clients (if you're a solopreneur) to view and share ideas. You can integrate Slack to receive notifications and export your maps to Google drive.
Core Features
Several Diagram builders.
Rich library.
Custom fonts.
Whiteboard.
Guest view.
Admin control.
File export and link sharing.
Price
Moqups monthly prices range between $17 and $89. You can also try it for free to explore the features.
FigJam is a popular choice for diagrams, flowcharts, and other visual illustrations like customer journey maps.
It's a whiteboard app with a simple interface but tons of powerful tools to let users create versatile diagrams. You'll get shapes, connectors, and media options to design touchpoints. You can also import tabular data to display the buyer's persona on the map.
The best thing about FigJam is its community. It gives you access to a vast library of templates, plugins, and widgets designed by users for the users. The library is updated periodically to feature trending templates.
Core Features
Blank Canvas.
Templates and plugins.
Shapes, connectors, emojis, and icons.
Team collaboration.
Open sessions.
Admin control.
File export.
Mobile app.
Price
You can create up to three projects for free on FigJam. Its paid plans cost $3 to $5 per month.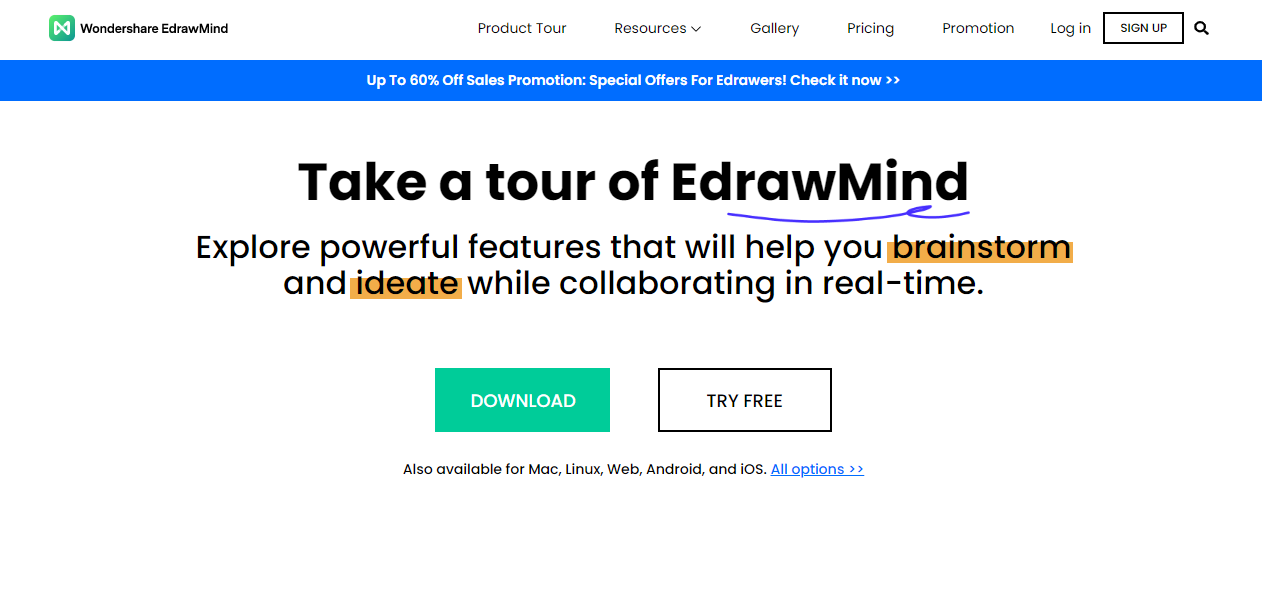 EdrawMind, like FigJam, is also best for its community feature. But its focus area is slightly different.
Since FigJam is part of Figma (an all-in-one designing platform), its library features both diagrams and widgets.
EdrawMind, on the other hand, is purely a mind-mapping tool. Here, you'll find versatile CJM templates ranging from general empathy maps to specific designs like retail experience illustrations. The pre-defined charts are also completely customizable and simple enough for beginners.
Another interesting thing about EdrawMind is its multiple-modes feature. You can use the platform for brainstorming, illustrations, and presentations.
Core Features
Diagram maker.
Shapes, icons, clip art, and flexible connectors.
Outline feature.
A diverse range of templates.
Collaboration and file sharing.
Presentation mode.
Password protection.
Dropbox's integration.
Price
EdrawMind's subscription period is six months to one year. But you can also buy the lifetime plan for $145.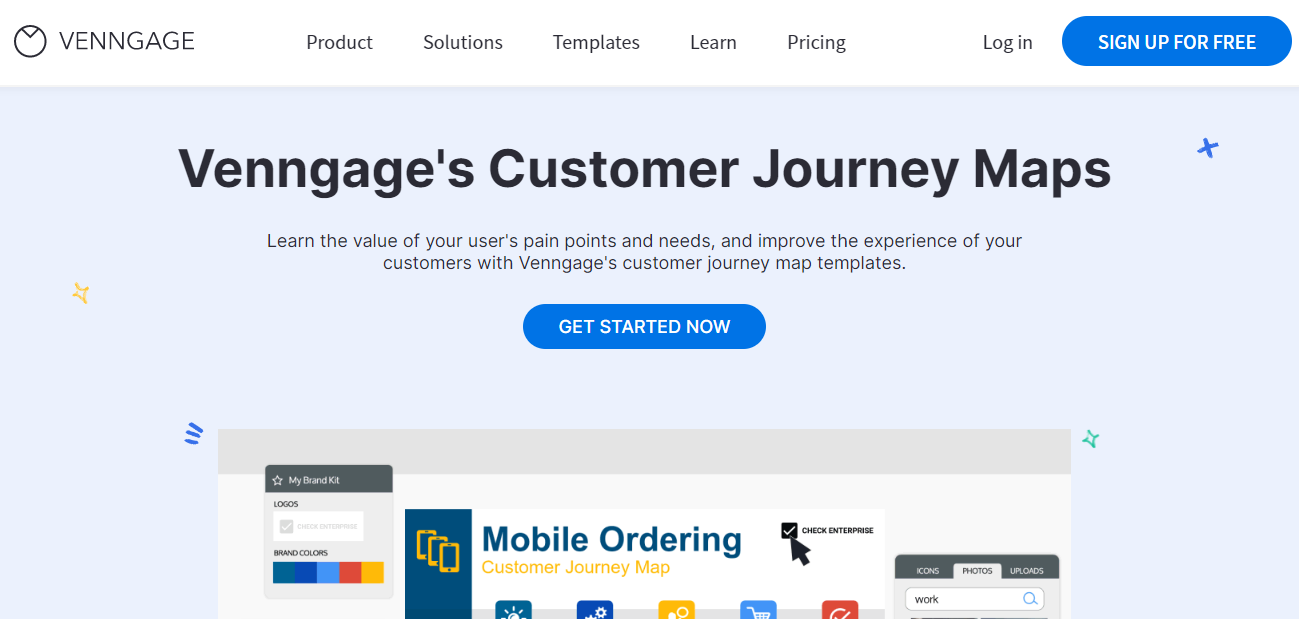 Venngage is a good option for those who need more visual elements in their customer journey maps.
The platform offers a diverse range of infographic elements and custom themes to let you create aesthetically appealing illustrations.
You can access over 40k icons, use stock photos for the buyer's persona, drag and drop fields anywhere on the map, and export high-resolution PNG files.
The plans also come with a brand kit should you decide to add the map to official presentations.
Other things you'll find useful include hyperlinking and team collaboration. You can connect your map with other projects and invite teams to view and edit your file.
Core Features
Unlimited diagrams.
Template library.
Shapes, icons, and interactive widgets.
White Labeling.
PNG export and file sharing.
Team collaboration.
Price
Venngage's starter plan is completely free. To get all the essential features, go for its business plan. It costs $39 per month.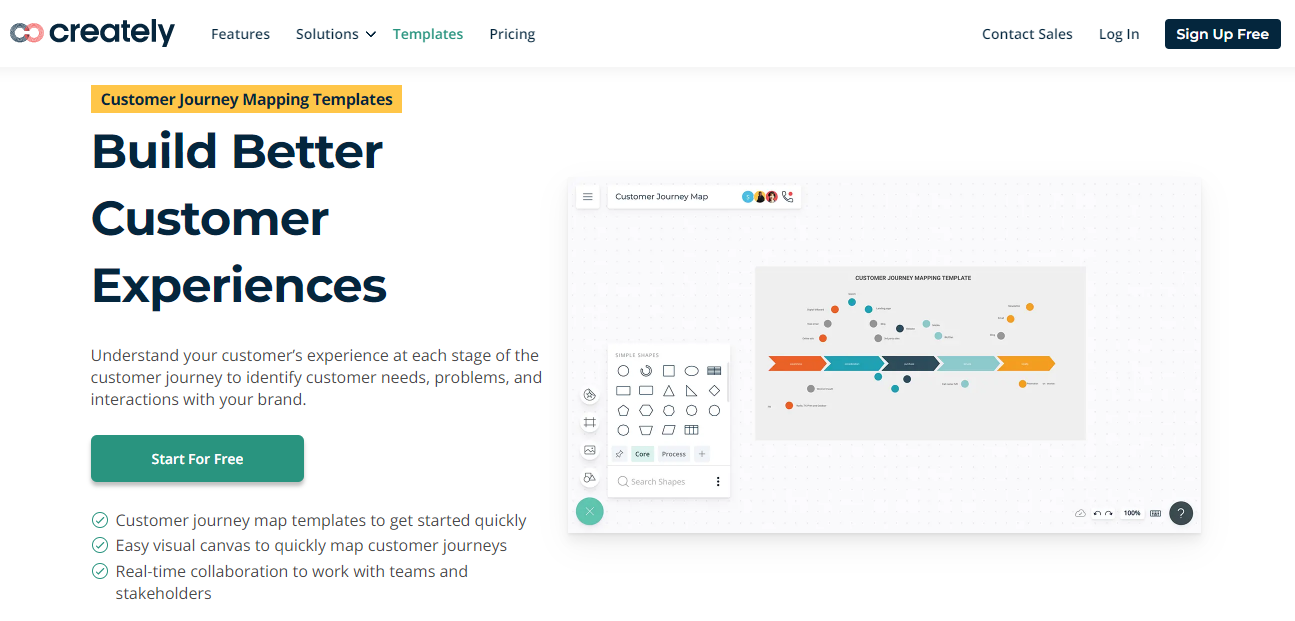 Creately provides you with everything you need to build CJMs and Buyer Personas.
With its simple drag-and-drop builder, pre-made layouts, and data import option, you can conceptualize future campaigns and organize all the touchpoints. Its Canvas additionally has both a built-in video conferencing tool and a comment section to discuss strategies with your team.
You can also work on your design offline and check the historical trail to review past changes. The platform tracks all the shared activities and keeps a 30-day record. Plus, you can sync your map with an Excel file to auto-update data every time you edit the original file.
Core Features
Blank Canvas.
Custom templates.
Smart shapes and frames.
Team collaboration.
File export.
Data syncing and Integrations.
Offline editing.
Price
Creately is a freemium app and charges around $5 per month for its paid features.
Conclusion
When it comes to flowcharts and diagrams, conventional applications like Excel and PowerPoint can undoubtedly get the job done. 
But they're better options available in the market that can help you map out your customer journeys more effectively. And I've covered some of the top software products in this article.
Try out their free plans and explore their features to make an informed decision. Good luck!