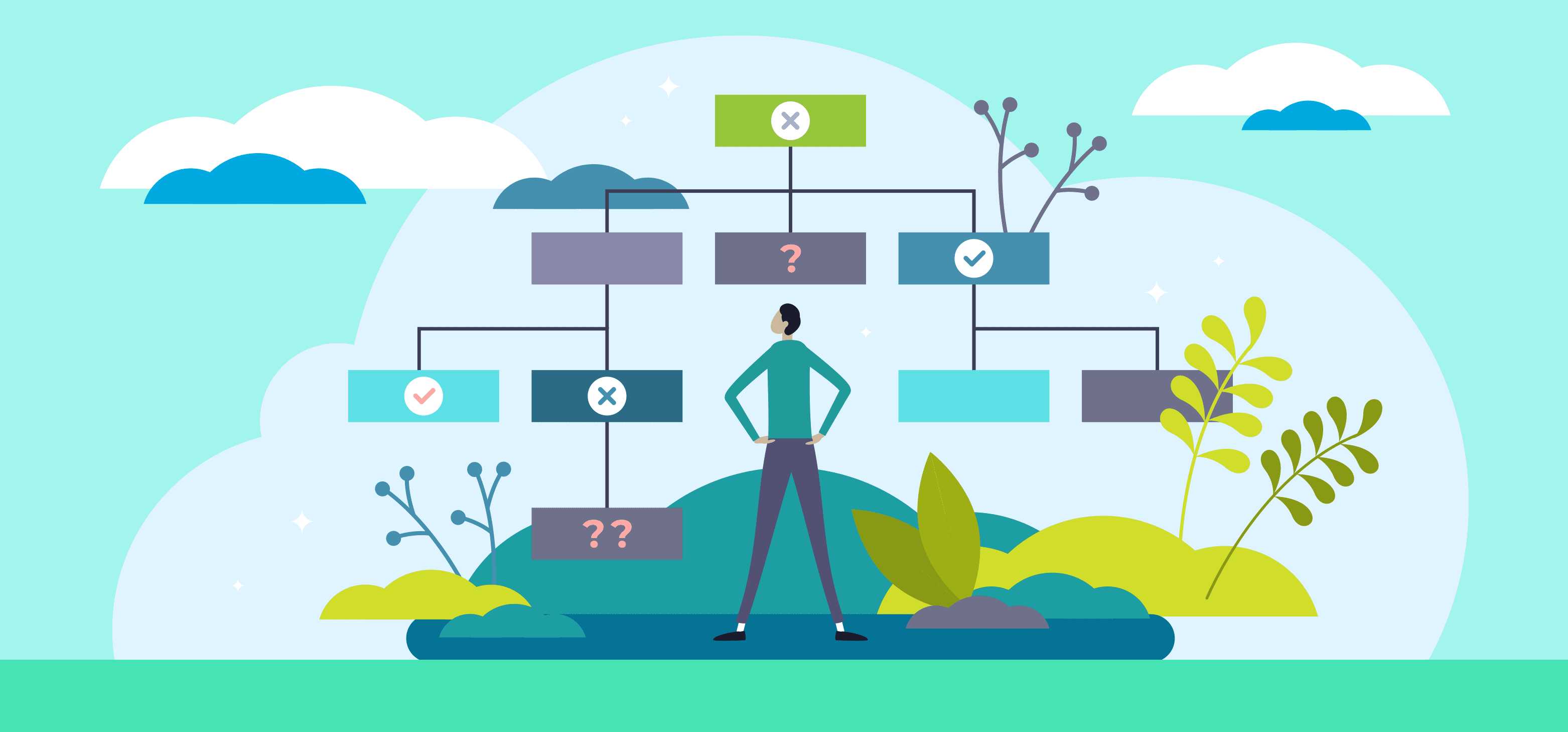 Diagrams are perfect tools for breaking down complex data into readable formats.
With eye-catching charts and versatile designs, you can deliver quantitative and qualitative information smoothly and make your content easily digestible for your team.
In this article, I've put together a list of diagram apps that are best for beginners. Explore what software products you can use to draw quick charts for both professional and personal projects. 
Let's go over the basics first.
What is a Diagram Software?
Diagram apps deliver design tools and pre-defined templates to help you create well-structured flowcharts.
They typically have drag-and-drop editors to easily organize complex data into visually appealing graphs and produce quick diagrams for any purpose. 
Some of the charts you can construct with these software products include organizational diagrams, mind maps, freehand structures, and infographics.
If you go for advanced platforms, you can build more complex charts like floor plans and illustrations.
Why Do you Need a Diagram App?
One of the reasons most beginners opt for diagram tools is their usability.
Graph making is a time-consuming and complex process. Sure, you can draw a simple organizational chart or funnel illustration on Paint and Word Docs. However, to convert a bunch of shapes into a well-designed structure, you'd need skills and time.
Diagram apps solve that problem with templates and built-in elements. 
What's more, almost all platforms come with collaborative functions to let you invite teams and share your project with anyone. That's what makes them highly appealing.
With that said, let's check out the 12 best software products that are well-suited for beginners.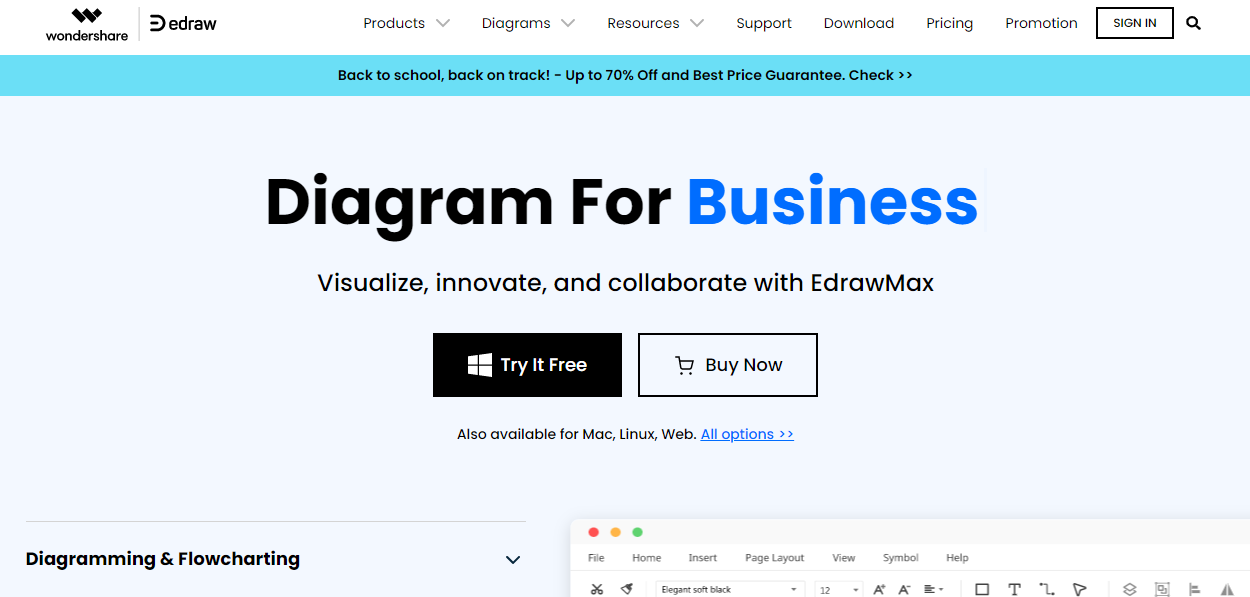 EdrawMax is well-suited for both business and education projects.
It delivers over 1500 templates and thousands of symbols to give you enough resources to make your diagrams look professional and aesthetically appealing. You can export the charts in various formats and post them on your social media channels.
Looking at its collaborating features, it gives you admin rights to control who can access your graphs and who can edit the content. With its shared cursor tool and emojis, your team can easily interact with each other and send engaging feedback.
EdrawMax also offers data security. You can encrypt your file so only those receiving it can open the graphs.
Core Features
User-friendly editor.
Over 1500 templates.
Presentation mode.
SSL encryption.
Online and desktop app.
Supports multiple formats.
Social share.
Collaboration.
Admin control.
Price
EdrawMaxc charges around $85 per year to students, $99 to professionals, and $357 to teams for its premium plans. You can also buy its lifetime bundle plan for $245.
Mind Manager's graphics are slightly advanced.
While it delivers the usual drag-and-drop builder and branching features, its shapes and icons are more industry-specific to help you define clear goals in your flowcharts.
You'll get access to a content library comprising versatile templates of mind maps and graphs. Its canvas has everything you'd need to organize your thoughts and create presentable charts.
Some of Mind Manager's core features are custom themes to tailor diagrams, info cards to summarize information, and member tagging to assign tasks.
If you're looking to buy an app for brainstorming and task management, go for it.
Core Features
Diagram maker.
Pre-defined templates.
Advanced shapes and icons.
Team tagging.
Priority markers.
Sharing option.
Compatible with Windows and Mac.
Price
Mind Managers offers several products for individuals and teams. Its essential packages cost $99 per year.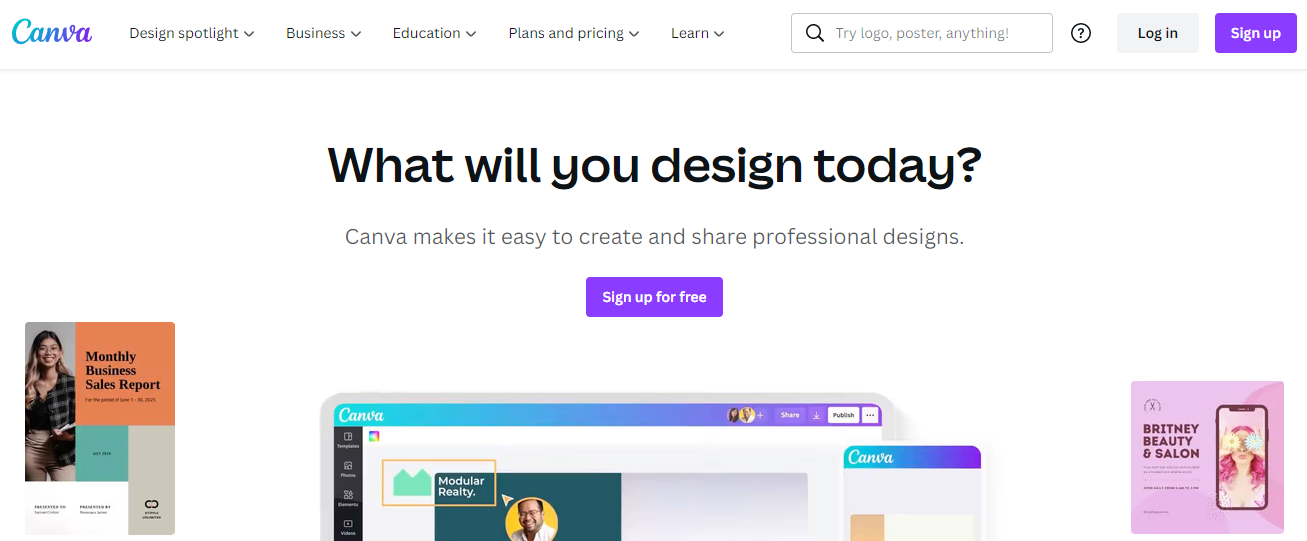 Canva is a multi-purpose graphics software.
It's traditionally known for social media posts, but you can use it for diagrams, marketing infographics, and educational graphs.
It shares a decent template library of background images, graphs, and vector illustrations. Also, you'll find several loose shapes and custom elements to build charts from scratch.
You can import images into your chart, embed links to shapes, and add colors to improve visuals. You can also invite other users and start a thread directly on the board to share feedback in real time.
Other notable features of Canva are animation, a freehand pen, fonts, and a copy-style tool.
Core Features
Blank Canvas.
Diagram templates.
Vector elements.
Background images.
Editing tools.
Freehand pen.
Image upload.
File exporting and sharing.
Price
Canva is free to use, but charges for some of its features and templates.
LucidChart is ideal for straightforward diagrams. With its collection of shapes and connectors, you can quickly develop professional flowcharts and add hyperlinks to make them functional.
Its collaborative features include sharing your workspace with your team, allowing them to drop comments, tag members on shapes, and letting others co-edit your diagrams.
You can further integrate it into your productivity apps or email inbox to exchange files with your team.
Overall, the platform is user-friendly, intuitive, and easily accessible via desktop and mobile. The only drawback of LucidChart is its limited template library.
Core Features
Blank Canvas and layers.
Customer shapes.
Basic templates.
Advanced collaborative tools.
Presentation mode.
Integrations.
Compatible with multiple systems.
Price
LucidChart's basic plan is free, and its premium subscriptions cost $8 to $9 per user.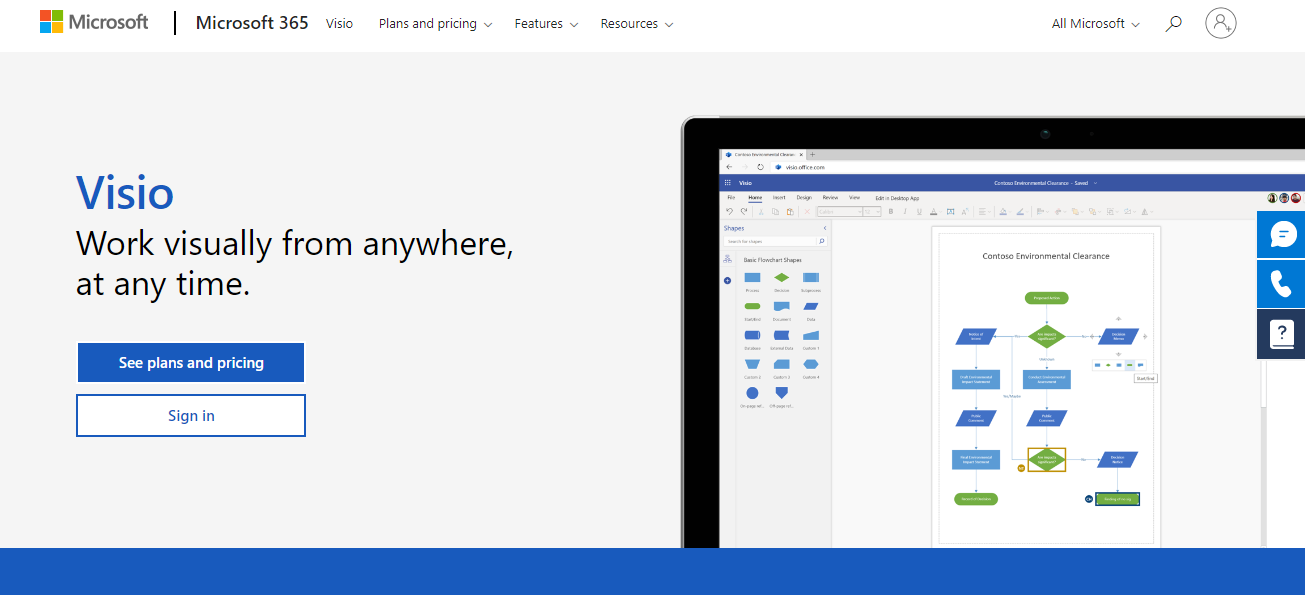 Microsoft Visio is a popular choice for flowcharts and graphs. It shares over half a dozen template categories, offers OneDrive cloud storage, and delivers plenty of collaborative features.
You can choose from 250k shapes to draw custom frames, or simply pick its cross-functional templates to automatically convert your Excel file data into flowcharts.
You can also add some interactive features to improve your presentation. For instance, you can hyperlink your data files to your diagrams and invite teams to edit and comment on your projects.
Additionally, you can integrate Visio with other Microsoft products and access their functions to add more features.
Core Features
Template library.
Built-in shapes.
Cross-functional flow charts.
Automation.
Team collaboration.
Cloud storage.
Desktop and mobile versions.
Integration with other Microsoft products.
Price
Viso charges $5 to $15 for its premium plans.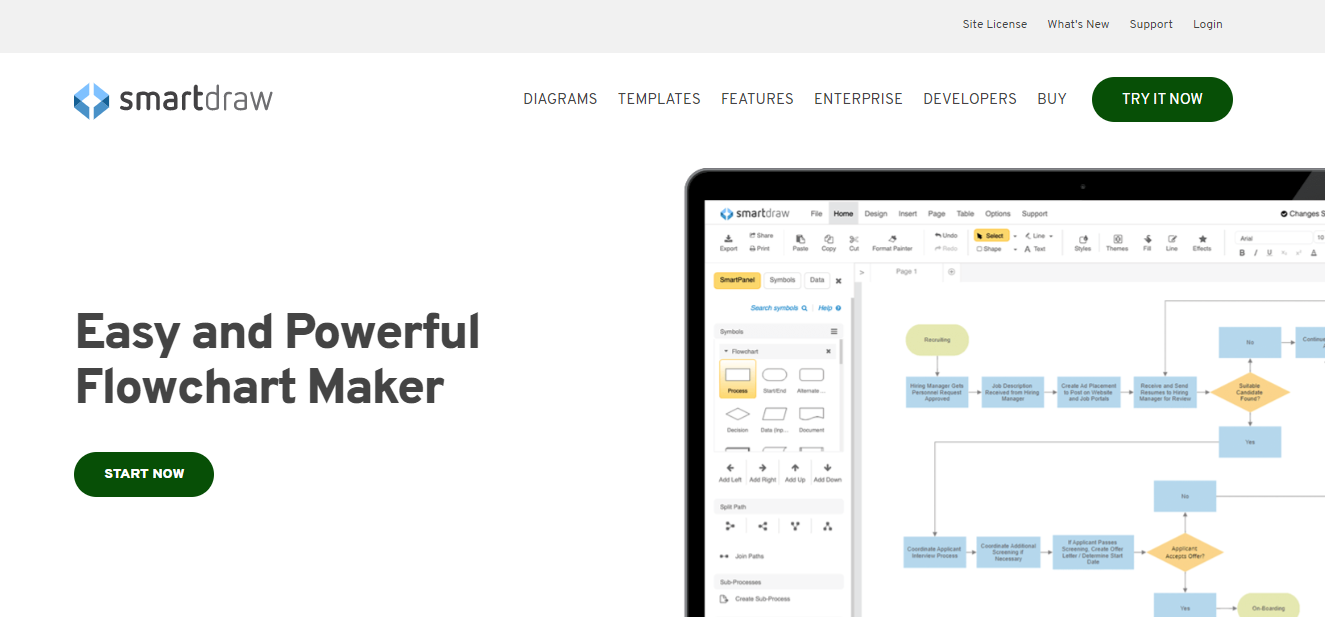 Smartdraw is a powerful diagram maker that comes with auto-formatting, scalable features, and third-party app integration.
You can create almost 70 different charts from its templates, or use visual tools to develop tailored graphs.
With its AI-powered features and built-in extensions, you can also generate diagrams from Excel files and automatically adjust the design as you edit the content.
Smartdraw offers several collaborative features as well. You can share folders with your team, restrict access to documents and transfer files privately via emails.
If you choose to go for an enterprise solution, you'll additionally get a whiteboard to design OKRs, strategies, and maps.
Core Features
Graph maker.
Template library.
AI-powered formatting.
Auto-diagrams.
Shared folder.
Admin Control
Integrations.
Enterprise plan.
Cloud and desktop app.
Price
Smartdraw's premium plans begin from $6. You can download its desktop version as well.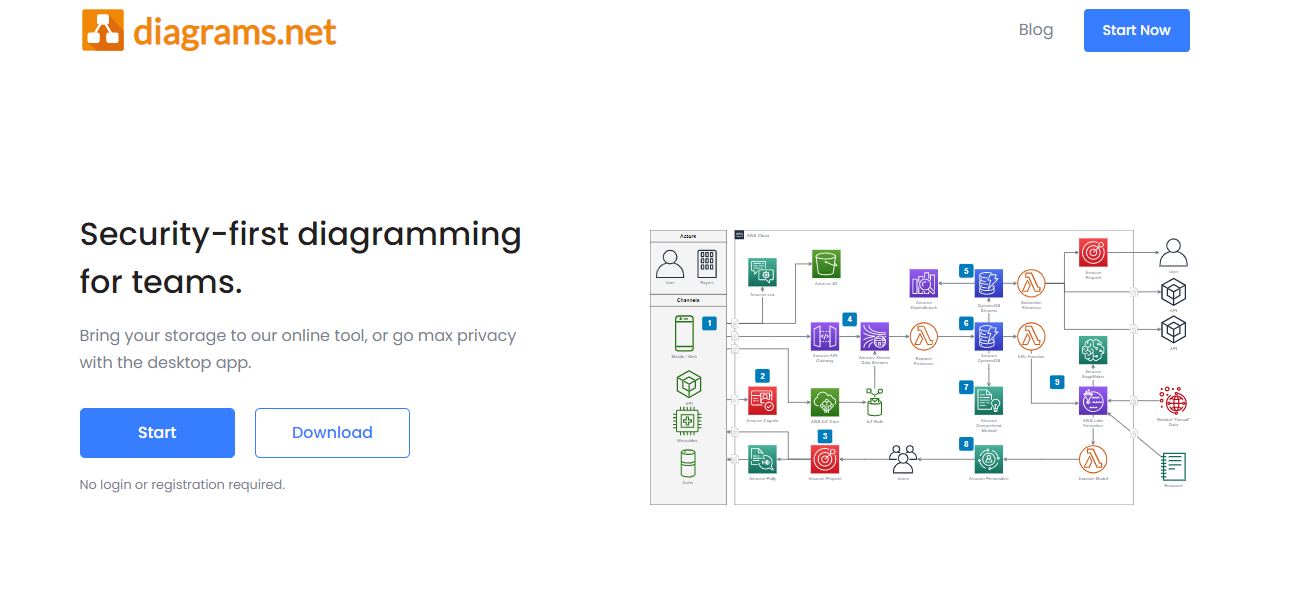 Diagrams.net is an open-source chart maker.
It's easy to use, integrates well with OneDrive and Google, and delivers both online and offline versions.
With its powerful builder, you can create a diverse range of diagrams and export them in high resolution. It has a versatile template library to get you started and collaborative tools to work with your team.
Diagrams.net has a few advanced functions as well. For instance, you can automatically rearrange your chart from horizontal to vertical and apply tooltips to shapes to define their purpose.
Core Features
Chart maker.
A diverse range of templates and shapes.
Customization.
Team collaboration.
Integration with cloud and productivity platforms.
Tagging and translations.
Supports multiple formats.
Web and desktop app.
Price
Diagrams.net is free to use.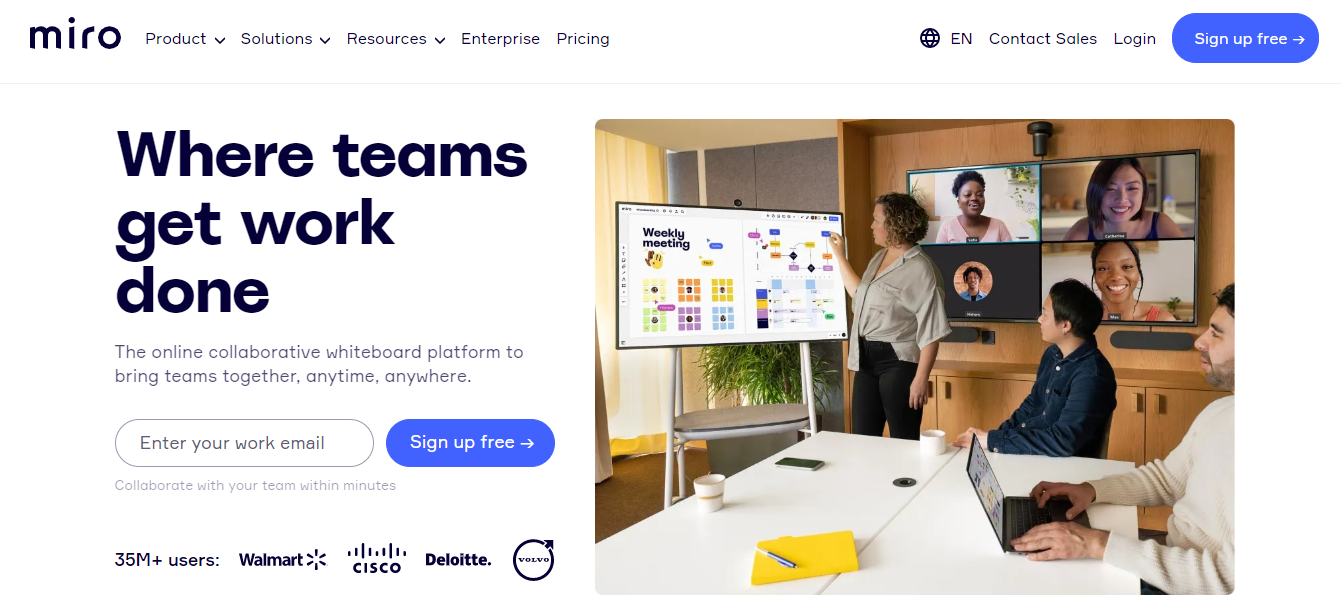 Miro delivers you a single platform to brainstorm your ideas and refine them into activity diagrams.
It's technically a whiteboard app, but its functions extend to graph making. You can use it to design anything from simple flowcharts and UML diagrams to full-fledged product roadmaps. Its template library is incredibly versatile, providing you with tons of frameworks, basic shapes, and vector icons.
Other interesting things you can do with Miro are canvas sharing with teams, embedding project management tasks, and inviting clients to offer feedback.
If you're looking for advanced functionalities, go for Miro.
Core Features
Diagram templates.
Vast icon library.
Collaboration.
Integrations.
Infinite Canvas.
Drawing tools.
Scalable features.
Price
You can get started on Miro for free. For collaborative features, you'd have to buy its premium plans. They begin from $8 a month.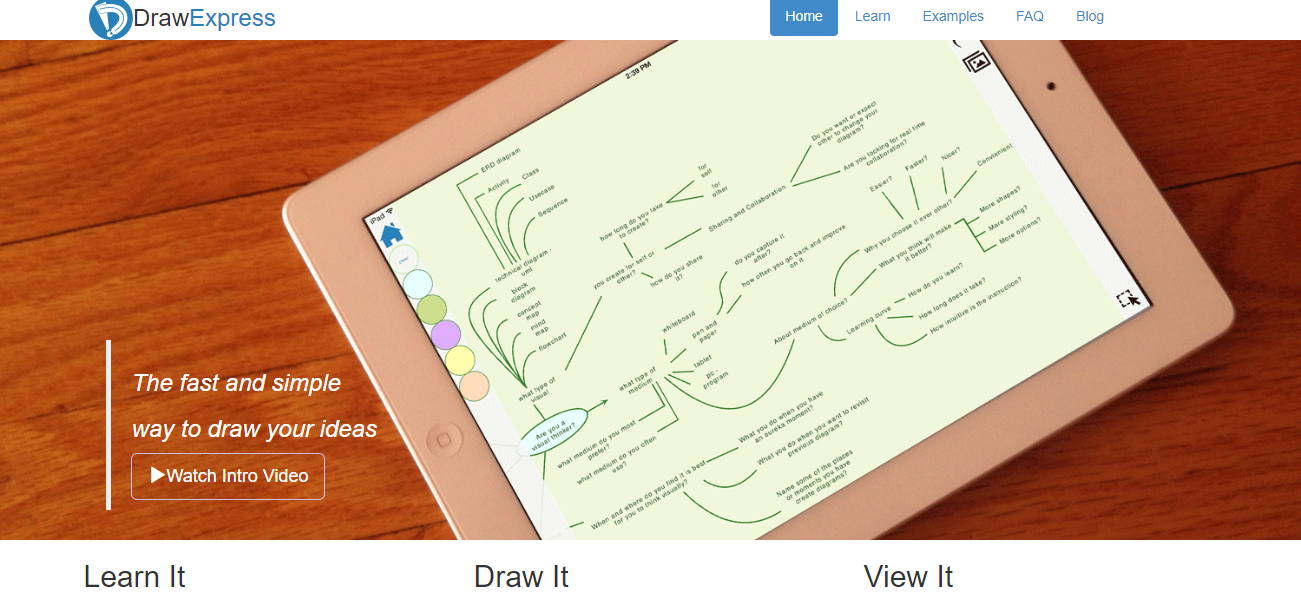 DrawExpress is a gesture-recognition mobile app for simple and quick diagrams.
It shares an intuitive builder that takes your freehand shapes and connectors and refines them into a well-structured chart. You can also create tables instantly by simply dragging your fingers vertically and horizontally.
The app is ideal for small business owners or professionals who need a portable whiteboard to draw and access charts from anywhere. It's compatible with both Android and Apple.
I recommend checking out its basic tutorials posted on the official website. Through these guides, you'll quickly learn what you can do with DrawExpress and how best to utilize its tools.
Core Features
Blank Canvas.
Gesture recognition tech.
Freehand drawing.
Built-in shapes.
Text, annotation, and tables.
Wireframe elements.
Supports PDF, PNG, and SVG.
Sharing option.
Android and Apple app.
Works well on tablets.
Price
DrawExpress's monthly subscription is $8.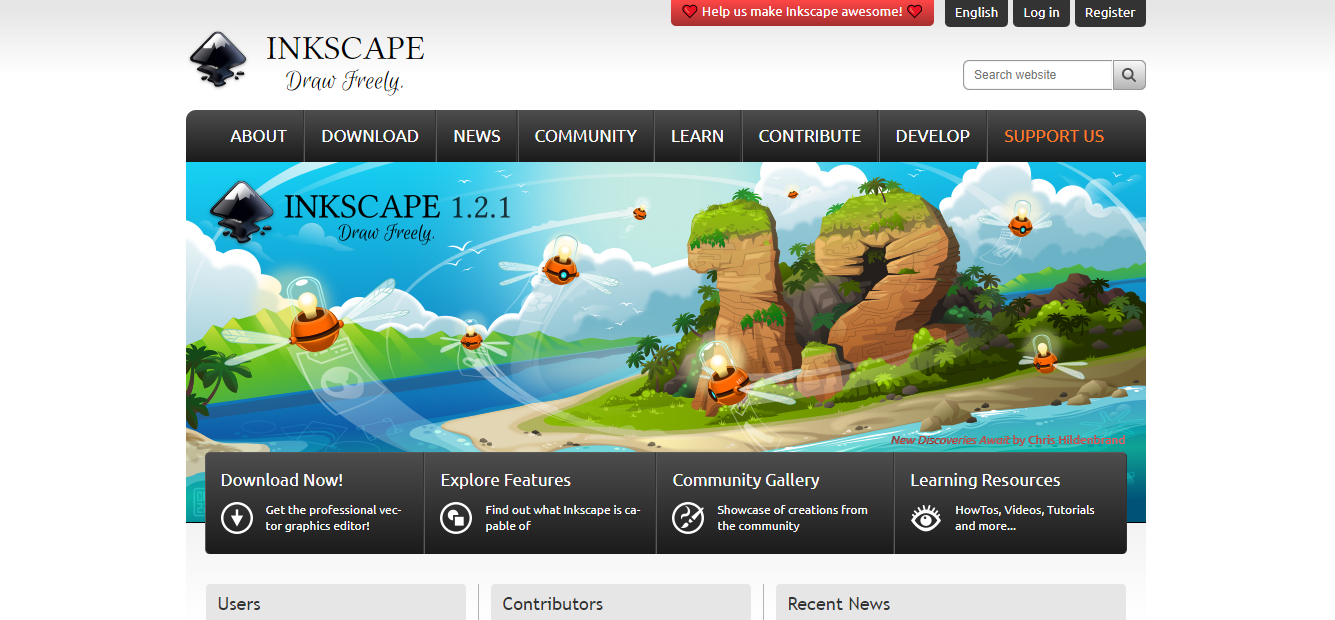 If you need more flexible options, try InkScape. It's a free, open-source vector graphics software that lets you draw pretty much anything you want.
You can use it to create traditional flowcharts, visual mind maps, Venn diagrams, and product roadmaps.
You can also transform shapes and angles to build custom structures like free-body diagrams or infographics for educational purposes. It delivers powerful editing tools and a rich color palate to create eye-catching 3D shapes and neatly aligned charts.
I do want to mention that InkScape has a slight learning curve. But it isn't difficult to operate. You'll find tons of beginner tutorials on YouTube.
Core Features
Vector illustration platform.
Advanced design tools.
Freehand pen and fonts.
Shape manipulation.
Color patches.
Scalable diagrams.
Multiple exports and sharing options.
Price
InkScape is completely free.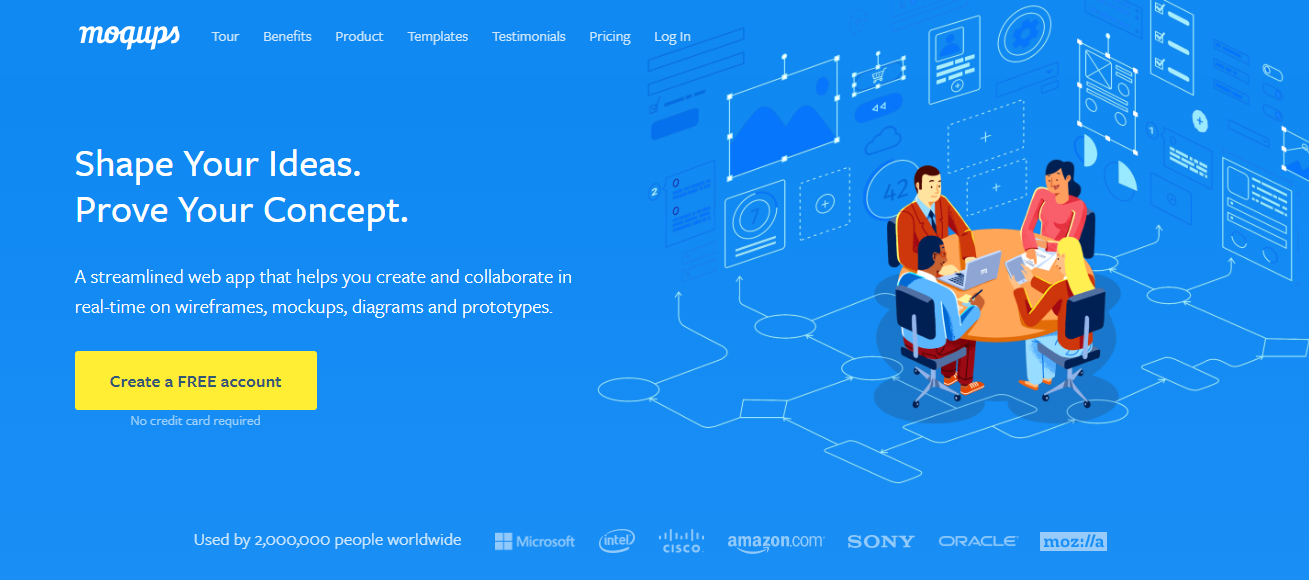 Moqups is another good platform that combines whiteboard with diagram features to deliver a seamless collaborative experience.
It shares three different chart markers and a diverse range of professionally designed templates and graphics elements. You can easily drag and drop shapes, create visually appealing models and invite teams for feedback.
You can also build visual representations of your business strategies for official group meetings or printable reports.
One thing that makes Moqups an attractive option is its wireframe tool. This feature has a slight learning curve, but once you get the hang of it, you can develop interactive product prototypes to showcase your ideas.
Core Features
Whiteboard and diagram maker.
Versatile templates.
Drag-and-drop builder.
Wireframes and mockups.
Icons and annotation.
Collaborations.
Page management tool.
Slack and Trello Integrations.
Price
Moqups charges $23 per month for teams. You can also try its free plan to explore it.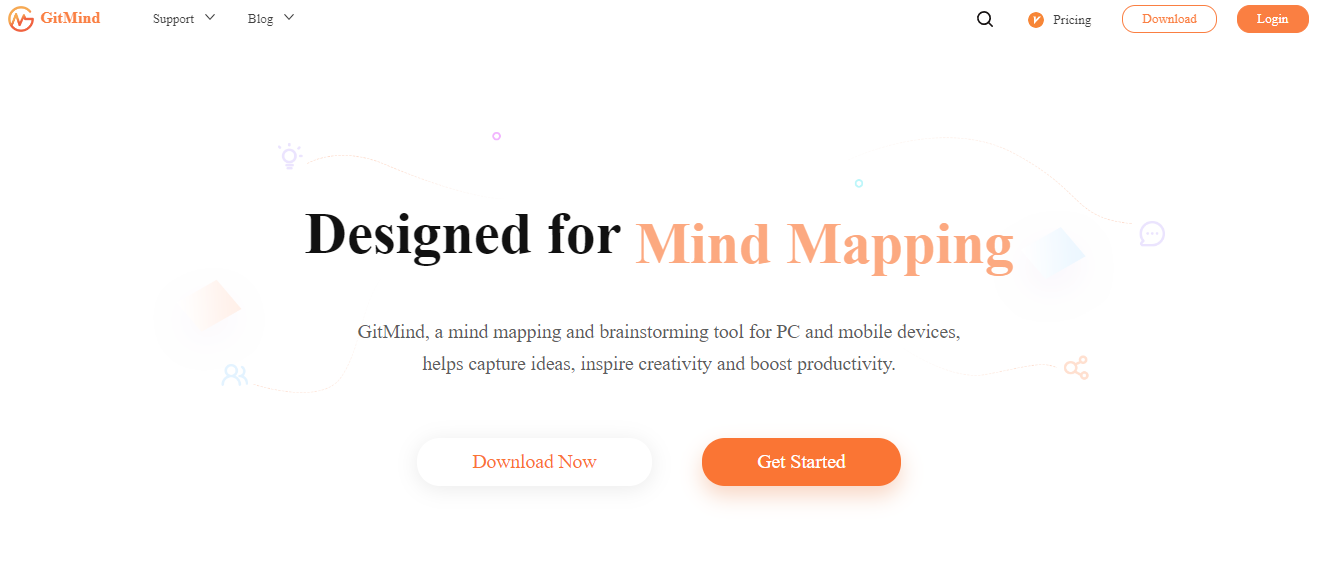 Gitmind is a cloud-based mind mapping software.
It's a relatively new platform, but it's user-friendly and offers free access to its canvas to let you explore its features.
Here, you can create visually appealing mind maps and collaborate with teams to brainstorm ideas. It has an OCR technology that makes it easier to pull content from JPEJ images so you don't have to type your thoughts repeatedly for diagrams.
It also delivers a mobile app, allowing you to capture ideas on your smartphone and refine them later on your laptop.
The software is ideal for beginners and shares decent templates to get you started.
Core Features
Drag-and-drop builder.
Templates.
Vector graphics and shapes.
Custom themes.
Task outline.
Presentation mode.
Team collaboration.
Mobile app.
Price
Gitmind's monthly charges are $9.
Final Word
Diagram platforms offer you an easy way to build and share graphs.
They give you tools and resources to shape facts into visual charts so you can organize your information better.
Jot down the features you're looking for in an app and select the software product that meets your criteria.