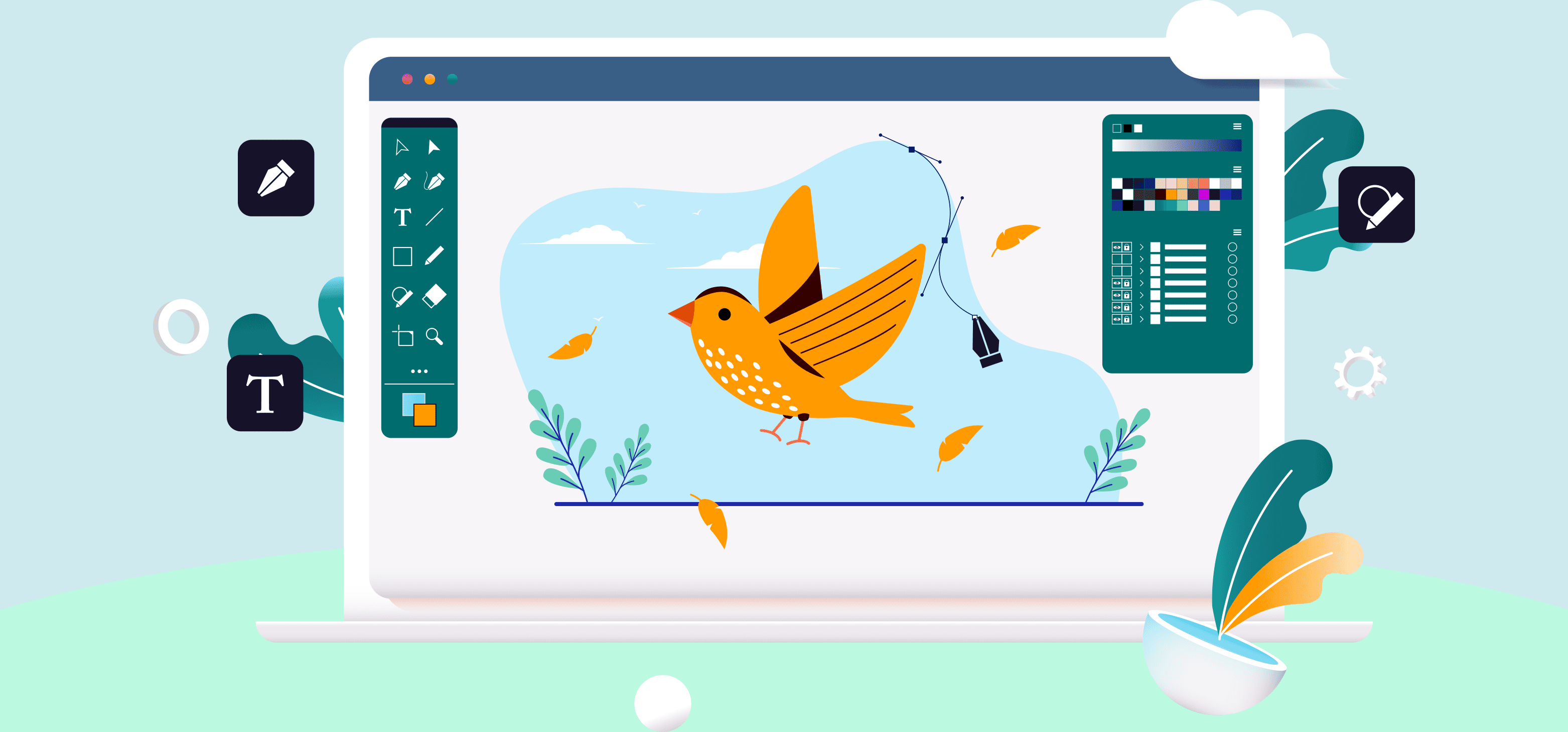 Why look for the best illustration software?
Perhaps to earn a living. Or maybe add a new design skill to your resume.
Your reasons may vary. But each one of you wants to make the most out of this ever-increasing digital art industry, isn't it?
Digital marketing, app development, NFTs, print media, freelancing, and the list goes on.
Illustration is now sought as a welcome mat for your content. Improves Click-through rate (CTR), retention, and ultimately, your audience.
Think about you being driven towards those sites or YouTube videos because of unique artistry!
Illustration is all about self-expression.
It wasn't much of a phenomenon until photography was invented. This gave artists the freedom to explore the depths of their creativity. Using every traditional medium they had.
But with the advent of mass media productions like newspapers, magazines, and comic books, the art of illustration really took off.
Today, we're not posed by any technical limitations. Instead, we have a range of illustration software to choose from.
But at the same time, it's confusing.
Thanks to the computational abilities!
A career in digital art is narrowed down. You could be versatile. Or have a specific profile like vector artist, UI/UX designer, or 3D artist.
That's why we're here. To walk you through a list of the best illustration software. And eventually, leaving you to tinker with them. To see what works best for your creativity.
1. Corel Draw (Illustration software with an extensive list of features)
Corel Draw is a workhorse when it comes to artistry. Once it used to be a Windows-only software program. Compatibility with macOS, however, made workflow on Corel better. Especially after the Apple Silicon launch.
Corel makes it easy for you to get on board. But the software is quite comprehensive. And may overwhelm you with its learning curve. However, it takes you deep and fulfills any creative desires you want to achieve.
For example, you can use it for UI designs, architectural signage, floor plans, mechanical drawings, and even design the entire universe.
Perhaps, everything you can collectively achieve with Illustrator, Photoshop, and InDesign.
Its design system often feels like it can actually sense something you're trying to draw. You can apply AI-based effects to make non-destructive modifications to any raster or vector image.
Also, Corel's community is a bonus. Lots of creative professionals and learners are here to help you out.
No doubt, Corel Draw is pretty well-established design software. However, it seems the software is not yet celebrated with the likes of Adobe, Figma and others.
Upon close observation, I also found it not getting its due mention on designer resumes.
Overall, Corel Draw is worth the price. With a one-time payment model, you'll get peace of mind. As long as you're vested in long-term use.
Corel Draw Key Features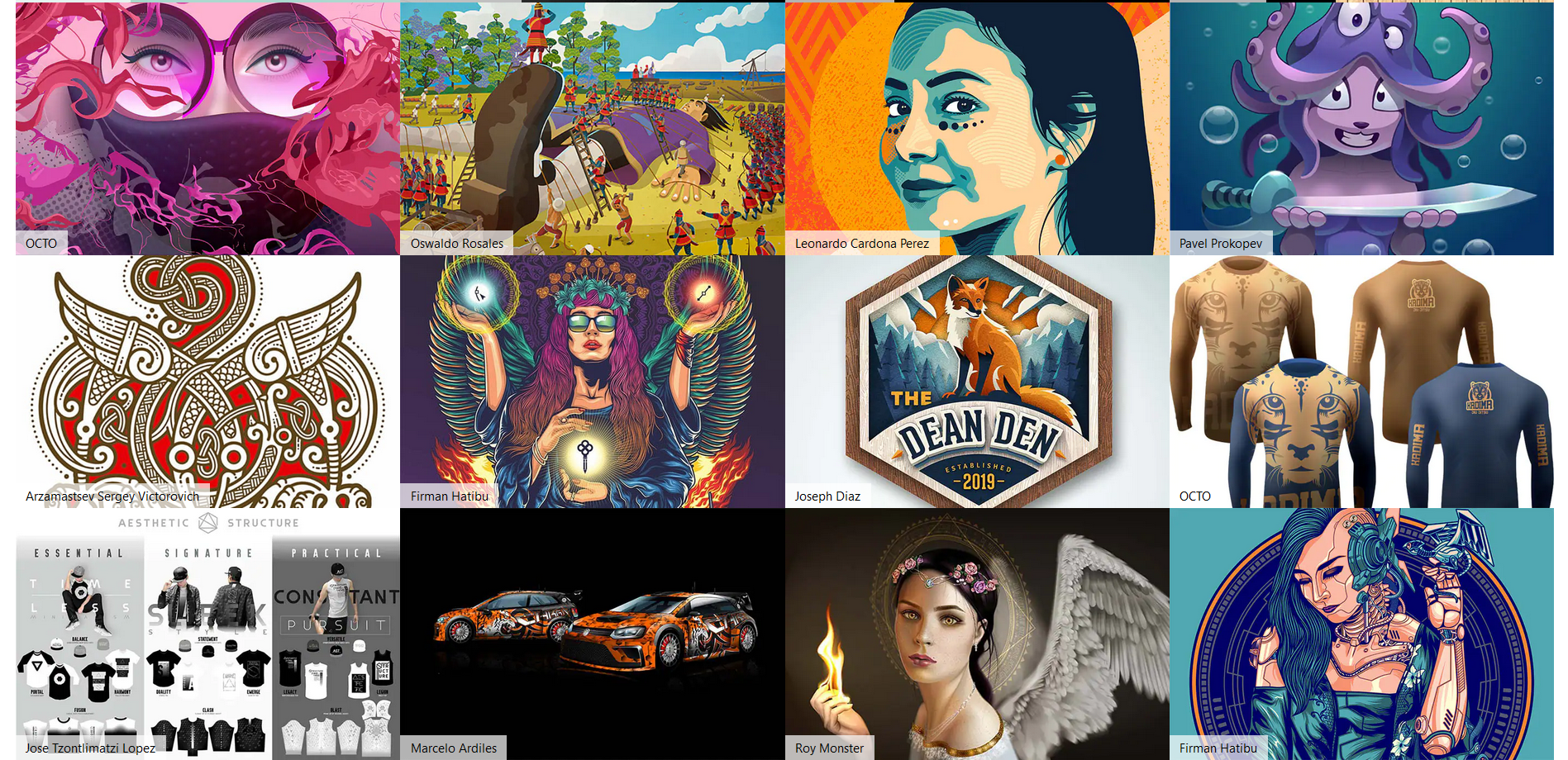 Comes with the web version called "Corel Vector". Helps you access your Corel Draw account, share, or invite for reviews from anywhere.
Multi-page ability to handle documents with ease. You can edit, compare, and move graphical assets across multiple pages without any issues.
Ability to batch export your works rather than individually creating them. This means you can send multiple file formats to your client or manager in a single go. Especially for them not bothering you to send a different file type.
Create 3D models using 1, 2, or 3-point perspectives. You can also export your 2D designs and transform them to 3D using the Extrude tool as you give direction and depth to them.
Live comments and annotations make collaboration easier and help you with real-time feedback on your design file.
Corel Draw Pros and Cons
Pros:
Available on both Windows and Mac
A feature-loaded tool with regular updates
Access your account on the move with its web version
Affordable yearly pricing of its web version
Good support and breadth of learning resources
Cons:
Easy to the onboard but steep learning curve
A bit pricey if you're not a long-term Corel user
Comparatively lesser number of add-ons
Platforms: Windows, Mac, iPad

Value for money: Good for long-term users, but short-term users may find it a bit pricey

Ease-of-use: Overloaded with features. A bit overwhelming for beginners

Community: Active community and tons of learning resources

Support: Medium. Email response times may be long but live chat is considerably better

Recommended for: Must-have skills for the job as a full-stack designer
Pricing
Standard Coral Draw: $269 per year or $22 per month
Coral vector: $549
Corel vector web-based: $70 per year
2. Adobe Illustrator (Undeniably the industry standard)
Probably the oldest illustration software in use. And the first flagship product of Adobe's creative suite. Illustrator is of course an industry-standard in the development community.
So features and functionalities it offers can't be questioned. Stay for a while. And it will keep you surprised while adding gimmicks to the already feature-rich ecosystem of Adobe.
The software bombards you with a number of tools once you're in the workspace. You might feel overwhelmed if you're new. But to ease your workflow, it lets you customize the toolbar. And shortcuts come in handy if you're used to it.
However, you'll find the pen tool most helpful of all. Great tool for freehand artwork.
Also known as the artist's best friend. You can draw shapes, curves, and edit anchor points. You can even trace the path on any raster image and convert it to a vector image.
Working on illustrations for print media?
You'll barely find software that can render the print preview to accuracy any better than Adobe Illustrator.
Recent years were filled with dramatic turns of events. From Adobe apps featuring on iPad to getting performance optimization on Apple Silicon.
No doubt, Illustrator gets a common mention on most designer resumes.
But what most of you won't like is its bundle marketing. Designer communities are vested in Photoshop and InDesign alongside Illustrator; for a complete design experience.
Dependency hype in its marketing also tempts many to jump on the bandwagon. Despite the marketing ploy, Adobe doesn't fail to maintain the standards they're known for.
Adobe Illustrator Key Features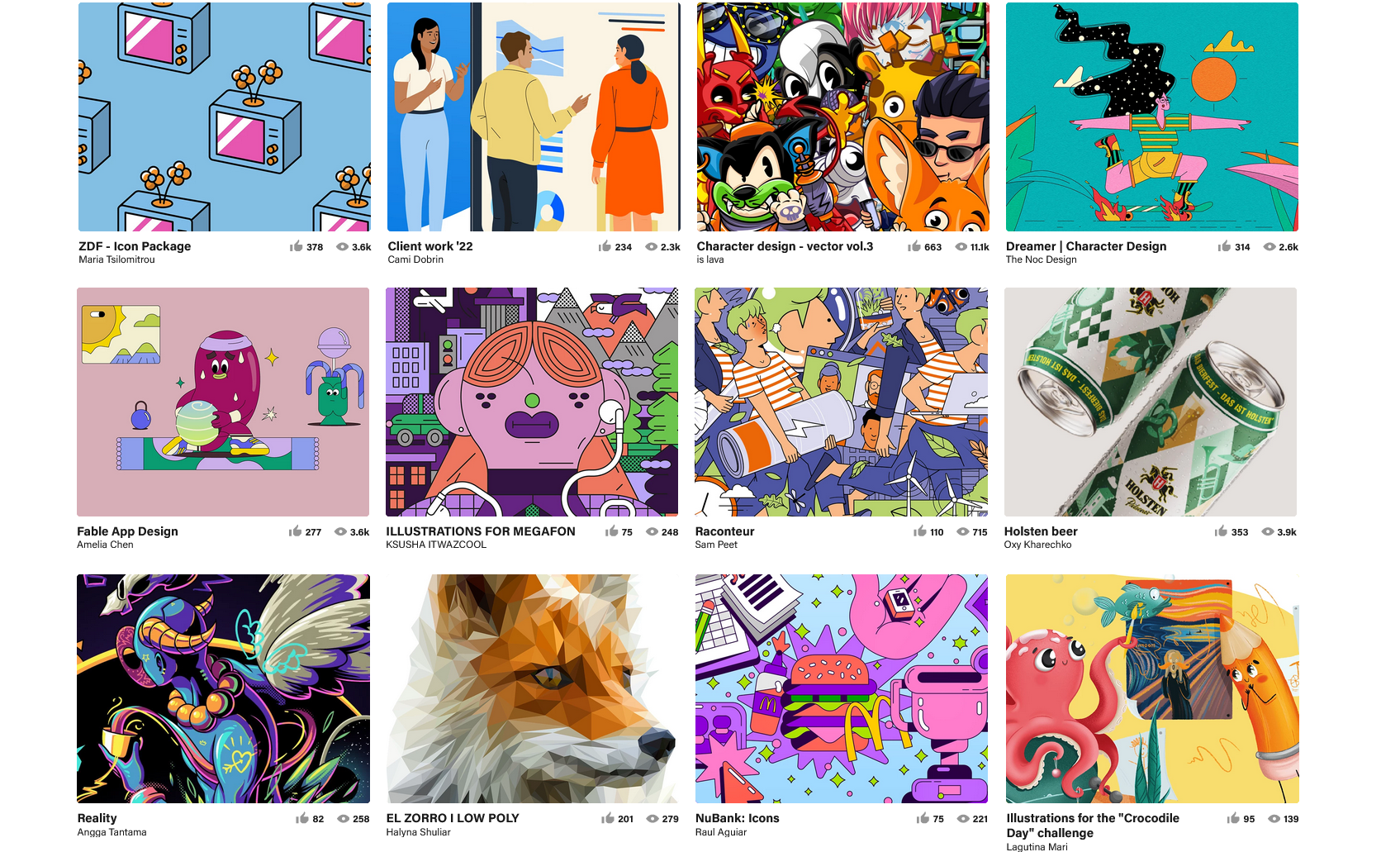 Features the most intuitive and flexible pen tool in any illustration software. Helps you draw, trace, use shortcuts, remind you of features, etc. Kind of a Swiss army knife.
Supports a wide range of file formats for exports, imports, and file conversions.
Ease of creating 3D designs using 1, 2, and 3-point perspective grids.
Using Illustrator under the Creative Suite package helps you streamline your workflow and sync your work with other Adobe apps.
The latest collaboration feature lets you manage access on different levels. Like for team members, clients, or temporary guests. You can also manage access to view, comment, and edit.
Adobe Illustrator Pros and Cons
Pros:
Runs on Windows, Mac, and iPad
Huge third-party library
Ease of file recovery even if files aren't saved
Supports a wide range of file types
Frequent updates with new features and functionalities
Cons:
Dependency on other apps in Adobe's creative suite
Key commands are not uniform while working with Photoshop and InDesign
Subscription-based service only
Platforms: Windows, Mac, iPad

Value for money: Discount offer brings great value to the students. Individuals need to pay extra for Photoshop and InDesign. Or get the Creative Suite, where most of the apps may go unused.

Ease-of-use: Moderate. But it gets easier once you're familiar with the shortcuts

Community: Rich community on forums, social media, and almost anywhere online.

Support: Telephonic support, and learning materials are great

Recommended for: Creatives of all levels.
Pricing
Under the individual plan: $20.99 per month
Creative Cloud for $54.99 per month
3. Sketch (Exclusively for Mac illustrators)
A Mac user? This is for you folks.
Sketch app is designed exclusively for the Apple system. On Windows, however, you can explore its browser version. But only for previews, discussions, inviting guests, and exporting assets.
Moreover, on the iPhone, you can view documents, browse the workspace, test out prototypes, and mirror your Mac in real time.
Many folks who have been using Adobe or Corel Draw on Mac are now switching to Sketch. Indeed, due to some specific reasons.
Firstly, their focus is on reducing bugs and crashes that Adobe users often endure. You're likely to see Sketch rolling in new features more frequently.
Secondly, you'll need Adobe XD along with Illustrator or Corel Draw if you're into prototyping. Whereas, Sketch packs in everything for your UI/UX needs.
And what to say about the display quality!
Mac's Super Retina (XDR) display fits just right with Sketch's wider color gamut. Gives a vibrant, life-like display like none.
So for anyone serious about color accuracy, think nothing beyond Sketch.
I really like how the workspace gives you customization freedom. And make it look less messed up with tools and buttons. Recently, they made minor UI tweaks, including translucent layer panels. Looks cool, though.
No doubt, Sketch has got all the design tricks for you. From time-saving UI kits to plugins.
However, for many designers switching from other tools, the struggle to retrain still remains. Expect a bit of a learning curve. But it feels like a breeze once you get a grip.
Sketch Key Features
Ability to convert frame/ art board content into a reusable template, include them in the library, and share with the team.
Features Display P3 technology that provides more color spectrum than standard RGB. Makes full use of XDR display to give a realistic touch.
The latest update features permission controls. You can choose who can see the in-progress tasks. You can also select the entire team on the workspace. Or a few members you wish to collaborate with based on project specifics.
Lets you create shortcuts and customize them using the system preferences.
Color tokens are a programming feature that lets developers create color variables used in design projects in CSS or JSON formats. And use them directly in the codebase. This helps the app's UI stay in sync with the overall design.
Sketch Pros and Cons
Pros:
Smooth experience on MacBook and iPhone
Library of UI kit and tons of design elements
Wider color range and true tone color optimization
Great for prototyping and app development
Affordable monthly pricing
Cons:
Only compatible with macOS
Collaboration with non-Mac users is limited
The standard plan lacks live tech support
Platforms: Mac, iPhone

Value for money: Yes. Unlike Adobe, you won't have to be dependent on separate apps.

Ease-of-use: Easy, but requires a bit of a learning curve.

Community: Not quite like Adobe but still decent

Support: Live chat, priority support, and dedicated manager only on the Business plan.

Recommended for: Design professionals on Mac systems.
Pricing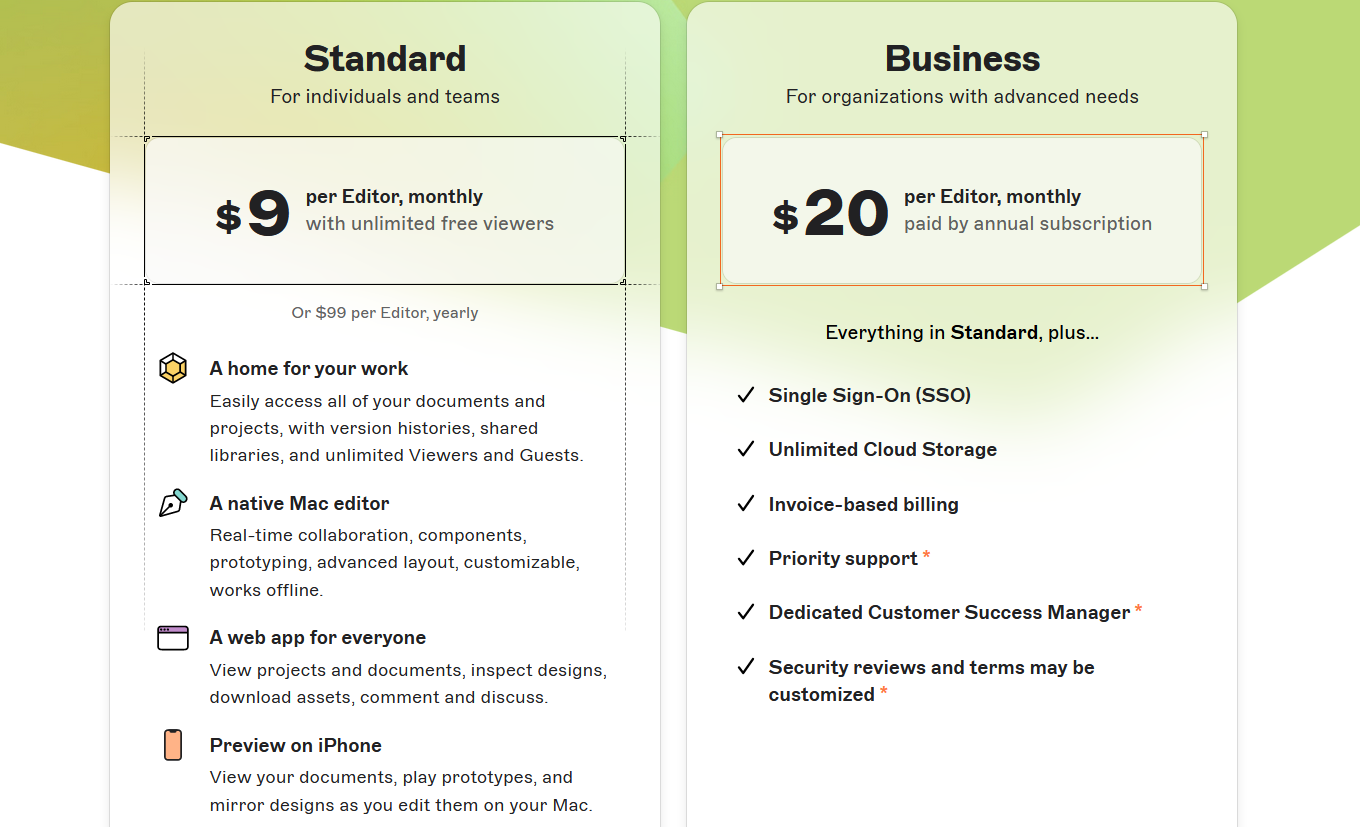 4. Figma (Best for collaboration and app designing)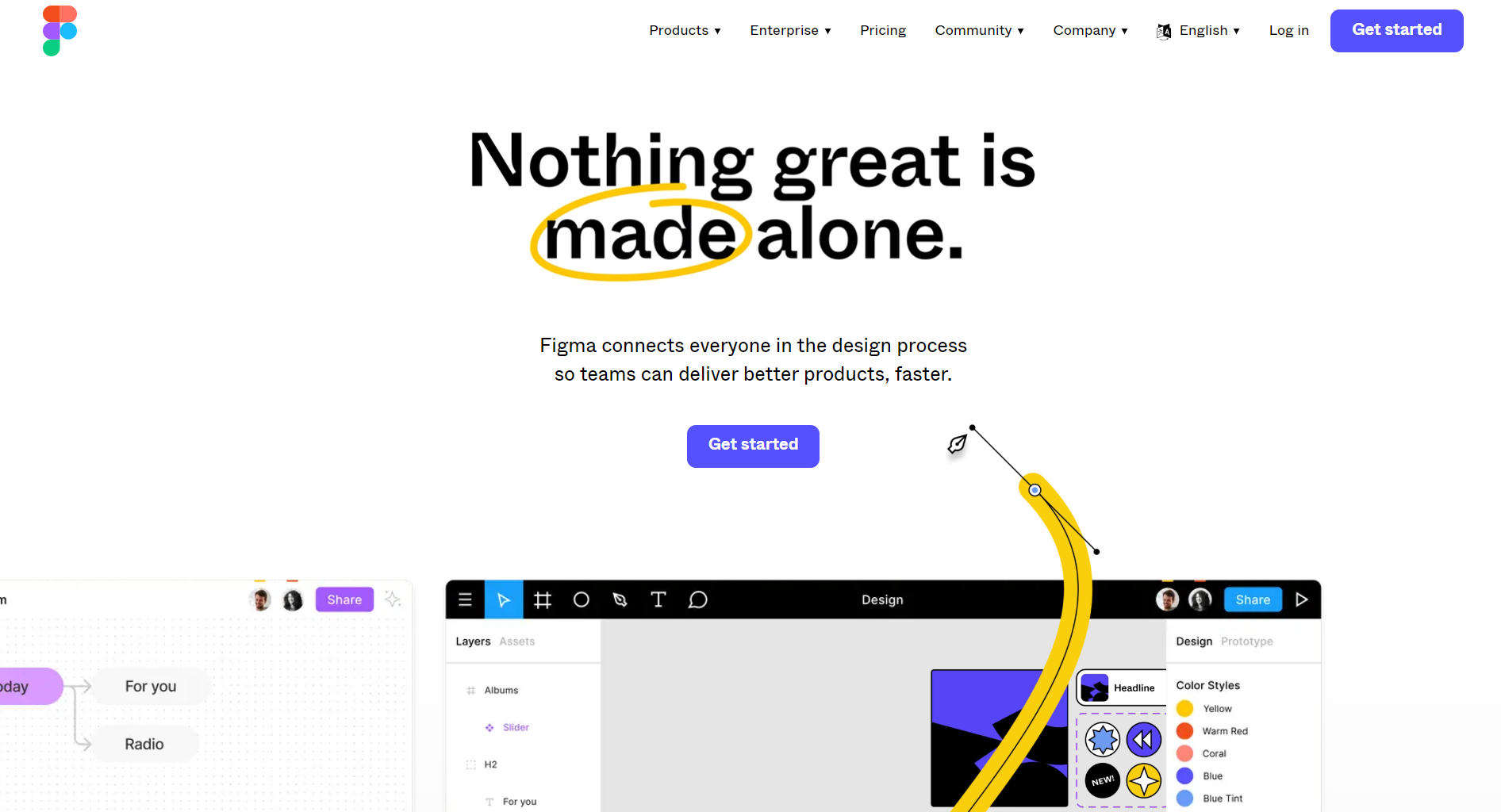 Figma grew twofold in recent years.
Unlike many others, it didn't take much time to establish itself in the SaaS market. Shortly after its launch in 2016, the software became a cult, specifically among app designers.
Because around that time, the hybrid mobile app development culture was taking shape.
They stroked while the iron was hot. And since then, they have been improving their products faster than any illustration software.
Take its tour. Whether you're on the dashboard or the canvas, you'll have a hybrid feel.
Sketch's design system was once highly praised. But now, Figma is receiving more accolades. Look, this small comparison below speaks volumes.
Why I choose @figmadesign over Sketch. pic.twitter.com/sZRO97tlNO

— Housseynou Fall🗽 (@HousseynouFall) December 19, 2017
With Sketch and many other UI editors, you'll also struggle while using a totally separate whiteboard. For example, Mural and Miro.
Figma, however, comes with Fig jam. Helps you to keep all your work synced under one umbrella.
The browser version works great. And compatible with many standard browsers. No matter if you're on any OS.
I bet you're going to love the iPad app even more. That's why, not only designers, but product managers love this software too.
Everything in the Figma community seems to be well and good. However, if you're keeping up with the recent developments, you might have had a hard time believing its acquisition by Adobe.
Should you be concerned about this? Remains to be seen what this acquisition brings to the table.
Figma Key Features
Figma uses frames, a kind of art board divided into different screens or containers. It lets you create dynamic layouts, organize your designs on different frames and nest them together.
Features version control where you can sort history or create a fork from the previous version.
Seamless and real-time collaboration feature. Helps you in planning workflows, reviewing, and conducting design sprints.
Figma's recent update includes audio and spotlighting features. This means team members and stakeholders can conduct conversations directly.
Fig Jam is a built-in whiteboard tool that allows teams to brainstorm, share and sync their entire workflow in one space.
Figma Pros and Cons
Pros:
Browser-based platform
Flexible UI/UX elements like constraints, components, auto-layout, etc
Best tool for prototyping
Great collaboration, live sharing, version control & team libraries
Affordable monthly pricing
Cons:
Extra bucks for Fig jam whiteboard (it's cheaper, though)
Not installable needs active internet supply
Future concerns due to the acquisition
Platforms: Works on all the popular browsers, regardless of the OS. Available on Android, iOS, and iPad.

Value for money: If you're using Figma specifically for app development, then yes.

Ease-of-use: Figma has probably the best interface with a very low learning curve

Community: Figma has a resource-enriched community platform where you can publish your projects so that fellow members can examine or rework them. There are thousands of creators, and you can get the following resources:

Support: Phone and live chat

Recommended for: Professionals of all levels. Figma's skills can make your resume more attractive.
Pricing
Fig Jam for whiteboarding costs $3 per month (when billed annually) under the Professional plan.
5. Affinity designer (Best Adobe alternative with one-off purchase)
Affinity Designer is often sought as a close kin to Adobe Illustrator. To be precise, a mix of Photoshop and Illustrator.
Similar UI, art board, toolbar placements, and customization options.
Most of the key commands or shortcuts resemble Illustrator. So switching from Adobe won't make you feel overwhelmed.
No difference in terms of flexibility. And supports common file formats. And compatibility on both Windows and Mac.
But things got more interesting as Affinity now features on the iPad.
So is it okay to define Affinity Designer as an Illustration replacement?
Well, if you're bothered by the monthly plan then, yes. The one-off payment looks quite appealing.
At the same time, both have striking differences as well.
Affinity Designer features both vector and raster/ bitmap environments. And can be used hand in hand. It's easy to switch back and forth. Like browser tabs.
Unlike Illustrator where you need to open Photoshop for raster work. Really helps to maintain your workflow.
On the other hand, Illustrator has a richer set of advanced filters and effects. Affinity falls short when it comes to brushing types, blend tools, knife tools, etc. Also, the feature updates are far better in Illustrator.
Overall, Affinity Designer is a considerable option for the given price tag.
Affinity designer Key Features
Easy to switch between the vector environment (Designer Persona) and raster environment (Pixel Persona) within the application.
Features cool effects transform and at the same time, you can preview them live while making edits.
Incredible zooming capability of over 1,000,000%. You can work on art boards to infinity. Also makes an ideal tool for CAD-based projects.
Flexible customization, toolbar placement, and shortcuts. Same personalization features as found in Adobe Illustrator.
Provides more options while applying grids to your canvas. Especially for 3D typography. Illustrator features a harder way to make creative changes with the grid feature. Whereas, Affinity features isometric grids that let you customize the angle of your grid, add colors, and transform pretty quickly.
Affinity designer pros and cons
Pros:
UI and workspace tools like personalizing grids are better than Illustrator
Ability to toggle between vector and raster workspace
Lesser hardware requirements than many industry standard tools
Lightweight and requires moderate hardware requirement
One-time payment model
Cons:
The iPad app needs to be purchased separately from the PC app
Lacks group collaboration feature
Falls short in filters, effects, and advanced tools
Platforms: Windows, Mac, and iPad

Value for money: Affordable pricing and offers many Photoshop and Illustrator features

Ease-of-use: Some learning curve if you're new. But a lot less if you're switching from Adobe

Community: Decent, not quite like Illustrator.

Support: Phone support and active response on social media sites

Recommended for: Professionals of all levels.
Pricing
For Windows or Mac: One-time payment of $40.99
For iPad: $11.99
6. Inkscape (Best free illustration tool for low-end PCs)
Inkscape is a fork of the discontinued Sodipodi. Back in the early 2000s, Sodipodi was a well-known tool for basic vector drawings.
Inkscape has come a long way since then. It gives you the freedom to enjoy almost every illustration tool found in Adobe Illustrator at no cost.
It's a socially owned and open-source software. Thanks to its dedicated developer community!
They consistently team up and bring creative ideas in designing new features or fixing nasty bugs. So, you wonder how well Inkscape stands out among those paid illustration tools.
Like the pen tool in Illustrator, Inkscape features a bezier pencil tool. You'll find almost the same comfort and flexibility.
You can create and edit SVGs directly from their source code.
However, when it comes to working with graphics that include typography, it's free rival Krita has the edge.
Also, Inkscape is still improving its anti-aliased imaging which you'll find better in paid tools. Does the job, though.
But actually gets worse on Mac systems. MacBook is equipped with a Retina display. Something Inkscape's engine isn't yet made to suit.
Performance on Linux distros and Windows is undeniably smooth. But again, you may encounter the same issues on multitouch windows tablets. Inkscape is just too naive to optimize for the touch interface.
Regardless of that, it's highly customizable. You can rearrange panels and tabs the way you like.  Keyboard shortcuts for quick access are no less enticing than Illustrator.
Have a potato PC?
No problems. Inkspace works equally well in low-spec systems. Probably the best free illustration software out there.
Inkscape Key Features
Inkscape is a fully compliant SVG editor tool that lets you edit the source code. It's developer-friendly and can be used to create interactive designs.
Features a pencil tool for free-hand drawing, to make straight lines or Bézier curves. Likewise, shape tools, text tools, and calligraphy tools help you demonstrate creative prowess.
Support for most standard file types. Easily export or import files. You can work with Adobe Illustrator and Corel Draw as well. Inkspace also integrates with Adobe fonts.
Customization liberty is one of the key advantages. You can keep your interface clean and control what you like to keep and what not.
Inkspace features over 200 licensed plugins including clipart, shapes, gradients, templates, etc.
Great for 3D art. You can use a 3D box tool to create any shape on the XYZ plane. Node editing makes it easy to pick any corner and modify it as you wish.
Inkscape pros and cons
Pros:
Free of cost and open source
Low system requirements
Feature set resembles Illustrator and requires less learning curve
Tools are highly customizable
Easily export and import standard file formats
Huge and active community of developers and artists
Cons:
Outdated user interface
Lacks collaboration feature
Not quite ideal for Mac systems
Platforms: Windows, Mac, Linux distros

Value for money usage: Satisfactory tool for artists

Ease-of-use: Lightweight, smooth workflow and requires less learning curve

Community: Inkscape exists because of community. Active forums and social media groups.

Support: No official support

Recommended for: An apt tool for all levels of designers. Better to use Inkscape as a complementary tool rather than standalone.
7. Lunacy (Sketch alternative that can run on Windows)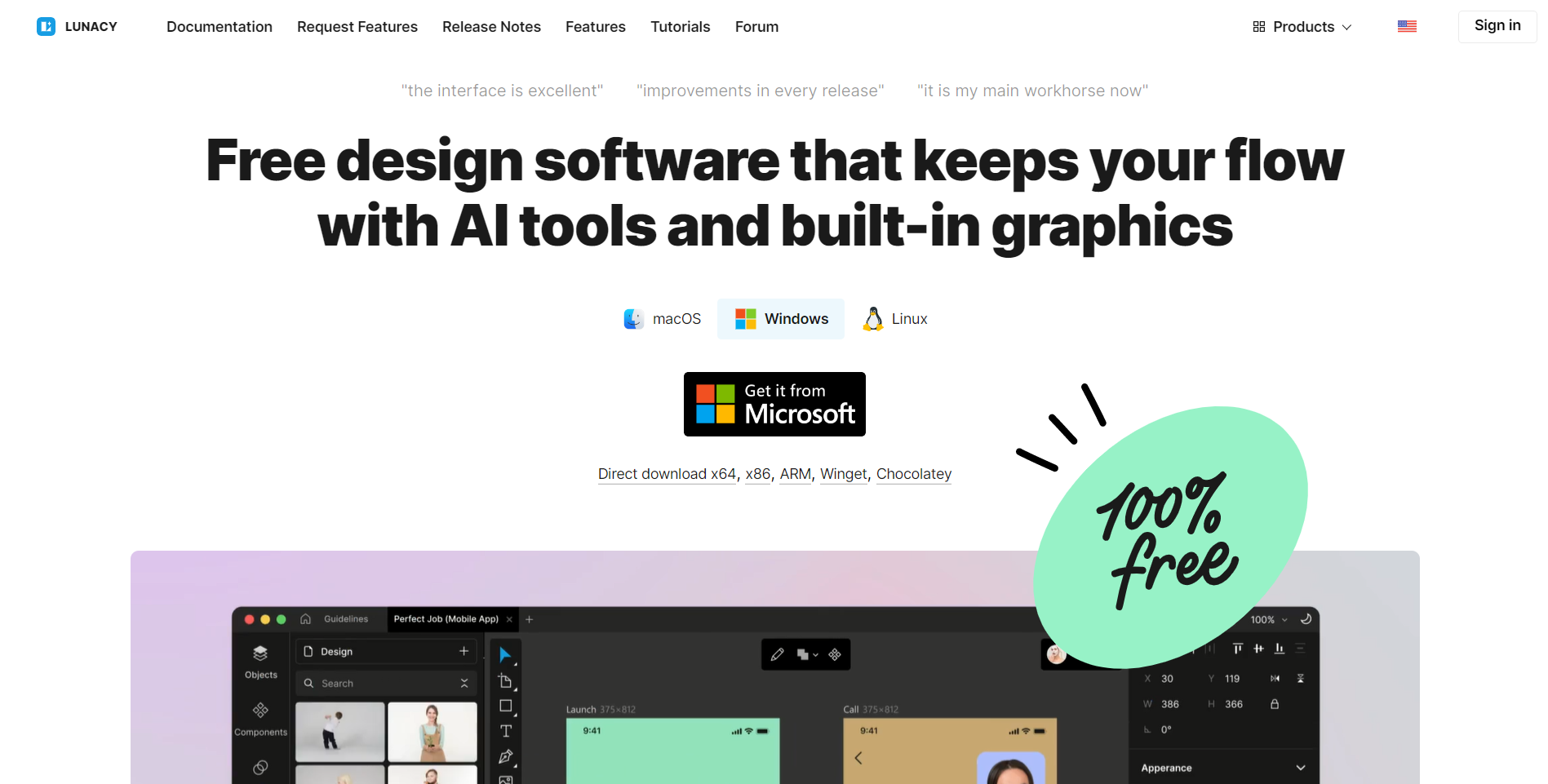 Some say Lunacy is a sketch substitute for Mac. Or Sketch on Windows. Aesthetic-wise, they even draw a contrast with Figma.
To be honest, both Sketch and Figma are among the top illustration standards. But with cross-platform compatibility, you can't simply brush off Lunacy.
It's one of the key products of icons8 – a SaaS company focused on design productivity.
You can do pretty much most of the prototypes as you can on Figma. Interestingly, you'll find Lunacy's UI better than Figma's. Built-in stock assets help you continue your work without worrying about the internet.
Tons of symbols, text styles, photos, UI kits, and many more in the library.
No, Lunacy doesn't have a browser version. You need to download the software. And make sure you carry your laptop all the time.
The software is compatible with .sketch format. And you can easily import and export sketch files while working with Sketch users in your team.
But the most striking feature of Lunacy is its AI. From upscaling your graphics to removing backgrounds, AI can make your tasks quicker and save time.
However, it lacks the animation styles which Sketch is good at.
But the recently added cloud collaboration feature took everyone by surprise. You can now comment and share in real time. Just like in browser-based tools.
Overall, Lunacy is affordable and easy to get to grips with. Maybe that's the reason it receives a buzz as a Sketch or Figma competitor.
But is Lunacy an absolute replacement tool?
Unless you don't own a Mac or don't want a subscription-based tool, that would be an exaggeration.
Lunacy Key Features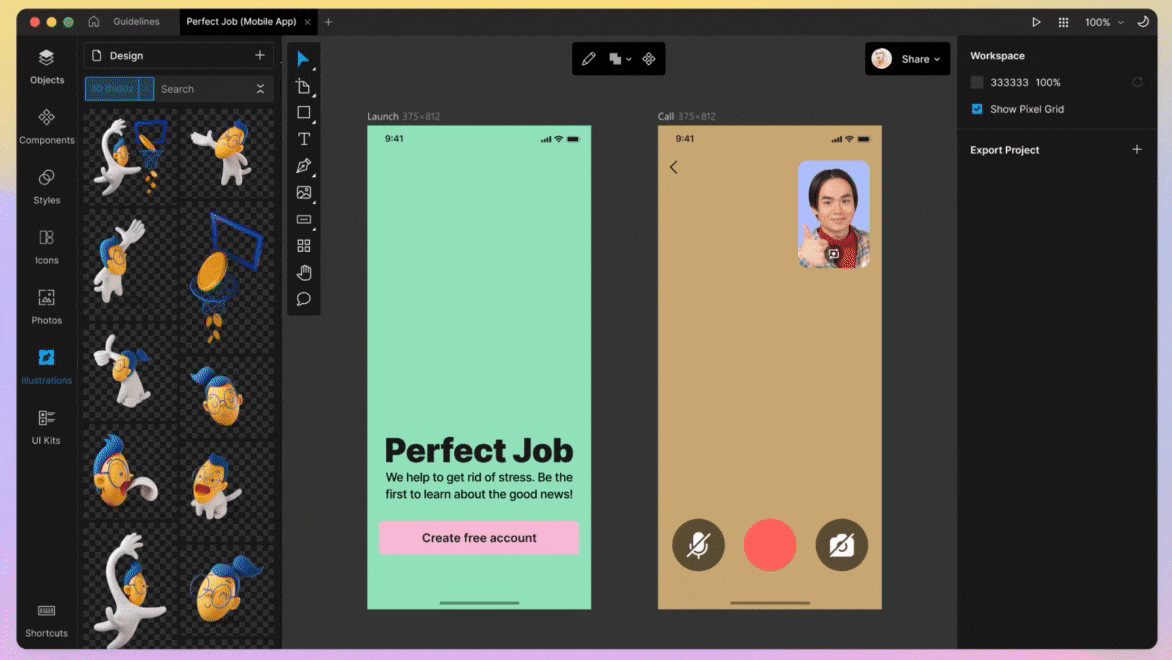 AI helps you generate your images faster and saves time. However, the process is online. You can remove the background, resize images, create user avatars, as well as generate placeholder texts for the design interface.
You can easily upscale images and improve their resolution without blurring or losing the important details.
Helps you collaborate with up to 100 people. Easily edit comments, share your documents, and see changes in real-time.
Huge library of free vector illustrations, icons, and templates. Also packs in a UI kit to help you create consistent interfaces or themes for your projects or maintain brand consistency.
Comes with a localization feature and supports up to 18 languages. Also, the interface adapts as per the nature of the language. For example, interface tweaks for right-to-left languages.
Lunacy pros and cons
Pros:
Affordable and flexible pricing plan
Real-time collaboration
Compatible with multiple platforms
Natively works with the .sketch files without incompatibilities
Looks like the one, but thankfully not a resource hog
Cons:
Some limitations in prototyping (not bad per se)
Lacks animation features (sketch is good at it)
Lacks auto layout feature
Platforms: Windows, Mac, and Linux

Value for money: If you choose the Full set plan.

Ease-of-use: Not much learning curve. AI eases some of the tasks.

Community: Not that active but decent – forums, social media, product hunt.

Support: Lacks dedicated support but the community can be helpful.

Recommended for: Beginners who don't have Mac but want to have a Sketch-like experience. Decent tool for entry-level app developers.
Pricing
Full Set plan is priced at $29 per month. And $259 per year with a 20% discount.
Comes with complete features like icons, photos, vector illustrations, smart upscaler, background remover, and AI photo generator. But icons, illustrations, and photos have certain download limits per month.
8. Canva (A no-brainer drag-and-drop illustration tool)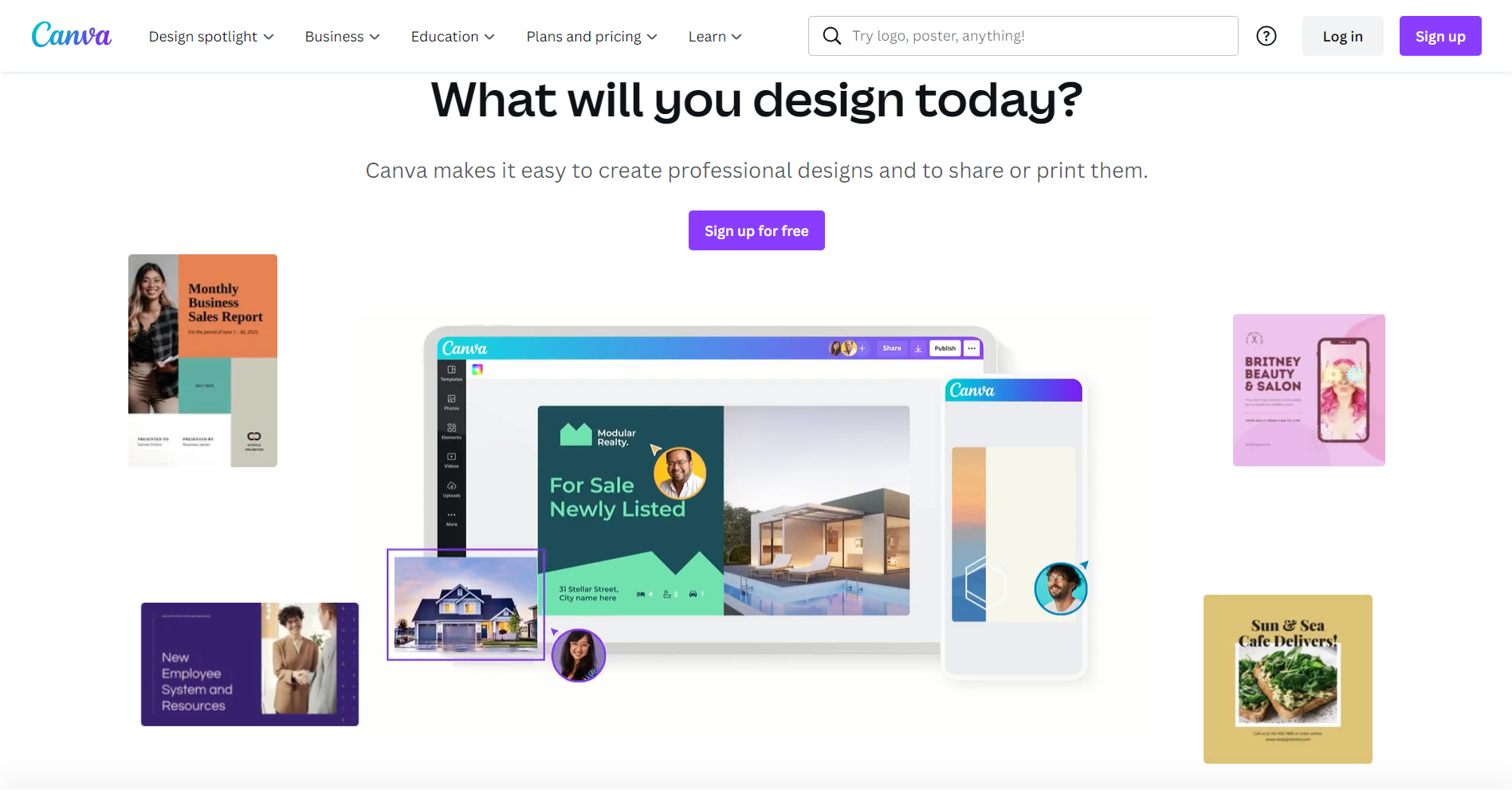 Every so often it's okay to be lazy. Because Canva can do all the artwork for you.
Can't find a designer for your brand? Or want to save hundreds of dollars by hiring a random designer?
Canva is the answer. It's a no-brainer drag-and-drop illustration tool. What makes Canva special is its surprisingly huge collection of eye-catching graphics.
All you need is to find your graphics and put them together like Lego pieces.
Something that might take you hours while designing from scratch.
So can you become an illustration expert overnight?
With Canva, of course.
You'll just love the UI the moment you start using it. You can create social media posts, YouTube thumbnails, or some cool graphics for your web design.
It's actually great for someone in print media, too. And I don't think you would ever switch from Canva once you design some cards or posters.
Even great for corporates. Don't worry if your boss just asked you to prepare monthly reports and data visualizations!
But the best thing I love about Canva is that you can go mobile. Besides PCs, working on iPad, Android tab, and Microsoft Surface is a breeze.
It's cute to have a mobile app. So that you can review it while you're on the move. Just too tiny to design.
But remember. If you're serious about designs and find your skills unused, Canva may not be your ideal choice.
You can't design anything from scratch. And have limited customization. Yes, you can use pre-made templates to create a responsive and single-page web design. But can't go beyond one page.
On the other hand, if you're looking to save time and money. Without having to endure heavy editing tools and a steep learning curve. And want designs that look professional and on-brand. Go for it!
Because there has been a designer within you. You just don't know. But Canva does.
Canva Key Features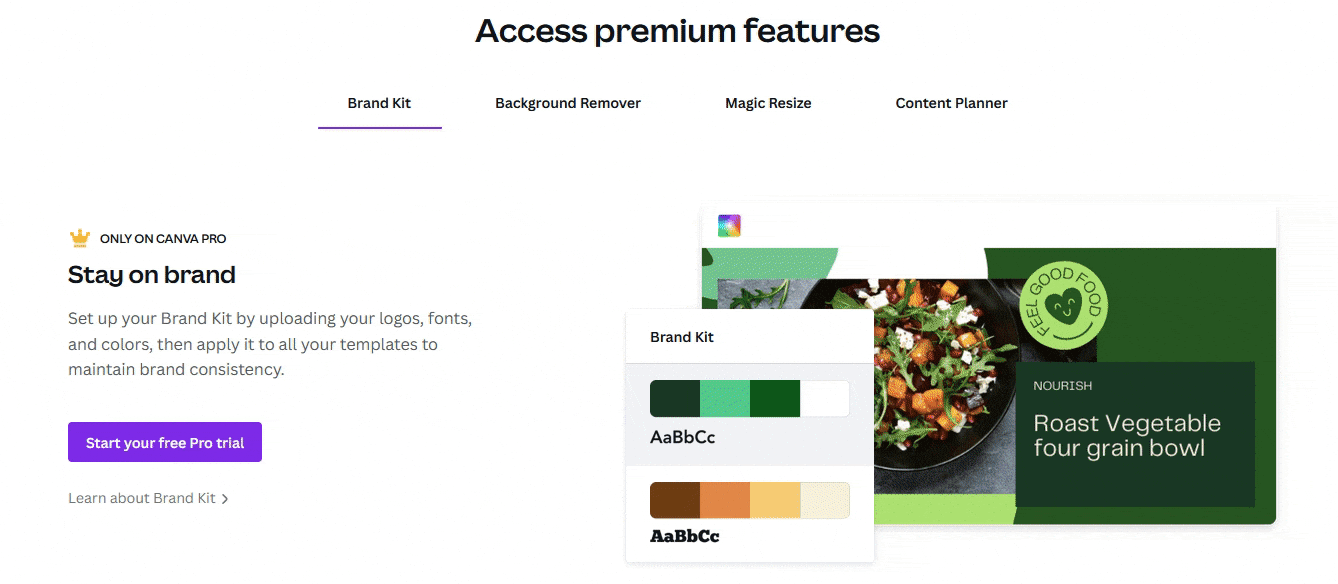 Brand Kit is a special Canva feature that helps you maintain your brand identity. Every image, logo, font, and template you choose to design uses colors or themes that represent your brand. Because your business theme is quite necessary to establish brand consistency.
Single-click background remover, magic resize, and simple animation creator can save you time.
Visual Worksite is the latest feature to ease your collaboration in real-time. Consists of 6 apps:
Whiteboard, Docs, Websites, Video, Presentations, and Print.
The whiteboard tool lets you brainstorm, design, and share ideas. Great way to collaborate with up to 50 colleagues remotely.
Canva's Docs is pretty close to Google Docs. Almost the same color-coded tags and comments to make co-editing easier.
Canva for both Pro and Teams offers some advanced features like activity tracking of your team, approval workflows, social media planning, etc.
Canva Pros and cons
Pros:
Millions of photos, graphics, videos, audio and fonts
Mobile app on iOS, iPadOS, and Android
No illustration skills required
Supports multiple languages and also translations
Rich set of integrations to power your branding process
Free to use for under-education offer
Cons:
Free version, just a teaser and has ridiculously fewer features
Lacks customization and designing from scratch
Lack of export to PSD format
Platforms: Browser-based, Android, iOS, iPadOS, and Microsoft Surface Pro.

Value for money: Value for both money and time.

Ease-of-use: No learning curve at all. Easy drag-and-drop.

Community: Strong community on social media as Design Circle. You can also be part of their Creators group and sell your designs using the platform.

Support: Only email support

Recommended for: Social media creatives, Individual brands, bloggers, marketers, print media
Pricing
Canva pro monthly pricing: $12.99
Yearly pricing: $119.99
9. Krita (Best open-source and free illustration software)
Krita is yet another open-source illustration software. Like Inkscape, you don't have to pay for Krita.
It is also run by a dedicated team of developers who don't work for a lot of money. But with a sense of goodwill contribution.
Then why on earth Microsoft charges for free software?
Wait till the pricing and let's talk about the software first.
Krita is often criticized for its slower UI and lack of advanced tools, but not anymore. It has turned the tide. The latest version came up with a snappier and more flexible UI.
You'll see significant improvements in brushes, gradients, selection tools, etc.
Although Krita is known for its brushes, the new features will let you customize them any way you like. The overhauled animation is something that will take you by surprise. Quite unusual for a free platform.
Even the bigger improvement – touch Interface tweaks. A few years back, Krita's touch sensitivity and latency were painfully bad.
It has come a long way now. You can rotate the canvas while working on your illustrations. With smoother multitouch ability, you can zoom your designs and drag-and-drop colors easily.
Not just multi-touch. But with multi-platform compatibility, there is no bar on the Krita-vity.
Krita Key Features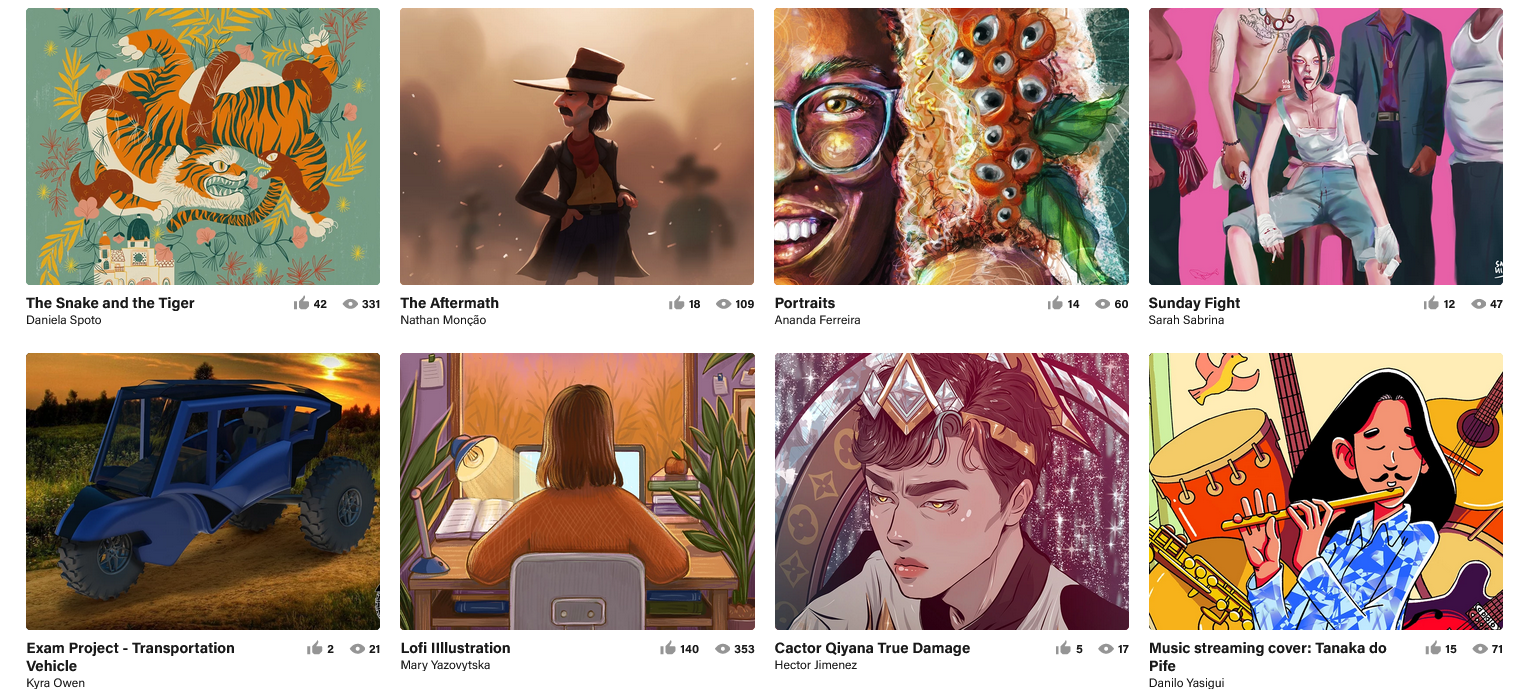 Some newly added tools that caught my attention were the 2-point perspective assistant, drag-and-drop colors, advanced gradients, layers, animation, and several overhauls.
Multitouch gesture support on graphic-specific tablets like Wacom, Huion, Yiyinova, and Surface Pro.
Ability to export a movie from your art file. Works similarly to the speed draw animation in Procreate. It captures the snapshot of everything you draw. Then it lets you export a movie of that speed draw.
Flexible and smoother canvas navigation. Canvas navigation is made more flexible. You can zoom, drag and rotate with the control. Both desktop and tablet versions give you a latency-free experience.
Krita users feel pride in its brush library. Features a wide range of brushes. And each of them uses a modular system. This means each brush engine operates individually and has a depth of customization. The editor also comes with a scratchpad where you can try them out before using them.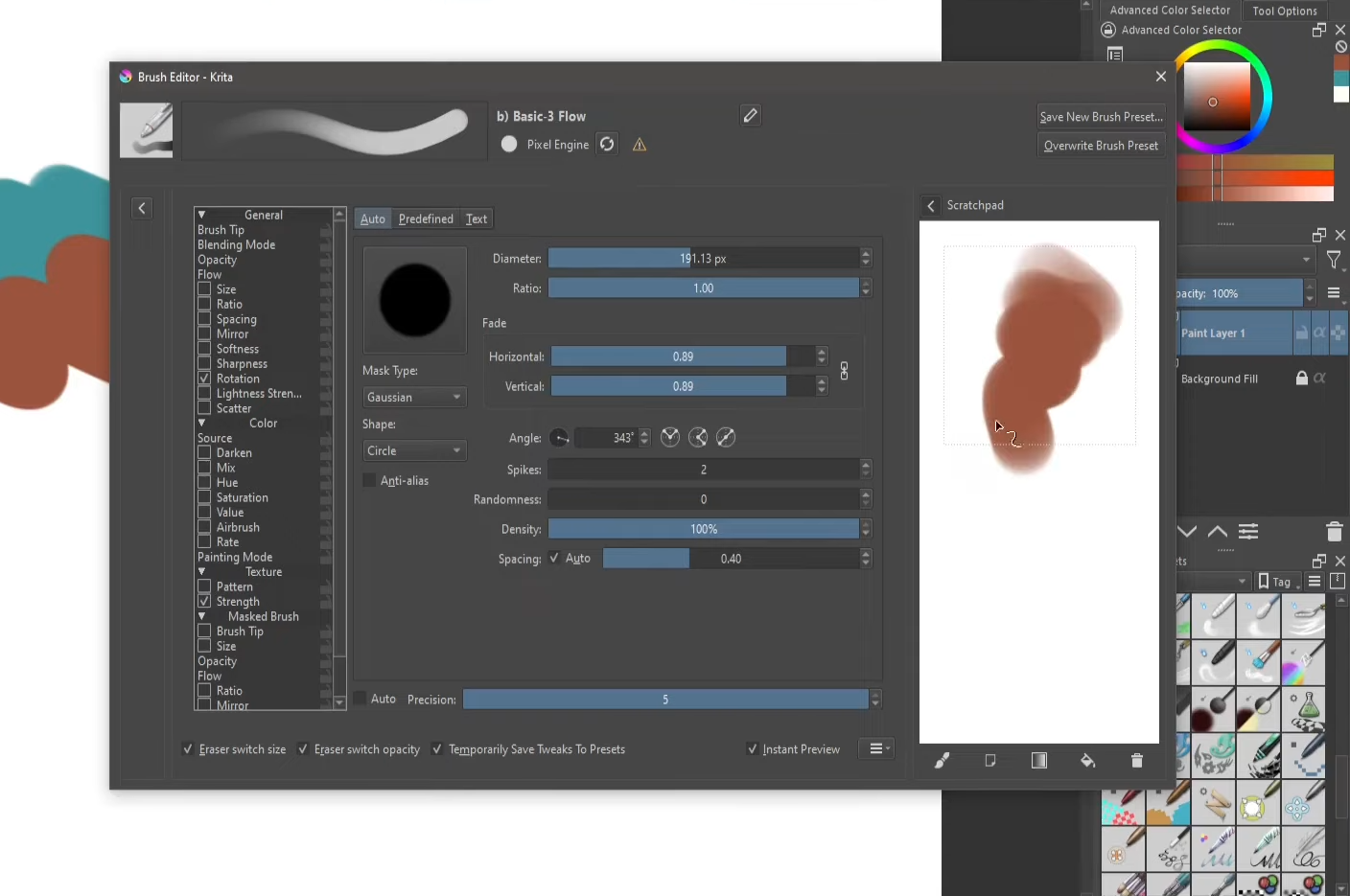 Krita Pros and cons
Pros:
Free and open source
Significant improvements in the latest version
Multi-touch and multi-platform support
Wide array of brush tools
Tool customization and flexibility
Cons:
Not ideal for photo retouching or manipulation ( can export to Photoshop, though)
Frequent issues on macOS (probably due to Apple Silicon)
Community is not that huge and not quite an industry-standard tool
Platforms: Surface Pro, Chromebook, Android tablets (beta version), graphic-specific tablets like Wacom, Huion

Value for money usage: The fact that some premium features are available for free feels just incredible

Ease-of-use: A bit of a learning curve but the easy interface to get to grips with

Community: Not that huge but no short of learning resources

Support: No official support. Can reach out to peers on social media and forums.

Recommended for: Great for beginners. Can be useful for experienced designers, but seems better as complementary software.
Pricing
Free to download on Krita website. However, it's paid on the Microsoft store and Steam.
But developers at Krita assured that the funds would go directly to them. Also, buying Krita from those sites enabled automatic updates.
10. Rebelle 5 (Best tool with hyperrealistic art technology)
Those who say that digital art has killed handcrafted art aren't looking in the right places.
Most of you might not know Rebelle 5. Of course, it is made for digital art. But in a handcrafted fashion. This means software that can emulate the real-life physics of the art – on the screen.
Sounds surprising?
Indeed, this flagship software of Escape Motions has its own creative moves than Adobe.
Back in your classroom, you might have tried different types of paints. Watercolors, oil paints, acrylic colors, etc.
Doesn't it feel deeply satisfying when you blend colors and make your own pallets?
Now with Rebelle, you can relive the same experience on your computer screen. Completely different from those artificially tweaked illustrations.
Think of how watercolor diffuses into sheets of different textures. Rebelle not only features paper-like surfaces. Even cotton, linen, cardboard, and lithography stone.
Likewise, you'll find over 100 of such textured backgrounds. Both wet and dry. All you need is to configure your brushes and canvases the way you like.
Now what I found really unique about Rebelle is that there's no mention of vector graphics.
Instead, the platform supports a technology called NanoPixel. It's not really a vector. But the technology lets you upscale your art without any blurs or quality loss.
Interestingly, you can enlarge it up to 16 times. However, this feature is only available on the Pro plan. Even file imports and exports are restricted for the pros. Rebelle 5 might be widely unheard of. But it brings back the magic of physical art to digital media.
Rebelle 5 Key Features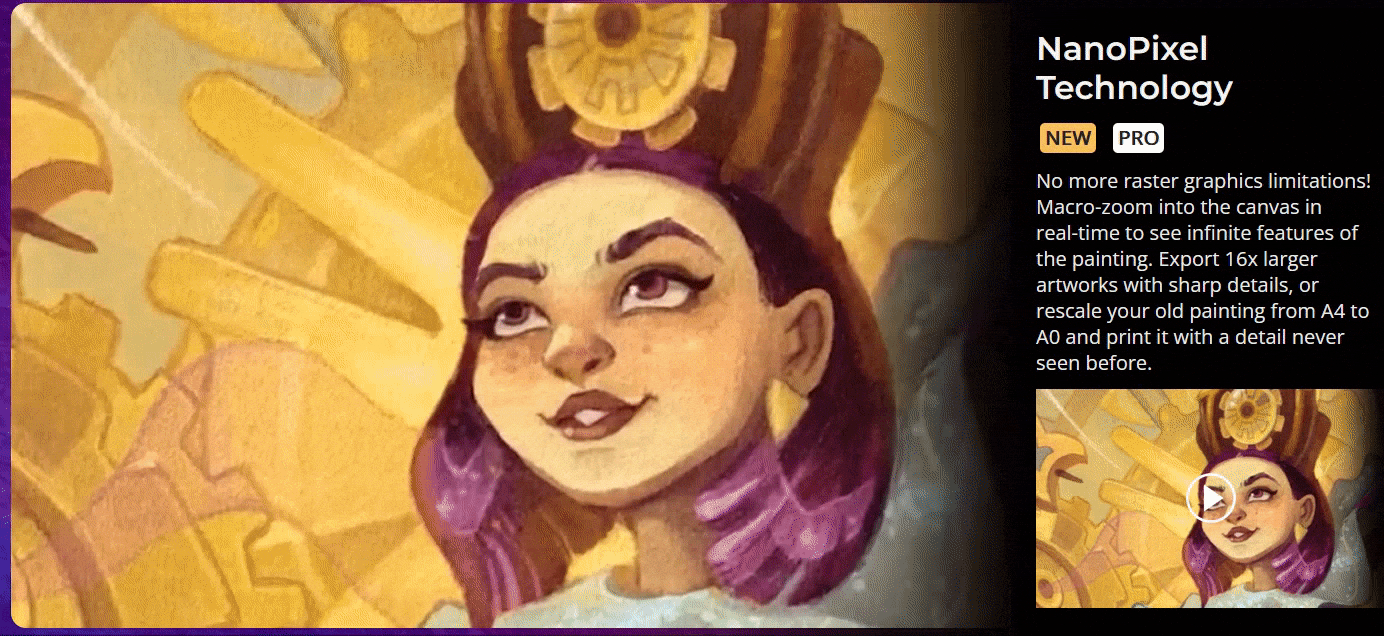 Uses a simulation technology – DropEngine. It helps you recreate the dripping effects of watercolors on different types of surfaces. Plus, realistic effects of wet paint, dry paint, and brush strokes.
Features ruler, stencils, and perspective tools. You can draw 1, 2, or 3-point perspectives and give accuracy and depth to your art.
Supports RGB-based color mixing which gives realistic details while you zoom in. However, lacks CMYK-based blends. This may not get you a green palette upon mixing yellow and blue. Instead, it ends up with gray-ish hues.
More than 190 brushes, pencils, and many drawing tools. You can control opacity, texture strength, tilt effect, and even pressure sensitivity if you're on a supported tablet. Multi-touch works like a wonder.
Compatible with most the file types like PNG, layered PSD. Also comes with the Photoshop plug-in. Makes sharing of layers super easy.
Rebelle 5 pros and cons
Pros:
Wide range of paintbrushes
Realistic paper texture and color mixing
Compatible with standard file types including PSD
Time-lapse recording
One-time and considerable pricing
Cons:
Lack of CMYK-based color mixing
Non-pro plan lacks nano pixels and advanced coloring features
Platforms: Windows, Surface Pro, Mac, Wacom tablet

Value for money: As long as your illustrations require heavy use of color mixing and paint styles

Ease-of-use: Using brushes, and color mixing requires a steep learning curve

Community: Not a wide community but definitely dedicated ones. You can also check out featured artists for design inspiration.

Support: Generally by email

Recommended for: For true artists. Sounds like a unique skill set on your resume in addition to the standard illustration tools.
Pricing
Rebelle 5 personal: $19.99
Rebelle 5: $89.99
Rebelle 5 Pro: $149
Note that, nanopixel technology and color mixing features are available only on Pro.
11. Procreate (Best design app on iPad)
Procreate when launched seemed to be marketed towards content creators and hobbyists. But with robust updates, a lot of professional designers are using it day by day.
It's not a vector creation tool, however. So I recommend using Procreate with Vectornator.
The UI is very streamlined and simple. Play around for a few minutes, you can probably find where most of the tools are.
About Screen latency. You may face a bit of lag on older-generation iPads. Recent Bionic processors are still good for heavy illustration tasks.
But Apple Silicon on iPads is like a magic spell.
The Liquid Retina XDR display is yet another advantage for iPad designers. Gives a sense of color accuracy.
While working with Apple Pencil, you'll find that line stabilization is really powerful.
But also gives complete control of the canvas at your fingertips.
You'll just love how buttery smooth pinch, zoom and canvas rotation are.
Though you can find similar UI gestures in other programs. But none of them seems to do as well as Procreate.
It's so fulfilling to see Procreate offering a one-time pricing.
Whereas an Adobe Illustrator subscription sums up to around $120 a year. This means a few years of Adobe subscription may cost you worth a standard iPad and Procreate app for life.
Awful, isn't it?
Unlike Illustrator, however, you may not find all the staple designing tools here. For example, when you wish for a visible window to change your brush settings. So every time you tap the dropdown button to select the brushes. May feel like an interruption in your workflow.
This feature is far better in Adobe apps. But then, you might need a 12.9-inch iPad for wider visuals. Costs you an arm and a leg, though.
Procreate doesn't have support for a wide range of file format export and import. Thankfully, it supports PSD.
Overall, Procreate packs in everything for a designer on the move.
Procreate Key Features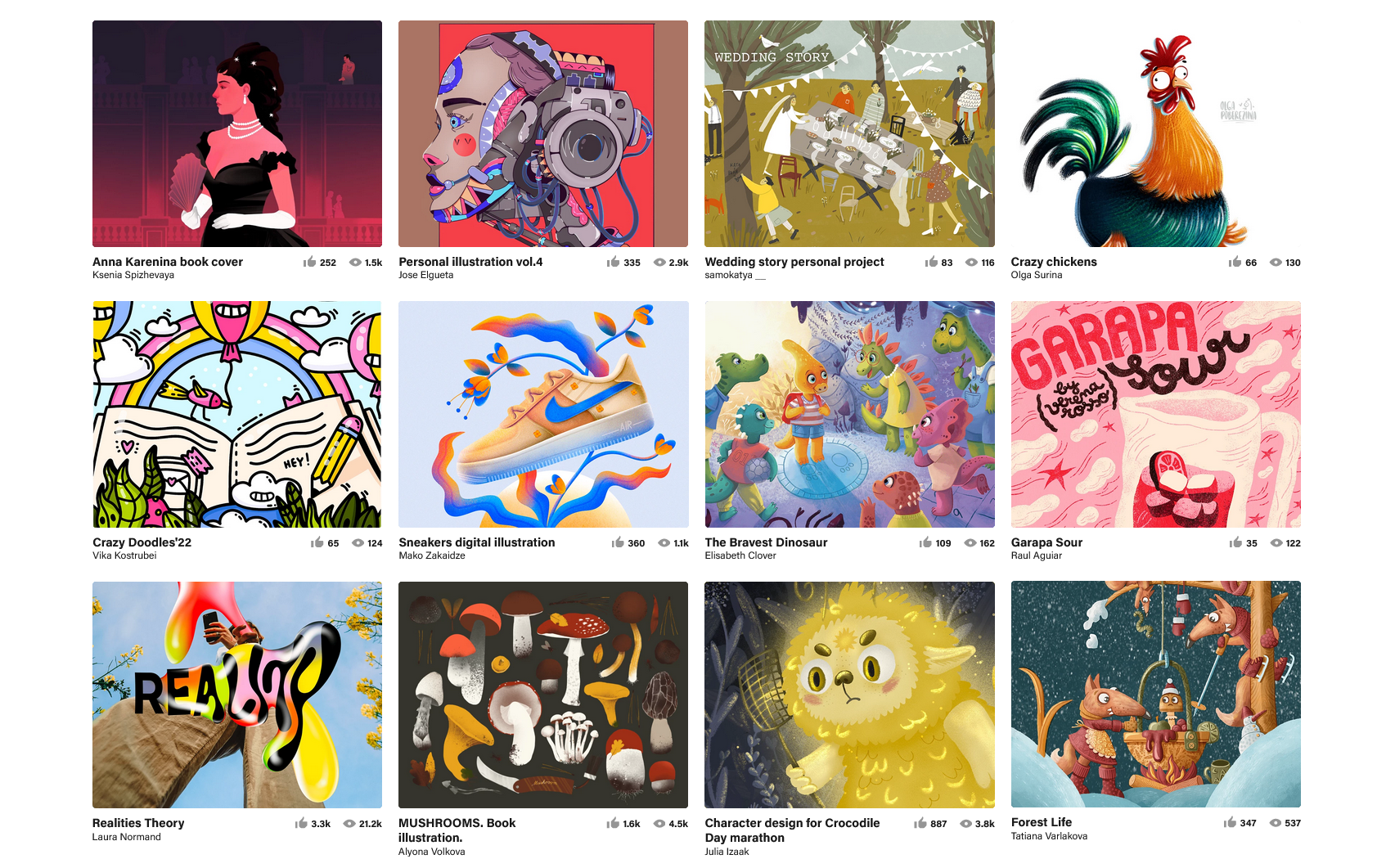 Features an intuitive dashboard with easy-to-access editing tools, customizable color pallets and a wide array of brushes, pens, and pencils.
Ability to edit brushes and control the strokes and effects the way you like. Also comes with the option of importing third-party brushes.
The latest update brings the ability to create 3D models, AR designs, optimized animation tools, and effects.
Also comes with a number of 3D samples. Able to import models from PC animation software like Blender or Maya.
3D effect's latest update features background reflection on 3D models, the ability to add new lights, and the change of colors.
Time-lapse recording lets you capture the entire workflow of your creations and help you analyze your work.
Takes care of color-blind artists. Features Eyedropper color describer to help them in each step of the design process.
Procreate Pros and Cons
Pros:
Great for 3D painting, animations, and AR arts
Brush and color customizations
Intuitive dashboard and overall UI
Requires less learning curve
Perform illustration tasks on the move
One-time payment model
Cons:
No vectorization (but you can convert raster into vector image)
Compulsory to have an iPad and Apple Pencil
Lacks a wide array of design elements (Adobe is better at this)
Lacks built-in collaboration tool
Platforms: iPad

Value for money: Affordable app. But you need to pay a lot for an iPad.

Ease-of-use: Actually built for beginners. Kind of a paint app but with cool illustration features

Community: Doesn't have a wider audience but it is fair enough.

Support: Via email or community only.

Recommended for: Product designers, and creators. Best for beginner to intermediate design use cases.
Pricing
One-time purchase of $9.99 only on the App Store.
12. Vectornator (Best free illustration app on iPad)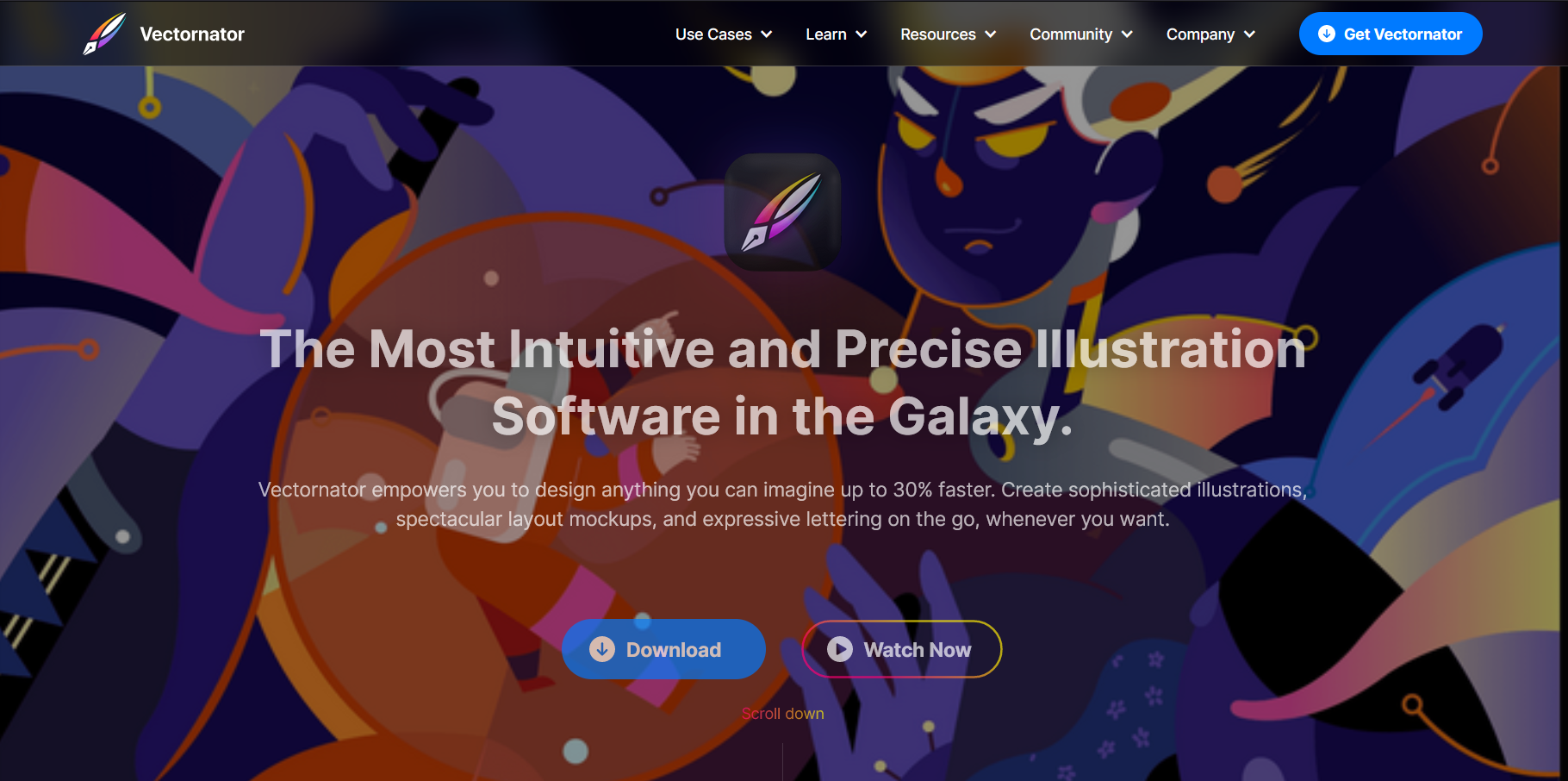 Besides creativity, if there's anything iPad designers can have for free is Vectornator.
Generally, you won't find free illustration tools fit enough to handle commercial-grade projects.
Until you stumble upon Vectornator.
Perhaps a tool that gives a handy experience in Illustrator and InDesign if you're on the move. And that's too on a device with a Pro-motion display and unparalleled resolution.
By the way, Vectornator is also the only tool on the iPad with an auto-image tracing function.
Similar to PC apps, you'll have a range of freehand tools to make your drawings smoother. For example, a selection tool to grab nodes and move them around.
Pen tool feels so easy to lay down your free-hand designs and curves. Likewise, brush tools, pencil tools, cutting tools, and more.
Touch gestures on the iPad make your workflow even smoother. Canvas interfaces like pinch, zoom, and rotate feel so much more under control. And makes things as easy as a two-finger tap to undo your drawings.
Now if you're thinking of using Vectornator as your standalone design tool, note this!
Vectornator is more focused on real illustrations. And Procreate around rasters. You may find Vectornator resembles Procreate to some extent.
However, some of the features Procreate exceeds Vectornator are better brush capabilities, 3D/AR designs, and animation.
Interestingly, many professional designers find it quite productive to work with both apps. Complements each other so well. Really helpful in converting raster images into vectors.
Feels like using Photoshop, Illustrator, and InDesign altogether.
On the one hand, Procreate lets you visualize any idea quickly. And on the other, Vectornator helps you materialize it using the auto-trace feature.
A perfect combo where you pay for one but get the best of both worlds.
Vectornator Key Features
The only design system that uses auto-trace functions based on machine learning. A faster way to vectorize your pixel-based images.
Ability to use multiple art boards for a single prototyping-based project. Helps you with UI/UX wireframes and create complex layouts.
Also supports an indefinite number of layers. You can basically do everything from dragging objects up and down, changing their position or size, making things invisible, deselecting them, and even grouping them.
Much more than what you could do on Procreate.
Over 80k community-designed icons, free to download and easy to edit them.
Compatible quite well with Desktop, iPhones, and iPad. No matter which Apple platform you may use, Vectornator runs basically the same code. This makes it easier for you to run the same file on any Apple device.
Vectornator Pros and Cons
Pros:
Features auto-tracing ability
Multiple art boards in a single frame
Integrated Adobe Creative Cloud
Easy to import from Illustrator, Figma, Sketch and more
Absolutely free to use
Cons:
Requires only for Mac and iPad devices
Lacks real-time collaboration (but said to feature soon)
Platforms: Mac, iPad, iPhone

Value for money usage: Probably the best free design software on iPad.

Ease-of-use: Easier than iPad competitors like Illustrator and Affinity Designer.

Community: Not quite large, but active. You can connect with Vectornator peers at community chat.

Support: No dedicated support. But community forum is helpful

Recommended for: Creators, learners, and professionals of all levels.
Final Words
Any illustration software you got your teeth into?
We hope you have a clear picture of each of these tools. And know what works well for your vector art. Or UI/UX designs.
Also depends much on your budget.
A newbie?
Krita or Inkspace would be a great platform to begin your illustration journey with.
Adobe Illustrator if you want to reap the benefits of the creative suite.
May be you're an app developer. Then the industry standards like Figma or Sketch are likely on your cards.
Love to design on iPad?
The creative control on Procreate and Vectornator gives you the same productivity that you could achieve via paid PC tools. Plus, the advantage of portability.
At the end of the day, it's not about the software you use, but the art you create. So instead of choosing the best illustration software on the market, choose the one that works best with your workflow.