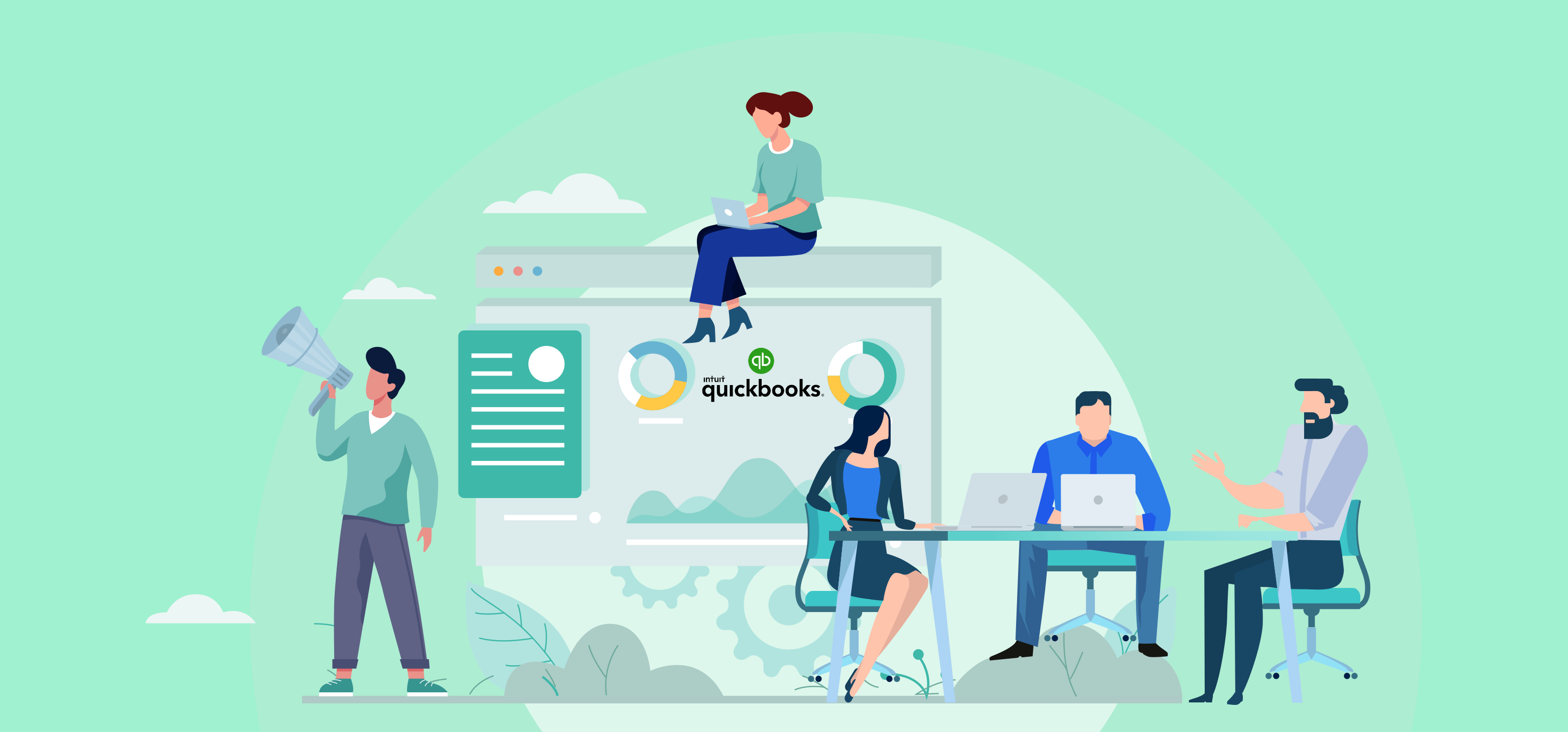 Similar to most of the changes we come across (thanks to technology), the rise of automation in the finance industry has been welcomed and rejected by different groups of people.
While managerial-level professionals see the value and efficiency brought by finance automation software, some professionals worry if these pieces of software will replace them.
However, after some resistance and a pinch of the overwhelmed workforce, the combined power of automation and finance has been proven to be immensely fruitful.
In 2017, McKinsey and Company reported that current technologies are enough to automate 50% of the accounting tasks.
On a similar front, 91% of accounting professionals believe that accounting technology has led to an increase in their productivity at work (Sage, Power of Now, 2020).
As companies and employees meet on the ground where accounting automation is a path to greater efficiency and effectiveness, we cannot rely on a single piece of software.
With more than 4.5 million users around the world, QuickBooks has become one of the best end-to-end accounting platforms.
However, it might not be the ideal solution for everyone.
Considering numerous factors, and based on hours of trying and testing, below are some of the best QuickBooks alternatives: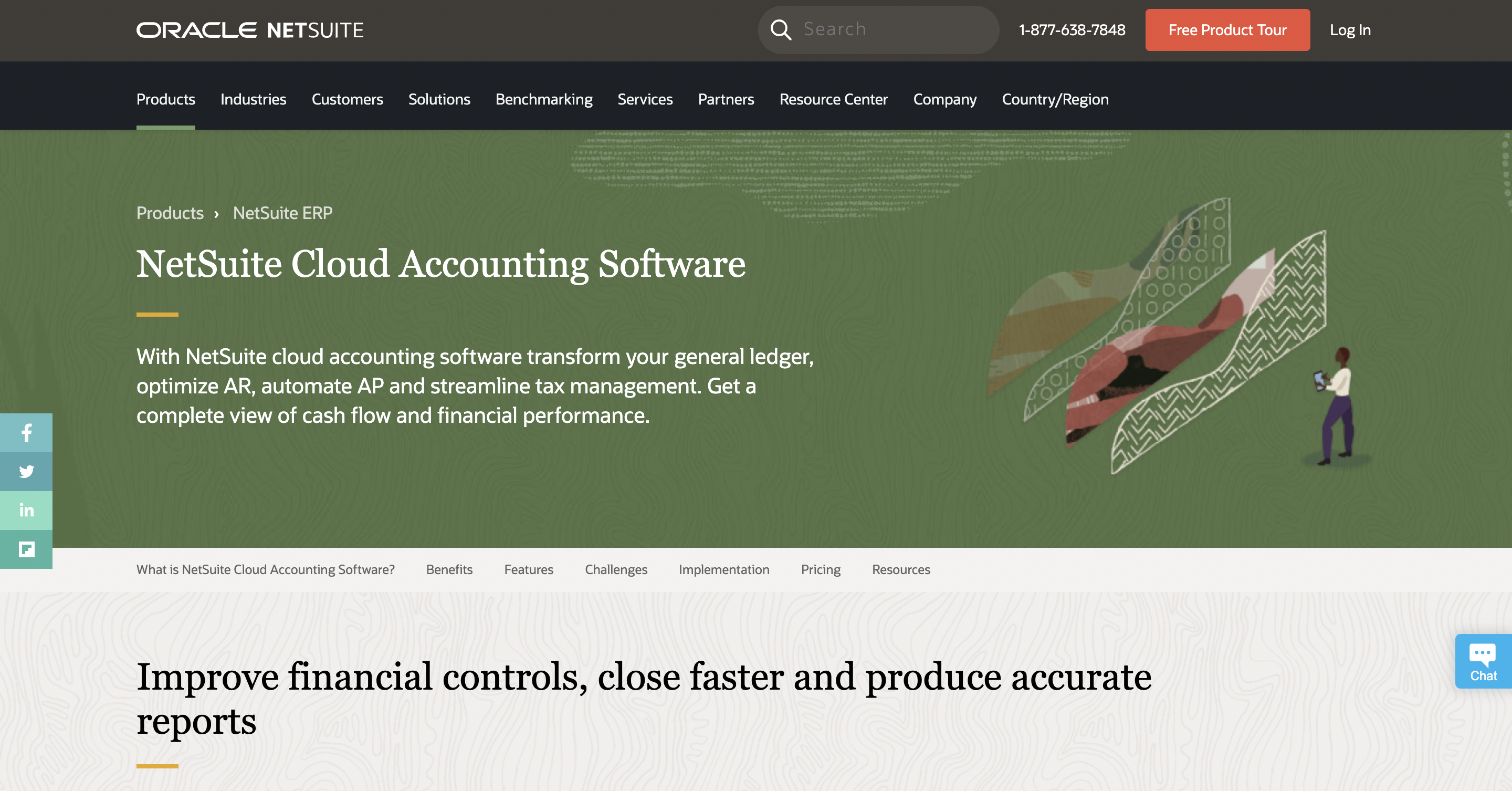 This cloud-based financial management platform by Oracle provides you with wholesome and real-time access to your company's financial performance.
It provides details at individual and consolidated levels and is known for providing integration options with various eCommerce and management platforms.
Moreover, Oracle NetSuite has excellent drill-down capabilities from various system views, an easy-to-navigate and heretical dashboard, and a smartly integrated CRM.
With its ERP capabilities, you can import details of your assets and depreciation associated with them by using the Import wizard. With a set of features such as payment processing and audit trail, Oracle NetSuite is a great QuickBooks alternative.
Top 3 Features
Helps you reduce billing mistakes as its billing management feature integrates with sales and finance.
It helps you streamline your process of financial planning.
It has revenue recognition management to make sure that financial elements are reported timely.
Best for
Medium-sized and established companies.
Pricing
Free product tours are available. For further pricing, you can ask for a quote.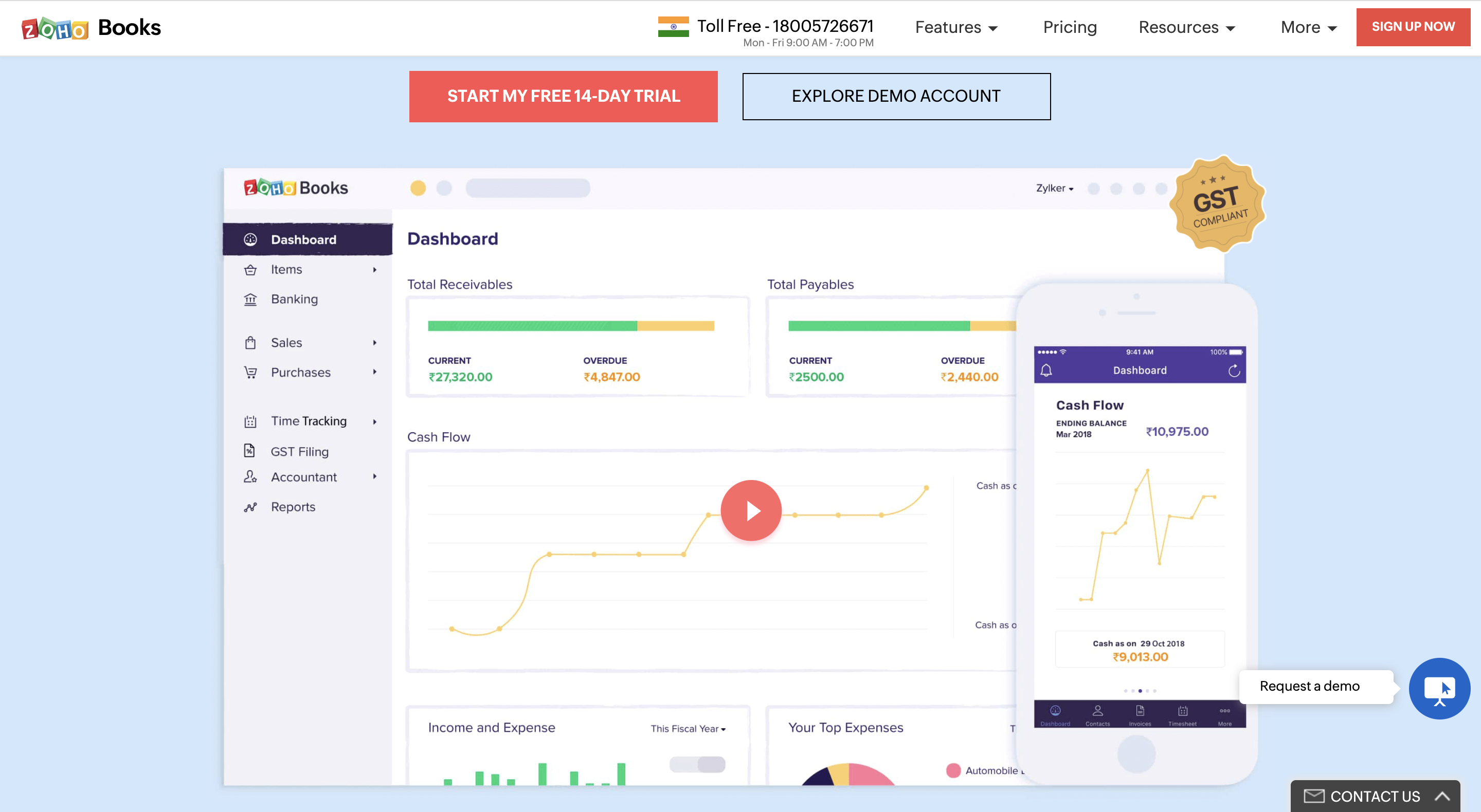 Zoho Books is an excellent web-based accounting automation software that offers plenty of features such as finance management and collaboration across departments.
It's one of the most efficient alternatives to QuickBooks, which offers 50 different reports to help you automate your business and financial tasks.
With Zoho Books, you can begin sending professional invoices to your clients, receive payments, make balance sheets, profit, and loss statements, and cash flow statements, and have a bird's-eye-view of your financial performance.
It's known for its intelligent design, and the entire set of functions is arranged in a way that doesn't bother the user's operations, which you might conduct parallelly. Similar to its other products, Zoho Books starts feeling like a no-brainer after you get acquainted with it.
Top 3 Features
As a tax-compliant accounting software, Zoho Books calculates GST automatically.
Encourages faster communication as all of your contacts are in one place.
Not only creates but sends documents such as purchase orders and expense receipts.
Best for
Freelancers as well as established companies. Zoho Books is quite versatile and offers accounting services to all professionals.
Pricing
Plan 1: Free
Plan 2: Standard plan starts at $12.09 per month.
Plan 3: Professional plan starts at $24.18 per month.
Plan 4: Premium plan starts at $48.38 per month.
Plan 5: Elite plan starts at $80.65 per month.
Plan 6: Ultimate plan starts at $129.04 per month.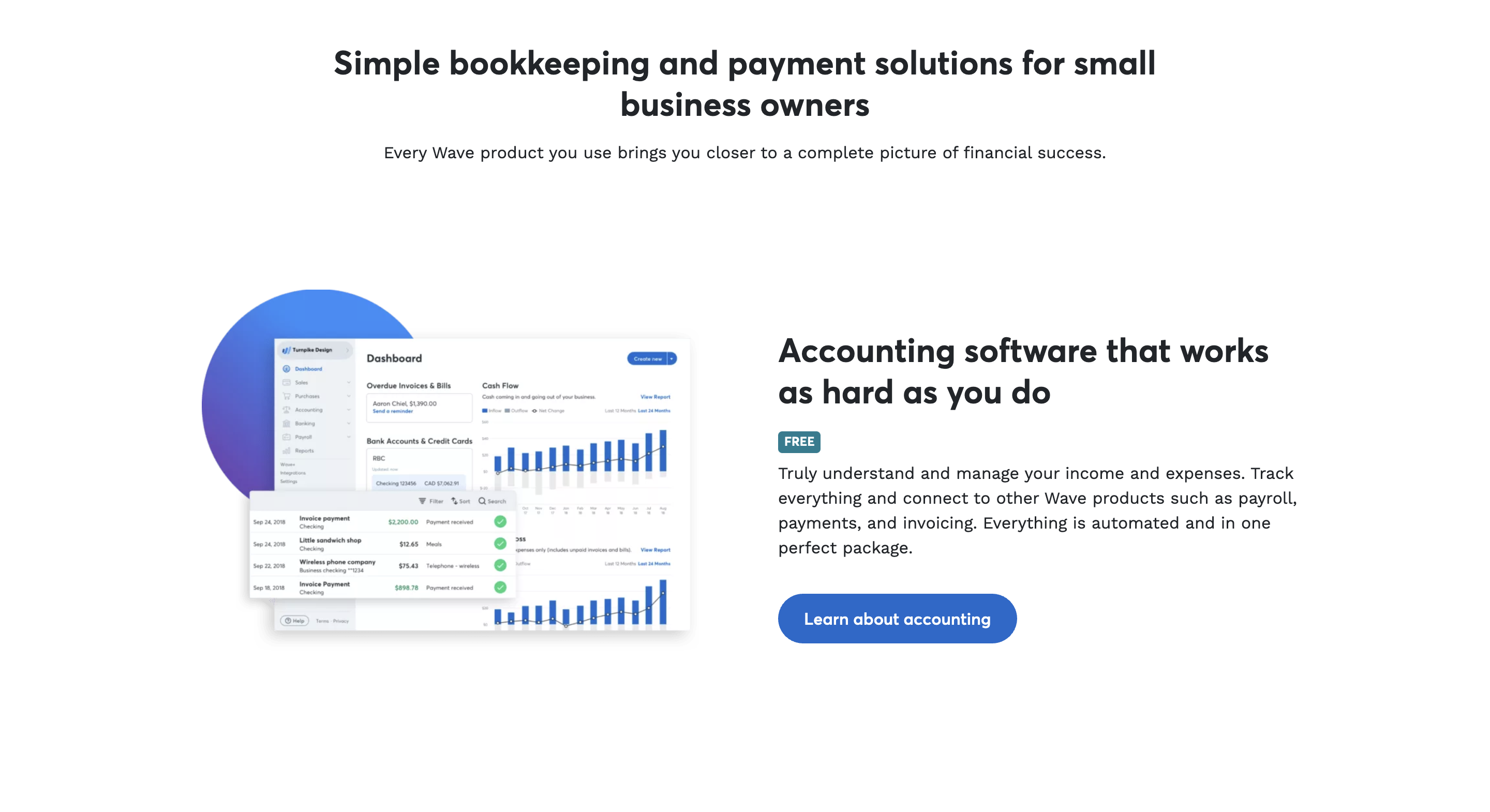 Wave Accounting is mostly known for its bookkeeping services, but it is a competitive substitute for QuickBooks.
As it supports several banks that give you access to numerous automatic details, your accounting, and bookkeeping appear automatically on the intuitive and user-friendly dashboard.
It is an excellent one-stop solution for freelancers to conduct services such as invoice generation and management of their finances.
Wave Accounting could bring a bit more flexibility into its invoicing services. One of the features users find highly convenient is its double-entry accounting option.
This accounting platform has recently launched its mobile application, which is ready to download on iOS and Android.
Top 3 Features
Payroll integration for both online payments and payroll applications.
Access to automated tracking of income, expenses, and several invoice templates.
Supports advanced capabilities such as credit card processing, recurring invoices, and automated billing.
Best for
Sole proprietors and freelancers. This can also be suitable for small and medium business owners who want accounting software with a double-entry accounting feature.
Pricing
Free for all users, unless you subscribe to an online payment application.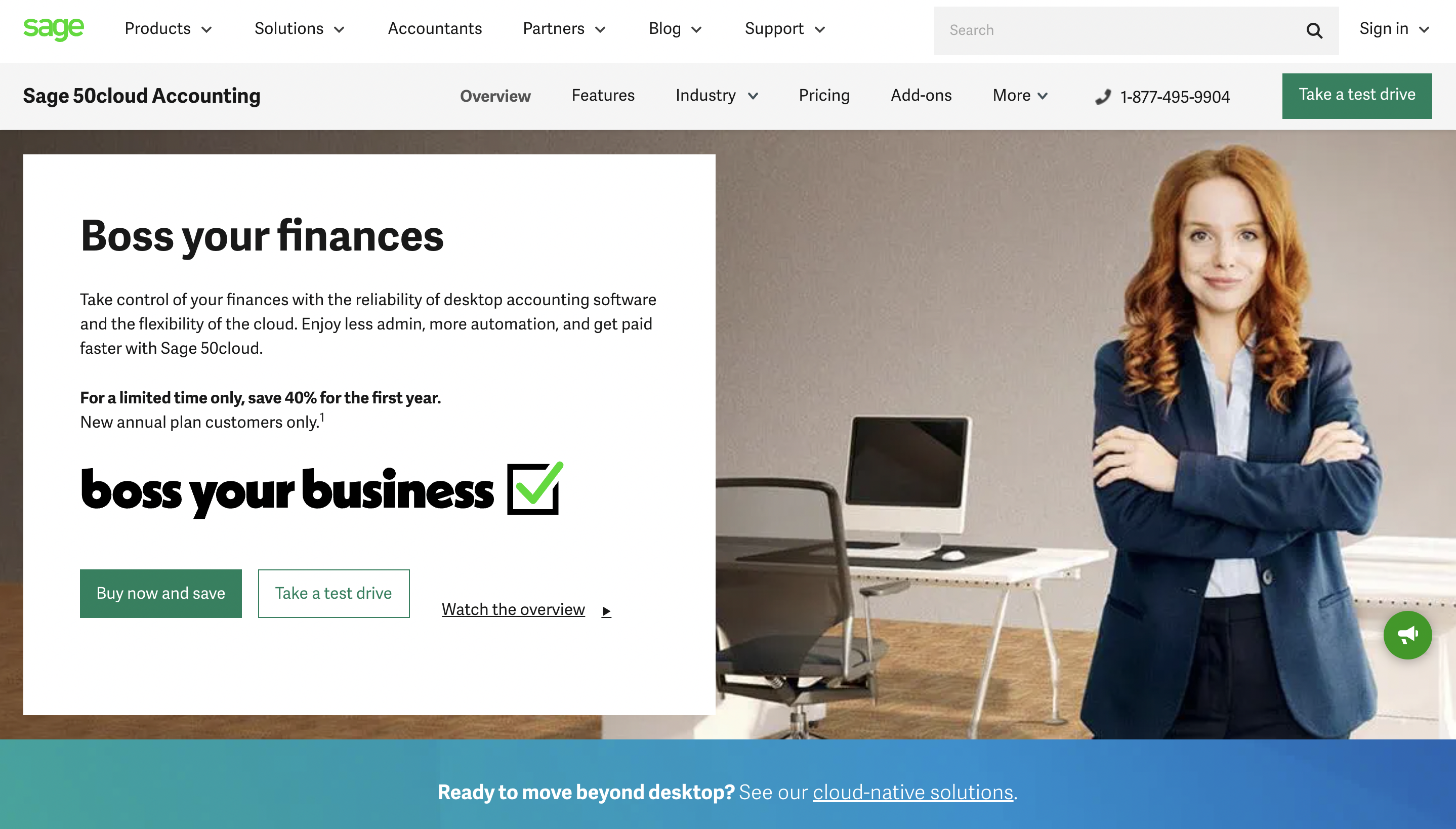 One of the most comparable substitutes to QuickBooks, Sage is a combination of accounting and small business software.
From regular management of invoices and taxes to complex automatic bank reconciliation, Sage aims to cater to all the finance-centric requirements of your business.
It's straightforward to navigate and provides advanced insights, helps with cash flow forecasting, as well as inventory management.
Sage is also known for its versatility concerning the user experience it provides on all devices: desktops and smartphones. It's known for its accessibility regarding easy integration with Microsoft Office.
Accountants have reviewed it as one of the easiest-to-use accounting automation platforms for their clients.
Top 3 Features
Integration with MS Office 365. You get access to transaction history, customer details, and 1 T.B. of storage.
Option to select between cash and accrual basis accounting, unlimited collaboration, and reporting capabilities.
With the 3 plans available: each based on the number of users, ranging from single-user to 40 users, Sage is highly scalable.
Best for
Small and growing companies, tech-savvy professionals, and companies that want to conduct business management and accounting tasks on the same platform.
Pricing
Plan 1: Pro Accounting plan starts at $33 per month.
Plan 2: Premium Accounting plan starts at $52 per month.
Plan 3: Quantum Accounting plan starts at $87 per month.
As an entire accounting package, Xero has proven to be one of the best QuickBooks alternatives.
While it offers regular services such as bank integration, cash flow management, and tracking of expenses and income, it also comes with features that other accounting platforms might not offer.
For example, it takes snapshots of contacts and relationships with them and allows it to follow employees' payroll information.
This accounting automation software allows you to use its tools to conduct services such as reconciling accounts, managing sales and purchase transactions, and excellent project tracking.
If there is one thing where Xero could attempt to stand taller, it's its user interface, which is not so easy to navigate in its current version.
Top 3 Features
Designed to automatically track profits and losses in multiple currencies.
Provides access to collaborate with advisors and share with employees.
Single dashboard which creates a convenient and user-friendly journey for all users.
Best for
Companies that need an accounting automation platform that supports multiple integrations and customization.
Pricing
A 30-day free trial period.
Plan 1: Early plan starts at $12 per month.
Plan 2: Growing plan starts at $34 per month.
Plan 3: Established plan starts at $65 per month.
FreshBooks started as a time-tracking and invoicing software.
However, with time, it's turned into an accounting automation powerhouse for small business owners. FreshBooks allows you to organize time, projects, as well as costs.
As it comes with certain limitations regarding users and clients, it is ideally suited for contract-based professionals and freelancers who don't require multiple users on a single dashboard.
It's currently being used in more than 160 countries. Two of its substantial services are time-tracking and invoicing, which happen to be the root of its initiation.
While FreshBooks has certain specifications regarding mobile applications (iOS 9.2 or higher and Android 4.2 or higher versions are a must), it can be used on mobile browsers regardless.
Top 3 Features
Access to double-entry accounting, which saves resources for all small business owners.
A specific and affordable plan for self-employed and freelancers is rare.
Comprehensible reports on expense management and invoicing.
Best for
Tech novices, freelancers, and small business owners.
Pricing
Plan 1: Lite plan starts at $6 per month.
Plan 2: Plus plan starts at $10 per month.
Plan 3: Premium plan starts at $20 per month.
Plan 4: Select is a custom pricing option for businesses with complex requirements.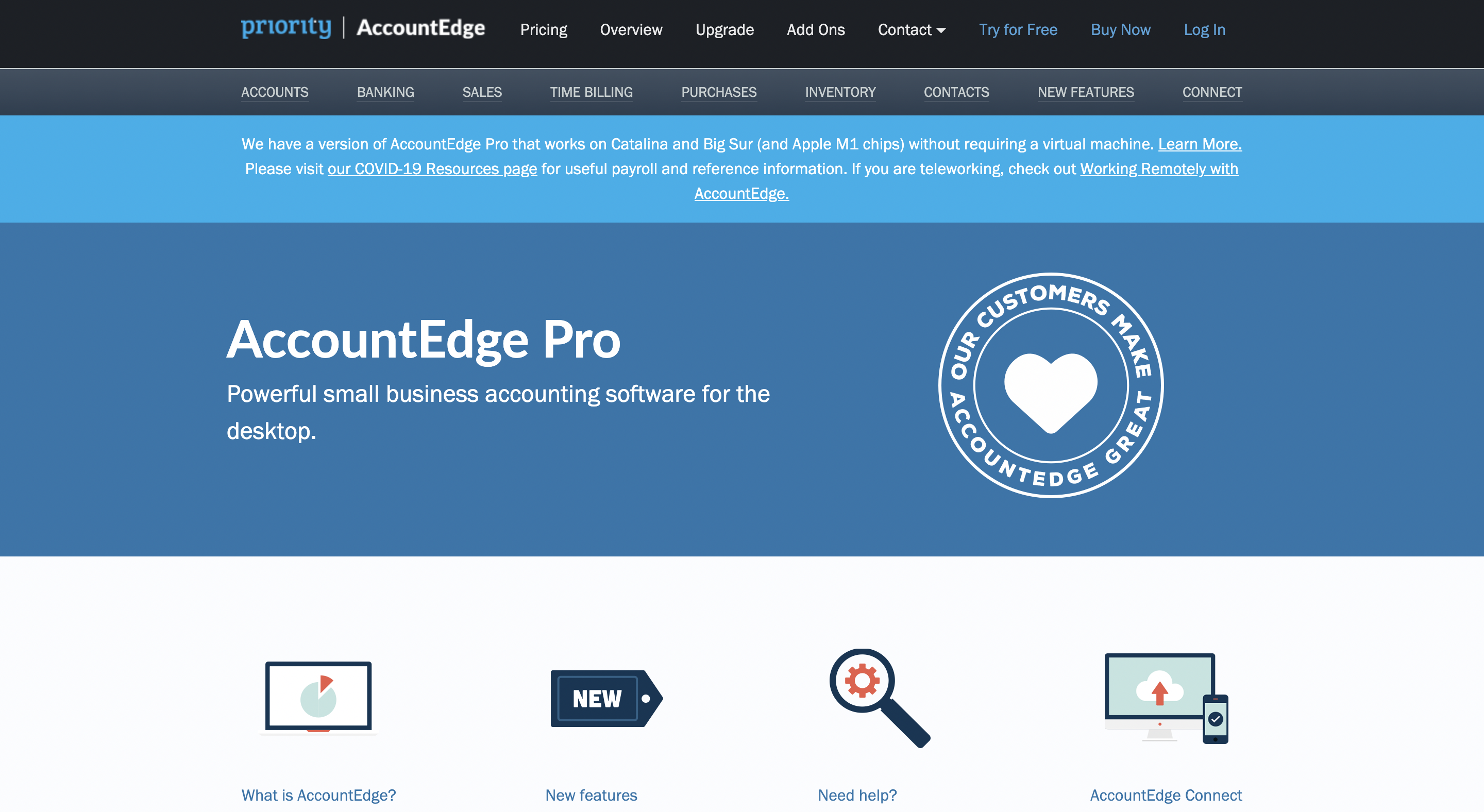 You'll find most of your requirements in the financial operations field met effectively by AccountingEdge Pro.
You can organize, process, and track your financial information and focus on other aspects of your business. If you know your war around your desktop, this platform might just be the one-stop solution for your accounting requirements.
This accounting automation software supports multiple deployment options, such as SaaS, cloud, web-based, and even Linux.
With their easy-to-use dashboard, you can pay bills, invoice customers, create payroll, enter purchases, and track your accounting and banking performance.
However, some of its users have rather minute feedback regarding the alignment of documents, so you might want to double-check.
Top 3 Features
Options in payroll available: self-service and full-service payroll.
Allows you to create quotes, invoices, and reports, for your products and services.
Banking capabilities such as preparing bank deposits and electronic payments.
Best for
Tech-savvy business owners who prefer a desktop application for their automation accounting requirements.
Pricing
A 30-day free trial period. Post that, a one-time fee worth $499.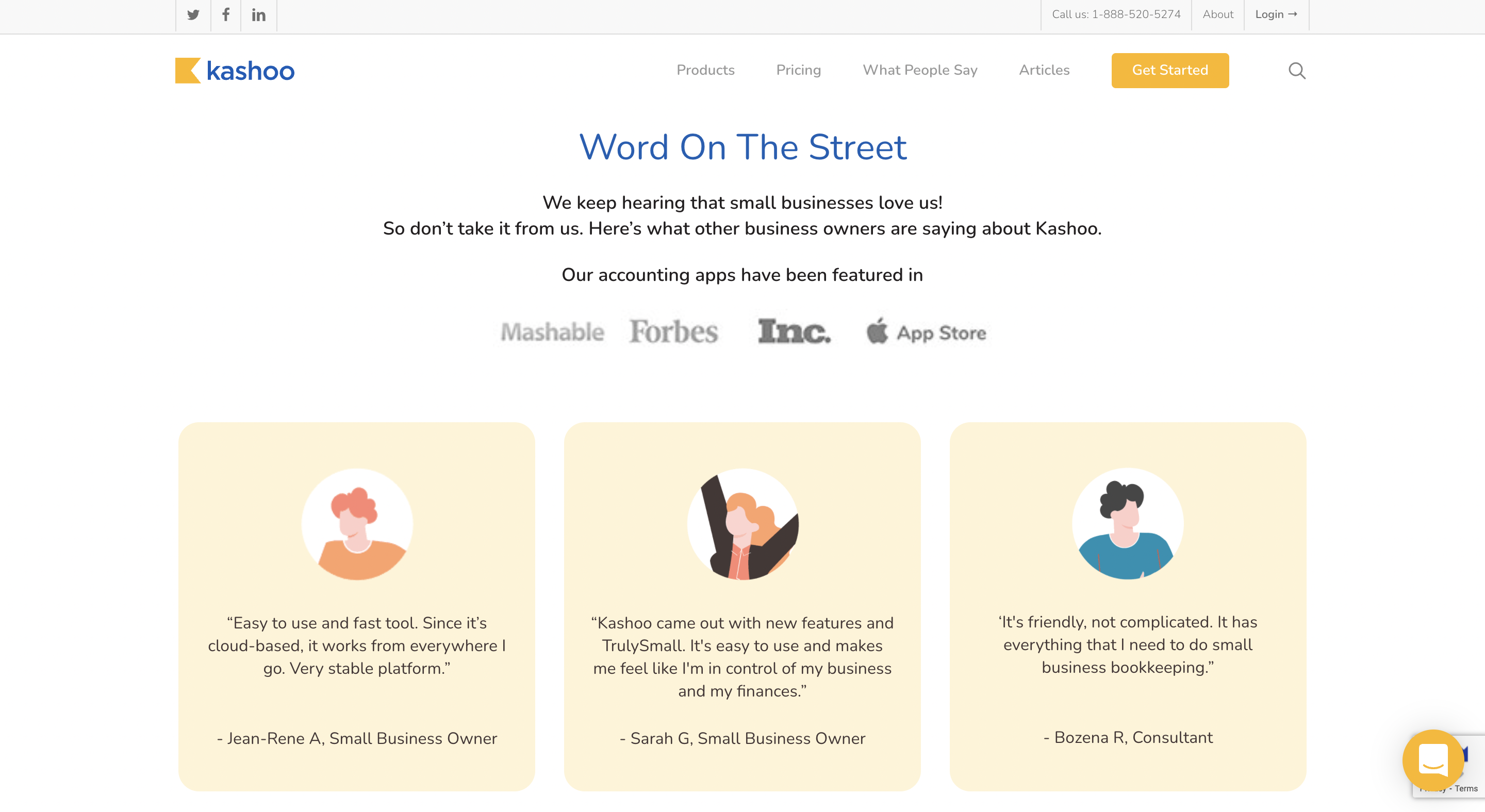 Kashoo's cloud accounting software is known to work best among solo entrepreneurs and small business owners.
They have recently launched Kashoo 2.0 which has an updated set of features besides contact, bill payment, accounts, multiple reports, and taxes.
This new version has certainly made Kashoo a touchstone in the accounting software industry.
With the help of machine learning, an emerging technology, Kashoo 2.0 helps you categorize and reconcile accounts, embed bank and credit card transactions, real-time reports, and also automate reconciling.
Also, it provides receipt matching and OCR capabilities. All you need to do is drop the receipt in an image form and the platform automatically matches to relevant transactions.
Top 3 Features
It is known for automating expense monitoring and simplifying invoicing.
It learns users' spending habits based on expenses.
Allows streamlining reporting in real-time for higher efficiency.
Best for
Freelancers and solo entrepreneurs.
Pricing
Plan 1: Starts at $20 per month.
Plan 2: Starts at $30 per month.
Note: The above two plans come with a 14-days free trial period.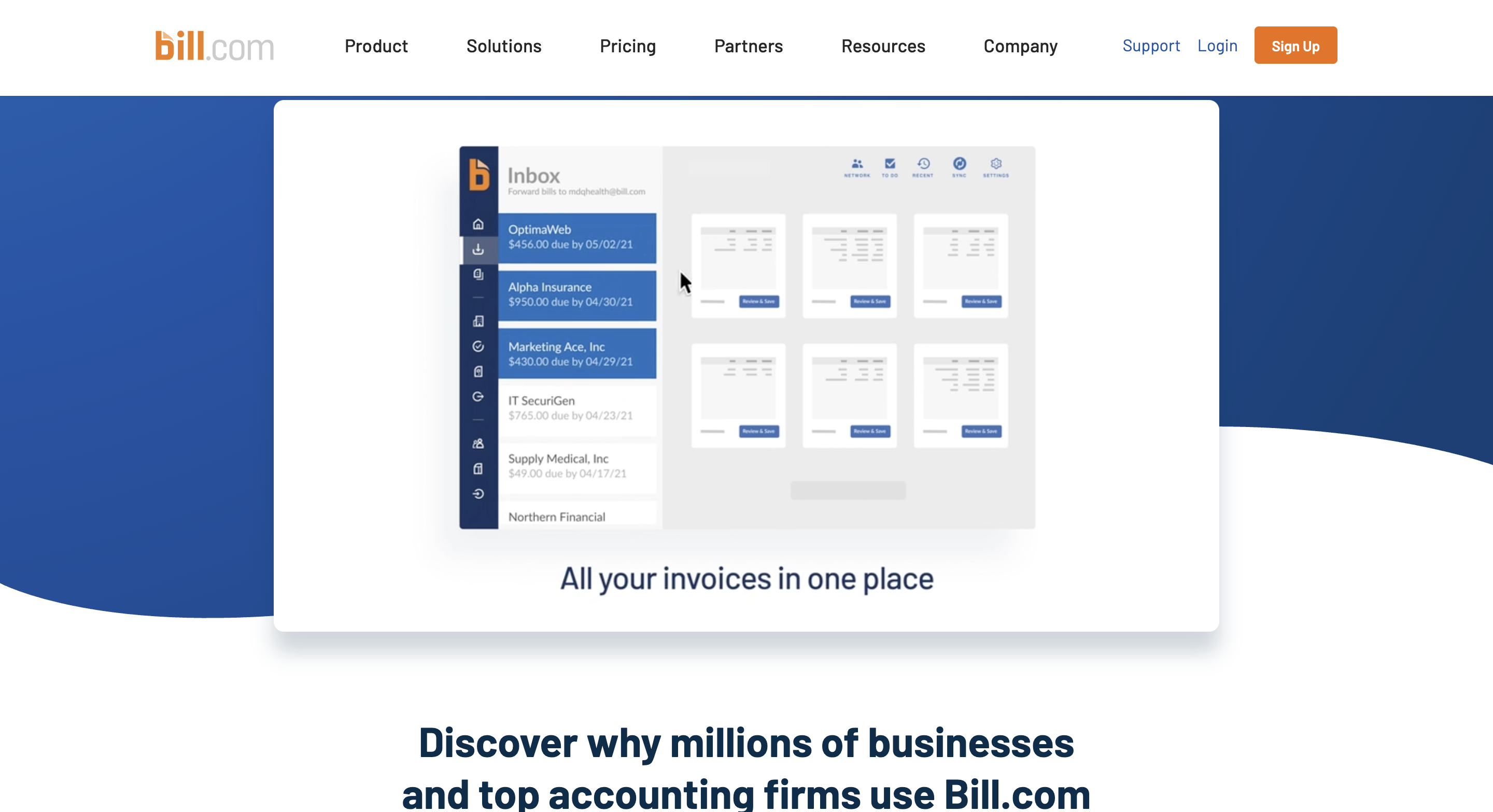 Bill.com is an underrated gem that has now built its brand as an excellent sandstone and serves as an effective QuickBooks alternative.
This cloud-based accounting software saves time by saving invoices and automatically capturing relevant data for future purposes. Besides this, you can keep contacts and reports all in one place, which helps you to track and audit your finances.
With these and several other features, Bill.com is one of the best AI-based platforms for your accounting requirements.
Some of its best features include multiple approval levels, accessibility to automate accounts payable and receivable, cash forecast, and auto-bill entry.
Along with its other accounting services, Bill is easy to integrate with QuickBooks Online and Xero.
Top 3 Features
Transport Layer Security embedded in this platform helps you secure your data.
It has strong support assistance and provides immediate chat support.
Detects duplicate invoices and saves all the information related to vendors.
Best for
Small and medium-sized businesses.
Pricing
Plan 1: Essentials plan starts at $39 per month.
Plan 2: Team plan starts at $49 per month.
Plan 3: Corporate plan starts at $69 per month.
Plan 4: Enterprise plan is a custom pricing option for businesses with complex requirements.
With dynamic capabilities where Kiwili allows its users to generate reports such as balance sheets, income statements, and trial balance sheets, it truly compares to the extensive set of features offered by QuickBooks.
It includes modules for payroll, journal, and ledger.
Some of the most highlighted features of Kiwili are automatic time capture, cost-to-completion tracking, expense tracking, budget management, and customizable invoices.
Also, you can subscribe to its additional capabilities: recurring billing, tax calculation, tax management, payment processing, project billing, multi-currency, and multiple billing rates.
You can collaborate with your employees in real-time, and increase the efficiency of your finance department in no time.
Top 3 Features
Allows you to ease the process of creating and sending reports to your accounting department.
Gives access to divide income and expenses into different columns to make the tracking easier.
It lets you organize your projects and access details concerning contacts.
Best for
Small and medium business owners.
Pricing
Plan 1: Standard plan starts at $14.95 per month.
Plan 2: Pro plan starts at $29.95 per month.
Plan 3: Business plan starts at $74.95 per month.
One of the most known alternatives to QuickBooks, Clear Books is a cloud-based accounting automation platform.
It allows you to access payroll integration, easy invoicing features, create reports, collect contact details, and track the financial performance of an individual or a company.
Clear Books also includes features through which you can keep track of purchases and expenses by entering vendor details who owe a certain amount.
Also, Clear Books has the benefit of integration with Go Cardless, which makes recurring payments easier than compared to other accounting automation platforms.
On its easy-to-navigate dashboard, you can get access to profits, expenditures, outstanding invoices, income, and financial performance.
Top 3 Features
Allows you to create invoices in more than 170 different currencies.
Advanced reporting capabilities, which let you view balance sheets and various other reports.
Integration with established platforms such as Google, PayPal, and a few more.
Best for
Medium business owners and tech-savvy professionals.
Pricing
Plan 1: Small plan starts at $8.21 per month.
Plan 2: Large plan starts at $16.21 per month.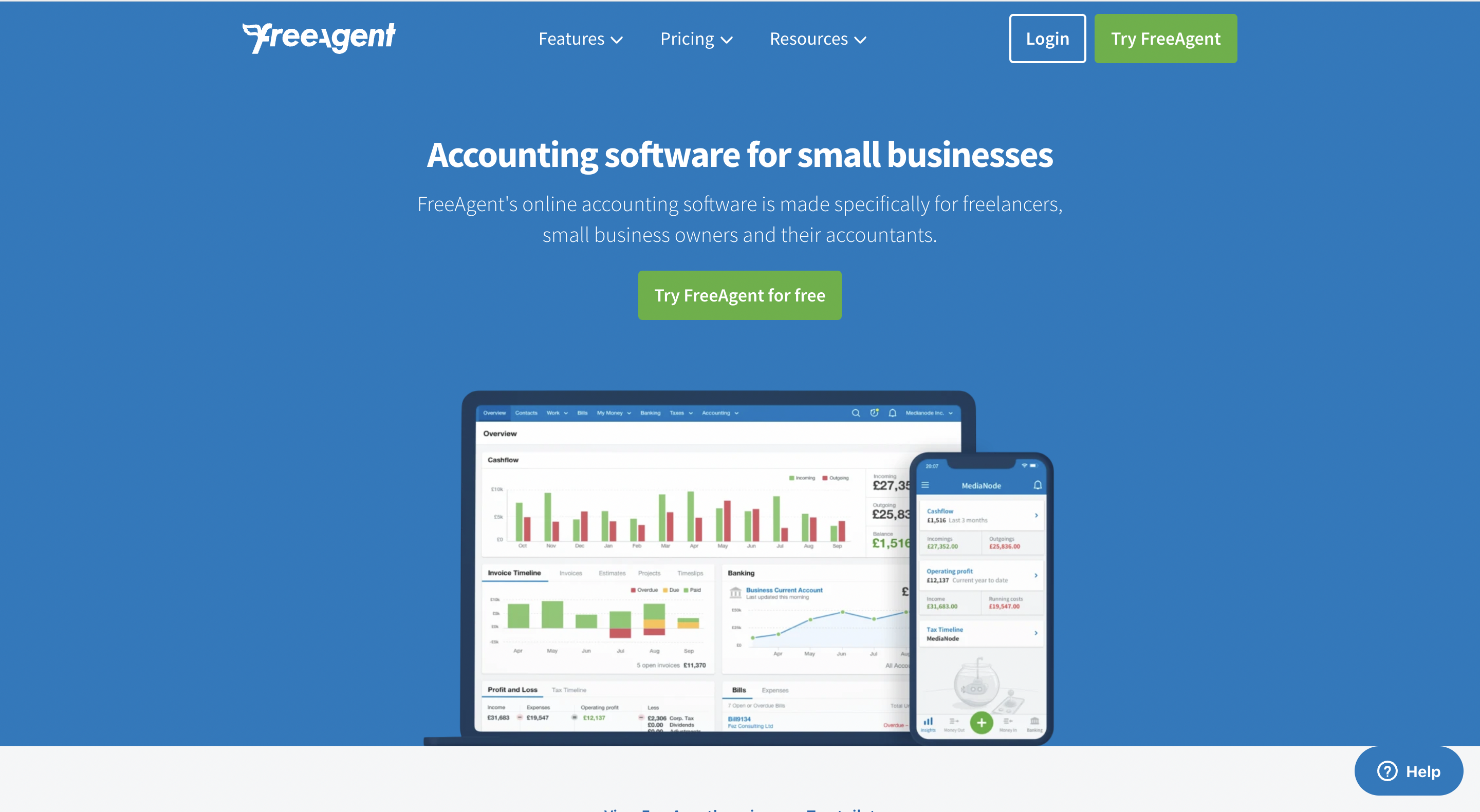 FreeAgent is an award-winning accounting automation platform that has more than 100,000 users worldwide. It's best known for its assistance with day-to-day admin tasks and its jargon-free user interface.
It is a feature-packed platform for small businesses, including creating and tracking invoicing and cash flow.
FreeAgent provides a wholesome set of outstanding features for accountants and business owners: running RTI-compliant payroll, creating professional invoices, sharing reports, time tracking, tracking cash flow, to name a few.
Additionally, FreeAgent has recently made Making Tax Digital compatible for its users. With a supportive banking system aligned with this software, you can leverage an easy-to-track dashboard on all your devices.
Top 3 Features
It allows you to file VAT, RTI, and self-assessment tax returns to HMRC.
A personalized tax timeline to stay updated on due dates of taxes.
Allows access to analyze cash flow and management of expenses.
Best for
Small business owners and accountants of freelancers.
Pricing
A 30-days free trial period and $20 per month from thereon. Currently, there's a 6-months offer, which brings the price down to $10 per month.
We hope this list helps you find the right QuickBooks alternative to help you handle all your accounting and bookkeeping requirements.
There are desktop-based software, ones that provide a free trial, and then ones that are targeted for specific demographics.
It's worth taking some time to explore the ones that seem to fit the best and select the ideal one based on your current requirements.