Whether you are new to freelancing, struggling to write an invoice for your first client or a seasoned freelancer looking for a more professional alternative to paper invoices, invoicing is one of the least exciting yet inevitable elements of freelancing.
But it needs to be done anyway to maintain a smooth cash flow and to get paid quickly without any hassle.
Invoicing should be a quick process, but the paper chase makes the entire process a lot more painstaking than it should be.
From creating the perfect invoices to sending them at the right time to the right person to following up at the right time, and ensuring the billing process is more productive, simpler, and less overwhelming for both of you.
Managing your clients, and keeping tabs on the entire invoicing system can be tedious, time-consuming, and a full-time job that many of us fret doing.
Using invoicing software is a fast, reliable, and accurate way to get paid on time.
When I started freelancing back in 2008, there were minimal invoicing options. There were no automation features, and you got lucky if they let you add a logo.
Today with just a few clicks, dozens of top-notch invoicing apps have fully automated the entire billing/ payment process so that you can avoid delays, and critical mistakes by creating professional bills, and can get paid on time.
What is invoicing software?
An invoicing software automatically generates billing for the services and products that you render to your clients. The tool is meticulously designed to yield a list of offered services along with their corresponding costs while sending it to your customers as an invoice.
Moreover, it simplifies the entire process of getting paid by picturing a detailed analysis of your self-employment while ensuring liquidity and flexibility that contribute to a healthy financial forecast.
Thus, the automated software takes care of the manual, time-consuming and repetitive steps.
Professionalize your operations
It offers customized templates to help you aptly itemize how much and when you will be paid. It also enables you to automate recurring invoices for repeat customers.
Manage and simplify accounts
From what you have been paid to what is still pending and what you need to follow up on, the tool boasts an accurate snapshot of all your invoices in one place.
It allows you to create an online portal for clients to directly make payments that can be immediately processed.
Get paid faster
Invoicing is a flexible solution that leverages a convenient route to how you get paid.
Tracking payments to notify you and your clients about pending payments, deadlines, and different payment options is an efficient way to get yourself the money you have earned.
Reporting
Generate reports to manage records, transactions, and databases to analyze and get relevant insights into billing and invoicing operations such as:
Number of outstanding invoices
Average time for the payment cycle
How many clients pay on time?
Best invoicing tools for freelancers
There is no one perfect solution when it comes to the best invoicing software for freelancers because every business is different from the others. But the best invoicing tools can make the entire process hassle-free and convenient.
Some apps featured on my list have an intuitive interface, while others offer a more feature-rich approach, including tracking and accounting tools.
Take the pain out of your billing system!
So, I signed up for a free version of each and tested the 12 best invoicing apps in the market.
For that, I created and customized an invoice, added new clients, analyzed financial tracking and reporting, and tested any automation features, to help you apprehend which billing software is the legit tool to make your invoicing process as effective as possible.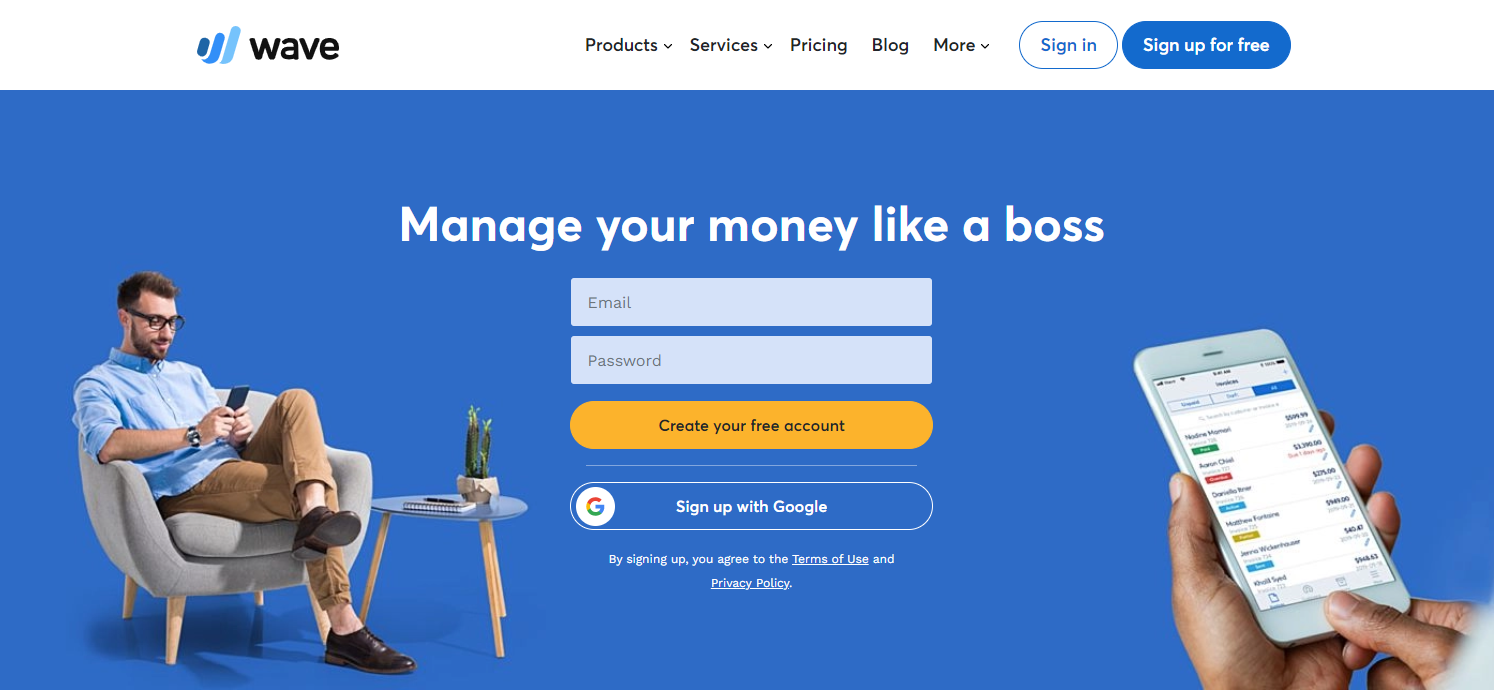 If you have no prior accounting experience then this cloud-based software enables freelancers to streamline their bookkeeping process by managing invoices, taxes, and payments with exponential features including templates, payment tracking, payroll management, credit card processing, and receipt scanning.
Rather than using spreadsheets, all your billing information automatically integrates with free wave accounting software. The platform facilitates you to access your client's information in one place and review client history to have a clear picture of how to prioritize expenses and manage your cash flow. The online payment feature enables you to get paid within two business days.
The automated notifications allow you to see who has viewed and paid the invoice, while you can also set up automatic reminders for clients when the payment is due. The "pay now" button allows your clients to pay their expenses instantly via credit cards or secure bank payments for as little as a 1% per transaction.
Key Features
Track sales tax on income and expenses.
Run multiple businesses from one account
Integrated with invoicing and payment solutions
Robust reporting on overdue invoices, bills, cash flow, profit, and loss
Customizable templates
Pricing Plan
The free plan prompts its consumers to create and manage unlimited invoices for an unlimited number of clients. But it does charge a credit card processing fee of 2.9% plus $0.30 per transaction.
Pros
Cons
No real-time tracking features
Limited scalability
Flaunting a robust cloud-based solution for small businesses and freelancers, Bonsai helps you become more productive and manage less.
With dynamic integrations and a user-friendly interface, you can aptly manage to invoice in one place. It offers an automated all-in-one product suite that lets you focus on your freelancing instead of paperwork.
Bonsai is a feature-rich software vigilantly designed to keep track of your finances, while you focus on your craft with online contracts and services. Moreover, it adds to your potential with attachment locking, partial payments, and much more.
It comes with a Global payment options feature and smart tools which enable you to have 3 times fewer late payments and get paid an average of 13 days faster than other invoicing tools. It ensures that your clients timely pay you for deposits, completed projects, and retainers.
We rank Bonsai as the #1 invoicing tool for freelancers.
Key Features
It automates every step of your billing process, so you can create and customize invoices, receive payment updates and set automatic reminders for your clients.
The tool auto-generates invoices based on the proposals or contracts within seconds.
When the client sees the invoice, you are notified, and they can let you know when they can pay the invoice.
For your regular clients, you can choose the auto-pay option for recurring payments.
From design and marketing to photography and writing, it is built for all work types.
It offers International coverage across the USA, Canada, UK, and Australia and supports more than 180 currencies.
Pricing Plan
It comes with three pricing plans.
Ideal for freelancers, the starter plan offers access to all templates, unlimited clients, and projects, costing only $24. But if you want an upgrade and add additional features like custom branding, and workflow automation, the professional plan is all you need to thrive your business at $39.
The 14-day free trial gives you unlimited access to Bonsai's Workflow plus features. All you need is to enter your credit card information to start the free trial.
Pros
Accessible client experience
Clean and easy-to-use interface
Automatically follow up with clients that forget to pay the invoice.
Cons
It doesn't provide in-depth reporting analyzing your average hourly wage over time.
Limited automation and integration.
Templates are limited and they can't be modified.
One of the best invoicing app geared towards freelancers and small businesses, FreshBooks accentuate fully featured invoicing options with polished templates, convenient payment options, and inventory tracking. With over 2 million users, the software comes with a suite of amazing invoice tools and a user-friendly interface to add and manage a list of clients.
Accurate billing allows you to get paid on time by tracking every account to keep your clients in the loop. Furthermore, the auto payment reminders, recurring invoices for repeated clients, and online payments make the entire billing process a lot easier without the use of spreadsheets.
The professional templates are integrated into the system that can be customized by adding a logo to accentuate your brand identity and build clients' trust. The invoicing screen demonstrates how exactly your invoices and comments will appear when you send them so you don't have to click the preview button every time you send an invoice.
You just have to click on the applicable fields to add new customers, products, service descriptions, and terms on the same screen where the invoice has been created. Whereas, the drag-and-drop feature allows you to rearrange anything on the invoice effortlessly.
The software equips you to categorize your expenses, connect them to transactions, mark them as billable and attach them to clients or projects so you can analyze what you are sending and stay on budget.
Key Features
Now you can track your expenses and hourly wage rate in real-time.
Customizable invoice options for recurring invoices and auto payment
Payment reminders for pending payments
Accept credit cards on your invoices
Ensure flexible billing by adding discounts on your invoices
Support multi-currencies
Pricing plan
It offers a 30-day trial pack with which you can handle 3 clients at a maximum. After that, you can upgrade to one of the paid plans according to your needs.
Lite: $4.50 per month for five or fewer billable clients and save up to $31.50
Plus: $7.50 per month for six to 50 billable clients and save up to $52.50
Premium: $15 per month for 51 to 500 billable clients and save up to $105.
Pros
Offers dynamic integration with over 100 apps
Comprehensive reporting
Cons
Limited features on the mobile app
Limited template customization
A bit more costly than basic invoice apps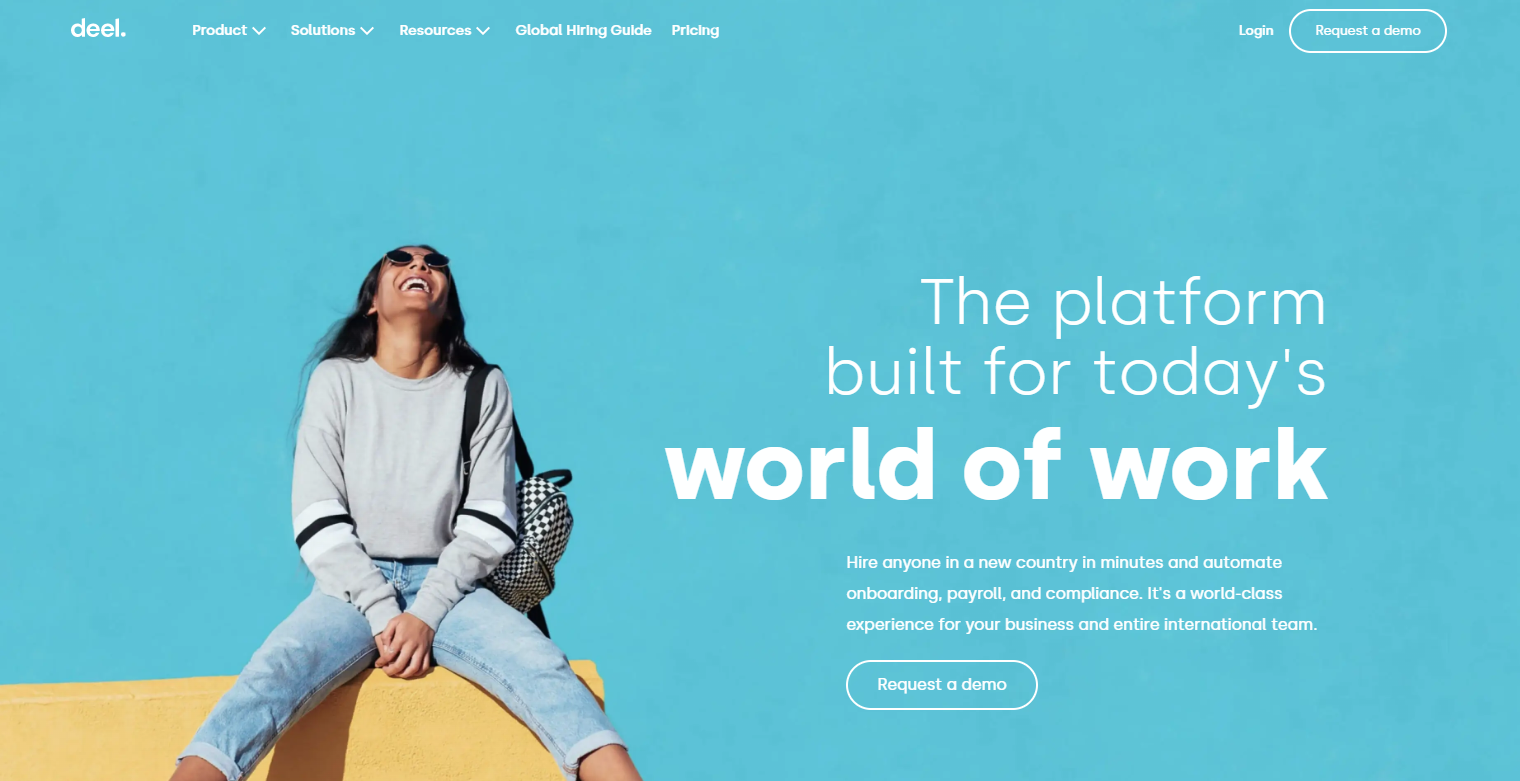 It is a cloud-based compliance and invoicing software that simplifies your entire payment process with a few clicks. The auto-generated invoices save time and minimize the chances of human error, resulting in a streamlined workflow.
Deel features customized invoices that allow you to add a personalized touch in seconds for added compliance and a more professional outlook. The platform fully integrates your invoices with multiple accounting tools in real-time to reduce laborious work and make freelancing a lot easier and more convenient.
Automatically synchronizing Deel to your contractor invoices and payment details saves hours of hard work that you put into manual entries. The open API leverages freelancers to custom-fit their preexisting platforms and processes for added flexibility, without leaving their central interface.
Key Features
The software allows you to charge your clients by the hour, by words, and by service.
Monitor, income, expenses, and tax deductions at all times.
Create a customized logo and icons for personal branding.
Real-time updates on outstanding payments, viewed and sent invoices.
Editable invoices and templates to reflect your own brand identity.
Track invoices and set reminders for clients so that you get paid on time.
Integrated with Google Drive to keep track of everything.
Pricing Plan
Deel allows you to sign up anytime without using credit card information, which can be canceled anytime. You will be charged once you pay your team member. The contractor plan starts at $49 per month.
Pros
Ease of use
Best customer support
Synchronize all your invoices with your favorite accounting software
Completely GDPR compliant, so your data remains encrypted.
You can cancel your subscription anytime
Cons
If you are going to sign up in the middle of the month, you will be charged full fees.
It doesn't offer a free version/ free trial.
If you are looking for an effortless online invoicing tool, then look no further than Zoho. It flaunts a scalable invoicing software, efficaciously designed for freelancers and small business owners.
The software enables you to create professional invoices, send automated payment reminders, keep track of pending payments and expenses, log in your work hours, and get paid faster.
The dynamic invoicing software not only lets you craft personalized invoices that fit your brand by choosing templates from its gallery, but also facilitates you to make base currency adjustments and vigilantly analyze the monthly reports.
Compliant with ESIGN and eIDAS e-signature laws, Zoho Sign integration guarantees top-drawer security protocol by allowing you to use digital signatures that completely inhibit invoice tampering and forgery.
The platform gives your clients the flexibility to select their ease of payment method including check, online payment, or cash. Moreover, it not only enables you to verify your transactions before you send them but also charges your clients in their currency while Zoho Books record the billings in your currency to avoid manual currency conversions.
Key features
Multicurrency support.
Send invoices via emails, SMS, and client portal.
Enables multiple localized payment gateways.
Automates recurring invoices
Accepts debit cards, cash, checks, and bank transfers.
Keeps track of customers' invoice status
Creates the right brand image by adding your company log and personalize invoices
Send estimates, quotes, and discounts to your customers before you start billing them.
Tracks time and bill your clients for the hours you spend on their projects.
You can get a complete insight into your business performance through the dashboard, vibrant graphs, and real-time business reports.
Pricing Plan
Zoho invoice is completely free now!
From billing customers to creating invoices, and credit notes, to offering encrypted client information, to scanning receipts, tracking expenses, and integrating with other business apps, you can access native invoice apps from any device without paying a penny.
Pros
Pay invoices in bulk from the client portal
It is universally accessible and compliant with 17 languages
It enables your clients to sign up for your organization's client portal by themselves.
You can record your sales and their payments simultaneously.
Cons
It doesn't integrate with Zoho Inventory
Some features require developer skills
Does not notify if the client has viewed the invoice
Renowned as one of the most commonly used invoicing tools among freelancers all over the world, QuickBooks is a go-to tool offering comprehensive invoicing functionality. This means you don't have to be a bookkeeper or accountant to use this software.
QuickBooks add billable hours from Google calendar and duplicates similar invoices to send to multiple clients. It automatically bills your clients at specified weekly and monthly intervals. Recurring customer billing simplifies the entire payment process by including the original amount of invoices, paid amount, and outstanding balance.
The tech-savvy invoicing tool prompts you to divide estimates into several invoices based on project milestones. You can keep track of how much amount has been paid against different milestones on different invoices.
The "Pay Now" button allows you to easily prepare, customize and send invoices and bills to your clients within no time. The intuitive interface enables you to track all your invoices and receipts in one place.
The professional billing process reflects your brand with customized invoices accenting different colors and fonts. Now you can get one step ahead with automatic notifications when the invoice is sent, viewed, and paid.
Key Features
Create quotes, include discounts and payment schedules with one click
Track payments in real-time
Recurring invoices for regular customers
Automatic invoice reminders
VAT, discounts, and shipping will be calculated for you
QuickBooks progress invoicing feature facilitates you to collect payments based on project status, and the amount of work you have completed.
Multi-currency acceptance
Monitor your payments, and send invoices anywhere, anytime on your mobile.
Pricing Plan
It offers a free 30-day trial. The simple start plans start at $5.10/ month which allows you to run general reports.
Each subscription tier yields increased insights into reporting functionality. Tracking inventory and detailed reporting are also available an advanced plan that starts at $10.80/ month.
Pros
Affordability
Multiple discounts available
Easy to use
Integrates easily with Turbo Tax
Cons
Lags in real-time time tracking
Limited integration with third-party apps
Now you don't have to chase pending payments and email back and forth to keep tabs on your client's invoices. Because Lano is another cloud-based invoicing software that offers both a B2B and B2C platform. Boasting one of the best invoice apps for freelancers, the software seamlessly manages incoming, and outgoing invoices and payments without chasing your clientele.
Lano empowers freelancers, service providers, and small businesses to create and manage professional invoices with integrated templates for accenting the right brand image. The application monitors payments and invoices in real-time and records working hours that serve as the basis for billing.
Moreover, the user-friendly interface allows you to store and manage your contacts in a database that is category-based on user criteria. It also allows you to create categories with desired characteristics and directly send invoices through the database.
With Lano, you can have peace of mind that it legally binds your contracts with clients, ensuring you are entitled to all the legal protection in the country.
Key Features
Lano makes it easy for you to get your payment in more than 50 currencies all across the globe.
The digital wallet allows you to receive and hold multiple currencies in an instant.
Automated invoices eliminate the chances of faulty invoices
Keep tabs on the invoice status.
It provides payment reminder options
Records working hours
Maintains to-do lists and timesheets to structure the work process
Pricing plan
Featuring a dynamic suite of tools for managing freelancers and contract team members, the monthly billing plan starts at 20€. Whereas, you can avail yourself of the 25% discount on the annual billing plan that starts at 15€.
Pros
Track your working hours with timesheets
See the status of your invoices in real-time
Manage all your contacts from a single dashboard
Make customizable reports
Cons
To take advantage of all its features, your clients must also use the Lano app.
It doesn't schedule bank transfers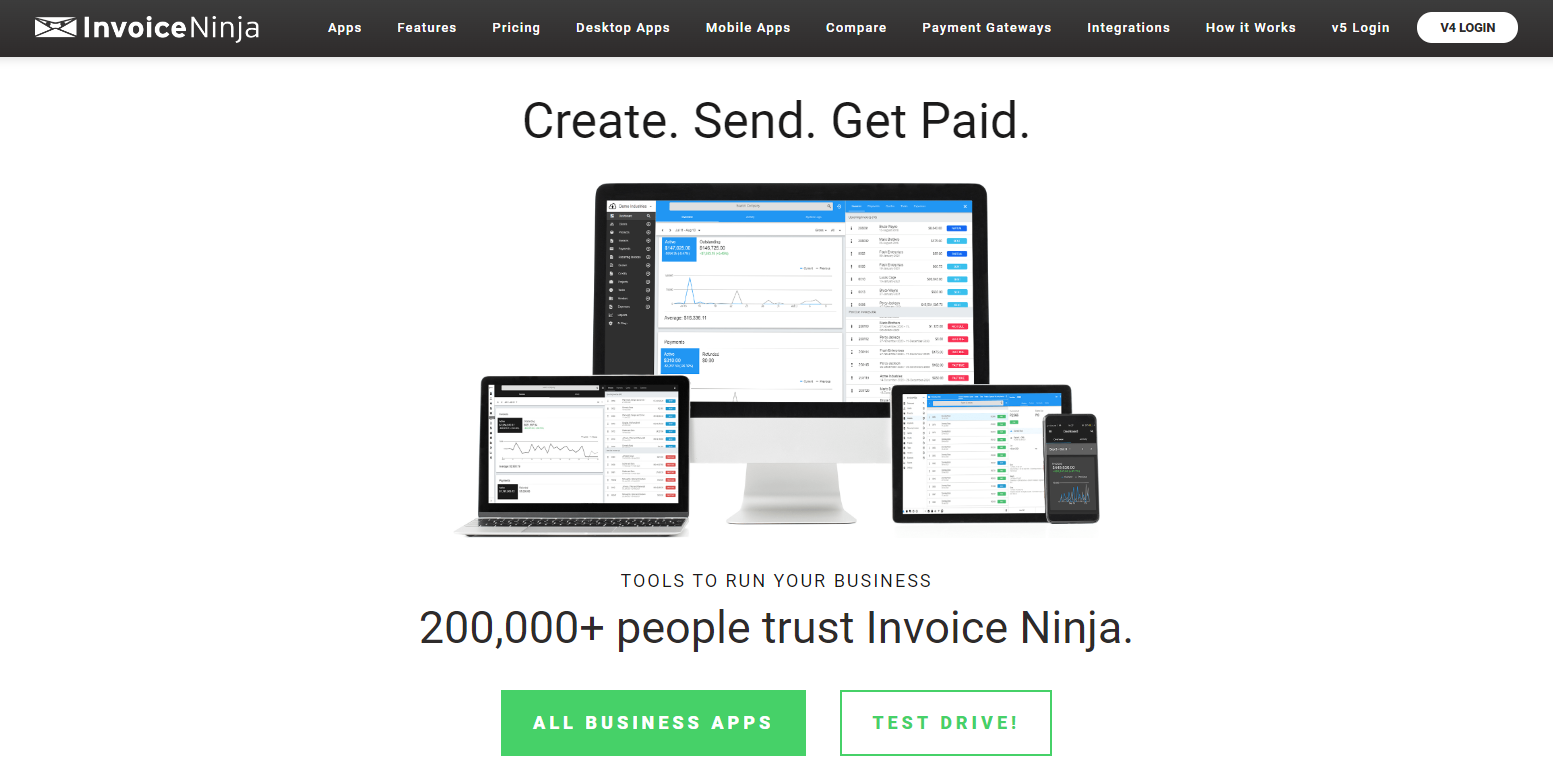 Invoice Ninja features a free open-source billing and invoicing platform for developers, freelancers, and business owners that are looking for affordable invoicing without any complicated accounting features.
Users supported by web developers can also install this software on their servers. But it may limit their usage to certain devices. Whereas, this cloud-based software allows you to set up vendors, create automated invoices, track expenses and manage different projects in one place using multiple devices.
Built to serve freelancers, the invoicing tool is used by many due to a significant reason –the free version gives you exponential streamlined access to a lot of advanced features including:
Unlimited invoices for up to 100 clients
Recurring invoices, proposals,
Integration with 40-plus payment systems
Time tracking
When you are upgraded to the paid plan, you can choose from 10 professional invoice templates. Moreover, the invoicing solution offers real-time invoice PDF creation that allows you to view any changes as you make them.
The partial payment feature in this software enables you to facilitate clients that have been struggling to pay their due payments. You can invoice them for advanced deposits. Once the client makes a deposit, the invoice is then updated automatically.
All plans allow you to manage up to 10 different company profiles under a single account, utilizing a separate dashboard. You can switch between different profiles with a few clicks.
Key Features
View quotes in real-time
Convert quotes into invoice
Clone quotes to invoice
Bulk emailing of invoices
Accept credit cards, ACH transfers, PayPal
Get notifications when the client views the invoice
Track the client's payment history
Enable e-signature
Custom brands your invoice design
Pricing Plan
The web-hosted software offers three SaaS pricing plans: one free and two paid options. A 14-day trial is available for paid plans without any credit card information.
The pro plan costs you $10 with access to unlimited clients, invoices, and quotes. Furthermore, you can avail yourself of two months of free service if you opt for the annual payment.
Pros
Bulk invoicing
Every feature is geared toward encrypted invoicing
The pro plan is cost-effective
Connects with your bank to import transactions.
Cons
The Free and Pro plan is limited to one user
No automated tax calculations
Limited reports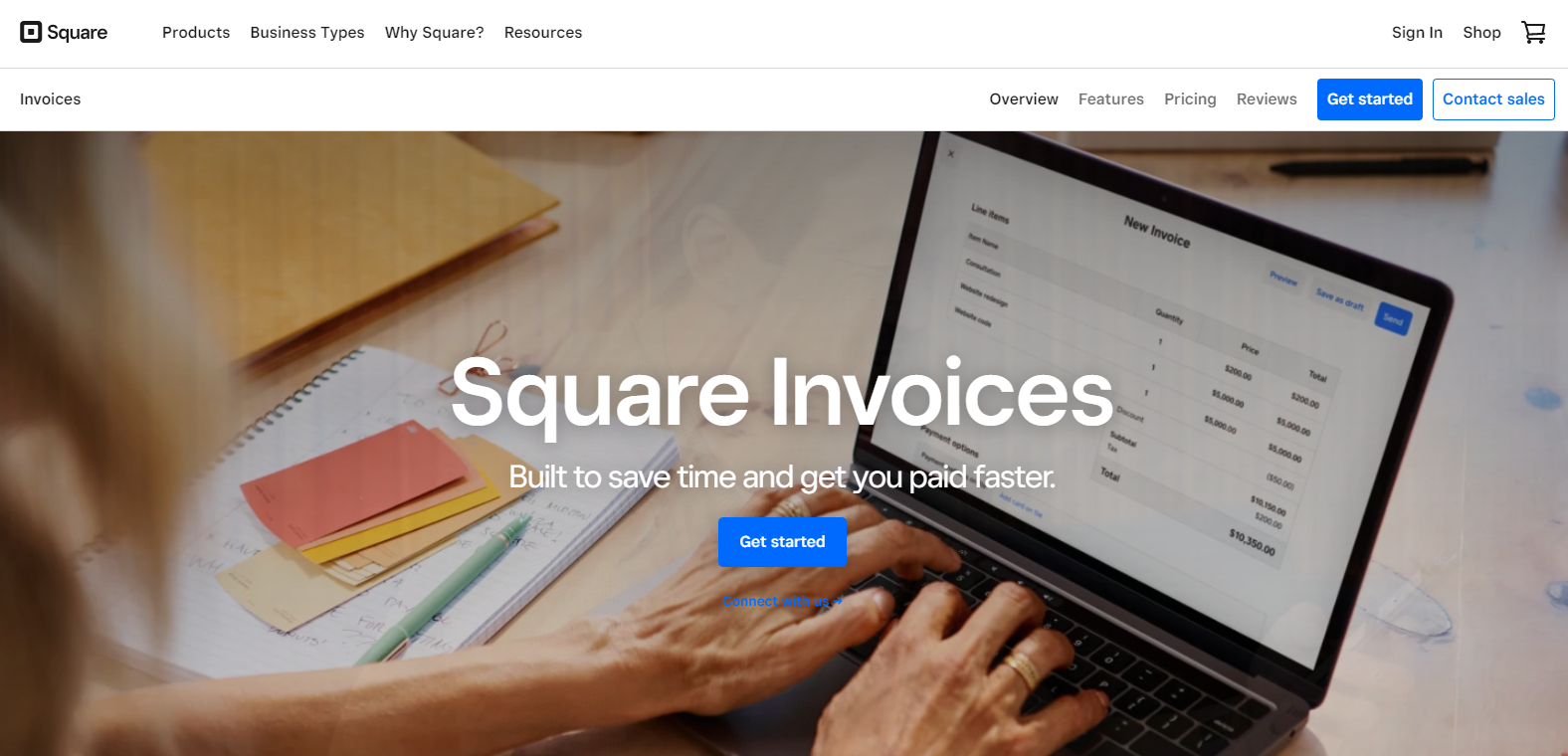 Square is dubbed as the payment processor for in-person transactions. It is an effective way to send digital estimates to your clients from anywhere around the world.
It is an excellent solution for freelancers and small businesses. Square invoices can be accessed from anywhere, anytime. Once the invoice is sent, it will automatically synchronize with your Square POS (point of sale) app and Square dashboard. This allows you to track the status of the invoice, and if it is received, viewed, or paid by the client. Within 1-2 business days, the paid invoices are directly deposited in your bank account.
You can also set up invoicing schedules and recurring invoices with Square. Moreover, it also enables your clients to save their card information on file, and then these clients are automatically charged your scheduled invoices. In this way, you don't have to enter any information every time and can get paid instantly.
Key Features
Run your business more effectively by using customized invoice templates, milestone-based payment schedules, and multi-package estimates
Book your next project by sending a proposal to your clients with one click and easily convert the estimate into an invoice from the app.
Monitor when the invoice has been viewed, paid and sent
Complete integration with multiple payment apps including Apply Pay.
Request deposits
Get instant access to funds with Square Debit Card
Pricing Plan
The basic plan will cost you nothing, but if you want to upgrade to Square plus, it will cost you $20 a month. You can start with a 30-day trial and add custom fields to any invoice, and auto-convert accepted estimates to invoice.
Pros
Free forever plan
User-friendly
Unlimited estimates and invoices
Recurring invoices
Cons
No invoice customization
No multi-currency support
The ease of use, functionality, powerful features, sleek interface, and clean design offers a built-in payment gateway to create and send an invoice to your client efficiently. Indy integrates with reputed online payment options to assist your clients to send payments digitally from anywhere around the world.
The professional invoice templates equip you with customizable fields where you can add clients' details, branding logos, tracking time, tax details, and payment modes for preparing automatic invoices. You can also preview invoices and download a PDF version of the invoice.
The flexible time-tracking tool automatically estimates the number of hours you have spent on each project. This facilitates users to plan the estimation of other projects in the pipeline. Moreover, Indy's dashboard also maintains invoice history displaying weekly, monthly, and yearly views of invoices.
Key Features
Add your logo and brand color from over 50 fonts
Add unbilled hours to your invoice
Monitor the status of invoices
Integrated online payments
Securely store your bank information or other payment details
Automatically generate invoices
Pricing Plan
The free plan offers limited access. You can sign up for just $4.49/ month to get access to all the effective tools to manage your work as a freelancer.
Pros
Convenient dashboard
Maintains invoice history
Flexible time tracking tool
Cons
Accepts only USD currency
Templates are elementary
Supports limited integrations
Limited automation
Leading the market with its impactful features, Sage is a dynamic inventory so you don't have to chase your payments anymore. It allows you to link your invoices to your bank account in real time.
The cloud-based user-friendly dashboard allows you to have a complete overview of your invoices, expenses, and cash flow. Their flexible invoice templates allow you to make customized professional invoices by adding personalized logos, fonts, and colors.
The free manual invoice template kit includes 8 professional designs that can be downloaded and customized in Microsoft word according to your needs. Or you can use the VAT-compliant invoices that authorize you to add tax rates on any of your products and services automatically.
The solution facilitates you and your client across the globe without having to worry about converting different currencies. With accounting plus, you can automatically exchange rates, and additional taxes and adjustments. If you are offering repeat services to the clients, with customer details and service information logged into your account you can eliminate the chances of errors and save time with recurring invoices.
The drag-and-drop feature allows you to quickly move receipts and files, and snap images of the invoices on your mobile. All of your records are saved on the cloud, so you can go through client history and past receipts in one place.
The powerful invoicing tool helps you make better business decisions by getting access to detailed reports and cash flow summaries, which include balance sheets, profit, and loss analysis. The detailed views enable you to customize reports for added clarity and accuracy that spreadsheets can't provide.
Key Features
Payments are powered by Stripe
Customized invoices allow you to set due dates for payments
Automatically processes fees
Converts currencies in seconds
See at a glance when your invoices are viewed, paid, and send
Get a clear insight into the transparent billing structures and transaction fees
Fully integrated with Google Docs
Create, track, and send invoices from mobile
Pricing Plan
Just start with a one-month free trial and then switch to an Accounting Start plan costing £12 + VAT per month. To run advanced reports, send quotes, and estimates, and enjoy multicurrency banking and invoicing, switch to Accounting Plus for just £33 + VAT per month.
Pros
Multiple company functionality
Strong reporting and analytical features
Easy access from cloud, desktop, and mobile
Cons
Less user-friendly
Limited data storage
Cluttered features
Poor customer support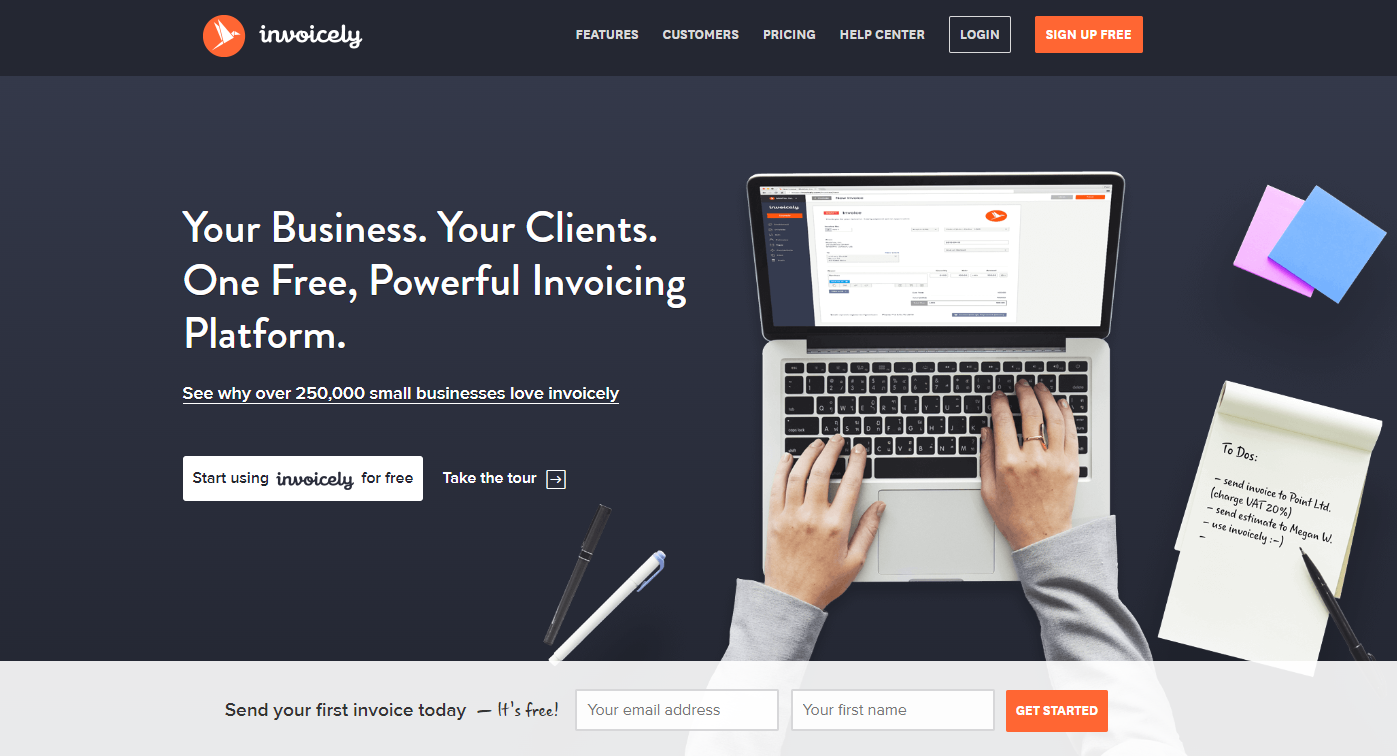 Invoicely is a web-based software that facilitates its consumers to send, estimate and track their invoices through its easy-to-use dashboard. The centralized platform offers tools for billing, invoicing, and accounting operations.
The interface equips its users to monitor recent activities, track accounts, and get an overview of monthly and yearly financial summaries through strong analytical reporting.
Invoicely provides full integration with third-party platforms including PayPal, Stripe, Authorize.net, and more. Its real-time currency conversion application allows your clients to make payments in any currency, while you will get the payment in the currency of your choice.
You can aptly manage multiple businesses from a single account and the extensive activity log gives you an in-depth view of your team's invoicing, billing, and payment activities.
Key Features
A fully-featured suite of customizable reports and summaries accent where your business stands.
Save time and send automatic payment reminders
Customize statements, icons, and logos
Support multi currencies
Track time, expenses, and milestones
Set up multiple businesses from a single account
Pricing Plan
The free plan allows you to send 5 invoices and receive billings in any currency, whereas, the basic will cost you $9.99 per month with features such as:
Send 100 invoices/per month
Accommodate 25 clients
Yield estimates quotes
Accept online payments
But if you are looking for unlimited invoices and accommodate unlimited clients the enterprise plan will cost you $29.99/ month.
Pros
Highly functional
Reasonable pricing
Easy setup
Cons
Limited customization of invoices
Limited integrations
Poor customer support
Invoice, your way
There is no one-size-fits-all approach when choosing the best invoicing app for your business.
But regardless of what type of business you own, the invoicing software takes the manual labor out of your tasks and enables you to save time, and energy by getting you paid faster.
You can use any of these invoicing tools to make your professional life productive while focusing all your energy on growing your business.